By Lambert Strether of Corrente.
Bird Song of the Day
Our last parrot of the week! (There are human-sounding voices also, but I think they are from actual humans.)
Alert reader Glenn France sends in this handy link, "Minnesota Bird Songs" from Minnesota Conservation Volunteer (a really neat publication. There should be one for every state. Maybe when Biden gets around to actually passing a New Deal, he could fund them, WPA-style).
#COVID19
At reader request, I've added this daily chart from 91-DIVOC. The data is the Johns Hopkins CSSE data. Here is the site.
I feel I'm engaging in a macabre form of tape-watching. If we are in "in the eye of the storm" , we are still in the eye of the storm.
MI: Michigan not looking good:
For many weeks now, the number of cases and hospitalizations has been going down across the country. Unfortunately, that trend has now reversed in the state of Michigan. Cases * and * hospitalizations are both on the rise there. pic.twitter.com/RTR6LxKveA

— The COVID Tracking Project (@COVID19Tracking) March 19, 2021
MI: "The Clearest Sign the Pandemic Could Get Worse" [The Atlantic]. The number of people hospitalized with a confirmed case of COVID-19 in the United States has been plummeting since early January. Until about three weeks ago, hospitalizations in Michigan were following the same pattern: More people with COVID-19 were leaving the hospital than were being admitted. But in the past few weeks, data from the CDC and the Department of Health and Human Services have shown that hospitalizations have risen by 45 percent from the state's recent low on February 25. According to federal data, among U.S. metropolitan areas with more than 1 million people, the Detroit area now ranks fourth in hospital admissions—and first in a metric that combines increases in test positivity and cases…. [A]s a spring surge takes hold in Michigan, two new factors—variants of concern and rising vaccination levels—mean that we don't yet know how this new rise in cases and hospitalizations will play out." • And school re-openings? Can Michigan readers comment?
* * *
Vaccination by region: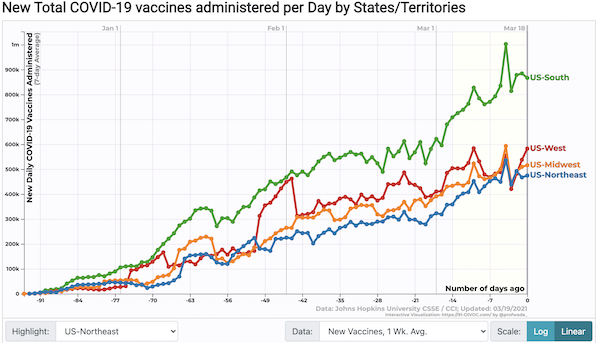 Having engorged a ginormous data artifact, vaccination is now back on trend. • Early in February, I said a simple way to compare Biden's performance to Trump's on vaccination would be to compare the slopes of the curves. If Biden accelerated vaccine administration, post-Inaugural slopes would get steeper. They have not. The fragmented, Federalized, and profit-driven lumbering monstrosity that we laughingly call our "health care" "system" has not responded to "energy in the executive," but has continued on its inertial path.
Case count by United States regions: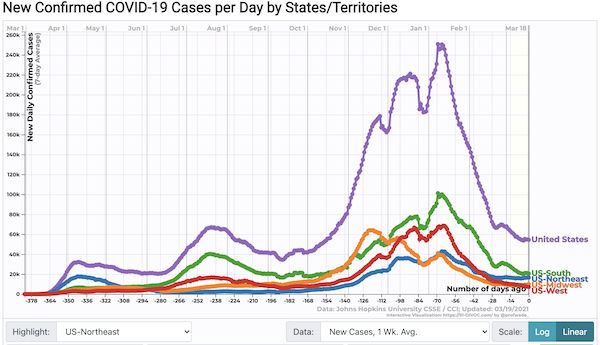 The curve has definitely been flattering for the last three weeks, and in the last two days seems to have flattered entirely (remember I use one-week averages to flatten out data artifacts). That's not good, and when we look at the Northeast, it's flattened entirely. Since these are averaged weekly, there's some momentum in the train, too. Before we break out the champers, we would do well to remember that cases are still well above the peak New York achieved early in the crisis, then regarded, rightly, as horrific.
Big states (New York, Florida, Texas, California):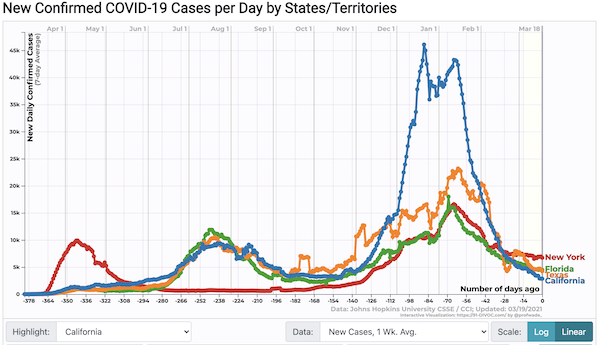 New York leads, and is now hardly decreasing at all. Not good news, especially since an average of 16,584 cases per day, now felt to be normal, isn't all that less than 20,526 at New York's peak a year ago, then regarded as horrific. I'm also loathe to give Florida's DeSantis permission for a happy dance, but there's no question that in the enormous natural experiment that is our Federalized response to Covid, Florida didn't do badly, and its case curve looks pretty much like that corrupt crook Cuomo's, just with a later peak.
CA: "Coronavirus strains first detected in California are officially 'variants of concern,' CDC says" [CNN]. "[The variants] are officially called B.1.427 and B.1.429. Scientists have been monitoring the strains closely in California over the past few months…. The variants may be about 20% more transmissible, the CDC said, citing early research. Some Covid-19 treatments may also be less effective against the strains. Still, the CDC didn't say that vaccines would stop working against them…. No coronavirus variants currently rise to the US government's highest threat level, 'variant of high consequence.' Coronavirus strains shown to significantly reduce vaccine effectiveness would fall under that category." • "variant of high consequence." First time I've heard that jargon.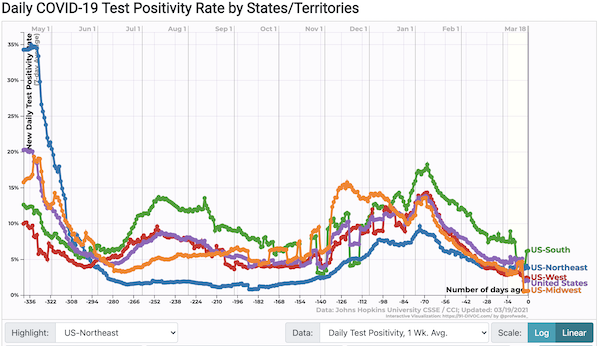 Having declared victory, are we just not testing anymore? (Positivity is the percentage of all coronavirus tests performed that show someone has Covid-19 — regardless of the number of tests, which this statistic does not track, and which IIRC was sketchy to begin with.)
Hospitalization data is the best data we have, because hospital billing is a highly functional data acquisition system (ka-ching). That said, hospitalization is discretionary; they may also be reducing their admissions rate — relative to cases we cannot see in this data! — to preserve future capacity; or because hospitals have figured out how to send people home.
Case fatality rate (plus deaths):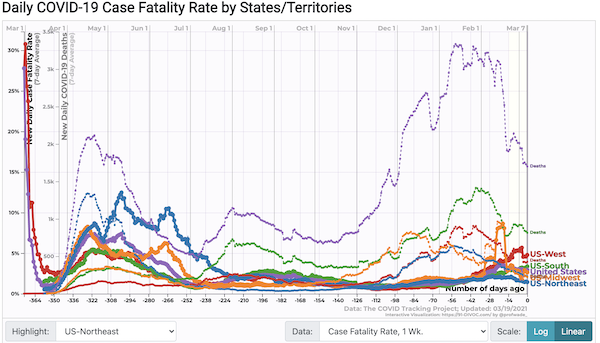 Good to see those deaths dropping. The fatality rate in the West is where it was last May.
* * *
Politics
"But what is government itself, but the greatest of all reflections on human nature?" –James Madison, Federalist 51
"They had one weapon left and both knew it: treachery." –Frank Herbert, Dune
"They had learned nothing, and forgotten nothing." –Charles Maurice de Talleyrand-Périgord
Biden Administration
"Biden White House Sandbags Staffers, Sidelines Dozens for Pot Use" [The Daily Beast]. "Dozens of young White House staffers have been suspended, asked to resign, or placed in a remote work program due to past marijuana use, frustrating staffers who were pleased by initial indications from the Biden administration that recreational use of cannabis would not be immediately disqualifying for would-be personnel, according to three people familiar with the situation. The policy has even affected staffers whose marijuana use was exclusive to one of the 14 states—and the District of Columbia—where cannabis is legal. Sources familiar with the matter also said a number of young staffers were either put on probation or canned because they revealed past marijuana use in an official document they filled out as part of the lengthy background check for a position in the Biden White House. In some cases, staffers were informally told by transition higher-ups ahead of formally joining the administration that they would likely overlook some past marijuana use, only to be asked later to resign." • Let that be a lesson to you all!

"Bernie Sanders Has A Secret Weapon In Pushing Democratic Policy Through Senate" [HuffPo]. "Dauster is Democrats' top lawyer on the Senate Budget Committee, which Sanders chairs. For the past two months, Dauster constructed Democrats' legal argument in defense of raising the minimum wage to $15 an hour without a single Republican vote. As Democrats try to navigate a 50-50 majority in the Senate, their only hope of passing some of their biggest policies — short of blowing up the Senate's 60-vote threshold needed to move legislation past a filibuster — is through a process called budget reconciliation. It's a limited legislative maneuver that allows bills to pass with a simple majority, as long as they have a direct impact on the federal budget and don't raise the deficit outside a certain time period. It's Dauster's job to argue that Democrats' proposals fit that framework. His first test was a big one: including a $15 minimum wage in the American Rescue Plan, the $1.9 trillion COVID-19 relief bill President Joe Biden signed into law this month. It didn't happen." So why the beat sweetener now? "But Dauster still believes it should have, and he believes it could work next time. He demonstrated out-of-the-box thinking that opened a new path for Democrats as they strategize around their next big pieces of legislation." • Fire the Senate parliamentarian. Why is this hard? Wait, don't answer that.
Capitol Seizure
"What the storming of the US Capitol tells us about science" [Physics World]. "I thought of Brumidi's fresco on 6 January this year as I watched live TV footage of domestic terrorists in the Great Rotunda assaulting police, smashing artefacts and splashing blood on a sculpture (Brumidi's painting, high up in the oculus of the dome, was unharmed). The carnage was incited by leaders who (amplified by social media) were warring against both democratic institutions and science. I wondered about the connection between the two wars. Each war is associated with a "grand story". The grand story of the war on democracy is that the 2020 US presidential election was fraudulent; the grand story for science is that evidence for things like climate change, the pandemic and vaccines is false. Each story provides justifications for rejecting contrary evidence, with the key elements being that the evidence has been faked, that a group of people plotted that fakery, and that attacking it is moral and just. I think of these elements as the 'three Cs': ." • The tragic thing about this deeply felt and well-written article is that the three C's apply to RussiaGate as well. The difference is that believers in RussiaGate tend to be highly educated, have real political power, and are fomenting hate against a nuclear power. See, e.g. Matt 7:5.
Democrats en Deshabille
Harris: "Kamala Harris, Police Accountability, And A Trigger-Happy Cop" [The Daily Poster]. "During her 2020 presidential run, Harris attempted to paint herself as a progressive prosecutor, but critics pointed out that she had embraced the mantle of California's 'top cop' and done little as DA or attorney general to challenge law enforcement power structures, instead pursuing low-level offenses like truancy and drug possession. Her reluctance to push for more police accountability appears to have extended to failing to investigate an officer with a troubling record at a time when doing so could have prevented killings down the line. 'She neglected a lot of cases in California,' says Genevieve Huizar, the mother of Manuel Angel Diaz, one of the men subsequently killed by Bennallack. 'Why she didn't get involved in these shootings, I don't know.'"
Realignment and Legitimacy
"'A direct response': How Trump's 2020 loss is dictating the future of elections in battleground states" [ABC]. "In Ohio and North Carolina, where former President Donald Trump triumphed in November, the GOP-controlled legislatures seem content to maintain the status quo. To date, no bills regarding access to ballots have been proposed in either state. The same cannot be said of places where electoral defeats doomed Trump's reelection bid. In Arizona, Georgia, Pennsylvania, and New Hampshire, an attempted overhaul of the voting system is well underway, with hundreds of bills being introduced to slash expanded voting regulations that found favor in recent years and at the height of the coronavirus pandemic, like expanded access to absentee and early voting. The divergent fate of voting rights in similar swing states reflects a worrisome trend for voting-rights supporters: Where Trump lost, Republicans are seeking to rewrite the rule book in their favor, regardless of how down-ballot candidates performed. In states that Trump won — nothing." • I don't see any particular reason why voting for Federal offices shouldn't be Federalized, with practices held to a single standard (including districting). I'm not sure H.R.1 (flawed for other reasons) does this, however.

"If you think you're sure the GOP has never hacked an election, then you don't know the saga of Don Siegelman, Alabama's last Democratic governor" [Jennifer Cohn, Medium]. Classic Rovian thuggery. And then we get this: "Later that year, 44 attorneys general, including both Democrats and Republicans, prevailed upon the House Judiciary Committee to investigate whether Bush's DOJ had charged and prosecuted Siegelman as an act of political retribution. Following that effort, a bipartisan coalition of 75 attorneys general asked then Attorney General Eric Holder to investigate the prosecution of Siegelman's case. Former vice president Al Gore helped raise funds for Siegelman's appeal. None of it worked. Holder, whose former law firm had helped protect Rove's emails kept on an private RNC server, instead fired a DOJ whistleblower who said that she had observed the prosecution coaching Nick Bailey, its key witness. (Another whistleblower reportedly decided to remain silent out of fear that he'd suffer the same fate or worse.)" • Obama was a terrible President.
Stats Watch
Leading Economic Indicators: "February 2021 Leading Economic Index Improved" [Econintersect]. "Because of the significant backward revisions, the current values of this index cannot be trusted. My opinion is that the economy entered a recession in March but likely left the depression in June when the economy began to improve."
Rail: "Rail Week Ending 13 March 2021 – Improvement Continues" [Econintersect]. "Total rail traffic has been mostly in contraction for over one year – and now is slowly recovering from the coronavirus pandemic… Shortly, we will see great rail growth as the data is being compared to the coronavirus lockdown period last year."
* * *
Shipping: "Nike Gets Tripped Up by Shipping Woes" [
Wall Street Journal
]. "Nike Inc. joined a growing list of U.S. companies getting squeezed by global supply-chain disruptions stemming from the Covid-19 pandemic. The sneaker giant on Thursday reported quarterly revenue that was below analysts' expectations, saying sales were hindered by a global container shortage and congestion at West Coast ports that delayed the flow of inventory by ." • Not exactly just-in-time!
Shipping: "Containership charter market has gone 'bananas', with 2M on a 'fixing spree'" [The Loadstar]. "Ocean carriers are becoming increasingly confident that freight rates will remain high for years and are still chartering ships for lengthy periods at elevated daily hire rates last seen 16 years ago…. Alphaliner said that 'the sky's the limit for containership charter rates.' 'NOOs retain the upper hand in a charter market facing a squeeze of supply and a continuously strong demand that shows no sign of weakening in the short term,' said the consultant." • I can't find the definition of NOO, sadly. Readers?
Media: "Shifts in Americans' March Madness Viewership Plans Exemplify Linear TV's Decline" [Morning Consult]. "Ahead of Thursday's tournament tipoff, 62 percent of U.S. adults who said they plan to watch at least some of this year's NCAA men's basketball tournament said they will do so via a cable or satellite TV package, according to a March 10-14 Morning Consult poll. That figure marks a roughly 30 percent decline since 2017, when 89 percent of expected tournament viewers said they would watch via a pay-TV package, and is virtually flat from the same survey last year prior to the event's cancellation amid the onset of the COVID-19 pandemic. The decline in reliance on pay-TV for tournament viewers over the past five years corresponds with a well-documented wave of cord-cutting." • The first time I've heard the phrase "linear TV."
The Bezzle: NFT's (New-Fangled Tulips) are a pyramid scheme. Thread:
Sharing this excellent and informative infographic made by @cabeza_patata, you can find the original post on their Instagram by the same name (1/4) pic.twitter.com/E0PwS6fQ5f

— Kim Parker (@thatkimparker) March 13, 2021
Tech: "Tesla faces second NHTSA probe in Michigan this month" [CNBC]. "Federal vehicle safety regulators opened a new investigation into a second Tesla crash this month after a Model Y that was reportedly operating in Autopilot struck a stationary police car early Wednesday morning in Michigan, according to officials." • A cop car? That's not a good look. Better release an upgrade with some custom code for that special case…
* * *
Today's Fear & Greed Index: 61 Greed (previous close: 55 Neutral) [
CNN
]. One week ago: 59 (Greed). (0 is Extreme Fear; 100 is Extreme Greed). Last updated Mar 19 at 12:28pm. One year ago, just after the Before Times: 7 (Extreme Fear).
The Biosphere
"Growing support for valuing ecosystems will help conserve the planet" [Nature]. "Last week, however, countries took a giant step towards enabling public authorities to put a value on their environment. At its annual meeting, the United Nations Statistical Commission — whose members are responsible for setting and verifying standards for official statistics in their countries — laid out a set of principles for measuring ecosystem health and calculating a monetary value. These principles, known as the System of Environmental-Economic Accounting Ecosystem Accounting (SEEA EA), are set to be adopted by many countries on 11 March. The principles were agreed after a 3-year writing and review process that involved 100 experts and 500 reviewers from various disciplines and countries. Once adopted, they will give national statisticians an internationally agreed rule book. It will provide a template for payments for ecosystem services…. and an official benchmark against which the condition of ecosystems can be judged by policymakers and researchers over time." • I have always HATED the phrase "ecosystem services." The market exists inside nature, not nature inside the market. Nearly every day in Nature or Science we read about an enormous ecosystem about which we knew nothing previously. How do you set a price when your cost sheet has a line item called "Unknown, but potentially enormous"? It's a bizarre example of hubris, and it will end badly, all the worse for being institutionalized. Pretty soon, people will be putting NFTs on coral reefs. Why not?
"Saving Tens of Thousands of Lives by Cutting Air Pollution" [JAMA]. "Reducing particulate matter and nitrogen dioxide pollution in nearly 1000 European cities to the World Health Organization (WHO) target levels could save about 50 000 lives a year, a multinational team of investigators reported…. Pollution-related health effects varied significantly by city. Three northern European cities—Tromsø, Norway; Umeå, Sweden; and Oulu, Finland—had the lowest premature mortality burden linked with PM2.5 and NO2 exposure. Cities in northern Italy, southern Poland, and the eastern Czech Republic had the highest burden linked with PM2.5, while large cities and capitals in western and southern Europe had the highest premature deaths attributed to NO2."
Health Care
"Why the Pandemic Experts Failed" [The Atlantic]. Lessons from The COVID Tracking Project. "We have learned that America's public-health establishment is obsessed with data but curiously distant from them. We have learned how this establishment can fail to understand, or act on, what data it does have. We have learned how the process of producing pandemic data shapes how the pandemic itself is understood. And we have learned that these problems are not likely to be fixed by a change of administration or by a reinvigorated bureaucracy. That is because, as with so much else, President Donald Trump's incompetence slowed the pandemic response, but did not define it. We have learned that . Only by adopting different ways of thinking about data can we prevent another disaster:" • 500K deaths not a bug, but a feature. So, ok. More: "The government missed the initial explosion of COVID-19 cases because, despite its many plans to analyze data, it assumed that data would simply materialize." Like PPE. " Public-health officials continue to believe that the data in front of them can be interpreted without sufficient consideration of the data-production process. And so deep problems with the data persist….. Perhaps no official or expert wants to believe that the United States could struggle at something as seemingly basic as collecting statistics about a national emergency. Yet at the COVID Tracking Project, we never had the luxury of that illusion…. To avoid another data calamity, our public-health system must expend as much energy on understanding the present as it does on modeling the future." • I'm a former data person, so this article speaks to me. It is a must-read.
"Everyone Was Wrong on the Pandemic's Societal Impact" [Foreign Policy]. "In a large-scale undertaking beginning last April, we sought to track the extent to which social and behavioral scientists (including social and clinical psychologists, experts in judgments and decision-making, neuroscientists, economists, and political scientists) accurately predicted the impacts of COVID-19 on a set of psychological and behavioral domains—ranging from life satisfaction and loneliness to prejudice and violent crimes—in the United States. We also asked average Americans to make these predictions as well. Half a year later, we assessed the accuracy of these predictions…. The majority of forecasts were off by at least 20 percent, and fewer than half of our participants correctly predicted the direction of changes. In what ways were these predictions off? Typically they were too extreme. In other words, human psychology and behavior showed more inertia than most of our participants anticipated."
Feral Hog Watch
"Florida's feral hogs: a pervasive pest – but a profitable one for some" [Guardian]. "Upwards of 9 million wild boar roam 39 states across the US, which is up from an estimated 2 million in 17 states three decades ago. Florida hosts more than half a million – the second largest population of hogs in the country behind Texas, but also the oldest bloodline. The first pigs to arrive in America were brought by the Spanish explorer Hernando de Soto, who landed near present-day Tampa in 1539. They promptly escaped, establishing a critical mass of the now-ubiquitous vermin. Today, wild hogs are considered the most destructive invasive species in the country, and the greatest wildlife challenge that the US faces in the 21st century. According to US Department of Agriculture estimates, they cause north of $2.5bn in damage each year. With gnarled tusks and bodies that can swell to the size of oak bourbon barrels, they trash watersheds, destroy crops, attack livestock, spread disease, terrorize residents and desecrate archeological sites; they are aggressive, whip-smart, lightning-fast and dine opportunistically on oak berries, trash, corn, carrion and each other. A passel of hogs can take out a commercial watermelon or tomato farm overnight, leaving the fields resembling a blast site from a hail of mortar shells." • Wait until they evolve into influencers.
https://twitter.com/search?q=%40nhannahjones%20hyper%20test&src=typed_query
https://twitter.com/search?q=%40nhannahjones%20hyper%20test&src=typed_query
Class Warfare
"America's Covid Swab Supply Depends on Two Cousins Who Hate Each Other" [Bloomberg]. One nuggest: "Puritan almost has a monopoly on the market for Covid swabs in the U.S. now and is positioned to dominate a global medical swab industry that could be worth as much as $4 billion by 2027." • This is wonderful reporting, a story of American gentry ("Local Power and the Social Order").
"The Great Wall Street Housing Grab" [New York Times]. I missed this, earlier in March: "Strategic Acquisitions was but one of several companies in Los Angeles County, and one of dozens in the United States, that hit on the same idea after the financial crisis: load up on foreclosed properties at a discount of 30 to 50 percent and rent them out. Rather than protecting communities and making it easy for homeowners to restructure bad mortgages or repair their credit after succumbing to predatory loans, the government facilitated the transfer of wealth from people to private-equity firms. By 2016, 95 percent of the distressed mortgages on Fannie Mae and Freddie Mac's books were auctioned off to Wall Street investors without any meaningful stipulations, and private-equity firms had acquired more than 200,000 homes in desirable cities and middle-class suburban neighborhoods, creating a tantalizing new asset class: the single-family-rental home. The companies would make money on rising home values while tenants covered the mortgages." • This is so, so ugly.
"The March Action and the Tragedy of German Communism" [Jacobin]. This is a must-read. The final sentence: "It was only much later that I understood that it was wrong to conduct a vanguard struggle in a bad position and with an unfavourable balance of forces for a decisive battle. Further, that it is impossible to apply suitable tactical formulas for all cases; one must rather depend in each situation on a correct view, instinct and intuition." • Words to ponder for the left today.
"Thread: Since so many claim that cancel culture doesn't exist, I propose a challenge" [EverythingOppresses]. "Here are the first 10 cases gratis. And in order to counter the false narrative that cancel culture only affects the rich, famous and powerful, and that it's just about 'critique' these examples will all be about "regular' people whose actual *livelihoods* were targeted." • I don't want to be cranky about this, but clownish conservatives are seizing the Capitol, idpol liberals in the workplace are getting people fired, and the left is…. doing what?
News of the Wired
"Wipe wallpaper with white bread? It works, says English Heritage" [Guardian]. News you can use: "Do consider using skimmed milk on a flagstone floor, or fresh white bread on wallpaper, heritage experts confidently advise. But please do not follow the advice of housekeepers who used potatoes to clean oil paintings, or Worcestershire sauce to polish the silver… The tips come as English Heritage conservation teams continue work on their annual top-to-bottom spring cleans at properties, set to finally reopen on 17 May. This involves everything from cleaning silver and copper, washing chandeliers to lifting and rolling carpets. 'There may be no visitors but the dust never stops,; said [Amber Xavier-Rowe, head of collections conservation]."
"The Ecological Imagination of Hayao Miyazaki" [Orion (Judith)]. "The Shiratani Unsuikyo ravine is a mossy-covered primary-growth nature reserve populated with thousand-year-old yakusugi, or endemic Japanese cedars. Bright blooms and quick movements have no place in this primeval space—green and evergreen is all the eye can discern. Even the ear may strain for signals, for sound does not come often or travel far under the dense canopy. As absence becomes presence, the woods cultivate their own ambience, seeming to convey a core tenet of the Japanese concept of Shinto, which holds that the world is suffused with kami, sacred essences that embody things both living and inorganic. Rock and root. Moss and leaf. Earth and wind-whispered river water. As one of Japan's oldest forests, the Shiratani Unsuikyo ravine serves as a grand cathedral and sanctuary for the more-than-human world. It is the space that inspired filmmaker Hayao Miyazaki in the crafting of Princess Mononoke, his 1997 environmental epic in which humanity wages war against the Great Forest and the divine gods of nature." • I have never seen Princess Mononoke. Perhaps I should! (I have seen Spirited Away and My Neighbor Totoro. If all buses looked like cat-buses, the world would have a better place.)
* * *
Readers, feel free to contact me at lambert [UNDERSCORE] strether [DOT] corrente [AT] yahoo [DOT] com, with (a) links, and even better (b) sources I should curate regularly, (c) how to send me a check if you are allergic to PayPal, and (d) to find out how to send me images of plants. Vegetables are fine! Fungi and coral are deemed to be honorary plants! If you want your handle to appear as a credit, please place it at the start of your mail in parentheses: (thus). Otherwise, I will anonymize by using your initials. See the previous Water Cooler (with plant)
here
. Today's plant (NM):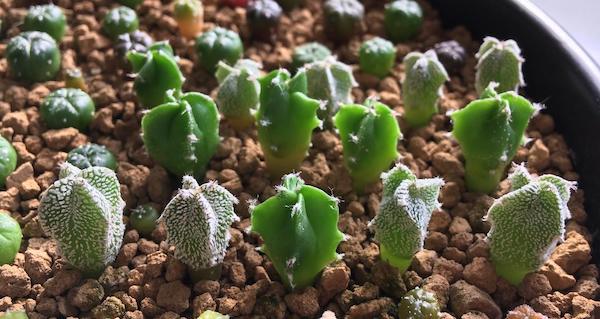 NM writes: "Submitting a picture for NC water cooler. These are six month old astrophytum myriostigma seedlings (a cactus species indigenous to Mexico). My partner and I cross pollinated the parent plants last summer in NYC and made a video about the process." Here it is:
The cacti are cute, but the video is extremely awesome. I encourage other readers to follow NM's example. And at least for those still suffering through Mud Season, video ideas of spring and summer gardening are something to think about and plan for!
* * *
Readers
: Water Cooler is a standalone entity
not
covered by the recently concluded and — thank you! — successful annual NC fundraiser. So if you see a link you especially like, or an item you wouldn't see anywhere else, please do not hesitate to express your appreciation in tangible form. Remember, a tip jar is for tipping!
Regular positive feedback both makes me feel good and lets me know I'm on the right track with coverage
. When I get no donations for five or ten days I get worried. More tangibly, a constant trickle of donations helps me with expenses, and I factor in that trickle when setting fundraising goals:
Here is the screen that will appear, which I have helpfully annotated.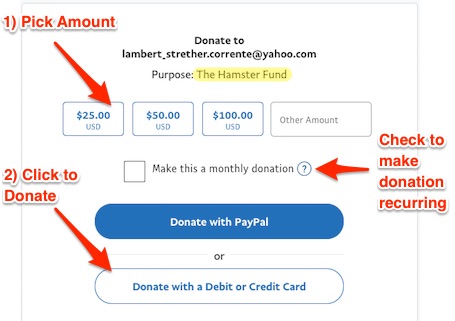 If you hate PayPal, you can email me at lambert [UNDERSCORE] strether [DOT] corrente [AT] yahoo [DOT] com, and I will give you directions on how to send a check. Thank you!