By Lambert Strether of Corrente.
Bird Song of the Day
My heavens!
#COVID19
At reader request, I've added this daily chart from 91-DIVOC. The data is the Johns Hopkins CSSE data. Here is the site.
I feel I'm engaging in a macabre form of tape-watching. If we are in "in the eye of the storm" , we are still in the eye of the storm.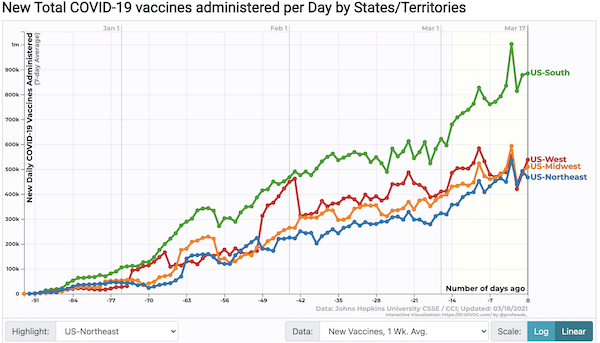 Having engorged a ginormous data artifact, vaccination is now back on trend. • Early in February, I said a simple way to compare Biden's performance to Trump's on vaccination would be to compare the slopes of the curves. If Biden accelerated vaccine administration, post-Inaugural slopes would get steeper. They have not. The fragmented, Federalized, and profit-driven lumbering monstrosity that we laughingly call our "health care" "system" has not responded to "energy in the executive," but has continued on its inertial path.
Case count by United States regions: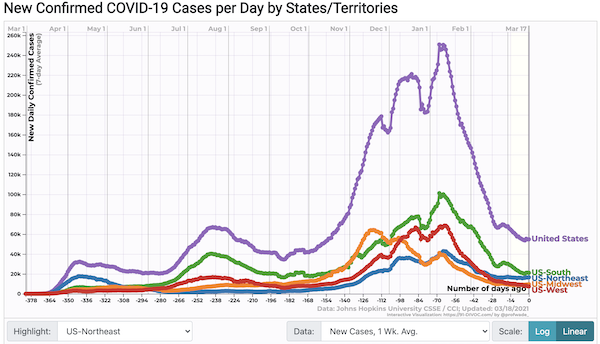 The curve has definitely been flattering for the last three weeks, and in the last two days seems to have flattered entirely (remember I use one-week averages to flatten out data artifacts). That's not good, and when we look at the Northeast, it's flattered entirely. Before we break out the champers, we would do well to remember that cases are still well above the peak New York achieved early in the crisis, then regarded, rightly, as horrific.
Big states (New York, Florida, Texas, California):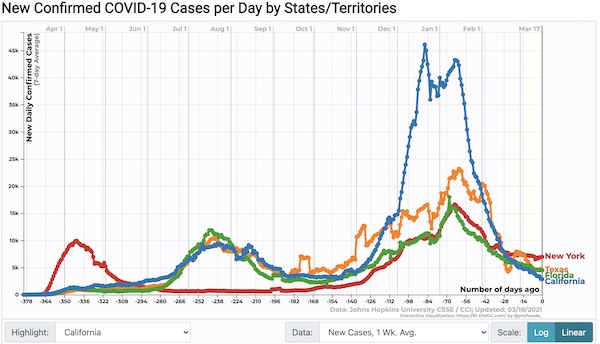 New York leads, and is now hardly decreasing at all. Not good news, especially since an average of 16,584 cases per day, now felt to be normal, isn't all that less than 20,526 at New York's peak a year ago, then regarded as horrific.
CA: "Coronavirus strains first detected in California are officially 'variants of concern,' CDC says" [CNN]. "[The variants] are officially called B.1.427 and B.1.429. Scientists have been monitoring the strains closely in California over the past few months…. The variants may be about 20% more transmissible, the CDC said, citing early research. Some Covid-19 treatments may also be less effective against the strains. Still, the CDC didn't say that vaccines would stop working against them…. No coronavirus variants currently rise to the US government's highest threat level, 'variant of high consequence.' Coronavirus strains shown to significantly reduce vaccine effectiveness would fall under that category." • "variant of high consequence." First time I've heard that jargon.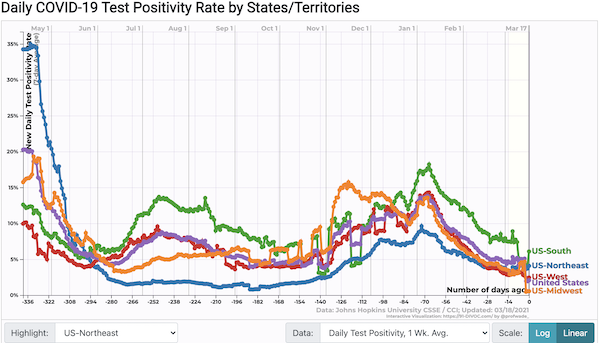 Having declared victory, are we just not testing anymore?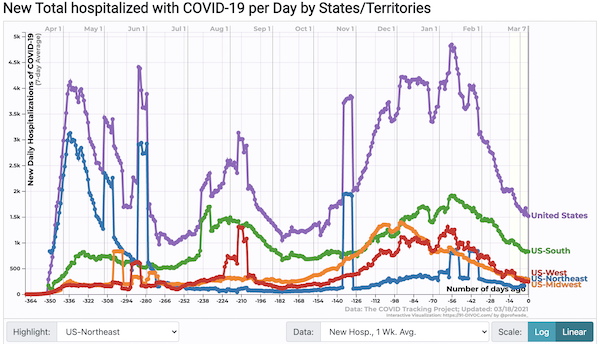 Hospitalization data is the best data we have, because hospital billing is a highly functional data acquisition system (ka-ching). That said, hospitalization is discretionary; they may also be reducing their admissions rate — relative to cases we cannot see in this data! — to preserve future capacity; or because hospitals have figured out how to send people home.
Case fatality rate (plus deaths):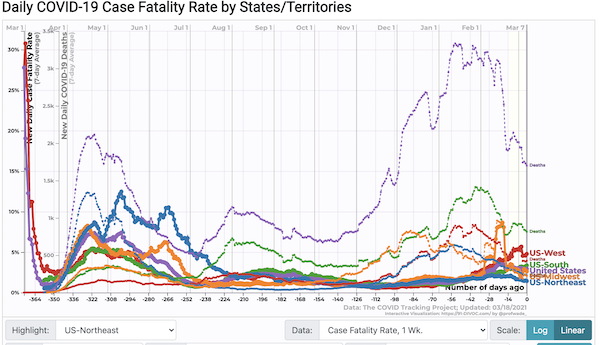 Good to see those deaths dropping. The fatality rate in the West is where it was last May.
* * *
Politics
"But what is government itself, but the greatest of all reflections on human nature?" –James Madison, Federalist 51
"They had one weapon left and both knew it: treachery." –Frank Herbert, Dune
"They had learned nothing, and forgotten nothing." –Charles Maurice de Talleyrand-Périgord
More to come. –lambert
Biden Administration
"You Furnish the Poverty Statistics, I'll Furnish the War" [Seth Ackerman, Informer]. "In the mouths of the bill's promoters, [cutting poverty in half] has a majestic ring to it, conjuring breathtaking vistas of reform on the scale of a Great Society or New Deal. And from a PR perspective, that's the intended effect. But the rhetoric is misleading, of course. As anyone who follows the news will know, the bill's cash-dispensing provisions — including the child tax credit expansion and expanded unemployment insurance — are scheduled to end after just one year. In that respect, the closest historical parallel to Biden's ARPA isn't Roosevelt's Fair Labor Standards Act or his Old Age Insurance plan, or Lyndon Johnson's Job Corps or Medicaid. Those were permanent programs. The closest historical parallel to the Biden-Schumer-Pelosi plan is the Trump-McConnell-Pelosi COVID package of 2020, also known as the CARES Act." And:

Here's how the two measures compare in terms of poverty reduction:

Overall, the 2021 Biden-Schumer-Pelosi plan lifts 12.3 million people out of poverty, reducing the poverty rate by 3.8 percentage points

The 2020 Trump-McConnell-Pelosi CARES Act lifted 11.5 million people out of poverty, reducing the poverty rate by 3.6 percentage points.

Brutal. Worth reading in full.

UPDATE "Biden defends his dog: 'Major did not bite someone and penetrate the skin'" [The Hill]. ""But he is a sweet dog," Biden said. "Eighty-five percent of the people there love him. All he does is lick them and wag his tail.'" • I blame the owner. And there are few things I like less than being licked by a dog while the owner looks on approvingly, expecting me to take it and like it.

UPDATE "Putin, in state TV quip, wishes Biden good health after U.S. president calls him killer" [Reuters]. • Obama: "Turns out I'm really good at killing people. Didn't know that was going to be a strong suit of mine."
Democrats en Deshabille
"Ohio lobbyist named in bribery probe found dead in Florida" [The Hill]. "An Ohio lobbyist who faced charges in connection with a federal bribery investigation was found dead in Florida, authorities announced Tuesday." • Looks like suicide. And for what?

"This Fertilizer King Funneled Cuomo $1 Million—and Got a New York Health-Care Empire" [The Daily Beast]. "Cuomo's camp insists the Ukrainian-born Rovt's donations had nothing to do with his rise in New York's tightly regulated health-care market. 'Political donations have zero bearing on policy,' asserted spokesman Jack Sterne." •
Realignment and Legitimacy
"Why the Third Way Failed" [Ruy Teixeira and Brian Katulis, The Liberal Patriot\]. Pretty sloppy writing, with no clear distinctions between "liberal," "progressive," "center-left," and "left." For example: "The fascination of the left with slicing and dicing national populations into ever-smaller identity groups, which all then have their place in a hierarchy of oppression (or privilege) must be jettisoned. It is toxic to a majoritarian and sustainable progressivism." If you define the left, as I do, as the political tendency that puts the working class first, then identity politics is not left at all; it's liberal. In ten years, the DNC is going to be tattooed and "look like America." So will the donors. And those will be the only differences. It's also pretty rich that Teixeira, the inventor of the (mythical, except with respect to billable hours) coalition of the ascendant" now decries identity politics. His (ever-shifting) identity groups were just bigger, that's all! The article concludes: "These three fundamentals, advancing a new, inclusive national identity, putting forward a economic plan to lift everyone up in society, and maintaining a balanced focus on protecting the country from threats old and new, are key ingredients for building a more stable political foundation for the center-left." • What a bowl of steaming mush.

"Bipartisanship Has Sailed" [The Baffler]. "Not a single Republican in Congress voted for the current relief bill. But it's much worse than that: the GOP has an ironclad policy against voting for anything that comes from Democratic leadership. That's the story of the Obama administration…. This kind of rigid partisanship is deplored by Democratic centrists. Yet they never seem to do anything about it, other than to bow to Republican rigidity. You didn't see Joe Manchin or Kyrsten Sinema, for example, making any headway in convincing Senators Mitt Romney or Susan Collins to show some bipartisan unity on the pandemic relief legislation. Why couldn't Manchin convince his friend Rob Portman to vote for it? Portman has already announced he's not even running for reelection. But still, he wouldn't break ranks….. If there is such a thing as ethical partisanship, isn't there also a tendency among some Washington Democrats to promote an unethical, unworkable, and one-sided—which is to say fraudulent—bipartisanship?"

"I Accidentally Joined A Playgroup Full Of QAnon Moms. Here's What Happened." [HuffPo]. "One afternoon, I met a friend at a local park where she went on to tell me children in America were no longer safe due to the prevalence of sex trafficking. She mentioned a few moms I should follow to learn more about sex trafficking in the United States, and for a while I thought #savethechildren was a hashtag campaign for the nonprofit organization Save the Children. It wasn't until a few months later that I learned about QAnon, and that the far-right conspiracy theory movement propelled theories that Trump was secretly fighting an underground child sex-trafficking scheme run by Democratic leaders like Hillary Clinton and other elites. I also learned that these infamous QAnon conspiracy theories were often propagated through the mommy blogging community on social media."
Stats Watch
Employment Situation: "13 March 2021 Initial Unemployment Claims Rolling Average Improves Again" [Econintersect]. "The four-week rolling average of initial claims is 220 % higher than one year ago (versus the 251 % higher last week)."
Manufacturing: "United States Philadelphia Fed Manufacturing Index" [Trading Economics]. "The Philadelphia Fed Manufacturing Index in the US jumped to 51.8 in March of 2021 from 23.1 in February, beating market forecasts of 23. The reading pointed to the strongest growth in factory activity in Philadelphia in nearly 50 years." • (!!)
* * *
Finance: "New York stays top in finance as London loses ground, index shows" [Reuters]. "New York kept the top spot in the latest Global Financial Centres Index (GFCI), with London clinging on to second place in the face of competition from Shanghai and other Asian centres."
The Bezzle: "Revealed: seafood fraud happening on a vast global scale" [Guardian]. "A Guardian Seascape analysis of 44 recent studies of more than 9,000 seafood samples from restaurants, fishmongers and supermarkets in more than 30 countries found that 36% were mislabelled, exposing seafood fraud on a vast global scale. Many of the studies used relatively new DNA analysis techniques. In one comparison of sales of fish labelled "snapper" by fishmongers, supermarkets and restaurants in Canada, the US, the UK, Singapore, Australia and New Zealand, researchers found mislabelling in about 40% of fish tested. The UK and Canada had the highest rates of mislabelling in that study, at 55%, followed by the US at 38%."
The Bezzle: "Buying a Tesla in Bitcoins cancels 4 times the CO2 savings for its whole lifetime" [Medium]. "This is how insanely bad Bitcoin is for the environment : If you buy a Tesla car (around 40 000 $) in Bitcoins, the impact of the mining of those bitcoins is around 80 tons of CO2. This is 4 times more than the saving of CO2 you can expect from this car (compared to a gasoline one) on its entire lifetime (around -20 tons)…. In 2020, the carbon impact for mining bitcoins is 36 millions of tons of CO2, for 18 billions $ of revenues for miners. Hence, 40 000 $ value of bitcoins represents 80 tons of CO2." ¨• As readers know, arithmetic is not my strongest suit….
Tech: "Why Amazon, Google, and Microsoft Are Designing Their Own Chips" [Bloomberg]. "By 2025 data centers are expected to consume 15% of the world's electricity, up from about 2% last year, according to Applied Materials, the biggest maker of chip manufacturing equipment. Keeping power consumption down is becoming more important than the cost of the chips themselves for the data center owners." • Holy moley!
Tech: "Gene name errors are widespread in the scientific literature" [Genome Biology]. From 2016, still germane. The Abstract: "The spreadsheet software Microsoft Excel, when used with default settings, is known to convert gene names to dates and floating-point numbers. A programmatic scan of leading genomics journals reveals that approximately one-fifth of papers with supplementary Excel gene lists contain erroneous gene name conversions." • This is so, so bad.
Tech: "Facebook shows off mind-reading technology it hopes to use one day with smart glasses" [CNBC]. "The wrist device is capable of reading neurological signals sent from a users' brain down to their hands. It could theoretically read these signals to get a sense of what a user wants to do and replicate the action in a virtual or augmented reality environment. 'You actually have more of your brain dedicated to controlling your wrist than any other part of your body, probably twice as many neurons controlling your wrist and the movement of your hands than is actually dedicated to your mouth for feeding and for speech,' said TR Reardon, director of research science at Facebook Reality Labs." • Kill them with fire.
Transportation: "Can Shared Mobility Survive the Pandemic?" [Bloomberg]. • Betteridge's Law. "]T]he pandemic made the idea of piling into a car full of strangers a lot less appealing. In March 2020 Uber and Lyft both put their pooled products on pause, where they largely remain." • Worth reading for the lizard-like public relations efforts of the ride-hailing companies.
The Fed: "Fed sees U.S. economic growth surging to 6.5 percent this year" [Politico]. "The Federal Reserve on Wednesday projected the U.S. economy will grow 6.5 percent this year, the fastest pace in four decades, fueled by growing vaccination rates and nearly $2 trillion in new federal spending. Central bank officials upgraded their growth forecast from a 4.2 percent estimate in December, adding that they now expect the unemployment rate to drop to 4.5 percent by the end of 2021."
* * *
Today's Fear & Greed Index: 58 Greed (previous close: 58 Greed) [CNN]. One week ago: 56 (Greed). (0 is Extreme Fear; 100 is Extreme Greed). Last updated Mar 18 at 11:57am. One year ago: 5 (Extreme Fear).
Health Care
"Your Unvaccinated Kid Is Like a Vaccinated Grandma" [Emily Oster, The Atlantic]. Deck: "Parents should bet on vacations with their kids this summer." More; "Children are not at high risk for COVID-19. We've known since early in the pandemic that they are much less likely to fall ill, especially seriously ill. Although scientists don't quite understand why, kids seem to be naturally protected." • Oster, an economist, seems not to have given consideration that infected children might be asymptomatic and transmit the virus to others.
"CDC reviewing rule that students, staff stay 6-feet apart in COVID hotspots" [ABC News]/ • I saved this link because to my recollection — no time to look at the Wayback Machine — the accompanying photo showed one child with their mask below their nose. Not good practice when masks are the CDC's first line of defense. Now this picture appears, with different problems: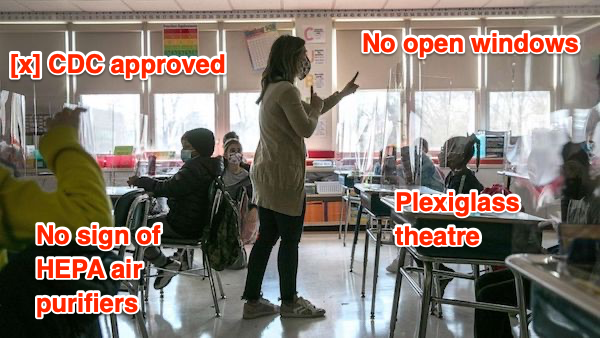 One more for your School Board:
Check here for a Step-by-Step guidance how to choose an ionizer or a UV+catalyst device. Follow these simple 3 steps for proper selection! pic.twitter.com/uPY3X4CVSI

— Marwa Zaatari (@marwa_zaatari) March 17, 2021
"How To Get A COVID-19 Shot In Wisconsin: Vaccine Hunters Share Tips" [Wisconsin Public Radio]. The deck: "Tired Of Waiting, Some Eligible Wisconsinites Take Action Or Find Help To Nab Vaccine Appointments." More: "But Davis wasn't sure how to book an appointment. The signup websites she found failed to demystify the process. That's when she saw a about a Facebook group called Milwaukee & WI Area Vaccine Hunters and Angels, where Wisconsinites share tips for snagging appointments. The fast-growing Facebook group has helped many Wisconsinites navigate the state's COVID-19 vaccine bureaucracy. Wisconsin is among the nation's leaders in distributing inoculations to those who want them, but demand still outpaces supply, and some eligible residents still struggle to find appointments. The Facebook group is among dozens popping up nationwide in which members share insights for booking vaccinations. Some, like Orech, even schedule appointments for others. They are known as 'angels.'" • On the one hand, good ol' American ingenuity. On the other, we built a system that's so bad it's begging to be gamed. What does that say about the operational capacity of our State?
Could have been much worse:
How it started/how it's going, one year apart: pic.twitter.com/4GI1WKdwo1

— Benjy Renton (@bhrenton) March 17, 2021
"Covid: Slow walkers 'more likely to die', study finds" [BBC]. "Health researchers based in Leicester concluded slow walkers with a "normal" weight were 3.75 times more likely to die from the virus than brisk walkers. The project used data collected from more than 400,000 middle-aged people. Lead researcher Prof Tom Yates said self-reported walking pace could be used to predict whether someone was at higher risk from the virus. The study, run by the National Institute for Health Research (NIHR) Leicester Biomedical Research Centre, was designed to explore links between body mass index (BMI) and self-reported walking pace with the risk of contracting severe Covid-19 and mortality. It used self-reported data from 412,596 people who participate in UK Biobank, a biomedical database and research study." • Too bad about the self-reporting. Video interlude:
.
Oh, I thought you said slow talkers!
The Biosphere
"Plummeting sperm counts, shrinking penises: toxic chemicals threaten humanity" [Erin Brockovich, Guardian]. "A new book called Countdown, by Shanna Swan, an environmental and reproductive epidemiologist at Icahn School of Medicine at Mount Sinai in New York, finds that sperm counts have dropped almost 60% since 1973. Following the trajectory we are on, Swan's research suggests sperm counts could reach zero by 2045. Zero. Let that sink in. That would mean no babies. No reproduction. No more humans. Forgive me for asking: why isn't the UN calling an emergency meeting on this right now? The chemicals to blame for this crisis are found in everything from plastic containers and food wrapping, to waterproof clothes and fragrances in cleaning products, to soaps and shampoos, to electronics and carpeting." • Hard to believe ova aren't being affected as well.
Our Famously Free Press
"Here's why Substack's scam worked so well" [The Hypothesis]. "Substack is not merely an app. It's actually a publication. Why do I say that? Because Substack's leadership pays a secret, select group of people to write for the platform. They call this group of writers the 'Substack Pro' group, and they are rewarded with 'advances' that Substack co-founder Hamish McKenzie calls 'an upfront sum to cover their first year on the platform [that's] more attractive to a writer than a salary, so they don't have to stay in a job (or take one) that's less interesting to them than being independent.' In other words, it's enough money to quit their day jobs. They also get exposure through Substack's now-considerable online reach. By doing this, Substack is creating a de facto editorial policy. Their leadership — let's call them editors — are deciding what kinds of writing and writers are worthy of financial compensation. And you don't know who those people are. That's right — Substack is taking an editorial stance, paying writers who fit that stance, and refusing to be transparent about who those people are." • Viscerally, I agree with this. On the other hand, is Substack more like a newspaper, or more like a newsstand?
"Wikimedia Foundation to offer community's free content via paid-for Enterprise API" [The Register]. "In a blog post on Wednesday, Liam Wyatt, program manager for WikiCite at Wikimedia Foundation, explained that the forthcoming Wikimedia Enterprise API will provide a way for commercial companies to reuse content from projects like Wikipedia in their own services…. [C]ompanies that prefer to ingest project data via an open source API for faster, more reliable repurposing will soon have a way to pay for premium service, complete with a service-level agreement." • Hmm. I wonder what content sources this will kill off.
The Agony Column
"Australia: Sex consent app proposal sparks backlash" [BBC]. "Australians have derided a suggestion by the New South Wales (NSW) police commissioner that an app could be used to register sexual consent. On Thursday, Mick Fuller championed the idea of an app where people could digitally record their mutual agreement to have sex. He said the technology could be used to establish 'positive consent'. But many people have criticised the proposal as short-sighted and potentially open to abuse. Concerns have also been raised about whether it could be used for state surveillance." • I don't see the need for an app when a written, witnessed contract would be enough.
"Not tonight, darling: how the world lost its libido – and how it can get it back" [Guardian]. "In research conducted by the Kinsey Institute at Indiana University last year, nearly half of the respondents reported a decline in the frequency of sexual behaviour, including masturbation (although one in five people said they had tried something new in their sex life, such as different positions or sexting). 'It's definitely affecting people,' says Kate Moyle, a psychosexual therapist and the host of the podcast The Sexual Wellness Sessions. 'Generalised anxiety is at a higher level: there are threats to health, wellbeing, jobs, education or medical treatments. We're not seeing friends or family. That increased anxiety can affect us inside the bedroom: people are reporting being more distracted, or that they find it harder to be in the moment, that they have more intrusive thoughts or more negative automatic thoughts.' For some people, though, sex may have increased during this period, she says, as a form of stress relief." • Lots of interesting detail, but what a bleak landscape. Perhaps the pagans did it better.
Zeitgeist Watch
Hanlon's Razor: "Never attribute to malice that which can be adequately explained by stupidity." Comment:
Hanlon's Razor simply suggests that these people are few and far between.

It is the glass half full.

It says that humans are inherently well intentioned, so to make decisions and judgments accordingly.

It is a powerful heuristic for viewing the world in a more positive light.

— Sahil Bloom (@SahilBloom) March 17, 2021
Class Warfare
News of the Wired
I'm trying to imagine the Soviet version of this:
Skippy-Racer Scooter (1933) designed by Harold van Doren & John Riedout for American National Company of Toledo, OH pic.twitter.com/OUwm1Y0j6h

— Midwest Modern (@JoshLipnik) April 23, 2020
Why did it take so long:
*rubs hands together*

Zoom Escaper lets you sabotage your own meetings with audio problems, crying babies, and more https://t.co/Y7SENEtths

— Amarnath Amarasingam (@AmarAmarasingam) March 18, 2021
Dad.
*phone rings*

danny boy: hello?

the pipes: hey man what's up

— Andrew Huang (@andrewhuang) February 3, 2021
* * *
Readers, feel free to contact me at lambert [UNDERSCORE] strether [DOT] corrente [AT] yahoo [DOT] com, with (a) links, and even better (b) sources I should curate regularly, (c) how to send me a check if you are allergic to PayPal, and (d) to find out how to send me images of plants. Vegetables are fine! Fungi and coral are deemed to be honorary plants! If you want your handle to appear as a credit, please place it at the start of your mail in parentheses: (thus). Otherwise, I will anonymize by using your initials. See the previous Water Cooler (with plant) here. Today's plant (Carla):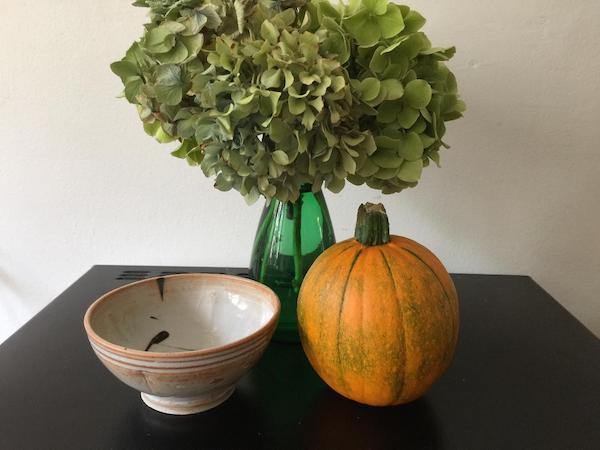 Carla writes: "Still-life with home-grown pumpkin — Sept. 2020." What did the Dutch masters know of pumpkins?
* * *
Readers: Water Cooler is a standalone entity not covered by the recently concluded and — thank you! — successful annual NC fundraiser. So if you see a link you especially like, or an item you wouldn't see anywhere else, please do not hesitate to express your appreciation in tangible form. Remember, a tip jar is for tipping! Regular positive feedback both makes me feel good and lets me know I'm on the right track with coverage. When I get no donations for five or ten days I get worried. More tangibly, a constant trickle of donations helps me with expenses, and I factor in that trickle when setting fundraising goals:
Here is the screen that will appear, which I have helpfully annotated.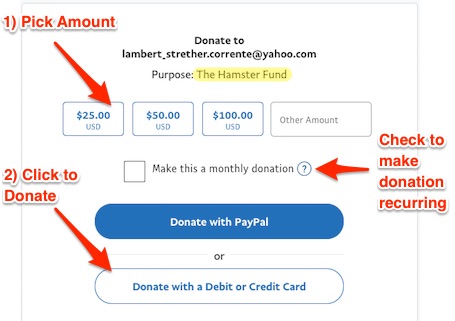 If you hate PayPal, you can email me at lambert [UNDERSCORE] strether [DOT] corrente [AT] yahoo [DOT] com, and I will give you directions on how to send a check. Thank you!