By Lambert Strether of Corrente.
Bird Song of the Day
Most popular bird song audio at eBird today.
#COVID19
At reader request, I've added this daily chart from 91-DIVOC. The data is the Johns Hopkins CSSE data. Here is the site.
I feel I'm engaging in a macabre form of tape-watching. If we are in "in the eye of the storm" , we are still in the eye of the storm.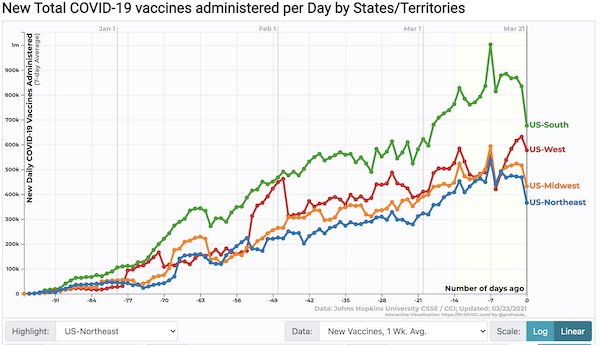 Not sure whether we're looking at a data artifact or not; the Johns Hopkins data was updated today. Bloomberg (also averaged) has a slight dip. • Early in February, I said a simple way to compare Biden's performance to Trump's on vaccination would be to compare the slopes of the curves. If Biden accelerated vaccine administration, post-Inaugural slopes would get steeper. They have not. The fragmented, Federalized, and profit-driven lumbering monstrosity that we laughingly call our "health care" "system" has not responded to "energy in the executive," but has continued on its inertial path.
FL: "Florida among states where rapid COVID-19 vaccine rollout backfired, analysis finds" [Orlando Sentinel]. "A surprising new analysis found that states such as Florida, South Carolina and Missouri that raced ahead of others to offer the vaccine to ever-larger groups of people have vaccinated smaller shares of their population than those that moved more slowly and methodically, such as Hawaii and Connecticut. The explanation, as experts see it, is that the rapid expansion of eligibility caused a surge in demand too big for some states to handle and led to serious disarray. Vaccine supplies proved insufficient or unpredictable, websites crashed and phone lines became jammed, spreading confusion, frustration and resignation among many people."
Case count by United States regions: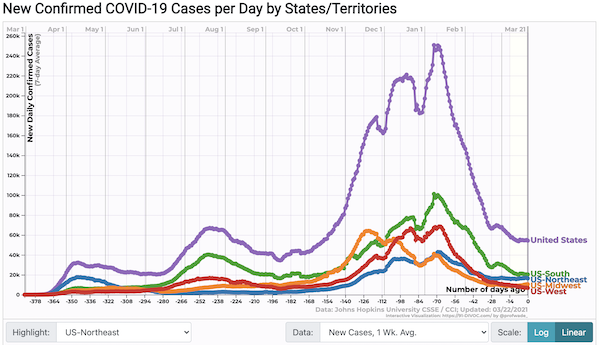 The curve has definitely been flatterrnning for the last three weeks, and in the last two days seems to have flattened entirely (remember I use one-week averages to smooth out data artifacts). That's not good, and when we look at the Northeast, it's flattened entirely. Since these are averaged weekly, there's some momentum in the train, too. Before we break out the champers, we would do well to remember that cases are still well above the peak New York achieved early in the crisis, then regarded, rightly, as horrific.
Big states (New York, Florida, Texas, California):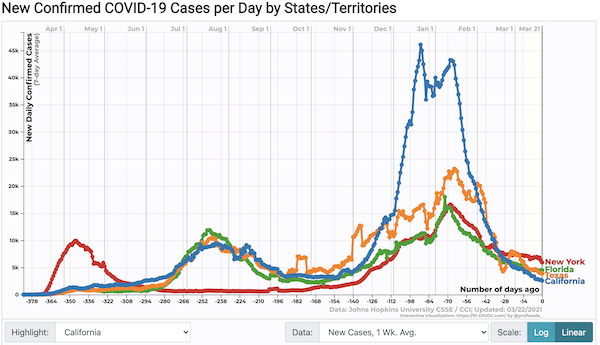 New York leads, and is now hardly decreasing at all. Not good news, especially since an average of 16,584 cases per day, now felt to be normal, isn't all that less than 20,526 at New York's peak a year ago, then regarded as horrific. I'm also loathe to give Florida's DeSantis permission for a happy dance, but there's no question that in the enormous natural experiment that is our Federalized response to Covid, Florida didn't do badly, and its case curve looks pretty much like that corrupt crook Cuomo's, just with a later peak.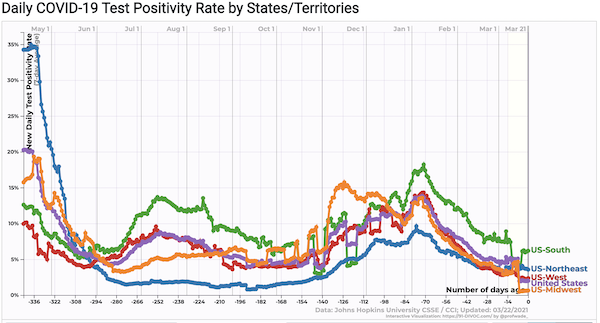 Big jump in the South.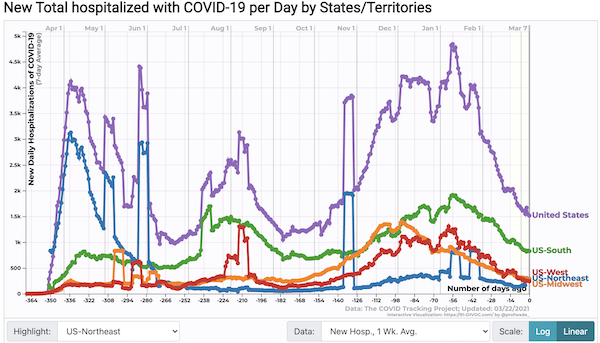 Hospitalization data is the best data we have, because hospital billing is a highly functional data acquisition system (ka-ching). That said, hospitalization is discretionary; they may also be reducing their admissions rate — relative to cases we cannot see in this data! — to preserve future capacity; or because hospitals have figured out how to send people home.
Case fatality rate (plus deaths):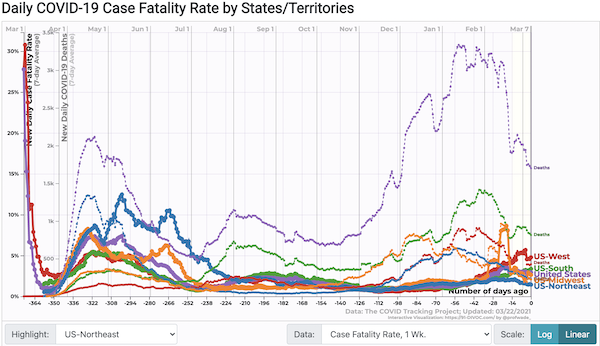 Good to see those deaths dropping. The fatality rate in the West is where it was last May.
* * *
Politics
"But what is government itself, but the greatest of all reflections on human nature?" –James Madison, Federalist 51
"They had one weapon left and both knew it: treachery." –Frank Herbert, Dune
"They had learned nothing, and forgotten nothing." –Charles Maurice de Talleyrand-Périgord
Capitol Seizure
"'I was sick to my stomach': George W. Bush denounces the Capitol riot in a new interview." [New York Times]. • But torture? Hundreds of thousands of dead civilians? No problemo!
Biden Administration
"Obama-era officials return to White House worth millions" [ABC]. "As several Obama-era officials return to the White House under President Joe Biden, their reunion comes with fuller pockets and deeper ties to corporate interests, new financial disclosure reports show…. . High-ranking government officials typically divest their financial interests in specific private companies that they may regulate, as required by ethics rules, or recuse themselves from matters that could affect their personal financial interests. Some of the Biden White House officials have indicated in their disclosure reports that they will divest from their corporate interests, but the full extent of their plans to avoid conflict of interest are not yet known because ABC News has not yet obtained their ethics agreements."

"DHS secretary says border is closed: 'The message is quite clear, do not come'" [The Hill] • Fundamentally, nothing will change.

"Biden promised change at the border. He's kept Trump's Title 42 policy to close it and cut off asylum" [Los Angeles Times]. • Perhaps we look back, as some of us did with Obama and Bush, to find more continuities than differences with Biden and Trump.

"Republican AGs take blowtorch to Biden agenda" [Politico]. "Republican attorneys general are suing the Biden administration over the Keystone XL pipeline, and over its its immigration and climate policies. One is challenging the White House's $1.9 trillion coronavirus relief package. Others have raised the specter of a constitutional challenge to the voting rights bill H.R. 1… With their party out of power in the White House and Congress, the nation's 26 Republican attorneys general have emerged as the weapons division of the GOP, reprising a role played by Democratic AGs during the Trump era. Just as Democratic AGs served as the vanguard of the blue-state resistance, Republican AGs are leading the charge to stymie President Joe Biden's policy-making agenda."
Trump Legacy
"Former Operation Warp Speed head takes credit for '90 percent' of vaccine rollout so far" [The Hill]. "The former head of the White House's Operation Warp Speed partnership, Moncef Slaoui, said on Sunday that the Trump administration was responsible for "90 percent" of the COVID-19 vaccine rollout plan so far…. "I do think that we had plans and in fact 90 percent of what's happening now is the plan that we had. Of course the first thing was to accelerate the development of the vaccine,' he continued. 'We constructed [contracted?] specifically 100 million doses of vaccine, but also built into the contract options to acquire more vaccines once we knew they are effective. And the plan was to order more vaccines when we knew they are more effective.' Pres. Biden has criticized the Trump White House for failing to provide enough COVID-19 vaccine doses. Slaoui said that he believed that the former administration could take credit for most of the manufacturing and distribution of the coronavirus vaccines. However, he added that vaccine administration and the utilization of the Federal Emergency Management Agency was 'not part of the plan' and acknowledged that the Biden administration had taken the lead in those areas." • 90%? I dunno. What I do know is that the Trump administration is given no credit whatsoever, and that's just bogus.
Republican Funhouse
"The Florida Theory Of Republican Power" [The American Conservative]. "The Sunshine State has become a veritable home of the Grand Old Party in exile. Its regional breakdown could be taken as a simile for the various power centers of the party as a whole. First, you have the Panhandle, most prominently represented in Congress by Matt Gaetz…. Heading south, and you start heading into expatriate families from America's more old guard climes real fast. Like many Republicans, Tucker Carlson has taken up residence off the Gulf coast, ditching D.C. The artist and TAC board member George O'Neill Jr. has long lived in the middle of the state. Stopping there, you might assume the GOP was still all WASP stock at the commanding heights, like back in the old days. Moving right along, Fort Myers and Naples, where DeSantis spoke, have long been considered hotbeds for those leaving the Midwest… Rick Scott, the former two-term governor and Florida's junior senator, hails from the Show Me State and calls Naples home. A little north, Tom Brady of Tampa, the peerless Super Bowl champion, has long been regarded as a crypto-Republican. In Miami, you encounter Florida's senior senator, Marco Rubio, the party's perennial once-and-future hope. You also run into more and more folks from Silicon Valley, who say they're fleeing "woke" California. Jared Kushner and Ivanka Trump have also decamped to a place there following their exodus from government. Miami's mayor, Francis X. Suarez, is certainly trying to make a name for himself, and like Rubio, is at the forefront of the party's attempts to court Hispanic Americans, which proved more successful than anyone imagined in 2020. And, of course, the secretive Matt Drudge has long convulsed the news cycle from his Miami-Dade compound." • Interesting….
Realignment and Legitimacy
"Nev. Democratic Party in upheaval after progressive takeover" [Associated Press]. "[This week] a slate of Sen. Bernie Sanders-aligned progressives backed by a local chapter of the Democratic Socialists of America won the party's top leadership posts. The results prompted resignations of the party's staff and consultants. Nevada political operatives say the progressive takeover could diminish the power of the state party and jeopardize a push to make the state the first presidential nominating contest in 2024, ahead of Iowa and New Hampshire. It's unlikely that Whitmer's leadership will weaken the broader, vaunted political "Reid Machine" or the 2022 reelection prospects of Nevada's U.S. Sen. Catherine Cortez Masto, three Democrats in the U.S. House and the state's Democratic governor. It seems likely Reid and other establishment politicians may move to work outside the party structure to raise money, recruit candidates and run voter outreach." • Lol, "unity."

"Trump adviser says former president will return to social media within months" [The Hill]. "Former Trump administration senior adviser Jason Miller said Sunday that the former president plans to return to social media in the coming months with his "own platform.'" • If your business depends on a platform…

"Neil Gorsuch Supports an Originalist Theory That Would Destroy Modern Governance" [Slate]. "On Thursday, the Columbia Law Review published one of the most important and topical scholarly articles in recent memory, "Delegation at the Founding." Its authors, Julian Davis Mortenson and Nicholas Bagley, put forth a sweeping argument: They assert that an ascendant legal theory championed by conservative originalists has no actual basis in history. That theory, called the nondelegation doctrine, holds that the Constitution puts strict limits on Congress' ability to let the executive branch set rules and regulations. Congress, for instance, could not direct the Environmental Protection Agency to set air quality standards that 'protect public health,' and let the agency decide what limits on pollution are necessary to meet that goal. Nondelegation doctrine has enormous consequences for the federal government's ability to function, since Congress typically sets broad goals and directs agencies to figure out how to achieve them. The theory is supported by a majority of the current Supreme Court; in 2019, Justice Neil Gorsuch signaled his eagerness to apply the doctrine, and at least four other conservative justices have joined his crusade." • Important, and well worth a read.
Stats Watch
"February 2021 CFNAI Super Index Moving Average Index Declined" [Econintersect]. "The economy's rate of growth declined based on the Chicago Fed National Activity Index (CFNAI) 3 month moving (3MA) average – and the economy remains below the historical trend rate of growth…. This index is likely the best coincident indicator of the U.S. economy. A coincident indicator shows the current state of the economy. This month, only two of the four broad categories of indicators improved. The economy has slowed from its rate of growth in 2018 but now has moved above territory associated with recessions [a level below -0.7 indicates a recession is likely underway]."
* * *
Shipping: "Unvaccinated sailors risk deepening global supply chain crisis" [Financial Times]. "Of the world's 1.7m seafarers, 900,000 are from developing nations, where vaccines might not be available for all until 2024, according to the International Chamber of Shipping, a trade association. Guy Platten, secretary-general of ICS, said it had received reports that three ports in China had prevented sailors from disembarking because they had not received a specific Covid-19 vaccine, foreshadowing a potential repeat of last year's welfare crisis for seafarers and the challenges to rebooting international travel. 'If our workers can't pass through international borders, this will undoubtedly cause delays and disruptions in the supply chain,' he said. 'We're really scared seafarers will become collateral damage again.'" • Another aspect of the "crew change" problem; see NC here.
Tech: "Zoom Pays $0 in Federal Income Taxes on Pandemic Profits" [Institute on Taxation and Economic Policy]. "Zoom Video Communications, the company providing a platform used by remote workers and school children across the country during the pandemic, saw its profits increase by more than 4,000 percent last year but paid no federal corporate income tax on those profits. The company reports that it made $660 million of pre-tax profits for 2020, an exponential increase from its $16 million in pre-tax profits in 2019. The immediate shift to online activity explains the company's unprecedented income growth. For many, Zoom has become a ubiquitous daily meeting space, both for work, class instruction, family gatherings and evening happy hours. But why was the company's income bonanza not matched by at least a token federal tax bill? The main answer appears to be the company's lavish use of executive stock options."
Tech: "Creator who sold NFT house for $500,000: We'll be 'living in an augmented reality lifestyle' soon" [CNBC]. "Contemporary artist Krista Kim recently sold an NFT-minted digital house for 288 ether, valued at over $500,000 based on the cryptocurrency's trading price Wednesday. The creation — called Mars House — is part of Kim's grand vision for the role augmented reality will play in the world….The new owner of Mars House, she said, will be able to upload the file into various metaverses — 3D immersive worlds — and experience the digital real estate there. She said Mars House represents the 'next generation of NFT art.' 'For me, I actually foresee that we will be living in an augmented reality lifestyle within a very short period,' Kim said, predicting it could happen in 'a couple years.'"
Concentration: "A new effort to revive North American freight rail consolidation is under way. Canadian Pacific Railway agreed to acquire Kansas City Southern…. in a deal valued at about $25 billion that would create the first single freight-rail network connecting the continent'" [Wall Street Journal]. "If approved by regulators, the deal would allow the combined carrier to link factories and ports in Mexico, farms and plants in the midwestern U.S. and Canada's ocean ports and energy resources. That approval carries high hurdles, and attempts by railroads to resume the large-scale mergers that marked the freight rail sector in the 1990s have foundered."
Supply Chain: "The production end of the Covid-19 vaccine supply chain is speeding up. Drug makers Moderna, Pfizer and its partner BioNTech are using experience gained since the start of manufacturing to nearly triple their output of doses from last month to this month" [Wall Street Journal]. "That will push more vaccines into the immunization pipeline and draw greater attention to the final stages of vaccination that have proven challenging for many U.S. states…. To boost factory output, the manufacturers have started making certain raw materials on their own, Pfizer has figured out how to stretch scarce supplies of special filters and Moderna shortened the time needed to inspect and package vials."
* * *
Today's Fear & Greed Index: 55 Neutral (previous close: 53 Neutral) [CNN]. One week ago: 60 (Greed). (0 is Extreme Fear; 100 is Extreme Greed). L Last updated Mar 22 at 12:20pm. One year ago, just after the Before Times: 8 (Extreme Fear).
Rapture Index: Closes down 1 on Food Supply. "Corn, wheat, and soybeans have declined from recent highs" [Rapture Ready]. Record High, October 10, 2016: 189. Current: 188. (Remember that bringing on the rapture is a good thing, so high is better.)
The Biosphere
"How a Village United to Save Cinque Terre's Ancient Terraces" [Atlas Obscura]. "For centuries, locals in Cinque Terre shaped the slopes to create terraces that allowed them to plant grapevines, olive trees, lemon groves, and more, the rows supported by dry stone walls that snaked across the hills. It took a millennium of hard work. By the 19th century, at their peak, these narrow strips of cultivated plots covered nearly 4,000 acres. In the 1950s, however, families began abandoning their plots. … Over the past three decades, the region has found new life as a tourist destination. As tourism boomed, the terraces were increasingly neglected, as were their stone walls…. Dry stone walls, which are the backbone of Cinque Terre's terraces, regulate water flows, function as fire barriers, and stabilize the slopes. They reduce the risk of landslides, floods, and avalanches, combat erosion, and can help keep the cultivated soil healthier and more productive. But if they're falling apart, the walls may actually increase the risk of catastrophic events… Starting with small meetings in homes, a group of local citizens created a foundation to restore the terraces." • It looks like the locals give their terraces to a Foundation….
Health Care
The tweet from the Times social media team includes this image: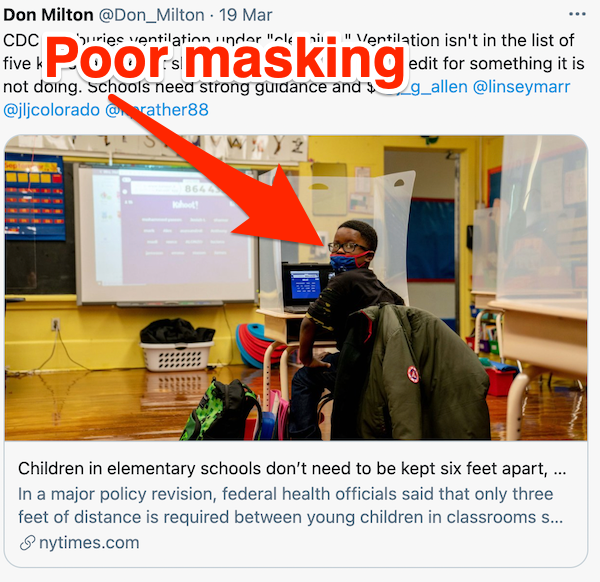 The story from the clickthough includes this image: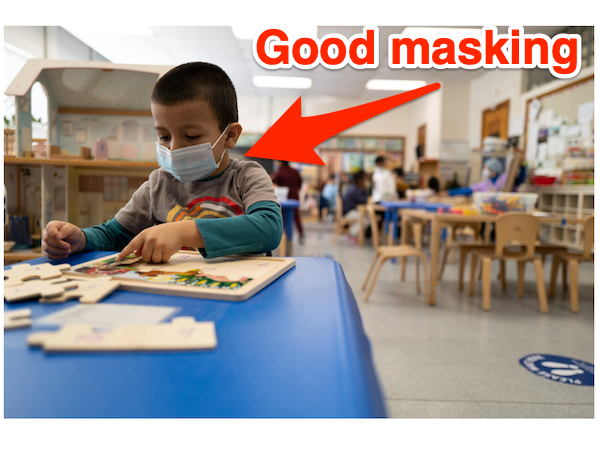 (This is the second case where the Times tweet has shown a poorly masked kid, and the clickthrough a well-masked kid, but I didn't save the link, so you'll have to take my word for it.) I assume #newsroom-feedback on the Times's Slack is full of outrage that the Black kid has no mask discipline, and the white kid does, but thats not my point. Rather, in the absence of vaccinating teachers and ventilation guidance, the CDC is betting the public school system on proper masking by children, which the Times' choice of photos shows na ga happen.
How Japan reacted on ventilation, back in March 2020:
Japanese govt invoked precautionary principle on 9 March 2020 after careful analysis of clusters. Covid-19 seems to spread++ in poorly-ventilated, crowded places. Asked citizens to act BEFORE full scientific evidence. Saved 000s of lives.
*CovidIsAirborne*https://t.co/RtNjD4tIWk pic.twitter.com/k7ArLVtjZp

— Trisha Greenhalgh 😷 #CovidIsAirborne (@trishgreenhalgh) March 21, 2021
WHO started out wrong on aerosols, and to this very day they are wrong. Thread:
1/ A year ago, @WHO started propagating an enormous error.

Now we know that #COVIDisAirborne, and that surface transmission is low and large droplet transmission is minor.

But @WHO has yet admit this clearly, which continues to create great confusion. https://t.co/r8SbgOjpL0

— Jose-Luis Jimenez (@jljcolorado) March 21, 2021
"Could an accident have caused COVID-19? Why the Wuhan lab-leak theory shouldn't be dismissed" [USA Today]. Interesting article. However, I'm pulling this out. Forgive the length of the quote:
With the help of a tipster, I revealed that the CDC's then-new $214 million infectious disease lab building – a crown jewel in the nation's race to defend against the threat of bioterrorism – suffered an hour-long power outage from a lightning strike and the failure of its emergency backup generators. The outage shut down key safety systems in the 368,000-square-foot concrete and glass research tower, known at the agency as Building 18, including specialized air pressure systems that help ensure lethal viruses remain inside individual labs.

CDC's Building 18 houses numerous labs, including a suite of biosafety level 4 labs. Documents released under the Freedom of Information Act reveal a dramatic 2009 incident in a decontamination chamber in one of the BSL-4 labs.

What's worse, I later obtained internal documents and emails showing the CDC dismissed warnings from the agency's own engineering staff, years before the lab opened, that the backup power system's design "gives us no protection whatsoever from many types of failures."

The tape was applied around the edges of the door a year earlier, after it was discovered that a malfunctioning ventilation system was pulling potentially contaminated air out of the lab into a "clean" hallway, where others in the building walk around in street clothes and lack any gear to protect against infection. Nine workers who had been in the fallout zone were tested for potential exposure to the highly infectious bacterium that causes Q fever, which is classified as a potential bioterror agent and can cause mild to severe symptoms, including potentially fatal heart problems. No one was infected.

. The public was never at any risk, he said, the lab was perfectly safe, and the ventilation system had worked properly in the time since the incident happened a year earlier.

"Then why is the door still sealed with duct tape?" I asked.

"," replied Patrick Stockton, who at the time was the CDC's safety and occupational health manager. "We could take it off."
This is 2008. 2021 – 2008 = 13 years. The CDC has been broken for a long, long time.
"Trump says Fauci 'a promoter more than anything'" [The Hill]. • Where's the lie?
L'Affaire Joffrey Epstein
"Leon Black quits leadership positions at Apollo" [Financial Times]. "Leon Black has quit his leadership positions at Apollo Global Management, ceding power at the investment firm he co-founded 30 years ago after an outcry over his ties to the late paedophile Jeffrey Epstein…. 'The relentless public attention and media scrutiny . . . have taken a toll on my health and have caused me to wish to take some time away from the public spotlight,' Black wrote in an email to Apollo staff on Sunday…. 'I will remain Apollo's single largest shareholder and its biggest supporter,' he wrote to Apollo staff on Sunday, adding: 'I hope to return at some point.'"
Groves of Academe
"New online reporting form allows students to report sexual harassment anonymously" [Brown Daily Herald]. "'Any steps we can take to reduce barriers to reporting and to center marginalized populations,' [Sexual Harassment and Assault Resources and Education advocates Alana Sacks and Elliot Ruggles wrote in an email to The Herald] can help us be more comprehensive and effective in dealing with interpersonal violence.'"
The Agony Column
"'Keeping Up With the Kardashians' is ending, but the family's influence on body image isn't" [NBC]. "Over the years, the Kardashians and Jenners have both embodied and encouraged a highly specific physical aesthetic, dubbed "Instagram face" by the New Yorker's Jia Tolentino. If you spend any significant time on social media, you likely know the look — lips filled with filler, arched eyebrows and high, plump cheekbones. Every member of the Kardashian clan boasts these attributes, in addition to countless influencers and celebrities (Addison Rae, Amelia Hamlin, James Charles) who've followed in their wake. The Kardashian appearance also entails ambiguously ethnic, highly tanned skin (sometimes questionably so), typically long dark hair, large breasts, a teeny-tiny waist and a sizable butt. Altogether, the look is instantly recognizable, next to impossible to replicate naturally and very, very popular." • I'm so glad I have deliberately and successfully known as little as possible about the Kardashians.
"'I don't want sex with anyone': the growing asexuality movement" [Guardian]. "Yasmin Benoit realised she was asexual around the time her peers in Reading figured out they weren't…. Today, as well as being a fashion model, the poised 24-year-old is the world's most prominent activist for asexuality, an orientation estimated to apply to 1% of the global population, although some think the number is higher…. The asexuality movement is young and fast-growing, and it recently received a notable boost. Last September saw the release of Ace, a critically acclaimed book by asexual journalist Angela Chen. It illuminates the myriad shades of asexuality via a series of real-life profiles. "Instead of getting bogged down in definitions, people can read those stories and think: does that resonate with my experience?" says Chen, 29, who is based in Brooklyn.' • Brooklyn. Of course.
And then there's this:
— Ansem🃏 (@blknoiz06) March 20, 2021
(This seems to be the original.) Musical interlude…
Class Warfare
Why would anybody expect Amazon to obey the law? Important thread:
In short, Amazon violated a directive from the federal government when it placed a mail ballot dropbox at the entrance of its Alabama warehouse.

The @NLRB had explicitly rejected Amazon's request to host a dropbox during the union election.

Amazon did it anyway. pic.twitter.com/kYqPh3WazT

— More Perfect Union (@MorePerfectUS) March 22, 2021
And another episode–
"Amazon Illegally Interrogated Worker Who Led First COVID-19 Strikes, NLRB Says" [Vice]. "In March 2020, the first COVID-19 cases at an Amazon warehouse in the United States were reported at a delivery depot in Queens, New York City. At the time, Amazon warehouse workers at the facility staged two walkouts in protest of Amazon's handling of the outbreak, kicking off a wave of COVID-19-related protests and strikes at Amazon facilities across the United States. A National Labor Review Board (NLRB) investigation has now found that Amazon illegally interrogated and threatened Jonathan Bailey, a lead organizer of the Queens Amazon walkouts, and has issued a federal complaint against Amazon, according to official NLRB documents obtained by Motherboard. The case was settled before it went to trial, but the issuing of the complaint means that an NLRB investigation found Amazon broke the law."
"Old Boys' Clubs and Upward Mobility Among the Educational Elite" [NBER]. "This paper studies how exclusive social groups shape upward mobility, and whether interactions between low- and high-status peers can integrate the top rungs of the economic and social ladder. Our setting is Harvard in the 1920s and 1930s, where new groups of students arriving on campus encountered a social system centered on exclusive old boys' clubs…. The club membership premium is large: members earn 32% more than other students, and are more likely to work in finance and join country clubs, both characteristic of the era's elite. The membership premium persists after conditioning on high school, legacy status, and even family. … We conclude that social interactions among the educational elite mediate access to top positions in the economy and society, but may not provide a path to these positions for underrepresented groups." • Well, that was almost a hundred years ago…
News of the Wired
"The Magician's Library" [Walter Kirn, Unbound]. "One of the special virtues of physical books is that they lie scattered about the world in no particular order and a title of interest can be discovered at random, serendipitously. This doesn't happen with digital books."
Don't try this at home!!!!
bad day for credulous francophobes. ht @mosheroperandi https://t.co/I3rC4XR6br

— Steve Randy Waldman (@interfluidity) March 21, 2021
Why has this not already happened:
This is amazing. pic.twitter.com/AaifiD6hur

— Dani Klein 🌎 YeahThatsKosher (@YeahThatsKosher) March 21, 2021
* * *
Readers, feel free to contact me at lambert [UNDERSCORE] strether [DOT] corrente [AT] yahoo [DOT] com, with (a) links, and even better (b) sources I should curate regularly, (c) how to send me a check if you are allergic to PayPal, and (d) to find out how to send me images of plants. Vegetables are fine! Fungi and coral are deemed to be honorary plants! If you want your handle to appear as a credit, please place it at the start of your mail in parentheses: (thus). Otherwise, I will anonymize by using your initials. See the previous Water Cooler (with plant)
here
. Today's plant (AM):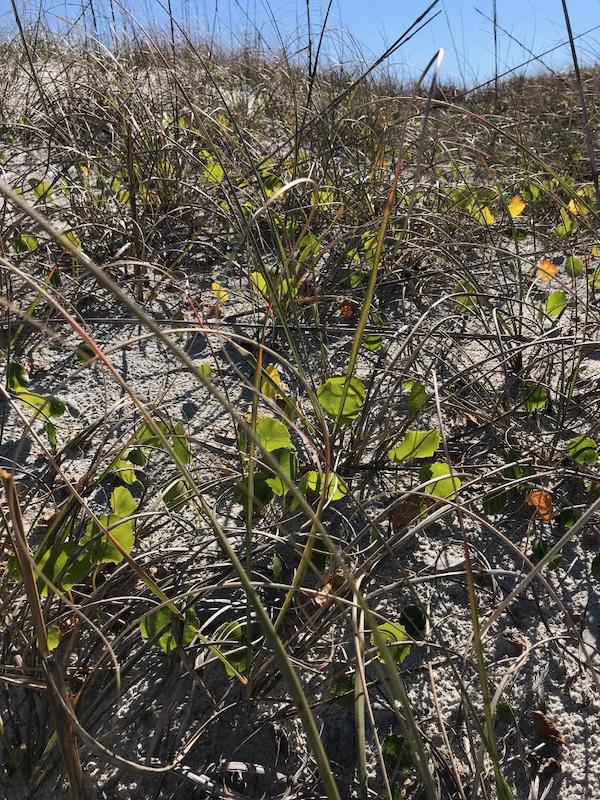 AM writes; "Anastasia State Park, St Augustine FL – sea grass and plant with leaves backlit by the sun in the dunes on Ground Hog Day, 2021."
* * *
Readers
: Water Cooler is a standalone entity
not
covered by the recently concluded and — thank you! — successful annual NC fundraiser. So if you see a link you especially like, or an item you wouldn't see anywhere else, please do not hesitate to express your appreciation in tangible form. Remember, a tip jar is for tipping!
Regular positive feedback both makes me feel good and lets me know I'm on the right track with coverage
. When I get no donations for five or ten days I get worried. More tangibly, a constant trickle of donations helps me with expenses, and I factor in that trickle when setting fundraising goals:
Here is the screen that will appear, which I have helpfully annotated.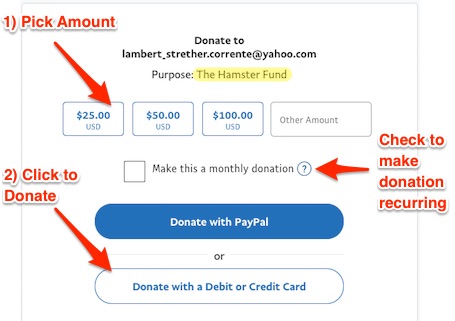 If you hate PayPal, you can email me at lambert [UNDERSCORE] strether [DOT] corrente [AT] yahoo [DOT] com, and I will give you directions on how to send a check. Thank you!