By Lambert Strether of Corrente.
Patient readers, this is a bit short. More soon. –lambert
Bird Song of the Day
Another migratory bird from the Birds of the Atlantic Flyway.
* * *
#COVID19
At reader request, I've added this daily chart from 91-DIVOC. The data is the Johns Hopkins CSSE data. Here is the site.
I feel I'm engaging in a macabre form of tape-watching.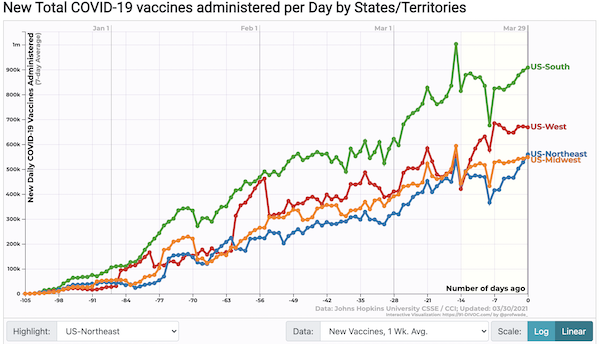 Early in February, I said a simple way to compare Biden's performance to Trump's on vaccination would be to compare the curves. If Biden accelerated vaccine administration, the rate of vaccination post-Inaugural would kink upward, as the policies of a more effective administration took hold. They have not. The fragmented, Federalized, and profit-driven lumbering monstrosity that we laughingly call our "health care" "system" has not responded to "energy in the executive," but has continued on its inertial path.
"KFF COVID-19 Vaccine Monitor: March 2021" [KFF]. "The share of U.S. adults who report being vaccinated for COVID-19 or intending to do so as soon as possible continues to rise (currently 61%) and the share taking a 'wait and see' approach continues to shrink (now 17%), while the share who say they will 'definitely not' get the vaccine (13%) has remained about the same since December, according to the latest KFF COVID-19 Vaccine Monitor. Black adults saw the largest increase in vaccine enthusiasm (55% of them now say they have either gotten vaccinated or want to as soon as possible), but one-quarter of Black adults say they still want to 'wait and see' how the vaccine works for others before getting vaccinated, somewhat higher than the share of White adults who say the same. About three in ten Republicans and White Evangelicals say they will 'definitely not' get the vaccine, as do one in five adults living in rural areas." • Lots of interesting charts; I thought this one was the most intriguing: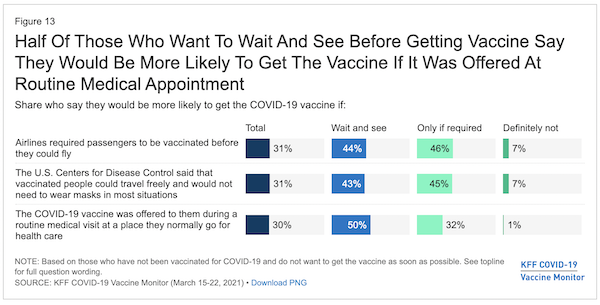 The Wall Street Journal has a similar view of vaccine uptake:
Amid the Impending Doom, a bit of good news: https://t.co/U7bFgxVHLI

— Susan Glasser (@sbg1) March 30, 2021
Case count by United States regions: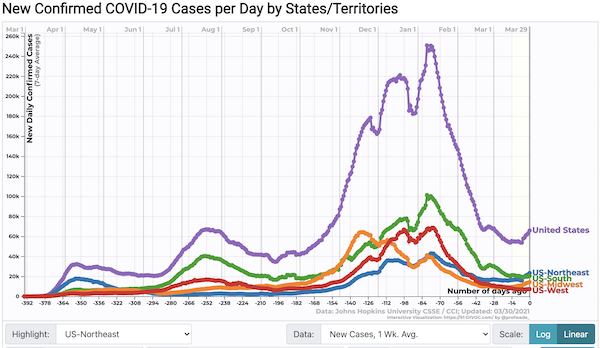 No longer an upward blip, but a very ugly trend. Disappointing in the extreme. All I can say is that if you have a system that has worked for you, keep at it. And avoid closed, crowded, close-contact settings, evem so-called outdoor dining. Don't share air!
Big states (New York, Florida, Texas, California):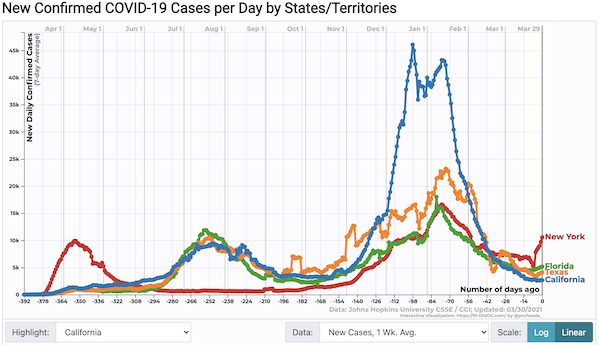 New York in the "lead," but with a jump after a recent drop. I'm also loathe to give Florida's DeSantis permission for a happy dance, but there's no question that in the enormous natural experiment that is our Federalized response to Covid, Florida didn't do badly, and its case curve looks pretty much like that corrupt crook Cuomo's, just with a later peak.
NY: From the New York Times tracker, here is a handy map of New York cases: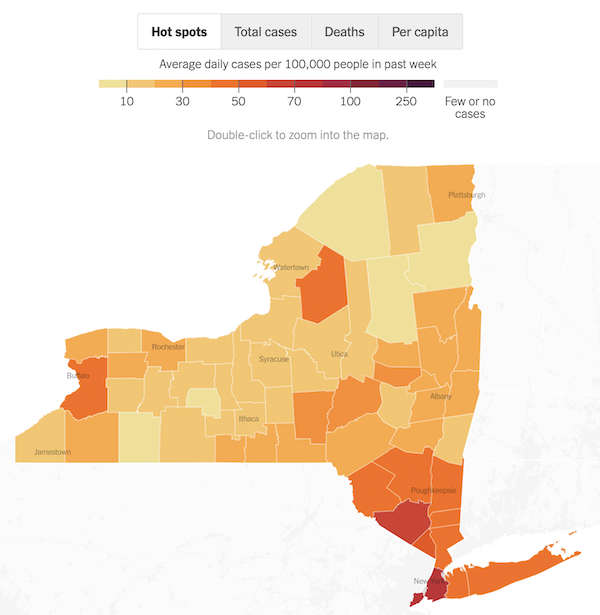 I wish I had demographic data at New York county level, particularly income. Perhaps some kind reader can put me on to a source.
CA: "Backlash After California COVID-19 Vaccination Site Plans Closure For Anime Event" [HuffPo]. "A county spokesperson confirmed to the Bee that the vaccine site closure this week is due to preexisting events planned at the venue. The clinic will extend its hours into the evening Monday through Wednesday to maximize the number of doses administered this week, compensating for the closures, the spokesperson said. She also stated that around 90% of this week's approximately 5,400 appointments at the site are second-dose appointments, meaning that "the impact on first dose appointments available in that time window is not very large." The county did not anticipate major issues with administering second doses, the spokesperson told the Bee."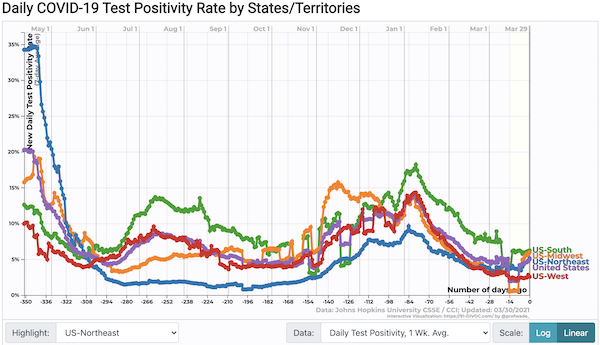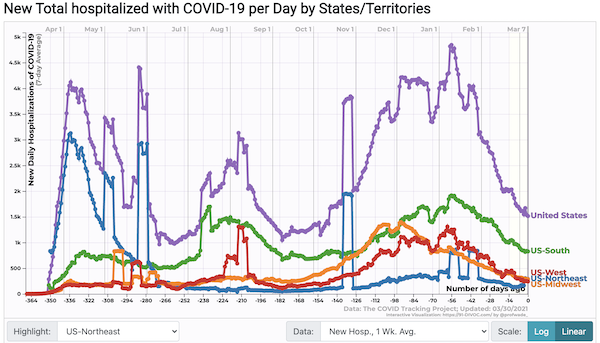 Hospitalization data is the best data we have, because hospital billing is a highly functional data acquisition system (ka-ching). That said, hospitalization is discretionary; they may also be reducing their admissions rate — relative to cases we cannot see in this data! — to preserve future capacity; or because hospitals have figured out how to send people home.
Case fatality rate (plus deaths):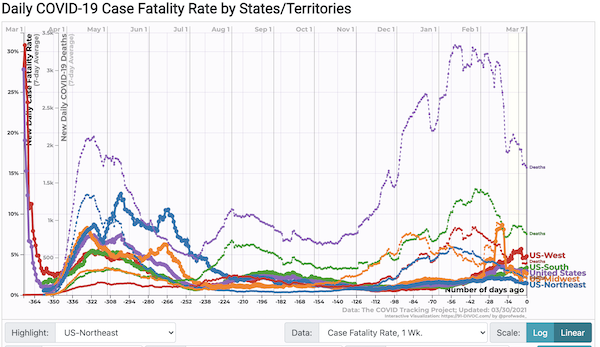 Good to see those deaths dropping. The fatality rate in the West is where it was last May.
* * *
Politics
"But what is government itself, but the greatest of all reflections on human nature?" –James Madison, Federalist 51
"They had one weapon left and both knew it: treachery." –Frank Herbert, Dune
"They had learned nothing, and forgotten nothing." –Charles Maurice de Talleyrand-Périgord
Capitol Seizure
"Proud Boys organizer charged in Capitol attack says he aided FBI 'antifa' inquiries" [Politico]. "A leader of the Proud Boys charged in an alleged conspiracy to attack the Capitol on Jan. 6 claims he has a longstanding relationship with the FBI, which he said regularly sought him out for information about "antifa networks" in Florida and other parts of the United States.,,, Biggs' claims, not immediately corroborated by the FBI, nevertheless are likely to sharpen concerns that law enforcement has tolerated violence by the Proud Boys, who have long styled themselves as allies of the police in a fight against leftists." • The [genuflects] FBI is looking more like the Okhrana every day…
Biden Administration
"Congress looks to rein in Biden's war powers" [The Hill]. "Congress is looking at three previous authorizations for the use of military force (AUMFs): the 1991 measure for the Gulf War, the 2001 bill passed days after the 9/11 terrorist attacks and 2002 legislation passed for the Iraq War. The biggest challenge, lawmakers acknowledge, will be how to handle the 2001 authorization. It was approved by Congress just days after Sept. 11, 2001, to go after terrorist groups behind the attack. But it's since been stretched to cover military operations in 19 countries, including against groups that didn't even exist on 9/11. 'What the replacement looks like, what are the contours of it, that's going to be the tricky part of that and the more difficult part,' said Sen. Bob Menendez (D-N.J.), the chairman of Senate Foreign Relations Committee. Sen. Todd Young (R-Ind.), a member of the panel, agreed that the 2001 AUMF should be 'rewritten' but that it would be hard to do. 'The administration seems open to revisiting some of these things, but admittedly the '01 AUMF is going to be much more challenging than ditching the '02 and the '91," he said." • Oh.

UPDATE "COVID Tracking Apps Have Eerie Echoes of Chinese Surveillance System" [Washington Free Beacon]. "President Joe Biden's COVID team appears to have entertained an electronic test-and-trace program pioneered by the University of Illinois that would have let businesses deny service to patrons based on their health data, a PowerPoint presentation obtained by the Washington Free Beacon shows. The program has eerie echoes of China's surveillance system, which uses data from citizens' phones to impose quarantines. A PowerPoint produced by the school suggests scaling up the university's intrusive contact tracing system for use across the United States. Its file name, '2020-12-14 Shield Biden Covid Team,' indicates that it was presented to the Biden team in December, amid an ongoing search for solutions to a seemingly insoluble problem: how to stop the virus without stopping the economy? The presentation proffered an answer. The school's system uses a mobile app that records test results and Bluetooth data to determine who has been exposed to the virus—and 'links building access' on campus to that information. Local businesses have also embraced it, making entry conditional on a "safe status" reading from the app." • Any governance idea that comes out of university administration is probably bad. More: "But the surveillance schematic is there, and it could become a flashpoint in future crises. With over a sixth of the population fully vaccinated, such schemes have been temporarily tabled by the Biden administration. Whether they stay that way is an open question."
Democrats en Deshabille
"Chrissy Teigen: John And I Had Sex In DNC Bathroom" [TMZ]. The Democrat National Convention, not the DNC offices, sadly. "For those wondering which DNC they did the deed at, we did some digging … and it seems like 2008."
Realignment and Legitimacy
Of course, people can still be spiritual even while "unchurched":

Very rapid secularization of the country pic.twitter.com/5oPdIkV6Y0

— Matthew Yglesias (@mattyglesias) March 29, 2021

Looks to me like the Evangelicals in Bush the Younger's administration soured America on their project. Bible camps aren't helping either, are they….
Stats Watch
Housing: "S and P CoreLogic Case-Shiller 20 City Home Price Index January 2021 Year-over-Year Growth Continue" [Econintersect]. "The non-seasonally adjusted S and P CoreLogic Case-Shiller home price index (20 cities) year-over-year rate of home price growth continues. The index authors stated, 'January's performance is particularly impressive in historical context. The National Composite's 11.2% gain is the highest recorded since February 2006, just one month shy of 15 years ago.'…All home price indices are now showing home price growth is continuing year-over-year. At this point, it looks like the pandemic has little affected home prices (or sales for that matter)."
* * *
"The Suez ship has sailed, but here's why there might be a few problems left in its wake" [Yahoo News!]. " the short term, European and Asian retailers will still feel the impact. The Ever Given's predicament left an estimated 370 fully loaded ships carrying nearly $10 billion in goods idling in its wake, and it will take an extended period of time to clear that backlog. Some ships could be forced to circumnavigate Africa, which could add anywhere from 10 to 15 days to their original journey time, according to Goldman Sachs…. There's also the matter of what S&P's Rogers referred to as the "long-term lessons" the world needs to learn from the Suez ship's grounding. It exposed how vulnerable large vessels are to any mishap, which should be incorporated into planning, he explained. 'The incident will still leave its mark and represents a gentle reminder of the geopolitical importance of the Suez Canal to global trade,' Eurasia Group's Kamel said." • A gentle reminder, too, of the importance of a docile workforce, especially at supply chain chokepoints. Ever Given and the Bessemer vote take place in the same time-frame. Coincidence? You be the judge.
UPDATE Tech: "Data diaries: A situated approach to the study of data" [Big Data & Society]. "This article adapts the ethnographic medium of the diary to develop a method for studying data and related data practices. The article focuses on the creation of one data diary, developed iteratively over three years in the context of a national centre for monitoring disasters and natural hazards in Brazil (Cemaden). We describe four points of focus involved in the creation of a data diary – spaces, interfaces, types and situations – before reflecting on the value of this method. We suggest data diaries (1) are able to capture the informal dimension of data-intensive organisations; (2) enable empirical analysis of the specific ways that data intervene in the unfolding of situations; and (3) as a document, data diaries can foster interdisciplinary and inter-expert dialogue by bridging different ways of knowing data."
* * *
Today's Fear & Greed Index: 44 Fear (previous close: 44 Fear) [CNN]. One week ago: 48 (Neutral). (0 is Extreme Fear; 100 is Extreme Greed). Last updated Mar 30 at 12:46pm. One year ago, just after the end of the Before Times: 25 (Extreme Fear).
The Biosphere
UPDATE Was agriculture a mistake?
The difference between root systems of natural prairie grass and farmed cereal crops graphically explains how we created the dustbowl… pic.twitter.com/DIiLV1qtzZ

— Lu Hersey (@LuWrites) March 23, 2021
UPDATE What's your favorite invasive plant?
today begins round 2 of the united states invasive plant species tournament. this time, pictures of the plants will be included before each poll. below is the current bracket, please vote in the polls in the replies, and RT for visibility. may the worst plant win! pic.twitter.com/YaztKCDpdV

— lowbie trice (@pavroquefort) March 24, 2021
UPDATE "Lifecycle of a Leaf" [Current Affairs]. "[T]here are—at minimum—around 30 points at which fossil fuels are used to grow, process, and distribute a simple box of lettuce leaves. This doesn't even take into account all the fossil fuels that were burned to manufacture and ship all the tools—the trucks, the hoses, the tractors, the trains, the washers and dryers—needed to run the farm and ship the product. Of all food, lettuce is not uniquely carbon-intensive. The entire food system in the Global North is like this." • The article details all 30 points (which is ridiculous). This is a must-read.
UPDATE "Why Peanut Butter Could Trigger the Next Pandemic" [Inverse]. "Planting an acre of a monoculture crop — such as an orchard of fruit trees — is technically considered forest growth, even though monocultures are unsustainable and ultimately reduce biodiversity. This new study shows how this kind of commercialized "reforestation" contributes to disease outbreaks just like deforestations." • This is horrible. It's the horrid palm oil, of course: used in peanut butter. Well worth a read.
UPDATE A thread on compost bins:
i forgot a before picture again but here's a halfway done and almost entirely done picture pic.twitter.com/3l4ypjzhFJ

— hunca munca (@spindlypete) March 26, 2021
"His Plane Crashed in the Amazon. Then Came the Hard Part." [New York Times]. The final paragraph: "Reflecting on his ordeal, Mr. Sena said he walked away with a newfound appreciation for the rainforest, which is being razed every day by the illegal miners he briefly worked for. 'If I had fallen somewhere in a deserted plantation site, I wouldn't have water, shelter, or what to eat,' he said. 'The Amazon is so rich.'" • Yes, Amazonia was designed. It's the world's largest garden, an edible forest.
Health Care
"Operation Warp Speed: implications for global vaccine security" [The Lancet]. "OWS has invested an estimated US$18 billion mostly in the late-stage clinical development and early manufacturing of COVID-19 vaccines and has agreements in place to buy 455 million doses…. [T]he Coalition for Epidemic Preparedness Innovations (CEPI) invested $1·4 billion in support of the development of COVID-19 vaccines. CEPI funding carries commitments to ensure global access and affordable cost. The OWS programme is focused on the USA and approval by the US Food and Drug Administration. The USA continues to lead globally in the number of COVID-19 cases, and its deaths due to COVID-19 are approaching 560 000 people in March, 2021. However, the global toll of infection (ie, approaching 121·2 million people) and deaths (ie, nearly 2·7 million) means that vaccines that are developed under OWS should also be considered for global distribution. Interestingly, several of the companies that are supported by OWS also received funding from CEPI, which should require global access. Failing to provide equity in the early distribution of SARS-CoV-2 vaccines, according to modelling by Chinazzi and colleagues, could result in a doubling of global mortality.5 Leveraging the efforts of OWS for global health and bringing safe and effective vaccine solutions to people around the world in a timely manner is a crucial endeavour and too important to fail."
UPDATE "Role of ivermectin in the prevention of SARS-CoV-2 infection among healthcare workers in India: A matched case-control study" [PLOS One]. The Conclusion: "Two-dose ivermectin prophylaxis at a dose of 300 μg/kg with a gap of 72 hours was associated with a 73% reduction of SARS-CoV-2 infection among healthcare workers for the following month. Chemoprophylaxis has relevance in the containment of pandemic." Methods: "A hospital-based matched case-control study was conducted among healthcare workers of AIIMS Bhubaneswar, India, from September to October 2020. Profession, gender, age and date of diagnosis were matched for 186 case-control pairs." • Worth a careful review.
UPDATE "Ivermectin as Pre-exposure Prophylaxis for COVID-19 among Healthcare Providers in a Selected Tertiary Hospital in Dhaka – An Observational Study" [European Journal of Medical & Health Sciences]. Conclusion: "Ivermectin, an FDA-approved, safe, cheap and widely available drug, should be subjected to large-scale trials all over the world to ascertain its effectiveness as pre-exposure prophylaxis for COVID-19." Methods: "An observational study, with 118 healthcare providers who were enrolled purposively, was conducted in a tertiary hospital in Dhaka from May 2020 to August 2020. The subjects were divided into experimental and control groups; and the experimental group received an oral monthly dose of Ivermectin 12mg for 4 months. Both groups were exposed to COVID-19 positive patients admitted in the hospital during the course of study. The symptomatic subjects were evaluated by physical examination, COVID-19 RT-PCR and/or HRCT of chest." • Also worth review.
UPDATE "A COVID-19 prophylaxis? Lower incidence associated with prophylactic administration of ivermectin" [International Journal of Antimicrobial Agents]. Method: "we collected data from countries that routinely deploy prophylactic chemotherapy (PCT) using various drugs including ivermectin [18]. Based on the varying MDA designs, we grouped these countries into two different categories—those that include ivermectin in their PCT and those that do not. We then proceeded to compare COVID-19 proliferation between these two groups and further contrasted them against a third group of countries that do not use PCT at all." Results and Discussion: "the difference between nations that deploy PCT using ivermectin and those that do not use any PCT turned out to be highly significant… there is a very strong negative correlation between the use of PCT—especially involving ivermectin—and COVID-19 proliferation. This, paired with ivermectin's proven inhibitory effect on SARS-CoV-2 replication in vitro, leads us to the hypothesis that the drug may have a—likely indirect—prophylactic effect and thereby reduce the spread of the disease."
UPDATE "Britain's regulators approve 20-SECOND Covid saliva test that firm hopes can be used in airports, football stadiums and offices" [Daily Mail]. "Users take their own sample and only one trained person is needed to operate the machine. Each screening device is capable of carrying out hundreds of tests per day."
"9.1. Can we use the CO2 level in a space to estimate whether ventilation is good or bad?" [FAQs on Protecting Yourself from COVID-19 Aerosol Transmission]. Vouched for by Trish Greenhalgh. "Since accurate, affordable CO2 meters are available, measuring CO2 is the best way to get a sense of the amount of exhaled air in a space…. A key goal is to make clear that the many shared spaces with 2000 or 3000 ppm CO2 are unsafe, so that people realize that they have to take action to improve the situation there. Surveying classrooms, offices etc. with a CO2 monitor can be useful to determine which ones may have the worst ventilation, and prioritizing our actions there." • I don't know whether this is any sort of litmus test, but the aerosol community is abuzz with concrete actions to take, whereas fomite advocates are completely silent, and the droplet crowd has nothing to say either, despite the manifest inadequacies of their appoaches.
"We Need to Talk About the AstraZeneca Vaccine" [Hilda Bastian, The Atlantic]. "We still can't be sure whether this blood disorder is triggered by vaccination, and we don't know yet whether the risk—if it's real—applies equally to all recipients, or only to a subset that might be predisposed. In light of these uncertainties, the balance here between vaccination's costs and benefits is obvious. Given the present context of COVID-19 transmission throughout Europe, and even assuming the very worst about the risk that the AstraZeneca vaccine might pose, the shot will save many more lives per million doses than it could ever possibly end. It should be just as obvious that health authorities cannot simply look the other way. For these sorts of blood disorders, early diagnosis and appropriate action might be crucial for saving lives. Rajiv Pruthi, a hematologist at the Mayo Clinic, points out that the standard treatment for a cerebral clot—a blood thinner called heparin—could make things worse for patients with this syndrome. At the very least, doctors must be kept informed about potential risks."
"Canada suspends use of AstraZeneca Covid vaccine for those under 55" [Guardian]. "Canada on Monday suspended the use of the Oxford/AstraZeneca coronavirus vaccine for people under 55 following concerns it might be linked to rare blood clots. The pause was recommended by the National Advisory Committee on Immunization for safety reasons. The Canadian provinces, which administer health in the country, announced the suspension on Monday. 'There is substantial uncertainty about the benefit of providing AstraZeneca Covid-19 vaccines to adults under 55 given the potential risks,' said Dr Shelley Deeks, vice-chair of the National Advisory Committee on Immunization. Deeks said the updated recommendations came amid new data from Europe that suggests the risk of blood clots is now potentially as high as one in 100,000, much higher than the one in one million risk believed before. She said most of the patients in Europe who developed a rare blood clot after vaccination with AstraZeneca were women under age 55, and the fatality rate among those who develop clots is as high as 40%."
"Tourism in Antigua and Barbuda Is Sending Covid Skyrocketing" [Bloomberg]. "Herd immunity could be achieved across the Caribbean with just 300,000 to 400,000 doses, says Browne, but vaccines have been difficult for island nations to procure, with wealthy nations buying up the supply." • But in the body of the article, returning expats are a big problem, too.
Class Warfare
"Liberalism and class" [Interfluidity]. "I think it makes perfect sense that liberalism has become a kind of upper-class creed. So long as it is, liberalism is in peril, and should be. There are illiberal currents on both the left and right that would exploit popular dissatisfaction to remake society in ways that I would very much dislike, whether by restoring a "traditional" hierarchy of implicit caste, or by granting diverse professionals even more prescriptive authority than they already have at the expense of liberty for the less enlightened. My strong preference is that we do neither of these things, and instead restore the broad appeal of liberalism by "leveling up". We should ensure that everyone has the means to rely upon some mix of the market and the state to see to their material welfare, reducing the economic role of networks of personal reciprocity and history. This would render the good parts of liberalism more broadly and ethically accessible. Reducing economic stratification makes liberal proceduralism more credible pretty automatically. When economic and institutional power are dispersed and broadly shared, no one has a built-in edge, and aspirations of neutrality and fairness become plausible. Once we view society less through a lens of domination and oppression — because in a more materially equal society that will be a less credible lens — it will become possible to agree on a common, stable set of commercial and professional mores rather than extend deference to myriad communities' evolving sensibilities." • This is very good, and the anatomization of liberal values (not in the excerpt) is excellent. Note that it would be easier to "level up" if liberals didn't hate the working class (see Thomas Frank) and didn't believe they deserve their fate.
UPDATE "Lineaments of the Logistical State" [Viewpoint Magazine]. From 2014, still germane. "Struggles at the choke points of a planetary logistical system have led Sergio Bologna to speak of 'the multitude of globalization,' designating all of those who work across the supply chain, in the manual and intellectual labor that makes highly complex integrated transnational systems of warehousing, transport, and control possible. It is members of this multitude, clerical workers and truckers in Los Angeles and Long Beach, crane operators in Hong Kong, distribution centre workers for Wal-Mart, logistical workers in Northern Italy, or even air-traffic controllers in Spain that have led some to see not a secular vanishing but a shift in the loci of class struggle. This has prodded some to look again at the critical role of antagonism along the conduits of circulation – an abiding feature of the workers' movement throughout its history – taking into consideration the intensifying significance of logistics to the reproduction of capital, but also its contradictory, uneven relationship to the reproduction of the capital-labor relation." • The article mentions Oakland; I well remember when Occupy Oakland actually shut down the port with thousands of marchers (and, IIRC, union co-operation). Then the black bloc came in, and in a little while there were a couple hundred people smashing windows, misson accomplished.x
News of the Wired
"Living in one state and working remotely from another? You could owe income taxes in both" [CNN]. "Say you were among those who rode out the pandemic in a different state from your own — for example, at a vacation home or your parent's house. Or maybe you simply worked from home, which happens to be in a state different from that of your employer, where you used to commute to work. Either way, your home state and the other state may both lay claim to a piece of your earnings. Here's why: Every state sets its own tax laws governing how residents and nonresidents should be taxed on their income generated when working for in-state or out-of-state employers. Add to that the fact that several states created temporary tax rules specific to the pandemic, and you can see how this gets messy fast. The issue becomes more complicated still when an employee effectively stays in a new state for more than 183 days, thereby calling into question their official residency status."
"Scientists Implant and Then Reverse False Memories in People" [Gizmodo]. "In the experiment, [Aileen Oeberst, head of the Department of Media Psychology at the University of Hagen] had another interviewer ask participants to identify whether any of their memories could be false, by simply thinking critically about them. The scientists used two 'sensitization' techniques: One, source sensitization, where they asked participants to recall the exact source of the memory (what is leading you to remember this; what specific recollection do you, yourself, have?). And two, false memory sensitization, where they explained to the subjects that sometimes being pressured to recall something can elicit false memories. And they worked, they worked!" Oeberst said, adding that of course not every single participant was persuaded that their memory was false. Particularly with the false memory sensitization strategy, participants seemed to regain their trust in their initial gut feeling of what they did and didn't remember, as if empowered to trust their own recollection more." • "Department of Media Psychology," eh?
UPDATE Who did this:
If you're missing the in-flight experience, @British_Airways' new meal box is now offering first class food at home. 🍱✈️

More details 👇https://t.co/GcwmKSv9pt

— euronews Travel (@euronewstravel) March 30, 2021
* * *
Readers, feel free to contact me at lambert [UNDERSCORE] strether [DOT] corrente [AT] yahoo [DOT] com, with (a) links, and even better (b) sources I should curate regularly, (c) how to send me a check if you are allergic to PayPal, and (d) to find out how to send me images of plants. Vegetables are fine! Fungi and coral are deemed to be honorary plants! If you want your handle to appear as a credit, please place it at the start of your mail in parentheses: (thus). Otherwise, I will anonymize by using your initials. See the previous Water Cooler (with plant)
here
. Today's plant (PM):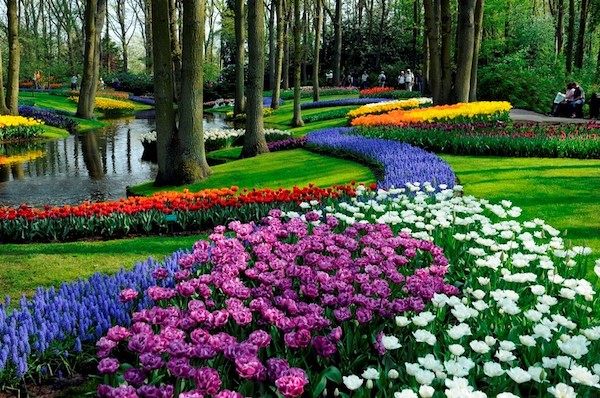 The Keukenhof Gardens, Amsterdam. I never have liked tulips much, but then mine have never looked like this!
Readers, I'm a little short of Spring plants, having put the remainder of my winter plants into inventory.
* * *
Readers
: Water Cooler is a standalone entity
not
covered by the recently concluded and — thank you! — successful annual NC fundraiser. So if you see a link you especially like, or an item you wouldn't see anywhere else, please do not hesitate to express your appreciation in tangible form. Remember, a tip jar is for tipping!
Regular positive feedback both makes me feel good and lets me know I'm on the right track with coverage
. When I get no donations for five or ten days I get worried. More tangibly, a constant trickle of donations helps me with expenses, and I factor in that trickle when setting fundraising goals:
Here is the screen that will appear, which I have helpfully annotated.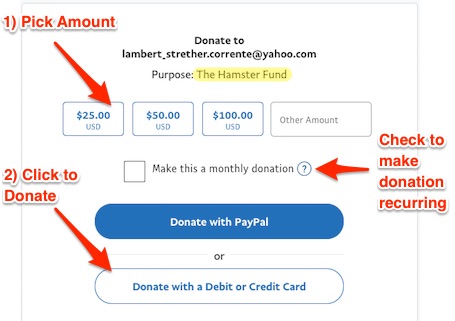 If you hate PayPal, you can email me at lambert [UNDERSCORE] strether [DOT] corrente [AT] yahoo [DOT] com, and I will give you directions on how to send a check. Thank you!