By Lambert Strether of Corrente
When I read Adam Gopnik's Paris to the Moon (2000) I loved it, because it arrived at a time in my life when I was staying for long periods of time in different cities, several foreign, not simply visiting them; not being a tourist, but something of a resident. I felt I knew the Paris Gopnik described so lovingly, or was at least adjacent to that Paris. (Gopnik's young son went to the piscine at The Ritz; I was not a swimmer.) It helped that Gopnik wrote as elegantly and sinuously as the Art Nouveau entrances to the Paris Métro. Here is one of my favorite set pieces of the many set pieces in Paris to the Moon: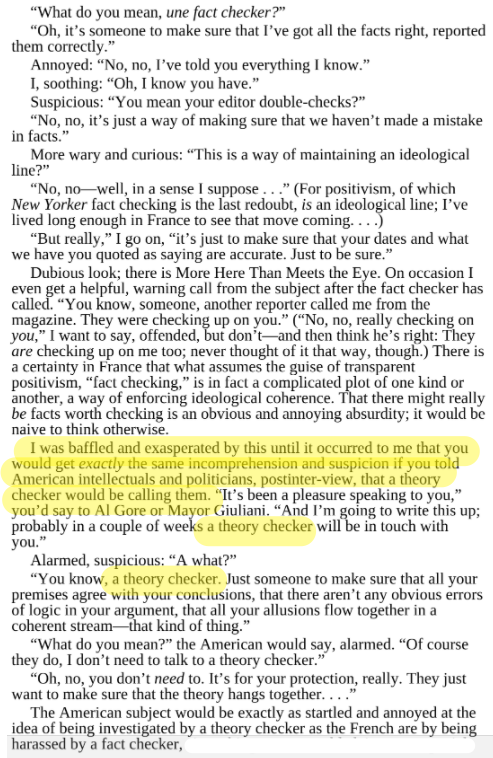 So I was pleased when I felt able[1] to include Gopnik's New Yorker article, "A Brief Anatomy of Outdoor Dining," in Links on March 21. But an alert reader showed me that my pleasure was misplaced. Hence I hasten to rectify my error, lest readers be deceived.[2]
Here is an extended excerpt from Gopnik's "Anatomy":
Christopher Alexander, who, in a memorable series of books, asked us to see buildings not in terms of fixed blueprints and famous designers but of vernacular rhythms, with self-emergent forms rising from self-healing communities. Alexander celebrated what he called "pattern languages" that give those who use them the ability to create new structures. "All acts of building are governed by a pattern language of some sort," he insisted. "The quality without a name appears . . . when an entire system of patterns, interdependent at many levels, is all stable and alive." Outdoor-dining venues were high on his list of institutions that made people "comfortable, and deep seated in respect for themselves."

Well, the people of New York City have been in the improbable midst of such a moment, as witness to, and makers of, an emergent pattern language, reflecting something almost desperately lived—our shared pandemic. This pattern language, of course, is the newly invented art form of the Outdoor-Dining Shelter, which began to appear on New York curbs in midsummer, blessedly taking over the parking spaces outside restaurants that serviced only cars, those anti-urban engines.

The outdoor-dining structure, it would seem, comes in three essential patterns or modes—the Hut, the Shed, and the Tent—with many hybrids and crossovers.

The Shed is the primal form of outdoor pandemic dining: a simple overhang made of wood or corrugated plastic, extended out over a frame, usually with a lean-to bias, and with one side open to the elements or, at most, covered with a transparent, plastic-shower-curtain-like material.

The Hut is an extension of the Shed into a conscious representation—though often only a representation, a convincing fiction—of a more fully formed building, with doors that close and "windows" that open. Often, too, it contains cosmetic representations of the normal appurtenances of permanence: the Hut looks like a tavern, or a fairy cottage, or an auberge. The Tent, by contrast, uses flexible material—awnings and circus-like "tops"—with ventilation and circulation as much implied as achieved. Tents often give away their makeshift origins elsewhere—as wedding tents, or rent-a-tents for other outdoor occasions, pressed into service as lifeboats for this one.
Readers will at once see why Gopnik's article made me, well, a little swoony. First, it is beautifully written (and in the sort of style — ", who, " — that I fancy I can at times emulate). It is perambulatory, with Gopnik as flâneur, not just strolling through Manhattan's streets, but through concepts. Second, there's (be still my beating heart) a classification scheme: "the Hut, the Shed, and the Tent." Third, I stan for Christopher Alexander, as well as pattern languages and their realization in the vernacular. Finally, I love Manhattan just as much as Paris, so I have a rooting interest. I thought I had not surrendered my critical faculties. As it turns out I had. Gopnik needed a theory checker.
Gopnik's piece was published on March 20. Yesterday, alert reader Nikki sent me the following article from USA Today, "Seating in outdoor structures isn't always safer than indoor dining. Here's why." That piece was published on March 17. From that piece:
COVID-19 ushered in a new era of outdoor dining as struggling restaurants tried to stay in business while minimizing guests' chances of infection.

Yet, creating temporary dining rooms in parking lots or sidewalks outside doesn't always mean it's safer. In some situations this fall and winter, it possibly increased diners' odds of infection.

"," says William P. Bahnfleth, an engineer and a professor of architectural engineering at Penn State.

…So what makes a dining environment safe? USA TODAY worked with Qingyan Chen, professor of Mechanical Engineering at Purdue University, to simulate how the virus can spread in a sample structure to help you make more informed decisions.
USA Today's simulations include Gopnik's Shed and Tent (but not Hut). The simulations — like the famous El Pais aerosol simulations — are interactive and mobile-friendly, and not so easily reproduced for the desktop. (They not mathematical models of the structures; they are meant for subjective guidance.) First, here is a problematic Shed: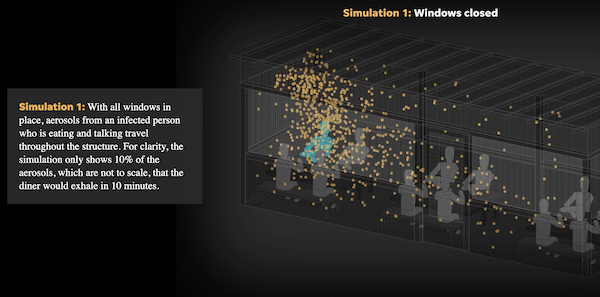 (There are other simulations, with windows open, and windows removed.) Obviously, a shed with closed windows is dangerous, and you should avoid it. Here is the simulation of a problematic tent: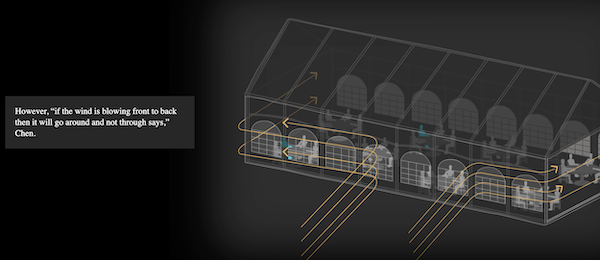 Here, you have to be aware of "which way the wind is blowing," and avoid tents where the wind is blowing the wrong way. (There are other simulations for tents, and the article also includes "igloos" and "pods," which Gopnik does not include in his classification scheme.)
If you plan on dining outdoors in New York, I highly recommend the USA Today simulations; the extracts above are not meant to be, er, exhaustive. Now, Gopnik does mention both aerosols and ventilation. He writes:
Yet the challenge of the outdoor-dining structure, underlined by all those minute regulations, is actually simple: it has to persuasively declare itself "outside"—, open, and discouraging to the implied, if invisible, —while still maintaining many qualities that one might normally associate with, well, the tricky concept of "indoors": heat, shelter, and possible propinquity to others. This fiendishly intricate double demand has been met in many ways.
("[A]erosolized sputum." Bravo!) And:
The Tent, by contrast, uses flexible material—awnings and circus-like "tops"—with and as much implied as achieved.
That's it. But Gopnik needed a theory checker. Gopnik has nothing to say about whether dining within any given Hut, Shed, or Tent is safe. Surely a central concern for a New Yorker writer writing on outdoor dining during a pandemic should be the health and safety of New Yorkers? Gopnik mentions aerosols, and mentions ventilation but, it seems, only to show that he has done the reading. "Ventilation implied," forsooth! A theory checker would have shown Gopnik that his three categories for outdoor dining structures, albeit elegant, were empty unless they satisfied the needs of actual New York diners (as opposed to flâneurs). A theory checker would have pointed out to Gopnik that those diners require "atmosphere" — that is, an atmosphere not saturated with infectious aerosols. A theory checker would have explained to Gopnik that he could have empowered his readers by showing them which structures are safe, and which are not, and why. You don't need a magazine printed on slick stock to avoid the plague, apparently; what you need is the newspaper dumped in front of every hotel and motel room in America. And ditto for their respective websites.
I know that "played his readers for chumps" sounds harsh. I meant it to sound harsh. I — and I would guess other readers — was seduced by Gopnik's stylish prose, and his display of various class and cultural markers, into ignoring the most basic, humane requirement: The safety of readers. I'd prefer not to speculate as to motive; my conjecture: Gopnik feels that service piece journalism is beneath him. But surely a writer as talented as Gopnik could get the "news you can use" part done while retaining his characteristic éclat?
NOTES
[1] As I would not have felt so with Gopnik on politics. Post-20008 Hendrik Hertzberg cast some sort of evil spell over Gopnik, inducing him to write West Wing-style, and I don't mean the physical West Wing.
[2] I was going to write a post on how truly horrid a President Obama was, an idea approaching conventional wisdom status among some non-hippie Democrats. So at least Herttzberg has one thing to be thankful for.