Happy St. Paddy's Day! I'm not a beer fan but feel free to quaff some on my behalf in a toast to the holiday!
ChimpanZoom? Primates at Czech zoo go wild for video calls Guardian (David L)
Watch dolphins 'talk' to each other to synchronize their behaviors Science (David L)
Give a dog a bone: Spending money on pets promotes happiness Journal of Positive Psychology (resilc). I agree, I always felt like I was a good person when buying things for my cats.
Photographer Spends 12 Years, 1250 Hours, Exposing Photo of Milky Way PetaPixel (David L)
How a building block of life got created in a flash MPR News (Chuck L)
Israeli archeologists discover ancient Dead Sea Scroll fragments Al Jazeera (Kevin W)
Eight States Are Seeding Clouds to Overcome Megadrought Scientific American (David L)
Good vibrations: bladeless turbines could bring wind power to your home Guardian (Dr. Kevin)
It may look like an art show but these 'dancing lights' reduce pesticide use by 50% ZME Science (Dr. Kevin)
Scientists identify oldest-known meteor of volcanic origin a century after it smashed down into Sahara RT (Chuck L)
Nazi anatomical drawings are donated in effort to address ethical quandary STAT (Dr. Kevin)
Chemistry, Structures & 3D Molecules 3DChem.com (Harvey). A molecule a month! Includes natural ones as well as drugs and dietary supplements. Recent examples include Caryophyllene (cloves), Ubiquinol, and Remdesivir.
Discovery identifies non-DNA mechanism involved in transmitting paternal experience to offspring PhysOrg (Chuck L)
#COVID-19
Opinion: Why are Canada's Catholic bishops playing vaccine politics? Globe and Mail (Dr. Kevin). From last week, still germane.
Bolsonaro's handling of Brazil's rolling coronavirus disaster is a threat to the world Washington Post (furzy). We ran a post with a similar headline a few days ago…
Science/Medicine

New T Cell Test Can Show If You've Had COVID-19 Freethink (Dr. Kevin)

From last week (hat tip guurst), don't recall seeing it here:

Study of 54,906 people showing the risk of dying from the #B117 (UK) variant is increased by 64%.

This appears to be a real effect – not the result of overloaded hospitals – because variant/non-variant cases were matched by age, sex, ethnicity, deprivation, and other factors. https://t.co/fZKr8IHrog pic.twitter.com/AhCVrOlPgf

— Dr Zoë Hyde (@DrZoeHyde) March 10, 2021

The most ridiculous self-reported side effects to the AstraZeneca vaccine Quartz (resilc)

Leprosy drug clofazimine effective in suppressing Covid-19, researchers from Hong Kong, US and Denmark find South China Morning Post (resilc)

Pfizer Sees 'Significant Opportunity' After Pandemic to Hike Prices 900% for Annual COVID-19 Shots Sputnik (Kevin W). Another reason to prefer J&J.

US

Four shot dead following 'stimulus cheque row' BBC

A number of Republican lawmakers are saying no to COVID-19 vaccines The Hill

Finance/Economy

The latest round of stimulus payments that started going out over the weekend are open to being seized by private debt collectors — a problem lawmakers are rushing to fix. https://t.co/8aLELJUQnc

— CNN Business (@CNNBusiness) March 17, 2021

Retail investors are likely to buy almost $3bn worth of equities when coronavirus stimulus payments are transferred in coming days — around $1.5bn more than the typical daily inflow over the previous month https://t.co/ryMKIisVyE

— Financial Times (@FinancialTimes) March 17, 2021

IRS partially shields some stimulus payments from debt reductions Politico
China?
China asks Alibaba to shed media assets, including SCMP Nikkei

Pakistan on horns of a US or China dilemma Asia Times (Kevin W)

New High in Perceptions of China as U.S.'s Greatest Enemy Gallup (resilc)
A Secret War. Decades of Suffering. Will the U.S. Ever Make Good in Laos? New York Times (resilc)
Old Blighty
Defence review: UK could use Trident to counter cyber-attack Guardian
The Cormann Conundrum: is the new OECD Secretary-General a friend or a foe of environmental action? Steve Keen (UserFriendly, Chuck L)
New Cold War
Russia's Putin authorised pro-Trump 'influence' campaign, US intelligence says BBC

Russia, not China, tried to influence 2020 election, says US intel community Sydney Morning Herald. Kevin W: "My IQ dropped 5 points just reading this article."

NOT SHOCK & AWE, US WAR AGAINST RUSSIA IS WOOZLE & BAMBOOZLE John Helmer
Syraqistan
Big Brother is Watching You Watch
DuckDuckGo Calls Out Google Search for 'Spying' on Users After Privacy Labels Go Live Macrumors

Google's Second-Gen Nest Hub Will Watch You Sleep AndroidPolice

Utah Campaign Against Porn Marches On With Phone Filter Ban Associated Press
No one trolls better than Trump:
Trump hopes Meghan Markle runs for president in 2024 https://t.co/daxIZxsRpc

— The Independent (@Independent) March 17, 2021
Biden
New Year's Resolutions, Infrastructure And Drunken Darts Heisenberg Report (resilc)

The Memo: Biden team's Obama criticisms draw some blowback The Hill. So how many years did it take for the contemporaneous critics of Obama's policies to be acknowledged as correct? Well, not directly of course.

BlueAnon and Cognitive Dissonance: Pushing Biden Left is the New Three Dimensional Chess Ghion Journal. From last week, still germane.
8 dead in series of Atlanta-area massage parlors shootings, suspect arrested NBC What looks to be the earliest account with full body count; earlier local one had only 4 dead because it apparently had only the first set of shootings.
Cuomogate
Cuomo should resign if allegations confirmed: Biden in exclusive ABC News interview ABC

Cuomo Has Lost Popularity, but Half of N.Y. Voters Say He Shouldn't Resign. New York Times. Bob:

I'm not sure how Siena fits in with powerful dems, but anytime the powerful need a poll to push in the news, lately, for the past few years, its been Siena doing the poll

Polls are useless, yes, but the Siena polls are dead wrong. They had a Dem primary poll here that had the winner wrong by 30 points. The loser was the DNC pick.
Black Injustice Tipping Point
Racism and Redlining Can Be Seen 'in the Flood Data' Gizmodo (Dr. Kevin)

Like It Or Not: Ft Mike Elk & David Sirota | #BreonnaTaylor​ & #GeorgeFloyd​ | KY "Public Safety" Bill YouTube
The Identity Hoaxers Atlantic (Anthony L)
Our Famously Free Press
Without Trump, Is A "Depression In Television" Coming? Matt Taibbi. Erm, he's changed the headline to With Ratings Down, the Networks Hunt For a Trump Replacement.
Texas House rejects bill to reprice electricity sold during winter storm Houston Chronicle (Kevin W)
Nebraska declares meat only day and calls MeatOut movement 'a direct attack on our way of life' Independent
Class Warfare
Antidote du jour. From Cornelius via furzy: "Even the cats in Germany know that French food is better"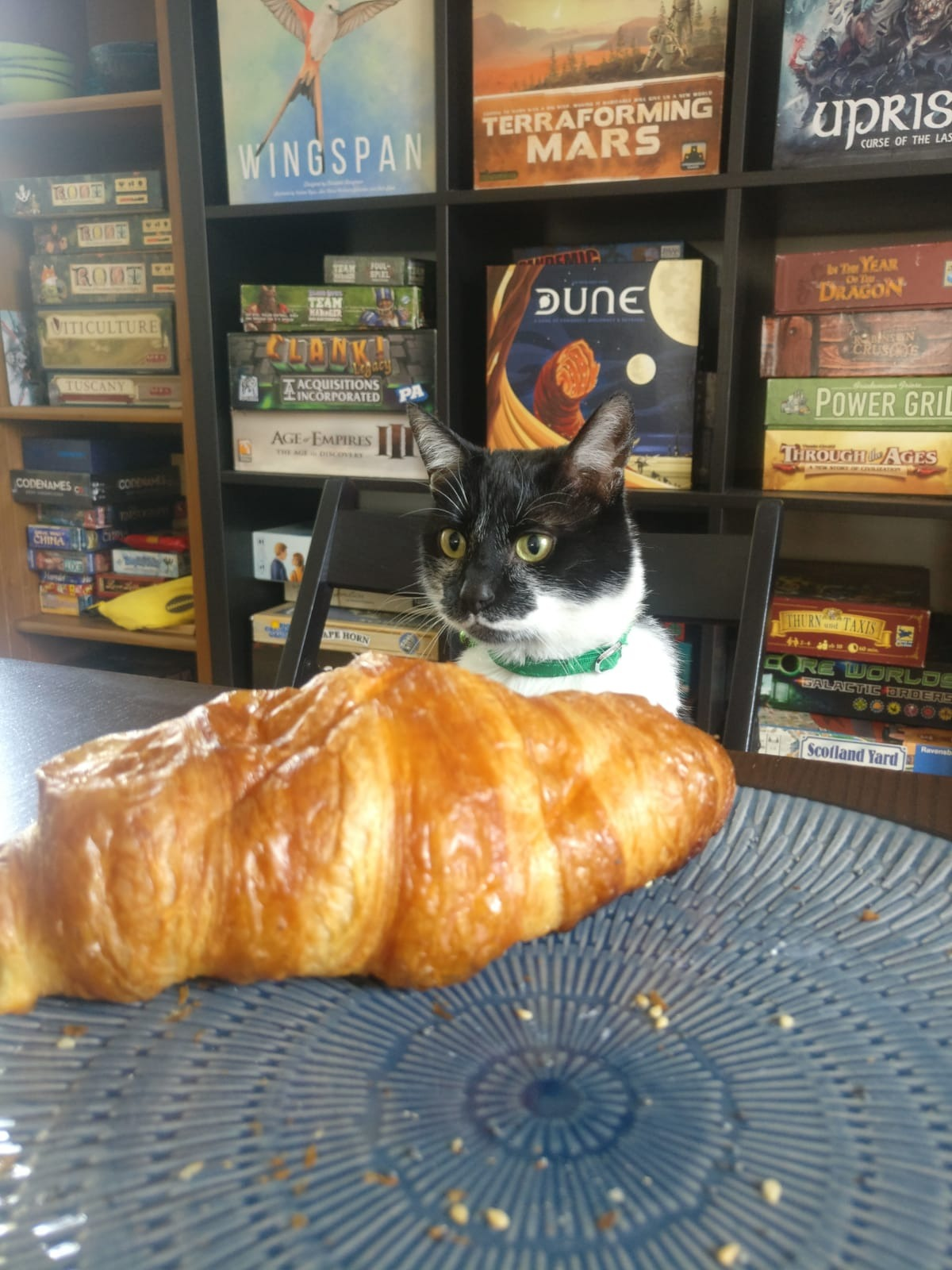 And a bonus (guurst):
Чужих ежей не бывает) pic.twitter.com/uSkZeaiOHn

— Марфуша вынимает мундштук изо рта, улыбаясь (@Kajenskajasmes) February 27, 2021
And a different sort of bonus, from furzy:
Simon Beck (born 1958) is a British snow artist and a former cartographer. He has walked more than 50 miles (80km) in circles wearing snowshoes to create vast snow drawings in Colorado.

It's hard to imagine how he manages to "see" what he's done from where he works, at snow-level.
See yesterday's Links and Antidote du Jour here.