By Lambert Strether of Corrente.
Patient readers, this is a bit short. More soon. –lambert
Bird Song of the Day
Another migratory bird from the Birds of the Atlantic Flyway. From the Note: "See 1:27 for a masterful run."
* * *
#COVID19
At reader request, I've added this daily chart from 91-DIVOC. The data is the Johns Hopkins CSSE data. Here is the site.
I feel I'm engaging in a macabre form of tape-watching.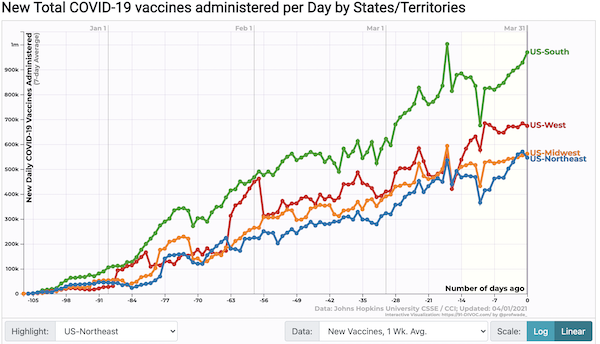 Early in February, I said a simple way to compare Biden's performance to Trump's on vaccination would be to compare the curves. If Biden accelerated vaccine administration, the rate of vaccination post-Inaugural would kink upward, as the policies of a more effective administration took hold. They have not. The fragmented, Federalized, and profit-driven lumbering monstrosity that we laughingly call our "health care" "system" has not responded to "energy in the executive," but has continued on its inertial path.
Case count by United States regions: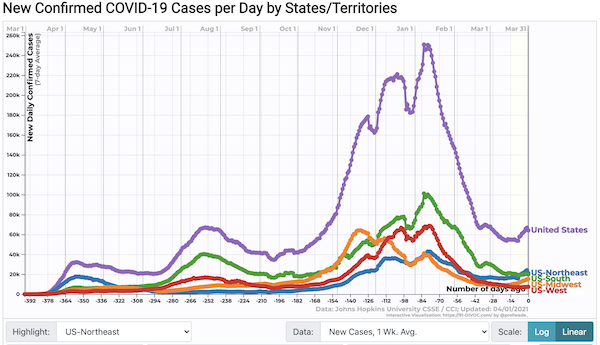 An ugly upward trend, now with a downward blip, I'm guessing caused by a drop in New York (see the chart of Big Sttates below). All I can say is that if you have a system that has worked for you, keep at it. And avoid closed, crowded, close-contact settings, evem so-called outdoor dining. Don't share air!
Big states (New York, Florida, Texas, California):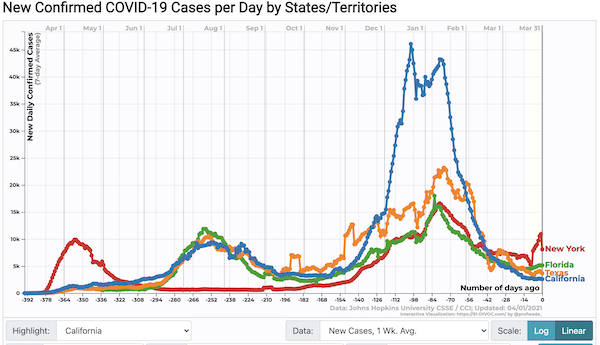 Big drop in New York. Hopefully, it's not a reporting issue.
NY: "Coronavirus Update New York City: NYC could be 'completely out of this within 6 to 8 weeks': Health official" [ABC7]. "Mayor Bill de Blasio announced the city has given out more than 4 million doses, with the 4,058,854 total doses more than the total population of Los Angeles. 'We will start comparing to state populations because we have run out of cities to compare,' he said. Varma says that's only if people 'double down' on the precautions and not let up now. 'Unfortunately we are not seeing the declines we want to see, so we remain very concerned,' Varma cautioned. De Blasio said he is also concerned about the possibility of a fourth wave in the city, but the rapid pace of vaccinations gives him hope." • Crossed fingers.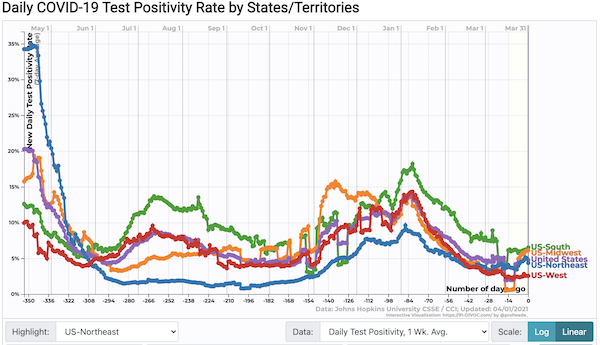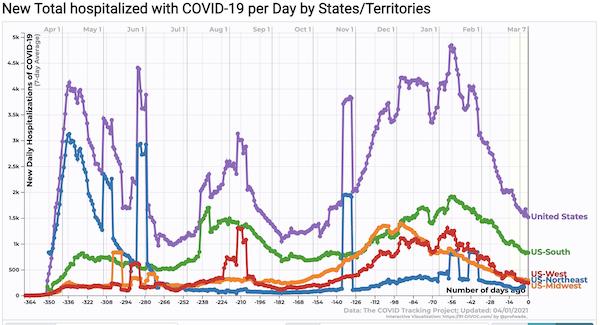 Hospitalization data is the best data we have, because hospital billing is a highly functional data acquisition system (ka-ching). That said, hospitalization is discretionary; they may also be reducing their admissions rate — relative to cases we cannot see in this data! — to preserve future capacity; or because hospitals have figured out how to send people home.
Case fatality rate (plus deaths):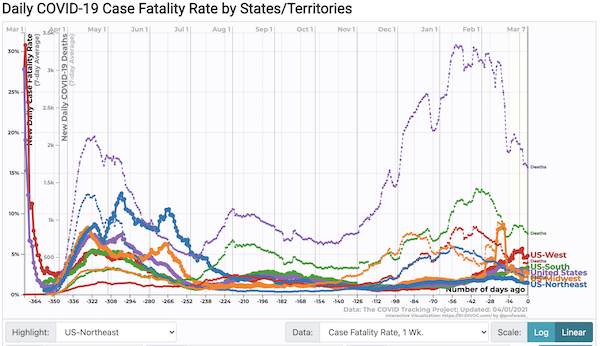 Good to see those deaths dropping. The fatality rate in the West is where it was last May.
* * *
Politics
"But what is government itself, but the greatest of all reflections on human nature?" –James Madison, Federalist 51
"They had one weapon left and both knew it: treachery." –Frank Herbert, Dune
"They had learned nothing, and forgotten nothing." –Charles Maurice de Talleyrand-Périgord
Biden Administration
"Biden's Big Bet: Tackling Climate Change Will Create Jobs, Not Kill Them" [New York Times]. Important:

Accelerating the shift to wind and solar power is likely to create tens of thousands of construction jobs, economists and industry officials say. But those jobs typically pay far less than those in the fossil fuel industry.

Anthony Prisco, the head of the renewable energy practice for the staffing firm Aerotek, said a standard solar project would employ about 250 workers for just under a year. About one-third of the workers make $30 an hour or more; the other two-thirds have fewer skills and make hourly wages of less than $20.

By contrast, the construction of a gas-powered electricity plant typically lasts two to three years and employs hundreds of skilled, unionized tradesmen — electricians, pipe-fitters and boilermakers — who make $75,000 a year or more, including benefits.

"When you're talking about the transition to the new green economy, the first question has got to be how are people going to make a horizontal economic move," said Sean McGarvey, the president of North America's Building Trades Unions, in an interview last month. "I can tell you that in the onshore wind and solar industry, for my members we're talking in some cases a 75 percent pay cut and they're losing benefits."

Jim Harrison, the director of renewable energy for the Utility Workers Union of America, said that it typically takes hundreds of workers to operate and maintain a nuclear or coal plant, several dozen at a gas plant — and about a dozen at a wind farm. Solar fields can often operate without a single worker on-site.

Mr. Biden has acknowledged that his plans could leave around 130,000 oil, gas and coal workers without their livelihoods. He included a $16 billion program to help fossil fuel workers transition to new work like capping leaks on defunct oil wells and shutting down retired coal mines.

"Biden administration launches $10 million ad campaign, leaders' network to encourage vaccination" [CNN]. We were wondering about this. Here it is: "The Department of Health and Human Services is spending $10 million to air four new TV ads this month, two administration officials told CNN, framing vaccination as a way for Americans to fight back against the pandemic and reclaim their lives with the slogan "We can do this." One of the ads is in Spanish and another, narrated by Henry Louis Gates Jr., the prominent intellectual, author and filmmaker, is aimed at Black Americans…. . Beyond TV ads, the administration's vaccine confidence campaign centers around efforts to equip trusted voices with the information and resources to tout the safety and efficacy of the coronavirus vaccine. The administration honed in on those efforts after research showed that Americans were most likely to rely on doctors and community leaders as they decide whether to get vaccinated.Nearly 300 organizations — including doctors' groups, sports leagues, rural organizations, unions and religious groups — have signed up to be part of that effort, which the administration is calling the COVID-19 Community Corps." • Alphabet groups…

"Ruh roh! Biden pooch drops doggie doo in White House hallway" [Associated Press]. "President Barack Obama's dog Sunny liked to sneak off and poop in the mansion, his wife, Michelle, once said." • So, not just Biden. (I so hate the recent resurgence and ubiquity of "poop," which, being infantile, is not taboo to say, unlike sh*t.)

"Biden Removed From White House After Biting Aide" [Babylon Bee]. "'We are so shocked,' said Chief of Staff Ron Klain of the incident. 'He has always been so docile and well behaved– always limiting his interactions to sniffing and friendly licks. He's never bitten anyone like this.'" • When the Babylon Bee is funnier than The New Yorker….

"Pete Buttigieg: I Really Do Feel in My Conversations with GOP a Shared Appetite To Serve the American People" (video) [Grabien]. • Not an April Fool!

* * *

The kind of ad I'd like to see:

This is a great ad https://t.co/JBIWLoUM9g

— Rex Chapman🏇🏼 (@RexChapman) March 31, 2021

So we have any Wisconsin readers who can comment on Nelson?
Democrats en Deshabille
"Democratic Firm Is Accused of Firing Workers for Speaking Up" [New York Magazine]. "Rao and Klem say the company gave them no explanation for their dismissals. The timing was odd, too: Civis was working on Joe Biden's presidential campaign, and the election was only days away. On the Google Hangout meetings, managers did not give a reason for laying off so many staff members at once, according to the fired employees. With nothing else to do, the group text began to put the pieces together. By the end of the day, they'd learned that Civis had fired 11 people. All were vocal activists at work, known among co-workers for their willingness to question company practices in meetings. Instead of experiencing confusion, Klem and Rao began to feel betrayal. They hadn't been fired by a large, soulless corporation. They thought they'd chosen a different career path with a different kind of employer. Civis advertised its progressive principles to the world, and it sought employees committed to "social good," as the company says on its website. Now it had abandoned the same workers without notice, without health care, without cause, in the middle of a deadly public-health crisis."

"As Cuomo Sought $4 Million Book Deal, Aides Hid Damaging Death Toll" [New York Times]. "A New York Times examination of the development of Mr. Cuomo's lucrative book deal revealed how it overlapped with the move by his most senior aides to reshape a report about nursing home deaths in a way that insulated the governor from criticism and burnished his image."
Realignment and Legitimacy
"There's Finally a Name For Trump's Murderous Masculinity" [Mel Magazine]. "Much has been written about former President Donald Trump's distinct form of masculinity. Gender-equity educator Jackson Katz calls it 'old-fashioned machismo'; Steve Bannon likens it to an American soldier 'climbing the cliffs on D-Day'; and many, many, many others simply dismiss it as 'toxic.' But James W. Messerschmidt, a distinguished professor of sociology and chair of the criminology department at the University of Southern Maine, sharpens the characterization in a recent article published in Men and Masculinities, calling Trump an exemplar of 'dominating masculine necropolitics.'" • Well, Obama's good at Rule #2 of neoliberalism too: "Turns out I'm really good at killing people. Didn't know that was gonna be a strong suit of mine." So it's not just Trump. I wonder if "the necropolitical class" would have legs?
Stats Watch
Employment Situation: "27 March 2021 Initial Unemployment Claims Rolling Average Improves" [Econintersect]. "Market expectations for weekly initial unemployment claims (from Econoday) were 625 K to 730 K (consensus 699 K), and the Department of Labor reported 719,000 new claims. The more important (because of the volatility in the weekly reported claims and seasonality errors in adjusting the data) 4 week moving average moved from 729,500 (reported last week as 736,000) to 719,000."
Employment Situation: "March 2021 Job Cuts Trend Lower" [Econintersect]. "Job cuts announced by U.S.-based employers fell 86% in March to 30,603 from the 222,288 job cuts announced in the same month last year, when the fallout from the COVID-19 lockdowns began to impact businesses across the country."
Manufacturing: "United States Manufacturing PMI" [Trading Economics]. "The IHS Markit US Manufacturing PMI was revised slightly higher to 59.1 in March of 2021 from a preliminary of 59, pointing to the second-highest griwth in factory activity on record. The overall expansion was supported by the steepest rise in new orders since June 2014, although production was reportedly held back by supply shortages. Supplier lead times lengthened to the greatest extent on record. At the same time, inflationary pressures intensified, with cost burdens rising at the quickest rate for a decade. Firms partially passed on higher input costs to clients through the sharpest increase in charges in the survey's history."
Manufacturing: "United States ISM Purchasing Managers Index (PMI)" [Trading Economics]. "The ISM Manufacturing PMI jumped to 64.7 in March of 2021 from 60.8 in February, well above market forecasts of 61.3. It is the highest reading since December of 1983. Faster increases were seen in production, new orders (the highest since January of 2004) and employment (the highest since February of 2018) and inventories rebounded. Meanwhile, both new export orders and supplier deliveries slowed a bit and price pressures remained elevated…."
Manufacturing: "ISM Manufacturing Is Giant, Screaming Fireball" [Heisenberg Report]. "Products scarcity was reported in… well, in almost everything, for lack of a more formalized, academic way to put it. Prices rose for aluminum, copper, chemicals, plastics, wood, lumber, transportation and 'all varieties of steel.'… The survey also betrayed ongoing supplier difficulties due to the pandemic, which are now colliding with 'strong growth in economic activity.' Needless to say, that economic activity is likely to get stronger still in the months ahead…. If you're wondering what this presages for growth, Fiore noted that 'the past relationship between the Manufacturing PMI and the overall economy indicates that [March's print] corresponds to a 6.2% increase in real GDP on an annualized basis.' We're in uncharted territory here. With just a few exceptions, there's no historical precedent for any of this."
* * *
Shipping: "The Suez Canal Puzzle – Pulling the Pieces Together" [Maritime Executive]. "Data can tell us what cargo is affected by a disruption. But more importantly, data can help us to deal with the ripple effects of incidents to avoid an aggregation of waiting time at the canal and the destination ports. We therefore need to secure that enough data are shared providing everyone situational awareness and enabling informed and intelligent decisions. In this article we elaborate on queue numbers and how such information may support deriving enhanced predictability for reduced waiting time in destination ports in Europe, in Asia and at the East Coast of the United States. Incidents such as the blocking of the Suez Canal should provide us with the necessary incentives to share data and act collaboratively upon the situational awareness." • No discussion of the physical size of the ships at all!
Shipping: "Ships are moving through the canal at a rapid rate…. but vessels that had been idling outside the canal are arriving almost as fast as the backlogged ships can be cleared. The ongoing backup highlights the fragile nature of the ocean-borne supply chains at choke points like the Suez" [Wall Street Journal]. "Some 292 ships were waiting on both sides of the canal two days after the blockage was cleared, a net reduction of just 33 ships from an earlier backup, and dozens more ships are on the way." And: "In 2017, a local shipping agent complained about pilots demanding cigarettes and other goods to let his ship pass; one pilot said such demands were once commonplace. But shipping companies that banded together under the Maritime Anti-Corruption Network report a decline in reports of demands for cigarettes and fewer threats to the safety of crew and vessels."
Shipping: "A banner year for e-commerce has built booming demand for the most common symbol of online business: the cardboard box" [Wall Street Journal]. "U.S. producers in 2020 churned out nearly 407 billion square feet of corrugated cardboard, which the Fibre Box Association says amounted to 477 additional miles of the packaging material filling fulfillment centers, delivery vans, porches and recycling bins." • [slaps forehead] Go long corrugated cardboard. I should have seen this long ago (plus tape, staples, bubblewrap, popcorn…).
Tech: "South Korean regulator recommends Apple be prosecuted for hampering fair trade probe" [The Register]. "South Korea's Fair Trade Commission has recommended Apple's local outpost be prosecuted for hampering its investigations into its affairs and slapped it with a 300 million Won (US$264,000) fine. A Wednesday statement by the Commission (FTC) alleges that when investigators visited Apple South Korea, they found the internet and intranet turned off and therefore could not inspect Apple applications or access data relevant to their probes. Apple staff dragged their heels when asked to restore access. The statement also alleges that senior Apple execs prevented investigators from entering the company's offices, with an official's arm pulled during a visit. Apple also did not allow access to meeting rooms, further hampering investigators ability to do their jobs."
Tech: This thread suggests Facebook supervisors take bribes:
This is where things get juicy…I was then connected with a supervisor at @Facebook through a mutual friend who said they could get my accounts back for $65K and 2.5% of my company (contract below)+ was told to label myself as a MALE to decrease my chances of getting taken down pic.twitter.com/xesIvKXTlY

— Julia Rose (@JuliaRose_33) March 31, 2021
Man, though, a written contract? I dunno….
* * *
Today's Fear & Greed Index: 56 Greed (previous close: 51 Neutral) [CNN]. One week ago: 40 (Fear). (0 is Extreme Fear; 100 is Extreme Greed). Last updated Apr 1 at 12:24pm. One year ago, just after the end of the Before Times: 22 (Extreme Fear). Mr. Market clambers back to Greed.
The Biosphere
"Green investing 'is definitely not going to work', says ex-BlackRock executive" [Guardian]. "As the former chief investment officer for sustainable investing at BlackRock, the world's largest asset manager, Fancy was charged with embedding environmental, social and governance (ESG) corporate policies across the investment giant's portfolio. Fancy was a leader in a movement that has given many people, including investors, activists and academics, hope that after years of backing polluters, Wall Street was finally stepping up to confront the climate crisis. 'I have looked inside the machine and I can tell you business does not have this,' Tariq told the Guardian. 'Not because these are bad people but because they run for-profit machines that will operate exactly as you would expect them to do,' said Fancy… Investors have a fiduciary duty to maximise returns to their clients and as long as there is money to be made in activities that contribute to global warming, no amount of rhetoric about the need for sustainable investing will change that, he believes."
How to game "net emission reduction" targets, a thread (dk):
Germany has just modified the way it reports on carbon fluctuations in its land use sector for the crucial year of 1990.

The effects it could have are shocking.

This is a perfect example why the EU shouldn't adopt 'net' emission reduction targets.

Thread 👇 pic.twitter.com/ooZ2hdLEh9

— Fern (@Fern_NGO) March 30, 2021
"Scientists Collected Human DNA From the Air In a Breakthrough" [Vice]. "a team led by Elizabeth Clare, senior lecturer at Queen Mary University of London (QMUL), has provided the "first proof of concept demonstration that air samples are a viable source of DNA for the identification of species in the environment," according to a study published on Wednesday in the journal PeerJ….. The discovery of this exciting new eDNA source is bound to impact multiple scientific disciplines. Unlike DNA collected directly from one individual animal, eDNA samples can be gathered passively from an environment with no animals immediately present. These samples often contain a mixture of genetic fragments from multiple organisms that just happen to end up in filters at a certain place and time. For this reason, eDNA is better suited for large-scale ecological studies of populations and biodiversity, such as tests for the presence of invasive species or making inventories of species that live in a selected habitat, as opposed to detecting and monitoring individuals." • Bats, eh?
"11 Frequently Asked Questions About Attracting Hummingbirds" [Birds and Blooms]. "How do hummingbirds drink nectar? This is a bit of a tricky one. Hummingbirds seem to use their tongues in a way that scientists never expected —a hummingbird tongue's tubes open down their sides when they insert it into a flower or feeder. When they pull the tongue back in, the tubes zip closed around the nectar, bringing it back into the bird's mouth. They are one of the few species of birds that swallow liquid without throwing their head back to allow gravity to help them swallow." • This article is mostly about crack sugar water feeders. Sugar water feeders never worked for me, and in any case I think they're wrong: You should attract hummingbirds with flowers. Bee balm, being red, has always worked great for me. Plus, it's invasive!
Health Care
"Prevalence of ongoing symptoms following coronavirus (COVID-19) infection in the UK: 1 April 2021" (PDF) [Office for National Statistics (UK)]. Long Covid: "Self-reported long COVID symptoms were adversely affecting the day-to-day activities of 674,000 people in private households in the UK, with 196,000 of these individuals reporting that their ability to undertake their day-to-day activities had been limited a lot. Of people with self-reported long COVID, 697,000 first had (or suspected they had) COVID-19 at least 12 weeks previously, and 70,000 first had (or suspected they had) COVID-19 at least one year previously. Prevalence rates of self-reported long COVID were greatest in people aged 35 to 69 years, females, those living in the most deprived areas, those working in health or social care, and those with a pre-existing, activity-limiting health condition; however, it is not possible to say whether these patterns are because of differences in the risk of coronavirus infection or susceptibility to experiencing long COVID following infection." •
"Trump-Touted Drug Lives On as Covid Therapy Despite Trial Flops" [Bloomberg]. "Myron Cohen, associate vice chancellor for global health and medical affairs at the University of North Carolina School of Medicine at Chapel Hill, says this illustrates a broader medical issue that is not unique to Covid-19 — it's hard to move people away from their own anecdotal evidence. 'Hydroxychloroquine was just filling a vacuum,' Cohen said. 'In the long run, health providers are going to accede to drugs that have been proven to work.'" • Personally, I was waiting for large studies to come from India, where it was prescriped as a prophylactic. If those studies arrived, I missed them. If liberal Democrats hadn't been openly rooting for HQ to fail, I think HQ would have fallen out of favor sooner than it did.
Alert reader Rob's epic vaccination experience:
I've been trying to get vaccinated since I first became eligible three weeks ago.

In Orange County, New York— where the infection rate never fell that much and is now rising again, distribution is through the national drugstore chains.

The drugstore websites suck, provide no immediate link to make an appointment, and at least one of the three chains requires that you apply for a store card before you can make an appointment.

Three drugstore chains means going to three different websites.

On my first try, the only appointment available was 21 miles away X 4 trips = 84 miles.

On my second try, it was 25 miles X 4 trips = 100 miles.

The quickest public transit takes just under 24 hours each way according to Google.

Together, this means that I need a car, iphone, insurance card, store card, a third of a tank of gas and two half days off work to get vaccinated.

The stores require that you download an 'app'— three different chains, three different apps.

The apps are spy devices through which the stores 'monetize' their customer's comings and goings.

I don't have an iphone and my life's goal is to die without ever having had one.

Nine out of ten of my neighbors don't have cars.

When I was four living in a small town in the mountains of Virginia, the Federal government distributed a polio vaccine in sugar cubes given out at the elementary school.

The location was walkable.

No appointment was needed.

No ID was needed.

The entire town walked to the school at the designated time, stood in line for as long as it took to be handed a sugar cube, ate it, and was vaccinated against polio.
Rob, Rob. When you were four, there were no financial intermediaries! We live in a more advanced era, now.
"About 46 million Americans can't afford quality health care, according to Gallup" [Yahoo News]. "Quality health care is unaffordable for an estimated 46 million Americans, according to a new study from Gallup and health care research firm West Health. A web survey of 3,753 adults living in all 50 U.S. states conducted from Feb. 15-21 via the Gallup Panel, a research panel built to be representative of the entire U.S. population, indicated that an estimated 46 million people (or 18% of the U.S. population) would be unable to pay for health care if they needed to access it. ' — one of the big takeaways from this is that over the course of the last year, the pandemic has a way of pushing the urgency of the health care crisis off of front pages, since COVID is obviously a health care issue,' Dan Witters, senior researcher at Gallup, told Yahoo Finance." • "I wasn't particularly surprised….."
Games
Livin' the dream:
— Russell (@ericsapp) March 31, 2021
Sports Desk
For your Seventh Inning Stretch entertainment:
— Nathan W. Pyle (@nathanwpyle) April 1, 2021
Groves of Academe
Very funny and very good:
Asked my students to do stats memes for extra credit and *was not disappointed*.#rstats #memes #statistics pic.twitter.com/3um9qXLTmL

— Virginia Matzek (@v_matzek) March 30, 2021
Definition of a meme: "[H]umorous image, video, piece of text, etc., that is copied (often with slight variations) and spread rapidly by internet users." I would urge that these are not, in fact, memes, because the variations are essential, not accidental. They are snowclones (templates), but visual.
The Agony Column
"Two Killed After Plane Crashes During Gender Reveal" [Daily Beast]. "Two pilots died in a crash after their plane revealed to the expectant couple that they would be having a girl via a trailing sign that read 'It's a girl!' According to The Sun, one of the party attendees on the boat said before the plane took a nosedive, 'It's all good as long as it doesn't end up crashing into us.'" • This keeps happening….
Black Injustice Tipping Point
The California oligarchy:
Imagine being a poor Asian kid in SF, son of Cambodian immigrants, you study until 2 AM every night trying to get your grades up so you can do better than your parents and this millionaire family is out here calling you privileged because you're the wrong skin color pic.twitter.com/3YA7ZAVKkO

— Zaid Jilani (@ZaidJilani) April 1, 2021
Class Warfare
When the Bessemer Amazon votes will be counted:
INBOX: After day one of clearing ballots in the Bessemer, Alabama Amazon union election, NLRB estimates that the clearing process will conclude and the public count will begin on Friday or early next week.

— The Valley Labor Report (@LaborReporters) March 31, 2021
"Journalist Investigates Amazon Warehouse Life And The Pitfalls Of 'One-Click America'" [NPR]. Alec McGinnis: "The loss of community in these jobs is one of the big parts of what's changed, the fact that you used to know all the people you worked with, you were maybe related to some of them. After you left work at the steel mill on Sparrows Point [in Baltimore], you would often, of course, roll out of your shift and go to the bar, go to the diner, whatever it might be with the people you worked with. Now you go in, you do your shift, your 10-hour shift — it's very grueling, repetitive, demanding — and then you get the heck out of there. A former millworker who lives nearby says … that they've had full speed bumps [put] in because people are just desperate to get out of there."
"Strike set for Alabama coal mines barring late agreement" [News Courier]. "More than 1,100 workers at two Alabama coal mines and related facilities owned by Warrior Met Coal Inc. will go on strike barring a last-minute labor agreement, the United Mine Workers of America said Wednesday. Negotiators have not been able to reach a deal on a new contract, and workers will walk off the job Thursday night unless continuing negotiations succeed, said union spokesman Phil Smith." • Alabama is a hot spot right now!
"'We work for a magazine whose logo is a literal dandy with a top hat, but we are part of the labor movement.' Interview with David Muto of the New Yorker Union." [Strike Wave]. Muto: "The company spent a lot of time, especially in the beginning, saying, "This is the best magazine in the country. Why should we have to change our practices?" This came up a lot, during any number of issues, but it came up around the fight over just cause. And we're saying that we are workers, we deserve the same protections that all workers do, but also, if our bosses are saying that this is the best magazine in the country—and we would agree, we love working there, we think it's great, we think it's the best—we think that the best magazine can afford to pay its workers better. If they claim that this is the best magazine, then they should be able to pay commensurate wages and to come to an agreement on a strong contract overall. The most prestigious magazine in the country should easily be able to agree to a strong contract that sets its workers up for long term growth."
"The Boat Stuck in the Suez Canal Shut Down Global Commerce. So Could Organized Workers" [Jacobin]. "Part of the joy of the boat was seeing it do something we've rarely been able to — bring the whole thing to a stop. Maybe the master's tools won't dismantle the master's house, but it was pretty funny to watch his boat turn against him for a few days." • Well worth a read.
Target, apparently:
how humiliating for you @Target. literally evil pic.twitter.com/4fFbIaFdXx

— siera (@SensitivePea) March 31, 2021
"Both Sides Now (w/ David Harvey)" (podcast) [Bad Faith]. "We ask Marxist economic geographer and CUNY professor David Harvey about how to discern incremental reformism from true revolutionary change, what Marx would do if he were a squad member, and what Harvey's post-capitalist fantasy looks like." • Briahna Joy Gray has a lovely laugh…
News of the Wired
I haven't included any April Fool's jokes, because they tend to be cruel. This one is not:
* * *
Readers, feel free to contact me at lambert [UNDERSCORE] strether [DOT] corrente [AT] yahoo [DOT] com, with (a) links, and even better (b) sources I should curate regularly, (c) how to send me a check if you are allergic to PayPal, and (d) to find out how to send me images of plants. Vegetables are fine! Fungi and coral are deemed to be honorary plants! If you want your handle to appear as a credit, please place it at the start of your mail in parentheses: (thus). Otherwise, I will anonymize by using your initials. See the previous Water Cooler (with plant) here. Today's plant (AMM):
Before (unhappy):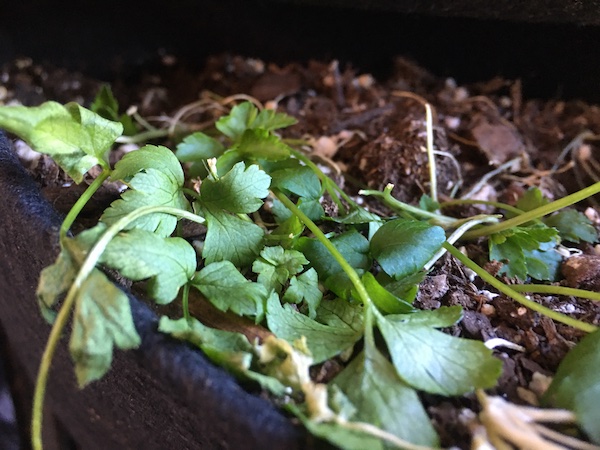 After (happy):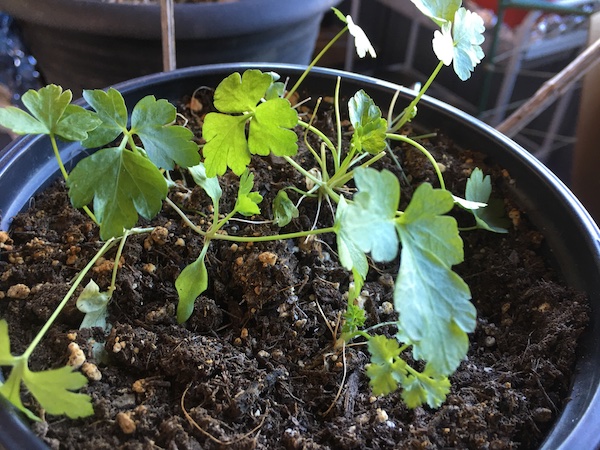 AMM writes: "Flat Italian parsley in wall planter on door to landing vs screen porch. Just that small protection from wind makes all the difference." Great metaphor
Readers, thank you very much for the big initial response of spring plant images. But I'm still feeling a little short…
* * *
Readers
: Water Cooler is a standalone entity
not
covered by the recently concluded and — thank you! — successful annual NC fundraiser. So if you see a link you especially like, or an item you wouldn't see anywhere else, please do not hesitate to express your appreciation in tangible form. Remember, a tip jar is for tipping!
Regular positive feedback both makes me feel good and lets me know I'm on the right track with coverage
. When I get no donations for five or ten days I get worried. More tangibly, a constant trickle of donations helps me with expenses, and I factor in that trickle when setting fundraising goals:
Here is the screen that will appear, which I have helpfully annotated.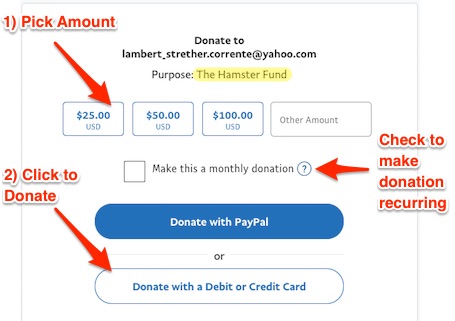 If you hate PayPal, you can email me at lambert [UNDERSCORE] strether [DOT] corrente [AT] yahoo [DOT] com, and I will give you directions on how to send a check. Thank you!