By Lambert Strether of Corrente.
Patient readers, this is a bit short. More soon. –lambert
Bird Song of the Day
Another migratory bird from the Birds of the Atlantic Flyway. This one very chatty!
* * *
#COVID19
At reader request, I've added this daily chart from 91-DIVOC. The data is the Johns Hopkins CSSE data. Here is the site.
I feel I'm engaging in a macabre form of tape-watching.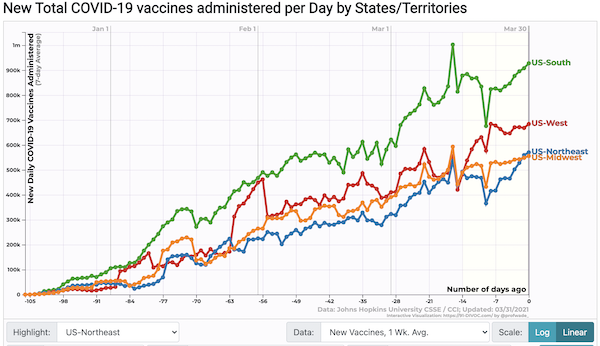 Early in February, I said a simple way to compare Biden's performance to Trump's on vaccination would be to compare the curves. If Biden accelerated vaccine administration, the rate of vaccination post-Inaugural would kink upward, as the policies of a more effective administration took hold. They have not. The fragmented, Federalized, and profit-driven lumbering monstrosity that we laughingly call our "health care" "system" has not responded to "energy in the executive," but has continued on its inertial path.
FL: "Data shows Florida seniors getting vaccines, avoiding hospitals" [Tampa Bay Times]. "In a striking shift that shows how much the pandemic is changing, Florida hospitals admitted more new patients last week (ending Thursday) who are in their 50s and 60s than they did those 70 or older — the first time that's happened since federal officials began releasing the data last summer. The decline in hospitalizations among younger adults has stalled after dropping for nearly two months."
FL: "Dozens in Central Florida contract COVID-19 after being fully vaccinated" [News 6 (kareninca)]. "Earlier this month, the Minnesota Department of Health released a health advisory stating that along with the CDC, it is investigating COVID-19 infections among people who are "appropriately vaccinated," also called vaccine breakthrough cases, according to the advisory. News 6 checked and the Florida Department of Health in Volusia County has six documented breakthrough cases while Sumter County has six and Lake County has 26 cases, according to emails from each county's spokesperson." • Hmm.
Case count by United States regions: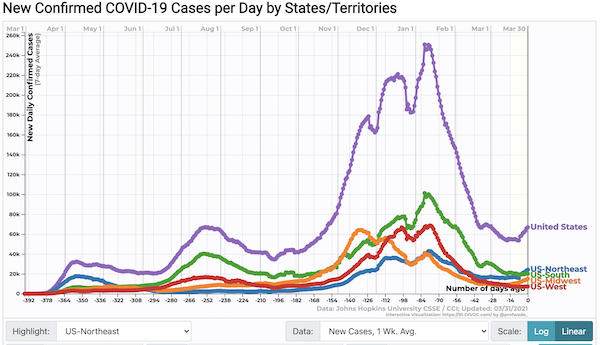 No longer an upward blip, but a very ugly trend. Disappointing in the extreme. All I can say is that if you have a system that has worked for you, keep at it. And avoid closed, crowded, close-contact settings, evem so-called outdoor dining. Don't share air!
"The Fourth Surge Is Upon Us. This Time, It's Different." [Zeynep Tufecki, The Atlantic]. "We appear to be entering our fourth surge. The good news is that this one is different. We now have an unparalleled supply of astonishingly efficacious vaccines being administered at an incredible clip. If we act quickly, this surge could be merely a blip for the United States. But if we move too slowly, more people will become infected by this terrible new variant, which is acutely dangerous to those who are not yet vaccinated." Also a fine discussion about herd immunity (about which there was a question yesterday): "Herd immunity is sometimes treated as a binary threshold: We're all safe once we cross it, and all unsafe before that. In reality, herd immunity isn't a switch that provides individual protection, just a dynamic that makes it hard for epidemics to sustain themselves in a population over the long term. Even if 75 percent of the country has some level of immunity because of vaccination or past infection, the remaining 25 percent remains just as susceptible, individually, to getting infected. And while herd levels of immunity will eventually significantly drive down the number of infections, this may not happen without the epidemic greatly "overshooting"—infecting people beyond the levels required for achieving herd immunity, somewhat like a fire burning at full force even though it is just about to run out of fuel. Worse, people's infection risks are not distributed evenly: Some people have lots of contacts, while others have a few. People are also embedded in different social networks: Some may have a lot of friends and family members who are immune, others not so much. Some work in jobs that increase their risk, others not so much. So it's perfectly possible for a country as a whole to have herd immunity against a pathogen, but for outbreaks to happen among communities that have a lot of unvaccinated people among them."
Big states (New York, Florida, Texas, California):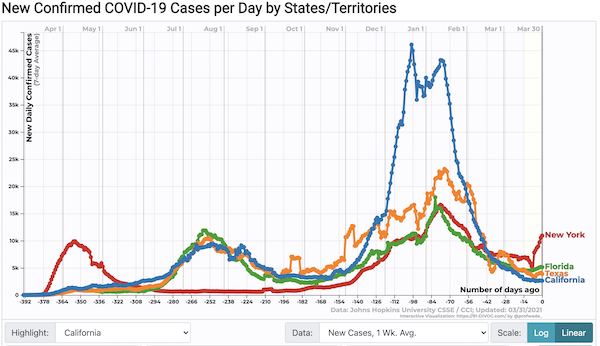 New York in the "lead," but with a jump after a recent drop. I'm also loathe to give Florida's DeSantis permission for a happy dance, but there's no question that in the enormous natural experiment that is our Federalized response to Covid, Florida didn't do badly, and its case curve looks pretty much like that corrupt crook Cuomo's, just with a later peak.
Here are New York hospitalizations. Small numbers, but accelerating: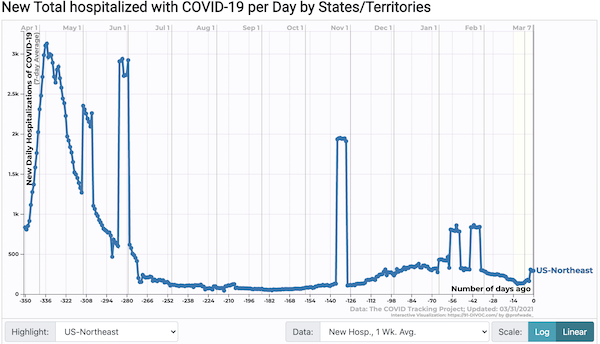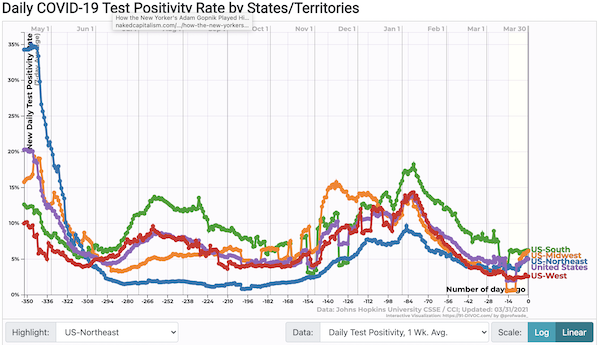 Hospitalization data is the best data we have, because hospital billing is a highly functional data acquisition system (ka-ching). That said, hospitalization is discretionary; they may also be reducing their admissions rate — relative to cases we cannot see in this data! — to preserve future capacity; or because hospitals have figured out how to send people home.
Case fatality rate (plus deaths):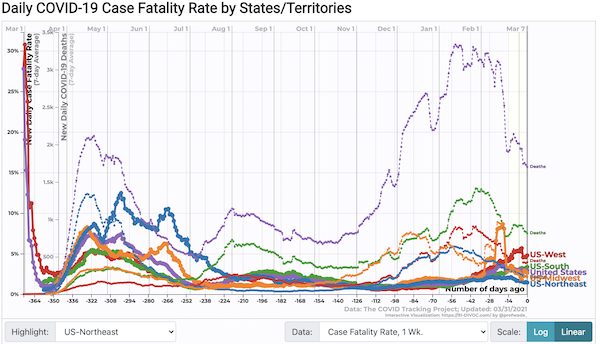 Good to see those deaths dropping. The fatality rate in the West is where it was last May.
* * *
Politics
"But what is government itself, but the greatest of all reflections on human nature?" –James Madison, Federalist 51
"They had one weapon left and both knew it: treachery." –Frank Herbert, Dune
"They had learned nothing, and forgotten nothing." –Charles Maurice de Talleyrand-Périgord
Biden Administration
"Biden looks for an infrastructure win where Obama and Trump failed" [Politico]. "The sprawling package is the first part of what will be a two-pronged "Build Back Better" plan, the latter of which will include Democratic priorities on caregiving and improving wages for essential workers to be rolled out in mid-April. Together, the initiatives constitute a core component of the president's agenda, one expected to dominate the next several months as U.S. lawmakers debate its path forward. And pushing it through Congress will require Biden to pull off a second legislative victory — one that could either burnish his legacy or tarnish his record — just weeks after securing a $1.9 trillion coronavirus relief package without a single Republican vote. It would also finally deliver on promises made by Presidents Barack Obama and Donald Trump, who both tried to deliver sweeping infrastructure plans during their years in the White House and failed due to broad political opposition to either raising taxes or adding to the national deficit." • Once again, Biden easily leaps over Obama's low bar. As usual, however, that Biden is better doesn't mean he's good. We'll have to wait for detail to know whether the line items are fit for purpose, scaled for the tasks, etc.

"Biden unveils sweeping American Jobs Plan" [Axios]. "Biden intends to raise the corporate tax rate from 21% to 28% for 15 years. President Trump convinced Congress to lower it from 35% to 21%. To encourage corporations to conduct business in the U.S., the administration is proposing a global minimum tax and providing incentives to support onshoring. Among the tax hikes expected in the second proposal being rolled out next month is an increase in the top individual rate for those making more than $400,000 annually from 37% to the pre-Trump rate of 39.6%."

"Corporate Dems Show Progressives How To Play Hardball" [David Sirota and Andrew Perez, The Daily Poster]. Earlier this month, progressive lawmakers refused to withhold their votes on must-pass COVID-19 stimulus legislation until the bill included a $15 minimum wage. A few weeks later, conservative Democratic lawmakers are now threatening to withhold their votes on must-pass infrastructure legislation until the bill includes large tax cuts for the wealthy…. The tax issue revolves around federal write-offs for state and local taxes — colloquially called SALT deductions. Donald Trump's 2017 tax bill limited such deductions to $10,000. The move was perceived as a mean-spirited shot at blue states, which often have higher state and local levies to fund more robust public services. But on the merits, the policy serves to limit tax deductions primarily for higher-income households…. If the SALT cap was fully repealed, nearly all — 96 percent — of the tax benefits would flow to the top quintile of earners, and more than half of the benefits would go to the top 1 percent of earners, according to data from the Brookings Institution. Congress's Joint Committee on Taxation found that the majority of the benefits of a SALT cap repeal would flow to households earning more than $1 million."

"Here's how Biden's $2 trillion infrastructure plan addresses climate change" [CNBC]. "President Joe Biden's infrastructure plan includes $174 billion in spending to boost the electric vehicle market and shift away from gas-powered cars. The plan also proposes $100 billion in funding to update the country's electric grid and make it more resilient to climate disasters, such as the recent winter storm that disrupted Texas's power grid… The initiatives involve funding to install half a million charging stations across the country by 2030, incentives for Americans to buy EVs and money to retool factories and boost domestic supply of materials. Electric cars only make up about 2% of new auto sales in the U.S…. The proposal also includes $100 billion in funding to update the country's electric grid and make it more resilient to worsening climate disasters. Biden also proposes the creation of a "Energy Efficiency and Clean Electricity Standard," a mandate that would require a portion of U.S. electricity come from zero-carbon sources like wind and solar power. The mandate would require congressional approval."

Oops:

The Biden administration for the first time Tuesday allowed journalists inside its main border detention facility for migrant children, revealing severe overcrowding. https://t.co/XkkxZZTrr4 pic.twitter.com/xPcgjKUfTs

— Denver7 News (@DenverChannel) March 31, 2021

More from the same tour:

THREAD — Reporters toured the temporary border facility in Donna, TX today.

The Biden admin allowed pooled coverage for the first time.

We saw a "pod" designed for 32 migrant children under CDC guidelines now holding 615.

The facility is at 1700% pandemic capacity.

📸:TV Pool pic.twitter.com/cJTPUAxXmc

— Nicole Sganga (@NicoleSganga) March 30, 2021

"'This is not kids being kept in cages' -Psaki" [Reuters]. From February 24: "There's a pandemic going on," Psaki told the reporter. "I'm sure you're not suggesting that we have children right next to each other in ways that are not COVID-safe, are you?" • I suppose this statement is now inoperative. To be fair to the Biden administration, we've seen the same conditions under Trump, Obama, and IIRC Bush. I don't think there's any point in moral panics over a problem that's both intractable and clearly bipartisan (except for the clicks, of course).

UPDATE Clarifying:

"Is he dead yet?" pic.twitter.com/Md8TLNpZ75

— Dan Wright (@DanSWright) January 22, 2021

UPDATE "Bidens' dog Major involved in another biting incident" [CNN]. Biden: "You turn a corner, and there's two people you don't know at all. And (Major) moves to protect. But he's a sweet dog. Eighty-five percent of the people there love him. He just — all he does is lick them and wag his tail. But … I realize some people, understandably, are afraid of dogs to begin with." • I hate dogs that try to lick me, and I dislike people who don't stop their dogs from doing it. On the other hand, maybe a President with a vicious dog — supposing Major to be that, and not a stressed-out rescue — is something the Democrats, and the country, need.

UPDATE "Legislation Would Support Fare-Free Public Transit Systems" [WBUR]. "Legislation intended to boost support for public transportation, including state and local efforts to create fare-free transit systems, has been refiled in Congress by U.S. Rep. Ayanna Pressley and U.S. Sen. Edward Markey. The bill would invest 'heavily in our public transit systems so that states and localities can offer safe, high-quality, and to all to ensure everyone' can access jobs, food and essential services, Pressley said in a written statement Tuesday." • Good for Pressley.
Democrats en Deshabille
"The Democratic Party and the political origins of Alexandria Ocasio-Cortez" [World Socialist Web Site]. "The Democratic Party has a vast experience in diverting social opposition by trapping social discontent within its reach, where it is crushed. It has at its disposal billions of dollars, mass media channels and thousands of people whose singular responsibility is to stop social opposition from breaking out of its control. This has been its political role since its inception in 1828, when Andrew Jackson trapped the embryonic anti-capitalism of "workingmen" in the northern cities behind a reactionary alliance with the southern slave-owning class. The emergence of the working class in the post-Civil War period inaugurated decades of violent class struggle, which the Democratic Party attempted to control through subsuming strains of populist, agrarian politics, culminating in the elevation of the demagogue William Jennings Bryan as repeated Democratic presidential candidate at the turn of the 20th century. Despite the insurrectionary character of the class struggle, the Democratic Party fought to prevent these struggles from developing to a point of a political break and the formation of an independent political party in the European model of labor or social democratic parties. This, alongside the extraordinary wealth of American capitalism, explains why there has never been a labor party in the United States." •
Realignment and Legitimacy
"Cleveland Mayor Frank Jackson endorses Nina Turner for 11th District Congressional election" [Cleveland.com]. "Cleveland Mayor Frank Jackson on Wednesday endorsed former State Senator Nina Turner's bid to replace Rep. Marcia Fudge in Congress, citing her experience in office and her commitment to work to help all people. Jackson told cleveland.com and The Plain Dealer that he views Turner as best equipped of the candidates for Fudge's open 11th Congressional District seat to fight for those who need help because of her tenacity. 'She has a life experience of championing the cause of the people,' Jackson said in an interview Tuesday. 'I've found her to be someone who doesn't just talk about things. She does things.'" • Good news for Turner, I assume. Cleveland readers?

"Episode 64 – Purity (Cult)ure ft. Kim Kiesewetter" (podcasts) [Sh*tty Christians]. "This week, Zac and Michael are joined by Kim Kieswetter, sociologist professor and childhood friend to talk all things purity culture: the dangers of spaghetti straps, kindergarten modesty codes, and Kim's experience being an ostracized teen mom in the same church that taught a young Michael the dangers of Shape Magazine."

"Liberal group pledges $10M state legislative campaign on voting rights" [Politico]. • Why is it always the alphabet groups that do this? Why isn't this a party function?
Stats Watch
Employment Situation: "March 2021 ADP Employment Grew 517,000" [Econintersect]. "ADP reported non-farm private jobs growth of 517,000 which was within expectations…. Last month's employment loss was revised upward. It will be interesting to see what the BLS says is jobs growth."
Manufacturing: "March 2021 Chicago Purchasing Managers Barometer Improves" [Econintersect]. "The Fed manufacturing surveys were all in expansion this month were were generally stronger than the previous month."
Housing: "February 2021 Headline Pending Home Sales Again Significantly Declines" [Econintersect]. "The National Association of Realtors (NAR) seasonally adjusted pending home sales index declined…. So far, the recovery is well beyond my expectations of a lackluster recovery. It is almost like the pandemic never happened for home sales. However, the inventory remains too low to support much of an acceleration of growth."
* * *
Shipping: "The Big Dumb Ship Problem Is Much Worse Than We Think" [Matt Stoller, BIG]. Quoting an email response: ". Actually though, a bigger risk to global commerce is if one of these monsters falls over in the entrance channel to a regional hub, such as Rotterdam or Long Beach. Blocking Suez is one thing as there is an alternative (sail round the horn of Africa) albeit taking more time. But blocking access to Rotterdam hits traffic in an out. Diversion are possible, but this impacts road and rail links into and out of the alternatives (e.g Hamburg, Le Havre). These cannot be replicated at scale fast enough for the present velocity of global trade. Example when China shutdown due to the pandemic, the problems were caused globally when they restarted, due to boxes and ships being in the wrong place." • Concentration of capital, too, I would think?
Shipping: "After Ever Given, what now for marine insurance and ship finance?" [Lloyd's List]. "HE Ever Given grounding will have a big impact not just on the physical shipping and ports business, but on the whole maritime white-collar services sector as well, according to sources in marine insurance and ship finance. Like everyone else, professionals in these areas are still watching how developments roll out in real time. But the likely payout is already being assessed as likely to hit nine-figure dollars. Hull and machinery and cargo claims could be mercifully limited. The ship itself, as far as is known, is not badly damaged, and again as far as is known, the cargo is largely unscathed. The big-ticket exposure will be for liability, especially if the Suez Canal Authority decides to impose penalties on operator Evergreen, or decides to seek compensation for its loss of revenue. The canal is a major earner of hard currency for the regime, and its importance has only been bolstered by the downturn in tourism income that has inevitably come as a corollary of the pandemic. Marine liability is insured by P&I clubs, in this instance the UK Club, which is not offering media comment on the matter at this time. Any claim from the Suez Canal Authority will easily bust the $10m retention layer, and could even exceed the $100m collective retention provided by the International Group of P&I Clubs, to which the UK Club is affiliated, thus hitting the reinsurance layer." • A "P&I club" is "a non-profit marine insurers' association. It is a group of shipowners who mutually indulge in the coverage of their own civil liability risks." Sounds like they might have problems with scale?
The Bezzle: "Dispute breaks out over ownership of world's first NFT house" [Dezeen]. "The artist and the visualiser who collaborated on the first NFT house are locked in a dispute over the copyright of the virtual property, which last week sold for $500,000. Mars House is 'the first NFT digital house in the world,' according to online art marketplace SuperRare, which sold the digital file. But Argentine 3D-modeller Mateo Sanz Pedemonte, who created visualisations of Mars House for artist Krista Kim, claimed the project was 'a fraud'. 'I am afraid to say that this project is a fraud,' Pedemonte told Dezeen. 'Krista Kim never owned this project fully,' he continued. 'I have created the project with my own hands, combined with her direction. I do possess the full intellectual property.'"
The Bezzle: "William Boyd: how David Bowie and I hoaxed the art world" [Guardian]. "[Bowie] was a genial and unassuming presence at the regular Modern Painters editorial meetings and when, in one of them, I suggested the idea of creating a fictional artist it was Bowie who said that the concept would work far more efficiently if it were published as a book. And so it came to be. I invented a dead American "artist" I called Nat Tate and wrote his biography. Then the team at Modern Painters and 21 transformed the text into a small, beautifully made and copiously illustrated artist's monograph. However, there's absolutely no denying the fact that it was Bowie's participation in the eventual hoax that gave it media heft. He published the book, he organised the launch party (on April Fool's Day, 1998) in Jeff Koons's studio in Manhattan – Koons was a friend of Bowie – and it was Bowie who read out extracts of the book, absolutely deadpan, to the assembled New York glitterati. The clincher was his statement in the blurb that he was convinced that, 'The small oil I picked up on Prince Street, New York, must indeed be one of the lost Third Panel Triptychs. The great sadness of this quiet and moving monograph is that the artist's most profound dread – that God will make you an artist but only a mediocre artist – did not in retrospect apply to Nat Tate.' Who wouldn't be swayed by that eloquent testimonial?" • "Tate" went on, of course, to become "Satoshi Nakamoto."
The Bezzle: "PayPal CEO Uses Bitcoin to Pay for His New Ostrich Cowboy Boots" [Bloomberg]. "The 63-year-old chief executive officer of PayPal Holdings Inc., known for being partial to boots and jeans, used the payment giant's new 'Checkout with Crypto' service that allows customers to sell cryptocurrencies to pay for goods from the millions of merchants with a PayPal button on their websites. 'That's pretty cool, 'Schulman said in a two-minute video the company posted of him making the purchase of Lucchese ostrich boots from Bronco Western Wear. 'You can just use your crypto balance as a funding source like you would your PayPal balance, or your credit card or your debit card. .'"
* * *
Today's Fear & Greed Index: 51 Neutral (previous close: 45 Neutral) [CNN]. One week ago: 40 (Fear). (0 is Extreme Fear; 100 is Extreme Greed). Last updated Mar 31 at 12:35pm. One year ago, just after the end of the Before Times: 25 (Extreme Fear).
Health Care
Shaming the beachgoers outdoors, where it's safest, and not showing where the real danger is: Inside, in restaurants, bars, motels/hotels:
"The nation is recording a seven-day average of about 57,000 new Covid-19 cases per day, a 7% jump over the last week, CDC Director Dr. Rochelle Walensky said…"https://t.co/NTMn3dTVlL

— Maddow Blog (@MaddowBlog) March 27, 2021
Will this stupid meme never die?
"In mutant variants, has the coronavirus shown its best tricks?" [Reuters]. "The appearance of similar mutations, independent of one another, springing up in different parts of the globe shows the coronavirus is undergoing "convergent evolution," according to a dozen scientists interviewed by Reuters. Although it will continue to mutate, immunologists and virologists said they suspect this coronavirus has a fixed number of moves in its arsenal. The long-term impact for the virus' survival, and whether a limit on the number of mutations makes it less dangerous, remains to be seen. 'It is plausible that this virus has a relatively limited number of antibody escape mutations it can make before it has played all of its cards, so to speak,' said Shane Crotty, a virologist at the La Jolla Institute for Immunology in San Diego…. 'If it had an unlimited number of tricks…we would see an unlimited number of mutants, but we don't,' said Michel Nussenzweig, an immunologist at Rockefeller University in New York."
"Phospholipidosis is a shared mechanism underlying the in vitro antiviral activity of many repurposed drugs against SARS-CoV-2" (preprint) [bioRxiv]. "Repurposing drugs as treatments for COVID-19 has drawn much attention. A common strategy has been to screen for established drugs, typically developed for other indications, that are antiviral in cells or organisms. Intriguingly, most of the drugs that have emerged from these campaigns, though diverse in structure, share a common physical property: cationic amphiphilicity. Provoked by the similarity of these repurposed drugs to those inducing phospholipidosis, a well-known drug side effect, we investigated phospholipidosis as a mechanism for antiviral activity. We tested 23 cationic amphiphilic drugs—including those from phenotypic screens and others that we ourselves had found—for induction of phospholipidosis in cell culture. ; indeed, there was a strong monotonic correlation between antiviral efficacy and the magnitude of the phospholipidosis. Conversely, drugs active against the same targets that did not induce phospholipidosis were not antiviral." • I need somebody to translate this into English, but it is an interesting thesis.
A program to manage oximetry at home. A thread:
Hi Hemant, @UniofOxford Prof @trishgreenhalgh et al have recently published a paper in @bmj_latest which u might find useful
'Remote management of covid-19 using home pulse oximetry and virtual ward support'https://t.co/AzJXOAT8wA pic.twitter.com/J8anreEl0a

— Ash Paul (@pash22) March 31, 2021
"Contested effects and chaotic policies: the 2020 story of (hydroxy) chloroquine for treating COVID‐19" [Cochrane Library]. • Handy timeline: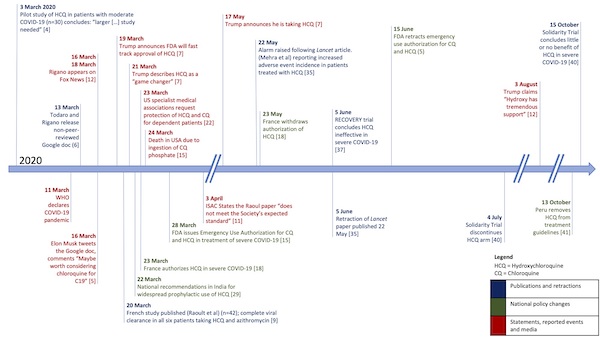 Games
"Chinese Police Bust Alleged $100 Million Video Game Cheating Ring, Seize Millions in Assets" [Gizmodo (skippy)]. "Police in Kunshan, China, say that a video game cheating ring pulled in an astonishing $US76 ($100) million in subscription fees before a recent bust, the BBC reported on Tuesday…. While in the U.S., cheating is generally only something that can lead to civil liability or network bans at worst, China is cracking down on cheaters under sweeping laws that ban disruption of computer networks that can carry a five-year prison term, with cheat developers potentially facing much more prison time. Other possible charges for cheaters include copyright infringement and illegal business operation depending on the region of the arrest, Jiangsu police told the South China Morning Post in 2018. Chinese police have also targeted cheaters in game competitions that sometimes pay out huge cash prizes."
Gunz
"Mass shootings are a product of America's violent culture" [High Country News]. "The headlines tell us that the mass-shooting epidemic tapered off during the height of the pandemic, which is true according to the mainstream definition: four or more people shot and killed in a public setting (typically excluding shootings that result from domestic violence, drug deals, and gang activity). The Gun Violence Archive, on the other hand, considers an incident a mass shooting if a "minimum of four victims are shot, either injured or killed, not including any shooter who may also have been killed or injured in the incident." According to the latter definition, there were 611 mass-shootings in 2020, a significant increase from prior years."
Class Warfare
UPDATE "Amazon's Twitter Army Was Handpicked for "Great Sense of Humor," Leaked Document Reveals" [The Intercept]. "Anticipating criticisms of worker conditions at their fulfillment centers in particular, Amazon designed Veritas to train fulfillment center workers chosen for their 'great sense of humor' to confront critics — including policymakers — on Twitter in a 'blunt' manner. The document, produced as part of the pilot program in 2018 and marked 'Amazon.com Confidential,' also includes examples of how its ambassadors can snarkily respond to criticisms of the company and its CEO. Several examples involve Sen. Bernie Sanders, a longtime critic of the $1 trillion firm who has been targeted by it in recent days." • I wonder if The Twitter is going to be able to outgun the Amazon mercenaries bluntness… I'm guessing yes, to the dismay of Jay Carney, once Obama's flak, now Amazon's, how very odd….
"Reimagining the Labor Movement" [Frank Interviews]. "I think the pandemic really accelerated and further demonstrated what everybody knows and feels. It showed us, right in our faces, how there is no safety net in this country for most people. And that there is definitely no safety net for poor people or for working-class people. And that there is absolutely nothing for undocumented people or Black poor folks in this country. I think that this was a big shock in the organizing space. It really pushed us to think about how we are capturing the energy that is coming out of this moment and about how we can use it as a springboard for long-term power building. At the same time, it really exposed how unprepared we were for it overall. Not just the unions. All of us, as a progressive movement, we were really unprepared for a moment like this."
"Logistics, Counterlogistics and the Communist Prospect" [End Notes]. "it has always been unclear what the term 'globalisation' is supposed to mean, as marker for a new historical phase. Capitalism has been global from the very start, emerging from within the blood-soaked matrix of the mercantile expansion of the early modern period. Later on, its factories and mills were fed by planetary flows of raw material, and produce for a market which is likewise international. The real question, then, is what kind of globalisation we have today. What is the differentia specifica of today's globalisation? What is the precise relationship between production and circulation? Today's supply chains are distinguished not just by their planetary extension and incredible speed but by their direct integration of manufacture and retail, their harmonisation of the rhythms of production and consumption. Since the 1980s, business writers have touted the value of 'lean' and 'flexible' production models, in which suppliers maintain the capacity to expand and contract production, as well as change the types of commodities produced, by relying on a network of subcontractors, temporary workers, and mutable organisational structures, adaptations that require precise control over the flow of goods and information between units." • Musing on the Occupy shutdown of the Port of Oakland. If you can penetrate the jargon, it's worth a read.
News of the Wired
1964….
Title: New Jersey Bell: Mom Couldn't Make the Wedding (June 11, 1964) https://t.co/wqpz6fNcUX pic.twitter.com/OtkbZwJTyZ

— Cory Doctorow (@doctorow) March 31, 2021
* * *
Readers, feel free to contact me at lambert [UNDERSCORE] strether [DOT] corrente [AT] yahoo [DOT] com, with (a) links, and even better (b) sources I should curate regularly, (c) how to send me a check if you are allergic to PayPal, and (d) to find out how to send me images of plants. Vegetables are fine! Fungi and coral are deemed to be honorary plants! If you want your handle to appear as a credit, please place it at the start of your mail in parentheses: (thus). Otherwise, I will anonymize by using your initials. See the previous Water Cooler (with plant)
here
. Today's plant (JBird4049):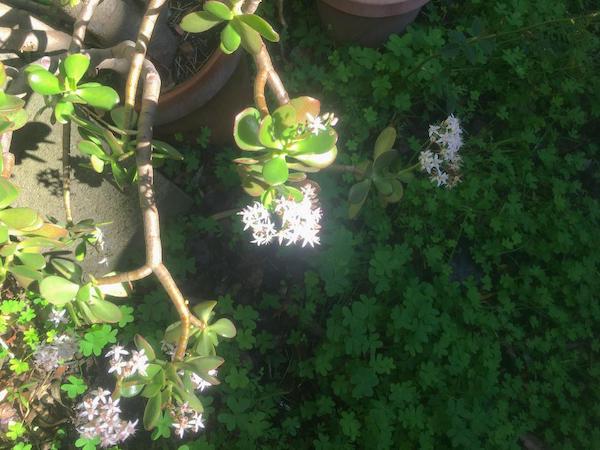 JBird4049 writes: "Here's some pictures of what's left of my garden: Chinese Jade and somewhere in there is a pair of rhododendrons. Since the new new apartment owner purged of outside plants, I keep planning on an indoor one. Maybe in a few months I will have photos of that. The owner likes the outside tidy but inside I can have any plants that I want." Bad landlord!
Readers, I'm a little short of Spring plants, having put the remainder of my winter plants into inventory.
* * *
Readers
: Water Cooler is a standalone entity
not
covered by the recently concluded and — thank you! — successful annual NC fundraiser. So if you see a link you especially like, or an item you wouldn't see anywhere else, please do not hesitate to express your appreciation in tangible form. Remember, a tip jar is for tipping!
Regular positive feedback both makes me feel good and lets me know I'm on the right track with coverage
. When I get no donations for five or ten days I get worried. More tangibly, a constant trickle of donations helps me with expenses, and I factor in that trickle when setting fundraising goals:
Here is the screen that will appear, which I have helpfully annotated.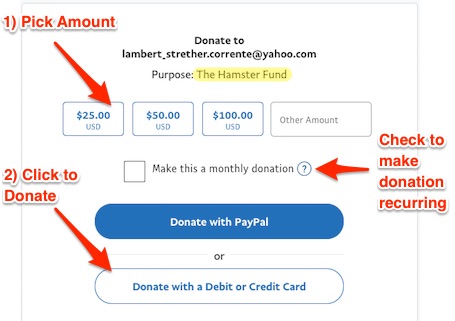 If you hate PayPal, you can email me at lambert [UNDERSCORE] strether [DOT] corrente [AT] yahoo [DOT] com, and I will give you directions on how to send a check. Thank you!