Readers, we are now in the midst of Water Cooler's annual fundraiser. Our goal is 325 donors, and right now 90 of you have contributed. Thank you! Remember, this is not like the NC fundraiser, which funds a year in advance. You are donating for work I have already done, which I hope you found informative and fun and useful, and which I hope to be able to continue to do. One donor commented:
You have done well during still another year of baroque confusion, obfuscation, and panic.
If you agree, dig deep! And now to the bird songs–
* * *
By Lambert Strether of Corrente.
Bird Song of the Day
From Ecuador, the ancient Great Tinamou. Location is "humid forest," which certainly is noisy!
* * *
#COVID19
At reader request, I've added this daily chart from 91-DIVOC. The data is the Johns Hopkins CSSE data. Here is the site.
I feel I'm engaging in a macabre form of tape-watching.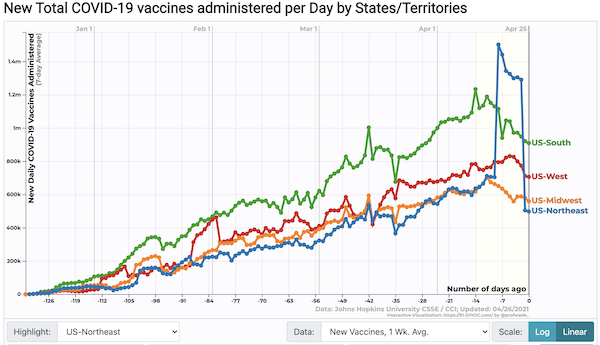 Not looking good at all. The Northeast jump was, in fact, an enormous reporting error, now rectified (though I have not been able to find it mentioned anywhere. Readers?)
It was Pennsylvania: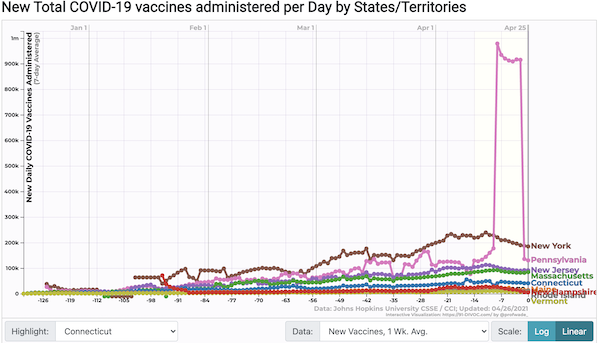 "Vaccine Machine Slows Down" [Eschaton]. "I do think that in The Discourse there has been much more concern with the problem of vaccine hesitation rather than the easier problem of people who are Not Very Online With Flexible Schedules. Send them around in ice cream trucks. Whatever. Focus on getting them to everyone who wants them more than trying to convince MAGA chuds." • This is what the next post is about. Proselytization, as it were.
IN: "As vaccine demand falls, some health departments face a dilemma: Too much supply" [ABC]. "For Dr. James Rudolph, a health officer in Miami County, Indiana, not wasting COVID-19 vaccine doses came down to luck last week. The state had given the county roughly 600 extra doses and Rudolph had to figure out how to get them into arms. With low demand among the general population, Rudolph turned to a local egg processing factory and was able to run a clinic for employees to get vaccinated. The factory was one of several in the area that he reached out to about the extra doses. The others had already made arrangements for vaccines. Demand for vaccines in Miami County has declined enough that makeshift vaccination sites will close. So far, roughly one in five people in the county is fully vaccinated. Local churches are advertising the vaccines and the county plans to start accepting walk-ins for vaccinations in the near future, Rudolph explained. There's been a huge drop-off in demand over the past three weeks, Rudolph noted." • The J&J pause was 10 days ago.
KS: "62 Kansas counties decline weekly vaccine allotment amid wane in demand" [The Hill]. "A drop in demand led more than half of the counties in Kansas to decline their weekly allotment of COVID-19 vaccine doses…. A spokesperson for Kansas Gov. Laura Kelly (D) said many Kansas residents are delaying getting their vaccines due to the drop in new cases, hospitalizations and deaths in the Sunflower State, according to the AP."
PA: "'The challenge to come': Vaccinations are open, but demand is down, turning Pa. and Philly's focus to fighting hesitancy" [Philadelphia Inquirer]. "Doctors in Bradford County keep pleading with patients: Consider getting the coronavirus vaccine. But lately, patients keep saying they want to wait. The county, on the Pennsylvania-New York border, has seen COVID-19 cases and hospitalizations surge in recent days. While more than half of U.S. adults — and 43% of Pennsylvanians — have gotten at least one dose, barely a quarter of those in Bradford County have done so. And the state's expansion last week of eligibility to all 16 and older didn't bring a fresh rush to clinics…. A similar April slowdown has shown itself 200 miles away in Philadelphia. Thousands of appointments have gone unfilled at the Convention Center over the last several days, and North Philadelphia's federally run Esperanza clinic has also operated below capacity. After months of high demand for hard-to-get vaccine appointments, the landscape has changed nearly overnight across the commonwealth."
Case count by United States regions: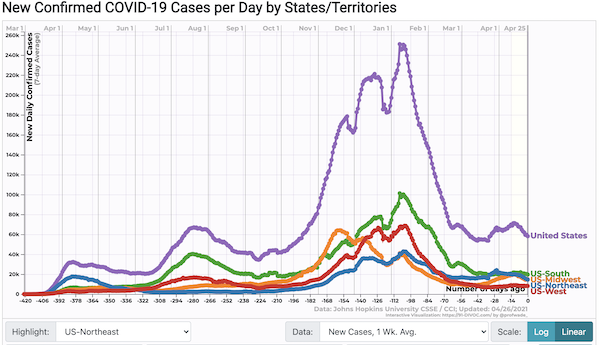 Continued good news. I'm not used to this at all.
The Midwest in detail: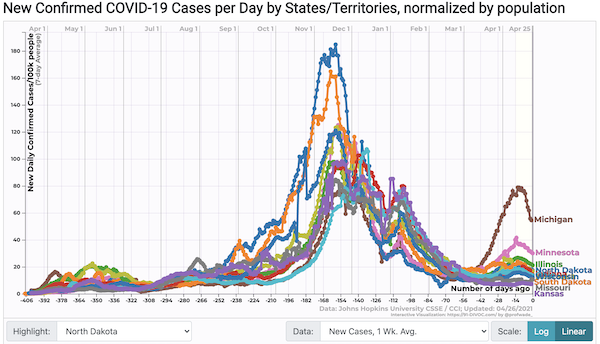 Continued good news. Michigan and Minnesota heading down, along with their neighbors (Could be that people actually do listen when Governors ask them do so stuff, but enough, and enough of them?)
Big states (New York, Florida, Texas, California):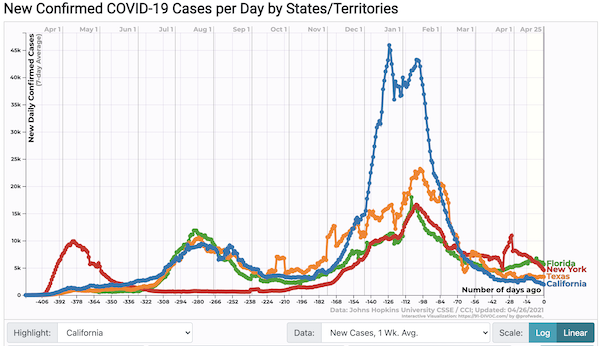 Florida, by a nose, now dropping. California also dropping.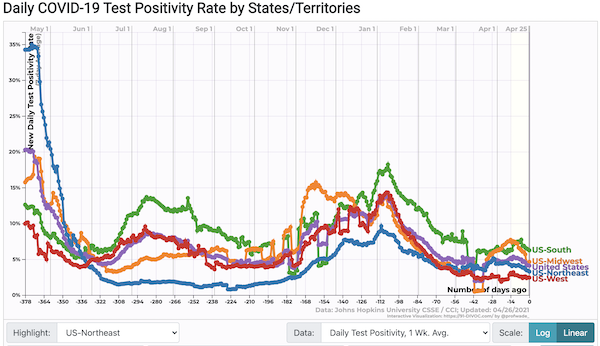 Midwest increases.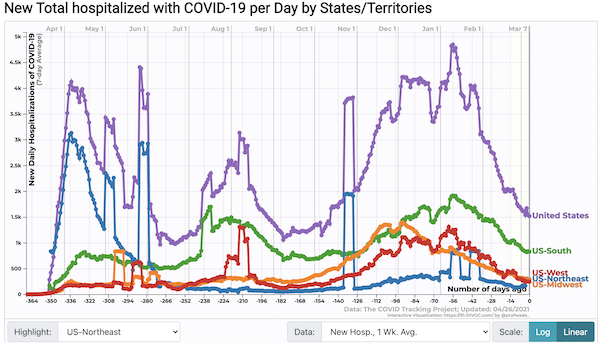 Still heading down.
Case fatality rate (plus deaths):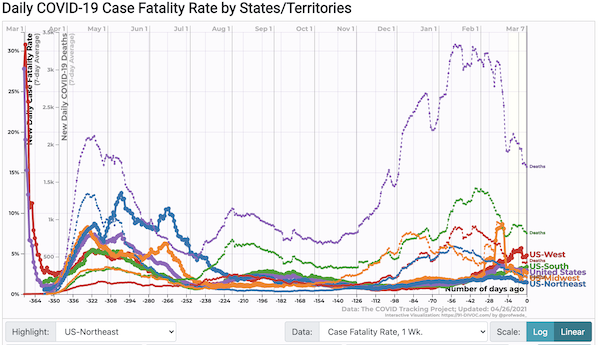 Good to see those deaths dropping. The fatality rate in the West is increasing again, for some reason as unknown as why it dropped.
https://www.nytimes.com/interactive/2021/04/23/us/covid-19-death-toll.html
Shame on the jerks who insisted people died WITH Covid not FROM Covid.

There is nothing some people won't politicize; happy for any excuse to remove them from my feedhttps://t.co/U26twbcF68 pic.twitter.com/vM7UqwNXjC

— Barry Ritholtz (@ritholtz) April 25, 2021
* * *
Politics
"But what is government itself, but the greatest of all reflections on human nature?" –James Madison, Federalist 51
"They had one weapon left and both knew it: treachery." –Frank Herbert, Dune
"They had learned nothing, and forgotten nothing." –Charles Maurice de Talleyrand-Périgord
Biden Administration
Warning sign:

New WP poll: At 100 days, Biden job approval at 52 percent. Other than Trump, that's lowest of any president at 100 days since Gerald Ford. Taking out Ford and Trump, it's lowest of any president in modern polling era. https://t.co/DOq211pJYj pic.twitter.com/NHDoCilMTM

— Byron York (@ByronYork) April 25, 2021

UPDATE "In his first 100 days, 'Uncle Joe' Biden combines progressive goals and a reassuring manner" [Los Angeles Times]. "Biden has governed in these opening months as a progressive — significantly to the left of his three Democratic predecessors on the issue of government's role in society. With proposals such as expanded aid to families to cut child poverty nearly in half, a sharp cut in U.S. emissions of gases that warm the climate, and a major increase in spending on domestic programs, he's gone well beyond what prior Democratic administrations backed… Biden's activism amounts to a strategic bet that flips an idea that guided the last two Democratic presidents. Both Presidents Obama and Clinton were acutely aware of the risk of overreaching — alienating centrists by pushing plans seen as going too far. Biden has adopted the opposite view — that troubled times have made voters more open to activist government. So far, Biden has kept his options open, sticking to a few core topics — mainly the pandemic and economic recovery — with a discipline that contrasts with his longstanding image as garrulous and gaffe-prone." • That's true. He puts everything else on Harris's desk, which might not be such a bad thing.

UPDATE "What's the Secret of Biden's Success?" [Paul Krugman, New York Times]. "But all indications are that we're heading for an economic boom, with G.D.P. growing at its fastest rate since 1984. If that happens, Biden's policies might get even more popular than they are now. How all of this will translate into votes remains to be seen. But early indications are that Biden has achieved what Obama never did: finding a way to make progressive policies truly popular." • Like, ya know, #MedicareForAll. The liberal Democrats could prevent Medicare for All from even being put on the table in the midst of a pandemic is a stunning example of brutal political power (see Clarke and Dawe below).

UPDATE This thread is good:

Hi Twitter, I'm Tim Manning, the White House COVID-19 Supply Coordinator. There's been a lot of confusion around the use of the Defense Production Act as it relates to the global supply chain for COVID-19 treatment. Let me try and break this down simply as possible: 1/8

— Tim Manning (@timmy315) April 26, 2021

Many responses asked why the Biden administration didn't release some of our AZ hoard. If I got this morning's Links on India right, the Indian Federal government is only doing manufacturing, so the Biden administration helped them with that. The Indian states would be buuying vaccines, including foreign vaccines. If this is correct, (a) Manning should know this and (b) if the goal is saving human lives, the Biden administration should be calling Indian governors. I would say this response then, though good, is also mimimalist.

"Nearly 200 CEOs Oppose Biden and Yellen Corporate Tax Plans" [Brick House]. "President Biden's new infrastructure plan would raise taxes on large corporations, stepping up rates from 21% to 28%, short of the 35% rate in place before the 2017 Republican tax cuts were passed. The Business Roundtable last week issued a statement saying it opposed Biden's corporate tax hike, calling for some other revenue source to finance the $1-$1.5 trillion in infrastructure spending the group says is needed in 'long overdue investments.'"

UPDATE "White House's new $1.8 trillion 'families plan' reflects ambitions — and limits — of Biden presidency" [WaPo]. "The "families plan" is not expected to include a push from Senate Finance Chair Ron Wyden (D-Ore.) and Sen. Michael F. Bennet (D-Colo.) to revamp the nation's unemployment system, two people familiar with the matter said. Wyden and Bennet have pushed the White House to overhaul unemployment systems nationwide after the pandemic showed their inability to accommodate a surge in jobless claims. The measure is also set to only propose expanding an enhanced child benefit through 2025, although many Democratic lawmakers and Biden himself have called for making the provision permanent."

"The safety net program Congress forgot" [The Hill]. "SI's archaic income rules — which were put in place to allow beneficiaries to supplement their modest monthly benefits with additional income if they're able to do so — have never been updated since the

program's establishment in 1974. These limits are stuck at $65 per month for earned income and $20 for "unearned" income. For very-low-income seniors and disabled people who receive a small amount from Social Security in addition to SSI, so-called "unearned" income includes their Social Security benefits. These paltry "income disregards" have lost virtually all of their value due to inflation over the years, shrinking already meager monthly benefits even further. Further pushing already-struggling beneficiaries even deeper into poverty is a mean-spirited rule called "in-kind support and maintenance," which targets beneficiaries who are lucky enough to receive help from loved ones with meeting their basic needs. A bag of groceries to help ensure you've got food to last through the month or a place to stay to help get you off the street can trigger a one-third reduction in SSI's already sub-poverty-level benefits. Along with economic security, marriage equality is out of reach for SSI beneficiaries too. The program's rigid marriage penalties reduce benefits by one-quarter for SSI beneficiaries who marry another SSI beneficiary, and can lead to outright loss of benefits for those who marry someone not receiving SSI. Imagine not being able to marry the person you love for fear of losing survival income. During the campaign, President Biden pledged to right these wrongs, committing that people with disabilities and seniors should never have to live in poverty in America. His historic disability policy platform spoke to each of these shameful policy failures. Biden committed to raise SSI benefits to the federal poverty level; update outdated asset limits and income rules; eliminate the cruel in-kind support and maintenance rule; and abolish SSI's marriage penalties. Now a coalition of House and Senate Democrats are urging Biden to make good on his promises to the 8 million disabled and elderly SSI beneficiaries. They are calling on him to include these long-overdue SSI updates in the American Family Plan, to finally bring the decades of shameful neglect of this critical program to an end." • We'll see. That's a lot of lovely means-testing to get rid of, though.

"President Biden will promote unions through a White House task force" [New York Times]. "President Biden will sign an executive order on Monday creating a task force to promote labor organizing, according to a White House fact sheet. The task force, to be led by Vice President Kamala Harris and populated by cabinet officials and top White House advisers, will issue recommendations on how the federal government can use existing authority to help workers join labor unions and bargain collectively. It will also recommend new policies aimed at achieving these goals. The White House document notes that the National Labor Relations Act, the 1935 law governing federal labor rights, explicitly sought to encourage collective bargaining, but that the law has never been fully carried out in this regard. "No previous administration has taken a comprehensive approach to determining how the executive branch can advance worker organizing and collective bargaining," the document states." • Not confident of anything Harris heads sorry.
Democrats en Deshabille
UPDATE "Scandal-plagued Cuomo and Organized Labor's Bizarre Silence" [Strike Wave]. "Strikewave requested clarification from more than a dozen major New York labor unions and federations, inquiring whether officials had commented on the investigations into the governor—and if they had not, why not? The New York City Central Labor Council declined to comment and the New York State AFL-CIO did not respond to our request. Nor did 1199 SEIU, the Civil Service Employees Association, the United Federation of Teachers, 32BJ SEIU, AFSCME District Council 37, the New York State Nurses Association, New York State United Teachers, the Professional Staff Congress, Communications Workers of America, Transit Workers Local 100, the Hotel Trades Council, or the Retail, Wholesale Department Store Union."
Realignment and Legitimacy
The nice thing about Clark & Dawe is that all the routines last only two minutes or so. So there are very many:

UPDATE "Not by turnout alone: Measuring the sources of electoral change, 2012 to 2016" [Science]. "Changes in partisan outcomes between consecutive elections must come from changes in the composition of the electorate or changes in the vote choices of consistent voters. How much composition versus conversion drives electoral change has critical implications for the policy mandates of election victories and campaigning and governing strategies. Here, we analyze electoral change between the 2012 and 2016 U.S. presidential elections using administrative data. We merge precinct-level election returns, the smallest geography at which vote counts are available, with individual-level turnout records from 37 million registered voters in six key states. We find that both factors were substantively meaningful drivers of electoral change, but the balance varied by state. We estimate that pro-Republican Party (GOP) conversion among two-election voters was particularly important in states including Ohio, Michigan, and Pennsylvania where the pro-GOP swings were largest. Our results suggest conversion remains a crucial component of electoral change."

UPDATE "Our governance problem in a nutshell" [Interfluidity]. "The overlapping, heterogeneous political coalitions of America's past, its two "big-tent" parties, did not survive — it seems unlikely that they ever would survive — modern telecommunications and the nationalization of just about everything. If this is right, if our political factions will necessarily be strongly sorted, our only hope to restore legitimate governance is to adopt an electoral system supportive of multiparty competition, which eliminates the 50:50 contested-legitimacy equilibrium and enables more fluid, potentially supermajority, coalitions to form. It really is kind of QED. To remain a functional state, the United States requires legitimate government. In the current sociotechnical environment, we cannot sustain the supermajority support required for legitimate government under a competitive two-party system. All it would take is an act of Congress to make the United States a multiparty democracy

"Meet the gun-toting 'Tenacious Unicorns' in rural Colorado" [High Country News]. From Custer County, Colorado: "[Penny Logue and Bonnie Nelson]d bought the dome, and by March, with the pandemic raging and a divisive presidential election roiling, relocated to the valley and created the Tenacious Unicorn Ranch, a community of gun-loving, transgender, anti-fascist alpaca ranchers. While they already knew the financial, physical, and emotional challenges of operating a successful ranch, they had no idea that the Wet Mountain Valley had become a cauldron of right-wing conservatism — home to militias, vigilantes, Three Percenters — anathema to the ranch's gender-inclusive, anti-racist, ecological politics. But rather than retreat, the unique LGBTQ+ community, around a dozen strong, asserted its right to exist. They armed up and began speaking out, quickly developing a local reputation that galvanized other local rural progressives. In the process, they've showed how queer communities can flourish. "We belong here," Logue told me this past November. "Queers are reclaiming country spaces.'" • Always a mistake to generalize about "rural America."

"Actor Profile: Proud Boys" [ACLED]. "Currently, Enrique Tarrio is the national chairman for the Proud Boys, making him the de facto leader of the group. The Proud Boys have, however, experienced significant fragmentation following the storming of the US Capitol on 6 January 2021, especially in light of revelations about Tarrio's past as a federal informant (Washington Post, 25 February 2021)." • Oops.

"Russell Moore had a crisis of faith, but it didn't help him understand ex-evangelicals" [FLUX]. "The fact is that all-encompassing, missionizing, anti-pluralist approaches to faith like evangelical Christianity make equal dialogue between believers and those who reject their beliefs impossible." • Ursula LeGuin's novella, Paradises Lost, has this "fact" as a theme.
Stats Watch
Durable Goods: "Headline Durable Goods New Orders Improved In March 2021" [Econintersect]. "The headlines say the durable goods new orders improved. Our analysis shows the rolling averages improved. The data this month was below expectations – and, the previous month was little changed. In the adjusted data, the improvement was widespread."
* * *
Apparel: "Faith-Based Fashion and Internet Retail" (PDF) [Modest Dressing]. "The last two decades has seen the development of a rapidly expanding and diversifying market for modest fashion, arising initially from and serving the needs of women from the three Abrahamic faiths, Islam, Judaism, and Christianity, who are motivated to dress modestly for religious reasons. This market is also sustained by women whose 'look' may share many elements of modest styling but who do not regard their processes of self-fashioning in terms of religion or modesty as such. For both groups the internet has been central to the rapid growth of the modest fashion sector, fostering the development of a niche market through e-commerce, and providing virtual platforms for debates on modesty and fashion on websites, blogs, and discussion groups (fora)."
Shipping: "High freight rate, container shortage to linger for 8 more months" [Hellenic Shipping News]. "The exorbitant freight rates that were aggravated by the shortage of container supply are expected to remain in shippers' finances for another eight months, said Malaysian National Shippers' Council (MNSC)…. [MNSC chairman Datuk Dr Ir Andy Seo Kian Haw] added that the surging freight rates are forcing foreign buyers to delay their orders with the anticipation that the shipment costs will decre ase in the coming months to avoid losing out on export revenue."
The Bezzle: "Facebook advertising chief worried about whether it overstated audience" [Financial Times]. "Carolyn Everson, one of Facebook's most senior advertising executives, said the company had to "prepare for the worst" over claims that it overstated the potential reach of its advertisements, according to newly released court filings…. Two months ago, other documents in the case revealed that the Facebook product manager in charge of potential reach said in an internal email that the company had made "revenue we should have never made given the fact [the metric is] based on wrong data"…. Parts of the filings had initially been sealed largely on the grounds that they were commercially sensitive for Facebook." • Here's a thread that includes some of Everson's mail:
woah exhibit 16. more Facebook docs quietly unsealed yesterday – it gets worse. A full, damning senior execs' email thread (CFO, COO) unsealed. Facebook slowed unsealings in this fraud case and spun it as "cherrypicking."
Top marketing exec, Carolyn Everson, weighs in here. /1 pic.twitter.com/Zn51XNcKxn

— Jason Kint (@jason_kint) April 25, 2021
Tech: "The Clubhouse Party Is Over" [Vanity Fair]. "[T]he darling of the pandemic was a little audio start-up called Clubhouse. When it launched in March of 2020, with just a few hundred users, it was soon all anyone in tech could talk about. Just two months after its debut, it was valued at $100 million. A few months later it was valued at $1 billion. As of this month, it's now valued at $4 billion…. Now, it seems, the party might be over—at least for now. According to two people close to the Silicon Valley start-up, numbers are slowing across the board. Sign-ups and installs have fallen dramatically, and engagement from people who have already joined the platform is down in some areas of the app too. Business Insider reported this week that installs of the app on iOS have fallen from a high of 9.6 million in February to less than a million installs so far this month. Indeed, looking at the iOS App Store, you can see that Clubhouse has fallen from being one of the top downloaded apps in the social media section, to now being the 23rd most popular in social networking." • "Valued," lol.
* * *
Today's Fear & Greed Index: 58 Greed (previous close: 61 Greed) [CNN]. One week ago: 57 (Greed). (0 is Extreme Fear; 100 is Extreme Greed). Last updated Apr 26 at 12:39pm.
Rapture Index: Closes unchanged [Rapture Ready]. Record High, October 10, 2016: 189. Current: 188 (Remember that bringing on the rapture is a good thing, so high is better.)
Water
"Global groundwater wells at risk of running dry" [Science]. "Here, we analyzed construction records for ~39 million globally distributed wells. We show that 6 to 20% of wells are no more than 5 meters deeper than the water table, implying that millions of wells are at risk of running dry if groundwater levels decline by only a few meters. Further, newer wells are not being constructed deeper than older wells in some of the places experiencing significant groundwater level declines, suggesting that newer wells are at least as likely to run dry as older wells if groundwater levels continue to decline. Poor water quality in deep aquifers and the high costs of well construction limit the effectiveness of tapping deep groundwater to stave off the loss of access to water as wells run dry."
Health Care
Paradigm shift on covid transmission, a thread:
Had quite a bit of backlash to our paper, published last week, which set out 10 streams of evidence supporting predominance of AIRBORNE spread of SARS-CoV-2. I respond to some criticisms in this thread.
1/https://t.co/ZOY0lXx2VJ

— Trisha Greenhalgh 😷 #CovidIsAirborne (@trishgreenhalgh) April 24, 2021
Worth reading in full, because you see these talking points all over.
"The obscure maths theorem that governs the reliability of Covid testing" [Guardian]. "Bayes's theorem is written, in mathematical notation, as P(A|B) = (P(B|A)P(A))/P(B). It looks complicated. But you don't need to worry about what all those symbols mean: it's fairly easy to understand when you think of an example…. Imagine you undergo a test for a rare disease. The test is amazingly accurate: if you have the disease, it will correctly say so 99% of the time; if you don't have the disease, it will correctly say so 99% of the time. But the disease in question is very rare; just one person in every 10,000 has it. This is known as your "prior probability": the background rate in the population. So now imagine you test 1 million people. There are 100 people who have the disease: your test correctly identifies 99 of them. And there are 999,900 people who don't: your test correctly identifies 989,901 of them. But that means that your test, despite giving the right answer in 99% of cases, has told 9,999 people that they have the disease, when in fact they don't. So if you get a positive result, in this case, your chance of actually having the disease is 99 in 10,098, or just under 1%. If you took this test entirely at face value, then you'd be scaring a lot of people, and sending them for intrusive, potentially dangerous medical procedures, on the back of a misdiagnosis." • I must confess I don't find that example all that easy, maybe because I dom't want to think about the odds of having a disease.
"Why Berkshire Hathaway's health care project Haven failed" [Yahoo Finance]. "Haven, the joint venture of three of the largest companies in America — Berkshire Hathaway (BRK-A, BRK-B), Amazon (AMZN) and JPMorgan Chase (JPM) — once threatened to disrupt the health care system of the U.S. But less than three years later, it unceremoniously fizzled out in February…. So why did it fail? Largely, the venture failed to take off because the U.S. health care system is just too complex to be disrupted, experts have said. Haven also faced competition from entrenched players in the health care system, and despite their size and reach, the three companies had trouble obtaining necessary data that could help them better control costs, the Wall Street Journal reported in January, citing people familiar with the project's budget. Moreover, the venture had unclear goals." • That's a damn shame.
Our Famously Free Press
"The Mass Media Will Never Regain The Public's Trust" [Caitlin Johnstone]. "This year has marked the first time ever that trust in news media dropped below fifty percent in the United States, continuing a trend of decline that's been ongoing for years. Mass media punditry is divided on where to assign the blame for the plummet in public opinion of their work… The one thing they all seem to agree on is that it's definitely not because the billionaire-controlled media are propaganda outlets which manipulate us constantly in conjunction with sociopathic government agencies to protect the oligarchic, imperialist status quo upon which the members of the billionaire class have built their respective kingdoms. It cannot possibly be because people sense that they are being lied to and are fed up with it."
The Agony Column
I like Fesshole:
Every time I plug the USB cord in correctly the first time, I hear a stadium – sized crowd cheering and an enthusiastic commentator shouting 'Is there anything this girl can't do?'

— Fesshole 🙏 ⚫️ (@fesshole) April 25, 2021
But all the confessions aren't as anodyne as this one. Human beings are very odd.
Book Nook
"Throngs of Himself" [Johns Hopkins Magazine] 2018. "Paul Linebarger, who under his own name played many roles: U.S. Army colonel, CIA operative, psychological warfare expert, scholar of Asia, teacher, adviser to an American president. He was a husband twice and a father twice. His godfather was the first president of modern China, Sun Yat-sen. He may have been the central unhinged character in a famous psychiatric case study. But it was his science fiction—published as Cordwainer Smith—that gilds his legacy today. Smith published about 30 short stories, all of which take place over a 14,000-year future history that Linebarger labored over in a lifetime of notebooks. Smith's work is startling and violent, remembered for its originality and its weighty subject matter. In a letter to his agent, Linebarger explained that his stories "intended to lay bare the human mind, to throw torches over the underground lakes of the human soul, to show the chambers wherein the ageless dramas of self-respect, God, courage, sex, love, hope, envy, decency, and power go on forever." Pulpy tales of little green men these were not." • Hard to see the grey-colored Hayden, Brennan, and Clapper types we have today leading such interesting lives.
Sports Desk
"Six Questions for Gerald Horne About His New Book, The Bittersweet Science: Racism, Racketeering, and the Political Economy of Boxing" (interview) [Gerald Horne, Washington Babylon]. Horne: "Inexorably racketeering takes root in a nation based on mass enslavement of Africans–often ensnared by proto-gangsters–and mass expropriation of the indigenous (likewise). As I have written in my book on 'Jazz' and others on Hollywood, in the U.S. and elsewhere, organized crime is attracted to 'business' that throws off cash proceeds, which facilitates money laundering. It is also a kind of primitive accumulation of capital–ala the slave trade. And, yes, this generates corruption of various sorts. As I state in the book, if you compare Ali to Bob Foster, yet another talented boxer who fought for peanuts, it is evident that boxers felt they needed 'backup' and, yes, the presence of the Nation, especially the Fruit of Islam, served as a deterrent to traditional racketeering. Of course, my book on Watts details how the Nation filled an ideological vacuum created by the Red Scare and the persecution of figures like Robeson (see my book on him)."
Police State Watch
"The United States is at risk of an armed anti-police insurgency" [The Conversation]. "I am beginning to observe in the U.S. some of the social conditions necessary for the maturation and rise of an armed insurgency. The U.S. is at risk of armed insurgencies within the next five years if the current wave of killings of unarmed Black people continues….. Entities operating independently will spring up, but over time, a loose coalition may form to take credit for actions of organizationally disparate groups for maximum effect. There will likely be no single leader to neutralize at the onset…. There is another, related variable: The availability of people willing and able to participate in such insurgency. The U.S. has potential candidates in abundance. Criminal records — sometimes for relatively minor offences — that mar Black males for life, have taken care of this critical supply. …. Some of these men may gradually be reaching the point where they believe they have nothing to lose. …. Any anti-police insurgency in the U.S. will likely start as an urban-based guerrilla-style movement. Attacks may be carried out on sites and symbols of law enforcement. Small arms and improvised explosive devices will likely be weapons of choice, which are relatively easy to acquire and build, respectively….. The U.S. government will seem to have a handle on the insurgency at first but will gradually come to recognize that this is different…. I am often amazed that many people appear unaware that Nelson Mandela was co-founder of uMkhonto we Sizwe, the violent youth wing of the African National Congress," • Definitely worth reading in full. On the bright side: Open carry will soon be seen as problematic.
Guillotine Watch
"Bill Gates says no to sharing vaccine formulas with global poor to end pandemic" [Slate]. "During the Sky News interview, Gates said it was "not completely surprising" that the richest nations like U.S., U.K. and others in Europe vaccinated their populations first. He said that made sense because the pandemic was worse in those countries, but said he believed that 'within three or four months the vaccine allocation will be getting to all the countries that have the very severe epidemic.'" • Victory through colonialism!
Class Warfare
"EXCLUSIVE-Worker group alleges unsafe practices at Marathon Minnesota refinery" [Reuters]. "Inadequate safety standards at Marathon Petroleum's St. Paul Park refinery in Minnesota have caused avoidable hydrocarbon and chemical releases that pose a threat to the community, a local worker advocacy group said in a report on Sunday, as a lockout of unionized plant workers extends into its third month. The report by Local Jobs North, a union-backed organization, said that lax safety standards at the plant led to mistakes that could have ignited volatile hydrocarbons. It also cited inadequate installation of safety controls for pipe repair operations and use of poorly constructed scaffolding."
UPDATE "'Major disruptions': Churchill Downs valets demand contract as Kentucky Derby Week begins" [Courier-Journal]. "About 50 union workers and supporters stood in the rain outside Churchill Downs Saturday afternoon, demanding the racetrack agree to a fair contract with its valets as it heads into Kentucky Derby Week. Members of SEIU Local 541, the racetrack employees union, say the track's valets have been working without a union contract since November after the previous five-year agreement expired. A statement from the group said the situation 'could result in major disruptions during Kentucky Derby Week.' David O'Brien Suetholz, union attorney, said Churchill Downs canceled negotiations Thursday after the valets unanimously rejected their last best offer."
UPDATE "Activists make demands for how they want Johnson County COVID relief money spent" [KCRG]. "-$47 million. That's how much Iowa City and Johnson County governments stand to get from the most recent federal COVID-19 relief package. A local coalition wants them to spend that on people who got virtually nothing from that relief package: undocumented immigrants and migrant workers. Here's a breakdown of their demands: they want $20 million to go to an excluded workers fund. That could help provide payments for undocumented excluded workers. $20 million for hazard pay to go hospital workers, public employees, and school employees. $5-million for affordable housing for undocumented workers. Previously incarcerated people, and refugee settlement, and finally $2 million for transportation, including a bus service on Sundays. 'I know people will probably see this and only think immigrant workers, think why should we spend our money on them,' said Marlen Mendoza with LULAC. 'Well, they pay taxes.' 'This money is the public's money and it needs to be spent on public good for the community,' said Cathy Glasson, President of SEIU Local 199. 'And for individuals who need that aid now than ever before.'"
News of the Wired
"Has UML died without anyone noticing?" [Ernesto Garbarino]. "As my Master's dissertation, I identified the key set of discrete mathematics that underpin most structural and behavioural UML models. I even wrote a tool, using Haskell and GraphViz, to visualise said mathematics back into pictorial UML. A few years later, maybe around 2015-ish, I realised that I had pretty much stopped using UML, and so had the rest of my peers and nearly every Fortune 500 customer I have consulted for recently. What happened? I know. It was a death by a 1000 cuts. And no, UML wasn't killed by the business community because of its complexity or rigour. Au contraire, business folks loved the ability to communicate clearly and unambiguously by using a handful of new symbols of conventions. It was the IT folks who brought UML to the table (as I did back in the day) and took it away in a puff of smoke. But it wasn't UML that got killed, per se. In fairness, UML was just collateral damage. . Agile was the assassin and user stories were her deadly, poisonous arrow heads (pun intended). In a model in which you pour user stories into a sausage machine, and you get a demo at the end of it (or a feature production release in a DevOps shop!) there is no room for purposeful, structured problem analysis anymore." • Personally, I think we should still be teaching Cobol. Why not?
Of going meta there is no end:
One of the greatest pieces of modern art! Retweet if you agree. pic.twitter.com/VuycOuDyHp

— ClickHole (@ClickHole) March 29, 2016
* * *
Readers, feel free to contact me at lambert [UNDERSCORE] strether [DOT] corrente [AT] yahoo [DOT] com, with (a) links, and even better (b) sources I should curate regularly, (c) how to send me a check if you are allergic to PayPal, and (d) to find out how to send me images of plants. Vegetables are fine! Fungi and coral are deemed to be honorary plants! If you want your handle to appear as a credit, please place it at the start of your mail in parentheses: (thus). Otherwise, I will anonymize by using your initials. See the previous Water Cooler (with plant) here. Today's plant (AM):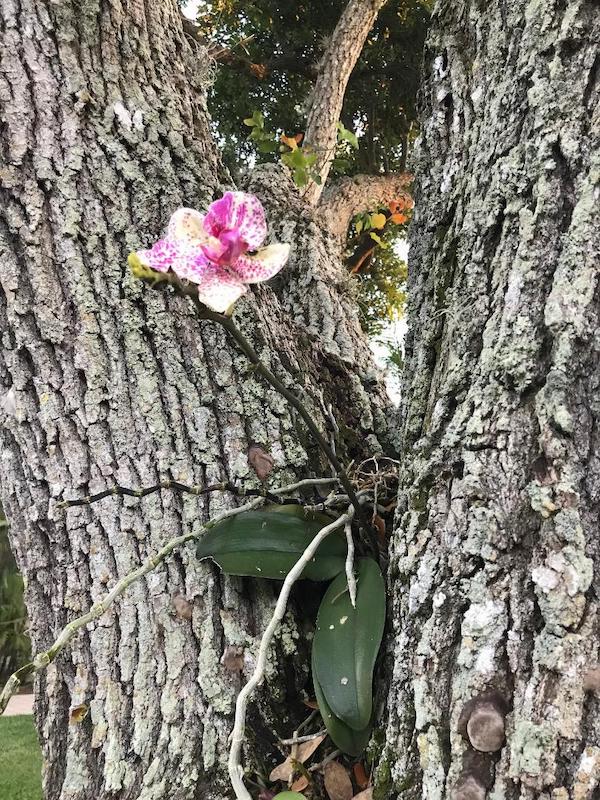 AM writes: "This is a phalaenopsis orchid, according to a family friend who raises orchids. Apparently people in the community leave them tied to a crook in a tree when they go north for the summer, and the orchids survive from the humidity in the air."
* * *
Readers: Water Cooler is a standalone entity not covered by the recently concluded and — thank you! — successful annual NC fundraiser. So if you see a link you especially like, or an item you wouldn't see anywhere else, please do not hesitate to express your appreciation in tangible form. Remember, a tip jar is for tipping! Regular positive feedback both makes me feel good and lets me know I'm on the right track with coverage. When I get no donations for five or ten days I get worried. More tangibly, a constant trickle of donations helps me with expenses, and I factor in that trickle when setting fundraising goals:
Here is the screen that will appear, which I have helpfully annotated.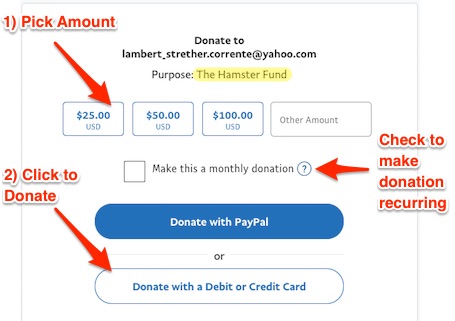 If you hate PayPal, you can email me at lambert [UNDERSCORE] strether [DOT] corrente [AT] yahoo [DOT] com, and I will give you directions on how to send a check. Thank you!