By Lambert Strether of Corrente.
Bird Song of the Day
At reader request, Birds of Australia. A pair of Superb Fairy-Wrens.
* * *
#COVID19
At reader request, I've added this daily chart from 91-DIVOC. The data is the Johns Hopkins CSSE data. Here is the site.
I feel I'm engaging in a macabre form of tape-watching.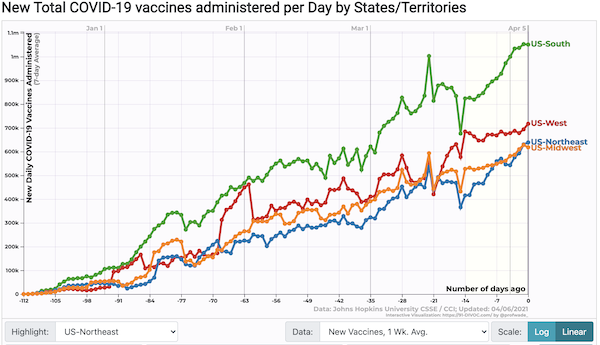 That's the stuff to give the troops. • Early in February, I said a simple way to compare Biden's performance to Trump's on vaccination would be to compare the curves. If Biden accelerated vaccine administration, the rate of vaccination post-Inaugural would kink upward, as the policies of a more effective administration took hold. They have not. The fragmented, Federalized, and profit-driven lumbering monstrosity that we laughingly call our "health care" "system" has not responded to "energy in the executive," but has continued on its inertial path.
Case count by United States regions: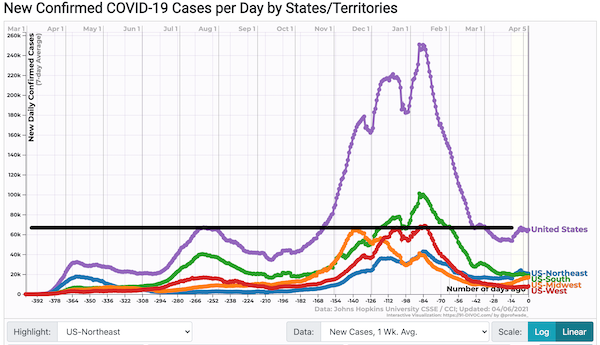 Long may the downward trend continue. It was caused by a drop in New York (see the chart of Big Sttates below). The Midwest is slowly rising, however. I have helpfully drawn a black line to show that our valley today was the second peak, then regarded as horrific. All I can say is that if you have a system that has worked for you, keep at it. And avoid closed, crowded, close-contact settings, evem so-called outdoor dining. Don't share air!
Big states (New York, Florida, Texas, California):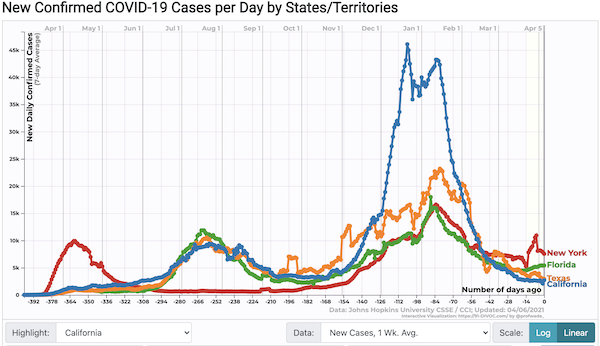 The big drop in New York, but flattening. Hopefully, it's not a reporting issue.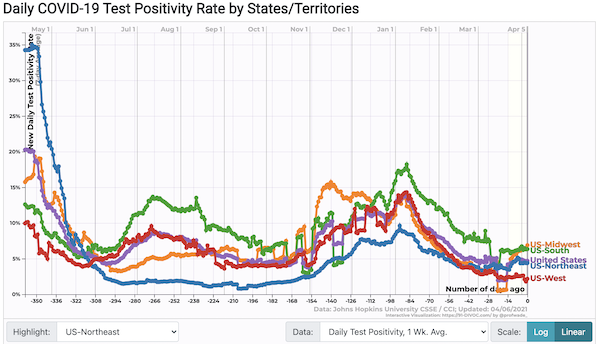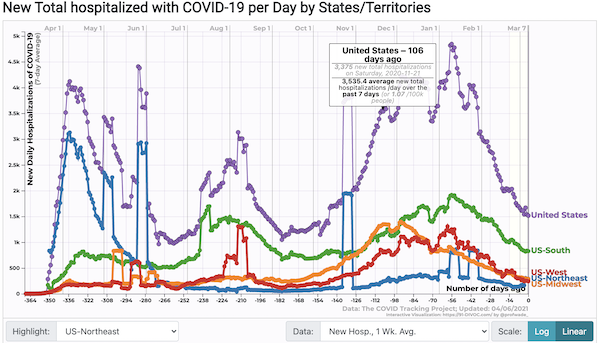 Hospitalization data is the best data we have, because hospital billing is a highly functional data acquisition system (ka-ching). That said, hospitalization is discretionary; they may also be reducing their admissions rate — relative to cases we cannot see in this data! — to preserve future capacity; or because hospitals have figured out how to send people home.
Case fatality rate (plus deaths):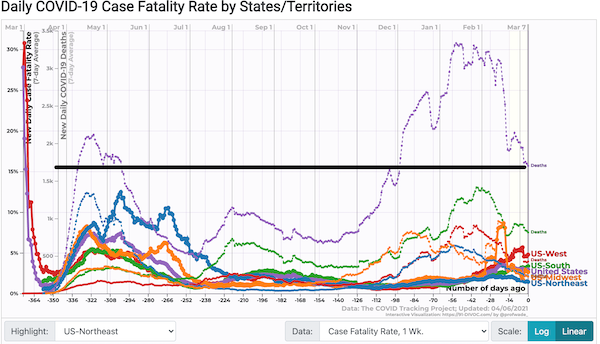 Good to see those deaths dropping. The fatality rate in the West is dropping now, for some reason as unknown as why it rose. I have helpfully drawn a black line to show that deaths today are only less than the first, earliest peak.
"Reported daily COVID-19 deaths dropped to lowest point in year on Sunday" [The Hill]. "Johns Hopkins data typically show a dip in coronavirus deaths on Saturdays and Sundays amid different reporting patterns of state and county COVID-19 statistics, a situation that may have been exacerbated by the Easter holiday." • Nevertheless, the trend has been down.
* * *
Politics
"But what is government itself, but the greatest of all reflections on human nature?" –James Madison, Federalist 51
"They had one weapon left and both knew it: treachery." –Frank Herbert, Dune
"They had learned nothing, and forgotten nothing." –Charles Maurice de Talleyrand-Périgord
Capitol Seizure
https://www.huffpost.com/entry/jack-wade-whitton-scallops-sedition-hunters-capitol-trump_n_606b41e6c5b66c4ab6b57588?section=politics&ncid=tweetlnkushpmg00000016
Biden Administration
"U.S. Senate parliamentarian says Democrats can use reconciliation to pass more bills" [Reuters]. "The U.S. Senate parliamentarian ruled on Monday that Democrats may use a procedural tool known as reconciliation to pass more legislation this year, a spokesman for Democratic leader Chuck Schumer said, which could clear the way for passage of an infrastructure bill without Republican support." • Something must have concentrated the Parliamentarian's mind. Now do the minimum wage.

"Biden set to announce he's moving deadline for all US adults to be eligible for Covid vaccine to April 19" [CNN]. "With all states having opened eligibility to the public or at least having announced when they plan to do so, Biden will announce that every adult in the country will be eligible to be vaccinated by April 19, White House press secretary Jen Psaki confirmed on Tuesday, instead of Biden's original deadline of May 1. 'The President will announce officially later this afternoon that we've reached 150 million shots in arms since entering government and that by April 19 all adult Americans will be eligible to get the vaccine,' Psaki said at a White House briefing. Psaki continued: 'That doesn't mean they will get it that day — it means they can join the line that day if they have not already done that beforehand." • Painting the bull's-eye round the bullet hole.

Breaking down Biden infrastructure spending:

useful visual summary of the American Jobs Plan from https://t.co/wxfpZ9eP41 pic.twitter.com/tUWmuWyQnX

— Owen Zidar (@omzidar) April 5, 2021

This seems underpowered, to me. And putting all the preening aside, the Obama Alumni Association has form.

""Did somebody say 'jobs plan?'" [Marshall Auerback, The Scrum]. "This is a very sweet deal if you're an affluent, urban, professional Democrat in New York, San Francisco, or Austin. The Biden administration will increase the reserve army of low-wage immigrant day care and elder care workers via immigration policy which has drifted away from many of the traditional Democratic Party concerns about economic displacement expressed some 15 years ago in the Barbara Jordan Commission on immigration reform. The goal now is to subsidize the day-care and elder-care industries to enable you, the affluent professional, to keep paying low wages to other people to raise your kids and care for your parents and cram these low-income, subsidized day care and elder-care serfs into tenements within bus or subway distance (but not next door to rich Democrats; their tight zoning laws, which exacerbate the problem of homelessness, will remain in place). All the while, Biden's plan will drive up the property values of the urban Democratic elites who own homes, condos, or rental properties. Stripped of its flourishes, it comes to constituent services for Democratic professionals and rich donors. If you own a rental property and rent it to your maid, it's a twofer! The government subsidizes you as an employer and as an urban landlord… What this plan doesn't do is offer a realistic framework to upgrade America's decaying infrastructure, revitalize U.S. manufacturing, and create the kinds of high-quality jobs that Biden promised to provide during his campaign." • Bracing!

"'Aspirational' Amtrak Map Depicts Train Car Married, Happy, With Little Caboose Baby" [The Onion].

Wait, I thought the Post Office was important?

It's nuts that the Democrats didn't fold a repeal of the insane USPS 75-year pension pre-funding policy into the initial stimulus bill. That's the ultimate low-hanging fruit for beginning to reverse the generation-long sabotage of public goods.

— Adam Kotsko (@adamkotsko) April 6, 2021
Democrats en Deshabille
"Jon Ossoff's top Senate aides reflect Georgia's diversity" [Atlanta Journal-Constitution]. • Jon, good job. Now do #MedicareForAll. And you owe me six hundred bucks.
2022
"Janitors Union Endorses Nina Turner For Congress In Ohio" [HuffPo]. "A union that represents nearly 2,000 Ohio janitors and food service workers endorsed former Ohio state Sen. Nina Turner in the Democratic primary for Ohio's 11th Congressional District. Service Employees International Union Local 1, which has 500 members in Ohio's 11th, credited Turner's long-standing support for union priorities like raising the minimum wage to $15 an hour…. Turner's history as an ally of organized labor goes back to her days as a state senator from 2008 to 2014. When then-Ohio Gov. John Kasich (R) tried to gut public-sector unions' collective bargaining rights in 2011, Turner traveled the state campaigning in favor of a referendum that overturned Kasich's bill. 'The house of labor certainly has not forgotten that,' Turner told HuffPost. "I'm on their side and they're on my side.'"
2024
"A Senate Majority, If You Can Keep It" [RealClearPolitics]. "What should we expect, then, in 2022? Democrats have no room for error, given their razor-thin majority, but they have one thing going for them: This class hasn't had a good Democratic year since 1998. Republicans ran well in 2004, and then pushed deeply into Democratic territory in the 2010 midterms. It was thought that Republicans would lose a substantial number of seats in 2016, but the party minimized losses by riding Trump's coattails. Put differently, Democrats simply don't have much exposure this election. Democrats don't have any incumbents up for reelection in states Trump carried, although two hail from states that narrowly went Joe Biden's way (Georgia and Arizona). They have two other seats up in states that lean somewhat in the Democrats' direction (Nevada and New Hampshire) and one in Colorado, which has elected Republicans narrowly in wave years but has since moved in the Democrats' direction. Republicans don't suffer from a massive amount of exposure either, but they do hold seats in two Trump-then-Biden states: Wisconsin and Pennsylvania. "
Obama Legacy
"Jay Carney, Biden's Former Spokesman, Now Battling Unions As Amazon's Top PR Guy" [HuffPo]. "[Jay] Carney left his longtime job as a journalist with Time magazine in 2008 to become Biden's first communications director as vice president and then became President Barack Obama's press secretary. Many of Biden's closest allies, including White House chief of staff Ron Klain and Secretary of State Antony Blinken, are his former co-workers. Carney joined Amazon in 2015…. He's still a Biden fan." • I wonder if they gave Carney a bottle and a bag when he signed on.
Realignment and Legitimacy
"Georgia election law's strict food and drink restrictions won't be prosecuted in Gwinnett" [11 Alive]. "The Gwinnett County Solicitor's Office will not prosecute individuals arrested for distributing nonpartisan beverages and/or food to voters waiting in line for long hours on Election Day in Gwinnett County as there is no rational, legal basis for this law."

"The facts about Georgia's ban on food, water giveaways to voters" [Politifact]. "The bill also states that poll workers can make available "self-service water from an unattended receptacle to an elector waiting in line to vote." But nothing in the law requires poll workers to make water easily available to voters while they are waiting in line." • I wonder if the localities could add that requirement on their own (thereby owning the right by expanding the functions of government).

"If It's Not Jim Crow, What Is It?" [Jamelle Bouie, New York Times]. "[Is the Georgia Election Law] a throwback to the Jim Crow restrictions of the 20th century?Democrats say yes…. Republicans and conservative media personalities say no… The problem with the "no" argument here is that it mistakes both the nature and the operation of Jim Crow voting laws. There was no statute that said, "Black people cannot vote." Instead, Southern lawmakers spun a web of restrictions and regulations meant to catch most Blacks (as well as many whites) and keep them out of the electorate. It is true that the 'yes' argument of President Biden and other Democrats overstates similarities and greatly understates key differences — chief among them the violence that undergirded the Jim Crow racial order. But the 'no' argument of conservatives and Republicans asks us to ignore context and extend good faith to lawmakers who overhauled their state's election laws because their party lost an election."

* * *

Talking point alert:

Warning. Election insiders construe these phrases 2 include controversial touchscreens that mark paper 4 u:

* "voter marked paper ballots"
* "voter verifiable paper ballots"
* "voter verified paper ballots"
* "paper ballots"

If we want #PenAndPaper, we must say #PenAndPaper 1/ pic.twitter.com/7AYVwQ23I9

— Jennifer Cohn ✍🏻 📢 (@jennycohn1) April 5, 2021

* * *

"How Not to Fight Antisemitism" [The Editors, Jewish Currents]. The conclusion: "In attempting to reclaim the mainstream narrative of antisemitism—concerned with the immutable, transhistorical figure of the Jew-as-sufferer—we have lost sight of our actual, and varied, material conditions. There are innumerable paths into the urgent work to be done, work that is perhaps enriched by a collective memory of oppression, but that must not rest upon it. As we exit the Trump era, following a summer of Black-led uprising, we find ourselves called more urgently out of the cocoon of Jewish organizing and into broader coalition politics. This must be the occasion to enter a second wave of Jewish left praxis, one that faces our partners and not our own navels."
Stats Watch
Employment Situation: "United States Job Openings" [Trading Economics]. "The number of job openings in the US rose by 268 thousand from the previous month to 7.367 million in February 2021, the highest level since January 2019 and above market expectations."
Housing: "February 2021 CoreLogic Home Prices: Home Price Growth Reaches 15-Year High" [Econintersect]. "CoreLogic's Home Price Index (HPI) home prices reaching the highest annual gain since April 2006…. Price growth exceeded my forecast for the year – home prices are continuing very strong."
* * *
Shipping: "Greece Launches Sale of Crete Port Stake" [Maritime Logistics Profressional]. "Greece on Monday launched a tender for the sale of a majority stake in a port on the island of Crete, a popular tourist destination in Europe…. Greece is also selling majority stakes in the ports of Alexandroupolis and Igoumenitsa in northern and western Greece, as part of a privatization scheme aiming to raise 1.8 billion euros ($2.11 billion) this year." • The Chinese bought Piraeus already….
Shipping: "Portugal Envoy Urges US to Bid on Key Seaport as PRC Influence Grows" [Voice of America]. "Analysts warn that unless the U.S. moves quickly, China will soon expand its control over a key Portuguese seaport. A month from now, the fate of a new terminal at the Port of Sines on Portugal's southwestern coast is scheduled to be decided. Sines is 'the first deep water port if you go from the United States to Europe, so it's a very important infrastructure,' Domingos Fezas Vital, Lisbon's ambassador to the United States, said in a phone interview. In 2012, the People's Republic of China acquired a stake in one of the four terminals at the port, drawing attention to Beijing's strategic design. 'We now have an international bid for a fifth terminal, which will be a second container terminal,' Fezas Vital told VOA. 'We would very, very, very much like to have American companies competing for this bid; I think it will be very important to have an American presence in Sines.'"
Housing: "If You Sell a House These Days, the Buyer Might Be a Pension Fund" [WSJ]. "The country's most prolific home builder booked roughly twice what it typically makes selling houses to the middle class—an encouraging debut in the business of selling entire neighborhoods to investors….. From individuals with smartphones and a few thousand dollars to pensions and private-equity firms with billions, yield-chasing investors are snapping up single-family houses to rent out or flip. They are competing for houses with ordinary Americans, who are armed with the cheapest mortgage financing ever, and driving up home prices."
Tech: "How to Check if Your Phone Number Is in the Huge Facebook Data Leak" [Gizmodo]. "The website The News Each Day has a simple tool where you can input your phone number and see if it's in the leak. Gizmodo tested the tool against some data from the actual Facebook leak and found it to be accurate….If you're willing to risk handing over your phone number, all you need to do to check is input your phone number without any hyphens or periods."
Tech: "Google Is Testing Its Controversial New Ad Targeting Tech in Millions of Browsers. Here's What We Know." [Electronic Frontier Foundation]. "Today, Google launched an "origin trial" of Federated Learning of Cohorts (aka FLoC), its experimental new technology for targeting ads. A switch has silently been flipped in millions of instances of Google Chrome: those browsers will begin sorting their users into groups based on behavior, then sharing group labels with third-party trackers and advertisers around the web. A random set of users have been selected for the trial, and they can currently only opt out by disabling third-party cookies…. Right now, a site administrator has to make a conscious decision to include code from an advertiser on their page. Sites can, at least in theory, choose to partner with advertisers based on their privacy policies. But now, information about a user's visit to that site will be wrapped up in their FLoC ID, which will be made widely available (more on that in the next section). Even if a website has a strong privacy policy and relationships with responsible advertisers, a visit there may affect how trackers see you in other contexts."
Tech: "Google wins major copyright victory" [Politico]. "After a decade of fierce litigation, the Supreme Court handed Google a win over Oracle on Monday in a closely-watched copyright dispute that has huge implications for how companies build software to work across platforms. The justices ruled 6-2 that Google's use of 11,000 lines of Oracle's software code in developing its Android mobile operating system was legal under 'fair use' provisions of copyright law. It is a key ruling on how that law applies to APIs, software code that enables programs to work with each other. Google had stood accused of pilfering chunks of API code developed by Sun Microsystems, which was later acquired by Oracle. The court said Google's use of the Java API 'included only those lines of code that were needed to allow programmers to put their accrued talents to work in a new and transformative program.' The court emphasized the public benefits that the copying produced — like greater creativity and competition."
Mr. Market: "'Big Short' investor Michael Burry deletes his Twitter profile after warning of market bubbles for months" [Business Insider]. "Michael Burry has deleted his Twitter profile, signaling an end to his dire warnings about rampant speculation and excessive valuations in financial markets. 'This account doesn't exist' is the message that now greets visitors to the Scion Asset Management chief's Twitter page. Burry previously had a telling picture of his bookshelf as his header image. As recently as Monday, his bio highlighted several heavy-metal bands and called for boycotts of Amazon, Facebook, Coca-Cola, and Major League Baseball. Burry is best known for his billion-dollar bet against the US housing bubble in the mid-2000s, which was immortalized in the book and the movie 'The Big Short.' He also helped lay the groundwork for the GameStop short squeeze in January, as he bought a stake in the video-games retailer in 2019 and penned several letters to its board."
* * *
* * *
Today's Fear & Greed Index: 65 Greed (previous close: 64 Greed) [CNN]. One week ago: 45 (Neutral). (0 is Extreme Fear; 100 is Extreme Greed). Last updated Apr 1 at 5:15pm. One year ago, just after the end of the Before Times: 28 (Extreme Fear). Last updated Apr 6 at 1:19pm.
The Biosphere
"Paleopharmaceuticals from Baltic amber might fight drug-resistant infections" (press release) [Eurakalert]. "Each year in the U.S., at least 2.8 million people get antibiotic-resistant infections, leading to 35,000 deaths, according to the U.S. Centers for Disease Control and Prevention. 'We knew from previous research that there were substances in Baltic amber that might lead to new antibiotics, but they had not been systematically explored,' says Elizabeth Ambrose, Ph.D., who is the principal investigator of the project. 'We have now extracted and identified several compounds in Baltic amber that show activity against gram-positive, antibiotic-resistant bacteria.'"
Water
"Piney Point wastewater leak continues but no new breach is found" [Tampa Bay Times]. "Around 2 a.m. Monday, an infrared drone "identified what could be a second breach" in a wall surrounding a polluted reservoir at the former Piney Point phosphate plant, Manatee County officials said…. Late Monday, the Department of Environmental Protection said there is only one confirmed breach in a wall that crews continue to monitor. In what was another example of the urgency and uncertainty of the predicament, engineers determined it was safe to continue working on the site. Officials have four major lines and smaller pumps moving water out of the site, Saur said. They fear pressure from the leak could break apart stacks of phosphogypsum around the pond. Phosphogypsum is a radioactive byproduct of the fertilizer industry. The reservoir holds a mix of seawater, rainwater and a polluted byproduct of processing phosphate for fertilizer, according to the Department of Environmental Protection. It is slightly acidic and has high levels of nitrogen and phosphorus. Evacuation orders around the old plant remain in place."
Health Care
"Epidemiologic Evidence for Airborne Transmission of SARS-CoV-2 during Church Singing, Australia, 2020" [Emerging Infectious Diseases]. "An outbreak of severe acute respiratory syndrome coronavirus 2 infection occurred among church attendees after an infectious chorister sang at multiple services. We detected 12 secondary case-patients. Video recordings of the services showed that case-patients were seated in the same section, >15 m from the primary case-patient, without close physical contact, suggesting airborne transmission…. We believe that transmission during this outbreak is best explained by airborne spread, potentially the result of by 3 factors. First, singing has been demonstrated to generate more respiratory aerosol particles and droplets than talking (7). Second, minimal ventilation might have enabled respiratory particles to accumulate in the air, and convection currents might have carried particles toward the pews where secondary case-patients were seated. Third, the primary case-patient was likely near the peak of infectiousness on the basis of low Ct values (8) and symptom onset occurring around the exposure dates (9). Although we cannot completely exclude fomite transmission, this transmission would not explain the spatial clustering of case-patients within the church over 2 days. Strengths of our investigation include detailed case and contact follow-up, availability of video recordings of the services to confirm movements and locations of case-patients, high uptake of testing by contacts, and that SARS-CoV-2 genome sequencing provided supportive evidence that case-patients were closely related genomically." • One can only hope that Walensky, between bouts of weeping, is listening to, well, "the science." Handy schematic: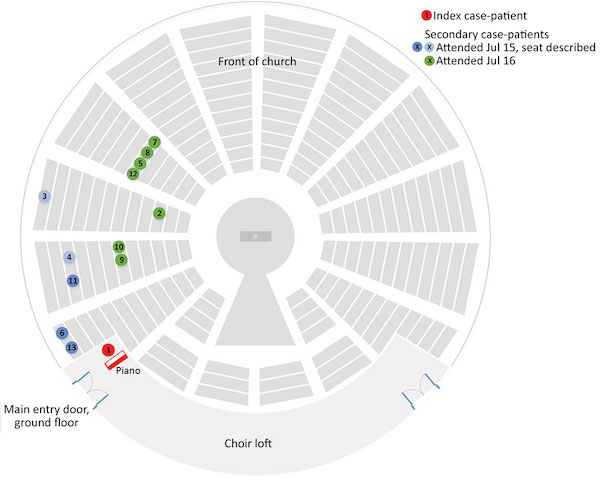 "Coronavirus: children could be silent carriers of Covid-19 in community, Hong Kong researchers find" [South China Morning Post]. "Children could be more contagious silent carriers of the coronavirus, with over 40 per cent of confirmed cases aged three and below in Hong Kong displaying no symptoms, local researchers have found.
Data collected locally by researchers at Chinese University showed the coronavirus survived in stool samples for as long as 36 days in the case of one child. Researchers in the city also cited a separate study in the United States that showed toddlers had significantly higher viral loads than even adults who needed intensive care, making them more contagious. 'They are more likely to become a hidden source of infection, and may play a role in community transmission,' Professor Ng Siew-chien, associate director of the Centre for Gut Microbiota Research at the university, said on Tuesday." • Commentary on this study:
4) fecal aerosol transmission recognized? Yes.

➡️9 infections in 3 families due to vertically shared toilet drainage pipes + aerosols from pipes.

To prove it, tracer gas was released into drainage system & shown to come out of other apt.

➡️Fecal airborne is real. #COVID19 pic.twitter.com/yH7GWCBWD7

— Eric Feigl-Ding (@DrEricDing) April 6, 2021
This great thread includes not only fecal aerosols but drainage system transmmission. However, in this instance, there is surely a case to be made for fomites as well. (Turns out that China giving visitors anal swabs might not have been such a bad idea.)
"WHO does not back COVID-19 vaccination passports for now: Spokeswoman" [Channel News Asia]. "The World Health Organization (WHO) does not back requiring vaccination passports for travel due to uncertainty over whether inoculation prevents transmission of the virus, as well as equity concerns, a spokeswoman said on Tuesday (Apr 6). 'We as WHO are saying at this stage we would not like to see the vaccination passport as a requirement for entry or exit because we are not certain at this stage that the vaccine prevents transmission,' WHO spokeswoman Margaret Harris said. 'There are all those other questions, apart from the question of discrimination against the people who are not able to have the vaccine for one reason or another,' she told a UN news briefing." •
"Is This the Future of Face Masks?" [New York Times]. "After the surgical mask and the do-it-yourself mask and the fashion mask: the smart mask." • Oh gawd. "Smart." More: "Called Xupermask and made of silicon with athletic mesh fabric on the sides, it is a joint venture between Will.i.am and Honeywell. It fits snugly around the bottom half of the face and comes with three dual-speed fans, a Honeywell HEPA filtration system (which the company is careful to say is not medical quality), as well as noise-canceling headphones, LED lights for nighttime, a rechargeable battery and Bluetooth capability. It allows you to play music and take calls, has a seal over the nose to keep glasses from fogging and makes the wearer look sort of like a sci-fi rhino warrior." • Says Will.i.am: "So I wanted to make a mask to fit the era that we're in.' That means, in part, learning the lesson of the sneaker… After all, what are shoes, Will.i.am said, but protective equipment for the feet? We've just forgotten that was their original purpose because shoes have become a form of self-expression." • Ha. Called it (NC, May 10, 2020).
"The Biden administration launches a $500,000 contest to improve face mask designs" [CNN]. "[T]he Department of Health and Human Services (HHS) has launched the $500,000 'Mask Innovation Challenge' to find new and effective masks people will find more comfortable to wear. Contest participants have until April 21 to submit innovative ideas that would help eliminate common concerns that come with wearing masks while making sure they effectively protect against the coronavirus…. If you have a unique idea that follows required safety guidelines, you can submit your idea here by 5 p.m. ET on April 21." • Kudos to the Biden Administration for this!
"Coronavirus FAQs: What Should I Do With My Vaccine Card? Is Choir Practice OK Now?" [NPR]. • I'm actually happy with CDC for deciding on a paper card. It's 100% fit-for-purpose, and the information won't go into a database that's going to be hacked, releasing all my personal data.
Groves of Academe
"The Fed's education constitutional amendment would turn schools over to economists and lawyers" [Minnesota Reformer]. "At first glance, the constitutional amendment proposed by Minneapolis Federal Reserve President Neel Kashkari and former Supreme Court Justice Alan Page to give every Minnesota student a right to a 'quality public education' seems like a great idea. Who could argue with a right to an education?… .The primary purpose of the proposed amendment is to establish that there is a 'fundamental right to a quality public education' in Minnesota. Fundamental rights are rights that receive a high degree of legal protection. Here's the problem: there is already a fundamental right to an education in Minnesota. This was decided in 1993, in the Minnesota Supreme Court case Skeen v. State. So in this respect, the amendment isn't really adding anything new… Supporters of the amendment, which is now being considered by the Legislature, have mostly ignored this reality, and focused heavily on the fact that Minnesota students currently have a right to an "adequate" education. The Kashkari/Page amendment, they point out, would create a right to a 'quality' education. This change might seem significant, but it has little real effect. The reason is simple: educational 'adequacy' is a concept with a robust legal meaning, while 'quality' doesn't have any established legal meaning at all. A long line of court cases have established that schools can be inadequate because they are underfunded, poorly staffed, academically insufficient, or even racially segregated. By contrast, the idea of a quality education is highly subjective. There is no definition of 'quality' in Minnesota law. The amendment would replace a defined term with an undefined one." • So guess who will write the definitions. And since when did Federal Reserve Presidents get into the Constitutional Amendment business?
"On Essays and SATs: Some Students are Just More Prepared Than Others" [Freddie DeBoer]. "I've said this many times: our school system is asked to do two flatly contradictory things at once, promoting equality and sorting students into a hierarchy of performance on academic tasks. These are totally contrary goals, and 21st century education is so fucked up because no one will look at this essential tension and take it seriously. We now speak as if promoting socioeconomic equality and superficial diversity are the only job of colleges, but this conception is very new and has resulted in awkwardly grafting a progressive ideology onto institutions that are inherently, inevitably, and existentially vehicles for creating inequality. The very act of saying "Student A did better than Student B" is identifying inequality, inequality in performance. A degree makes its holder unalike some other job applicants and it's that inequality that is sold on the labor market. Just like you can't actually diversify the British royal family, you can't make colleges tools of equality; creating hierarchy is their very function."
Our Famously Free Press
Sad but true:
Every major outlet has some good reporters trying (and sometimes succeeding) to do good journalism. But the ideological and business model of these outlets, developed from the Trump years, makes most of what they publish unreliable. That's not something to celebrate. It's tragic.

— Glenn Greenwald (@ggreenwald) April 6, 2021
What brought this on:
I enjoyed this summary of the "find the fraud" fiasco. The substance was right, but they went and fabricated direct quotes. It damages credibility when you see the wanton overreach. https://t.co/ABUzgSBQZV

— Oh Come On! (@BluthCapital) April 6, 2021
I've known (and said) that the press is often inaccurate when quoting Trump; this was evident as soon as Trump began his run. But outright fabrication is another matter. Still, lots of outrage, lots of clicks, and lots of contributions for Democrats. So it's all good.
"San Francisco Examiner names Carly Schwartz editor in chief" [San Francisco Examiner]. • Schwartz previously helmed a house organ at Google, lol.
Class Warfare
Nothing yet on the Amazon strike:
Vote count hasnt begun yet, still in the clearing process. As @GrimKim said, vibe is that Amazon is doing anything they can to gum up the works.

Vote count won't begin until the clearing process is finished.

On Friday, NLRB said to expect the count to begin "this week" 🤷‍♂️ https://t.co/AByu8J6jwL

— The Valley Labor Report (@LaborReporters) April 6, 2021
"DoorDash Drivers Game Algorithm to Increase Pay" [Bloomberg]. "Dave Levy and Nikos Kanelopoulos are trying to beat the algorithm. The two DoorDash drivers—Dashers, as the company calls them—are trying to persuade their peers to turn down the lowest-paying deliveries so the automated system for matching jobs with drivers will respond by raising pay rates. 'Every app-based on-demand company's objective is to constantly shift profits from the driver back to the company,' Levy says. 'Our objective is the reverse of that.' Their main tool is #DeclineNow, a 40,000-person online forum that provides a view into a type of labor activism tailored for the gig economy. While there's no reliable way to quantify its impact, #DeclineNow's members say they've already increased pay for workers across the country, including in Pennsylvania's Lehigh Valley, where Levy and Kanelopoulos live. But the effort raises difficult questions about the nature of collective action, and there are reasons to doubt whether using a company's own software systems against it is a strategy that can prove effective for a sustained period of time."
"LA Teachers Won a Safe Schools Reopening by Organizing" [Jacobin]. "Throughout the pandemic, Los Angeles's local governments prioritized private companies' revenue by keeping malls open, maintaining domestic and international travel, and allowing unsafe working conditions to persist at the virus's peak. If our country had effectively responded to the pandemic by implementing contact tracing, passing rent and mortgage relief, and providing working-class families with safe childcare support, we may have been able to minimize community spread and flatten the curve beyond the summer. We did not, and in one year, Los Angeles County has seen more than 1.2 million reported COVID cases and over 23,000 deaths…. LAUSD, to its credit, met the challenge by expanding meal and supply distribution to students and their families. District superintendent Beutner seems to have adopted some of the 'common-good' bargaining priorities insisted upon by UTLA during the 2019 strike…. The three safety demands for campus reopening, that were ratified by members with a 91 percent approval, are full vaccinations for school staff, returning only when LA County is out of the purple tier, and enforceable safety conditions and protocols at every school…. Despite being in a less-than-ideal bargaining position because of public pressure and pandemic organizing challenges, the UTLA bargaining team walked away from the table with all three of the membership's health and safety demands met."
News of the Wired
Nothing new under the sun:
Clare Briggs creates a meme, Feb. 9, 1912 pic.twitter.com/9F6YOTM2m4

— Jeet Heer (@HeerJeet) April 4, 2021
"Men who identify as feminists are having more — and more varied — sex" [The Conversation]. • Fine, fine, I'm happy for everybody concerned. It's that use of "identity as" that gets me. One "identities" "as" Black, or a "as" a woman, or as (presumably) White. Is that really the same as "identifying as" a feminist? Is there anything that one cannot "identify as"? "I identify as a firefighter." Is that a nonsensical statement, or not? How about "I identify as a six-year-old child"?
"The Great Depression led to many of the hobbies we enjoy now. The pandemic created a whole host of new ones" [CNN]. "In the 1930s, it was the game of Bridge that kept people busy during the Great Depression. In 2020, during the global pandemic, it was 'Animal Crossing.' It's no surprise that the pandemic has led to a surge of hobbies. What's interesting, some experts say, is that the surge mirrors what happened during the Great Depression. Among the hobbies that emerged: stamp collecting, music making, woodworking and birdwatching…. More walking, gardening and cooking, Mihm said, seem likely to remain permanent additions. Post-pandemic, some virtual hobbies — online classes and events, for example — may even remain common." • Like model railroading, in fact. Via Moon of Alabama (hat tip alert reader AC)–
* * *
Readers, feel free to contact me at lambert [UNDERSCORE] strether [DOT] corrente [AT] yahoo [DOT] com, with (a) links, and even better (b) sources I should curate regularly, (c) how to send me a check if you are allergic to PayPal, and (d) to find out how to send me images of plants. Vegetables are fine! Fungi and coral are deemed to be honorary plants! If you want your handle to appear as a credit, please place it at the start of your mail in parentheses: (thus). Otherwise, I will anonymize by using your initials. See the previous Water Cooler (with plant) here. Today's plant (EB):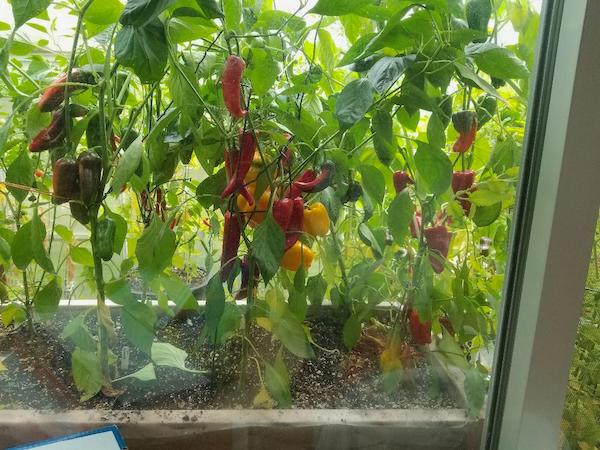 EB writes: "Peppers in green house." Readers, do any of you have greenhouses? I toyed with the idea, but in the end a greenhouse seemed too ambitious for me.
* * *
Readers: Water Cooler is a standalone entity not covered by the recently concluded and — thank you! — successful annual NC fundraiser. So if you see a link you especially like, or an item you wouldn't see anywhere else, please do not hesitate to express your appreciation in tangible form. Remember, a tip jar is for tipping! Regular positive feedback both makes me feel good and lets me know I'm on the right track with coverage. When I get no donations for five or ten days I get worried. More tangibly, a constant trickle of donations helps me with expenses, and I factor in that trickle when setting fundraising goals:
Here is the screen that will appear, which I have helpfully annotated.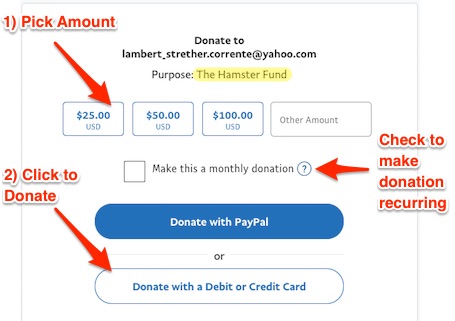 If you hate PayPal, you can email me at lambert [UNDERSCORE] strether [DOT] corrente [AT] yahoo [DOT] com, and I will give you directions on how to send a check. Thank you!