By Lambert Strether of Corrente.
Bird Song of the Day
At reader request, Birds of Australia. The Superb Lyrebird does not disappoint.
* * *
#COVID19
At reader request, I've added this daily chart from 91-DIVOC. The data is the Johns Hopkins CSSE data. Here is the site.
I feel I'm engaging in a macabre form of tape-watching.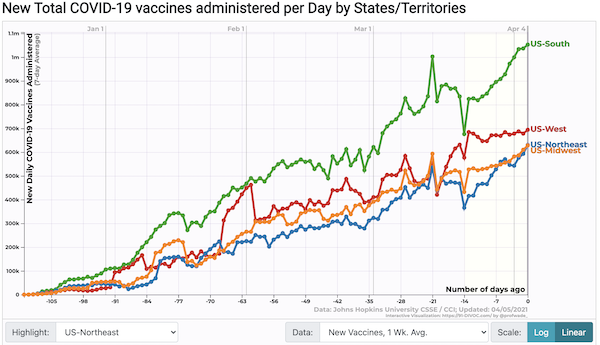 That's the stuff to give the troops. • Early in February, I said a simple way to compare Biden's performance to Trump's on vaccination would be to compare the curves. If Biden accelerated vaccine administration, the rate of vaccination post-Inaugural would kink upward, as the policies of a more effective administration took hold. They have not. The fragmented, Federalized, and profit-driven lumbering monstrosity that we laughingly call our "health care" "system" has not responded to "energy in the executive," but has continued on its inertial path.
IL: "How many fully vaccinated in Illinois have still gotten COVID-19, been hospitalized?" [Daily Herald (marym)]. "Illinois Department of Public Health officials reported Wednesday that 17 people in the state who were considered fully vaccinated against COVID-19 have since been hospitalized by the respiratory disease. Additionally, of the more than 2.1 million people who have been fully vaccinated against COVID-19 in Illinois, 399 have tested positive for the virus — or 0.0185% of those fully vaccinated, IDPH officials said."
WA: "Of 1.2 million fully vaccinated people in Washington state, 100 have gotten COVID-19" [ABC (kareninca)]. "Out of the 1.2 million people who are fully vaccinated against COVID-19 in Washington, epidemiologists have reported evidence of 102 breakthrough cases in 18 counties since Feb. 1, representing less than 0.01% of all fully vaccinated individuals in the northwestern U.S. state. Most cases were patients who experienced only mild symptoms, if any, according to a press release from the Washington State Department of Health…. The Washington State Department of Health is investigating reports of the so-called breakthrough cases, which it said are expected with any vaccine." • Alert reader kareninca writes: "My new obsession is 'breakthrough cases.' I will now be doing searches for stories on that every day." What an unfortunate term, "breakthrough." For whom?
Case count by United States regions: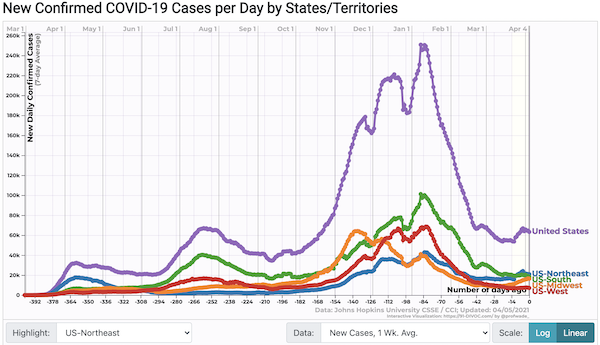 Now a downward trend, caused by a drop in New York (see the chart of Big Sttates below). The Midwest is slowly rising, however. All I can say is that if you have a system that has worked for you, keep at it. And avoid closed, crowded, close-contact settings, evem so-called outdoor dining. Don't share air!
MI: "COVID-19 cases spike in Michigan, fueled by infections among kids" [CBS]. "As federal officials warn of a potential fourth wave of COVID-19 infections, Michigan has emerged as one of the most pressing hotspots, with average daily infections now five times what they were six weeks ago. New data from the Michigan Department of Health and Human Services shows this dramatic surge is due in large part to cases spiking among children and teenagers…. The rise in cases among kids has been evident elsewhere across the country. In Minnesota, people under age 20 made up nearly a quarter of reported cases in March, up from less than 15% at the end of February. Similar trends have been seen in other states as well, including Illinois and Massachusetts. According to physicians and infectious disease experts in Michigan, much of the rise in pediatric cases can be . . But Dr. Natasha Bagdasarian, senior public health physician at the Michigan Department of Health and Human Services, says social gatherings after youth sporting events are also contributing to the spread. ',' she said. 'So really, this seems to have driven this surge.'" • Rachel, good job. (To be fair, a winning lacrosse season might be the one thing that gets little Madison into Ohio State. So here we are.)
Big states (New York, Florida, Texas, California):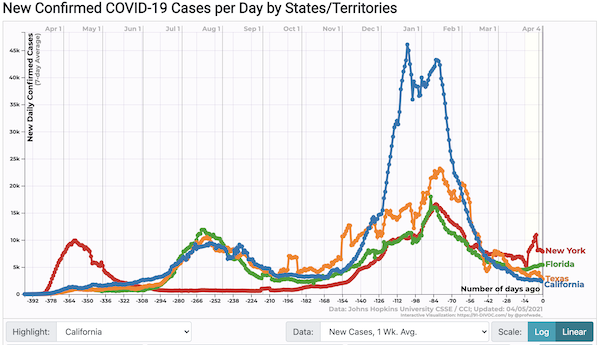 The big drop in New York, but flattening. Hopefully, it's not a reporting issue.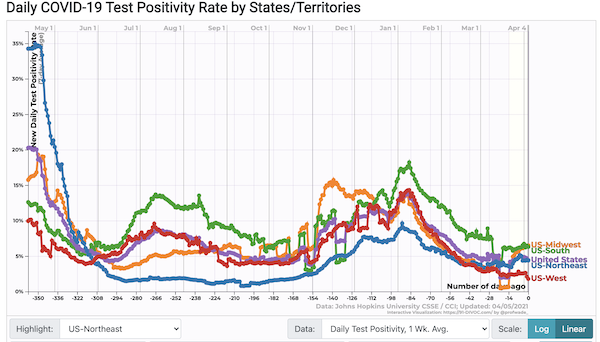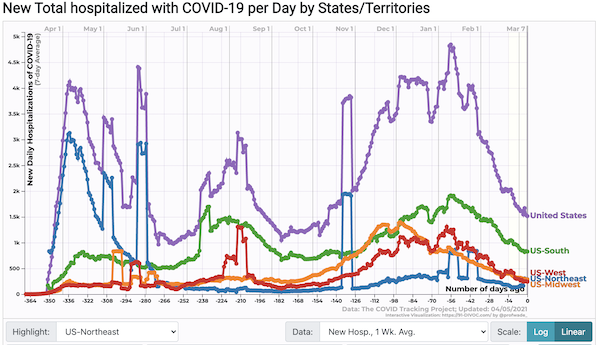 Hospitalization data is the best data we have, because hospital billing is a highly functional data acquisition system (ka-ching). That said, hospitalization is discretionary; they may also be reducing their admissions rate — relative to cases we cannot see in this data! — to preserve future capacity; or because hospitals have figured out how to send people home.
I wondered why the upward blip in the Northeast (blue):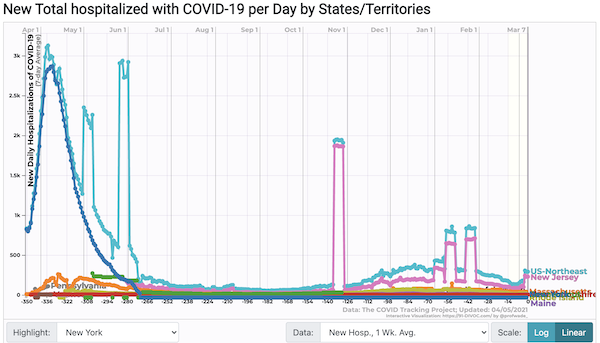 Turns out it's New Jersey.
Case fatality rate (plus deaths):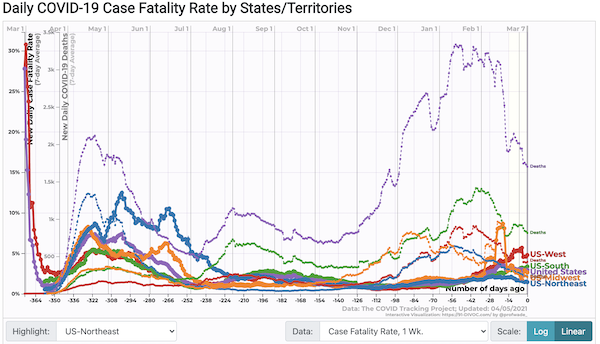 Good to see those deaths dropping. The fatality rate in the West is dropping now, for some reason as unknown as why it rose.
* * *
Politics
"But what is government itself, but the greatest of all reflections on human nature?" –James Madison, Federalist 51
"They had one weapon left and both knew it: treachery." –Frank Herbert, Dune
"They had learned nothing, and forgotten nothing." –Charles Maurice de Talleyrand-Périgord
Patient readers, more to come. –lambert
Capitol Seizure
"Half of Republicans believe false accounts of deadly U.S. Capitol riot: Reuters/Ipsos poll" [Reuters]. "The disinformation campaign aimed at downplaying the and Trump's role in it reflects a growing consensus within the Republican Party that its fortunes remain tethered to Trump and his devoted base, political observers say." • If you want to see a real coup or a real insurrection, follow Myanmar. The preening and navel-gazing, it b-u-r-r-r-r-n-n-n-s-s-s!!!!
Biden Administration
UPDATE "Bidenomics, explained" [Noah Smith, Noahpinion]. " it would be wrong to characterize his program as merely a grab bag of long-time Democratic policy priorities. Three approaches stand out above the maelstrom: 1. Cash benefits, 2. Care jobs, 3. Investment. Before I go on to discuss the justification for this new paradigm, I'd like to sum up all these "pillars" into one more-or-less cohesive vision of where I think Bidenomics is taking us. I think it's aiming to create a two-track economy — a dynamic, internationally competitive innovation sector, and a domestically focused engine of mass employment and distributed prosperity….. I think Bidenomics, with its dual focus on research/investment/immigration and care jobs + cash benefits, is an attempt to boost both sectors of the economy at once — to make the export sector more productive while making the domestic sector better at spreading the wealth around. If there's one unified characterization of the vision Bidenomics is creating for our future, I think that's it." • The Biden policymaking process seems almost completely opaque; this is the only piece I've seen that takes a shot at explaining why care and investment are together in the same bill, which struck me as very odd. Worth reading in full, if only to disagree with.

"Biden Steps Up Federal Efforts to Combat Domestic Extremism" [New York Times]. "The Biden administration is stepping up efforts to combat domestic extremism, increasing funding to prevent attacks, weighing strategies historically used against foreign terrorist groups and more openly warning the public about the threat." • "[S]trategies historically used against foreign terrorist groups…. This would be a good one….

"Once-secret Guantanamo Bay unit shuttered by US" [The Hill]. "The facility suffered from structural issues and was never meant to be permanent. The AP reports that the facility was meant to be replaced, but the Pentagon abandoned its plans to obtain funding for the project. The AP notes that the Biden administration has said that it intends to close down the prison on Guantanamo Bay. The Obama administration had also sought to do. White House Press Secretary Jen Psaki has said that a "robust" review would be done that would involve several agencies including the Department of Defense and the Department of Justice. 'There are many players from different agencies who need to be part of this policy discussion about the steps forward,' Psaki said." • I was going to give Biden a pat on the back for this, but sadly no.

Is this the "Build Back Better" part?

Police are on track to get more military hardware under Biden than they did under Trump:https://t.co/zIXi2eYBAt pic.twitter.com/e8nHafEpmx

— Stephen Semler (@stephensemler) April 2, 2021

Exactly:

https://t.co/BfRDNSOr27 pic.twitter.com/wRIrdkG0rl

— shabs (@comradeshabs) April 2, 2021

"Vulnerable Dems fret after getting a shock: AOC's campaign cash" [Politico]. "Some members whose campaigns got unexpected Ocasio-Cortez cash are seeking answers directly from DCCC Chair Rep. Sean Patrick Maloney (D-N.Y.) and his top staffers. DCCC aides gave lawmakers' wire transfer information to Ocasio-Cortez's aides without the approval of more senior officials, according to multiple people familiar with the contributions. Even if imperiled House Democrats refund her contribution now, Ocasio-Cortez's name is almost certain to show up on their Federal Election Commission reports when they're due this month — creating a liability for members of her party who have to win reelection in districts where her political brand is poisoned thanks to years of unrelenting Republican attacks." • Never, ever occurs to Democrats that whatever the Republicans poison might be worth defending. Instead, they ball up like little armadillos, and then the Republicans gleefully run over them anyhow. That said, the old phrase "dance with the ones that brung ya" might be usefully recalled to AOC's attention. It's a shame to see talent like that go to waste.
Democrats en Deshabille
Pete.

Pete Buttigieg's dog and pony show.

Use an armored Suburban to bring a bike within a short distance of the destination. Unload it and ride in with a security detail in tow, pretending to save energy. 🙄 pic.twitter.com/Pxynakrl59

— Tim Xeriland (@Xeriland) April 1, 2021
Republican Funhouse
"Publix Picked As Vaccine Provider After Giving $100,000 To Gov. DeSantis PAC: '60 Minutes'" [HuffPo].

Publix grocery chain pharmacies in Florida were chosen to distribute nearly a quarter of all COVID-19 vaccines in the state weeks after the company donated $100,000 to a PAC supporting GOP Gov. Ron DeSantis, "60 Minutes" reported Sunday.

The money trail was one of several linking wealthy supporters of DeSantis to special vaccine access, whether it was a greenlight to boost business as a vaccine provider, or special access to getting the shots.

In another example, the wealthy Republican city of Palm Beach was given 1,000 vaccine doses from an early, limited supply, the TV news show reported. A number of communities of color in the county, meanwhile, lagged far behind in access to the vaccines as Publix, the state's largest supermarket chain, was allowed to decide on its own where to focus its efforts to distribute the vaccinations.

Reporter Sharyn Alfonsi compared the situation to a free-for-all "Hunger Games," with desperate Floridians scrambling for vaccinations and wealthy GOP contributors almost always coming out on top.

The story built on local media reports about special access to vaccines to GOP donors. Those earlier stories triggered a call last month for an investigation into "red carpet vaccine distribution" by state Agricultural Commissioner Nikki Fried, who also serves as Florida's consumer watchdog.

Fried cited reports that included nearly every individual over the age of 65 in Ocean Reef Club, a wealthy Key Largo enclave of GOP contributors, received vaccines by the middle of January. At the same time, people in most of the rest of the state were desperately scrambling to obtain vaccines.

"If this isn't public corruption, I don't know what is," Fried said at a press conference in early March.

You say "Hunger Games" like that's a bad thing.
2020
Interesting map:

Counties that swung >5% in Either Direction, 2016-2020. pic.twitter.com/fmKjY0q7cr

— Oregon Eagle Politics 🌾🧢 🌮 (@OrgEaglePatriot) April 3, 2021
Trunp Legacy
UPDATE "How Trump Steered Supporters Into Unwitting Donations" [New York Times]. "Facing a cash crunch and getting badly outspent by the Democrats, the campaign had begun last September to set up recurring donations by default for online donors, for every week until the election. Contributors had to wade through a fine-print disclaimer and manually uncheck a box to opt out. As the election neared, the Trump team made that disclaimer increasingly opaque, an investigation by The New York Times showed. It introduced a second prechecked box, known internally as a "money bomb," that doubled a person's contribution. Eventually its solicitations featured lines of text in bold and capital letters that overwhelmed the opt-out language." • Here's the automatic opt-in:

This is the darkest pattern I've ever seen. Whoever designed it has a real future in politics.

UPDATE "Trump Keeps History at Bay by Putting Off Presidential Library" [Bloomberg]. "But planning for a library would suggest he's done being president and that's not something he's ready to concede, say people familiar with his thinking. Trump has publicly dangled the possibility that he will seek the Republican nomination in 2024. 'Once he says, 'I am going to be raising money for my library,' he's given up even the pretense of trying to run again,' said Anthony Clark, who has written about the politics and history of presidential libraries. By delaying a library, Trump puts aside, at least for now, a chance to shape the story of his presidency — as Richard Nixon initially did at his museum by describing the Watergate scandal as a Democratic coup attempt, or as George W. Bush did with a theater that allows participants to vote on the options that he faced such as whether to invade Iraq but ends with a video of Bush explaining his decision." • "The Trump Presidential Library and Casino." Why not?
Clinton Legacy
Please stop:

— Moose Allain Ꙭ (@MooseAllain) April 4, 2021
Realignment and Legitimacy
UPDATE "Expand access? A historic restriction? What the Georgia voting law really does." [WaPo]. "A close examination of the language in the law shows it does contain new restrictions on voting; some are likely to make it disproportionately more difficult for poorer voters and voters of color to cast their ballots. It's also correct that there are ways in which the law expands voter access, particularly in ways that will be visible in rural areas." Key point: "State lawmakers get much more power over county and local elections (and Republicans have decisive majorities in both the state Senate and the state House). The law states that the General Assembly will select the chair of the state elections board, rather than the board being chaired by the Georgia secretary of state — an elected position. The chair is supposed to be nonpartisan. The state election board can investigate county election boards and has the power to suspend county election superintendents — though the law limits the state board to suspending four at a time."

UPDATE "Election laws: How Georgia compares to other states" [Atlanta Journal-Constitution]. A good wrap-up. As I read it, there's nothing wildly out of line with other states, including the Blue citadel of New York (although the new role of the General Assembly goes unmentioned). This caught my eye: "SB 202 changed the way Georgia handles provisional ballots cast in the wrong precinct. Under the law, election officials cannot count such votes unless they are cast after 5 p.m. It's unclear whether any other state has a provision that makes acceptance of such ballots contingent on when they were cast." • Seems to open the door to shenanagains.

UPDATE "What Does Georgia's New Voting Law SB 202 Do?" [Georgia Public Broadcasting]. "Requesting and returning a ballot will also require new ID rules: either your driver's license number, state ID number or, if you don't have those, a copy of acceptable voter ID. The law also allows for applications to be returned online, after the Secretary of State's office launched an online request portal using your driver's license number or state ID number ahead of November's general election. Poll workers will use that information, plus your name, date of birth and address, to verify your identity, and you will sign an oath swearing that everything is correct. This is a change from recent procedure that would check your signature on the application with those on file." • I've gotta say, if signature matching is the only alternative to voter ID, I'm against signature matching. I am one of the people who cannot produce the same signature twice, especially under stress. If liberal Democrats are concerned that the marginalized won't have ID, let them fund an NGO to solve the problem (which might expand their base in the poor and working class, if they really want to do that.

UPDATE "Georgia's Election Law, and Why Turnout Isn't Easy to Turn Off" [New York Times]. "For decades, reformers have assumed that the way to increase turnout is to make voting easier. Yet surprisingly, expanding voting options to make it more convenient hasn't seemed to have a huge effect on turnout or electoral outcomes. That's the finding of decades of political science research on advance, early and absentee voting. One prominent study even found that early voting decreases turnout, though that's a bit of an outlier…. [C]onvenience isn't as important as often assumed. Almost everyone who cares enough to vote will brave the inconveniences of in-person voting to do so, whether that's because the inconveniences aren't really so great, or because they care enough to suffer them…. [C]onvenience voting methods tend to reinforce the socioeconomic biases favoring high-turnout voters. The methods ensure that every high-interest voter has many opportunities to vote, without doing quite as much to draw less engaged voters to the polls."

* * *

"Covid survivors look to turn grief into lobbying clout" [Politico]. "Activists with chronic illnesses helped save Obamacare from repeal. Gun violence survivors built a movement to take on the NRA. Now, a cohort of Covid survivors is working to turn their grief into political power." • Good luck to them, because "helped save" and "built a movement" is pretty weak tea, based on outcomes. Helps enrich the already rich tapestry of the NGO world, though.
Stats Watch
Services: "United States ISM Non Manufacturing PMI" [Trading Economics]. "The ISM Services PMI jumped to 63.7 in March of 2021 from 55.3 in February, well above forecasts of 59. The reading pointed to the strongest growth in services activity ever…. "Respondents' comments indicate that the lifting of coronavirus pandemic-related restrictions has released pent-up demand for many of their respective companies' services. Production-capacity constraints, material shortages, weather and challenges in logistics and human resources continue to cause supply chain disruption" says Anthony Nieves, Chair of the ISM." • Presumably, these being purchasing managers, they figure they can work around the supply chain and labor market challenges. (And presumably they have taken into account the idea that what they can do individually doesn't necessarily translate into what they can do collectively.)"
Services: "Another Record: ISM Services Comes In Scorching" [Heisenberg Report]. "The recent surge in service sector growth shows no sign of abating," Chris Williamson, Chief Business Economist at IHS Markit declared. 'While consumer demand is rising especially strongly for goods, the surveys are now also showing rising activity in the consumer services sector, linked to the vaccine rollout, looser virus containment measures and the fresh injection of stimulus in March,' he added, noting that 'the biggest concern is inflation.'" • We aren't hearing much about punchbowls lately, though, are we?
Manufacturing: "United States Factory Orders" [Trading Economics]. "New orders for US manufactured goods dropped by 0.8 percent from a month earlier in February 2021, the first decrease since April's record contraction and compared with market expectations of a 0.5 percent drop."
* * *
Shipping: "Cargo Ship Bottleneck Off Los Angeles Nears Six-Month Mark" [Bloomberg]. "Ship congestion outside the biggest U.S. gateway for Asian imports remained elevated with the wait to offload containers lengthening to eight days, adding costs and complications for companies trying to stay well-stocked in an accelerating economy. A total of 28 container ships were anchored awaiting entry into the neighboring ports of Los Angeles and Long Beach, California, as of Sunday, compared with 26 a week earlier though still below a peak of 40 in early February, according to officials who monitor marine traffic in San Pedro Bay. Another 16 are scheduled to arrive over the next three days, with seven of those expected to drop anchor and join the queue. The average wait for berth space climbed to 8 days, compared with 7.9 days a week earlier, according to the L.A. port. That's about triple the average delay in November. The backlog, which started to form in October, has been tough to clear because of shortages of both equipment and labor needed to handle an unrelenting wave of imports. March is typically one of the slowest months for inbound merchandise, but the influx of steel boxes this year show few signs of easing."
The Bezzle: "NFTs Weren't Supposed to End Like This" [Anil Dash, The Atlantic]. "the NFT prototype we created in a one-night hackathon had some shortcomings. You couldn't store the actual digital artwork in a blockchain; because of technical limits, records in most blockchains are too small to hold an entire image. Many people suggested that rather than trying to shoehorn the whole artwork into the blockchain, one could just include the web address of an image, or perhaps a mathematical compression of the work, and use it to reference the artwork elsewhere. We took that shortcut because we were running out of time. Seven years later, all of today's popular NFT platforms . This means that when someone buys an NFT, they're not buying the actual digital artwork; they're buying a link to it. And worse, they're buying a link that, in many cases, lives on the website of a new start-up that's likely to fail within a few years. Decades from now, how will anyone verify whether the linked artwork is the original? All common NFT platforms today share some of these weaknesses. They still depend on one company staying in business to verify your art." • Lol. You bought the pointing finger and thought you were getting the moon. Reminds me of MERS. This is well worth a read, because there's more, much more.
The Bezzle: "And finally, here's what Joe's interested in this morning" (charts) [Bloomberg]. "It's time to officially bury Goldbug Macro. You know, the school of thought that's always warning about dollar debasement and inflation as a result of money printing. … Here is a chart of gold over the last 10 years. It's up about 10%. During this period we've run large deficits the entire time, and in fact over the last year, some of the biggest fiscal stimulus of all time. During this time the size of the Fed's balance sheet rose to nearly $8 trillion from under $3 trillion. Not only has gold performed poorly, the dollar is still dominant. Not only that, inflation has been mild, contra to what all the Goldbug Macro types would have predicted….. After two huge crises in just over a decade, plus fiscal and monetary stimulus the likes of which we haven't seen before, we now have enough evidence to bury the economic fantasies of gold's most ardent believers."
"The Economy": "The powerful economic recovery in the U.S. looks to be setting up a two-speed rebound around the world. Wealthy countries and those with economies driven by exports are enjoying the fruits of successful vaccine campaigns and resurgent growth…. while poor nations are seeing signs that capital is flowing away toward rich nations" [Wall Street Journal]. "The U.S. economy is expected to grow by around 6.5% this year, benefiting export-oriented countries selling goods to American shoppers while putting more pressure on already-stretched supply chains. Analysts expect the U.S. stimulus alone will add 1.4% to Vietnam's economy over the next two years, second only to Mexico. Thailand's exports are forecast to rise up to 5% this year, with U.S. sales up sharply. Logistics operations are adjusting." • Well, all I can say is that we've put all our chips on "Vaccine." Let's hope the ball hits the pocket and the bet pays off, because the alternative will be wonderfully clarifying, and not in a good way.
Labor Market: "The jobs market is increasingly being built online. E-commerce heavyweight Amazon added about 500,000 workers around the world last year, including more than 400,000 in the U.S…. even as global employment rose by about net 370,000 jobs among the 286 members of the S&P 500 that have filed annual reports" [Wall Street Journal]. "The analysis illustrates how the pandemic-driven upheaval in the business world during 2020 raised the importance of digital sales and logistics. Adding to the trend, FedEx was second to Amazon with 50,000 added jobs last year, and United Parcel Service was third with 48,000 jobs, as both companies scrambled to keep up with the rapid growth in package-delivery demand. Other parts of the economy moved on a different track. In all, 133 companies in the analysis shrank their workforces. Among them, a dozen companies lost a quarter or more of their workers." • I'm thinking that logistics, very much unlike manufacturing, does not require local knowledge (machines, materiel, "management skills"). A warehouse is a warehouse. A ship's bridge is a ship's bridge. A cockpit is a cockpit. It occurs to me that the internationalist left, if any, should be taking a leaf from the book of Christian(ist) missionaries (not that book), and translate their literature into as many languages as they can.
Travel: "Delta cancels 100 flights due to staff shortages" [The Hill]. "Delta Air Lines reportedly canceled about 100 flights on Sunday due to staff shortages and placed some customers in middle seats for the first time in a year…. The company had announced on Wednesday that it would be reintroducing the sale of middle seats beginning May 1, about a year after it stopped selling those seats to allow for some social distancing on flights. Onboard drinks and snacks will also return in mid-April. Boxed meals will return in July." • Presumably they'll be shrinking their fleets to fill as many seats as possible….
* * *
Today's Fear & Greed Index: 58 Greed (previous close: 51 Neutral) [CNN]. One week ago: 40 (Fear). (0 is Extreme Fear; 100 is Extreme Greed). Last updated Apr 1 at 5:15pm. One year ago, just after the end of the Before Times: 22 (Extreme Fear). Last update 5:15pm April 1. The intern checked out on the next-to-the-last day?
The Biosphere
"Why Citizen Scientists Are Working to Cultivate New Apple Varieties" [Modern Farmer]. "Pome fruits such as apples, pears and quince are heterozygous, meaning they do not grow true to seed. If planted successfully, each seed from an apple will yield a tree that grows fruit different from its parents. Apples in particular have an incredibly complex genetic code, with approximately 57,000 genes—far more genes than the human genome's estimated 30,000 genes. Of the 7,500 known apple cultivars in the world, only 2,500 are grown in the United States. Some of the ones we know best, such as the Honeycrisp or Fuji, were developed through a modern scientific breeding process, during which researchers attempt to achieve favorable characteristics such as tastiness, crispness and resistance to diseases. Before plant breeders intentionally crossed different varieties in such fast, efficient ways, apples naturally spawned new types over many years. The apple fell, the seed germinated and, somehow, it survived and grew. The evidence can be seen across New England, a region prized for its abundance of wild apple trees, where cider makers forage for wild apples that have grown without conscious human intervention. Now, a growing number of citizen scientists in other parts of the country want to replicate the experience elsewhere. 'I couldn't have that experience that our East Coast brethren were having—going out and finding something that's totally new and grew there, originated there, just by happenstance,' says Cavalli. That's not to say there are no wild apples or seedlings growing along a fence side or in historic orchards in California, but nothing at the scale of what's available on the East Coast."
Health Care
"The Leading Causes of Death in the US for 2020" [JAMA]. Key factoid: "From 2019 to 2020…. suicide deaths declined by 5.6%."
Water
Drone shots of a Pennsylvania slag heap:
these are some pics from over the years exploring the area but:
– water flows out of this flooded mine
– into this death pond
– that runs into this stream
– that feeds this river

the problem is helpfully color coded! pic.twitter.com/ZB6yHeE1wa

— Grand Designs Outer Chaos (@bombsfall) April 3, 2021
Sports Desk
Opening Day:
Kabuki actor Ukon Onoe II throwing the opening pitch at Kyocera Dome in Osaka yesterday: https://t.co/l2NbrGpj4F pic.twitter.com/KgfFJBZQh0

— Spoon & Tamago (@Johnny_suputama) April 2, 2021
A fine example, also, of American soft power, which we're amazingly stupid about and wasteful of.
Poetry Nook
I love this poem:
HAPPY NATIONAL POETRY DAY! Time to once again share the greatest poem ever written. pic.twitter.com/x9OaWN0W3V

— Katie Hale (@halekatie) October 1, 2020
Black Injustice Tipping Point
"D.C. Urban Moms forum allows parents to gab about schools but reinforces segregation, study finds" [WaPo]. "'The conversations on DC Urban Moms illustrate what other research has also shown,' the report's conclusion states. "When privileged parents choose, they tend to choose segregation.' As the forum is anonymous, it is impossible to pinpoint exactly where each poster lives. But in posts where parents say they live in a neighborhood that is gentrifying, the Brookings study found that they mention charter schools more often than their neighborhood schools, suggesting these families are seeking information to opt out of their neighborhood schools. Families are assigned and guaranteed slots at their neighborhood schools but can apply through the city's school lottery system for a seat at a charter school or other school outside their neighborhood boundary. The study notes that many schools located in low-income neighborhoods are never mentioned in the forums and parents are using the forum to share advice on how to get access to schools they perceive as the best in the city…. [T]he results of the study are not all that surprising. D.C. neighborhoods and schools are segregated and White children — who are 12 percent of the city's more than 95,000 public school students — tend to concentrate in a relatively small number of campuses. One reason for this is residential segregation. The White families who are concentrated in the upper northwest swath of the District opt into their neighborhood schools in large numbers. Affluent families of all races have also enrolled in a relatively small number of the city's 128 public charter campuses by using the school lottery placement system."
"Test Anxiety" [City Journal]. "The fundamental problem: under the current exam-based standards, white and Asian students perform well enough to earn the vast majority of spots in gifted-and-talented programs, and an even greater share in top high schools, yet 70 percent of the roughly 1 million children across the system's 1,800 schools are black or Hispanic. Progressives say that these disparities amount to segregation and vow to ameliorate them. Many Asian parents, often of Chinese descent, say that abandoning the standardized-testing system will penalize Asian families, often poor, who have dedicated their limited resources to ensuring that their children can take advantage of every opportunity." • This logic would not apply, of course, to Asian families who brought wealth with them.
Guillotine Watch
"I Moved My Family From Brooklyn to Boulder" [WaPo]. Deck: "It was Rocky." More: "Before the November elections, three corners on a stretch of 28th Street were monopolized every Saturday by advocates. ….And then, a block down, representing his own vision of democracy, was a man in drag dancing to Taylor Swift and Rihanna. Skinny and scantily clad, he'd donned a flowing rainbow-colored wig, fishnets, stilettos and a black boa. He held a large sign that read 'Werk the Polls' on one side and 'Honk if you're horny to vote' on the other. 'I'm seducing people to the polls,' he told me when I stopped by to chat. 'I saw there was aggression and intensity.' He nodded at the Biden and Trump camps. 'I don't think the animosity is Boulder. At the end of the day, we're all people. We're all humans on the same journey.' Describing life as a journey, all of us hiking our earthbound trail together — it didn't get more Boulder than that." • It's all like this, except sometimes moreso. I'm seeing this "journey" trope a lot (especially evocative for those who are actually able to travel). "My Covid Journey," etc.
Class Warfare
"Essay Content is Strongly Related to Household Income and SAT Scores: Evidence from 60,000 Undergraduate Applications" [Center for Education Policy Analysis, Stanford]. "There is substantial evidence of the potential for class bias in the use of standardized tests to evaluate college applicants, yet little comparable inquiry considers the written essays typically required of applicants to selective US colleges and universities. We utilize a corpus of 240,000 admissions essays submitted by 60,000 applicants to the University of California in November 2016 to measure the relationship between the content of application essays, reported household income, and standardized test scores (SAT) at scale. We quantify essay content using correlated topic modeling (CTM) and the Linguistic Inquiry and Word Count (LIWC) software package. Results show that . Essay content also explains much of the variance in SAT scores, suggesting that essays encode some of the same information as the SAT, though this relationship attenuates as household income increases. ."
"Bartlett: Socialism Is as American as Apple Pie" [Bruce Bartlett, The Big Picture]. "According to the dictionary, socialism means that the government owns all the means of production, and Republicans are right that this system doesn't work very well. But absolutely no one is advocating that. Today's advocates of 'socialism' merely want a somewhat expanded welfare state or even just a government that actually works. Republicans are running against a strawman, though history tells us that has never stopped them before." • Harsh but fair.
"McDonald's, Other CEOs Tell Investors $15 Minimum Wage Won't Hurt Business" [Newsweek]. Daily Poster now appearing in Newsweek. "Big restaurant chains are telling investors that a national minimum wage hike wouldn't be a big deal—even as their corporate lobbying groups in Washington fight plans for a $15 minimum wage. 'We share your view that a national discussion on wage issues for working Americans is needed—but the Raise the Wage Act is the wrong bill at the wrong time for our nation's restaurants,' the National Restaurant Association wrote in a letter to congressional leaders in February. 'The restaurant industry and our workforce will suffer from a fast-tracked wage increase and elimination of the tip credit.' The following day, a top executive at Denny's, one of the association's members, told investors that gradual increases in the minimum wage haven't been a problem for the company at all. In fact, California's law raising the minimum wage to $15 by 2023 has actually been good for the diner chain's business, according to Denny's chief financial officer, Robert Verostek." • Perhaps the strong chains are fine with it, and the weak are not? More: "[Matt Clark, Cheesecake Factory's chief financial officer] added that a wage hike could affect some of the company's competitors, and 'ultimately the stronger survive and take market share.'"
News of the Wired
"A heathen's Easter" [Interfluidity]. Penultimate paragraph: "The history of Christianity, especially at the social and political level, imperfectly evinces this ethos which I draw from, or project onto, the tale [of Easter]. Nevertheless, I think the ethos offers crucial lessons for us now. All of our political factions, even the ones who coined the pejorative term, slip frequently into 'othering' one another. I take that to mean a withdrawal of the love, or even the aspiration of love, from some group or class of humans, often because 'they" are purported to be vicious or guilty or dangerous, to have harmed us or our values or people we hold dear. There is a lot in our social affairs that needs changing, and there will be losers as well as winners from those changes. In a broad sense, I think if we act well and wisely, there will be many fewer losers than we fear, because our misarranged society exacts terrible costs even upon most of its 'winners'. We reform society out of love for humans, to create scope for greater flourishing. But when people are harmed, whether transiently or durably, that counts as a cost, regardless of how wicked we persuade ourselves are the losers. That there will be losers is no excuse for inaction, in the same way that our love for a murderer mustn't inhibit us from sober punishment. We owe a duty to all the humans. However difficult it may be to quantify human welfare, as best we can we must find ways of improving it. But the eggs we must break are losses to be minimized, not righteous smiting of the vicious. To whomever you are shouting at, owning, canceling, legislating against, you owe a duty of love. Aspire to love even your murderer. If you are better than me (and I assure you, you are), aspire to love even your child's." • Well worth reading in full, whether you celebrate Easter or not.
Today we're celebrating #EasterSunday with this evocative painting by Rembrandt. The artist has chosen to depict the moment when the resurrected Christ, dressed apparently as a gardener, appears beside Mary Magdalen who is weeping at his tomb. https://t.co/YqbMhU6y4D pic.twitter.com/7UpCgg3cLU

— RoyalCollectionTrust (@RCT) April 4, 2021
One of those verses that persuades me there was a historical Jesus, because who on earth would make up "She, supposing him to be the gardener"?
* * *
Readers, feel free to contact me at lambert [UNDERSCORE] strether [DOT] corrente [AT] yahoo [DOT] com, with (a) links, and even better (b) sources I should curate regularly, (c) how to send me a check if you are allergic to PayPal, and (d) to find out how to send me images of plants. Vegetables are fine! Fungi and coral are deemed to be honorary plants! If you want your handle to appear as a credit, please place it at the start of your mail in parentheses: (thus). Otherwise, I will anonymize by using your initials. See the previous Water Cooler (with plant) here. Today's plan (JS):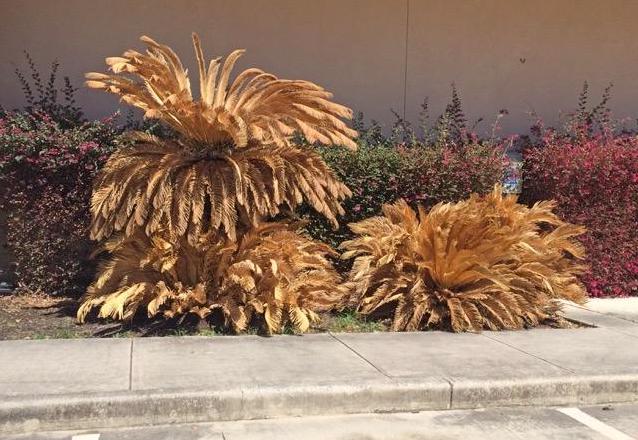 JS: "Palms after the Texas freeze." I know this is not really a Spring photo, but it has historical interest!
* * *
Readers
: Water Cooler is a standalone entity
not
covered by the recently concluded and — thank you! — successful annual NC fundraiser. So if you see a link you especially like, or an item you wouldn't see anywhere else, please do not hesitate to express your appreciation in tangible form. Remember, a tip jar is for tipping!
Regular positive feedback both makes me feel good and lets me know I'm on the right track with coverage
. When I get no donations for five or ten days I get worried. More tangibly, a constant trickle of donations helps me with expenses, and I factor in that trickle when setting fundraising goals:
Here is the screen that will appear, which I have helpfully annotated.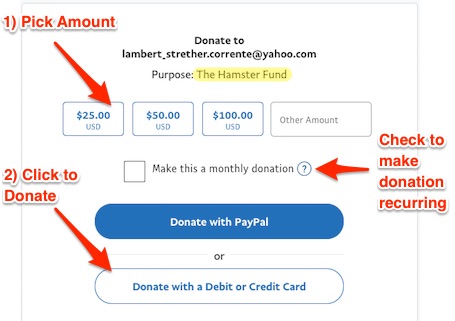 If you hate PayPal, you can email me at lambert [UNDERSCORE] strether [DOT] corrente [AT] yahoo [DOT] com, and I will give you directions on how to send a check. Thank you!