By Lambert Strether of Corrente.
Patient readers, more soon. –lambert
Bird Song of the Day
At reader request, Birds of Australia. A duet.
* * *
#COVID19
At reader request, I've added this daily chart from 91-DIVOC. The data is the Johns Hopkins CSSE data. Here is the site.
I feel I'm engaging in a macabre form of tape-watching.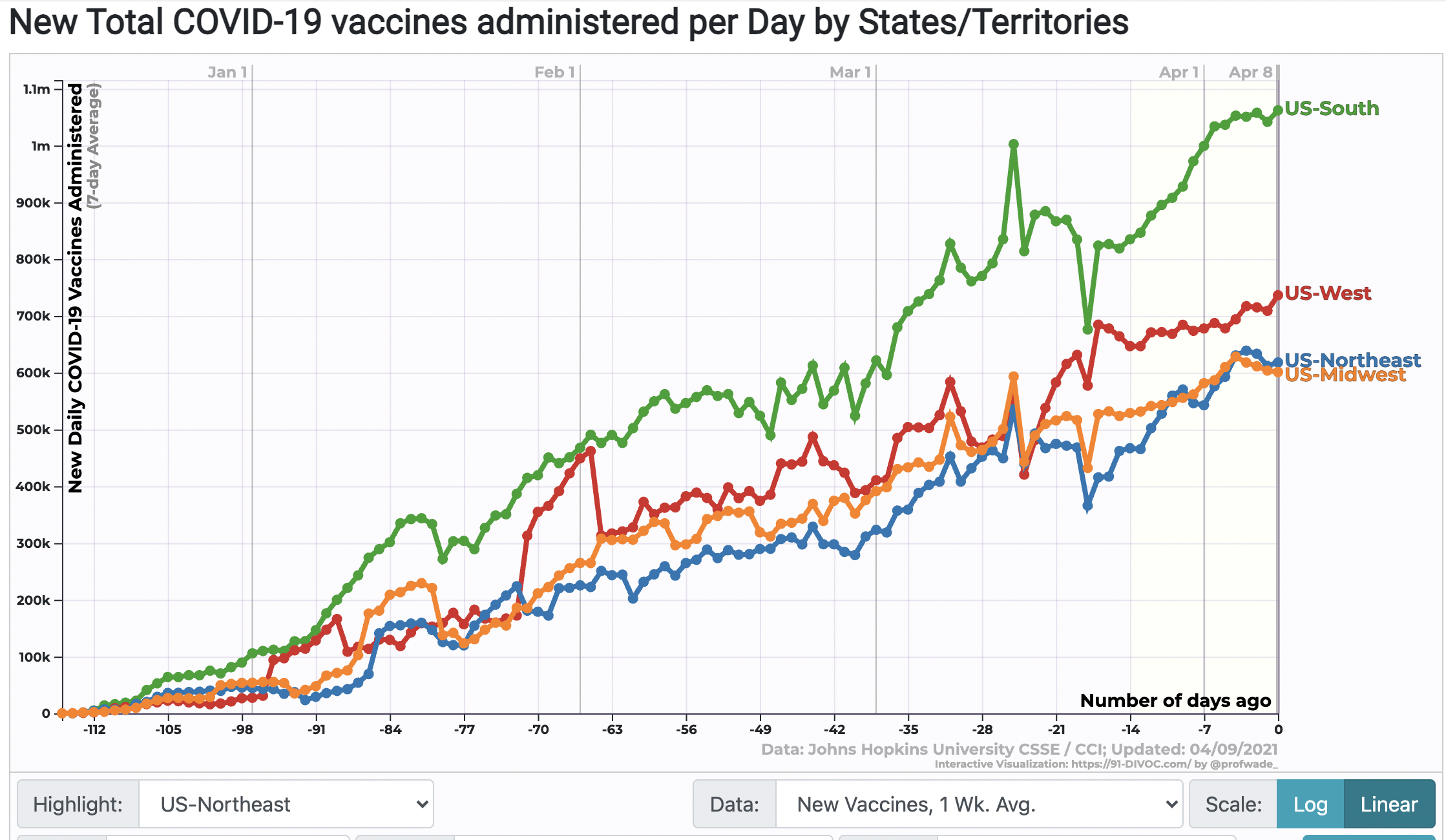 A little dip, hopefully supply not demand. • Early in February, I said a simple way to compare Biden's performance to Trump's on vaccination would be to compare the curves. If Biden accelerated vaccine administration, the rate of vaccination post-Inaugural would kink upward, as the policies of a more effective administration took hold. They have not. The fragmented, Federalized, and profit-driven lumbering monstrosity that we laughingly call our "health care" "system" has not responded to "energy in the executive," but has continued on its inertial path, albeit in an upward direction.
Case count by United States regions: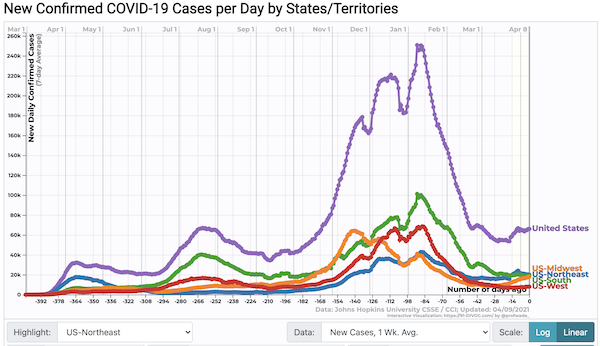 Now a slight rise.
Big states (New York, Florida, Texas, California):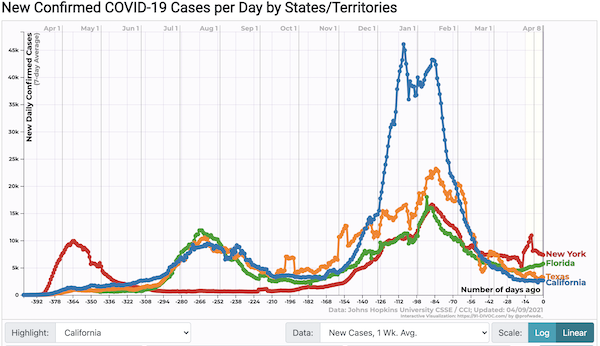 The big drop in New York, but flattening. Florida on the continues its slow climb.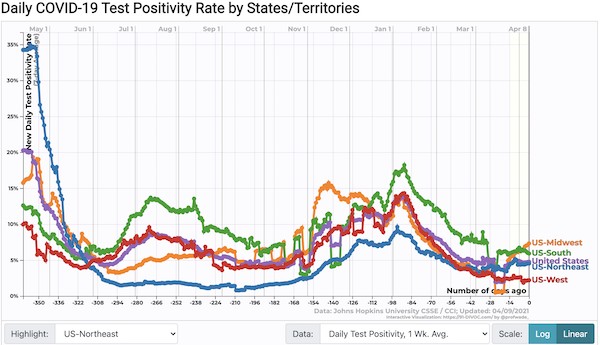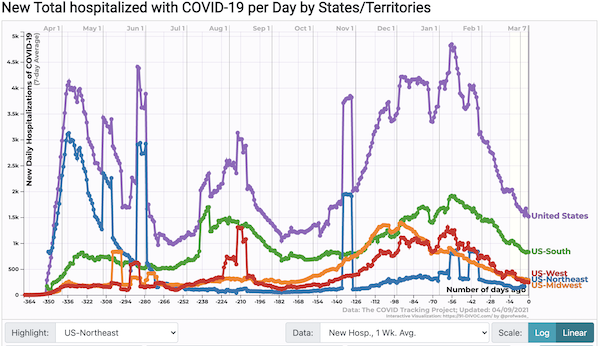 Still heading down.
Case fatality rate (plus deaths):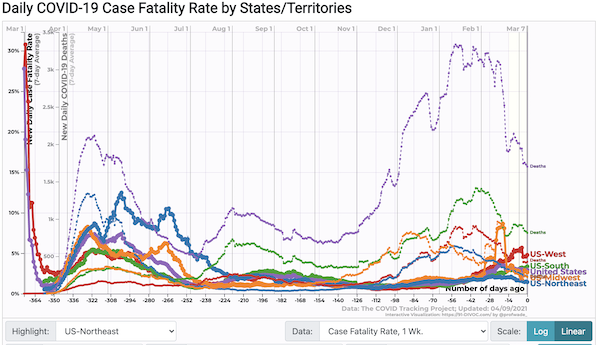 Good to see those deaths dropping. The fatality rate in the West is dropping now, for some reason as unknown as why it rose.
* * *
Politics
"But what is government itself, but the greatest of all reflections on human nature?" –James Madison, Federalist 51
"They had one weapon left and both knew it: treachery." –Frank Herbert, Dune
"They had learned nothing, and forgotten nothing." –Charles Maurice de Talleyrand-Périgord
Biden Administration
"Five reasons why US faces chronic crisis at border" [The Hill]. "Conditions on the southwest border represent a serious political challenge to President Biden, with illegal crossings and asylum requests increasing significantly in March. " • Surprise! More: "Here are five reasons why the United States faces a chronic state of crisis at the southwest border." 1) Conditions in Central America, 2) Human smuggling is a business, 3) No legal pathways, 4) Border infrastructure, and 5) Regional enforcement. And: "We'll see if they follow through. They could panic and do stupid things like every other administration has always done," said [said Frank Sharry, the founder and executive director of America's Voice, a progressive immigration advocacy group]."

"Biden Faces The Grim Reality Of A Disengaged Nation" [Heisenberg Report]. "One problem is the trust deficit. Misinformation spread on social media has driven many Americans crazy, to put it bluntly. Another issue is the education deficit. Americans simply don't understand much about the world, which makes it very difficult to reason with them. Finally, there's attention deficit. Americans don't have the patience or desire to process complex issues, let alone ponder how to go about addressing vexing problems. At one point Wednesday, Biden became visibly frustrated. he said, exasperated." • And misinformation, miseducation, and the attention deficit are all very profitable. Perhaps elites are recognizing that pivots in the world they have made are not was easy as they thought. "If a child, an untrained person, an ignorant person, or an insane person incites trouble, it is the fault of authority for not predicting and preventing that trouble." –Frank Herbert, Dune.
Democrats en Deshabille
"In her own words: Woman describes Cuomo's alleged groping at mansion" [Times-Union]. " The call came on a weekday in late November. The governor inexplicably had a technical issue with his mobile phone and needed assistance at the Executive Mansion. He contacted one of his top executive assistants at the Capitol, Stephanie Benton, and made a blunt request: The governor wanted a specific female staff member to handle the minor assignment — a woman roughly half his age. That woman had joined the administration a few years earlier, eager to pursue a career in government and to put her bachelor's degree in political science to good use… In a recent interview with the Times Union — her first public statements on the matter — she described what happened when she reached the office on the second floor: The governor came out from behind his desk, and began groping her in a sexually aggressive manner. 'And that wasn't just a hug,' she said. 'He went for it and I kind of like was, 'Oh, the door is right there.' … I was mortified that a woman who works here is going to come in and see. … I was terrified of that happening, because that's not who I am and that's not what I'm here for.' As panic set in, it flashed in her mind that insulting the governor could cost her the career she had been working so hard to build.'" • My goodness, I just can't understand why there isn't an enormous moral panic about this.

UPDATE "The Democratic Party's Consultant Factory" [The Intercept]. "The progress the party has made in diversifying its lower and mid-tier ranks means that it is not unrealistic to expect those operatives eventually move into the highest positions, both within the party committees and at the top-grossing firms. So far, the consulting ecosystem has absorbed these new voices with no disruption to business as usual, leaving in place a structure in which major Democratic Party firms spend part of their time working on behalf of candidates and the party, and the rest of their time working for corporate clients. Firms and operatives who reject that approach continue to be shut out, as the party's position with working-class voters of all races continues to weaken." • 
Republican Funhouse
"Gaetz Paid Accused Sex Trafficker, Who Then Venmo'd Teen" [Daily Beast]. "In two late-night Venmo transactions in May 2018, Rep. Matt Gaetz sent his friend, the accused sex trafficker Joel Greenberg, $900. The next morning, over the course of eight minutes, Greenberg used the same app to send three young women varying sums of money. In total, the transactions amounted to $900. The memo field for the first of Gaetz's transactions to Greenberg was titled 'Test.' In the second, the Florida GOP congressman wrote 'hit up ___.' But instead of a blank, Gaetz wrote a nickname for one of the recipients. (The Daily Beast is not sharing that nickname because the teenager had only turned 18 less than six months before.) When Greenberg then made his Venmo payments to these three young women, he described the money as being for 'Tuition,' 'School,' and 'School.' • 

"Marjorie Taylor Greene rakes in over $3.2M in first quarter" [The Hill]. "Rep. Marjorie Taylor Greene (R-Ga.) raised a staggering $3.2 million in the first quarter of 2021, her campaign said, indicating the furor over a slew of controversial remarks have not made a dent in her campaign bank account. Greene's campaign said in a press release that it had raised the money from more than 100,000 individual contributions in all 50 states and that the average donation amounted to $32."
2022
"Republicans Are Poised to Gerrymander Their Way Back to the Majority" [The Intercept]. "Yet Democrats are in a peculiar position: With control of both chambers of Congress and the White House, they have the opportunity to ban gerrymandering, restore a semblance of democratic balance to House races, and at the same time give themselves a fighting chance to hold on to the lower chamber. But it's far from a guarantee that the party will do it. Democrats may choose instead to voluntarily march themselves into a political abyss for no reason other than their own inertia and lack of imagination." • Also too, donors. More: "It's not out of the question that Democrats could buck the midterm curse. Popular conception of the midterm drop-off is misunderstood. The president's party doesn't lose seats primarily because voters change their minds or disapprove of the president's performance, or even because they're unhappy with the economy. All of those elements are a factor, but the biggest variable in the equation is who shows up to the polls." • Jpe Biden owes me six hundred bucks, so I'm highly motivated.
Stats Watch
Inflation: "March 2021 Producer Price Final Demand Again Increased Significantly" [Econintersect]. "Year-over-year inflation pressures significantly grew again this month."
Rail: "Rail Week Ending 03 April 2021 – March Rail Movements Up 14.2% Year-over-Year" [Econintersect]. "Week 13 of 2021 shows the same week total rail traffic (from the same week one year ago) improved according to the Association of American Railroads (AAR) traffic data. Total rail traffic has been mostly in contraction for over one year – and now is recovering from the coronavirus pandemic….We are now seeing great rail growth as the data is being compared to the coronavirus lockdown period last year."
* * *
UPDATE The Bezzle: "Breakingviews – TuSimple $8 billion IPO destination looks out of range" [Reuters]. "TuSimple, though, has virtually no revenue – just $1.8 million in 2020. And while the company is targeting 2024 for commercial production, actual use of fully driverless tech on open roads could be several more years away as authorities decide whether and how to allow it."
Tech: "With 'smoke ring' technology, fusion startup marks steady progress" [Science]. "A private company betting on an innovative fusion technology announced today that its latest device can sustain high temperatures for long reaction times—a major step toward a reactor capable of producing more fusion energy than is consumed by the device. The company, TAE Technologies, is still far from that goal, which huge government efforts are also pushing toward. But its achievements so far have drawn $880 million in investment—more than any other private fusion company. The company also announced plans to scale up to a larger machine, which it hopes will reach fusion conditions by 2025…. Investors appear to believe him. The company has attracted big name funders, including Paul Allen's Vulcan Capital, Google, the Wellcome Trust, and the Kuwaiti government. Norman's results alone have helped TAE raise $280 million, and Copernicus is already 50% funded. 'Many people are very impressed by how they've opened up the wallets of venture capitalists,' [plasma physicist Cary Forest of the University of Wisconsin, Madison] says. "If they can maintain this Moore's law type progress, maybe they can get there.'"
UPDATE Tech: "California billionaire's real estate firm to begin allowing tenants to pay rent in bitcoin" [CNBC]. "Billionaire Rick Caruso's eponymous real estate company is jumping into the world of cryptocurrency, announcing Wednesday it will begin accepting bitcoin as rent payment at its residential and retail properties….. The moves from Caruso's Los Angeles-based company represent the latest institutional adoption of bitcoin, which is seen as one factor helping the world's largest cryptocurrency soar in price in recent months."
Manufacturing: "Ford, GM cutting more production ahead of White House meeting on chip shortage" [Reuters]. "General Motors and Ford both said on Thursday they will cut more vehicle production due to a semiconductor chip shortage that has roiled the global automotive industry…. A U.S. auto industry group this week urged the government to help and warned that a global semiconductor shortage could result in 1.28 million fewer vehicles built this year and disrupt production for another six months."
UPDATE Manufacturing: "Why Shortages of a $1 Chip Sparked Crisis in Global Economy" [The Register]. "Samsung described the quarterly revenue and operating profit as the highest in the company's history…. Samsung is less affected by the [chip] shortage than others as the giant chaebol makes many of its own components. Although one Samsung factory in Texas was shut down in February due to power outages, operations returned to normal in late March."
Infrastructure: "One Big Chinese Lesson for America's Infrastructure Plan" [Bloomberg]. "There's a vital lesson in the way China has managed to roll out so much investment in such a short time. Effective infrastructure depends not so much on top-down directives and funding, as on giving local governments and private businesses the right incentives to develop the facilities they need. In America, municipal and state governments still struggle to capture the economic benefits brought about by their infrastructure investments. It's little wonder they're not building enough. Capturing the land value of improved infrastructure is fundamental to the modern Chinese economy. The model is brutally effective. First, governments secure land on the fringes of cities, where the property rights of individual landowners are often weak. Next, build the transport and communications needed to transform rural real estate into far more valuable development land. Finally, sell shovel-ready residential and commercial plots to real estate developers at vastly inflated mark-ups. This system has been so effective over the past decade that about 29% of China's consolidated government revenue in 2017 came from real estate sales, according to Caijing." • Not sure that Amtrak map does this….
* * *
Today's Fear & Greed Index: 62 Greed (previous close: 64 Greed) [CNN]. One week ago: 51 (Neutral). (0 is Extreme Fear; 100 is Extreme Greed). One year ago, just after the end of the Before Times: 26 (Extreme Fear). Last updated Apr 7 at 12:23pm.
Water
"Southwest braces for water cutbacks as drought deepens along the Colorado River" [AZ Central (Carolinian)]. "Unrelenting drought and years of rising temperatures due to climate change are pushing the long-overallocated Colorado River into new territory, setting the stage for the largest mandatory water cutbacks to date. Lake Mead, the biggest reservoir on the river, has declined dramatically over the past two decades and now stands at just 40% of its full capacity. This summer, it's projected to fall to the lowest levels since it was filled in the 1930s following the construction of Hoover Dam. The reservoir near Las Vegas is approaching a threshold that is expected to trigger a first-ever shortage declaration by the federal government for next year, leading to substantial cuts in water deliveries to Arizona, Nevada and Mexico. "
"Concerned about water quality, Fort Worth companies pour money into the Trinity Basin" [Star-Telegram]. "A diverse group of conservation organizations, government agencies and multinational corporations have formed the Texas Water Action Collaborative, or TxWAC, to address the challenge head on. While there are plans to add more companies, the list of founding members includes Molson Coors, Frito-Lay North America, PepsiCo North America, Coca-Cola North America and Keurig Dr. Pepper. The new partnership, modeled after a similar initiative in California, seeks to invest millions into projects that will improve water quality and quantity in the Upper Trinity River basin, which is centered in the Dallas-Fort Worth region. Besides private companies, the Trinity River Authority, the federal Natural Resources Conservation Service and the water district are all on board. Texas is unique in that more than 95% of land is privately owned, requiring solutions that engage landowners directly, said Joni Carswell, the CEO of Texan By Nature, the environmental nonprofit founded by Laura Bush. Her organization is taking the lead on coordinating the group's communications and matching corporate money with conservation proposals." • Not the state, apparently.
The Biosphere
"It Had Been Beautiful" [The Baffler]. "In 2020, after another dry summer and mild winter, it was found that crown defoliation, a main indicator of tree health, had risen to thirty-six percent in 2019 and that trees destroyed by pest infestations in German forests had increased almost six-fold since 2018. 'Anyone driving through Germany at the moment can already see the catastrophe with the naked eye, almost everywhere,' wrote the journalist Christian Stöcker in his column in Der Spiegel. 'Wooded slopes, whether in Lower Saxony, North Rhine-Westphalia, Thuringia or Bavaria, look like the backs of mangy animals: ugly brown spots everywhere, sparse patches, large areas with trees that can be recognized as dead from afar.' In addition to the pests, which forecasters warned had not yet reached their peak, years of industry and traffic pollution, agriculture, and fertilization had leached the soil of nutrients. Meanwhile, long-term acidification had forced the trees to migrate their roots to the upper layers of the earth: the exact depth where drought was hitting the hardest. At the same time, reforestation was becoming more convoluted as foresters felt less sure which trees would survive in a warming climate. As a result, foresters and forest owners were locked in a managerial quagmire.
Health Care
UPDATE "The World Needs the Not-for-Profit AstraZeneca Vaccine, Minus the AstraZeneca Drama" [Bloomberg]. The deck: "A series of unforced errors by the British pharma company has turned hope into hesitancy." • The article is well worth a read, because the list of unforced errors is a long one. Still, I cannot help but feel that AZ is developing a non-profit vaccine that will help the developing world, they are very much a white crow among the black crows of the for-profit company, and their errors have been magnified in a way that the errors of others have not. Can any vaccine mavens comment?
UPDATE "That Fyre Fest tweet with the sad sandwich will be auctioned as an NFT for medical expenses" [The Verge]. "Trevor DeHaas is auctioning his 2017 tweet of the 'dinner' he received at Fyre Fest as an NFT. But unlike the Fest itself, the tweeted photo of the limp cheese slice on wheat bread with some greens and a sad tomato in a styrofoam container isn't a grift; as first reported by Axios, DeHaas is hoping to raise $80,000 which he plans to put toward his medical bills. 'With how hot the NFT market is right now I figured I'd give it a shot and could hopefully raise enough money that I wouldn't need to rely on a GoFundMe to pay for my medical expenses,' DeHaas said in an email to The Verge. 'The last thing I want is to guilt trip someone into buying the NFT and copyright to pay for my medical expenses but I would like the auction winner to know that their money would be going to a good cause.'" • The sandwich:
That Fyre Fest tweet with the sad sandwich will be auctioned as an NFT for medical expenses for the man who tweeted it who needs a kidney transplant https://t.co/gBLvwc27ZC

— D. Hunter Schwarz (@hunterschwarz) April 8, 2021
The most American story ever.
Feelings, nothing more than feelings:
This tweet is prompted because I was looking for information on vaccines, and every other article seemed to have a doctor or public health person saying they are afraid if people do things one way versus another. It is a weird and unprofessional way to communicate science.

— Matt Stoller (@matthewstoller) April 9, 2021
Feral Hog Watch
UPDATE "Where Boars Hog the Streets" [New York Times]. "The wild boars of Haifa, in short, are no longer particularly wild. Once largely confined to the many ravines that slice through this hilly port city on the Mediterranean, the boars have become increasingly carefree in recent years and now regularly venture into built-up areas, undeterred by their human neighbors. 'It became like an everyday thing,' said Eugene Notkov, 35, a chef who lets his dog play with the boars that putter around the local parks. 'They're a part of our city,' he added. Bumping into one is 'like seeing a squirrel.'" • Or like cats in Istanbul. The photos are astonishing!
Groves of Academe
UPDATE "The Real Development Was The Friends We Made Along The Way" [Oliver W. Kim]. "["Development Economist Albert O. [Hirschman (d. 2012)] formalizes this insight with his famous notion of backward and forward linkages. Backward linkages are the demand created by a new industry for its inputs, like steel for an auto plant or milk for a cheesemaker. Forward linkages are the reverse–the knock-on effects of a new industry's outputs on the firms it supplies. Backward linkages, Hirschman goes on to explain, are better at spurring growth than forward ones. Rather than plopping down a steel factory somewhere, with no customers assured, it is far easier to build the auto plant first, sourcing the car parts from other countries as needed, then gradually entice local producers to enter the market. Instead of a Big Push across all industries at once, Hirschman calls for the Targeted Strike–choose the sectors with the most potential to create demand for other inputs, and support those." • Wednesday was Hirschman's birthday, the occasion of this wonderful summary of Hirschman's life. Compare his life to our current crop of economists, emitted by the Harvard/Yale/Chicago pipeline! And I wonder what Biden's infrastructure plan looks like, viewed through the lens of a development economist like Hirschman.
UPDATE "Remembering the Father of Supply-Side Economics" [Bruce Bartlett, The New Republic]. "The economist Robert Mundell died on April 4. Although known primarily for his work on international economics—he's popularly known in economic circles as the "father of the euro"—he played a vital role in the creation of what came to be known as supply-side economics: the idea that big tax cuts will so stimulate economic growth that revenues will not fall. Important supply-siders such as Arthur Laffer and Jude Wanniski credited Mundell as the originator of their ideas. And while these ideas have engendered decades of hotly contested debate, Mundell's foundational work is still very vital today, even to the pandemic recovery that America has embarked upon in the early days of the Biden administration."
This Day in History
UPDATE A happy day:
This Day in Labor History: April 9, 1865. The traitor Robert E. Lee surrenders, ending the Civil War and its Treason in Defense of Slavery. Let's talk about how it was the slaves who freed themselves as part of an uncoordinated general strike and won the war! pic.twitter.com/Zcf3p4d9MB

— Erik Loomis (@ErikLoomis) April 9, 2021
The Agony Column
"An Interview With the Man Who Keeps Uploading My Feet to WikiFeet" [The Cut]. "I like the painted toes. I like an arch, the more pronounced the better. I'm kinda weird with the toes, I like a rounded big toe. If it's more square it's okay, but the rounded is better. I definitely like the soles. But I like the arches, that gets you turned on."
The Conservatory
"Real Life Rock Top 10: March 2021" [Greil Marcus, Los Angeles Review of Books]. "The Gang of Four offered a drama of false consciousness produced by consumerism, and a dramatization of the state of mind that came with it: the inability to think straight. This isn't a matter of words, whether sung in a hysterical rush by King in "I Found That Essence Rare," "Return the Gift," "What We All Want," or "Natural's Not in It" ("The problem of leisure / What to do for pleasure / Coercion of the senses, we are not so gullible / Our great expectations, a future for the good / Fornication makes you happy, no escape from society") or quietly analyzed by Gill in "Anthrax," "Paralysed," or "Why Theory" (following up the most unlikely song title in pop history with a staccato lecture that's also like the kind of bar talk that happens when the drunk next to you has reached the state where everything is absolutely almost clear ["We've all got opinions / Where do they come from? / Each day seems like a natural fact"]). In Gang of Four songs, lyrics are a kind of guide vocal to the intellectual argument being made sonically, as one or two instruments are dropped out of a song as if at random, and then crash back in, as rhythms are scattered and reassembled with pieces missing so that as the progression of a song continues you hear the song questioning itself."
Our Famously Free Press
"The Mess at Medium" [The Verge]. "Medium entered the year with more than 700,000 paid subscriptions, putting it on track for more than $35 million in revenue, according to two people familiar with the matter. That's a healthy sum for a media company. But it represents a weak outcome for Williams, who previously sold Blogger to Google and co-founded Twitter, which eventually went public and today has a market capitalization of more than $50 billion. Medium has raised $132 million in venture capital, but its last funding came in 2016. Williams has been funding the company out of his own pocket since then, sources said…. Most of the company's readers look like Williams: 71 percent are white, 55 percent are male, and 53 percent make more than $100,000 a year, according to internal numbers shared with me." • Weird that Medium never turned into Substack.
"How QAnon helps its followers find conspiracy in chaos" [MSNBC]. "We recognize ourselves in a few wisps of nimbus cloud, see the curve of a smile in the night sky and form a man out of moon rock; the religiously inclined might recognize, in the patterns on a Maillard-browned bit of toast, the face of a holy savior. Pareidolia is an ancient phenomenon that's part of a subclass of a broader set of human behaviors, the tendency to see patterns where none exist. The equally lovely Greek word for that tendency is apophenia. To the apophenia-prone, life is not a jumbled drawer jammed with oddments of numbers and times and chance meetings; there are hidden patterns and significances to nearly everything, just as, to our ancient counterparts, a few clustered celestial bodies might form a bear or a plow or a queen perched all night on a throne of stars. Down here below Cassiopeia, on the dim and bounded Earth, apophenia has its drawbacks." • Like RussiaGate?
Class Warfare
"Amazon workers in Bessemer have voted not to form a union" [Ars Technica]. "A majority of workers have voted not to form a union at the Amazon Fulfillment Center in Bessemer, Alabama. The result of the NLRB's initial vote count was 1,798 votes against the union and 738 in favor. Hundreds of additional ballots were not counted because their authenticity was disputed. But the "no" side already has a majority of the 3,215 votes cast, making the issue moot." • Mike Elk:
RWDSU's "hot shop" organizing strategy also played a role in their defeat.

Sure the union busters were terrible, but the union made some missteps too https://t.co/vIU7iRAOzm

— Mike Elk (@MikeElk) April 8, 2021
("Hot shop" defined.)
"Anti-Union Amazon Workers Explain How Mandatory Anti-Union Meetings Turned Them Against RWDSU" (videos) [Payday Report]. "While captive audience meetings are often depicted as being hostile situations, Jeremiah Okai said he found the meetings were 'cool.' 'They were cool, they were just telling us what the union did,' said 19-year-old Okai. It was the presentation about union dues that helped persuade him to vote against the Amazon union in Alabama. '[The union] is going to take money away from me,' Okai said. 'I don't want no money taken away from me.'" • Kudos to Elk for actually talking to workers (he met them in the parking lot). What a concept.
"Blowout in Bessemer: A Postmortem on the Amazon Campaign" [Jane McAlevey, The Nation]. The deck: "The warning signs of defeat were everywhere." A good compilation of errors: "Plant gate as focus, no house calls. In the vast majority of successful campaigns, how and where conversations with workers take place is crucial. On a web search engine, if you enter "Amazon changes traffic light pattern in Alabama," the results show dozens of stories, highlighting one of many tactics Amazon deployed to frustrate the activists and organizers in the campaign. While nefarious, it's completely within the norm of hard unionization fights in the United States. On Twitter, when the story first hit, people who had experienced the same thing took to social media to say, "Yeah, that happened in northern Ohio, too—in our election where the company dominates town politics." None of these tactics are surprising with one read of Confessions of a Union Buster. What was concerning to experienced organizers, however, was the realization that the majority of the face-to-face contacts with workers were happening at the plant gate." And: "Workers watching coworkers take a stand in large numbers is what wins, not rallies with out-of-state superstars, not famous football players, not famous actors and actresses, not even Bernie Sanders or the president of the United States. (Though President Biden's video is still worth applauding for many reasons: future campaigns and the general legitimacy of unions, not the least.) When there are more outside supporters and staff being quoted and featured in a campaign than there are workers from the facility, that's a clear sign that defeat is looming." • :-(
"Why the Amazon union vote is bigger than Amazon" [The Verge]. A good wrap-up. This caught my eye: "It's been a hard fought campaign on both sides. Organizers expect the vote to be close, though Connelly is optimistic. More than 3,000 workers had signed cards expressing interest in a union in the runup to the election, an organizer previously told The Verge, more than enough to win if they all voted yes." • In other words, if Obama hadn't betrayed labor by not passing card check, the union wins. Thanks, Obama!
"Randi Weingarten has a vision to get kids back to school — and strong words for Jews who say unions are the obstacle" (transcript) [Jewish Telegraphic Agency]. Weingarten: "American Jews are now part of the ownership class."
News of the Wired
UPDATE "How to survive the end of the future: Preppers, pathology, and the everyday crisis of insecurity" [Transactions of the Institute of British Geographers]. Fascinating if you can penetrate the academic tone. For example: "Within debates over crisis determination and appropriate public and private anticipatory action, the "prepper" is often used as a benchmark against which to measure the rationality of responses. Wedded in media and wider cultural representations to far‐fetched visions of the apocalypse, what actually constitutes crisis for preppers varies along a spectrum of belief and practice.1 Ranging from short‐term personal disruptions to longer‐term societal collapse, what the experienced and anticipated crises that drive prepping share is the individual's dislocation from infrastructural services and the absence of sufficient state action to protect, rescue, or remediate. Preppers respond through a range of material practices including stockpiling food, medicine, and equipment to shelter in place ("bugging‐in"), by packing a range of mobile carries to facilitate quick escapes and enable survival on the move ("bugging‐out"), by developing survival skills, and, in some cases, by learning self‐sufficiency skills to adapt to an imagined post‐collapse environment. Their stockpiles are often hidden to guard from future theft by security forces or by the unprepared "hoards" in imaginations of future crisis. But they are also concealed to avoid the ridiculing eye of a society in which preppers are constructed as selfish or "tin foil hat wearing loonies." However, the recent media coupling of prepping to political anxiety over Brexit and ecological anxiety over climate change – politically fraught but more socially accepted crisis concerns – has temporarily recalibrated the coordinates of difference between rational and irrational, condoned and pathological anticipatory subjectivities." • I think I could shorten this to say: "Given the givens, the preppers don't look so cray cray." Again, this is an academic study, but it's still a useful survey.
UPDATE "Collections: Clothing, How Did They Make It? Part IVa: Dyed in the Wool" [A Collection of Unmitigated Pedantry]. "The popular image of most ancient and medieval clothing is typically a rather drab affair, with the poor peasantry wearing mostly dirty, drab brown clothes (often ill-fitting ones) and so it might be imagined that regular folks had little need for involved textile finishing processes or dyeing; this is quite wrong. We have in essence already dispatched with the ill-fitting notion; the clothes of poor farmers, being often homespun and home-sewn could be made quite exactly for their wearers (indeed, loose fitting clothing, with lots of extra fabric, was often how one showed off wealth; lots of pleating, for instance, displayed that one could afford to waste expensive fabric on ornamentation). So it will not be a surprise that people in the past also liked to dress in pleasing colors and that this preference extended even to relatively humble peasants. Moreover, the simplest dyes and bleaching methods were often well within reach even for relatively humble people. What we see in ancient and medieval artwork is that even the lower classes of society wore clothes that were bleached or dyed, often in bright, bold colors."
Archetype (1):
Photography © Helen Levitt

NYC
1938 pic.twitter.com/CHKPF35BpG

— Jo Coyne (@Jopolkadot) April 9, 2021
Archetype (2):
Self-Portrait, 1984 #jeanmichelbasquiat #americanart pic.twitter.com/hX7DDDMB9o

— Jean-Michel Basquiat (@artistbasquiat) April 6, 2021
* * *
Readers, feel free to contact me at lambert [UNDERSCORE] strether [DOT] corrente [AT] yahoo [DOT] com, with (a) links, and even better (b) sources I should curate regularly, (c) how to send me a check if you are allergic to PayPal, and (d) to find out how to send me images of plants. Vegetables are fine! Fungi and coral are deemed to be honorary plants! If you want your handle to appear as a credit, please place it at the start of your mail in parentheses: (thus). Otherwise, I will anonymize by using your initials. See the previous Water Cooler (with plant) here. Today's plant (TH):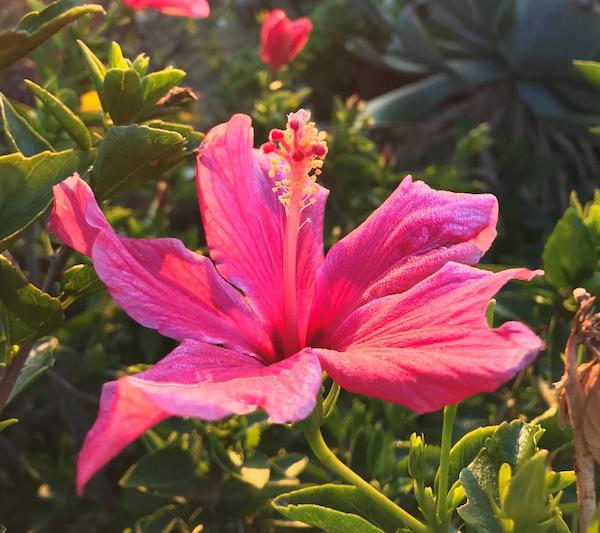 TH writes: "One of our dew adorned hibiscus plants in the early morning light."
* * *
Readers: Water Cooler is a standalone entity not covered by the recently concluded and — thank you! — successful annual NC fundraiser. So if you see a link you especially like, or an item you wouldn't see anywhere else, please do not hesitate to express your appreciation in tangible form. Remember, a tip jar is for tipping! Regular positive feedback both makes me feel good and lets me know I'm on the right track with coverage. When I get no donations for five or ten days I get worried. More tangibly, a constant trickle of donations helps me with expenses, and I factor in that trickle when setting fundraising goals:
Here is the screen that will appear, which I have helpfully annotated.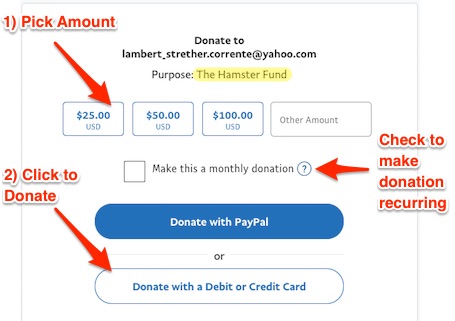 If you hate PayPal, you can email me at lambert [UNDERSCORE] strether [DOT] corrente [AT] yahoo [DOT] com, and I will give you directions on how to send a check. Thank you!