Yves here. I'm running this post with its original headline, although the article doesn't make terribly clear what "Christian nationalism" is. The author defines is at extreme evangelism but I'm at a loss to understand what makes that "nationalism". The reason I am running this article is that it discusses an specific issue that IM Doc mentioned back in early February.
And even though we are discussing different subcultures in America, we might as well be talking about different countries. One of the lessons I learned by virtue of deciding to see the world on the McKinsey plan, was that virtually without exception, US companies entering a foreign market would royally screw things up. Even if they'd managed to hire good managers from the new market, the top brass would reject recommended changes to the product or branding to cater to local tastes: "They can't possibly want that! Of course they'll prefer our superior dog food!" They almost always had to fail before they'd listen to how the locals thought about things and understand why they wanted what they wanted.
I had sent a link from the Ghion Journal, which was and is pretty up in arms about the Covid vaccines, as an example of vaccine alarmism in the black community. IM Doc said then that he was hearing a lot of reports from doctors in his network in big cities of vaccine hesitancy among blacks and if anything more so among Latinos at that point. But he was the first to alert me to opposition among conservative Christians, beyond those based on the mistaken belief that fetal cells had somehow been used in vaccine development (true in a very strained sense with the J&J vaccine). From his e-mail:
We are seeing all this rage and rush to get vaccinated right now. It is easy to assume there is widespread demand. That is not true…. And then the fun will begin. If you think the anti-mask, anti-lockdown people have been ridiculed and shamed – you have not seen anything yet. I know my Big Pharma and it is obvious they have a stranglehold on our agencies and politicians. They have gotten so used to complete acquiescence that they are becoming supremely over-confident. Trust me, if they think they will get away with forced vaccination of kids for school, they have no idea what they are stepping in. Also, I can think of no quicker way to bankruptcy for airlines and cruise companies then to demand a vaccine passport. They will instantly cut their customer base by 30-40%.

It is not just blacks and Latinos. Our medical and public health elites have their head so far up their ass that they are missing critical cultural and religious issues going on all over this country with regard to the vaccine. For example, my oh so Protestant family members and all their friends back home have zero intention of taking this vaccine. All the talk of vaccine passports and vaccine cards to get in and out of stores and restaurants and events have convinced them that this is the first manifestation of the long anticipated Mark of the Beast. To take the Mark of the Beast is a certain trip to Hell for Eternity….And because of our elites' complete bungling insensitivity, they have already completely and permanently alienated these people. Again, this is being preached from their pulpits, and no amount of coercion or threats is going to work. I grew up in that environment. I know what I am talking about. They will starve to death before they take The Mark of the Beast.
I have no idea how large this population is. IM Doc gave an estimate for rural America and the South that struck me as high, having lived in the rural upper Midwest, Oregon, and spent a lot of time in Maine. But the point is this is a cohort that is not trivial in size, and its existence has finally gotten the attention of some in the officialdom, too late in the game for them to change course. You'll see the out-of-touch recommendation in the piece:
…faith leaders can guide their followers and use their pulpits to encourage parishioners that the vaccine is safe and in line with religious doctrines.
That could work with concerns that are based on misinformation, but not ones based on views that see social control/surveillance as evil. There's no way of prettying up the more heavy-handed schemes to get citizens to take the shot.
And IM Doc, then as now, argued that the bureaucrats have done a terrible job with general practitioners by failing to give the information needed to give honest answers and "best available data" assessments of outcomes and risks:
And again, I will remind you – as a primary care physician I have been tasked with educating patients about these vaccines. I have little if any information about safety. I have zero information on how these vaccines will help death or hospitalizations. I have zero information on how long the immunity will last. I have zero credible and often wildly disparate information about whether it will work on these variants, which are now this month's panic porn topic on the news. I have very educated patients who come to ask questions all day every day. I will not lie to them, nor will I smile and pass out happy horse shit like so many of my colleagues seem to be doing. The medical elites have put the normal PCPs of this country in a very difficult if not impossible situation.

I hope and pray that all goes well. I, like everyone else, want this to be over. However, if something goes majorly wrong with this gamble, God help us.
By Monique Deal Barlow, Doctoral Student of Political Science, Georgia State University. Originally published at The Conversation
While the majority of Americans either intend to get the COVID-19 vaccine or have already received their shots, getting white evangelicals to vaccination sites may prove more of a challenge – especially those who identify as Christian nationalists.
A Pew Research Center survey conducted in February found white evangelicals to be the religious group least likely to say they'd be vaccinated against the coronavirus. Nearly half (45%) said they would not get the COVID-19 shot, compared with 30% of the general population.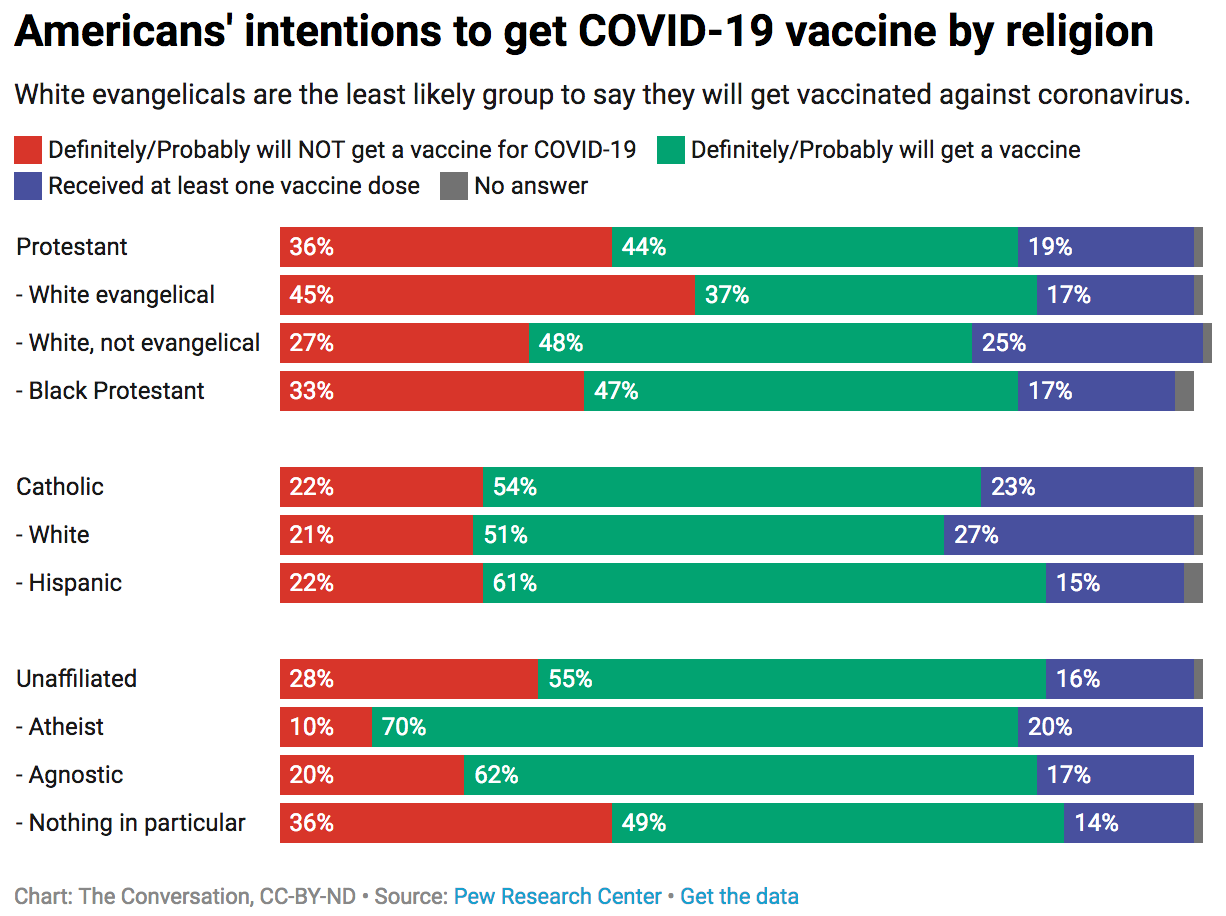 Some evangelicals have even linked coronavirus vaccinations to the "mark of the beast"– a symbol of submission to the Antichrist found in biblical prophecies, Revelation 13:18.
As a scholar of religion and society, I know that this skepticism among evangelicals has a background. Suspicion from religious conservatives regarding the COVID-19 vaccine is built on the back of their growing distrustof science, medicine and the global elite.
'Anti-Mask, Anti-Social Distance, Anti-Vaccine'
Vaccine hesitancy is not restricted to immunization over COVID-19. In 2017, the Pew Research Center found that more than 20% of white evangelicals – more than any other group – believed that "parents should be able to decide not to vaccinate their children, even if that may create health risks for other children and adults."
Meanwhile, there are concerns that many white evangelicals are becoming more radical. Faith is not in itself an indication of extremism, but the attack on the Capitol on Jan. 6 showed that there is a problem when it comes to some evangelicals also holding extreme beliefs. White evangelicalism, in particular, has been susceptible to Christian nationalism– the belief that the U.S. is a Christian nation that should serve the interests of white Americans.
Those who identify as Christian nationalists believe they are God's chosen people and will be protected from any illness or disease.
This proves problematic when it comes to vaccinations. A study earlier this year found Christian nationalists were far more likely to abstain from taking the COVID-19 vaccine. It builds on research that found Christian nationalism was a leading predictor of ignoring precautionary behaviors regarding coronavirus.
Christian nationalists tend to place vaccinations within a worldview that generally distrusts science and scientists as a threat to the moral order. This was seen in the response of many on the religious right to guidance on masks and social distancing as well as, now, vaccines.
And in some cases it was driven by church leaders in the wider conservative evangelical community. For example, Tony Spell, a minister at the Life Tabernacle Church in Baton Rouge, Louisiana, defied authorities in holding mass church gatherings even after the state deemed them illegal. He has also rejected warnings that the pandemic is dangerous, stating, "We're anti-mask, anti-social distancing, and anti-vaccine."
He believes the vaccine is politically motivated and has used his pulpit to discourage church members from taking the vaccine.
This anti-vaccine attitude fits with the anti-government libertarianism that predominates among Christian nationalists. Many within the movement place this belief in freedom from government action within a traditional religious framework.
They feel that COVID-19 is God's divinely ordained message telling the world to change. If the government tells them to go against that idea and vaccinate, many of them they feel they are either going against God's will or that the government is violating their religious freedom.
Such a view was also seen before the vaccination rollout. White evangelicals were the least likely religious group to support mandated closures of businesses, for example.
Countering Misinformation
The problem isn't just that Christian nationalist beliefs will be a considerable barrier to herd immunity. To dispel myths about the COVID-19 vaccination among conservative religious communities, church leaders need to be enlisted to communicate facts about the vaccine to their parishioners – who may trust church leaders more than scientists and the government.
For vaccination rates to be increased, messages must come from trusted people in the community. The opinion of a government official will in many instances matter far less to a Christian nationalist than advice from a church leader.
As such, I argue, faith leaders can guide their followers and use their pulpits to encourage parishioners that the vaccine is safe and in line with religious doctrines.
To enable this, church leaders need to both understand and communicate to parishioners the origins of the vaccine. Many evangelicals are under the mistaken impression that vaccines were developed using fresh fetal tissue and are immensely troubled by that fact.
In reality, none of the vaccinations for COVID-19 available in the U.S. was manufactured using new fetal stem cells, but the Johnson & Johnson one was developed using lab-created stem cell lines derived from a decades-old aborted fetus. Many evangelical churches have determined that it is ethical for anti-abortion Christians to take the other vaccines when there are no other options for the preservation of life.
Some within the wider evangelical movement have begun sounding the alarm over the influence of radicalized Christian nationalism.
After the Jan. 6, 2021, attack on the Capitol, a coalition of evangelical leaders published an open letter warning: "We recognize that evangelicalism, and white evangelicalism in particular, has been susceptible to the heresy of Christian nationalism because of a long history of faith leaders accommodating white supremacy."
And many high-profile evangelical leaders acknowledge that they can maintain their personal and biblical integrity while also supporting scientific breakthroughs by connecting what they see as the wonders of God's universe to science.
For example, Francis Collins, head of the National Institutes of Health and a devoted evangelical Christian, has said: "The church, in this time of confusion, ought to be a beacon, a light on the hill, an entity that believes in truth."
"This is a great moment for the church to say, no matter how well intentioned someone's opinions may be, if they're not based upon the fact, the church should not endorse them."