Patient readers, Yves apologizes for a dearth of original posts. Due to family drama, elder care, and travel planning to address her health issues, her concentration is not what it could be. –lambert
There's a single New Jersey deli doing $35,000 in sales valued at $100 million in the stock market CNBC
Data Brokers Are a Threat to Democracy Wired
#COVID19
WHO throws in the towel on aerosols?

Thank you for updating this site to prominently include these links.

When will the Scientific Brief be updated to include the various peer-reviewed studies that have been released?https://t.co/W1fu3VcCKS pic.twitter.com/3nc2rcG7de

— C Pita (@CPita3) April 15, 2021

Over to you, CDC! Please, please, don't make underfunded schools spend money on hygiene theatre that gives only the illusion of safety!

Covid-19 has redefined airborne transmission British Medical Journal. "It is now clear that SARS-CoV-2 transmits mostly between people at close range through inhalation."

Outdoor Transmission of SARS-CoV-2 and Other Respiratory Viruses: A Systematic Review Journal of Infectious Diseases. A review of the literature. Conclusions: "Existing evidence supports the wide-held belief that risk of SARS-CoV-2 transmission is lower outdoors but there are significant gaps in our understanding of specific pathways."

Discrimination of SARS-CoV-2 infected patient samples by detection dogs: A proof of concept study PLOS One (LA). Methodological critique of previous studies:

Jendrny et al. trained eight detection dogs over one week to discriminate between SARS-CoV-2 positive and negative saliva and tracheal secretion samples. Though they presented the dogs with 1012 randomized samples (across all eight dogs), most of these were repeated presentations of samples from the same individuals, despite being initially novel. In the double-blind experiment with seven novel SARS-CoV-2 positive and seven novel SARS-CoV 2 negative samples, though the samples were initially novel, they were presented repeatedly and the data are reported together, making it more difficult to discuss the dogs' true ability to generalize to completely novel samples."

And so:

Because dogs will readily respond to the stimulus that is rewarded most frequently, this generalization is critical for potential deployment of dogs in the search for a rapid diagnostic test for COVID-19. The more novel profiles of both positive and confirmed negative samples without repetition of individuals will promote generalization by the dogs and identification by the sensors of the specific COVID-19 target odor profile.

Presumably dogs have generalized odor detection for other diseases, however.

* * *

Johnson & Johnson delay prompts criticism of CDC panel The Hill

Pfizer CEO says third Covid vaccine dose likely needed within 12 months CNBC. If Antibody-Dependent Enhancement (ADE) is a thing for Covid, the boosters might not boost. I understand a CEO's incentives, but more science, please.

How to get COVID-19 vaccines to poor countries – and still keep patent benefits for drugmakers The Conversation

* * *

Always Read the Methods Section Zeynep Tufecki, Insight. The deck: "How a preprint paper with seemingly good news and interesting findings fueled panic worldwide instead."

Health worker disillusionment threatens to hinder Covid recovery FT
U.S. taxi services see business boost helping Canadians avoid hotel quarantine CBC
China?
Meanwhile, In China… The Heisenberg Report

Tales of the "News Assistants" Chinese Storytellers
Citi Retreat Highlights Global Banks' Struggle in China, India Bloomberg
Myanmar
S.Korea's POSCO C&C says to end Myanmar military-backed joint venture Reuters. Buying out the Tatmadaw.

Could be a big deal:

Today, at the end of Thingyan on the eve of Myanmar's new year, we are proud to announce the formation of a new National Unity Government and the dawn of a new era for the people of Myanmar. For the first time in our history, Myanmar has a unity government. pic.twitter.com/t2prgeZahB

— Dr. Sasa (@DrSasa22222) April 16, 2021

For Myanmar Federalism to work — leaving aside the Tatmadaw — a number of warlords are going to have to become statesmen (certainly not unknown). Presumably all the R2P people are going to put their heads together to get this parallel government recognized (and not by Taiwan).

Military v. civilians:

I think it is important for us and foreign friends to understand us and our enemies in order to defeat them. Therefore, I spent time writing this which should also be in-line with the views of the general population. Thread is open for debate. 1635 words#WhatsHappeningInMyanmar pic.twitter.com/na8CcWjhYB

— Min Htet Lin (@MHLAPEX) April 14, 2021

Happy Thingyan:

VIDEO: Myanmar military cadets at the Defense Services Academy in Pyin Oo Lwin, Mandalay celebrated #Thingyan on Apr. 14. Elsewhere people declined to celebrate the festival out of respect for the hundreds of protesters slain by the regime since February.#WhatsHappeningInMyanmar pic.twitter.com/vOwQdqs9EW

— The Irrawaddy (Eng) (@IrrawaddyNews) April 14, 2021

The 'Tumi Revolution': Protesters fight back in Sagaing Region Frontier Myanmar

ASEAN's Myanmar Crisis Council on Foreign Relations

The Looming Catastrophe in Myanmar Foreign Affairs. Comparing Myanmar to Syria is just the sort of comparison The Blob would find illuminating (as they carefully erase their role in starting and prolonging the Syrian Civil War).

Aung San Suu Kyi representatives hire law firm to track junta crimes FT
Syraqistan
Afghanistan: 'We have won the war, America has lost', say Taliban BBC (Re Silc). Unsurprising, since our extremely expensive and politically dominant military hasn't won a war in quite some time.

Israel is testing Biden The Week (Re Silc).
African Trade Contracted 11.9% in 2020 on Virus, Report Says Bloomberg
Education officials' fury over principal's 20-kilometre daily trek The Nation
UK/EU
Revealed: Dozens of UK former senior officials profit from fossil fuel corporations, rubber-stamped by Whitehall committee Declassified UK

Berlin's 'Mietendeckel' rent freeze ruled unlawful. What does it mean for tenants? The Local

Finland's Covid Situation Eases as New Cases Drop Significantly Bloomberg. "The closing of bars and restaurants had the biggest impact."
Brazil's Supreme Court agrees Lula convictions are void Deutsche Welle. [genuflects] Obama really shouldn't have installed Bolsonaro.
Brazil's P1 coronavirus variant mutating, may become more dangerous -study Reuters
New Cold War
Biden Administration
Exclusive: Why Trump went hard on China, and Biden will follow H.R. McMaster, Politico

States Were Told They Can't Use U.S. Covid-19 Aid to Cut Taxes. They Sued. WSJ

EXCLUSIVE U.S. considering cash payments to Central America to stem migration Reuters. How about… $2,000?
Offshore wind:
there's a huge goldmine of offshore wind potential on the continental shelf off the northeast coast pic.twitter.com/5WXqDIjaUl

— ryan cooper (@ryanlcooper) April 9, 2021
Maine in the crosshairs once more.
Democrats en Deshabille
Corporate Donors Are Rewarding Sinema And Manchin Walker Bragman, Daily Poster
Police State Watch
Must-watch (something I very rarely say):

Who had "Woke Pat Robertson" on their 2021 bingo card? pic.twitter.com/nCYlQsma3O

— W. Kamau Bell (@wkamaubell) April 15, 2021

Daunte Wright's Death Proves We Don't Need More Police Training Teen Vogue

Prosecutor who said Adam Toledo had gun in his hand 'not fully informed' WGN9 (Chicago). Oh.

Bodycam footage of officer fatally shooting 13-year-old released The Hill

Arming US Cities With Military-Grade Healthcare Consortium News
Our Famously Free Press
Press coverage of Trump v. Biden on Afghanistan withdrawal, a thread:

🧵THREAD🧵

Today, President Biden announced his intention to end the war in Afghanistan, to great media fanfare.

You may remember, way back in 2019 & 2020, President Trump said the same thing.

Let me know if you can spot the difference in coverage then vs. now⤵️

— Drew Holden (@DrewHolden360) April 14, 2021

Shocked, shocked.

It's The Media's Job To Normalize War: Notes From The Edge Of The Narrative Matrix Caitlin Johnstone

Justices Sonia Sotomayor and Neil Gorsuch agree: Misinformation is threat to America ABC. No doubt they will address the Afghanistan situation tout suite. Not to mention Russian bounties (now inoperative), Iraq WMDs, etc., etc., etc.
Gunz
8 dead, more injured in shooting at FedEx facility near the airport Indy Star. America is back!
Black Injustice Tipping Point
"As Usual, Dalton Got in Its Own Way": Inside the Antiracism Tug-Of-War at an Elite NYC Private School Vanity Fair
L'Affaire Joffrey Epstein
Appeals court upholds Jeffrey Epstein deal that minimized punishment, silenced victims Miami Herald. "The decision, unless it is overturned on further appeal, could allow wealthy defendants to continue to arrange favorable plea deals from the government without any oversight or accountability, said an attorney who originally filed the challenge."
Class Warfare
Some Hermes drivers working for free for hours a day, union says Guardian. Ingenious staffing strategy by Hermes.

Jeff Bezos Tells Amazon to Treat Employees Better While He Prepares to Flee Planet Earth Gizmodo

Off the Grid WaPo. "And yet for all its successes, the trillions in aid have often failed to reach the poorest Americans in places like the south end of Peoria. Because many in Shawna's neighborhood have jobs that paid them in cash and because they didn't report their income to the government, they were unable to qualify for unemployment insurance. Because they moved frequently, failed to file taxes or owed fines for back child support or past criminal activity, they often didn't receive their full stimulus checks." Well, naturally. Complex eligibilty requirements much beloved by liberals mean that only the deserving get help. That is as it should be.

The welfare effects of asset mean-testing income support (PDF) Quantitative Economics

The Private Property and Personal Property Distinction Matt Bruenig, The Bruletter
How Did a Self-Taught Linguist Come to Own an Indigenous Language? The New Yorker
We love animals — so why do we treat them so badly FT
Antidote du jour (via):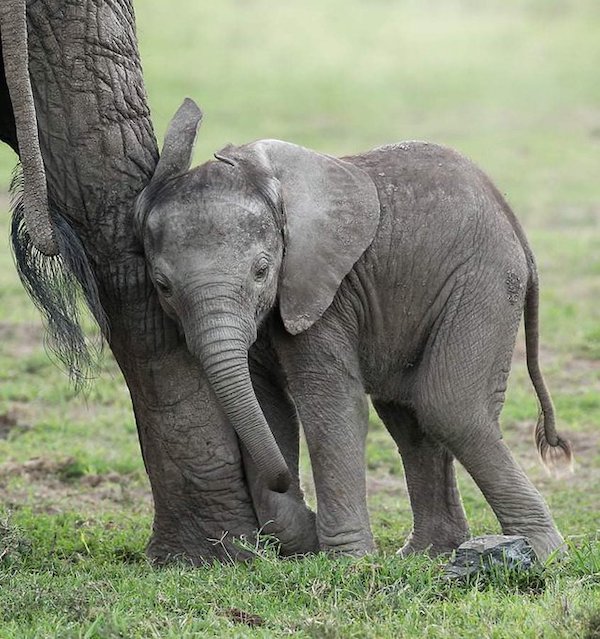 Bonus antidote:
The elephant is the biggest animal in the forest. pic.twitter.com/xStneZy6Fr

— Life and nature (@afaf66551) April 11, 2021
Good kitties!
See yesterday's Links and Antidote du Jour here.