By Lambert Strether of Corrente.
The jury is still out on whether President Biden's American Jobs Plan will turn out to be underpowered, or not. My guess is that it will be; the Obama Alumni Association, for all its protestations, has form. Further, looking at the plan, you notice headlines with goals like "Rebuild clean drinking water infrastructure," to be achieved by eliminating all lead pipes and service lines. That's good, but not the same thing as providing a clean drinking water infrastructure as such; that would require cleaning ground water polluted by nutrients, for example. (I also attempted to penetrate the wildly prolix and entirely evidence-free "Fact Sheet," but it's even worse.) Of course, the real test, I would suppose, is not whether the Jobs Plan fulfills whatever promises it has made, if any, but whether the funding doled out to the local "gentry" — in this instance, the contractors — has a sufficiently sweetening effect, and whether enough jobs are created or well in sight, all by the mid-terms in 2020. The Democrats better get cracking!
One of the most prominent features of the Jobs Plan rollout was the continued comparison of Biden to FDR. (Now that the rollout is over with, those comparisons have vanished, as if a switch had been thrown; now we are arguing about what "infrastructure" really means, because what could be more attractive to symbol manipulators than semantics?) In any case, here's small sample of the headlines, the New York Times being lead hagiographer:
These pieces compare Biden's American Rescue Plan and American Jobs Plan to the New Deal, based on their putative scale (which as we have seen is equivocal, and in any case the test of a plan isn't whether it's "big" or "bold," but whether it's equal to the times). I would like to compare Biden to FDR based on three characteristics of FDR's administration which the Biden administration does not emulate: Fireside chats, relentless experimentation, and the class diversity of his advisors.
First, FDR's fireside chats. The National Archives describes them well in "FDR's Fireside Chat on the Recovery Program." First, for background, the first 100 days of the New Deal:
The New Deal focused on three general goals: relief for the needy, economic recovery, and financial reform. During the One Hundred Days, Congress enacted 15 major pieces of legislation establishing New Deal agencies and programs. Among these was the Federal Deposit Insurance Corporation (FDIC), which was established to protect depositors from losing their savings in the event of bank failure. Another program was the Civilian Conservation Corps (CCC), which put thousands of men to work on projects in national forests, parks, and public lands. The Agricultural Adjustment Administration (AAA) was created to ease the desperate plight of the farmer during the Depression by establishing a program of production limits and federal subsidies. To address the problems of industry and workers, Congress passed the National Industrial Recovery Act (NIRA) in June 1933. The NIRA established codes of fair practice for individual industries in order to promote industrial growth. It also created the National Recovery Administration (NRA). The NRA was perhaps one of the most sweeping and controversial of the early New Deal programs. Its purposes were twofold: first, to stabilize business with codes of "fair" competitive practice and, second, to generate more purchasing power by providing jobs, defining labor standards, and raising wages. The NRA also reflected trade union hopes for protection of basic hour and wage standards and liberal hopes for comprehensive planning.
(It's been 83 days since Biden's inaugural, so he has 17 days to go to make his 100 days, but to me it seems so ridiculous as to approach bad faith to compare the scope of the FDR administration's New Deal with Biden's Plans.) FDR used his "fireside chats" to address the American people directly:
While developing programs to help America emerge from the Great Depression, Roosevelt also needed to calm the fears and restore the confidence of Americans and to gain their support for the programs of the New Deal, including the NRA. One of the ways FDR chose to accomplish this was through the radio, the most direct means of access to the American people. During the 1930s almost every home had a radio, and families typically spent several hours a day gathered together, listening to their favorite programs. Roosevelt called his radio talks about issues of public concern "Fireside Chats." Informal and relaxed, the talks made Americans feel as if President Roosevelt was talking directly to them. Roosevelt continued to use fireside chats throughout his presidency to address the fears and concerns of the American people as well as to inform them of the positions and actions taken by the U.S. government.
Here is an extract from FDR's first fireside chat. Unfortunately, he adopts the loanable funds fallacy and opposes fiat currency, but that is not my focus; FDR is dealing with a bank run and the banking crisis. His peroration:
We had a bad banking situation. Some of our bankers had shown themselves either incompetent or dishonest in their handling of the people's funds. They had used the money entrusted to them in speculations and unwise loans. This was of course not true in the vast majority of our banks but it was true in enough of them to shock the people for a time into a sense of insecurity and to put them into a frame of mind where they did not differentiate, but seemed to assume that the acts of a comparative few had tainted them all. It was the Government's job to straighten out this situation and do it as quickly as possible — and the job is being performed.

every bank will be reopened or that individual losses will not be suffered, but there will be no losses that possibly could be avoided; and there would have been more and greater losses had we continued to drift. at least of the sorely pressed banks. We shall be engaged not merely in reopening sound banks but in the creation of sound banks through reorganization. from all over the country.

After all there is an element in the readjustment of our financial system more important than currency, more important than gold, and that is . . We have provided the machinery to restore our financial system; it is up to you to support and make it work.

It is your problem no less than it is mine. .
(Certainly a touch of the Hyde Park aristocrat in "You people!") Wikipedia (sorry) describes the result:
The result, according to economic historian William L. Silber, was a "remarkable turnaround in the public's confidence…The contemporary press confirms that the public recognized the implicit guarantee and, as a result, believed that the reopened banks would be safe, as the President explained in his first Fireside Chat." Within two weeks people returned more than half of the cash they had been hoarding, and the first stock-trading day after the bank holiday marked the largest-ever one-day percentage price increase.
So, whatever you may think of the economics, the speech was what we call today a heavy lift. Who can imagine a President today making it? Note also the parallels to the pandemic in our own day: Not only fear, enormous fear, but "rumors and guesses." FDR addressed the American people and their fears directly. But who can imagine Biden making the same attempt and having the effect that FDR achieved? And then going on to have Fireside Chats for the remainder of his administration? I can't.[1]
Second, "relentless experimentation." This whole speech is worth a read, but the underlined part is my favorite FDR quote, from his Oglethorpe University Address, May 22, 1932[2]:
Do not confuse objectives with methods. When the nation becomes substantially united in favor of planning the broad objectives of civilization, then true leadership must unite thought behind definite methods.

The millions who are in want will not stand by silently forever while the things to satisfy their needs are within easy reach.

We need enthusiasm, imagination and the ability to face facts, even unpleasant ones, bravely. We need to correct, by drastic means if necessary, the faults in our economic system from which we now suffer. We need the courage of the young. Yours is not the task of making your way in the world, but the task of remaking the world which you will find before you. May every one of us be granted the courage, the faith and the vision to give the best that is in us to that remaking!
Here again, we see FDR doing things I cannot imagine Biden doing. It's hard to imagine Biden delivering such a commencement address in the first place (the whole thing is worth a read). It's also hard to imagine Biden saying anything like "It is common sense to take a method and try it: If it fails, admit it frankly and try another."[3] FDR said it, and did it. From The Nation in 2008, when some liberal goodthinkers thought Obama was the next FDR:
Historian Richard Hofstadter once characterized the New Deal as "a chaos of experimentation." Fresh ideas were constantly tossed on the wall to see what stuck. They didn't always work, but this spirit of experimentation was an attempt to address the central problems plaguing Americans at the time.

The National Industrial Recovery Act led to higher prices and ultimately overstretched the bounds of federal authority, but it set a minimum wage and forced big businesses to collaborate with one another to get out of the Depression. The WPA didn't cure unemployment, but it was an ambitious experiment that allowed 3.3 million people to put food on their tables. Contrast this effort with our recent Congressional debates over whether we should extend unemployment insurance an additional thirteen weeks (a proven solution) or pass any kind of stimulus package "quickly."
As in 2008, so in 2020. Fundmentally, nothing will change. But not in 1932!
Third, the class diversity of his advisors. FDR's advisors were called the Brain Trust. The membership of the Brain Trust changed over administrations. Here is the collective list, with the university of each member, in alphabetical order:
Harvard, then as now, dominates. But we also have two advisors — Howe, a newspaper man, and Taussig, in the family molasses business — who don't even have undergraduate degrees. It's impossible to imagine that — prove me wrong! — for Presidential advisors in any Democrat administration since Clinton. Further, the dominance of the Ivy League axis is far reduced, compared to our own day. We have Packard Business College, City College of New York, and Grinnell, and even — gasp! — Columbia. Now, it is true that the Brain Trust has a paucity of ascriptive identity-based diversity. But reading the biographies of each member, the Brain Trust did have a diversity of class background and life experience. Not a Rhodes Scholar among them! We can contrast this with recent Democrat administrations, where "looks like America" means that the non-millionaire is an exception, and while there's a diversity of ascriptive identity, everybody's gone through the identical degree-granting meat-grinder and credentialed in the same plastic wrap.
* * *
Dammit, now I have to find and read a book about FDR[4]. The Google results were just horrid, implying that no research has been done on the man, which can't possibly be true.
NOTES
[1] Amazingly, there's still a "Weekly address of the President of the United States," but few radio stations carry it. Biden has revived the brand, but not the practice, since he speaks with handpicked citizens not the whole country.
[2] FDR's view of the university: "I hope that you, who have spent four years in an institution , will face the unfortunate state of the world about you with greater clarity of vision than many of your elders."
[3] I'm wrong, but not wrong. From NPR, "Fauci On The Biden Administration's COVID-19 Strategy"
So what I'm saying right now is when the president – in this case, Biden – sat down with us literally a few minutes before I got on the podium in the White House press room and reiterated something he had already told us. He said, right now everything we do is going to be based on science and truth, and if things go wrong and we make mistakes, we admit them, and we try and fix them.
So, here's how far Fauci's quote got: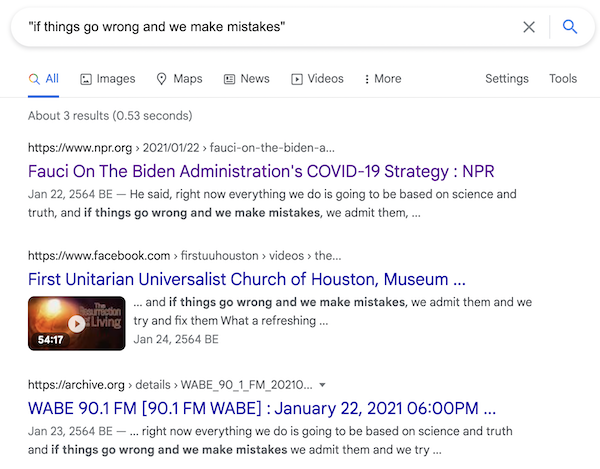 That's it. Those are the three hits. If this had been a message the Biden administration wished to propagate, it would have propagated.
[4] Yes, redlining and the Southern Democrats. It's quite telling that's the only material on FDR that's gotten any traction at all in the last twenty years or so.