By Lambert Strether of Corrente.
Bird Song of the Day
In honor of Tax Day, here is an American Bald Eagle (not mellifluous, but more mellifluous than I would have thought).
* * *
#COVID19
At reader request, I've added this daily chart from 91-DIVOC. The data is the Johns Hopkins CSSE data. Here is the site.
I feel I'm engaging in a macabre form of tape-watching. All the charts are becoming dull — approaching nominal, if you accept the "new normal" of cases, for example.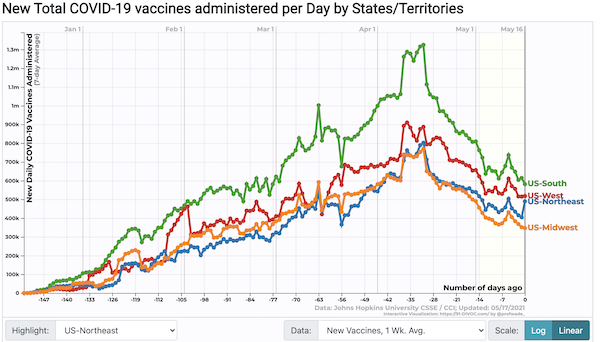 Still whoops, except in the Northeast. I guess we'll see if Biden abandoning masks provides sufficient incentive.
Case count by United States regions: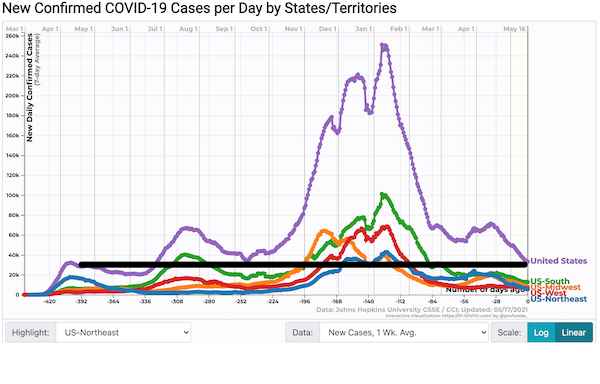 Continued good news. I have added an anti-triumphalist black line; as far as cases go, we are at the same level of the first wave. Since this is a weekly average, the Biden/CDC masking kerfuffle will not show up for awhile, if indeed it does show up.
The Midwest in detail: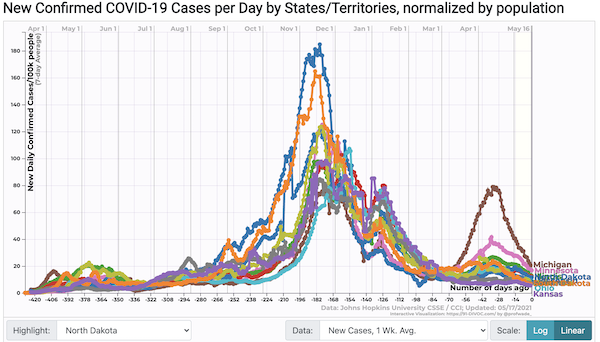 Continued good news. Looks like I can abandon this chart when Michigan is no longer an outlier. I think I'll do a case chart for the world instead.
Big states (New York, Florida, Texas, California):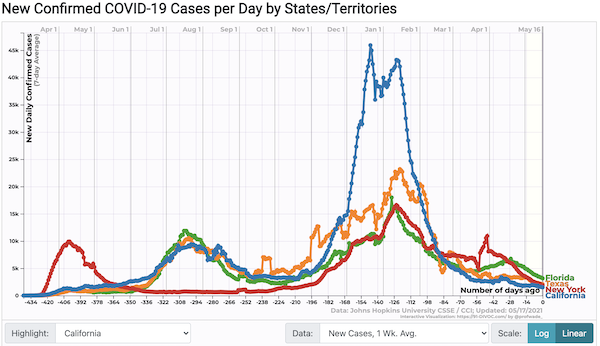 Continued good news.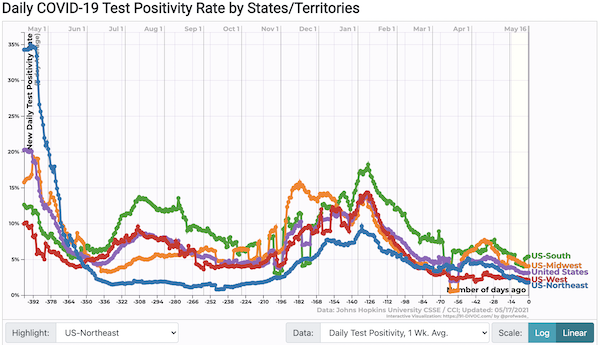 The West is flat. The South is rising.
DIVOC-91 no longer updates hospitalization and death so I went and found some substitutes; neither provide regional data.
Hospitalization (CDC):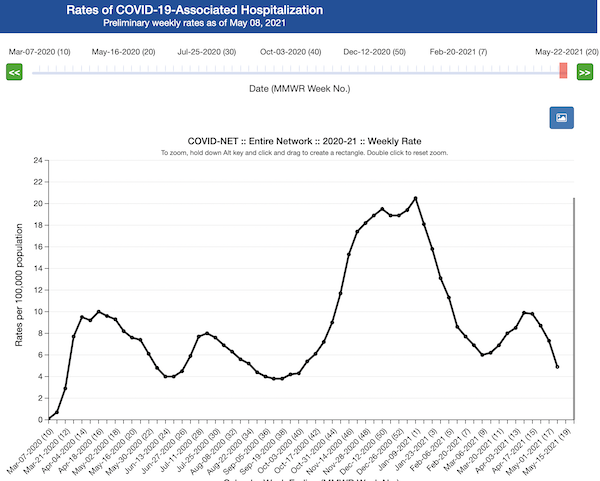 More good news.
Deaths (Our World in Data):
More good news.
* * *
Politics
"But what is government itself, but the greatest of all reflections on human nature?" –James Madison, Federalist 51
"They had one weapon left and both knew it: treachery." –Frank Herbert, Dune
"They had learned nothing, and forgotten nothing." –Charles Maurice de Talleyrand-Périgord
Biden Administration
UPDATE "Biden to Send U.S.-Authorized Vaccines Abroad for First Time" [Bloomberg]. "President Joe Biden plans to send an additional 20 million doses of U.S. coronavirus vaccines abroad by the end of June — including, for the first time, shots authorized for domestic use, where supply is beginning to outstrip demand. Biden will announce Monday that he'll export 20 million doses of vaccines from Pfizer Inc., Moderna Inc. or Johnson & Johnson, on top of 60 million AstraZeneca Plc doses he had already planned to give to other countries, according to a senior administration official familiar with the plan. The official, who asked not to be identified ahead of planned remarks from the president, stressed that the measures are only a first step as the U.S. pivots its attention to quelling the pandemic abroad. Biden has previously pledged that the U.S. would soon become an 'arsenal' of global vaccine supply. Biden will also announce that he is putting Jeff Zients, who has served as the White House coronavirus response coordinator, in charge of his effort to beat back the pandemic globally, the official said. Zients will work with the National Security Council and other agencies to steer doses abroad." • Zients, not Kamala? I guess Biden actually wants something done….

"Child cash benefit will show up in parents' bank accounts soon" [The Hill]. "Close to 39 million U.S. families will begin to receive child benefit payments in July from the Biden administration's new benefit under the coronavirus relief bill. On July 15, the Internal Revenue Service (IRS) will begin dispensing monthly payments of $300 per child under 6 and $250 per child older than 6 to families who qualify. These benefits will be dispersed to families through direct deposit, paper check or debit card, every month on the 15th, or, if it is a weekend or a holiday, the closest available day to the 15th. The benefit stems from the $1.9 trillion coronavirus relief package Democrats passed in March, which expanded on a $2,000-per-child benefit to make it $3,600 per child under the age of 6 and $3,000 per child older than 6. The expansion also provides benefit coverage to additional families who previously didn't qualify due to low incomes. Families or parents who earn a high income will receive lower benefits or no benefits, determined by their income. Individual parents with a gross income of more than $75,000 and couples with a combined income of more than $150,000 will receive smaller benefits. The Biden administration believes the benefits will affect more than 65 million children, or 88 percent of all U.S. children." • It's good that the Biden administration is provisioning the working class beyond the wage relation, even if the program does only last one year. Of course it's means-tested with a "for the children!" eligibility requirement, so and as usual, no concrete material benefits.

"Space Force commander removed after comments on podcast" [The Hill]. "On the podcast, Lohmeier said he has witnessed 'fundamentally incompatible and competing narratives of what America was, is and should be.' 'Since taking command as a commander about 10 months ago, I saw what I consider fundamentally incompatible and competing narratives of what America was, is and should be,' Lohmeier said, according to CNN. 'That wasn't just prolific in social media or throughout the country during this past year, but it was spreading throughout the United States military. And I had recognized those narratives as being Marxist in nature,' he added. When pushed on what he meant by these comments, Lohmeier said The New York Times's 1619 Project, a historical look at how slavery shaped the country's institutions, was 'anti-American.' 'It teaches intensive teaching that I heard at my base — that at the time the country ratified the United States Constitution, it codified white supremacy as the law of the land,' Lohmeier said. If you want to disagree with that, then you start [being] labeled all manner of things, including racist,' he continued." • If the 1619 Project is "Marxist," then it's certainly odd that the WSWS got some actual scholars to take an axe to it, so that's "precious bodily fluids"-level woo. On the other hand, criticizing the 1619 Project is grounds for dismissal? Really?
Realignment and Legitimacy
"I'll Take 'White Supremacist Hand Gestures' for $1,000" [New York Times]. "So the moderators of the group waited until 11 p.m. sharp on April 27 to reassure the roughly 2,800 fellow members that they had the crisis in hand. They had seen a contestant on that night's show, a big white guy with a red tie, Kelly Donohue, make an odd gesture with three fingers of his right hand. 'Based on the evidence we've seen being bandied about elsewhere, there is a real possibility he was giving either a white power or a Three Percenter hand gesture,' wrote one moderator, a middle-school teacher who was on the show about five years ago, according to screenshots provided by another group member. And though 'we can't know his intent,' he continued, 'we're not here to provide safe harbor for white supremacists.'… But the 'Jeopardy!' story is a remarkable case study for a couple of reasons. First, the participants represent a particular kind of American achievement — the mastery of facts and trivia, celebrated by one of America's few universally beloved institutions. . (When my brother, Emlen, lost valiantly in 2017, it generated more familial excitement than his Ph.D.) And I would say, after talking to a couple of dozen former contestants last week, that they are not just smart people but basically nice and sincere ones, too, from diverse backgrounds all over the country, united only by their ability to recall Madonna lyrics and capital cities. And second, … Mr. Donohue's case is unusually clear-cut, and the allegation is obviously false…. Mr. Donohue's three fingers, Snopes pointed out, symbolize the number 'three.' After his first victory, he waved one finger. After his second victory, he raised two. And after his third, he showed three fingers. He awkwardly folded his index and forefingers into something that looks as if it could be some kind of sign, but doesn't resemble the 'OK'; signal that white supremacists have sought to appropriate." • Symbol manipulotors gotta symbol manipulate. And obviously a class that easy to gaslight is a tremendous asset to whoever controls the gas.
Stats Watch
"May 2021 Empire State Manufacturing Index Declines" [Econintersect]. "The Empire State Manufacturing Survey index marginally declined but remained in expansion…. Key elements are in positive territory and all improved. This report is considered about the same as last month."
* * *
The Bezzle: "'Champions League of tax avoidance:' Uber used 50 Dutch shell companies to dodge taxes on nearly $6 billion in revenue, report says" [Business Insider]. Uber has been using a complex tax shelter involving around 50 Dutch shell companies to reduce its global tax bill, according to recent research from the Center for International Corporate Tax Accountability and Research. In 2019, Uber claimed $4.5 billion in global operating losses (excluding the US and China) for tax purposes — in reality, it brought in $5.8 billion in operating revenue, according to CICTAR, an Australia-based research group. Uber transfered its intellectual property through a $16 billion "loan" from one of its subsidiaries in Singapore that in turn owns one of Uber's Dutch shell companies, a manuever that grants the company a $1 billion tax break every year for the next 20 years, the researchers found."
Tech: "Apple AirTag Review: Works Well, Maybe Too Well" [Forbes]. "The idea of the AirTag is that it can be attached to items like keys or luggage or laptop bags, so that if those items are misplaced or stolen, we can track their whereabouts. … When that lost AirTag is within the proximity of another opted-in Apple device, that AirTag will ping its location to that device, allowing you to see its latest location. Let's say someone has stolen your bag containing an AirTag. Even if he's halfway across town, another stranger's iPhone could help you locate the thieve [sic].This is where the AirTag has a leg up on all the competition. The basic tracking stuff for lost items within your home is easy to recreate with a competing product like Tile or Samsung's SmartTags. But neither Tile nor Samsung will ever have an item as ubiquitous as an iPhone to help build a tracking network like Apple's Find My Network. Heck, no other company has such a product, period." • So far, so good. But: " because the Find My Network is so vast and work so well—think about how many iPhones you encounter in a day—it makes the AirTag a potential stalking device. For example, someone could in theory slip an AirTag into my bag without me knowing, and track my whereabouts throughout the day."
Tech: OK, even if it is night sky-destroyer Elon Musk, this is pretty neat:
CHECK THIS OUT! 😲
SpaceX just landed B1058 for the 8th time, and just check out this uninterrupted landing footage. Can you believe what we are able to watch live these days. This is possibly the BEST landing footage I've seen live on a drone ship. 🚀😍 pic.twitter.com/H16Q0uPBxe

— Marcus House (@MarcusHouse) May 16, 2021
Manufacturing: "China wants to boost disruptive semiconductor technologies as Moore's Law moves towards its limit" [South China Morning Post]. Chiang Shang-yi, executive director of China's top chip foundry Semiconductor Manufacturing International Corporation (SMIC), said earlier this year that the global semiconductor industry has been facing bottlenecks in its push for advanced nanometre nodes given the huge investments required. The industry veteran, who was recruited by SMIC last year from Taiwan Semiconductor Manufacturing Co (TSMC) – the world's largest co\ntract chip maker – said future breakthroughs for China's IC manufacturing industry would come from advanced packaging techniques that can cram more circuits into smaller bundles. SMIC, which stands as China's best hope at boosting its chip-making capability amid a protracted tech war with the US, is currently only able to produce chips using the 14-nanometre process. TSMC, in contrast, moved to the more advanced 5-nm production last year."
Intellectual Property: "Who owns the covid vaccines?" [Cory Doctorow]. ""Behind every great fortune lies a great crime." The true mRNA vaccines theft isn't entrepreneur-inventors who face robbery by the public sector — rather, those "entrepreneurs" have enjoyed billions in public subsidies, and now insist they owe nothing in return….. Pharma's claim that it doesn't owe us anything in return makes no sense, even by the companies' own logic. They say that markets produce wonders because they reward canny risk-taking with vast fortunes. By that logic, the public — who assumed the majority of the risk in developing vaccines — are the angel investors in this high-tech unicorn, and the pharma companies are the VCs who came in with some late capital to help scale up a sure thing."
* * *
Today's Fear & Greed Index: 39 Fear (previous close: 40 Fear) [CNN]. One week ago: 51 (Neutral). (0 is Extreme Fear; 100 is Extreme Greed). Last updated May 17 at 12:49pm.
Rapture Index: Closes up one on Israel. "Violence in Israel has maxed out this category" [Rapture Ready]. Record High, October 10, 2016: 189. Current: 188 (Remember that bringing on the rapture is a good thing, so high is better.)
Health Care
"Ivermectin and the odds of hospitalization due to COVID-19: evidence from a quasi-experimental analysis based on a public intervention in Mexico City" (preprint) [SocArXiv]. This one is above my paygrade. Mexico City sends out kits that contain Ivermection to mild-to-moderately symptomatic patients, creating the opportunity for a natural experiment. From the Research Design section. "To assess the effect of ivermectin on hospitalizations in Mexico City, we used a quasi-experimental research design. We make use of statistical methods that match cases based on observable co-variants, reducing the possible imbalance on those variables, and allowing us to estimate systematic differences in the dependent variable (i.e. hospitalization); between those who received the medical kit and those who did not. This method recreates the randomization of treatment by statistically making those treated and untreated indistinguishable on all relevant co-variants except the existence of the treatment (i.e.; got the medical kit with ivermectin or did not). We used the Coarsened Exact Matching method to match observations. This method belongs to the class of Monotonic Imbalance Bounding methods, in which balance between the control and treatment groups is chosen by the user and not by the continuous re- estimation process (Blackwell, M., 2009)." And the Results: "We found a significant reduction in hospitalizations among patients who received the ivermectin-based medical kit; the range of the effect is 52%- 76% depending on model specification."
"Don't mention Ivermectin; it'll upset the vaccine rollout" [Andrew Bannister, Biz News]. The venue is South African. The author does indeed seem to have written for the Lancet, as his bio states (here, here). Salt having been taken, this is clearly put: "What if there was a cheap drug, so old its patent had expired, so safe that it's on the WHO's lists of Essential and Children's Medicines, and used in mass drug administration rollouts? What if it can be taken at home with the first signs COVID symptoms, given to those in close contact, and significantly reduce COVID disease progression and cases, and far fewer few people would need hospitalisation? The international vaccine rollout under Emergency Use Authorisation (EUA) would legally have to be halted. For an EUA to be legal, 'there must be no adequate, approved and available alternative to the candidate product for diagnosing, preventing or treating the disease or condition.' The vaccines would only become legal once they passed level 4 trials and that certainly won't happen in 2021. This would present a major headache for the big public health agencies led by the WHO. The vaccine rollout, outside of trials, would become illegal. The vaccine manufactures, having spent hundreds of million dollars developing and testing vaccines during a pandemic, would not see the $100bn they were expecting in 2021. In a pandemic, and for the next one, we need big pharma to react quickly, and the best way to that, is to reward them financially. Allowing any existing drug, at this time, well into stage 3 trials, to challenge the legality of the EUA of vaccines, is not going to happen easily. On the 31st of March 2021, the WHO recommended against the use of Ivermectin for COVID treatment, citing safety and lack of large RCT proof."
Masking:
The mask mandate in the US was so badly bungled that this useful norm (making mask use an uncontroversial option in cold and flu season) is probably out of reach.

— Pinboard (@Pinboard) May 13, 2021
Bungled the mask mandate may have been, but whatever Biden/Walensky thought they were doing, getting rid of them was not greeted with universal applause. And masks will come in handy during the fire season in California.
"How to Improve Our Response to COVID's Mental Tolls" [MedScape]. "Four interdependent factors drive the magnitude of the traumatic impact of a disaster: (1) the degree of exposure to the life-threatening event; (2) the duration and threat of recurrence; (3) an individual's preexisting (natural and human-made) trauma and mental and addictive disorders; and (4) the adequacy of family and fundamental resources such as housing, food, safety, and access to healthcare (the social dimensions of health and mental health). These factors underline the 'who,' 'what,' 'where,' and 'how' of what should have been (and continue to be) an effective public health response to the COVID-19 pandemic. Yet existing categories that we have used to predict risk for trauma no longer hold. The gravity, prevalence, and persistence of COVID-19's horrors erase any differences among victims, witnesses, and bystanders. Dr Sayres Van Niel asserts that we have a 'collective, national trauma.' In April, the Kaiser Family Foundation's Vaccine Monitor reported that 24% of US adults had a close friend or family member who died of COVID-19. That's 82 million Americans! Our country has eclipsed individual victimization and trauma, because we are all in its maw."
"Depression is linked to inflammation in the body, study reveals in breakthrough that could boost treatment hopes for people with the mental health condition" [Daily Mail]. "Professor Carmine Pariante, from the National Institute for Health Research Maudsley Biomedical Research Centre, said: 'Our large-scale analysis of data removed socio-economic background, ill health, unhealthy habits as well as genetic predisposition to immune dysfunction as the only explanations for the relationship between depression and inflammation. 'By this process of elimination, we show that there may be a core biological process that is behind the association between depression and increased inflammation.' 'If we can identify this process and uncover more detail about its role in the development of depression, we can pave the way for trialling new treatments for this widespread mental health disorder.' sInflammation is a biological response – summoning the immune system into action to help the body fight against things that harm it, such as infections, injuries and toxins. But it can also play a key role in regulating behaviour and switch the brain into 'sickness mode'. For the study, the scientists looked at the data of 86,000 people from the UK Biobank, which has health and genetic information on around half a million people. These included blood samples, genetic data as well as physical and mental health questionnaires. Nearly a third (31 per cent) of participants included in the study were classified as having major depressive disorder." • Interesting. Reminds of the discovery that (many) peptic ulcers are caused by a bacteria, H. Pylori, and not by "stress," etc. If would be fascinating to find out that the "core biological process" behind depression involves a micro-organism.
Water
"There are no clear winners in the West's water wars" [High Country News]. "As a longtime observer of interstate water negotiations, I see a basic problem: In some cases, – even before factoring in shortages caused by climate change and other stresses. In my view, states should put at least as much effort into reducing water use as they do into litigation, because there are no guaranteed winners in water lawsuits." • Uh-oh…
Our Famously Free Press
"Spanish politician temporarily suspended by Twitter after saying 'a man cannot get pregnant'" [Yahoo News]. "Francisco José Contreras, deputy to Spain's far-right Vox Party, was locked out of his Twitter account for 12 hours last week after saying 'a man cannot get pregnant' because they have 'no uterus or eggs.'…. According to Twitter, Contreras violated its policy against material that threatens, harasses, or fosters violence against other people on the basis of their race, ethnic origin, nationality, sexual orientation, gender, gender identity, religion, age, disability or disease." • Background here and here (best English-language sourcing I could find).
Black Injustice Tipping Point
"Black Lives Matter protesters file charges against NC judge they say tried to hit them" [News & Observer]. Hit them with a car. "A Fayetteville activist has pressed assault charges against an N.C. Court of Appeals judge, alleging he tried to hit protesters with his car outside the downtown Market House this month. Myah Warren filed charges of assault with a deadly weapon against Judge John Tyson in Cumberland County on Friday. Warren said she was holding a Black Lives Matter sign at a downtown Fayetteville demonstration last week. She said she saw a car circle twice, nearly striking her on the second pass. 'It caused me to literally have to jump out of the way to avoid being hit," she said. "He was going so fast he jumped up on the curb.' Protesters who had gathered for a weekly memorial for residents killed in police shootings approached the car and shot video, later recognizing the driver, they said, as Tyson."
In a just world, this entomologist wouldn't have had to worry about getting whacked. Thread:
Still processing my first run in with the police…

I've been doing a lot of cicada interviews & with national news outlets contacting me, I thought I should have some live ones onhand. So I was delighted when my cousin called panicking about the "swarm" on the side of her home. pic.twitter.com/lB0jTTcKlB

— drsammytweets (@drsammytweets) May 14, 2021
Protests and Riots
OK, grant that property destruction is not violence. What about the effects on electoral politics?
Almost identical result as the Omar Wasow study showing riots shifting the 1968 election pro-Nixon, which provoked an outcry because Twitter extremists are certain without any evidence that riots do not shape public opinion https://t.co/uo1G9Z1YPC

— Lee Fang (@lhfang) May 13, 2021
Imperial Collapse Watch
Until Daddy takes the T-Bird away:
america is gonna be fun for young people in 20 years like russia is today pic.twitter.com/f4VN8GSZA7

— cool man 𓀡 (@dickpillcyborg7) May 15, 2021
Guillotine Watch
"Microsoft board members thought Bill Gates should resign over relationship with staffer: report" [The Hill]. "The Journal reported that multiple members of the board came to believe that Gates should not hold a leadership role at the company after a woman wrote to the company in 2019 alleging a years-long affair with Gates, who founded the company in 1975." • Just like Cuomo. Slaughter a few tens of thousands of oldsters in nursing homes and try to conceal the evidence, no problemo. And Gates: Destroy public education in the United States and deprive a few billion of the world's poor of vaccines, that's OK. The only elite malfeasance, apparently, is sexual.
"Rich Guy Asks Around To Find Out Who The New Jeffrey Epstein Is" [The Onion]. " I asked around the board room, but it turns out everyone there was hoping I knew someone." • And you know there is one.
Class Warfare
"Long working hours are killing 745,000 people a year, research finds" [CNBC]. "In joint research by the global public health and employment bodies, the WHO and ILO estimated there were 745,000 deaths from stroke and ischemic heart disease in 2016, marking a 29% increase since 2000. The study, published in the Environment International journal Monday, was a first global analysis of the loss of life and health associated with working long hours. The WHO and ILO estimated that 398,000 people died from stroke and 347,000 from heart disease in 2016 as a result of having worked at least 55 hours a week. Between 2000 and 2016, the number of deaths from heart disease due to working long hours increased by 42%, and from stroke by 19%. The study concluded that working 55 or more hours per week is associated with an estimated 35% higher risk of a stroke and a 17% higher risk of dying from ischemic heart disease, compared with working 35-40 hours a week. In 2016, 488 million people worldwide were exposed to long working hours of more than 55 hours a week, the WHO and ILO estimated." • Of course it's WHO. Maybe the numbers are higher.
News of the Wired
This is lovely:
East Window, 2008 designed by Iranian artist Shirazeh Houshiary, St Martin-in-the-Field, London #womensart pic.twitter.com/bPxYMTUhUP

— #WOMENSART (@womensart1) May 16, 2021
* * *
Readers, feel free to contact me at lambert [UNDERSCORE] strether [DOT] corrente [AT] yahoo [DOT] com, with (a) links, and even better (b) sources I should curate regularly, (c) how to send me a check if you are allergic to PayPal, and (d) to find out how to send me images of plants. Vegetables are fine! Fungi and coral are deemed to be honorary plants! If you want your handle to appear as a credit, please place it at the start of your mail in parentheses: (thus). Otherwise, I will anonymize by using your initials. See the previous Water Cooler (with plant) here. Today's plant (TH):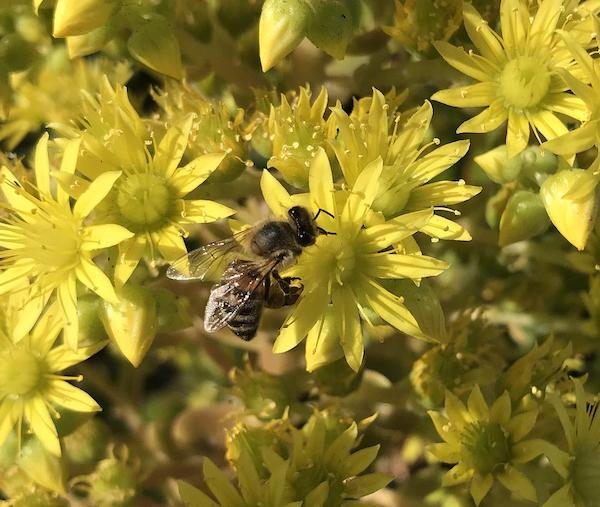 TH writes: "I took the opportunity to dart over and grab a few photos of this plant in bloom while Don pumped gas. It looks like a plant we have at home. :-) (Google image search seems to think this honeybee is harvesting a variety of Stonecrop. Curiously, it's not the very center of the flower she's studying.)"
* * *
Readers: Water Cooler is a standalone entity not covered by the recently concluded and — thank you! — successful annual NC fundraiser. So if you see a link you especially like, or an item you wouldn't see anywhere else, please do not hesitate to express your appreciation in tangible form. Remember, a tip jar is for tipping! Regular positive feedback both makes me feel good and lets me know I'm on the right track with coverage. When I get no donations for five or ten days I get worried. More tangibly, a constant trickle of donations helps me with expenses, and I factor in that trickle when setting fundraising goals:
Here is the screen that will appear, which I have helpfully annotated.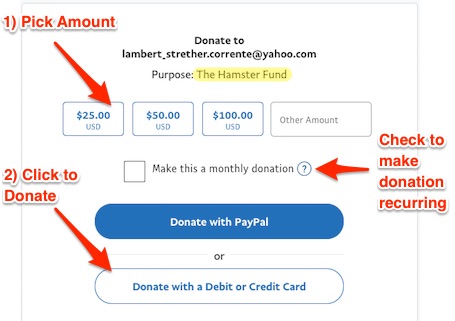 If you hate PayPal, you can email me at lambert [UNDERSCORE] strether [DOT] corrente [AT] yahoo [DOT] com, and I will give you directions on how to send a check. Thank you!