By Lambert Strether of Corrente.
Readers, I got a late start. I will add more shortly. –lambert UDPATE All done!
Bird Song of the Day
The Black-and-White Hawk-Eagle
* * *
#COVID19
At reader request, I've added this daily chart from 91-DIVOC. The data is the Johns Hopkins CSSE data. Here is the site.
I feel I'm engaging in a macabre form of tape-watching. All the charts are becoming dull — approaching nominal, if you accept the "new normal" of cases, for example.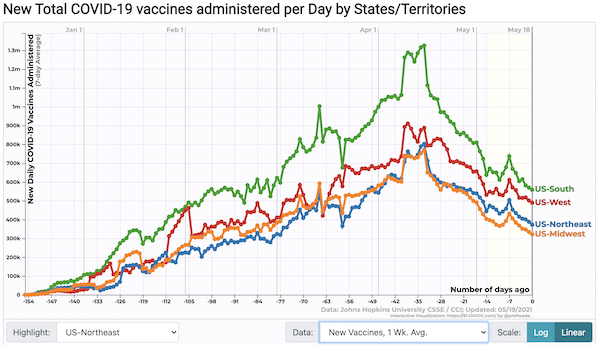 Still whoops. I guess we'll see if Biden abandoning masks provides sufficient incentive. There's also been a lot of discussion about polling that shows different uptake between Republicans and Democrats, and across identities. But since about a month ago, the curve shapes have been in synch by region, arguing for a more uniform (national) explanation. Perhaps supply. Or class?
"Meet the Four Kinds of People Holding Us Back From Full Vaccination" [New York Times]. "After conducting a national survey of U.S. adults, we grouped people into distinct profiles based on their shared beliefs and barriers to getting the vaccine. This approach, borrowed from the marketing world, is called psychobehavioral segmentation. It will allow health officials to target their strategies in ways that ignore demographic categories, like age and race. In the United States, we used this approach to identify five distinct personas: the Enthusiasts, the Watchful, the Cost-Anxious, the System Distrusters and the Covid Skeptics…. With only 60 percent of U.S. adults having received their first shot, we are still far from President Biden's target of 70 percent by the Fourth of July. This national average also hides an important truth: The country is a patchwork, with states like Vermont tracking higher (with 78 percent of adults having received their first dose) and states like Mississippi tracking lower (42 percent of adults). Therefore, we can't rely on a one-size-fits-all approach." • Which is exactly what "psychobehavioral segmentation" is, no?
MI: "Mobile soup kitchens take food, vaccine to Detroit's poorest" [Associated Press]. "Mobile care teams consisting of nurses and a peer support specialist accompany the Bed & Bread trucks as they cruise Detroit, which lags far behind the state and nearby communities in the percentage of people vaccinated. Only about 33% of Detroit residents ages 16 and older have been vaccinated compared to more than half statewide. To reduce that gap, Detroit's health department also is going door-to-door to encourage residents to get vaccinated at sites near their homes. In some other U.S. cities, in-home vaccinations are being offered."
OH: "Vaccinations Spike In Ohio Following Lottery Announcement—But Will It Last?" [Forbes (Re Silc)]. "Data from the Ohio Department of Health shows daily new vaccinations surged from 12,914 on Wednesday, the day of the lottery announcement, to 21,580 on Thursday and 25,414 the day after, a more than 7,000-shot increase from the week prior. Before Friday, Ohio last recorded more than 25,000 vaccinations on April 23, when it administered 28,798 shots. The vaccination surge declined over the weekend, however, with Ohio recording just 14,453 shots administered on Saturday and 4,495 on Sunday, though the state's weekend inoculation rate tends to be lower than other days during the week."
Case count by United States regions: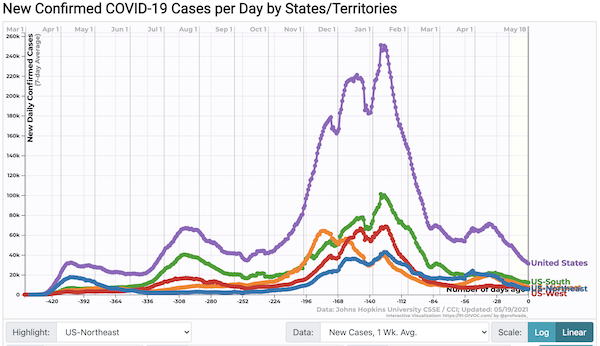 Continued good news. Since this is a weekly average, the Biden/CDC masking kerfuffle will not show up for awhile, if indeed it does show up. (As promised, I killed the Midwest map, now that Michigan has fallen back into the pack, and replaced it with a World map, below.)
Big states (New York, Florida, Texas, California):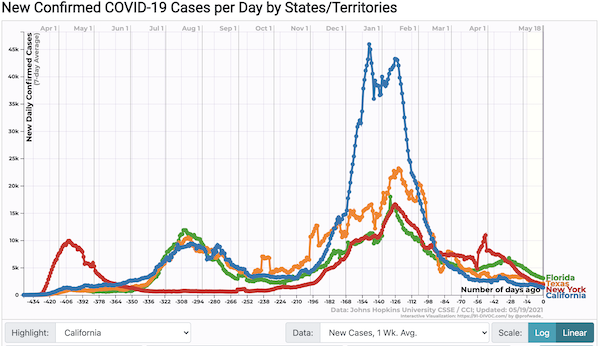 Continued good news. (This chart may seem redundant but I'm trying to think through where the next wave, if God forbid there is a next wave, would show up. Florida and Texas are both entrepots to Latin America, and New York and California to Europe and Asia, respectively. (Now that I think of it, a map of counties near resort towns would be helpful, too; the historical correlation between skiing and superspreading is pretty clear, in Europe and the US. Maybe I can dig one up.)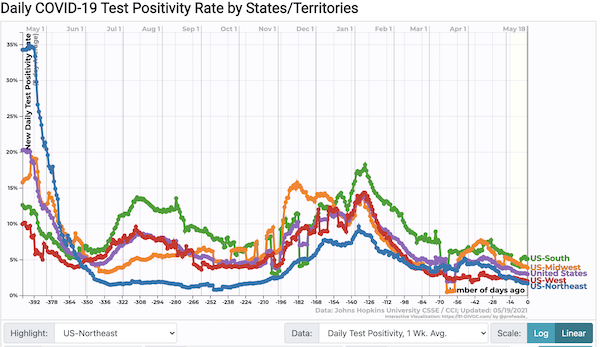 The West is flat. The South is rising.
DIVOC-91 no longer updates hospitalization and death so I went and found some substitutes; neither provide regional data.
Hospitalization (CDC):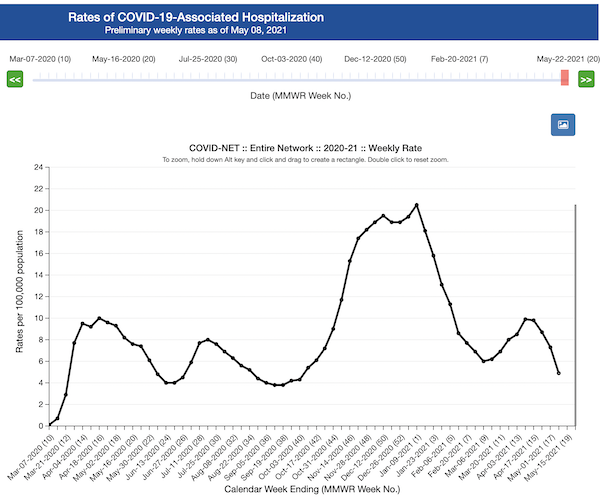 More good news.
Deaths (Our World in Data):
\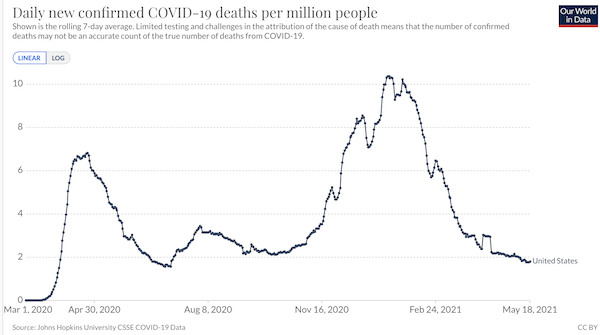 More good news.
NEW Covid cases worldwide: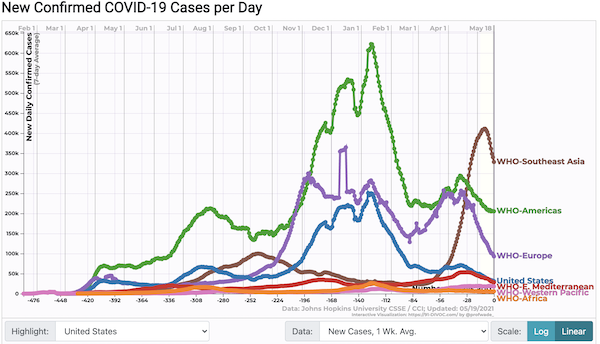 I think it makes more sense to look at all regions rather than individual countries (even if we know, for example, that WHO's Southeast Asia is mostly India by sheer weight of numbers, even though many individual countries are having issues). And why is Africa such an enormous outlier? Readers?
* * *
Politics
"But what is government itself, but the greatest of all reflections on human nature?" –James Madison, Federalist 51
"They had one weapon left and both knew it: treachery." –Frank Herbert, Dune
"They had learned nothing, and forgotten nothing." –Charles Maurice de Talleyrand-Périgord
Biden Administration
"In Biden White House, the Celebrity Staff Is a Thing of the Past" [New York Times]. "[T]he overall culture of the Biden White House… is the least personality-driven West Wing in decades. Because of his longevity in politics and underdog personality, combined with the depth of the crises he is facing, President Biden is undoing a longstanding Washington tradition in which staff members enjoy their own refracted fame…. Some of the president's closest advisers — like Bruce Reed, his adviser and former chief of staff, and Jennifer O'Malley Dillon, his former campaign manager and current deputy chief of staff — are almost never heard from. The White House press office did not respond to requests to make Mr. Donilon available for comment for this story. Even officials who entered the administration with a profile of their own — like Symone D. Sanders, a onetime CNN commentator who is now an adviser to Vice President Kamala Harris — have become less visible." • The Times carefully erases the fact that Symone Sanders worked for the Sanders campaign in 2016…

UPDATE "Progressives Ask Biden Not To Name Pharma Allies To Top Patent Posts" [HuffPo]. "The USPTO and NIST play a key role in granting and protecting brand-name pharmaceutical companies' patents, copyrights and other intellectual property. Through the USPTO, the federal government processes requests for patents that effectively grant companies monopolies on production of certain products or features, theoretically as an incentive to invest in innovation. However, NIST is also the agency responsible for invoking so-called march-in rights. This power allows the federal government to 'march in' and effectively suspend the patent of a product that was developed with federal funding if the government decides the product is not available to the public on 'reasonable terms.' The two agencies, which coordinate closely with business sectors that rely on intellectual property, have traditionally been home to some of the most corporate-friendly figures in both Republican and Democratic presidential administrations… The letter, spearheaded by the Demand Progress Education Fund, wants Biden's appointments to the U.S. Patent and Trademark Office and the National Institute for Standards and Technology to reflect the concerns of antimonopoly advocates and patients' and consumers' rights groups ― rather than just brand-name drug companies, Silicon Valley tech titans and other business interests that rely heavily on intellectual property regimes."
Democrats en Deshabille
"Mayoral Candidate Dianne Morales Water-Meter Bribe Probe Preceded 2004 Departure from Big City Schools Job" [The City]. "Mayoral candidate Dianne Morales years ago participated in a $300 bribe of a city Department of Environmental Protection inspector who offered to make her $12,500 water bill go away, city investigative records obtained by THE CITY show." • Whoops.

UPDATE "Democrats Throw Justice Breyer Surprise Retirement Party Hoping He'll Just Go With It" [The Onion]. "Some of the naysayers said old Breyer will cling to this seat until he croaks, but you sure proved them wrong."

UPDATE "Stephen Breyer is delusional about the Supreme Court" [The Week]. "Should Biden get his programs passed, there is a strong possibility they will be struck down or weakened by the court. Worse, all too many liberals are in deep denial about the nature of this threat. One of them is on the Supreme Court himself: Justice Stephen Breyer, who is 82 years old yet thus far refuses to retire — as Justice Ruth Bader Ginsberg refused to in 2013, which ended up handing her seat to to the right-wing ideologue Amy Coney Barrett. Breyer is reportedly worried that retiring so he will be replaced by a liberal would introduce politics (heaven forfend!) into the court, and that would threaten its power and legitimacy."
Republican Funhouse
"Mark McCloskey, The Guy Who Pointed His Gun At Protesters Outside His Mansion, Is Running For Senate" [Buzzfeed News]. "Mark McCloskey, the St. Louis attorney who made worldwide news last year when he and his wife pointed guns at Black Lives Matter protesters marching through their wealthy neighborhood, announced Tuesday that he is running for the US Senate. During an interview with Fox News' Tucker Carlson, McCloskey officially declared he was throwing his hat into the crowded Republican primary to fill the Missouri seat of Sen. Roy Blunt, who is retiring. 'I've always been a Republican, but I've never been a politician,' he said. 'But God came knocking on my door last summer disguised as an angry mob.'"

UPDATE "Josh Hawley Has a Populist Revolt to Sell You" [Jacob Bacharach, In These Times]. "Hawley is not as intelligent as his elite mentors seem to think he is, but he is undoubtedly a skilled opportunist. Before the Capitol riot dimmed his star somewhat, he had even begun to make inroads as a Trumpist that Democrats on the corporate-skeptical Left might be able to work with. Although his votes often belied his real loyalties — Hawley supported Trump's tax cuts, for example — he was a reliable rhetorical ally for a growing coalition of writers, iconoclastic economists and politicians clustered under the broad umbrella of anti-monopoly advocacy." • Less formidable than one might have imagined, then?

UPDATE "Fourth House GOP lawmaker issued $5,000 metal detector fine" [The Hill]. "According to the Capitol Police report documenting the incident last Thursday, Foxx set off a metal detector stationed in front of a door leading to the House chamber. Two Capitol Police officers tried to stop Foxx, but she threw her bag underneath a table near the metal detector and still went into the chamber. Foxx then returned to the metal detector and allegedly told the officers, 'Good thing no one stopped me.'"
RussiaGate
UPDATE "Accused Russiagate 'Spy' Kilimnik Speaks — and Evidence Backs His 'No Collusion' Account" [Aaron Maté, RealClearInvestigations]. Of the many discrepancies and idiocies, I'll pick out one: "While the Treasury Department and Senate Intelligence Committee claim that Kilimnik is a Russian intelligence officer, no U.S. security or intelligence agency has adopted this characterization." • Worth reading in full for the detail, as RussiaGate drags on like the Russian winter, full at the tag end of slush, mud, and dreariness.

Yep:

The only reason the Steele affair isn't already thought of as maybe the biggest scandal in the modern history of American journalism is because the ostensible "victim" was Donald Trump. Virtually everyone in major media was complicit in the fraud, and many are still proud of it. https://t.co/nRB840Autu

— Matt Taibbi (@mtaibbi) May 18, 2021

Exactly like the Iraq War. Everybody who was wrong got promoted and made a lot of money.
Realignment and Legitimacy
"Ed Gainey Defeats Incumbent To Become Pittsburgh's 1st Black Mayor" [Payday Report]. "Tonight, Black PA State Representative Ed Gainey defeated two-term Pittsburgh Mayor Bill Peduto to become the first Black mayor of Pittsburgh. Despite being out-fundraised nearly 4-to-1, which Peduto pumped into negative attack ads, Gainey, 51, was able to defeat Peduto, who coceded the election. Gainey was able to beat the mayor by building on a coalition of Black and white voters who were concerned about racism and the growing income inequality in a rapidly gentrifying Pittsburgh and who were upset with a Democratic establishment that seemed indifferent to their concerns. 'People wanted justice and change,' Gainey told me shortly after hearing of the win. Gainey's victory comes after an impressive four years of bold electoral defeats for Pittsburgh's Democratic establishment. As a result of those defeats, a new crop of young progressives, like socialist State Representatives Summer Lee and Sara Innamorato as well as county councilwoman Bethany Hallam and Liv Bennett, were elected to office and have helped build a counterweight to the old, white Democratic establishment of Pittsburgh."
Stats Watch
Trucking: "April 2021 Trucking Marginally Declined" [Econintersect]. "Headline data for the CASS Freight Index show that truck volumes show volumes slowed month-over-month – but the year-over-year growth is now in double digits. In the opposite corner, the American Trucking Association (ATA) index also declined but is finally in expansion now year-over-year."
* * *
The Bezzle: "Bitcoin's 40% crash 'does feel like capitulation,' says crypto specialist, but here's where next crucial support level lies" [Marketwatch]. "Katie Stockton, founder and managing partner of Fairlead Strategies, said that bitcoin and the broader crypto complex is seeing one of its worst selling stretches since March 2020, with bitcoin down 40% from its April high. She estimates that the next support for bitcoin may be around $34,000. She told MarketWatch that that level is based on a 50% retracement of the uptrend for bitcoin that began in March 2020…. The slump for bitcoin comes after the People's Bank of China was seen warning against using digital coins as payment." • Hmm. Much bitcoin "mining" is done in China.
UPDATE Tech: "A Noisy "Ghost Bodega" in Gowanus Delivers Headaches to Neighbors" [Bklyner]. "An industrial lot at 246-250 6th Street near 4th Avenue in Gowanus, run by the delivery service NBRHD Kitchens, is filled with food storage units and refrigerated trucks that serve as a distribution point for a host of NBRHD-linked businesses selling ice cream, candy, chips and other bodega staples via UberEats and other delivery services….. The NBRHD service is a subset of REEF Technology, which calls itself 'the largest operator of mobility, logistics hubs, and neighborhood kitchens' in the US and Canada, along with a growing presence in Europe. The company has about 4,500 locations, most of which are parking lots on which REEF installs infrastructure for cloud kitchens, healthcare clinics, last-mile delivery and other services. Last year, REEF raised $700 million in investments from SoftBank and Mubadala Corporation." Fascination business model, but I'm not sure I'd want to live next to one: "'It runs 24/7 and is very loud,' said Sara Sopher, a Gowanus resident whose building on 7th Street backs up onto the lot. 'My neighbors and I have called 311 to complain about this noise but nothing has been done.' 'It's near impossible to have windows open, and our balconies are now rendered unusable,' said another nearby resident, Desiree Dymond, who also complained about 'banging sounds' at all hours caused by workers moving merchandise and slamming truck doors closed."
* * *
Today's Fear & Greed Index: 32 Fear (previous close: 38 Fear) [CNN]. One week ago: 37 (Fear). (0 is Extreme Fear; 100 is Extreme Greed). Last updated May 19 at 12:44pm.
Health Care
"COVID-19 updates: Texas reports 706 cases in past two days, lowest two-day total since March 2020" [WFAA]. "In Dallas County, health officials say 506 cases of breakthrough COVID-19 infections in fully vaccinated people have been confirmed, of which, 82 were hospitalized and seven have died." • Oddly, that's seven of the nine total deaths in Dallas County.
"Column: The evidence is clear — COVID lockdowns saved lives without harming economies" [Michael Hiltzik, Los Angeles Times]. "Numerous studies from across the world have found that lockdowns succeeded in suppressing transmission rates. An Italian team found that lockdowns start to reduce the number of COVID infections about 10 days after they start, and keep reducing the case rate for as long as 20 days following initiation. French researchers, in a paper published in January, compared the experience in countries that imposed stay-at-home orders early in the pandemic and lifted the restrictions gradually — New Zealand, France, Spain, Germany, the Netherlands, Italy and Britain— to that of Sweden, which imposed no lockdown, and the U.S., which had (and still has) a patchwork of state policies often involving late orders followed by abrupt and premature lifting. The first group saw rapid reductions in infections and a rapid economic recovery, compared to the second. "Early-onset lockdown with gradual deconfinement allowed shortening the SARS-CoV-2 epidemic and reducing contaminations," the researchers concluded. "Lockdown should be considered as an effective public health intervention to halt epidemic progression." The UCLA researchers, meanwhile, estimated that reductions in movement resulting from stay-at-home orders reduced transmission in the hardest-hit communities, such as Seattle, New York, San Francisco and Los Angeles by 50% or more. All these findings point to savings of millions of lives globally. None of it is especially surprising. Compliance with stay-at-home orders meant reducing one's exposure to strangers whose viral conditions were unknown. That was especially crucial in locations where COVID was raging and therefore the prospect of coming into close contact with an infected individual was relatively high. That leaves the economic question. Critics of lockdowns typically advocate balancing the public health gains from stay-at-home orders against the economic losses from keeping bars, restaurants, hair salons, and other small businesses closed. They argue, as has DeSantis and other red-state governors such as Greg Abbott of Texas, that concerns about the latter should take primacy over the benefits of the former. The problem with this argument is that there's very little evidence that lockdowns themselves damaged local economies more than individual behavior that would have happened anyway, lockdowns or not. Nor is there much evidence that lifting lockdowns produced a faster recovery….. As Austan Goolsbee and Chad Syversen of the University of Chicago said of their study of the economic slump during the pandemic, "The vast majority of the decline was due to consumers choosing of their own volition to avoid commercial activity." • An exhaustive article, worth reading in full.
"Emergent faces congressional grilling" [Politico]. "Millions of shots from both J&J and AstraZeneca have been held in limbo at Emergent's Bayview, Md. facility as Emergent works through a series of additional issues raised by FDA, from unsanitary conditions to congested facilities ill suited to manufacturing millions of vaccines…. Emergent boasted just months ago that it would produce a billion doses this year, but hasn't provided a timeline for when it will get back on track.
"To the Bat Cave: In Search of Covid's Origins, Scientists Reignite Polarizing Debate on Wuhan 'Lab Leak'" [Kaiser Health News]. "Fauci also told KHN, in an email, that "we at the NIH are very much in favor of a thorough investigation as to the origins of SARS-CoV-2…. U.S.-China tensions will make it very difficult to conclude any such study, scientists on both sides of the issue suggest. With their anti-China rhetoric, Trump and his aides 'could not have made it more difficult to get cooperation,' said Dr. Gerald Keusch, associate director of the National Emerging Infectious Diseases Laboratory Institute at Boston University. If a disease had emerged from the U.S. and the Chinese blamed the Pentagon and demanded access to the data, 'what would we say?' Keusch asked. 'Would we throw out the red carpet, 'Come on over to Fort Detrick and the Rocky Mountain Lab?' We'd have done exactly what the Chinese did, which is say, 'Screw you!'" • Personally, I don't buy the Wuhan Lab Leak hypothesis. First, nature is fully capable of producing novel designs without an intelligent designer; it's called evolution. We really are in "extraordinary claims require extraordinary evidence territory, here. Second, we know that the virus was circulating well before the Wuhan wet market outbreak, making the connection to the Wuhan Lab yarn diagram-level species (albeit an attractive coincidence of names). Note that I don't raise the competence of Wuhan Lab scientists as a defense, since our own "world class" CDC has had horrific incidents.
UPDATE "The Pro-Trump Culture War on American Scientists" [David Frum, The Atlantic]. "Despite this softening, the scientific community for the most part continued to emphatically reject the lab-origin theory. Past pandemics had started when a virus leaped from animals or birds to people, so why should this new coronavirus be any different? U.S. scientists were perhaps also influenced by their respect for their Chinese counterparts. While Chinese officials had tried to stifle the flow of information to the rest of the world, Chinese scientists had generally proved highly cooperative with their Western counterparts. When Chinese scientists cracked the virus's genetic code early in January 2020, they promptly posted full results for all to read. That did not seem to most Western scientists to be the behavior of conspirators." More: "More than scientific expertise may be required to reach the truth. The truth may depend less on analysis of the virus itself and more on intelligence from inside the Chinese government. Very possibly—and this theory is often heard from intelligence officials—the Chinese national authorities themselves do not know for certain how the virus originated. If there was a lab mistake, the people culpable in that mistake may be very frightened of their own government, and may have organized their own cover-up to protect themselves. One big reveal from the early phase of the coronavirus disaster is that local Chinese big shots can often effectively deceive and frustrate their own national government." • So I wonder when the leaks from anonymous sources in the intelligence community will begin….
"Health Care Lobbyists Are Trying to Block the Public Option at the State Level" [Newsweek]. "When President Joe Biden outlined his legislative priorities during his first address to Congress last month, notably absent was a major campaign promise: a public health insurance option. Instead, his current health reform proposal will funnel $200 billion more to private insurance companies to subsidize premiums, without any requirement that they cap out-of-pocket costs or eliminate them altogether. As a result of Biden's approach, states have been left to introduce public option legislation themselves, in the process taking on some of the nation's largest and most politically organized businesses. From coast to coast, health insurance companies, hospitals, and pharmaceutical companies are using every tactic at their disposal to block states from passing public option legislation. Such efforts show how determined the industry is to block any sort of reform that threatens its massive profits."
The Biosphere
"How Suzanne Simard changed our relationship to trees" [High Country News]. "A descendant of French Canadian homesteaders in British Columbia's interior, Simard was one of few women in the logging industry in the early 1980s. She wondered why the weeded, monoculture tree crops were so sickly compared to the remaining old-growth woods. 'In my bones,' she writes, 'I knew the problem with the ailing seedlings was that they couldn't connect with the soil.' It seemed obvious that standard forestry practices were not good for the forest's long-term health. But she knew she'd need 'rigorous, credible science' to prove herself and her hypotheses to the men who directed government forestry policy. Smard transitioned to working with the British Columbia Forest Service, investigating weeding effects in clear-cuts. A sense of duty drove her to speak out against wrongheaded practices — like removing native shrubs from tree plantations to reduce competition — and continue her research. Then, in 1997, Nature published her study on the way trees share carbon via fungal networks. Though government forestry policies didn't change immediately, her paper received worldwide press and encouraged a new generation of scientists to pursue similar lines of inquiry. It's not until the book's final chapter that Simard explicitly lays out the connections between her work and the long-held wisdom of Indigenous traditions. She explicitly describes how her findings echo the teachings of tribes like the Secwepemc Nation, in whose ancestral territory she grew up and did much of her research." • More on Simard, and trees, at NC here.
"Hurricane 'Price Tags' Could Reveal the Cost of Global Warming" [Wired]. "Now a team of researchers has put a specific 'climate price tag' on Sandy's destruction in the area around New York City, estimating that climate change alone added an extra $8 billion in damages, and that an additional 71,000 people were affected by severe flooding. Altogether, the calculations state that human-driven global warming boosted Sandy's total cost to the area by 13 percent. The new study focused on only one aspect of climate change: rising sea levels, caused by the melting of polar ice caps and the expansion of seawater as its temperature increases, a process known as thermal expansion. The study, published today in the journal Nature Communications, is the first time that researchers have put a dollar figure on the direct role of climate change for a specific event, and they say they hope to do it for future storms as well. 'The fact that just a few inches of attributable sea level rise caused so much damage points to the idea that climate change is hurting us much more than we realize,' says Benjamin Strauss, chief scientist at Climate Central, a Princeton, New Jersey–based research organization and lead author on the new paper."
"Models show corals more resistant to ocean warming if they swap for more heat-resistant varieties of algae" [Phys.org]. "The simulations demonstrate that under moderate global warming conditions, many of the coral reefs around the world could survive if they were able to swap out for more heat-resistant algae. Their simulation also showed a limited impact on coral bleaching due to increasing acidification of the worlds' oceans."
Gunz
"SC school bus driver says kindergartners' curiosity helped stop armed hijacking" [WSB-TV]. "They asked him, 'Why are you doing this?' He never did have an answer for this one. They asked, was he going to hurt them? He said 'No.' They asked, 'Are you going to hurt our bus driver?' He said, 'No. I'm going to put you off the bus,'" [Kenneth Corbin, the school bus driver] recalled. 'He sensed more questions coming and I guess something clicked in his mind and he said, 'Enough is enough already,' and he told me to 'Stop the bus, and just get off.'" • Why? Why? Why?
"Where The Shooters Come From" [The American Conservative]. "We can assume that every shooter nurses some sort of a grudge against their victims (or the world at large). We see how many recent killers have taken to publishing internet manifestos, and indeed to polishing the resentments that drive their killings, through membership of online groups. They anticipate online fame, support from those they imagine like them; the mosque shooter in Christchurch, New Zealand, even filmed the whole attack for his audience." • For causality, that seems to be the best we can do. More: "[Author Seamus] McGraw returns to the phrase 'stop the killing, stop the dying,' the priorities of police, to first stop the attack, then attempt to save the victims. But the key word is 'stop,' not prevent. Even in the best 'good guy with a gun' scenario, the bad guy is likely to still get off a few rounds first. The intervention is never soon enough to save everyone." • Where's that Can-Do spirit, America?
Class Warfare
"Who cares about the cargo?" [Journal of Global and Historical Anthropology]. "In a recent revisit to the work of Marx's extensive writings on political economy, David Harvey (2019) interrogates Marx's definition of capital as "value in motion." In a series of arguments, Harvey uses a 'flow model of capital in motion' in order to lay out the fundamental processes that drive the circulation of capital (2019: 20).2 In this article, I take the idea of 'capital in motion' more literally and use it as a starting point for showing what sustaining the flow of global goods looks like on the ground and how container economies are dependent upon the labor of keeping capital in the form of cargo physically moving…. By ethnographically zooming in on the shipping container's movement in the container port, I show that—much like money—the shipping container is both a measurement and an evaluation of other objects, as well as of 'relations, services and persons' (Maurer 2006: 16). At the same time, this colored steel box is a capitalistic object whose mobility and directions as the circulating capital of the global logistics industry is powered by money. By linking the shipping container to issues of containerization and waterfront labor in the port, the aim of this article is to draw attention to the shipping container's multiple repertoires as symbolic, social, and material practices and systems…. In the second half of the article, I return to how shipping containers mediate the value of labor on the docks, with the dockworker as a central broker between cargo and the port."
"The battle for the future of 'gig' work" [Vox]. "Last November, California passed a ballot initiative called Proposition 22, cementing Mighetto and her colleagues in semi-employee status. They still don't get state unemployment, discrimination protections, sick leave, or collective bargaining rights, though they do have some bare-minimum guarantees of pay while actually carrying a passenger. The minimums were sold as a baseline that increased driver rights, but one study by University of California Berkeley researchers found that the guarantee could actually only be "the equivalent of a wage of $5.64 per hour.'" • Great to see Kamala out on the front lines, fighting that one. More: "Workers across the country are now worried that the effects of Prop 22 will spread, institutionalizing a "third category" of workers well beyond Uber and Lyft drivers who have fewer rights than regular employees but also lack the real autonomy of actual freelancers — and that it might happen under a Democratic administration, and with the sign-off of some labor unions. In other words, we're at an inflection point, potentially for the entire American working class. Will labor figure out how to organize workers in dire conditions across the broad spectrum of "tech"-enabled jobs, from Amazon to Uber? Or are workers going to continue to see their conditions deteriorate, even as executives at the top just get richer?" And: "Even unions sometimes seem to forget that what makes unions powerful is not dues money but people acting together to challenge unjust power. It is not the ability to file a grievance but the implicit understanding that behind that grievance lies the principle of "an injury to one is an injury to all," which Uber and Lyft have countered with a story of individual independence and flexibility. But that story of flexibility is pitting drivers against one another; to defeat it, drivers must be united." • Worth reading in full.
"The "Hall Socialism" of Finnish and Ukrainian migrant workers with Kassandra Luciuk & Saku Pinta" (video) [Grassroots Economic Organizing]. "Historian-activists Kassandra Luciuk and Saku Pinta join us to discuss the "hall socialism" that flourished in communities of Finnish and Ukrainian migrant workers in the early 20th century. Though much of this incredibly vital social, political and cultural activity was successfully suppressed by anti-communist purges in the post-war period, the legacy and lessons of these networks lives on." • I tend to avoid videos without transcripts, but this one sounds fascinating.
News of the Wired
"A New Frank Gehry Tower Rises Above the Quaint French Town of Arles" [Smithsonian]. "Standing 184 feet tall, LUMA Arles towers over the city—the next tallest building is the 12th-century Cathedral of St. Trophime at about 138 feet tall. It is the centerpiece of the LUMA Foundation's 27-acre campus, which the arts philanthropic organization has situated in a former railyard turned park. It's also the culmination of over a decade of work spearheaded by LUMA founder and billionaire Maja Hoffmann (the foundation's name is a portmanteau of the first part of her children's names Lucas and Marina). The tower, designed by Canadian-American architect Frank Gehry, seems to climb upward, twisting and turning as it stretches toward the sky. The building's 11,000 reflective stainless steel panels spectacularly transform the building over the course of a day: It blends into a bright blue sky at noontime, gilds itself in the late afternoon, and twinkles as the sun sets. The style is unmistakably Gehry, with the sweeping, brushstroke-like lines and playful design cues that have become a hallmark of the dean of contemporary architecture." • Here it is: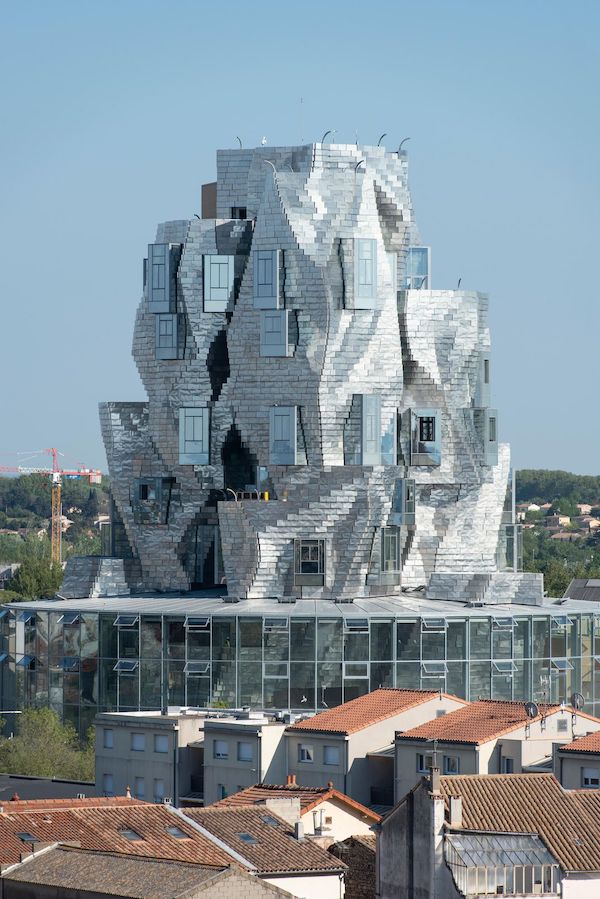 Somewhere, Christopher Alexander says that building like this are exterior reflections of the inner sociopathy of the elites that commission and approve them. So I am not surprised to here that there is a billionaire involved. ("Hoffman" comes from Hoffman-LaRoche, the pharma behemoth).
"Bullshit Ability as an Honest Signal of Intelligence" (PDF) [Evolutionary Psychology]. " Bullshitting, communication characterised by an intent to be convincing or impressive without concern for truth, is ubiquitous within human societies. Across two studies (N ¼ 1,017), we assess participants' ability to produce satisfying and seemingly accurate bullshit as an honest signal of their intelligence. We find that bullshit ability is associated with an individual's intelligence and individuals capable of producing more satisfying bullshit are judged by second-hand observers to be more intelligent. We interpret these results as adding evidence for intelligence being geared towards the navigation of social systems. The ability to produce satisfying bullshit may serve to assist individuals in negotiating their social world, both as an energetically efficient strategy for impressing others and as an honest signal of intelligence." • So are these authors smart? How about Frank Gehry? Is Frank Gehry smart?
"Desire paths: the illicit trails that defy the urban planners" [Guardian]. "So goes the logic of 'desire paths' – described by Robert Macfarlane as 'paths & tracks made over time by the wishes & feet of walkers, especially those paths that run contrary to design or planning'; he calls them 'free-will ways'. The New Yorker offers other names: 'cow paths, pirate paths, social trails, emonomichi(beast trails), hemins de l'âne (donkey paths), and Olifantenpad (elephant trails)'. JM Barrie described them as 'Paths that have Made Themselves.' Reddit has desire path threads, tens of thousands of people strong, delighting in the more mysterious or illogical-seeming of them. They can form anywhere from apparently forgotten corners of cities to the grounds of national governments, as has happened around the National Congress of Brazil; some are so well established that they are visible on Google Maps." • For example:
There are two types of people… pic.twitter.com/KcEaOh4zGD

— Moose Allain Ꙭ (@MooseAllain) May 19, 2021
* * *
Readers, feel free to contact me at lambert [UNDERSCORE] strether [DOT] corrente [AT] yahoo [DOT] com, with (a) links, and even better (b) sources I should curate regularly, (c) how to send me a check if you are allergic to PayPal, and (d) to find out how to send me images of plants. Vegetables are fine! Fungi and coral are deemed to be honorary plants! If you want your handle to appear as a credit, please place it at the start of your mail in parentheses: (thus). Otherwise, I will anonymize by using your initials. See the previous Water Cooler (with plant) here. Today's plant (BB):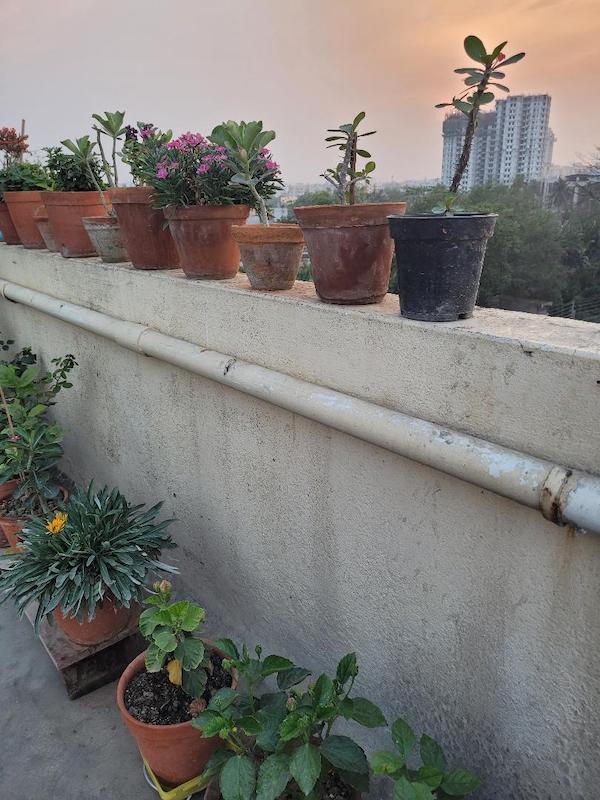 BB writes: "Here's a picture from the top of an apartment building in Kolkata during sunset where it's already a hot, dry summer. Not spring :) Also, thank you to NC for the coronavirus academic journal links that you all post, particularly in regards to aerosols and nasal drug delivery. I forward them onto to my assistant professor husband for review where he sometimes uses them as a resource in his owm research." You're welcome!
* * *
Readers: Water Cooler is a standalone entity not covered by the recently concluded and — thank you! — successful annual NC fundraiser. So if you see a link you especially like, or an item you wouldn't see anywhere else, please do not hesitate to express your appreciation in tangible form. Remember, a tip jar is for tipping! Regular positive feedback both makes me feel good and lets me know I'm on the right track with coverage. When I get no donations for five or ten days I get worried. More tangibly, a constant trickle of donations helps me with expenses, and I factor in that trickle when setting fundraising goals:
Here is the screen that will appear, which I have helpfully annotated.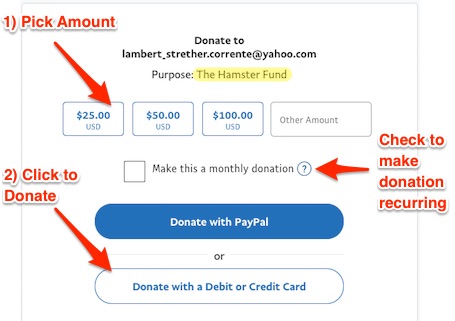 If you hate PayPal, you can email me at lambert [UNDERSCORE] strether [DOT] corrente [AT] yahoo [DOT] com, and I will give you directions on how to send a check. Thank you!