By Lambert Strether of Corrente.
Readers, I got wrapped around the axle on Biden's horrid visit to a school room, so there will be more in politics and in health (lots of interesting developments) shortly. –lambert UPDATE Readers, I just couldn't get to the health stuff. Tomorrow!
Bird Song of the Day
I just liked the name "Sociable Weaver." More sociable weavers, please.
* * *
#COVID19
At reader request, I've added this daily chart from 91-DIVOC. The data is the Johns Hopkins CSSE data. Here is the site.
I feel I'm engaging in a macabre form of tape-watching.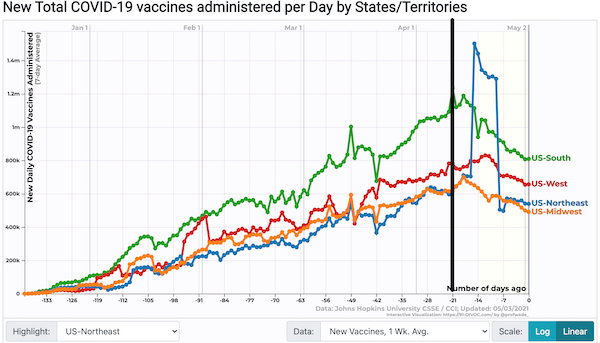 I have helpfully added a vertical black line to show that the number of those vaccinated per day has now been going down for 21 of Biden's 100 days. Has there been some sort of plan rolled out to address this, and I missed it?
Case count by United States regions: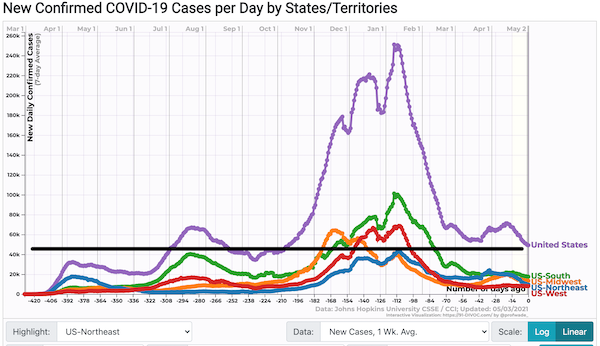 I have helpfully added a horizontal line to show that a level of cases now regarded as a cause for celebration (and relaxation) was once regarded as horrific.
"Biden adviser: President didn't say 'absolutely' open schools in fall because virus is unpredictable" [CNN]. "'He said 'probably.' He did not say 'absolutely,' ' Senior Adviser to the President [and Harvey Weinstein advisor] Anita Dunn told CNN's Jake Tapper on 'State of the Union. 'Because we've all seen this since unfortunately January of 2020. It's an unpredictable virus. And it is a virus that has — you know it mutates. So we can't look in a crystal ball and say what September looks like.' Dunn's comments come after Biden said Friday that K-12 schools 'should probably all be open' in the fall for in-person learning after more than a year of challenges with remote learning and as more Americans get vaccinated. 'Based on the science and the (US Centers for Disease Control and Prevention), they should probably all be open. There's not overwhelming evidence that there's much of a transmission among these people, young people*,' the President had said during an interview with NBC's 'TODAY.'" • Damage control? Or trial balloon? NOTE * Biden not a believer in the precautionary principle, it seems.
"Reaching 'Herd Immunity' Is Unlikely in the U.S., Experts Now Believe" [New York Times]. Ah, experts. I wonder who? All the way at the end: "Dr. Anthony S. Fauci, the Biden administration's top adviser on Covid-19, acknowledged the shift in experts' thinking. 'People were getting confused and thinking you're never going to get the infections down until you reach this mystical level of herd immunity, whatever that number is," he said. 'That's why we stopped using herd immunity in the classic sense,' he added. 'I'm saying: Forget that for a second. You vaccinate enough people, the infections are going to go down.'" • First, Fauci was (and no doubt is) telling noble lies again; he was giving numbers for herd immunity for months! Granted, he was shifting the goalposts, but he was still giving numbers. He sure wasn't saying "whatever that number is." Second, I think the Times headline is not quite as pointed as it could be. How about: "Biden Administration Throws in the Towel on Covid"? Also, this is nice: " The drive for herd immunity — by the summer, some experts once thought possible — captured the imagination of large segments of the public." Captured the imagination… Like, spontaneously? All on its own?
The Midwest in detail: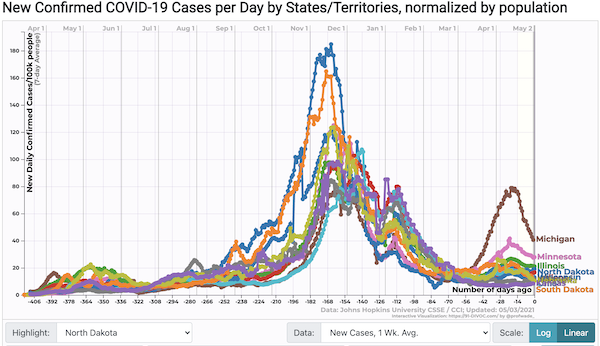 Continued good news.
Big states (New York, Florida, Texas, California):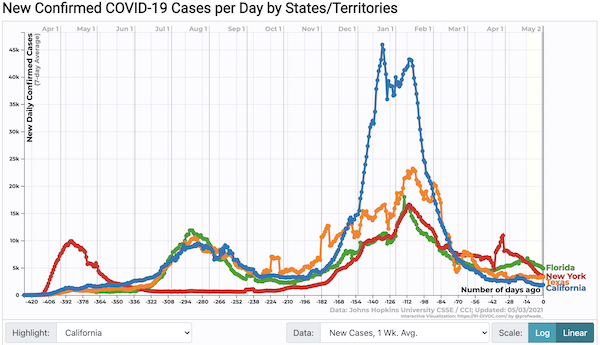 Continued good news.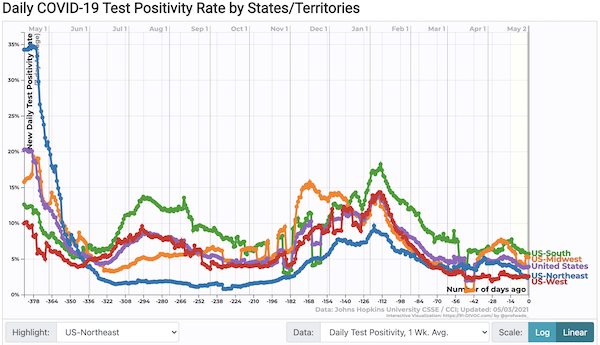 Down, except for the West, now flat.
* * *
Politics
"But what is government itself, but the greatest of all reflections on human nature?" –James Madison, Federalist 51
"They had one weapon left and both knew it: treachery." –Frank Herbert, Dune
"They had learned nothing, and forgotten nothing." –Charles Maurice de Talleyrand-Périgord
Biden Administration
Headline should be: "Biden Endorses Hygiene Theatre, Droplet Theory of Transmission"

President Biden: "You guys are impressive."@POTUS and @FLOTUS visit an elementary school in Virginia pic.twitter.com/Ohs38tcBW6

— The Hill (@thehill) May 3, 2021

President Biden and Not-A-Medical-Doctor Biden actually lift a plexiglass "protector" and put is on a child's desk. (Since droplets, being ballistic, fall in a short radius, plexiglass barriers can be expected to stop them. Unfortunately, the main transmission route for Covid is via aerosols, which float around the barriers to fill the room). Holy [family blog], I was wrong, go long plexiglass after all, if you can stomach it.

Too bad none of the kids said: "Mr. President, Mommy said that 'If those things worked, I could smoke in restaurants.' Was my Mommy wrong?"

No, but seriously, folks: (1) The room is a death trap. Nothing shows ventilation: No fans, no filters, no windows shown open, and a low ceiling. (2) Plexiglass protectors don't protect children:

However, as aerosols follow the air movements indoors, the protective effects of the plexiglas barriers against aerosols will be limited. Plexiglas barriers alone are not a sufficient approach to protect against aerosol transmission. Their installation alone cannot protect against indoor aerosol transmission and should not be regarded as safe and sufficient protection. See the rest of these FAQs for more effective means of protection.

As Zeynep Tufecki writes, plexiglass theatre is a denial that #CovidIsAirborne:

Look at this classroom COVID "mitigation" that the teacher says a lot of money was spent on. Expensive plexiglas theater is the cost of not having properly acknowledged, explained & provided guidance for airborne transmission. Expensive *and* makes teaching impossible (watch it). https://t.co/AXZEp0kUb3

— zeynep tufekci (@zeynep) February 13, 2021

Now, I would like to think that this debacle is an example of West Wing Brain: Somebody thought (see the stories under the "Case count by United States regions" section under #COVID19) that Biden had committed some sort of gaffe with school re-opening and they needed to get out in front of it, so they rushed to get him a photo op in a school, and nobody thought much about the actual school. Against that is the fact that we were sold on Ron Klain because of his supposed pandemic expertise from the Ebola scare, and you'd think Klain would have approved the (unventilated, lethal, hygiene-theatre setting). I mean, Leo would have, so why not Ron? ("Rachel, can you recommend a school location for a photo op?") So we have to come to grips with the idea that the dead hand of the droplet paradigm has the White House in its grip. Talk about a President modeling bad behavior! Gaaaaaaaaah! (Oh, and Biden is taking these tiny, mincing steps. Not always, but often enough to notice. It's weird. Why is that?)

* * *

Catapulting the propaganda (origin):

UPDATE "Joe Biden Is Electrifying America Like F.D.R." [Nicholas Kristof, New York Times]. "Then there are Biden's proposed investments in broadband; that's today's version of rural electrification." Big if true. And: "Yet beginning in the 1970s, America took a wrong turn. We slowed new investments in health and education and embraced a harsh narrative that people just need to lift themselves up by their bootstraps." • Note lack of agency.

UPDATE "The Jimmy Carter and Joe Biden Show" [MoDo, New York Times]. "Biden is all about the good vibes right now, so of course he's not icing out Carter."

* * *
Democrats en Deshabille
Clyburn clears up this racism thing:

Rep. Jim Clyburn: "We should stop arguing about whether or not this is a racist country, it is not. Do we have racist things taking place in this country by various jurisdictions? Yes, and we need to weed it out." https://t.co/6GcJTRt5M1 pic.twitter.com/ZqBe9cr9nh

— The Hill (@thehill) May 1, 2021

"Elizabeth Warren's 'Persist' Is Generous To Her '20 Democratic Rivals (Except One)" [NPR]. "Candidate Warren takes an ill-fated DNA test to show her Native American roots. The point in telling this: She's contrite, she knows it was a dumb mistake — but she also parlays it into a broader point about the importance of white people trying to learn more about race in America." • She could and should have asked the Cherokee nation, which she never did; one might speculate — because Warren may have terrible political judgment, but she's not "dumb" — that's because she hoped for a better result from from her private deal with Stanford geneticist Carlos Bustamante than from tribal genealogists ("[T]he Cherokee Nation [doesn't] have specific blood quantum requirements, but require proof of descent from an enrolled member in the historical record") It's all-too-believable she's persisting in this. And: "The alleged comment from Bernie Sanders that a woman couldn't defeat Trump? She mentions it and then drops it, without delving into the controversy it stirred up." • I'll bet she does. Not that I'm bitter, or harbor grudges.

"How three political novices with turbulent pasts helped spark the Newsom recall" [Los Angeles Times]. "The 'French Laundry' show reflects the full spectrum of viewpoints powering the once-underestimated coalition to oust Newsom from office. Some listeners call in to label Newsom a 'Nazi' or 'one of the golden boys of the new world order,' while others air real-world grievances. They talk about closed schools, businesses suffering from COVID-19 restrictions and the failure of Newsom and other California Democrats to make a dent in the state's growing homeless population. The show reveals the movement's challenges ahead — maintaining the fervor of the anti-Newsom movement, while keeping in check some of its more extreme elements, which might turn off mainstream voters. But for now, the campaign is claiming a milestone, with the secretary of state releasing reports Monday confirming organizers had submitted enough signatures to put the question before voters." • Talk radio. The other stories that came up are about how on-message Democrats are, or how bothersome the whole thing is. Intuitively, that doesn't bode well for Newsome, who was what going for him, exactly? Can California readers comment?

"Turmoil shakes California National Guard with firing, suspension of top generals" [Los Angeles Times]. "Turmoil has gripped the leadership ranks of the California National Guard, with the firing of the general who commanded its air branch, the suspension of a second key general and new limits placed by Gov. Gavin Newsom on the organization's use of fighter jets for civilian missions… The abrupt actions against the two generals mark the second major shake-up in California's Military Department in as many years. And they were announced on the heels of a Times report that Guard members were concerned that their leaders had readied an F-15C fighter jet last year for a possible mission in which the aircraft would fly low over civilian protesters to frighten and disperse them… Guard sources told The Times that last year's order to put the F-15C on an alert status didn't spell out the mission but that, given the aircraft's limitations, they understood it to mean the plane could be deployed to terrify and disperse protesters by flying low over them at window-rattling speeds, with its afterburners streaming columns of flames. Fighter jets have been used occasionally in that manner in combat zones in Iraq and Afghanistan, they said." • California has a "Military Department"? Really?
Republican Funhouse
"Trump keeps winning rounds in GOP's civil war: The Note" [ABC]. "On Saturday in Texas, perhaps the most competitive special House election of 2021 landed the Trump-endorsed candidate in the top spot heading for a runoff. Perhaps more tellingly, the only anti-Trump candidate finished ninth in an all-party primary; he garnered barely 2,500 votes, or just more than 3%, and trailed four Republicans as well as four Democrats. On the same day in Utah, the only Republican to vote twice to convict Trump, Sen. Mitt Romney, was greeted by a raucous round of jeers at his home-state party's convention. Those boos will be remembered longer than the effort to censure him over his public breaks with Trump, which failed narrowly. Romney was trying to tell his fellow Republicans about his policy differences with Biden when the boos forced him to pause. 'Aren't you embarrassed?' he asked the crowd. That didn't require an answer. Nearly four months after Jan. 6, pro-Trump forces are energized about being just that — with ramifications for Biden's governing agenda, and of course for the future of the Republican Party."

"Kansas Rep. Mark Samsel arrested for battery after physical altercation with student" [Kansas City Star]. "On Wednesday, Samsel, R-Wellsville, was substitute teaching at the Wellsville school district's secondary school. Throughout the day, high school students began recording videos of the lawmaker talking about suicide, sex, masturbation, God and the Bible. In one video shared with The Star, Samsel tells students about 'a sophomore who's tried killing himself three times,' adding that it was because 'he has two parents and they're both females.' 'He's a foster kid. His alternatives in life were having no parents or foster care parents who are gay,' Samsel tells students. 'How do you think I'm going to feel if he commits suicide? Awful.' In another video, Samsel is recorded telling students, 'make babies. Who likes making babies? That feels good, doesn't it? Procreate … You haven't masturbated? Don't answer that question. … God already knows.' Videos shared with The Star — by parents of students in the class — show Samsel focusing most of his attention on one male student. Both Samsel and the student paced around the classroom, talking back and forth. Samsel is shown following the student around and grabbing him. In one video, he puts his arms around the student and says that he was being hard on him." • What does this dude think school is? Bible camp?
Our Famously Free Press
This is not a happy cat:

Opinion | @HayesBrown: Honestly, given the sheer number of animals that have called the White House home, if the Bidens should spend the next few years just picking up new pets every few months, more power to them. https://t.co/72QTjBUeah

— MSNBC (@MSNBC) May 2, 2021
Stats Watch
Manufacturing: "United States Manufacturing PMI" [Trading Economics]. "The IHS Markit US Manufacturing PMI was revised slightly lower to 60.5 in April of 2021 from a preliminary of 60.6 and compared to 59.1 in March. Still, the reading indicated a robust improvement in the health of the US manufacturing sector, and the steepest since data collection began in May 2007. Overall growth was supported by quicker expansions in output and new orders, with the latter rising at the sharpest pace since April 2010. The headline index was also pushed higher by unprecedented supplier delivery delays (ordinarily a sign of improvement in operating conditions). Raw material shortages also led to the fastest rise in cost burdens since July 2008, with firms seeking to pass on supplier price hikes through marked upticks in output charges. Meanwhile, business confidence moderated, amid concerns regarding supply chain disruptions and strains on future production capacity."
Manufacturing: "United States ISM Purchasing Managers Index (PMI)" [Trading Economics]. "The ISM Manufacturing PMI fell to 60.7 in April of 2021 from 64.7 in March, well below market forecasts of 65 as shortages of inputs likely constrained production. Still, the latest reading pointed to expansion in the manufacturing sector for the 11th month. … All of the six biggest manufacturing industries expanded, in the following order: Fabricated Metal Products; Chemical Products; Food, Beverage & Tobacco Products; Computer & Electronic Products; Transportation Equipment; and Petroleum & Coal Products."
* * *
Commodities: "Lumber is shockingly expensive. Thanks, Obama." [The Week]. " President Obama's Recovery Act was probably less than half the size of what would have been needed to fix the economy, and by early 2010 he pivoted to austerity to cut the budget deficit…. The result of these choices was a prolonged depression in housing construction…. all this made the lumber industry deeply pessimistic and conservative. A whole decade passed where wood sales were chronically weak, and anyone who tried to boost production risked bankrupting themselves (particularly because it is very expensive to grow, harvest, transport, and store wood). Firms therefore ran tight operations, with little investment in tree plantations, sawmills, or spare inventory, and were always terrified of the next crisis — thus they shed most of their inventory during the pandemic, for fear of another 2008-style collapse…. Instead the opposite has happened. Especially now that the coronavirus pandemic is slowly ending in the U.S., most ordinary Americans are more flush with cash than they have been since before 2008 (though many are still struggling, of course)…. In short, spiking lumber demand is running into constrained supply — hey presto, prices are way up." • Hysteresis ("weighs like a nightmare on the brains of the living").
Commodities: "Deepest Backwardation Since '07 Shows World Short on Commodities" [Bloomberg]. "For an idea of exactly how strong the fundamentals are for commodities such as metals, agriculture and oil today, consider this: These markets are now showing the steepest backwardation in more than 14 years. That is, the premium for commodities that can be delivered now versus later into the future is the highest it has been since at least 2007, signaling just how strong the world's demand is for raw materials and how tight supplies are….. In commodities markets, futures are frequently pricier at longer maturities because they reflect the cost of carrying inventories over time as well as future demand expectations. But urgent demand has flipped about half of major commodity markets tracked by the Bloomberg Commodity Index including oil, natural gas, copper, soybeans into backwardation. Prices for everything from copper to oil have sky-rocketed as the largest economies rebound from the pandemic amid massive government stimulus spending."
Retail: "Walmart Expands Delivery to Your Fridge, Pandemic Be Damned" [Bloomberg]. "In the fall of 2019, Walmart Inc. started testing a service to deliver groceries right into fridges while customers were out…. While Americans are venturing out more as vaccinations increase, there's still a big question of whether they want someone nosing through their refrigerator. To put customers at ease, Walmart uses its own long-tenured employees, who meet customers (and sometimes their pets) before the first order and get trained on things like how to neatly stock a fridge. Delivery staff wear masks, gloves, booties and body cams, which live stream and record the delivery, and they enter homes (or garages) with one-time access to smart locks. Pets must be kept out of the way, although Walmart is testing letting them roam free in one market. The service costs $19.95 a month with a 30-day free trial." • $19.95 a month is far too cheap, so one might wonder what's in it for Walmart.
Retail: "Shoemaker Allbirds reportedly in talks with banks for IPO as public market heats up" [CNBC]. "During the health crisis, Allbirds has seen growing momentum for its products — including its iconic slip-on sneaker made out of wool and other sustainable materials. The brand started with a cult-like following in Silicon Valley that quickly spread to global recognition." • Alllbirds are like boatshoes that disintegrate when wet.
Manufacturing: "Intel CEO Says Chip Shortage Will Persist for 'Couple of Years'" [Bloomberg]. "The global semiconductor shortage roiling a wide range of industries likely won't be resolved for a few more years, according to Intel Corp.'s new Chief Executive Officer Pat Gelsinger. The company is reworking some of its factories to increase production and address the chip shortage in the auto industry, he said in an interview with CBS News, based on snippets from its '60 Minutes' program. It may take at least several months for the strain on supply to even begin easing, he added. 'We have a couple of years until we catch up to this surging demand across every aspect of the business,' Gelsinger said. Demand for semiconductors was boosted in 2020 as consumers scooped up home gadgets during the pandemic. But meeting that increase has been hard, thanks to shuttered plants, among other factors. Companies worldwide say they expect supply-chain constraints due to logistics backlogs and the chip shortage to continue for much of 2021. The global crunch has catapulted semiconductor firms into the limelight and to the top of political agendas. The Biden administration last month told companies vying with each other for semiconductors that he has bipartisan support for government funding to address the shortages. Gelsinger said U.S. dominance in the industry had dwindled so much that only 12% of the world's semiconductor manufacturing is done in the country today, from 37% a quarter of a century ago. Intel is the only manufacturer of high-end, cutting edge chips, he told CBS." • Elites, good job.
Manufacturing: "Italian IPO to square God's work with capitalism" [Reuters]. "Can God and the stock market coexist? In Italy, the cradle of Roman Catholicism, this seems possible. Automatic door maker FAAC, worth some 2 billion euros, may soon ascend to the Milan exchange. The Vatican's Archdiocese of Bologna, which inherited the business in 2012 from its penitent owner, can use the proceeds to fund good deeds. Moreover, the firm's rapid growth may convince investors their bet is solider than a parish raffle. Under pontifical oversight, FAAC has expanded and prospered." • I keep thinking the Catholic church has rather a lot of doors…
Concentration: "Amazon Q1 2021" [Tim Bray]. • Worth a read because Bray, a former Amazon VP who resigned on principle, knows Amazon cold. But these two sentences caught my eye: "If I were an Amazon shareholder (I'm not) or executive, I'd seriously look at doing that AWS spin-off while they can do it the way they want, not the way Washington DC, which seems unusually flush with antitrust energy, says, while pointing a gun at them," and "Once again, if I were in leadership, I'd be working on getting out in front on this stuff while I still have the reins in my hands." • Bray seems to think Amazon is less impregnable than I do. But then, perhaps the better sort of aristocrat picks up the faint sound of tumbrils in a way I would not.
Concentration: "Amazon knew seller data was used to boost company sales" [Politico]. "An internal audit seen by POLITICO warned Amazon's senior leadership in 2015 that 4,700 of its workforce working on its own sales had unauthorized access to sensitive third-party seller data on the platform — even identifying one case in which an employee used the access to improve sales. Since then, reports of employees using third-party seller information to bolster Amazon's own sales and evidence of lax IT access controls at the company suggest that efforts to fix the issue have been lackluster. The revelations come as trustbusters worldwide are increasingly targeting Amazon, including over how it uses third-party seller data to boost its own offerings. The European Commission opened an investigation into precisely this issue in November 2020, with preliminary findings suggesting Amazon had breached EU competition law. 'This is fuel for the suspicions I had,' Dutch internet entrepreneur Peter Sorber said when told about the audit. Sorber sold children's clothes on Amazon, but 18 months after setting up his 'Brandkids' store on the platform and entering the required sales data, his products disappeared from the search rankings. 'You cannot ask a retailer to show his entire story with all sales statistics and then show that to your own purchasers. This is worse than not done. This is simply unfair competition,' Sorber said. An Amazon spokesperson said that like all companies, it audits its policies for compliance and makes improvements based on its findings. 'This includes Amazon's internal seller data protection policy, which limits the use of seller data." • Little fish to bigger fish: "This isn't done!"
* * *
Today's Fear & Greed Index: 53 Neutral (previous close: 56 Greed) [CNN]. One week ago: 58 (Greed). (0 is Extreme Fear; 100 is Extreme Greed). Last updated May 3 at 12:38pm.
Rapture Index: Closes down 1 on Drug Abuse. "The lack of activity has downgraded this category" [Rapture Ready]. Record High, October 10, 2016: 189. Current: 187 (Remember that bringing on the rapture is a good thing, so high is better.)
Our Famously Free Press
"Brie Larson Pivoted to Video" [New York Times] • And how the Times envies her!
"Silicon Valley Algorithm Manipulation Is The Only Thing Keeping Mainstream Media Alive" [Caitlin Johnstone]. "All the algorithm stacking by the dominant news distribution giants Google and Facebook also ensures that mainstream platforms and reporters will have far more followers than indie media on platforms like Twitter, since an article that has been artificially amplified will receive far more views and therefore far more clicks on their social media information. Mass media employees tend to clique up and amplify each other on Twitter, further exacerbating the divide. Meanwhile left and antiwar voices, including myself, have been complaining for years that Twitter artificially throttles their follower count. If not for these deliberate acts of sabotage and manipulation by Silicon Valley megacorporations, the mainstream media which have deceived us into war after war and which manufacture consent for an oppressive status quo would have been replaced by independent media years ago. These tech giants are the life support system of corporate media propaganda.
All things in moderation, not:
Secondary takeaway: The demographics of Spotify content moderation teams are such that nobody recognized NWA lyrics. https://t.co/2NZa1KRkfk

— Julian Sanchez (@normative) April 29, 2021
Everybody's a Critic
Dogs Playing Poker:
The Card Players, 1892 #postimpressionism #cezanne pic.twitter.com/Xfcbiu23fb

— Paul Cezanne (@cezanneart) May 2, 2021
The Agony Column
"I Went Braless During Lockdown. What Do I Do Now?" [New York Times]. • Drop the Times subscription and go with Teen Vogue?
Groves of Academe
"That's What the Money Is For" [Culture Study]. "All across the United States parents and caregivers are receiving and forgetting instructions on what they're supposed to be preparing for their preschool and elementary school kids' teachers. That's because next week is officially "Teacher Appreciation Week," an official holiday orchestrated by a combination of Classroom Parents and PTAs that, over the course of the last four decades, has exploded into an intricate, overly-complicated, largely hollow performance of gratitude…. Teacher appreciation — outside of verbal and written praise — shouldn't manifest in individual tokens that hinge on family income and gendered labor, because we actually have an efficient, effective, and generally fairly distributed way to show public servants our gratitude and support. It's called taxes." •
Class Warfare
"Was novel born and died with the bourgeois society?" [Branko Milanovic, Global Inequality and More]. "Noticing that the birth of the novel was in the mid-18th century, contemporaneously with the Industrial Revolution, and that its peak was probably in the 19th century Europe, and noticing also that the type of society-revealing novel that both he and economists have in mind, has become much rarer now, Lukacs asks: has novel died at the same time as the bourgeois class-compartmentalized society dissolved? He uses the fact noticed by many that around the turn of the 20th century, novels became much more focused on individual experiences which did not necessarily have much to do with the surrounding society. It is not that Julien Sorel or Emma Bovary were not focused on themselves. But that self was described as it navigated and struggled in the world riven with greed, arrivisme, social mimicry, and class divisions. So the self was seen against the background of society. At times that background moved even upfront, became the real topic of the book (which may be the case with Dickens, for example). But in the novels of the early 20th century and increasingly afterwards, Lukacs writes, the societal background recedes: what we see is mostly an individual with his issues, family, friends, sex, love, depression. Grand societal themes raised by the past literature are gone." • And this indicates the dissolution of "bourgeois class-compartmentalized society" why exactly?
News of the Wired
"'Sabrina the Teenage Witch' VHS tape rented in 1999 leads to felony charge for Texas woman" [NBC]. "Former Oklahoma resident Caron McBride, 52, says that she first learned of the charges when she tried to change her name on her driver's license after she was married in Texas in November of 2020. 'I went to change my driver's license, during this Covid thing you had to make an appointment, and so, I sent them an email and they sent me an email and they told me… that I had an issue in Oklahoma and this was the reference number for me to call this number and I did," McBride told NBC News. When McBride was referred to the Cleveland County District Clerk's office in Oklahoma for more information, a woman informed her that she had felony embezzlement charge — and it was because of a VHS tape that was rented in 1999 and never returned." • So there's a bright side to Covid after all!
Always some skeptic:
It was believable until you said that the maccies serves breakfast all day……

— Rich * 🏆🏆🏆🏆🏆🏆 (@ick1emonkey) May 2, 2021
* * *
Readers, feel free to contact me at lambert [UNDERSCORE] strether [DOT] corrente [AT] yahoo [DOT] com, with (a) links, and even better (b) sources I should curate regularly, (c) how to send me a check if you are allergic to PayPal, and (d) to find out how to send me images of plants. Vegetables are fine! Fungi and coral are deemed to be honorary plants! If you want your handle to appear as a credit, please place it at the start of your mail in parentheses: (thus). Otherwise, I will anonymize by using your initials. See the previous Water Cooler (with plant) here. Today's plant (EH):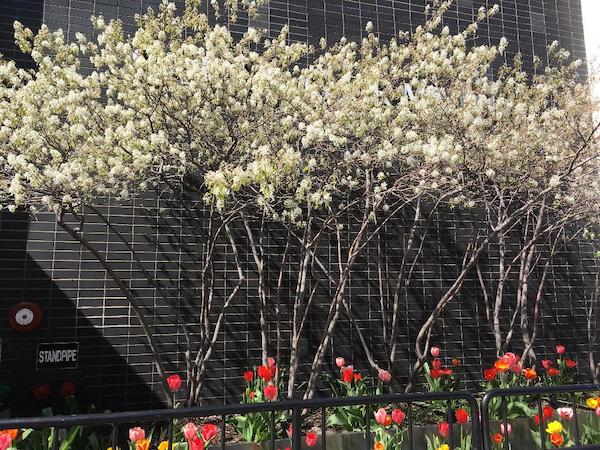 EH writes: "These are the beautiful Shadbush (Amelanchier), a woodland understory tree that blooms before the dogwood in our eastern forests and here are growing in Manhattan's Greenwich Village. They are supposed to bloom when the shad, a fantastic, but bony fish, are running up the Hudson."
* * *
Readers: Water Cooler is a standalone entity not covered by the recently concluded and — thank you! — successful annual NC fundraiser. So if you see a link you especially like, or an item you wouldn't see anywhere else, please do not hesitate to express your appreciation in tangible form. Remember, a tip jar is for tipping! Regular positive feedback both makes me feel good and lets me know I'm on the right track with coverage. When I get no donations for five or ten days I get worried. More tangibly, a constant trickle of donations helps me with expenses, and I factor in that trickle when setting fundraising goals:
Here is the screen that will appear, which I have helpfully annotated.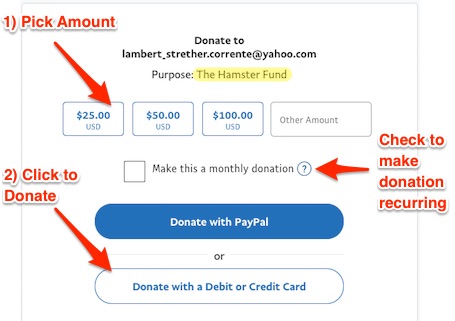 If you hate PayPal, you can email me at lambert [UNDERSCORE] strether [DOT] corrente [AT] yahoo [DOT] com, and I will give you directions on how to send a check. Thank you!