By Lambert Strether of Corrente.
Bird Song of the Day
From El Salvador. Who knew there could be a bird species called the "Thick-knee"?
"Man busted for trying to smuggle 36 birds into the US under his clothes for birdsong contests" [Boing Boing (Re Silc)]. "Authorities at New York City's JFK Airport nabbed Kevin Andre Mckenzie, 36, for attempting to smuggle nearly three-dozen finches jammed into hair rollers from Guyana to New York City for birdsong competitions." • Don't be like this person.
* * *
#COVID19
At reader request, I've added this daily chart from 91-DIVOC. The data is the Johns Hopkins CSSE data. Here is the site.
I feel I'm engaging in a macabre form of tape-watching.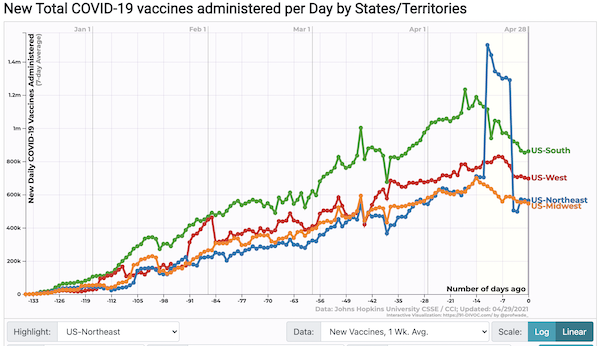 I know that these are daily vaccinations. But the pandemic is a multiplicative process. To me, the best curves of all would be rising continuously until there's a sudden drop, because there's nobody left to vaccinate. It's too soon to see these numbers dropping. This should worry people. (The Northeast jump was an enormous reporting error, now rectified, though I still have not been able to find it mentioned anywhere. Readers?)
"Millions Are Skipping Their Second Doses of Covid Vaccines" [New York Times]. "More than five million people, or nearly 8 percent of those who got a first shot of the Pfizer or Moderna vaccines, have missed their second doses, according to the most recent data from the Centers for Disease Control and Prevention. That is more than double the rate among people who got inoculated in the first several weeks of the nationwide vaccine campaign. Even as the country wrestles with the problem of millions of people who are wary about getting vaccinated at all, local health authorities are confronting an emerging challenge of ensuring that those who do get inoculated are doing so fully. The reasons vary for why people are missing their second shots. In interviews, some said they feared the side effects, which can include flulike symptoms. Others said they felt that they were sufficiently protected with a single shot. Those attitudes were expected, but another hurdle has been surprisingly prevalent. A number of vaccine providers have canceled second-dose appointments because they ran out of supply or didn't have the right brand in stock….. While millions of people have missed their second shots, the overall rates of follow-through, with some 92 percent getting fully vaccinated, are strong by historical standards. Roughly three-quarters of adults come back for their second dose of the vaccine that protects against shingles."
Liberal Democrat triumphalism:
.@JoeBiden doubled and met his original goal of 100mm shots in 100 days—with 8 days to spare. My @Morning_Joe chart: pic.twitter.com/k9HLxw0ND7

— Steven Rattner (@SteveRattner) April 27, 2021
Note, as Rattner does not, the dip starting around April 9. To be fair, note the clear inflection point as the more competent Biden administration took hold. Oh, wait…
Case count by United States regions: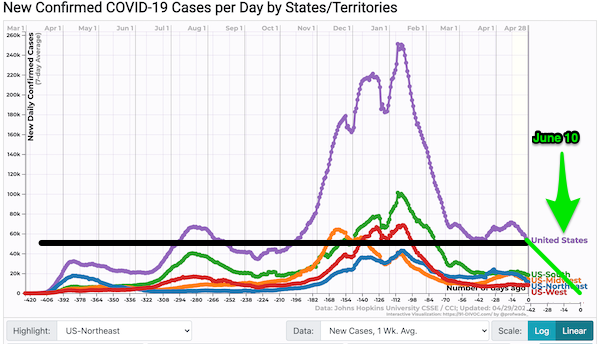 Continued good news. I'm not used to this at all. The spin:
"Biden: Coronavirus Vaccinations Are Path to More Normal Fourth of July" [UN News]. "President Joe Biden on Tuesday reiterated his goal of seeing a more normal July 4th amid the coronavirus pandemic, saying that vaccinations will be the path for getting there. Biden said that everyone who has gotten a coronavirus vaccine was doing their 'patriotic duty, helping us get on the path to Independence Day.' Over 29% of the U.S. population is fully vaccinated, according to data from the Centers for Disease Control and Prevention." • Remember how Fauci kept moving the goalposts upward on when herd immunity would be reached? Wherever those goalposts were, they weren't at 29%. I like Biden's framing, though.
"New York City, Former COVID-19 Epicenter, To 'Fully Reopen' On July 1" [NPR]. "New York City, which one year ago was the epicenter of the COVID-19 pandemic, will 'fully reopen' for business on July 1, Mayor Bill de Blasio said Thursday. The announcement marks a stirring rebound for a city that lost more than 10,000 people in just the first month of the pandemic." • Not including international flights at JFK and Newark, I assume, because that would be really, really stupid. I also don't know what these July 1 projections are based on (readers?), and I do try to keep track–
Lambert here: I added a black anti-triumphalism line to show that what is now normal was once horrific. I also added a green line that simply extrapolates the current rate of decline into the future; it crosses the x axis, for time, around 42 days out, on June 10, so July 1, so somebody who thinks additively, instead of multiplicatively, might seem to make sense. Personally, I'm not confident in such an extrapolation. I would need to see vaccinations increasing, not decreasing. I would want to know what is being to prevent international travelers (including truckers from Canada and Mexico) from bringing new variants into the country. I would also like to see policy based on what science really does tell us is the main mode of transmission — airborne — because otherwise the ventilation issues that enable the virus to spread won't be fixed. I think this thread describes elite thinking and behavior throughout the pandemic under both administrations:
The United States pandemic *mess* is that well-protected impatient elites are obsessed with pushing activity to the exact edge of what they believe is safe and they prioritize minimizing their own inconvenience over stopping transmission. Nonstop bickering over the wrong things. https://t.co/IgR4U2hbMh

— wsbgnl (@wsbgnl) April 29, 2021
A hard lockdown for 60 days with people paid to stay home would have brought the virus to zero, as even Andy Slavitt knows, and said. I guess the biggest reason I don't think that green line will go to zero is that our elite's response has been half-assed, is half-assed now, and will continue to be half-assed.
The Midwest in detail: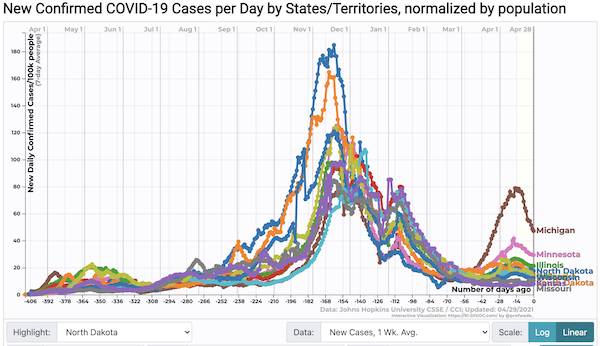 Continued good news. The Michigan curve is nice, but still at level only exceeded to last Fall's peak, 154 days ago. Michigan and Minnesota heading down, along with their neighbors (Could be that people actually do listen when Governors ask them do so stuff, but enough, and enough of them?)
Big states (New York, Florida, Texas, California):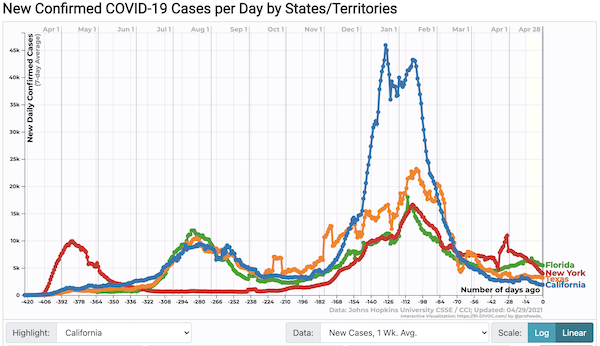 Florida, by a nose, now dropping nicely. California also dropping. Texas flat.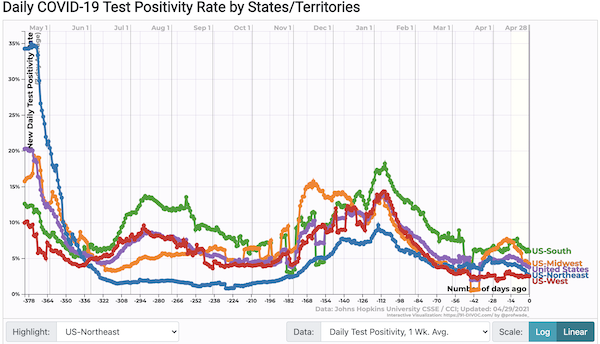 Down, except for the West, now flat.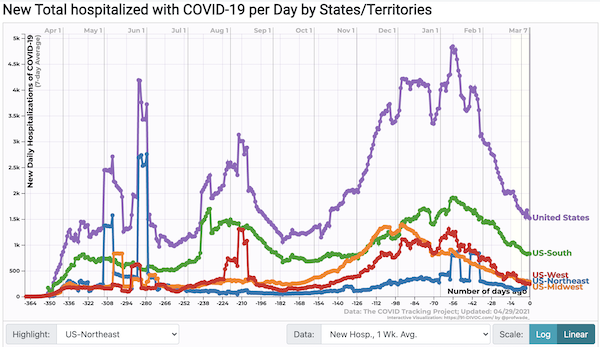 Still heading down, except for a slight rise in the Northeast.
Case fatality rate (plus deaths):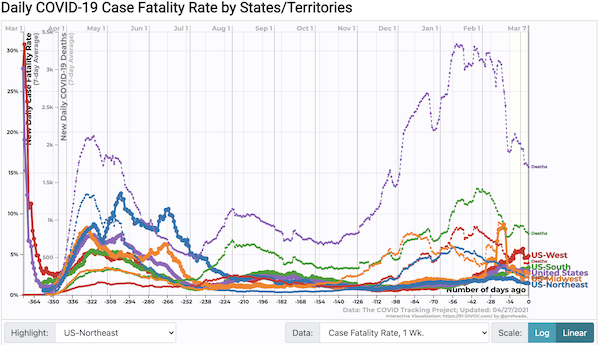 Good to see those deaths dropping. The fatality rate in the West has fallen again, for reasons as mysterious as those that caused its rise.
* * *
Politics
"But what is government itself, but the greatest of all reflections on human nature?" –James Madison, Federalist 51
"They had one weapon left and both knew it: treachery." –Frank Herbert, Dune
"They had learned nothing, and forgotten nothing." –Charles Maurice de Talleyrand-Périgord
Biden Administration
"Biden's still, small voice of calm" [Financial Times]. "Biden's speech displayed US politics at a surreal juncture in its history. As a veteran centrist, Biden is surprising the country and the world with the multitrillion dollar scale of his ambitions. But he lays his plans out in the folksy tones of a grandparental homily. On the other side of the aisle sits a Republican party that is scanning everything Biden does for signs of senility and cultural radicalism. He betrays no traces of the former and is offering very little on the latter. Contrary to recent viral rumours, Americans will still be able to eat hamburgers on July 4. Biden will doubtless be munching his in full view." • 'Tis a consummation greatly to be wished. UPDATE Oh, the "still, small voice" allusion. Here it is, 1 Kings 19:11-13:

11 And he said, Go forth, and stand upon the mount before the Lord. And, behold, the Lord passed by, and a great and strong wind rent the mountains, and brake in pieces the rocks before the Lord; but the Lord was not in the wind: and after the wind an earthquake; but the Lord was not in the earthquake:

12 And after the earthquake a fire; but the Lord was not in the fire: and after the fire a still small voice.

13 And it was so, when Elijah heard it, that he wrapped his face in his mantle, and went out, and stood in the entering in of the cave. And, behold, there came a voice unto him, and said, What doest thou here, Elijah?

(Majestic prose.) As you can see, the "still small voice" is the voice of God (or at least Elijah's God). Now, I know the Biden hagiography is just a little thick right now, but surely conflating Biden with God is over the top.

UPDATE Anyhow, I don't feel calm. I feel anesthetized. As for example by charts like this:

Biden's $4.1tn plans in one chart, and what a chart from the @nytimes. https://t.co/0DuMzHYFq7 pic.twitter.com/XxBXsbM3S3

— Frederik Ducrozet (@fwred) April 29, 2021

That chart looks a soccer ball sewn by a stitcher on acid. Why are the seams where they are? Why are the panels in the order they are? Wouldn't a list — hear me out: the items could be ranked by amount, largest first — be easier to read and more informative? Who did this?

UPDATE I can't even:

.@BeschlossDC reacts to Pres. Biden's first address to Congress: "I think the style was classic Biden … but in terms of ambition, absolutely Rooseveltian and also Johnsonian."https://t.co/K5Ev2jJ03e

— MSNBC (@MSNBC) April 29, 2021

And Shakespearean! Neopolitan! This is a "Presidential Historian" speaking…. Anyhow, the "belongs to" was a highly unfortunate locution:

UPDATE "The Trump Policy That Biden Is Extending" [David Frum, The Atlantic]. The deck: "In his speech on Wednesday night, the president continued his predecessor's attacks on the idea of free trade." • That's a damn shame. And I am sure that as we go on, the continuities between Trump and Biden will become more evident, as they did with Obama and Bush.

UPDATE "Democrats seek to push Medicare expansion as part of Biden's $1.8 trillion families plan, defying White House" [WaPo].

Obama Legacy

Clarke & Dawe skewer "The West Wing" — in 2011 (!!!):

Democrats en Deshabille

Inside-Outside strategy:

— Ilhan Omar (@IlhanMN) April 28, 2021

Those on the Outside cannot control those on the Inside absent countervailing political power ("Make me do it"). So there's no point whinging about what those on the Inside do. Build power, instead. Sadly, DSA looks like the best institution for doing that… A 30's-style CP would really concentrate the minds of the liberal Democrats, but that's not where we're at….

Republican Funhouse

"Advantage, GOP" [FiveThirtyEight]. "It may seem dramatic to suggest that Republicans are overriding democracy to win power when Democrats currently control all three elected legs of the federal government: the presidency, Senate and House. But in order to secure them, Democrats had to go above and beyond winning a simple majority of votes, like a tennis player having to ace all of her serves on a particularly windy day." • Idea: Democrats should write more of us bigger checks*, instead of trying to win "a simple majority of the votes," as they have been doing for years, with — to put it kindly — mixed results. NOTE * Joe Biden owes me six hundred bucks.

Realignment and Legitimacy

"Own the Libs; Get Vaxxed" [National Review]. "Fellas, Trump himself got vaccinated, and it was glorious. In doing so, he rubbed the liberals' faces in the fact that, under his watch, in one of the most astonishing American miracles since the moon shot, we got three different vaccines manufactured by the tens of millions and ready to go. They were all approved within twelve months of the first COVID death in the U.S., and at every step of the way, every liberal from Bangor to Berkeley mocked Trump for saying he would make it all happen. Trump fans should take this vaccine in the spirit of dunking on all the libs who doubted the mighty thrusting force of Trump's Operation Warp Speed. Last March 5, nine and a half months before FDA approval of the first shot, Trump asked his experts whether we might see a vaccine 'within a few months,' and Anthony Fauci instantly corrected him: 'A year to a year and a half.' When Trump said in August that he was hopeful we'd see a vaccine by November — it would be November 20 that Pfizer submitted its data to the FDA to request emergency approval — CNN got so far over its skis that it actually ran a bizarre Fact Check of the Future upbraiding the president, pointing out that the obviously irrefutable and always-correct super-duper expert Fauci was still insisting the vaccine 'would likely not be available widely until 'several months' into 2021.' Say it with me in Trump voice, friends: WRONG. Fauci turned out to be mistaken about so many things that he was like the Hillary Clinton of medicine." • I don't care about Fauci's mistakes. Mistakes are inevitable in science. Null results are important, too. What really irks me to this day is Fauci's Noble Lie on masks, for which he has never been held accountable, possessing as he does impunity as a liberal Democrat icon. Well, that and ramping Gilead's stock.

Note the trust in Amazon:

Incoming. Two stats for you from Harvard Youth Poll (18-29):

1) no one trusts Facebook. Advertisers beware.

ps I see media nearby but media is a single term for a free and plural news environment so the brands you trust are by definition significantly higher. pic.twitter.com/3WHtH6MuZC

— Jason Kint (@jason_kint) April 28, 2021

Stats Watch

Employment Situation: "24 April 2021 Initial Unemployment Claims Rolling Average Improves" [Econintersect]. "Market expectations for weekly initial unemployment claims (from Econoday) were 525 K to 617 K (consensus 558 K), and the Department of Labor reported 553,000 new claims. The more important (because of the volatility in the weekly reported claims and seasonality errors in adjusting the data) 4 week moving average moved from 655,750 (reported last week as 651,000) to 611,750." A cautionary note: "Job's loss since the start of the pandemic is now 81,167,000. Many in this number are now employed or have dropped out of the workforce as all programs continuing claims number is 16,559,276, down from last week's 17,405,150."

GDP: "Advance Estimate 1Q2021 GDP Is 6.4%" [Econintersect]. "The advance estimate for the first-quarter 2020 Real Gross Domestic Product (GDP) is a positive 6.4 %. This growth is an improvement from the previous quarter's growth of 4.3 % if one looks at quarter-over-quarter headline growth. The year-over-year rate of growth also significantly improved and is now in expansion…. I am not a fan of the quarter-over-quarter exaggerated method of measuring GDP – but year-over-year growth is now in positive territory as it is being compared to the beginning of the recession."

* * *

Tech: "CEO of $2B company pushed out for taking LSD before meeting" [The Hill]. "On Monday, a company ousted its chief executive officer and co-founder because he used LSD in 2019. Justin Zhu was experimenting with drugs to boost his focus, but the illegal drug goes against marketing startup Iterable Inc.'s company policy, which resulted in him being kicked out…. Based in San Francisco and created in 2013, Iterable Inc. is a mobile-optimized email marketing solution that enables marketers to test and send personalized emails optimized for mobile without coding, Bloomberg reported." • I love the idea that our mobile infrastructure was designed by CEOs tripping on acid. It explains a lot.

* * *

Today's Fear & Greed Index: 60 Greed (previous close: 61 Greed) [CNN]. One week ago: 56 (Greed). (0 is Extreme Fear; 100 is Extreme Greed). Last updated Apr 29 at 12:21pm.

The Biosphere

"25,000 Barrels Possibly Laced With DDT Are Found Off California Coast" [New York Times]. "This week, a group of scientists shared the results of an extensive mission focused on mapping the area [12 miles off the coast of Los Angeles]. They counted more than 25,000 barrels that they believe may contain DDT-laced industrial waste. In an interview, Dr. Terrill compared the search to space exploration. In areas where they had expected to find, say, a single moon, the sonar images hinted at something more in the vein of the Milky Way…. "As these drums potentially lose their containment function, the materials will make their way into the environment and food web," Dr. Terrill said. This should not affect people swimming or surfing in the area, Dr. Valentine said, because DDT does not dissolve in water. But it may have already entered the food chain, working its way into fish and other marine life, he said…. Senator Feinstein said she planned to ask the Justice Department to find out which companies dumped the barrels and to hold them accountable. Her office declined to elaborate on which companies would be investigated."

Health Care

"Choosing Safer Activities" [CDC]. These are the CDC's new charts on when and when not to mask:

Not exactly wallet-sized, are they? The amazing and horrible thing is that once you understand Covid is transmitted by aerosols, you can follow one simple rule: "Don't share air." You can work out the logic for any individual situation from there.

Water

https://www.themoscowtimes.com/2021/04/27/as-the-caspian-sea-disappears-life-goes-on-for-those-living-by-its-shores-a73752

Everybody's a Critic

This is Manet?

Fishing, 1863 #edouardmanet #impressionism pic.twitter.com/V4cndD2ExF

— Edouard Manet (@artistmanet) April 28, 2021

What's with the spotlights?

Naked Capitalism Cooking Community™

The British culinary imagination:

In another video, "Danny" masks up ("Remember, we're in this together guys") so I don't want to mock him. I just find the whole video a little mind-boggling.

Department of Feline Felicity

Fern, Sid's older and putatively more responsible sister:

Falling asleep while gaming… a true gamer… pic.twitter.com/wa1iaAucEW

— Sun Destroyer 999 (@bombsfall) April 26, 2021

Maybe I should have filed this under Games. Do people really fall asleep playing games?

Class Warfare

I love this style of advertising because it's literally commodity fetishism:

Hostess Devil's Food Twinkies

Circa 1976https://t.co/WjFnRQQbGF pic.twitter.com/13C2Qn3z5q

— Cory Doctorow (@doctorow) April 28, 2021

This, from August Sander, "Peasants going to a dance, Westerwald, 1914":

This, 1948:

Millworkers, 1948 #lslowry #naïveart pic.twitter.com/etTV3YBYzM

— L. S. Lowry (@lowryartist) April 25, 2021

And this, 2021:

BREAKING:

At @SEIUHCMN informational picket outside Mercy Hospital, HCMN announces they're filing a 10-day notice of intent to strike.

Victory to the @AllinaHealth workers preparing to strike! MN Workers United stands ready to support. pic.twitter.com/ttddmxBpas

— MN Workers United! (@MNWorkersUnited) April 28, 2021

The great John Berger (see NC here) commented on Sanders' photo in his famous essay, "The Suit and the Photograph":

Now make an experiment. Block out the faces … with a piece of paper, and consider only their clothed bodies.

By no stretch of the imagination can you believe that these bodies belong to the middle or ruling class. They might belong to workers, rather than peasants; but otherwise there is no doubt. Nor is the clue their hands — as it would be if you could touch them. Then why is their class so apparent?

Is it a question of fashion and the quality of the cloth in their suits? In real life such details would be telling. In a small black and white photograph they are not very evident. Yet the static photograph shows, perhaps more vividly than in life, the fundamental reason why the suits, far from disguising the social class of those who wore them, underlined and emphasized it.

Their suits deform them. Wearing them, they look though they were physically mis-shapen. … None of their abnormalities is extreme. They do not provoke pity. They are just sufficient to undermine physical dignity. We look at bodies which appear coarse, clumsym brute-like. And incorrigibly so.

Berger wrote of German peasants in 1914. He could have written the same words of British workers in 1948. Or American workers in 2021. Personally, I think all workers should have nice things. That includes nice clothes.

News of the Wired

"A theory of how developers seek information" [Austin Z. Henley]. "A person, known as the predator, seeks information, known as the prey, in an information environment made up of patches, which could be code files, program output, log data, a stack trace, debugger information, etc. The predator navigates within and between patches using links (e.g., a shortcut to jump to a function's definition or a button in a menu) that have some cost (e.g., effort and time) until the predator's information goals are satisfied. In a patch there are information features (e.g., words and graphics), which may include the prey. Each information has a value to the predator (possibly a zero value!) and a cost (e.g., the time to process the information). Some information features act as cues that provide a clue as to what a link may lead to…. The predator always has three choices: forage within a patch, navigate between patches, or enrich the environment. Foraging within the patch involves processing the information features at their current location. Navigating between patches involves traversing a link to go to a different patch that can hopefully satisfy the predator's goals. The third option involves the predator changing the environment, such as bookmarking a code location or performing a text search, which produces a new patch with search results." • This would imply the trees and plants don't seek information. I don't think that's true.

"The physical limit of trick shots in billiards" [Gizmodo]. "How many collisions can a billiard ball make before we have no way of knowing its eventual trajectory? The joker in the deck is gravity, a force that no one can entirely "screen out," no matter where they are in the universe. It makes a difference in the path of molecules and the path of billiard balls. For the first collision of a billiard ball, we can control the variable so well that we don't really have to think of gravity as anything other than the force holding the ball on the table. We control all the variables that matter: the placement and force of the hit. After a couple of collisions, we're less able to determine where the balls go. Even on an idealized surface, there are many options depending on the exact force with which the balls meet, and the forces acting upon them. After six or seven collisions, you don't just have to worry about the gravity of the Earth, but of the gravity of the people walking around the table. Exactly where these people are, and the gravitational pull their mass exerts on the balls, will determine whether the balls go one way or another. This means that, unless a pool player can carefully weight the people around the table, determine where they stand, there's no possible way for anyone to be certain of the trajectory of a ball after six or more collisions."

"The New Science of "Fatigue Resistance" [Outdoors]. "Endurance athletes, specifically bicyclists. "[W]hen I asked [Peter Leo, a doctoral student at the University of Innsbruck] how to develop fatigue resistance, he did have a few practical suggestions. One is that running low on carbohydrates seems to make fatigue resistance worse—an observation that dovetails with other data from the Breaking2 project, which found that taking in 60 grams of carbohydrate per hour improved fatigue resistance. In training, Leo and his colleagues hypothesize that the volume of training you do is more important than the intensity for developing fatigue resistance. And you might try including intervals or sprints toward the end of a longer ride, he suggested: four x 8:00 hard with 4:00 recovery after three to four hours of lower-intensity riding, for example."

This is what a magnificent public space can look like, since I am sure most everybody in charge of writing infrastructure requirements has forgotten:

📷 Brassai • Grand Central Terminal, NYC 1957 pic.twitter.com/zudRvCZC4w

— redball (@redball2) April 26, 2021

* * *

Readers, feel free to contact me at lambert [UNDERSCORE] strether [DOT] corrente [AT] yahoo [DOT] com, with (a) links, and even better (b) sources I should curate regularly, (c) how to send me a check if you are allergic to PayPal, and (d) to find out how to send me images of plants. Vegetables are fine! Fungi and coral are deemed to be honorary plants! If you want your handle to appear as a credit, please place it at the start of your mail in parentheses: (thus). Otherwise, I will anonymize by using your initials. See the previous Water Cooler (with plant) here. Today's plant (EH):

EH writes: "From Brooklyn Botanic Garden May 2019…"

"… – and my front yard same month."

Somehow that curved sidewalk fence at top right makes me think of New York slash Brooklyn.

* * *

Readers: Water Cooler is a standalone entity not covered by the recently concluded and — thank you! — successful annual NC fundraiser. So if you see a link you especially like, or an item you wouldn't see anywhere else, please do not hesitate to express your appreciation in tangible form. Remember, a tip jar is for tipping! Regular positive feedback both makes me feel good and lets me know I'm on the right track with coverage. When I get no donations for five or ten days I get worried. More tangibly, a constant trickle of donations helps me with expenses, and I factor in that trickle when setting fundraising goals:

Here is the screen that will appear, which I have helpfully annotated.

If you hate PayPal, you can email me at lambert [UNDERSCORE] strether [DOT] corrente [AT] yahoo [DOT] com, and I will give you directions on how to send a check. Thank you!