By Lambert Strether of Corrente.
Bird Song of the Day
Here is another weaver bird, also with a pretty song; I liked the name "spectacled weaver," since I am be-spectacled myself.
* * *
#COVID19
At reader request, I've added this daily chart from 91-DIVOC. The data is the Johns Hopkins CSSE data. Here is the site.
I feel I'm engaging in a macabre form of tape-watching.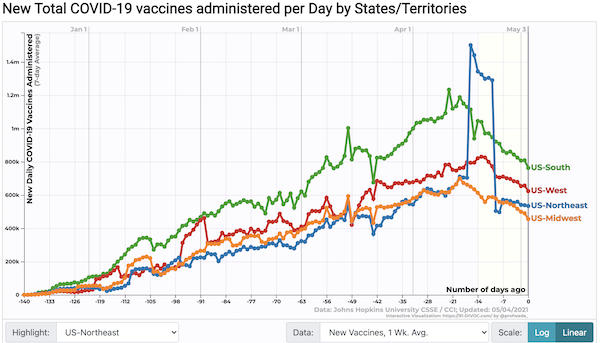 Case count by United States regions: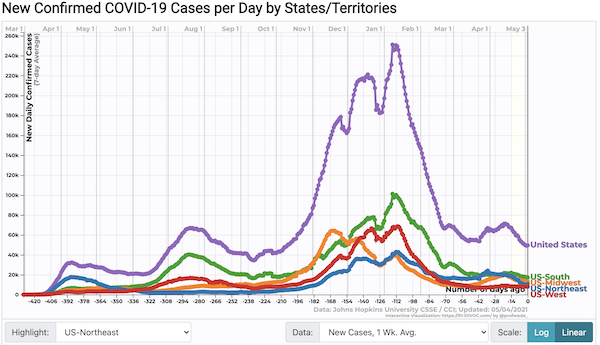 OR
https://www.latimes.com/world-nation/story/2021-04-30/oregon-covid-surge-vaccine
The Midwest in detail: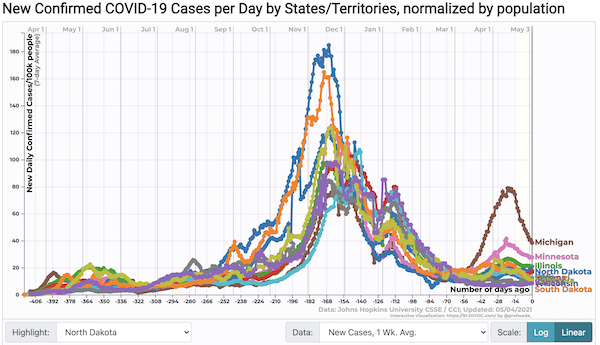 Continued good news.
Big states (New York, Florida, Texas, California):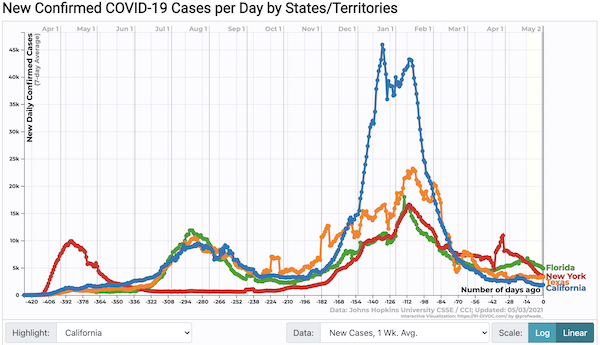 Continued good news.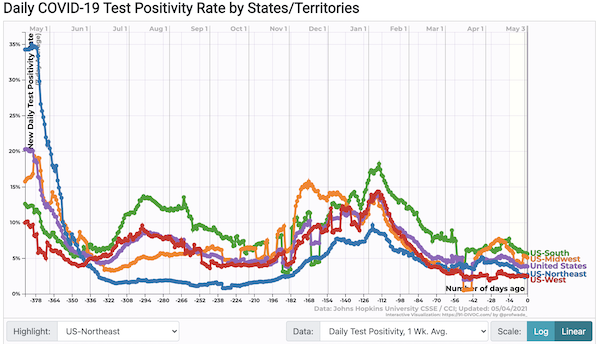 Down, except for the West, now flat.
* * *
Politics
"But what is government itself, but the greatest of all reflections on human nature?" –James Madison, Federalist 51
"They had one weapon left and both knew it: treachery." –Frank Herbert, Dune
"They had learned nothing, and forgotten nothing." –Charles Maurice de Talleyrand-Périgord
Capitol Seizure
"Proud Boys saw wave of contributions from Chinese diaspora before Capitol attack" [USA Today]. "[T]he Proud Boys enjoy significant support from a slice of the Chinese American community and the broader Chinese diaspora. Some Chinese Americans have bought in to the rhetoric spread by the Proud Boys, conspiracy theorists such as Alex Jones and conservative commentators that America is under attack from communism. They believe the Proud Boys are on the vanguard of protecting the country from a communist army controlled by antifa and the Black Lives Matter movement – claims that have been widely debunked. For some who left China in rejection of communism, particularly those who support former President Donald Trump, the Proud Boys have taken on an almost mythical status as tough street soldiers on the front lines of this battle between democracy and communism."
Biden Administration
Biden walking back a promise on vaccine patents?

Has the White House responded to this? https://t.co/iNQQ95yqgv

— Lee Fang (@lhfang) May 4, 2021

"Majority Of House Democrats Want Joe Biden To Waive COVID-19 Vaccine Patents" [HuffPo]. "A majority of House Democrats signed a letter to President Joe Biden on Tuesday calling for the White House to temporarily waive patents and other intellectual property protections preventing developing countries from mass-producing COVID-19 vaccines…. Biden has thus far declined to lift the United States' opposition to the World Trade Organization, or WTO, even considering a temporary waiver of the protections for drugmakers…. The letter's signatories span the ideological spectrum and include a number of moderate Democrats in swing seats, including Reps. Jared Golden of Maine and Elissa Slotkin of Michigan. There are some puzzling absences as well. Of the 93 members of the Congressional Progressive Caucus, 23 did not sign the letter."

Paging Diane Arbus:

Genius PR move to make Bidens look full of youthful vigor tbh pic.twitter.com/qDbCgZosAc

— detty (@0ddette) May 4, 2021

No knock on the Carters. But what an odd photo!
Democrats en Deshabille
"Swiss Billionaire Quietly Becomes Influential Force Among Democrats" [New York Times]. 'He is not as well known as wealthy liberal patrons like George Soros or Tom Steyer. His political activism is channeled through a daisy chain of opaque organizations that mask the ultimate recipients of his money. But the Swiss billionaire Hansjörg Wyss has quietly become one of the most important donors to left-leaning advocacy groups and an increasingly influential force among Democrats. Newly obtained tax filings show that two of Mr. Wyss's organizations, a foundation and a nonprofit fund, donated $208 million from 2016 through early last year to three other nonprofit funds that doled out money to a wide array of groups that backed progressive causes and helped Democrats in their efforts to win the White House and control of Congress last year. Mr. Wyss's representatives say his organizations' money is not being spent on political campaigning. But documents and interviews show that the entities have come to play a prominent role in financing the political infrastructure that supports Democrats and their issues." • The Center for American Progress. Of course.
Republican Funhouse
"Facebook Can't Cure Trump's Chronic Low Energy" [Politico]. "Although Trump's Facebook account was popular—35 million users still follow it in its "frozen" state—and his videos there pulled very high shares, he never extolled it the way he did Twitter. Setting aside which service performed better for him, Twitter was always Trump's favorite child and reporters picked up on that, forever citing his Twitter feed even when he cross-posted a message to Facebook. Even the brevity of Trump's messages indicate that Twitter was—and remains—his social media venue of choice. He will welcome Facebook reinstatement, of course, but will consider the honor a runner-up trophy. Twitter made him. It never let him down. None of this is to suggest that Trump is finished politically. He could, like a dormant volcano, erupt again and rain pyroclastic flows on his enemies once more, with or without help from social media. Until he gets off his duff, the Facebook adjudication, no matter which way it's decided, won't make that much difference to his political future. Trump has voluntarily set aside his publicity hoggery, and the media diet continues to slim him. Never count the old porker out, but feel free to count him down." • Hard to imagine Politico describing, say, Bill Clinton as "the old porker."
Trump Legacy
"Meet the people deciding Trump's fate on Facebook" [Politico]. "The so-called Facebook oversight board has been deliberating Trump's case since January, when he was booted off after the Jan. 6 siege on the Capitol over fears he might incite more violence. Their decision could give the former president back one of his most powerful megaphones or muzzle him permanently on yet another major social media platform." • Thank you for that "so-called." At least one board member isn't sure that the board is genuinely independent or not:

Ahead of @OversightBoard's decision tomorrow about Trump's Facebook account. I asked FB Oversight Board member Suzanne Nossel if the board really is independent of Facebook. pic.twitter.com/gKIohexNeV

— Donie O'Sullivan (@donie) May 4, 2021
RussiaGate
"'Second Steele dossier' on Donald Trump's sexual exploits produced for FBI" [Sydney Morning Herald]. "The second dossier contains raw intelligence that makes further claims of Russian meddling in the US election and also references claims regarding the existence of further sex tapes. The second dossier is reliant on separate sources to those who supplied information for the first reports… It is understood that Steele believes the targeting of Kilimnik shows collusion between the Trump presidential campaign and Russian intelligence services." • Grifters gotta grift?
Realignment and Legitimacy
"When the Party's Over" [The Baffler]. "the slow, deliberate, boring work of the meetings and the spreadsheets and the phone calls is necessary to build the structures that can carry movements forward, provide accountability, and allow for thoughtful deliberation and debate. This too is what democracy looks like. The most necessary organizing is difficult, unpaid, and largely unheralded. Working people are busy and tired and stressed out; why should they spend their free time doing something that will leave them even more drained as often as it energizes and restores them? Why do that difficult historical or theoretical reading when there is a new terrible show on Netflix that won't ask for anything more than a smooth, blank brain to project itself onto? Or, indeed, a YouTube personality whose endless stream you can tune into for parasocial political catharsis? In the aftermath of Bernie 2020, the Covid-19 pandemic, and the George Floyd rebellion, it has become clearer than ever that one of the primary questions that the left in the United States today must answer is that of organization." • That's the bottom line. The bulk of the article is a useful summing up of the Sanders campaign. Well worth a read.

""Woke" CIA Ad Is No Reason to Throw Out the Language of Liberation" [Natasha Lennard, The Intercept]. "[C]o-optation doesn't really tell us anything about the inherent usefulness of an idea." • Totally. Which is why we see material on imperialism and the class struggle all over the front pages of the World Economic Forum.

Wokeness is the ideology of today's PMC, hegemonic within that class and those it dominates as a reaction to Trump. Since wokenesss marries the performance of social justice concerns to career advancement in the corporate and NGO context, it should come as no surprise that it is equally serviceable to the intelligence community. Here's James Clapper's memo lauding diversity: "We have adopted 'diversity' as one of the core Principles of Professional Ethics for the Intelligence Community. "

"Grieving the End of Progress" [Musings from Mark]. "What if, then, we posit that our society is moving through the process of grieving the end of progress, and that different groups within society are at different stages [of grief — denial, anger, bargaining, depression, and acceptance — ] based on when progress ended for them? That was an insight that "clicked" for me, as much of the strangeness I have been observing started to fit into place…. Within this framework, the political right is substantially further along on this process, and indeed positioning along this axis seems to be actively reorienting the political spectrum. This is apparent when noting that regions in decline – timber towns, mining towns, agricultural areas, manufacturing hubs – lean strongly right. These areas in general have much poorer prospects than in years past, low and declining housing values, high rates of poverty, and lower life expectancy. Meanwhile areas where progress continues – cities, college towns, tech-industry-dominated communities – lean strongly left. These areas have better prospects (but still lower than the prior generation), high and rising housing values, and lower rates of poverty. This is also apparent when noting that the working classes have largely moved rightward on the political spectrum while the affluent, traditionally-conservative suburbs have moved leftward." • Intriguing but I think overly schematic.

"Dallas County elections official promises full review after problems closed some polling places for hours Saturday" [Dallas Morning News]. "Park South Family YMCA on Romine Avenue was one of six sites on Saturday that experienced problems, such as voter machines that did not work and volunteers being unable to get into buildings, county officials told The Dallas Morning News. Half of those sites, including the YMCA, were in District 7. The race for that council seat featured eight candidates, more than any other race. Michael Scarpello, who was named Dallas County's elections administrator in December, acknowledged the issues on Sunday and described the county's current voting infrastructure and processes as 'deficient.' He said he plans to oversee a full review of Saturday's voting process. Dallas has countywide voting centers, so voters could cast a ballot at another open center in the county if one was experiencing problems. But it's unclear how many people were turned away from polling places because of issues Saturday, and how many of them ended up casting their ballots elsewhere. Those questions loomed large one day after the votes were tallied in District 7. A 25-vote margin separated two candidates for the last spot in the June runoff against sitting City Council member Adam Bazaldua. "

"The counting will continue until results improve" [Popular Information]. "The Arizona Senate issued a subpoena to the Maricopa County Board of Supervisors, demanding they turn over its ballots. The purpose of the subpoena was to allow the Senate, which is controlled by Republicans who backed Trump's false claims about voter fraud, to conduct their own 'audit' of the results in Maricopa County. The Board fought the subpoena in court but was ultimately ordered to turn over 2.1 million ballots to the Arizona Senate. At first, the Arizona Senate didn't know where to put the ballots, but eventually secured Veterans Memorial Coliseum, the former home of the Phoenix Suns. It hired Cyber Ninjas, 'a Florida-based technology company with no known experience in election audits,' to oversee the process. The CEO of Cyber Ninjas is Doug Logan, 'who has a history of posting unsubstantiated claims of election fraud online.'…. Logan has set up a series of bizarre procedures to examine the ballots, including putting them under a UV light to check for watermarks. Arizona ballots do not use watermarks…. The Arizona Senate is paying Cyber Ninjas $150,000, but that is not enough money to conduct a hand recount of 2.1 million votes. So where is the rest of the money coming from? The Arizona Senate is pushing people to a private website, fundtheaudit.com, that is seeking to raise $2.8 million." • Oh.
Stats Watch
Manufacturing: "United States Factory Orders" [Trading Economics]. "New orders for US manufactured goods rose by 1.1 percent from a month earlier in March 2021, rebounding from a revised 0.5 percent fall in February and but missing market expectations of a 1.3 percent growth. Demand increased for machinery (1.5 percent vs -0.2 percent in February), fabricated metal products (4.0 percent vs 0.4 percent), computers and electronic products (0.5 percent vs -0.2 percent), and primary metals (1.6 percent vs 1.2 percent). '
Trade: "March 2021 Trade Data Improves" [Econintersect]. "Trade data headlines show the trade balance continues to worsen with imports numerically rising faster than exports. From the BEA: 'The global pandemic and the economic recovery continued to impact international trade in March 2021. The full economic effects of the pandemic cannot be quantified in the statistics because the impacts are generally embedded in source data and cannot be separately identified.'"
Housing: "March 2021 CoreLogic Home Prices: Millennials Propel Home Buying" [Econintersect]. "CoreLogic's Home Price Index (HPI) home prices recorded an 11.3% annual gain, the highest since March 2006. '…. As consumer confidence rebounds and the job market picks back up, the 2021 spring homebuying season is on track to outpace trends seen in 2019 and 2018. Millennials lead the homebuying charge with older millennials seeking move-up purchases and younger millennials entering peak homebuying years.'"
Economic Optimism: "United States IBD/TIPP Economic Optimism Index" [Trading Economics]. "The IBD/TIPP Economic Optimism Index in the US decreased by 3.5 percent to 54.4 in May of 2021, the lowest level since February. "
* * *
Real Estate: "Covid-19 as Real Estate's 'Great Disruptor'" [Barry Ritholtz, The Big Picture]. "[Jonathan ] Miller explains how Zillow Surfing has become the pandemic real estate pastime, and has driven some of the activity. Even as vaccinations become widespread, contracts for sales continue to rise. The lockdown has acted as an accelerant on a variety of pre-existing trends. The 'death of cities' has been greatly exaggerated, too. They have an optics problem — the business districts are mostly empty during WFH, but the residential areas are vibrant and active. Net residency is the result of an inbound/outbound ratio where inbound has been frozen during the pandemic lockdown, but outbound shifts to standalone homes with more space than apartments has been very active. We also discuss a possible transition of office space, which he estimates as having an excesses of 20% in total square footage."
Tech: "Facebook Pledges to Remove Discriminatory Credit and Loan Ads Discovered by The Markup" [The Markup]. "Facebook says it will remove ads from several companies that violated its anti-discrimination policy after The Markup discovered companies targeting financial services to specific age groups on the platform. Facebook policy prohibits advertisers from discriminating by age when running ads for things like credit cards and loans. The Markup's report was published on April 29. Facebook didn't respond to multiple requests for comment but reached out to The Markup a day after publication to say that it has since taken action…. [Facebook] didn't respond to follow-up questions on how many ads Facebook has since removed, and how the ads were able to run in the first place." This is interesting: "The ads in question came from data obtained through The Markup's Citizen Browser project, through which a nationwide panel of Facebook users automatically share news feed data with The Markup. The data includes ads that appear in their feeds, as well as some information on how those ads are targeted, via the 'Why am I seeing this ad?' feature. From March 16 to April 26, 2021, the panel included more than 1,800 people in the U.S. " • Though you've gotta wonder why Facebook, whose resources are practically infinite, isn't doing the same thing.
* * *
Today's Fear & Greed Index: 54 Neutral (previous close: 59 Greed) [CNN]. One week ago: 58 (Greed). (0 is Extreme Fear; 100 is Extreme Greed). Last updated May 4 at 12:02pm.
Health Care
"Beer? Money? States and Cities Offer Incentives to Get Vaccinated." [New York Times]. • Demands for compliance with experts having failed, we turn to bribery. Anything but treat people like citizens.
"The experts can stay wrong longer than you can stay alive" [Lessons from the Crisis]. After quoting a myriad of experts who were wrong about travel bans: "The straightforward lesson to take from this is that international public health experts belong to a social and political class which thinks closing borders is bad for mostly domestic political reasons, and in the absence of external reality checks like a pandemic, people wanting to make a career public health can really only advance by mimicking the beliefs of the senior people who are the gatekeepers for advancement. If they hate border closures, and you want them to give you a job, well you'd better hate border closures too…. Is there any mechanism at all for alternative views to surface? After all, you can't short their belief. Maybe you can get them to bet you money that'll pay out in the event of a pandemic, but you'd actually have to convince them to take the bet…. None of this sounds realistic for anyone likely to be in those rooms. I think if you were an early career researcher in public health and sceptical about the prevailing beliefs, there basically isn't much of a way for you to speak your mind at all and even if you did, if global pandemics happen every 100 years, you could have lived your whole life before being proved correct. The experts can stay wrong longer than you can stay alive. The scary lesson in all this is that for unusual risks like pandemics, where the real-life test of expert theories occurs very rarely, we should expect many expert consensus views to be completely back-to-front wrong, because the in-group incentives will drown out any real-world test of their theories and beliefs." • I'm not sure this is entirely correct, because paradigms do change. But we see the same dynamic with masking, and with aerosols vs. droplets, too. It's not that all experts are wrong, but the entrenched ones are more likely to me. I don't know how to solve this (and I'm not sure we want civil servants to have skin in the game). Perhaps some form of public deliberation would be helpful.
"COVID-19-related anosmia is associated with viral persistence and inflammation in human olfactory epithelium and brain infection in hamsters" [Science]. "[O]lfactory mucosa sampling from patients showing long-term persistence of COVID-19-associated anosmia revealed the presence of virus transcripts and of SARS-CoV-2-infected cells, together with protracted inflammation. SARS-CoV-2 persistence and associated inflammation in the olfactory neuroepithelium may account for prolonged or relapsing symptoms of COVID-19, such as loss of smell, which should be considered for optimal medical management of this disease." • One more reason nasal sprays are the cat's pajamas, bees knees, positively the lobster's dress shirt.
Police State Watch
"Police fired 24 shots at a handcuffed man. Why didn't they turn on their body cameras?" [NBC]. "Experts say police departments need to implement three basic rules in order for the cameras to be effective: tell officers specifically when to hit record, ensure they announce they are filming, and outline clear consequences for when the rules are broken. But many of the nation's major police departments don't follow these basic guidelines. Examining the body camera policies of 28 large police departments in a geographically representative array of U.S. states, along with the policy in Chester, NBC News found 45 percent gave specific instructions for when officers should start recording. Roughly 41 percent required officers to announce they're recording. And only 34 percent clearly stated there are consequences for not recording."
The Tube
"Mike Schur-Shea Serrano Comedy Among Shows on Amazon's IMDb TV Development Slate" [Variety]. "'The Fed,' which follows the personal and career drama surrounding a group of young finance hopefuls as they begin an elite fellowship with the Federal Reserve, the nation's most powerful financial institution. These young financial geniuses are destined for greatness — provided they don't screw it all up with secrets, lies, sex, and politics. Produced by Warner Bros. Television, the drama is executive produced and written by Nkechi Okoro Carroll ('All American'), who worked for the Federal Reserve prior to her TV career. Adesuwa McCalla, who has a first-look deal with Amazon Studios, will also serve as executive producer." • Looks like the West Wing Thing crowd has a new show to follow….
Guillotine Watch
The point of the service economy is to have servants, if only for a single transaction:
Edward's coffee order has Starbucks barista begging to end TikTok trend https://t.co/raSvaDVZq0 pic.twitter.com/u3bq3qIivR

— New York Post (@nypost) May 3, 2021
By mobile. Of course. Mobile's role in enabling new classes of servants (e.g., food delivery) has not been examined, so far as I know. "Edward" would never have been able to deliver such an order face-to-face, if only because somebody waiting in line would have killed or maimed him. But the layer of indirection created by mobile also created the social relation.
Class Warfare
"Ask The Onion: How To Retire Comfortably" (slideshow) [The Onion]. Question: "When would be the best time to start saving for retirement?"'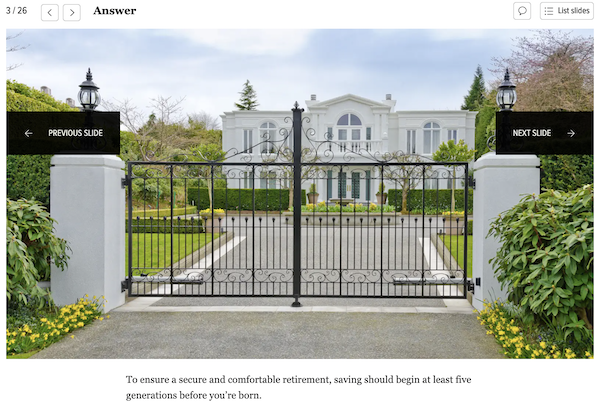 "Paradigm Shifts' [New Left Review]. As usual with the NLR, make a pot of coffee. The conclusion: "Politically, the Democrats have defied predictions that Biden would face rebellions from an unruly left. From aoc to David Sirota, left critics have focused on the scale of the packages—not enough—rather than their 'compete with China' character. The logic may seem reminiscent of Bernsteinian social imperialism in the 1900s: as long as the domestic working class is doing well, who cares about the dynamics driving mounting tension with international adversaries? Since the scale and scope of Biden's leftward discursive shift has been so sudden, and so unexpected, it would be unfair to tar them with that. But this is the challenge the Biden Administration poses to America's fledgling left: the delicate and difficult task of how to counter national-imperialist thinking on China with new forms of international solidarity."
Translate to mRNA as a platform:
You know what would happen if we actually got replicator tech, right. Trying to use it would be like finding a GPU being sold at MSRP.
"Sorry Mrs Evergreen we can't make your kidney right now, we are booked solid by suspiciously wealthy nerds printing catgirls and fursuits."

— SwiftOnSecurity (@SwiftOnSecurity) May 1, 2021
"The Most Dangerous People in the Country" [Belt Magazine]. This is about teacher organizing, and it's hard to excerpt. Here's a historical nugget: "Her words inspired local miners to step up and organize. This resulted in the Paint Creek-Cabin Creek Strike of 1912-13. A through line can be traced from this strike to 1920's Matewan Massacre, when Matewan police chief Sid Hatfield and a group of union miners found themselves in a shoot-out with Baldwin-Felts detectives contracted to the mine operators. Things boiled over in 1921 with the Battle of Blair Mountain, in which thousands of union miners armed themselves and marched against company men and local and state law enforcement. It has been called the largest armed uprising in our nation's history since the Civil War." • Makes the Capitol rioters look like pikers.
"Rich People Are Fueling Climate Catastrophe — But Not Mostly Because of Their Consumption" [Jacobin]. "Rich people have enormous carbon footprints. But the fundamental problem with their climate impact isn't what they consume — it's that they own the means of production, and it's extremely profitable for them to pollute." • In a nutshell!
News of the Wired
"What Makes Music Universal" [Nautilus (Anthony L)]. "A 2019 paper in Science, "Universality and Diversity in Human Song,"2 got me thinking anew. The paper concludes, 'Music is in fact universal.' The conclusion is based on an impressive computational analysis of two cross-cultural datasets, one of recordings drawn from 86 societies, the other of ethnographers' notes about musical behaviors from 60 societies around the world. The authors assert music is the product of 'underlying psychological faculties' sparked by the basics of living. They write that four song types are heard in every society—love songs, lullabies, healing songs, dance songs. All cultures are animated by people who fall in love, have babies, seek spiritual health, and, if I may quote Teddy Pendergrass, get up, get down, get funky. 'We've shown you don't need to be familiar with a particular culture to understand and enjoy its music,' Samuel Mehr, lead author on the paper, told me. Mehr is a research associate in the Department of Psychology at Harvard, where he is principal investigator at the Music Lab, a psychology laboratory studying music perception and music production. 'You can find music meaningful and artistically interesting, and even glean reliable information, objective facts, from music made in different cultures. That's really interesting socially because it shows there's a common ground in this artistic product across cultures.'" • Hmm:
Maybe so!
* * *
Readers, feel free to contact me at lambert [UNDERSCORE] strether [DOT] corrente [AT] yahoo [DOT] com, with (a) links, and even better (b) sources I should curate regularly, (c) how to send me a check if you are allergic to PayPal, and (d) to find out how to send me images of plants. Vegetables are fine! Fungi and coral are deemed to be honorary plants! If you want your handle to appear as a credit, please place it at the start of your mail in parentheses: (thus). Otherwise, I will anonymize by using your initials. See the previous Water Cooler (with plant) here. Today's plant (EH):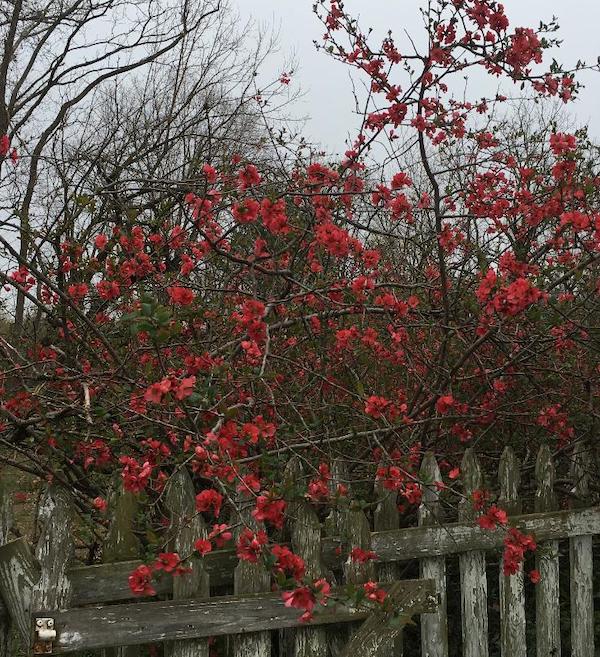 EH writes: "My friend Fay's Japanese Flowering Quince bush." That is very pretty. It's not to late to plant one, either!
* * *
Readers: Water Cooler is a standalone entity not covered by the recently concluded and — thank you! — successful annual NC fundraiser. So if you see a link you especially like, or an item you wouldn't see anywhere else, please do not hesitate to express your appreciation in tangible form. Remember, a tip jar is for tipping! Regular positive feedback both makes me feel good and lets me know I'm on the right track with coverage. When I get no donations for five or ten days I get worried. More tangibly, a constant trickle of donations helps me with expenses, and I factor in that trickle when setting fundraising goals:
Here is the screen that will appear, which I have helpfully annotated.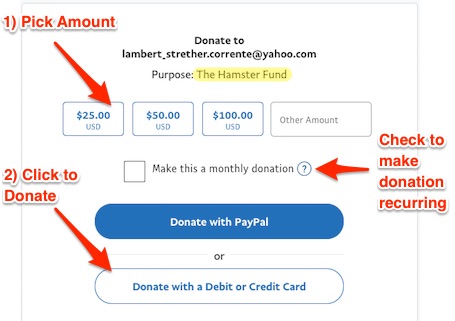 If you hate PayPal, you can email me at lambert [UNDERSCORE] strether [DOT] corrente [AT] yahoo [DOT] com, and I will give you directions on how to send a check. Thank you!