Pennies In Bags of Water Make Flies Flee Tennessee Farm Bureau (Furzy Mouse).
Glut of cash in US financial system pressures Fed policy rate FT
For Startup Leaders, SPACs Have Lost Their Allure WSJ. If Silicon Valley can't stomach them, SPACs must be… quite something.
Former Goldman Executive Sumit Rajpal Launches Buyout Firm WSJ. "[T]argeting companies that are sitting on valuable troves of data that can be used more effectively to spur growth."
#COVID19
New Research Suggests Number of Kids Hospitalized for COVID Is Overcounted New York Magazine. Many interesting issues raised. The researchers distinguish between children hospitalized for Covid (symptomatic) and those hospitalized with Covid (asymptomatic, tested in hospital). But I am not sure that takes the possibility of asymptomatic long-haul children into account. And then there's this:

Explaining why the official tallies were found to be so far off, Baral said the electronic databases that hospitals use are administrative in purpose, meant for billing, resource management, et cetera. 'They were not designed to infer the prevalence and severity of an infectious virus.' We have a desire for instant, accurate data, he said, but validation takes time.

So in essence — resource allocation decisions having been made — we've engineered EHR data systems to kill us for profit, right? Sounds about right (and see under "Health Care," below). Interesting article, but read with care.

* * *

Face masks effectively limit the probability of SARS-CoV-2 transmission Science. From the Abstract: "We show that variations in mask efficacy can be explained by different regimes of virus abundance and related to population-average infection probability and reproduction number. For SARS-CoV-2, the viral load of infectious individuals can vary by orders of magnitude. We find that most environments and contacts are under conditions of low virus abundance (virus-limited) where surgical masks are effective at preventing virus spread. More advanced masks and other protective equipment are required in potentially virus-rich indoor environments including medical centers and hospitals. Masks are particularly effective in combination with other preventive measures like ventilation and didzstancing." "[P]otentially virus-rich indoor environments including" is deftly worded. It's not that Aerosol Generating Procedures (AGPs) indoors in hospitals are not sources of aerosols; it's that AGPs are not the only source of aerosols (and indeed shouting, singing, talking, and breathing are the most important sources in real-world crowded, close-contact, closed environments, as the epidemiology consistently shows).

* * *

COVIDPoops19: Summary of Global SARS-CoV-2 Wastewater Monitoring Efforts UC Merced (JustAnotherVolunteer). Interactive map. 54 countries, 2,216 sites.

COVID testing's value shrinks as vaccines beat back virus AP

Vaccines' success could undercut Biden's multibillion-dollar school testing plans Politico. Sniffer dogs would be ideal for school districts but whatever.

Covid: Sniffer dogs could bolster screening at airports BBC. Use the dogs for mass screening, sort the false positives. This is not hard.

Singapore Approves Covid Breath Test That Gives Immediate Result Bloomberg

* * *

More states turn to lotteries in vaccine hesitancy fight The Hill

The Families Torn Apart By Vaccine Politics New York Magazine

Covid shadow hangs over WHO international meet Agence France Presse. I'll bet.

Readers know my priors, so:

How I feel about our current precarious pandemic situation. Some wealthy countries think they got it under control… for now… what could possibly go wrong? 🤷🏻‍♂️ #COVID19 pic.twitter.com/yHGc8wgnr3

— Eric Feigl-Ding (@DrEricDing) May 24, 2021
Exclusive | Coronavirus: Post exposes undisclosed Vancouver outbreaks, as medical chief says relatives blame her for deaths South China Morning Post. SCMP breaking stories in Canada…..
China?
Destiny and divination: Online fortunetelling booming among young people in Hong Kong NBC

Feeding the Chinese City Progressive International

Life imitates comedy at the Pentagon South China Morning Post
Myanmar
EU denounces Myanmar junta's electoral body plan to dissolve Suu Kyi party Reuters

ASEAN's Myanmar dilemma East Asia Forum

Beloved Myanmar Band Tarnishes Reputation by Playing for Junta Leaders The Irrawaddy
Duterte's daughter Sara in focus as his presidency winds down Nikkei Asian Review. Another dynasty.
Japan ramps up mass vaccinations in Tokyo and Osaka amid Covid surge BBC
Syraqistan
The BBI Judgment and the Invention of Kenya Verfassungsblog
UK/EU
Headlines today full of good news stories, while experts are seriously worried about what's happening. Only 30% of our population are fully vaccinated. We're being fed 'hopium' and spin while we are herded into yet another devastating wave.https://t.co/H6Sfb4pxxN

— Deepti Gurdasani (@dgurdasani1) May 23, 2021
New Cold War
Biden Administration
Democrats en Deshabille
Why the Democrats Need an Architectural Vision to Counter the Right's The New Republic
Republican Funhouse
By singling out Dominion, the GOP has successfully deflected from legitimate election-security concerns involving America's largest voting machine vendor, ES&S. Jennifer Cohn. I hate to keep harping on this, but if Arizona's election officials had used hand-marked paper ballots, hand-counted in public, the Maricopa recounting process would have consisted of… simply counting the paper ballots again.
Health Care
What 600 physicians said about trust in healthcare organization leadership during pandemic Becker's Hospital Review

Covid Killed His Father. Then Came $1 Million in Medical Bills. NYT

Rather like billing the family for the executioner's bullet:

I honest-to-god got a bill for the EMTs telling me my son was dead. This is just among the zillion goddamn reasons we need universal healthcare 😖 pic.twitter.com/igkHEW8gP3

— Chocolate Milf – she/her/hers (@lawyermama41) May 24, 2021
Big Brother Is Watching You Watch
Groundbreaking Smart Toilet takes photos of your poo to send to doctors for analysis Daily Star (Re Silc).
People Are Using an Ancient Method of Writing Arabic to Combat AI Censors Hyperallergic
It only looks like Chinese:
At first glance, a Chinese instruction manual of some kind.

But look closely: everything here – every single word without exception – is in English.

This is An Introduction to Square Word Calligraphy, a livre d'artiste by the acclaimed Chinese contemporary artist Xu Bing. 1/7 pic.twitter.com/YvwIqgnYNn

— Incunabula (@incunabula) March 25, 2021
Our Famously Free Press
Lateral Reading: Reading Less and Learning More When Evaluating Digital Information SSRN. "To investigate how people determine the credibility of digital information, we sampled 45 individuals: 10 Ph.D. historians, 10 professional fact checkers, and 25 Stanford University undergraduates. We observed them as they evaluated live websites and searched for information on social and political issues. Historians and students often fell victim to easily manipulated features of websites, such as official-looking logos and domain names. They read vertically, staying within a website to evaluate its reliability. In contrast, fact checkers read laterally, leaving a site after a quick scan and opening up new browser tabs in order to judge the credibility of the original site. Compared to the other groups, fact checkers arrived at more warranted conclusions in a fraction of the time." Lateral reading is what we do…. .
Black Injustice Tipping Point
Anti-Racism Handout (PDF) Robin DiAngelo. Dated 2012, uploaded 2016, first link under "Handouts," 2021.
Nothing Has Made Me Feel More American Than Going to Jail The Marshall Project
Guillotine Watch
Convicted Libor trader Tom Hayes to join private spook firm FT
Class Warfare
Status Anxiety as a Service Noah Smith, Noahpinion
Turns Out It's Pretty Good: Enemies New York Magazine
Consent Theater Cory Doctorow, One Zero
Antidote du Jour (Crittermom):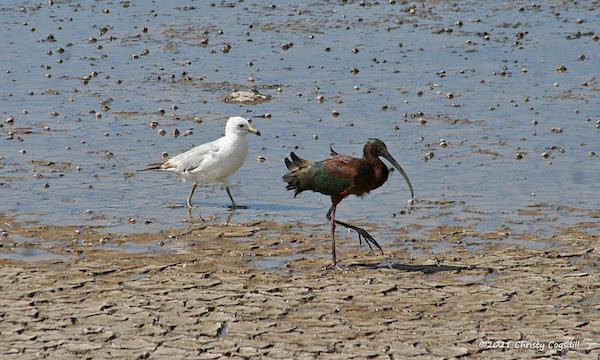 Crittermom writes: "After dropping my puppy at the vets (an hour away) for the day, I ventured a mile down the road to a small lake that was being drained, after reading about it and the bird activity as a result. There were at least three dozen White-faced Ibis, three Avocets, and this lone seagull who seemed to prefer hanging out with the Ibis, as it joined one for a stroll along the shore."
See yesterday's Links and Antidote du Jour here.