By Lambert Strether of Corrente.
Patient readers, as usual on the weekend, I collected so much it was hard to sort. More shortly. –lambert
Bird Song of the Day~
A vague association with honey badger, I suppose…
* * *
#COVID19
At reader request, I've added this daily chart from 91-DIVOC. The data is the Johns Hopkins CSSE data. Here is the site.
I feel I'm engaging in a macabre form of tape-watching. All the charts are becoming dull — approaching nominal, if you accept the "new normal" of cases, for example.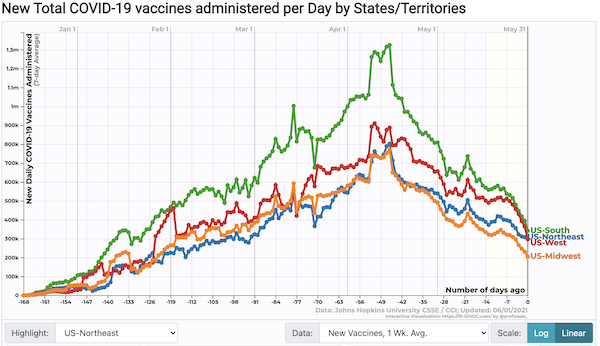 Well, scraping the bottom of those diminishing returns. Nevertheless…
Case count by United States regions: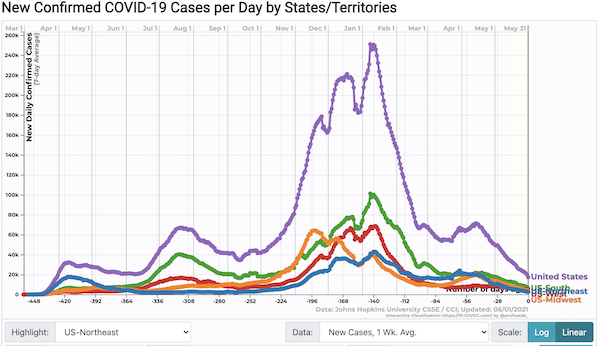 Continued good news, even a little dip in the cases. The United States really is doing pretty well on vaccination now (and the media, well, propaganda that we've licked this thing is really overwhelming). But take a look at this map: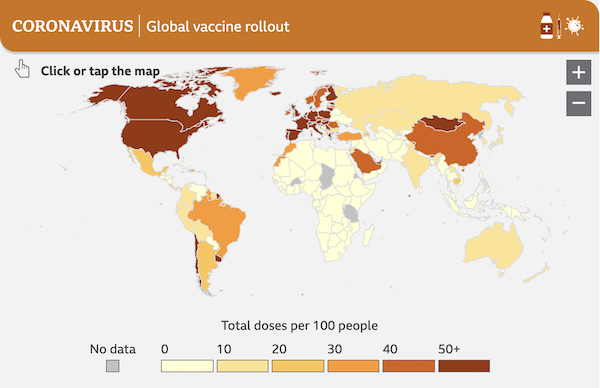 The rest of the world is not doing well, at all. And the experience of the UK tells us that the entire unvaccinated world is a breeding ground for variants. When I look at the United States, I see a single point of failure: Vaccines. We don't have any significant entry controls at our airports, so international transmission is a given. The Biden Administration essentially dissed Non-Pharmaceutical Interventions, presumably for a bump in the polls; NPIs are doing to be very difficult to put in place again, especially given that the Biden Administration never said they were a reason we "beat' the virus, or praised those who were disciplined in adhering to them. The vaccines EUA disincentivises the search for treatments (e.g., Ivermectin). And we have no testing or contract tracing worthy of the name. We bet the farm on vaccines, and only vaccines. What happens if the bet goes sour? I look at that map, and the phrase "Fool's Paradise" comes to mind. I hope I'm wrong!
Big states (New York, Florida, Texas, California):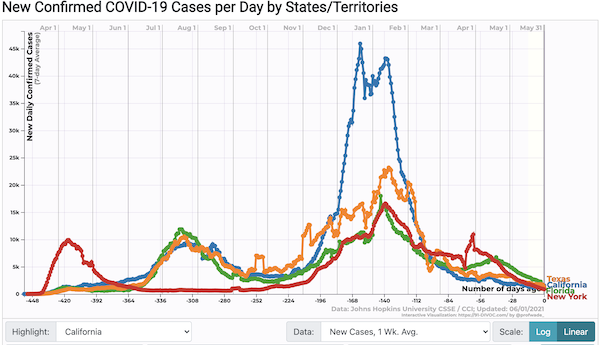 Continued good news.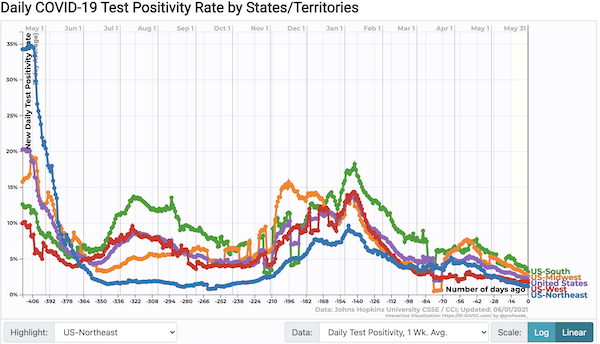 More good news.
Hospitalization (CDC):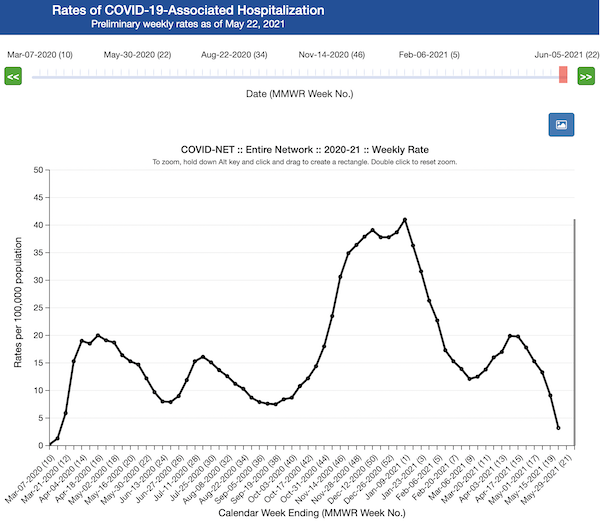 More good news.
Deaths (Our World in Data):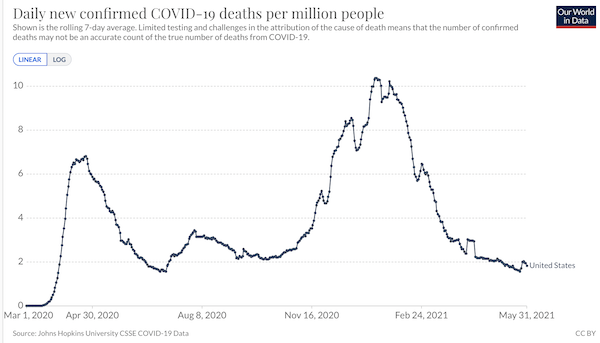 More good news.
Covid cases worldwide: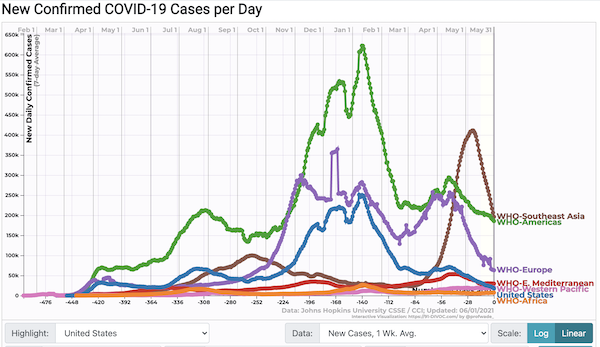 Given that Miami is the capital of Latin America, that's a region worth watching.
* * *
Politics
"But what is government itself, but the greatest of all reflections on human nature?" –James Madison, Federalist 51
"They had one weapon left and both knew it: treachery." –Frank Herbert, Dune
"They had learned nothing, and forgotten nothing." –Charles Maurice de Talleyrand-Périgord
Biden Administration
"Anthony Fauci's pandemic emails: 'All is well despite some crazy people in this world'" [WaPo]. "As the coronavirus pandemic engulfed the world last spring, Science magazine quoted a top Chinese health official saying that the United States and other Western nations were making a 'big mistake' by not telling people to mask up. The official, George Gao, worried that the comment might upset his longtime friend Anthony S. Fauci, Washington's leading expert on infectious diseases. So amid the deepening crisis, Gao reached out to clear the air. 'I saw the Science interview, how could I say such a word 'big mistake' about others? That was journalist's wording. Hope you understand,' Gao, director of the Chinese Center for Disease Control and Prevention, wrote to Fauci in a March 28 email. 'Lets work together to get the virus out of the earth.'" • With friends like these….

UPDATE "Vice President Harris' team tries to distance her from fraught situation at the border" [CNN]. "In the weeks since the President asked her to take charge of immigration from Central America, Vice President Kamala Harris and her staff have sought to make one thing clear: She does not manage the southern border…. Biden announced Harris' new assignment on March 24 ahead of an immigration meeting in the White House State Dining Room… After the announcement, Harris' aides appeared to "panic," according to one of the officials, out of concern that her assignment was being mischaracterized and could be politically damaging if she were linked to the border, which at the time was facing a growing number of arrivals. But another White House official pushed back on the sentiment, saying the vice president's team wasn't panicked. One of the officials said Harris appears eager for a portfolio that will allow her to achieve political victories, especially in foreign policy, an area where she is far less experienced than Biden. Instead, Republican critics and the media have portrayed her new immigration role as a border assignment, potentially opening her up to criticism for the handling of the seemingly intractable problem. Harris' performance is critical to her future political career, which could well include a run for president. It's also of special concern right now as she prepares to depart for a trip to Guatemala and Mexico next week as part of this project. It will be her first official foray into in-person, in-country talks about the troubles that push Central American migrants toward the US. Harris and her staff have made it clear that they want to focus narrowly on diplomatic efforts in Mexico and the Northern Triangle countries of Guatemala, Honduras and El Salvador, where they believe they are more likely to achieve tangible results in addressing the root causes of migration, like economic despair, said the officials."

UPDATE Thought balloon: "Is he dead yet?"

Enjoy the long weekend. pic.twitter.com/ilGOrod4AW

— Vice President Kamala Harris (@VP) May 29, 2021

I'm coming to dislike Harris's smile as much as I dislike some President's voices. She has a lovely smile. But these are not lovely people.

UPDATE CrowdStrike, eh?

NEW: Biden's pick for National Cyber Director, fmr NSA Deputy Chris Inglis, was Board Director for @Huntington_Bank, @FedEx, @BlackpointUS, and cybersecurity-focused venture capital firm Paladin Capital.

He also worked for @ABlinken's @WEAdvisors, consulting for @Crowdstrike. pic.twitter.com/iOtfktUsyW

— Robbie Jaeger 🔎 (@RobletoFire) May 29, 2021

And, of course, Paladin….
Democrats en Deshabille
"Democrats Are Running Out of Time" [Ronald Brownstein, The Atlantic]. "nxiety is growing among a broad range of civil-rights, democracy-reform, and liberal groups over whether Democrats are responding with enough urgency to the accelerating Republican efforts to both suppress voting and potentially overturn future Democratic election victories…. In a conference call with reporters last week, Beto O'Rourke, the 2018 Democratic Senate candidate in Texas, didn't mince words when I asked him whether the White House and Democratic congressional leaders are showing sufficient concern about the GOP's moves. 'The short answer is no,' he told me. He said he's confident that Biden will eventually speak out more forcefully. But, O'Rourke added, 'This is the Voting Rights Act of our time. To pass the 1965 Voting Rights Act, President [Lyndon B.] Johnson used all of the political capital he had … We need that level of moral clarity from the president. Bring this country together, and connect the dots for all of us.'" • Total West Wing Brain to think that Biden can do the "moral clarity" speech (because on the West Wing, it's always a speech). And Beto lets the cat out of the bag, too: If H.R 1 will really take "all of the political capital" Biden has, is that how we wants to spend it?

NOTE Google is doing its censorship thing again. I was searching for the post I wrote on H.R. 1, the "For the People Act":

The only hit that came up had "For the People" buried in a note. However, the post I wanted — "H.R.1 (the "For the People Act") Legitimizes WaPo's McCarthy-ite PropOrNot "Reporting," Institutionalizes Ballot Marking Devices, and Cripples Minor Parties" — does not appear in Google's results, although it is the first hit in Bing. I suggest that is because "PropOrNot" is in the title (as opposed to the text, as in the hit that did come up). The degree of mutual in-the-tank-ness in the political class is stunning. (This is also why it's no longer possible to use Google as a research tool; it's so crapified it can't even find posts you are 100% sure that you wrote.)

UPDATE When you've lost Oliver Willis:

you can't keep telling people "just vote, just vote" and then when they vote — during a pandemic — and deliver you into power, you shrug and say "we can't do it, cause the rules, guess you just have to vote some more."

it's not going to hold. it just cannot.

— Oliver Willis (@owillis) May 28, 2021

UPDATE Ka-ching:

i think of not only how the dems are *constantly* asking us for more money in emails and shit, but also the specific ways campaigns get support depending on how much money they can fundraise above all else. emily's list infamously obsessed with fundraising above all else

— Colin Spacetwinks (@spacetwinks) May 29, 2021

And:

(emily's list really, really, REALLY isn't subtle about how much they prioritize fundraising above all else) pic.twitter.com/zhqNfJHcff

— Colin Spacetwinks (@spacetwinks) May 29, 2021

Reminds me of Emily Cain, of Orono, ME where the state university is (Town motto: "We're smarter than you!") who got trounced by Bruce Poliquin in 2016, and failed upward to become head of… Emily's List!
Republican Funhouse
UPDATE "Arizona GOP boasts 1 million ballots counted in Maricopa County audit" [Denver Gazette]. "Kelli Ward, the chairwoman of the Arizona Republican Party, talked about the progress of the controversial review in a Memorial Day video posted to Twitter and addressed a report that the GOP-led legislature is considering yet another recount that goes beyond the current examination of ballots specifically for the Senate and presidential election. 'As for 'America's Audit,' counting continues today, and the latest total has hit 1 million ballots evaluated and hand-counted. That's in large part due to more volunteer counters in place, and that gets us to nearly 50% of the 2.1 million 2020 ballots cast in Maricopa County,' Ward said. The audit, which is being led by firm Cyber Ninjas and has been taking place in Veterans Memorial Coliseum in Phoenix since April with a one-week break for high school graduations, is still expected to finish in late June, she added."
Realignment and Legitimacy
"If the Wuhan lab-leak hypothesis is true, expect a political earthquake" [Thomas Frank, Guardian]. "We don't know the real answer yet, and we probably will never know, but this is the moment to anticipate what such a finding might ultimately mean. What if this crazy story turns out to be true? The answer is that this is the kind of thing that could obliterate the faith of millions. The last global disaster, the financial crisis of 2008, smashed people's trust in the institutions of capitalism, in the myths of free trade and the New Economy, and eventually in the elites who ran both American political parties. In the years since (and for complicated reasons), liberal leaders have labored to remake themselves into defenders of professional rectitude and established legitimacy in nearly every field. In reaction to the fool Trump, liberalism made a sort of cult out of science, expertise, the university system, executive-branch 'norms,' the 'intelligence community,' the State Department, NGOs, the legacy news media, and the hierarchy of credentialed achievement in general. Now here we are in the waning days of Disastrous Global Crisis #2. Covid is of course worse by many orders of magnitude than the mortgage meltdown — it has killed millions and ruined lives and disrupted the world economy far more extensively. Should it turn out that scientists and experts and NGOs, etc. are villains rather than heroes of this story, we may very well see the expert-worshiping values of modern liberalism go up in a fireball of public anger." • Unfortunately for liberal Democrats, only Republicans can tell this story. All the more reason, then, for Biden's intelligence community investigation — due in roughly sixty days — to either (a) try to put the toothpaste back in the tube, or (b) blame China. I don't see how they can deliver a report that says (c) "I guess we'll never know." I imagine The Blob, in its invisible internal workings, is furiously fighting itself to see whether (a) or (b) prevails. If (a) wins, a good half the country doesn't believe them. If (b) wins, a good half of the world. I don't see, hashing this out with Yves, that the Chinese people would greet (b) with "sweets and flowers," as the lunatics who brought us Iraq seemed to legitimately believe, lunatics that they were.

UPDATE "Iowa flap raises fears of politicized local election offices" [Associated Press]. "It had been eight years since a Republican candidate even stepped forward to challenge Democrat Roxanna Moritz as the top elections official in Scott County, Iowa. Running unopposed in 2016 and 2020, Moritz had become, over her four terms as auditor, the top vote-getter ever in this swing-voting county along the Mississippi River, the third most-populous in the state. Moritz's abrupt resignation last month came after months of tension that degenerated into personal attacks and threats of violence. Her departure and partisan moves since then are signs that an office long viewed as nonpartisan is now fair game in the political fight about trust in the nation's elections."

UPDATE "The Effect of Social Media on Elections: Evidence from the United States" [NBER]. "We study how social media affects election outcomes in the United States. We use variation in the number of Twitter users across counties induced by early adopters at the 2007 South by Southwest (SXSW) festival, a key event in Twitter's rise to popularity. We show that this variation is unrelated to observable county characteristics and electoral outcomes before the launch of Twitter. Our results indicate that Twitter lowered the Republican vote share in the 2016 and 2020 presidential elections, but had limited effects on Congress elections and previous presidential elections. Evidence from survey data, primary elections, and a text analysis of millions of tweets suggests that Twitter's relatively liberal content may have persuaded voters with moderate views to vote against Donald Trump." • So naturally liberal Democrats had to ruin a good thing because they've fallen in love with censorship.
Stats Watch
Manufacturing: "United States Manufacturing PMI" [Trading Economics]. "The IHS Markit US Manufacturing PMI was revised higher to 62.1 in May of 2021 from a preliminary of 61.5 and above 60.5 in April. The reading pointed to another record growth in factory activity, supported by stronger expansions in output and new orders, with the pace of the latter reaching the fastest on record. Nonetheless, constraints on production capacity were exacerbated further during the month, as severe supply-chain disruptions led to a marked accumulation of backlogs of work and one of the fastest rises in input prices since data collection began in May 2007. "
Manufacturing: "United States ISM Purchasing Managers Index (PMI)" [Trading Economics]. "The ISM Manufacturing PMI rose to 61.2 in May of 2021 from 60.7 in April, beating market forecasts of 60.9 and pointing to slightly stronger growth in factory activity. New orders (67 vs 64.3) and a backlog of orders (70.6 vs 68.2) accelerated and inventories rebounded (50.8 vs 46.5) while employment was at the lowest level since November (50.9 vs 55.1) and price pressures remained elevated (88 vs 89.6)."
Manufacturing: "United States Dallas Fed Manufacturing Index" [Trading Economics]. "The Federal Reserve Bank of Dallas' general business activity index for manufacturing in Texas decreased 2.4 points from the previous month to 34.9 in May of 2021. The new orders index came in at 20.8, down from 38.5 in April but more than triple the series average of 6.3. Similarly, the growth rate of orders index came in at 19.5, down from 32.3 but still elevated. The production index, a key measure of state manufacturing conditions, fell 18 points to 15.7, a reading still well above average and indicative of healthy output growth. The capacity utilization index remained high, though it slipped from 34.6 to 23.2, and the shipments index fell from 32.6 to 18.3." • "Slipped"?
Housing: "CoreLogic's Home Price Index (HPI) home prices recorded a 13% annual gain, the highest since February 2006." [Econintersect]. "CoreLogic's Home Price Index (HPI) home prices recorded a 13% annual gain, the highest since February 2006…. Home prices are continuing to rise being exasperated by low inventory." • "Exacerbated"? Maybe not!
* * *
Retail: "These uniquely Texan canned craft cocktails boomed after launching during the pandemic" [CNBC]. • "Canned craft cocktails." Help me.
The Bezzle: "Uber and Lyft Experiment with Labor Practices Amid Driver Shortage" [The Markup]. "The tweaks are largely designed to do two things: make sure passengers get a ride when they want one and get drivers to accept more rides, including complicated or low-paying ones that they might not want. In California, where Castellanos lives, Uber removed the ability for drivers to set their own surge prices, and it changed the way it calculates its own take of the fare from a 25 percent fee to 'variable.' To Castellanos's chagrin, Uber also stopped showing drivers information about prospective rides—like fare, destination, and distance—unless drivers have accepted five out of the last 10 offered trips. Uber first started showing that information to drivers as part of an ultimately successful $220 million ballot measure campaign in California to classify drivers as independent contractors rather than employees. Now, the company has rolled back these features in an attempt to get drivers to accept more rides." • Big ups to Silicon Valley project managers and software engineers for screwing the workers. After all, anybody who was at a whiteboard could easily see what was being done….
The Economy: Big if true:
The impact of Bidenomics and vaccines. Consensus now expects no US scarring (compared to forecasts they made last summer, which had persistent output losses). Now we need the same in Europe! pic.twitter.com/xPe6wYgwDb

— Dario Perkins (@darioperkins) June 1, 2021
I hate the feeling of being talked into something. On the other hand, those manufacturing numbers…
* * *
Today's Fear & Greed Index: 41 Fear (previous close: 38 Fear) [CNN]. One week ago: 33 (Fear). (0 is Extreme Fear; 100 is Extreme Greed). Last updated Jun 1 at 12:06pm.
Rapture Index: Closes down one on earthquakes. "It has been several months since a quake has caused major damage in any zone" [Rapture Ready]. Record High, October 10, 2016: 189. Current: 187 (Remember that bringing on the rapture is a good thing, so high is better.)
Health Care
UPDATE "The Covid Vaccine Is Free, but Not Everyone Believes That" [New York Times]. "'This is America — your health care is not free,' said Elizabeth Drummond, a 42-year-old mother in Oregon who is unvaccinated. 'I just feel like that is how the vaccination process is going to go. They're going to try to capitalize on it.' … When [Tiffany Addotey, a 42-year-old school bus driver in North Carolina] was informed that federal law makes the vaccine free for all Americans, she responded, 'So I'll just have to pay my co-pay?'" • Deplorable!
"A Sociologist's Methodology for Pandemic Predictions and Public Health Messaging – An interview with Dr. Zeynep Tufekci" [Open Forum Infectious Diseases]. From March, a podcast transcript; Tufecki's personal Covid timeline: "By January 7th, I thought, 'Oh, let me order some masks' because I also wanted to go back to Hong Kong. At that point, I still don't know what the depth of the crisis is, but I thought, 'I'm going to order some masks and I'm just going to get my own pandemic readiness going.' In fact, people who know me were like, 'Why are you ordering hand sanitizer?' because I'm not particularly hygiene – polite word there – obsessed. And I was ordering these supplies and people around me were like, 'What are you doing?' And I'm like, 'Well, you hear viral pneumonia coming out of Wuhan and you hear censorship – for anybody who's lived through SARS, it's two and two, right, that something's going on. But what?' The week I knew for sure was the week of January 20th because two things happened. One, China shut down Wuhan, a city of 10 million. With studying authoritarians, a really good rule of thumb is – look at what they do, not what they say. Another rule of thumb that people might recognize from evolutionary biology is always look at costly signals. If you're shutting down a city of 10, 11 million, you're not just doing this randomly." • "Costly signals" is a nice notion.
UPDATE WHO actually does something useful:
Today, @WHO announces new, easy-to-say labels for #SARSCoV2 Variants of Concern (VOCs) & Interest (VOIs)

They will not replace existing scientific names, but are aimed to help in public discussion of VOI/VOC

Read more here (will be live soon):
https://t.co/VNvjJn8Xcv#COVID19 pic.twitter.com/L9YOfxmKW7

— Maria Van Kerkhove (@mvankerkhove) May 31, 2021
I have to disagree with Yves a little here. Previous to WHO's action, we had three nomenclature systems for Covid genetic lineages: GISAID, Nextstrain. and Pango. That means that anybody who wanted to search the literature on a Variant of Interest or Concern had to run three searches, one for each nomenclature, obviously error prone and not a good use of time. And then which nomenclature do you use in your writeup? WHO, for once, is doing exactly what an international body should be doing: Unifying disparate standards is a public good. This rectification of names is exactly what WHO did, correctly, when they standardized 2019-nCoV to SARS-COV-2, where they announced the changeover well beforehand, and it went smoothly. (Now, it may be that they're overly optimistic, and that we'll run out of Greek letters….)
UPDATE Plus ça change….
Any telling of the history of surfaces v. air *must* include Dr. Alice Hamilton (Harvard's first female faculty member)

"The most difficult obstacle I found was the universally held doctrine that the only way to prevent industrial poisoning was to keep the skin clean…" pic.twitter.com/IHg6rc8M6z

— Joseph Allen (@j_g_allen) June 1, 2021
If you can read the image, it's terrific prose.
Our Famously Free Press
So that's it:
Now think about this in terms of Twitter.

Since Twitter completely controls our public discourse, it means 1% of the users of a not-very-popular social media platform get to control our public discourse!

And which 1%? The 1% who have the time and inclination to show up. https://t.co/1qVrAY1DlW

— Noah Smith 🐇 (@Noahpinion) May 30, 2021
I remember noticing a similar ratio (a power distribution?) back in the days of the blogosphere, between readers, commenters, and commenters who went on to form their own blogs.
Book Nook
"The New Literary Bad Boys" [IM 1776]. A conservative screed with a "Save the Males" subtext. Well-written, but I know none of the players, so I can't comment. This caught my eye: "To the purist, the idea that the book has been replaced by Twitter is preposterous, but there is no doubt that the online platform, when used by literary-minded users, produces content that supersedes much of the literary fare published by mainstream publishing companies. The Twitter thread, in which a user strings along multiple tweets, is the modern version of the classic short story, a form delivering succinct epiphanic truths for an audience primed to consume content in small doses."
Naked Capitalism Cooking Community™
No.
So good: "radical sandwich anarchy": A pop tart is a sandwich. pic.twitter.com/P2bM3CHgmJ

— Nicholas A. Christakis (@NAChristakis) May 29, 2021
Neither hot dogs nor Pop Tarts™ are sandwiches.
Have a cookie biscuit:
I am reliably informed that today is #NationalBiscuitDay.

Here is a 🧵 of all the biscuits I've made so far in 2021.

First up, my William Morris set. Inspired by an old @V_and_A calendar, everything hand-piped in royal icing. Flavour: cardamom, orange & vanilla. pic.twitter.com/mBDBqKZXil

— Dr Ella Hawkins (@EllaMcHawk) May 29, 2021
The Agony Column
"The warped self" [Aeon]. "Concerns around social media have become mainstream, but researchers have yet to elucidate the specific cognitive mechanisms that explain the toll it takes on our psychological wellbeing. New advances in computational neuroscience, however, are poised to shed light on this matter. The architecture of some social media platforms takes the form of what some scientists are now calling 'hyperstimulators' – problematic digital delivery systems for rewarding and potentially addictive stimuli. According to a leading new theory in neuroscience known as predictive processing, hyperstimulants can interact with specific cognitive and affective mechanisms to produce precisely the sorts of pathological outcomes we see emerging today….. Living well, in predictive processing terms, means being able to effectively manage uncertainty – and that's predicated on having a generative model that represents the world accurately… Social media is a spectacularly effective method for warping our generative models. It overloads them with bad evidence about both the world around us and who we are. The space between being and appearing is potentially vast – with a few swipes, we can dramatically alter our appearance, or retake the same picture 20 times until our face exudes precisely the calm mastery of life we wish to project. As social media platforms develop features that allow us to present ourselves inauthentically, those platforms become all the more powerful bad-evidence generators, flooding the predictive systems of their users with inaccurate information, telling us that the world is full of impossibly beautiful, happy people, living wonderfully luxurious and leisurely lives." • Hmm. I don't see a way to outlaw any of that. I guess we have to break up the platforms into bits. (NOTE: I recall certain oddities in blogosphere days, but nothing, nothing like what social media does.
Groves of Academe
"10 rules to survive in the marvelous but sinuous world of academia" [Elsevier (!)]. "I came up with my own functional classification that applies to any stratum of the hierarchical classification, particularly to the IPs:
People who are always pushing the limits, Pioneers. A pioneer, according the Cambridge Dictionary, is a person who is one of the first to do something, who goes to a new area and builds a house, starts a farm, etc. In science, a pioneer is a person who is always trying to push the limits, always seeking new horizons, always opening new lines. Usually, these people fight strongly for the survival of their research group. To be in a place where the boss is like that a pioneer is a guarantee of better survival in this world.

Those who work in established ways and established areas. These people are hard workers but not especially imaginative in terms of looking for new idea or business models. To be in a group like this could be fine to survive but never to be outstanding. Settlers. This is a person who arrives in a new place in order to live there and use the land, according to the Cambridge dictionary. In science, a settler is usually a hard worker but not especially imaginative in terms of looking for new business models or ideas. To be in a settler group could be fine to survive, but never to be outstanding.

Those who don't drive to improve things. Livestock. These are "animals and birds that are kept on a farm, such as cows, sheep or chickens," per the Cambridge Dictionary. I know it sounds cruel, but in academia, there are many people who play this role. They could be engaged in any kind of project. Sometimes they act as useful people; sometimes they are only a number to grow the critical mass in a certain project. They could be here or there, it does not matter. They are necessary for the survival of the system, but they do not possess any initiative, any driving force to improve something. Sometimes the IP also belongs to this group. Keep this in mind before joining a group with such a leader.
And the Editor's note, which accounts for the deletions:
Editor's note: This post conveys the advice of a professor sharing his own reflections and experiences in academia. In response to your feedback, we have updated some of the language to better reflect our values of inclusivity. In the interest of transparency, we have left the original text so you can see how the article was revised.
"Settlers" being an especially unfortunate term just now. It's telling, I think, that the editor(s) who wrote the note didn't read the piece carefully enough to make sure that the acronym "IP" — Intellectual Property? Internet Protocol? Surely not Principal Investigator? — wasn't expanded on first use. Do any reader know what it means?
Class Warfare
"In wealthy Loudoun County, Virginia, parents face threats in battle over equity in schools:" [NBC]. "On March 12, members of the private Facebook group 'Anti-Racist Parents of Loudoun County' began to compile names. The group's members in Loudoun County, Virginia — one of the last school districts in the United States to desegregate, where white students now make up less than half of total enrollment — were concerned about growing opposition to diversity and equity programs in the local public schools. They believed other parents were spreading false claims about these initiatives, and so a handful of members started a list of these opponents as a way of tracking the claims and countering them. One member of the anti-racist group suggested infiltrating or hacking the websites of groups opposed to diversity programs. Screenshots leaked almost immediately. Parents who had been named as opponents of school diversity initiatives called the sheriff's office to complain. … The conflict in this rapidly diversifying community, the , in the outer suburbs of Washington, quickly became intertwined with political campaigns."
"How Big Tech Is Importing India's Caste Legacy to Silicon Valley" [Bloomberg]. "For all the [Indian Institute of Technology 's] proficiency at training and placing students, though, the coders, programmers, product developers, and engineers fanning out to global tech bring with them the troubled legacy of India's caste system. On campus, students are surrounded by—and in some cases participate in—a culture of discrimination, bullying, and segregation that targets fellow pupils from India's Scheduled Castes, also known as Dalits. The IITs officially discourage such harassment, but the prejudice against these students remains quite open. Caste in India speaks, as race does in America, to centuries of social, cultural, and economic divisions. Unlike in the U.S., though, India has since 1950 had a national system of affirmative action designed to undo the legacy of bias. Among its provisions are ones that help Dalits and other oppressed groups get into and pay for college. For nearly half a century, IIT admissions have been subject to a reservation system that's still hotly debated on the campuses. In recent years, the schools have opposed attempts to extend affirmative action to faculty hires, arguing it would dilute the quality of the applicant pool and undermine their meritocratic image. The IITs are notoriously cutthroat, starting with the admissions process."
News of the Wired
No.
Swimmers enjoy warm weather in London at the Sky Pool which is believed to be the world's first transparent pool built between two skyscrapers
https://t.co/mtRX8qvt0a pic.twitter.com/2skTGK9Jp7

— BBC News (UK) (@BBCNews) June 1, 2021
I hate this for the same reason I hate glass bridges in China: I think it glamorizes precarity. I mean, honestly, I'd rather be sitting in my chair in my garden than floating in this stupid pool, no matter how above-it-all that might seem.
* * *
Readers: Water Cooler is a standalone entity not covered by the recently concluded and — thank you! — successful annual NC fundraiser. So if you see a link you especially like, or an item you wouldn't see anywhere else, please do not hesitate to express your appreciation in tangible form. Remember, a tip jar is for tipping! Regular positive feedback both makes me feel good and lets me know I'm on the right track with coverage. When I get no donations for five or ten days I get worried. More tangibly, a constant trickle of donations helps me with expenses, and I factor in that trickle when setting fundraising goals:
Here is the screen that will appear, which I have helpfully annotated.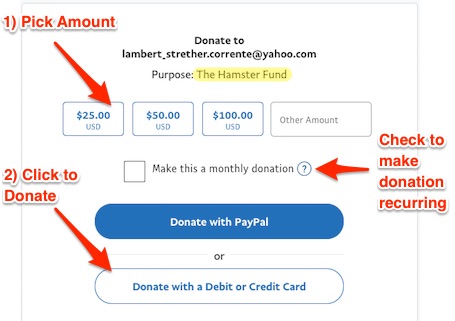 If you hate PayPal, you can email me at lambert [UNDERSCORE] strether [DOT] corrente [AT] yahoo [DOT] com, and I will give you directions on how to send a check. Thank you!