By Lambert Strether of Corrente.
Bird Song of the Day
* * *
#COVID19
At reader request, I've added this daily chart from 91-DIVOC. The data is the Johns Hopkins CSSE data. Here is the site.
I feel I'm engaging in a macabre form of tape-watching. All the charts are becoming dull — approaching nominal, if you accept the "new normal" of cases, for example.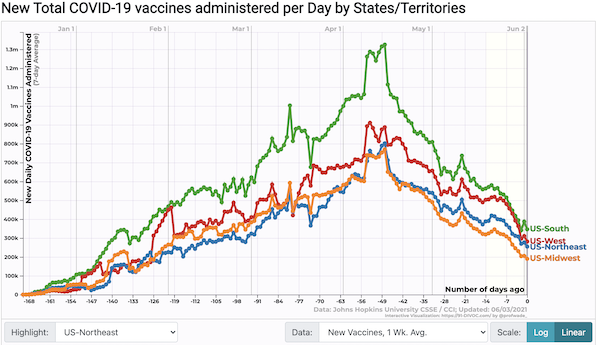 Well, scraping the bottom of those diminishing returns. Nevertheless…
WA: "Almost all new COVID cases in King Co. are from unvaccinated people, experts say" [KOMO]. "The good news: cases and hospitalizations are dramatically down since the peak of the 4th wave in late April. The bad news: 97% of the new Covid-19 cases—are coming from unvaccinated people."
Case count by United States regions: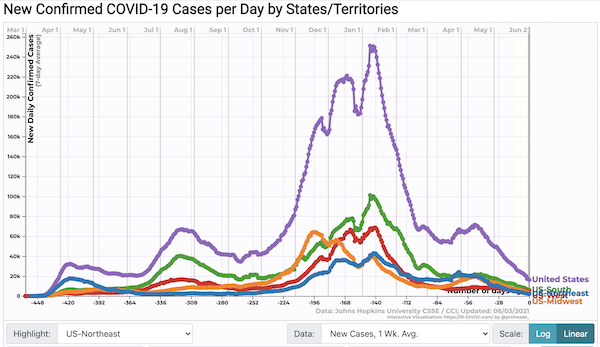 Continued good news, even a little dip in the cases
Big states (New York, Florida, Texas, California):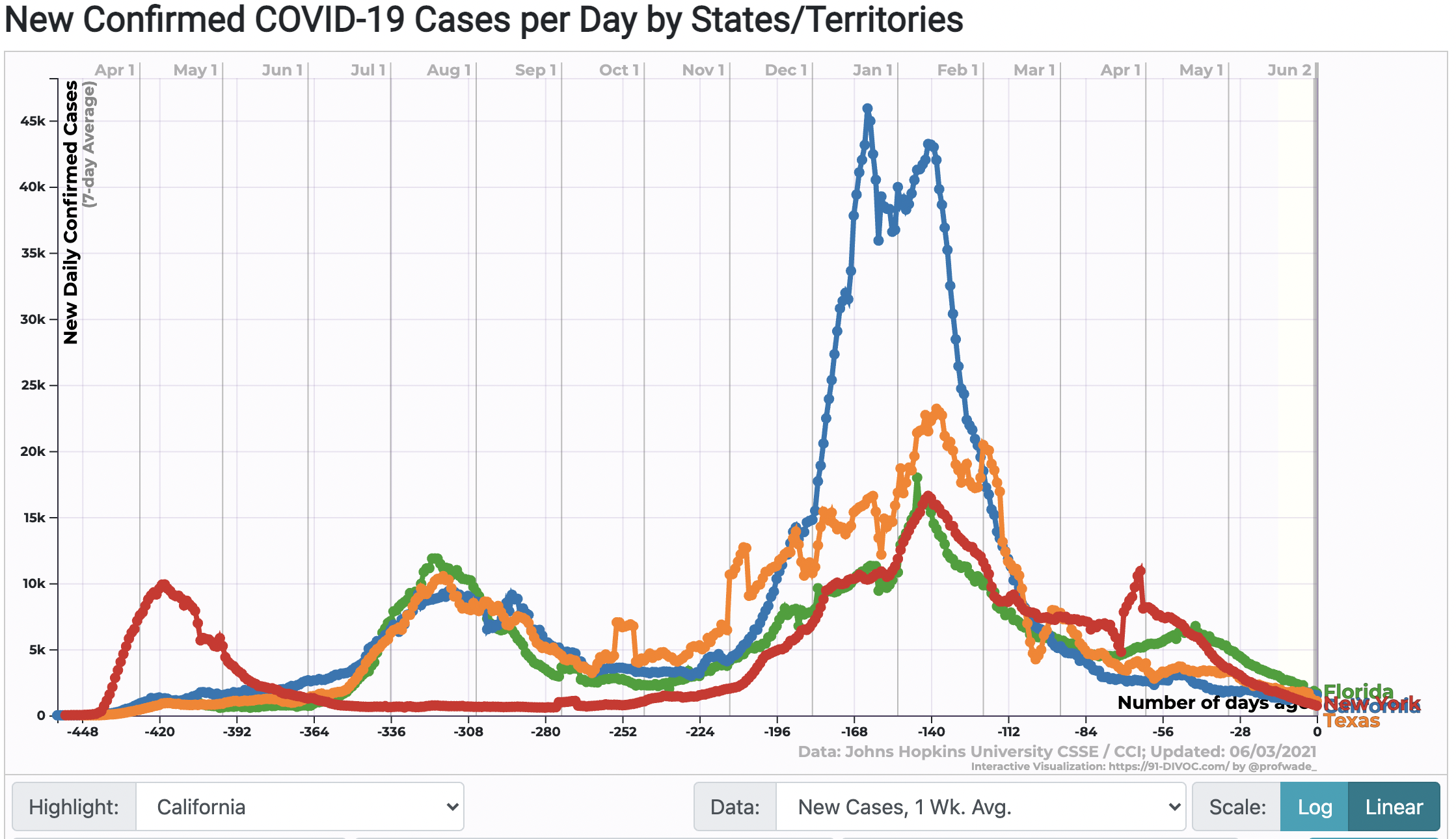 Continued good news.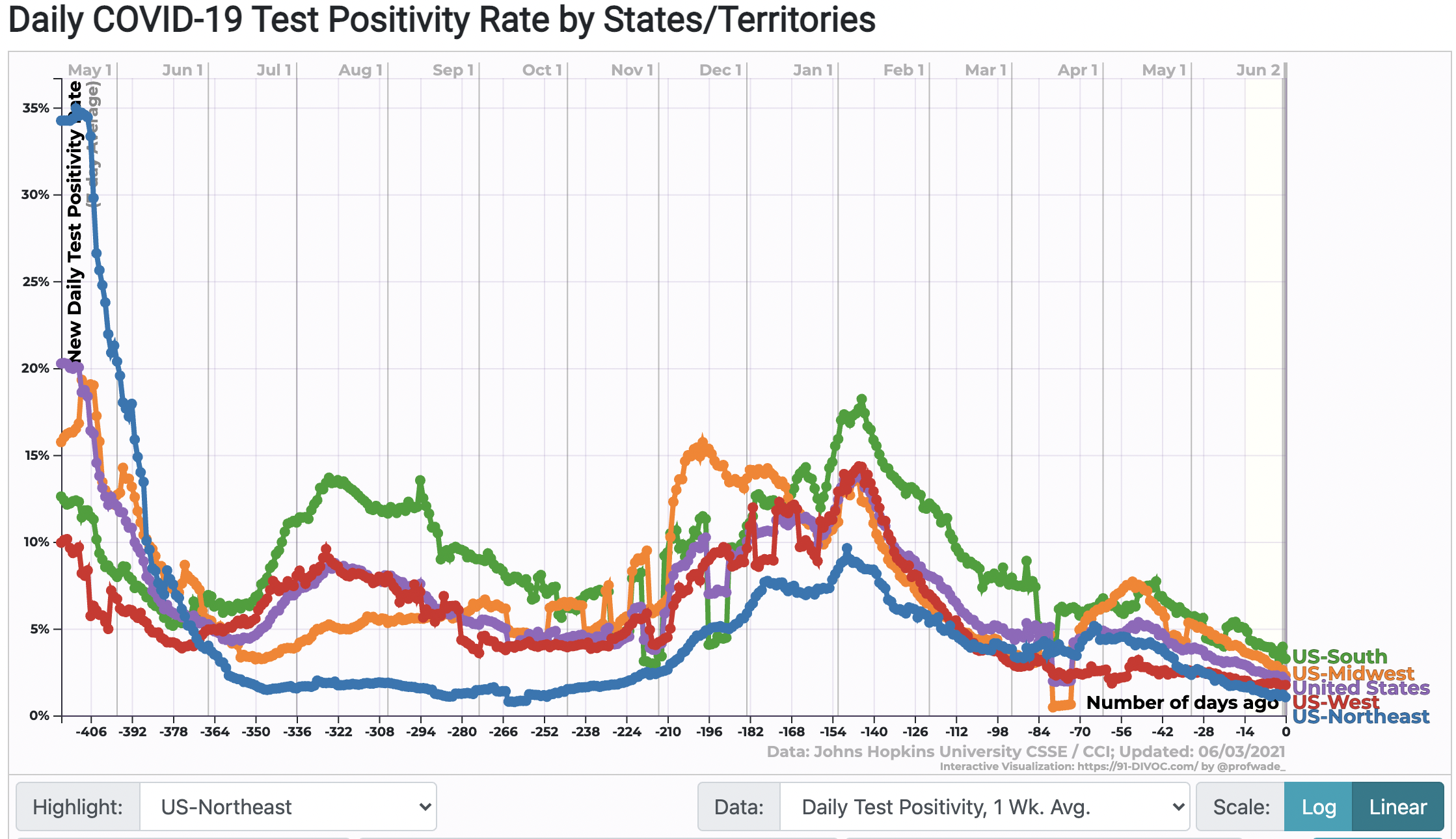 More good news.
Hospitalization (CDC):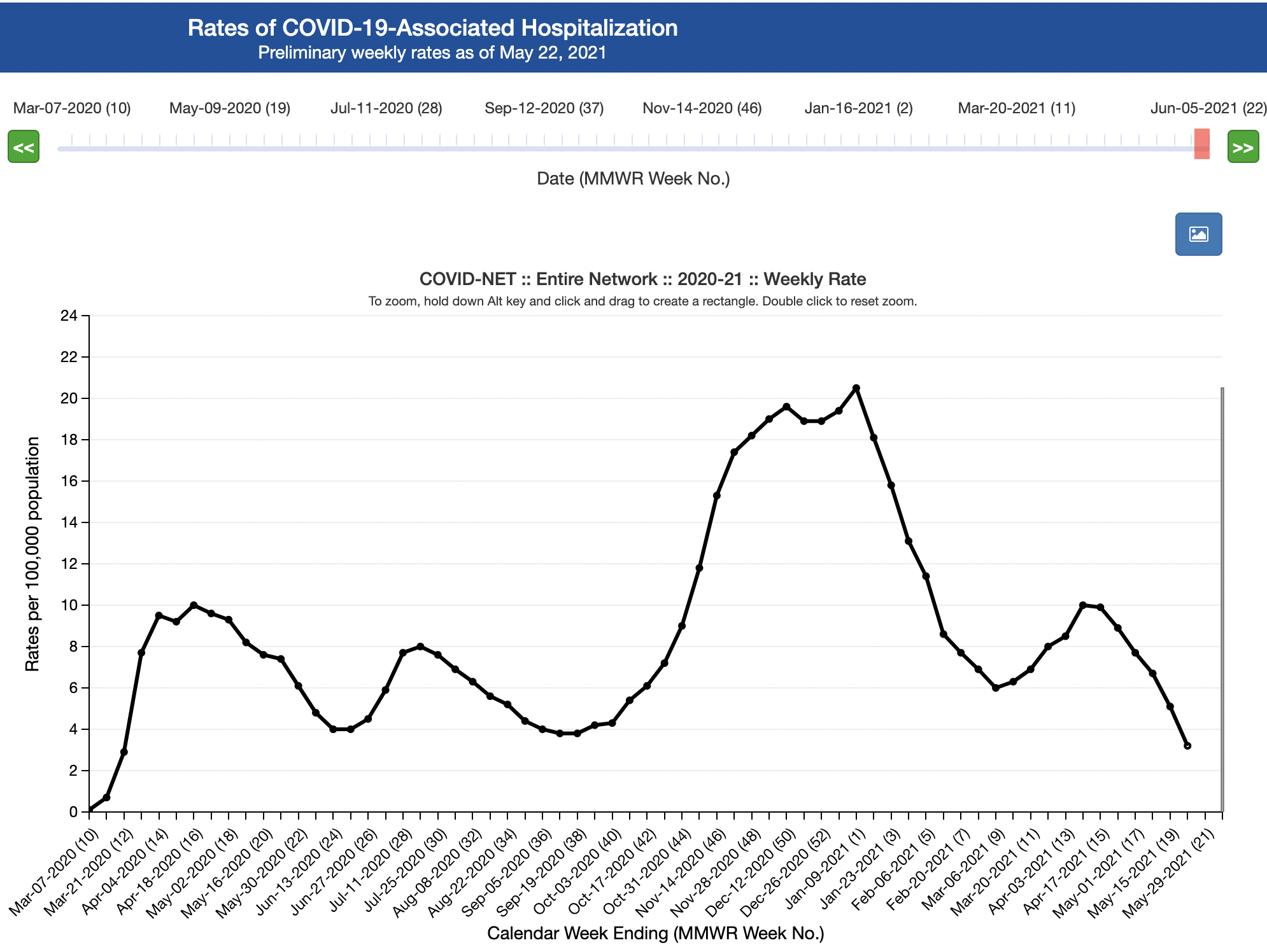 More good news.
Deaths (Our World in Data):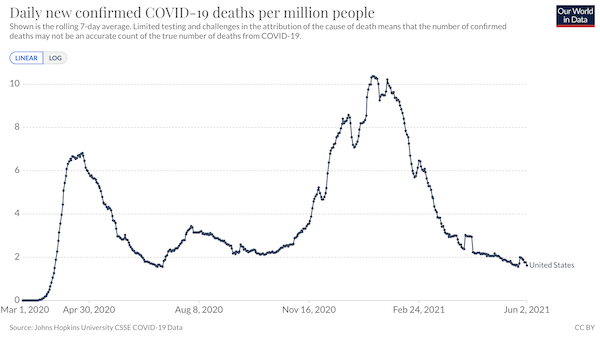 More good news.
Covid cases worldwide: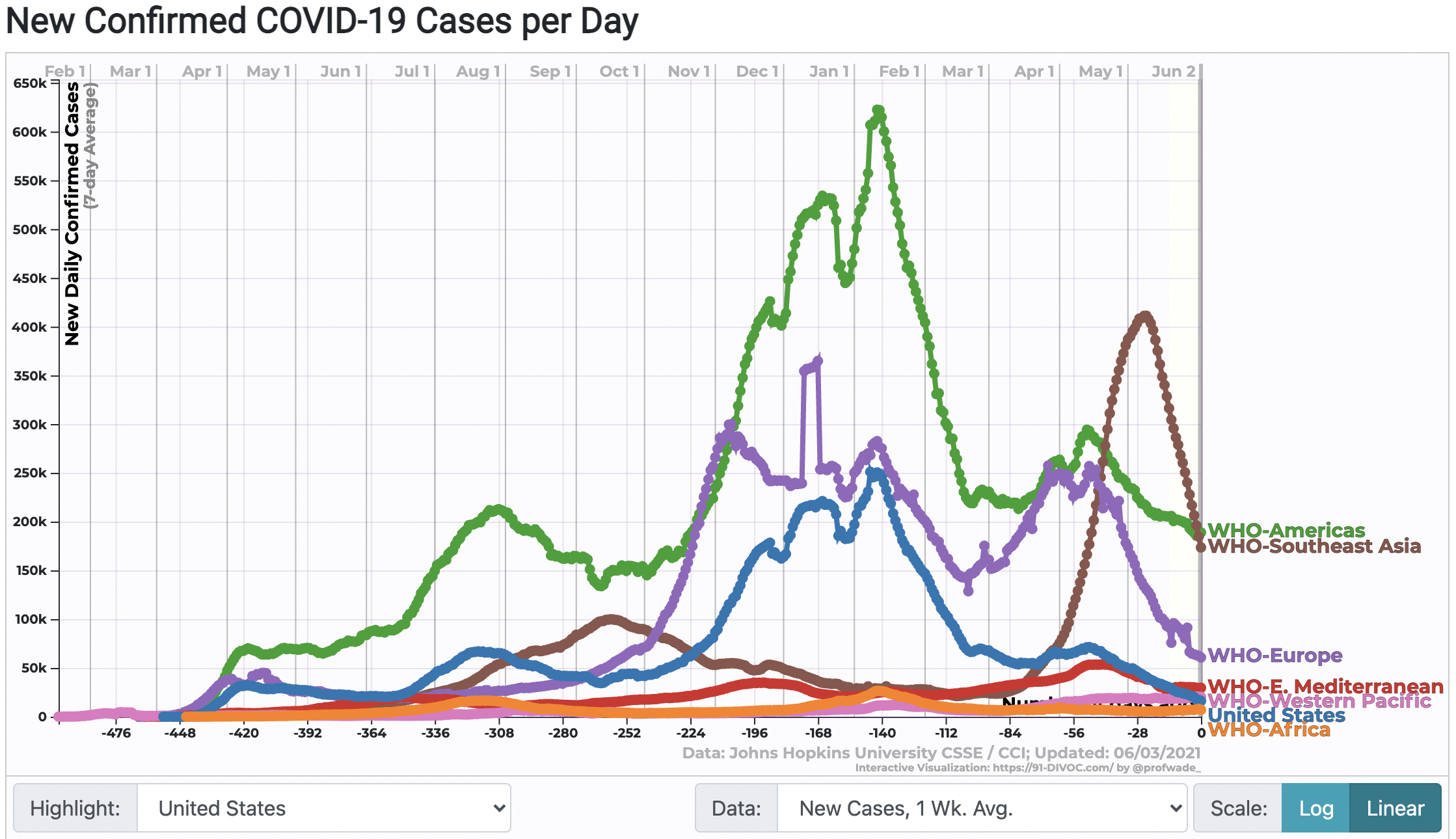 India, assuming one trusts the numbers, falls below Latin America. Given that Miami is the capital of Latin America, that's a region worth watching.
* * *
Politics
"But what is government itself, but the greatest of all reflections on human nature?" –James Madison, Federalist 51
"They had one weapon left and both knew it: treachery." –Frank Herbert, Dune
"They had learned nothing, and forgotten nothing." –Charles Maurice de Talleyrand-Périgord
Capitol Seizure
"Charges after US Capitol insurrection roil far-right groups" [Associated Press]. "'I think something kind of like that is happening right now in the broader far-right movement, where the cohesive tissue that brought them all together — being the 2020 election — it's kind of dissolved,' said Jared Holt, a resident fellow at the Atlantic Council's Digital Forensic Research Lab. 'Like 'Unite the Right,' there is a huge disaster, a P.R. disaster, and now they've got the attention of the feds. And it's even more intense now because they have the national security apparatus breathing down their necks,' he added." • As if the Atlantic Council wasn't part of the national security apparatus.
Biden Administration
Alert reader Tegnost wrote:

My macro view of the biden reign is that they have worked really hard to starve the news flow. You can see it in links and water cooler at NC, there's just not much food for thought as it were. They're giving us precious little to talk about.

Since I live in the midst of a news flow, I can tell that it's much, much shallower than it was under Trump. The current has no force, as it were. I think part of this is simply sheer laziness on the part of the press; they feel they can relax now. (I noted, and now cannot find, a New York Magazine article whose lead paragraph (!) said exactly this.) Another part is that there's no reason to worry about anything going wrong, since our guy is in charge. A final part is that, at least in the Beltway, the big outlets are virtually propaganda organs, and the message the liberal Democrats, who dominate the national press, wish to convey is return to normalcy. (I have always compared the coverage of the Biden Administration to having an anesthesia mask slowly fitted over my face.) Newsroom cuts and reorganization may also play a role. Say what you will, Trump generated a ton of revenue, and for his enemies, too, and that revenue is now gone. Anyhow, it's quiet. Too quiet. Readers?

* * *

"Parliamentarian: Democrats only get one more chance to sidestep GOP this year" [The Hill]. "Senate Parliamentarian Elizabeth MacDonough has effectively ruled that only one more automatic budget reconciliation is permissible this year, dealing a blow to Democrats who previously thought they would have two more chances to sidestep Republicans in advancing President Biden's agenda. MacDonough ruled that a revision to the 2021 budget resolution cannot be automatically discharged from the Senate Budget Committee, meaning Democrats would need at least one Republican on the 11-11 panel to vote with them. The bombshell ruling effectively means Senate Majority Leader Charles Schumer (D-N.Y.) will be able to use only one more reconciliation vehicle to pass Biden's key legislative priorities this year. He will not be able to divide up the $2.3 trillion American Jobs Plan and the $1.8 trillion American Families Plan, as well as Biden's calls to expand Medicare and lower the price of prescription drugs, into multiple reconciliation packages, as was envisioned only a few weeks ago." • We see this from liberal Democrats over and over again. We see it in Gore gaveling the Congressional Black Caucus into silence in 2001, when they wanted to address Bush's election theft in Florida. We see it with Obama in 2009, with the excuse that "we didn't have the votes," when that's only because they won't change the rules of the filibuster. And we see it with Biden today, with Sinema/Manchin (today's Joe Lieberman), the refusal to change the filibuster, the deference to the Parliamentarian (who the Republicans would simply fire). It's almost as if they enjoy tying themselves up and then whining "we're helpless." A sort of jouissance, a sort of auto-kinbaku-bi. I do know there are institutional and financial issues too, but the psychology is very odd.

"White House unveils plan to donate 25 million vaccine doses abroad" [The Hill]. "On Monday, Biden said his administration would send at least 20 million doses of the Pfizer Inc./BioNTech SE, Moderna Inc. and Johnson & Johnson vaccines, on top of 60 million AstraZeneca Plc doses he had already planned to give to other countries." • This morning's Reuters link said "The United States will announce in the next two weeks." Now here we are. 100 million is a small amount. No doubt there will be more? And what about raw materials and manufacturing?

"Scoop: White House employees to return to fully in-person work in July" [Axios]. "In a memo sent to the White House Office and Office of the Vice President, employees are advised that they "will transition to full time on campus work during the window of July 6 to July 23," according to a copy obtained by Axios…. The memo is the latest step in reopening the federal workplace, but it does not mean an end to work-from-home guidelines. Each agency will be required to develop its own plan on a phased return of employees, according to an administration official."
Republican Funhouse
Hmm:

BREAKING

Florida Department of Health OIG finds reasonable cause to suspect employees under Gov. Ron DeSantis created a "substantial and specific danger to the public's health" by misrepresenting and falsifying #COVID19 surveillance data, giving @GeoRebekah whistleblower status. pic.twitter.com/ANQuJKixvQ

— Grant Stern is fully vaccinated (@grantstern) June 2, 2021
Stats Watch
Employment Situation: "29 May 2021 Initial Unemployment Claims Rolling Average Improvement Continues" [Econintersect]. "Market expectations for weekly initial unemployment claims (from Econoday) were 400 K to 710 K (consensus 400 K), and the Department of Labor reported 385,000 new claims. The more important (because of the volatility in the weekly reported claims and seasonality errors in adjusting the data) 4 week moving average moved from 458,500 (reported last week as 458,750) to 428,000."
Employment Situation: "May 2021 ADP Employment Grew 978,000" [Econintersect]. "ADP reported non-farm private jobs growth of 978,000 which was within expectations. A quote from the ADP authors: While goods producers grew at a steady pace, it is service providers that accounted for the lion's share of the gains, far outpacing the monthly average in the last six months. Last month's employment gain was revised downward. ADP employment has not been a good predictor of BLS non-farm private job growth."
Employment Situation: "May 2021 Job Cuts Remain Low At The Start Of Summer" [Econintersect]. "Job cuts announced by U.S.-based employers rose 7% in May to 24,586 from the 22,913 announced in April. Last month's total is down 93.8% from May 2020, when employers announced 397,016 cuts…. [A]ccording to the latest data from the Bureau of Labor Statistics, the average hourly wage rose to $30.17 in April from $29.96 in March. Meanwhile, Amazon is offering $1,000 signing bonuses for new workers, while Tops Friendly Markets, a grocery chain in New York, is offering $2,000 signing bonuses for eligible positions."
Productivity: "1Q2021 Final Headline Productivity Improves" [Econintersect]. "A simple summary of the headlines for this release is that labor costs growth grew on a quarter-over-quarter basis whilst productivity improved more. The overall view this quarter is that nonfarm productivity is up 4.1 % from the same quarter one year ago while unit costs are up 4.1 %. Please note my productivity analysis at the end of this post which is at odds with the headline view. Doing a productivity analysis during a major recession or recovery period is a waste of time as productivity is obscured by government interventions."
* * *
Retail: "Riches from rags: Owners of second-hand clothes app Depop are set for huge windfall as US giant Etsy splashes out £1.2bn on their site" [Daily Mail]. "The wealthy owners of London-based second-hand fashion app Depop are set for a huge cash windfall after US giant Etsy announced it is buying the site for £1.2billion to tap into the growing Generation Z market. Depop, which was founded by Anglo-Italian entrepreneur Simon Beckerman in 2011 and has been run by Spanish businesswoman Maria Raga since 2016, saw sales more than double during the pandemic to £49million. Becoming the 10th most visited shopping site among Gen Z consumers in the US, it has caught the attention of Brooklyn-based Etsy, whose users' average age is 39 and which is now seeking access to a younger generation. By comparison, more than 90 per cent of Depop's 30 million users in almost 150 countries are under the age of 26." • What a statement about where the 26-year-olds are economically…
Shipping: "Container shipping: Records keep falling as industry enjoys best markets ever" [Hellenic Shipping News]. "Driven by the pandemic and stimulus-induced consumer spending on retail goods, container shipping has been a great place to be for carriers and tonnage providers, while proving a headache for those with cargoes needing to be moved in a timely manner. The start of this year has been the busiest Q1 on record, with volumes reaching 42.9m twenty-foot equivalent unit (TEU), a 10.7% increase on Q1 2020 – and a 6.8% increase compared with Q1 2019 – though still a slowdown from Q4 2020 when 45.9m TEU were moved. Despite the quarter-on-quarter slowdown, monthly volumes in March were the highest on record globally with 15.5m TEU being loaded onto ships. This breaks the previous record, set in October last year, when volumes reached 15.4m TEU. Prior to 2020, the highest volumes had ever reached were 15.0m TEU in May 2019. BIMCO expects high volumes to continue into the upcoming peak season. However, once that has passed and we approach the post-pandemic world, demand looks set to slow as stimulus measures and restrictions are eased, leaving consumer spending patterns to find a new balance."
Shipping: "The Lloyd's List Podcast: The big and challenging role for class societies in autonomous shipping" [Lloyd's List]. They mean classes of ships. "Autonomous shipping is seen by many as an inevitable path towards a safer, smarter, and even cleaner maritime transport. It is an exciting yet long journey that requires innovative thinking as well as step-by-step efforts. As we remain at an early stage in the process today, classification societies are facing the necessity to help set up a new standards and safety regime required to frame and facilitate the development of technologies. It's both a big role to play and a challenging task to fulfill. The safety requirements for autonomous ships must be strict enough to be effective but also, at the same time, flexible enough to be practical. How to establish that sense of balance requires careful orchestration of various factors, including understanding the difference between the approaches aimed at 'human support' and 'human substitution'"
Tech: Founder and Chief Psycho:
Would you pay to control the outcomes of another person's life? If you've got the app-etite, @Courtnebianca and Filip Diarra are the creators of an app that lets you do just that.@CNBCTechCheck's @dee_bosa and @thisfahiemah have the story behind this "human stock market." pic.twitter.com/gZ4sQNUodz

— CNBC (@CNBC) June 2, 2021
Or perfectly in tune with the zeitgeist, who knows.
Tech: "Amazon Ring's neighborhood watch app is making police requests public" [Reuters]. "Public safety agencies such as police and fire departments now must request material from their communities through a new, publicly viewable type of post on the Neighbors app, Ring said in a blog. Previously, Ring device owners would receive private messages from the app on behalf of police looking for videos. Ring is a smart security device company whose video doorbell product allows users to see and record people who approach their doorsteps, deterring theft and allowing them to monitor around their homes. It was bought by e-commerce giant Amazon in 2018." • Ah, "smart."
Labor Market: "Wage Growth Is Holding Up in Aftermath of the Economic Crash" [New York Times]. "Workers in retail, hospitality and other service industries bore the brunt of last year's mass layoffs. But unlike low-wage workers in past recessions, whose earnings power eroded, many of those who held on to their jobs saw their wages rise even during the worst months of the pandemic. Now, as the economy bounces back and employers need to find staff, workers have the kind of leverage that is more typical of a prolonged boom than the aftermath of a devastating recession. Average earnings for non-managers in leisure and hospitality hit $15 an hour in February for the first time on record; in April, they rose to $15.70, a more than 4.5 percent raise in just two months. President Biden's administration is embracing those gains and hoping they shift power away from employers and back toward workers. And Federal Reserve officials have indicated that they would like to see employment and pay rising, because those would be signs that they were making progress toward their goals of full employment and stable prices. The stage is set for an economic experiment, one that tests whether the economy can lift laborers steadily without igniting much-faster price increases that eat away at the gains."
The Economy; "The Covid Trauma Has Changed Economics—Maybe Forever" [Bloomberg]. "The Great Recession that followed the crash of 2008 had already triggered a rethink. But the overall approach—the framework in place since President Ronald Reagan and Federal Reserve Chair Paul Volcker steered U.S. economic policy in the 1980s—emerged relatively intact. Roughly speaking, that approach placed a priority on curbing inflation and managing the pace of economic growth by adjusting the cost of private borrowing rather than by spending public money. The pandemic cast those conventions aside around the world. In the new economics, fiscal policy took over from monetary policy. Governments channeled cash directly to households and businesses and ran up record budget deficits. Central banks played a secondary and supportive role—buying up the ballooning government debt and other assets, keeping borrowing costs low, and insisting that this was no time to worry about inflation. Policymakers also started looking beyond aggregate metrics to data that show how income and jobs are distributed and who needs the most help. While the flight from orthodoxy was most pronounced in the world's richest countries, versions of this shift played out in emerging markets, too. Even institutions like the International Monetary Fund, longtime enforcers of the old rules of fiscal prudence, preached the benefits of government stimulus."
* * *
Today's Fear & Greed Index: 47 Neutral (previous close: 47 Neutral) [CNN]. One week ago: 36 (Fear). (0 is Extreme Fear; 100 is Extreme Greed). Last updated Jun 3 at 12:48pm.
Health Care
If you haven't read this paper, you should:
Our Lancet paper on 10 reasons why we *know* SARS-2 has dominant aerosol transmission has some, er, fairly strong metrics. https://t.co/bghGnzoLXU@trishgreenhalgh @kprather88 @zeynep @chipatucsd @jljcolorado pic.twitter.com/rZHvhp8Qcf

— David Fisman (@DFisman) June 3, 2021
Funny that of all the institutions that had their weaknesses revealed by Covid, Big Science was perhaps the least weak. An insurgent group fought for, and won, a battle for a new paradigm on aerosol transmission. In only a year. Contrast the sclerotic party system in the United States.
Our Famously Free Press
"Why was it so easy to fool the media on herd immunity?" [Lessons from the Crisis]. "UK planning at the start of the pandemic involved allowing the majority of the population to become infected with covid between April and September 2020, causing five thousand deaths a day and ending with enough cumulative infections for herd immunity, as shown on both the whiteboard photos from 10 Downing St, contemporary tweets from MPs, and the subsequently released SAGE papers…. Known inside the government as "single peak" and outside it as the "herd immunity plan", this idea obviously wasn't some evil plot to deliberately cause death and suffering- compared with an unmitigated pandemic it cut deaths in half, and must have looked pretty good if you were anchored at that 500k deaths mark…. So "shield the vulnerable, let it pass through the population and emerge in September to bury the dead" became the plan, until mid March 2020…. The original plan was all public at the time, endorsed and discussed at length by the relevant parties, and then further explained by the publication of SAGE minutes modelling it, but somehow a large part of the media have developed the view that it never happened, and that any references to 'herd immunity' refer only to vaccination, or that a 'herd immunity plan' means something different from the above and therefore Britain never had one." • Hmm. What do our UK readers think?
Under the Influence
"'The meeting that changed the world': Inside the first days of the Kardashian empire" [Los Angeles Times]. • I read it all. This is the last paragraph: "And a lot of people say, 'It's not talent, what they do; they're reality stars, they're famous for nothing.' But they're really good at what they do. From the minute I met them, they were really good at being a reality TV family."
Groves of Academe
"On Decolonisation and the University" [Textual Practice]. "Having inherited advantages deriving from dispossession and genocide, when faced with the challenge to decolonise, it is as though the postcolonial imaginary in the geopolitical West can envision nothing less than revenge exacted against itself in the same coin." • Hmm.
Zeitgeist Watch
"Cultures of contagion" [The Lancet]. "Contrasting narratives are presented in CONTAGION: death, stigma, the movement of microbes, and the inner lives of viruses all feature. But there are also intriguing ideas that come from unexpected sources: a live stream of an ant colony in which its residents make chemicals that might help to tackle antimicrobial resistance; a museum in which computer malware transmits creative, rather than malicious, messages; and animations that make sense of the digital world as information and misinformation multiplies. By capturing the morbid alongside the playful, CONTAGION succeeds in what [Jahnavi Phalkey, the exhibition's co-curator and Founding Director of Science Gallery Bengaluru's] team set out to do. 'A terrifying pandemic could be bracketed out, ignored, or engaged with', she says. 'We wanted to make the journey to understanding this phenomenon less terrifying, more engaging, and at times, interesting enough to provide some relief from the relentless suffering surrounding the global collective experience of the pandemic.'" • I like the idea of malware's antithese, but what to call it? Euware?
Class Warfare
"Union considers strike at meat plant that was virus hotspot" [ABC]. "Smithfield CEO Kenneth Sullivan has aggressively defended how the company handled the virus outbreak. Local union leaders have said that after the meatpacking plant shut down for several weeks last year amid the outbreak, the company implemented most of the measures recommended by the Centers for Disease Control and Prevention. But it has maintained that workers are still at risk to the virus as they work shoulder-to-shoulder on butchering lines." • "Most"?!
"VOICES: Lessons from the union busting at No Evil Foods" [Facing South]. This has a lot of good detail. For example: "Workers also encounter classic union-busting strategies during organizing drives at small companies like No Evil Foods, where management made what I believe to be their first move against the union in early 2020. That's when they broke up the workers into random, rotating groups and gave us a space to 'air our grievances' about anything and everything. At the time, this seemed benign enough, even commendable. But as I later learned from [Martin J. Levitt], the owners may have had an ulterior motive. In his book, Levitt called the approach the 'Employee Roundtable.' It's a strategy 'purportedly designed to give workers a way to air their grievances and influence company policy' as he observed, but functions as 'management's tap into the worker grapevine and its repressive thumb on the informal worker power structure. The regular group meetings provided management with a system for planting information, as well as for identifying and controlling the leaders among the employees.' 'By continually changing the makeup of the employee committee,' he explained, 'management could keep abreast of complaints and rumors circulating in the various departments without creating a bond among the participants or inadvertently developing leaders.'" • If the Romanovs had had management consultants instead of the Ohkrana, they might be in power today!
"The Anti-Bigness Ideology" [Matt Bruenig]. "It is hard to imagine any economic arrangements based on our current level of technology that does not involve the vast majority of people working inside some kind of larger organization rather than being the owner-operator of a single-member firm. Even if anti-bigness advocates were extremely successful to the point where they managed to quadruple the number of firms in the country and spread production out across those firms, the vast majority of working people would be employees not owners. Anti-bigness advocates sometimes acknowledge this and then try to claim that these workers would nonetheless be benefited by this new world in which they work for a smaller firm, but this is pretty clearly not true, and also does not address the point that, by their own reasoning, those workers are experiencing unfreedom. Finally, when you think about the governing mechanics that would be used to achieve anti-bigness, you see that it inevitably relies upon collective democratic institutions — namely the state — to dig in and basically micromanage the economy in order to make sure everything stays small. The charm of decentralization and rule of none/self-rule is thus an artifice being built on top of an iron-fisted centralized state that must constantly quash things on behalf of the small proprietors. This is not a problem in and of itself, but at the point at which you are relying upon a democratic central state to impose your system, you are relying upon the very collectivism — namely the support of the electorate — that anti-bigness is supposed to provide refuge from, relative to socialism." • Hmm.
I think the Black Socialists in America are very lucid. The whole thread is worth a read:
This clip is a huge mess, not only because we have over a century's worth of history illustrating how fascists court and work with certain tendencies amongst the so-called "Left," but because almost the entire discourse in the clip below is in the scope of electoral politics too. https://t.co/915Uy6D2ic

— Black Socialists in America (@BlackSocialists) June 1, 2021
Bourgeois feminism:
Read this part of Paxton Smith's valedictorian speechhttps://t.co/8DgRLtpWwh pic.twitter.com/zTbYdFzztK

— Molly Jong-Fast (@MollyJongFast) June 3, 2021
"To have the autonomy of your body taken away from you" is, exactly, what wage labor is; you sell the autonomy of your body for a period of time. A vulgar Marxist would say that bourgeois feminists don't see that because, at a minimum, they don't perform wage labor, or worse, they facilitate it.
News of the Wired
Everything I was wired about seems to have ended up in some other bucket.
* * *
Readers, feel free to contact me at lambert [UNDERSCORE] strether [DOT] corrente [AT] yahoo [DOT] com, with (a) links, and even better (b) sources I should curate regularly, (c) how to send me a check if you are allergic to PayPal, and (d) to find out how to send me images of plants. Vegetables are fine! Fungi and coral are deemed to be honorary plants! If you want your handle to appear as a credit, please place it at the start of your mail in parentheses: (thus). Otherwise, I will anonymize by using your initials. See the previous Water Cooler (with plant) here. Today's plant (TH):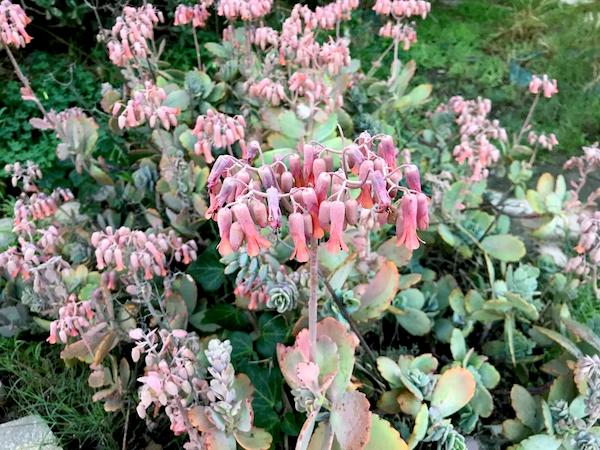 TH writes: "This is one of our Kalanchoe fedtschenkoi succulents."
* * *
Readers: Water Cooler is a standalone entity not covered by the recently concluded and — thank you! — successful annual NC fundraiser. So if you see a link you especially like, or an item you wouldn't see anywhere else, please do not hesitate to express your appreciation in tangible form. Remember, a tip jar is for tipping! Regular positive feedback both makes me feel good and lets me know I'm on the right track with coverage. When I get no donations for five or ten days I get worried. More tangibly, a constant trickle of donations helps me with expenses, and I factor in that trickle when setting fundraising goals:
Here is the screen that will appear, which I have helpfully annotated.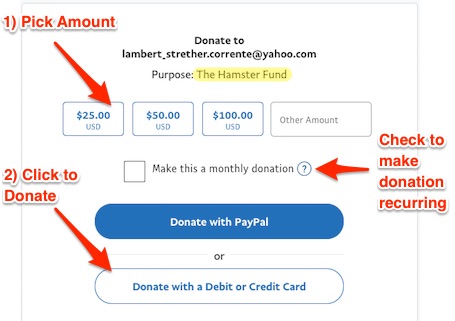 If you hate PayPal, you can email me at lambert [UNDERSCORE] strether [DOT] corrente [AT] yahoo [DOT] com, and I will give you directions on how to send a check. Thank you!