By Lambert Strether of Corrente.
Bird Song of the Day
* * *
#COVID19
At reader request, I've added this daily chart from 91-DIVOC. The data is the Johns Hopkins CSSE data. Here is the site.
I feel I'm engaging in a macabre form of tape-watching. I've been thinking of new charts to monitor to alert us to the next outbreak, assuming there is one, but for now, the data from the South means I'll stick to the status quo.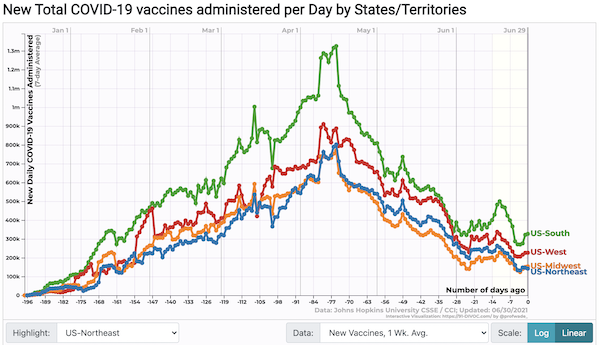 Now all rising together. Kamala did the trick? Hard to believe.
"Expert says new COVID-19 outbreaks will be 'very dense' in certain parts of the country" [The Hill]. "The former head of the Food and Drug Administration (FDA) Scott Gottlieb said on Sunday that impending COVID-19 outbreaks stemming from emerging variants will be hyper-local and hamper communities with low vaccination rates. 'It's not going to be as pervasive,' Gottlieb told CBS's Face the Nation. 'It's going to be hyper regionalized…there are certain pockets of the country [where] we can have very dense outbreaks.' The former FDA commissioner continued that potential outbreaks could resemble previous surges that began in the nation's rural communities and that governors should 'build out health care resources in areas of the country where you still have a lot of vulnerability.'… When asked on Sunday how to mitigate vaccine hesitancy, Gottlieb placed his focus on empowering local leaders and physicians, saying that people who could be persuaded by Anthony Fauci or the surgeon general 'probably are already vaccinated.'"
"As variant rises, vaccine plan targets 'movable middle'" [Associated Press]. "Thrown off-stride to reach its COVID-19 vaccination goal, the Biden administration is sending A-list officials across the country, devising ads for niche markets and enlisting community organizers to persuade unvaccinated people to get a shot. The strategy has the trappings of a political campaign, complete with data crunching to identify groups that can be won over." • What Democrats do so well…. More: "It's unclear how well the levers of persuasion are functioning. Vaccination rates have dropped below 1 million a day, and there's no sign yet of a turnaround. The administration has acknowledged that it will fall short of its goal of having 70% of adults vaccinated by July Fourth….. Analysts at HHS have developed a rough sketch of those in the movable middle. They tend to be younger, mainly 18-29. Most are not college educated, and political independents predominate. Black and Latino adults are more likely to fall in this category than people of other backgrounds. It can be a hard sell." • Good read,
TX: "Not taking it: Remote West Texas COVID-19 vaccine hesitancy plain to see" [Reuters]. "[Emily Herrera's of the Cochran Memorial Hospital] was not alone as she watched vaccine demand dry up beginning in early April. Public health experts say vaccination drives around the United States began to fall off sharply at the same time, resulting in President Joe Biden missing his stated goal of having 70% of Americans aged 18 and older at least partially vaccinated by July 4…. Reuters interviewed 14 unvaccinated people aged 36 and younger in Cochran County and neighboring Hockley County this week. Concerns about the speed with which vaccines were developed and a general view that younger people were less likely to fall ill were the most cited reasons for not taking the shot." But: Rebecca Weintraub, faculty director of the Global Health Delivery Project at Harvard University, said that even before COVID-19, vaccine hesitancy had been steadily increasing. The best weapons in wooing people into taking the vaccine were local physicians, along with church and community leaders, and having easy, constant access to the shots. 'The vaccine should be on the menu at all times, including when you're seeing a primary care provider or any other provider in a health care setting,' she said. 'We haven't done that yet.'"
Case count by United States regions: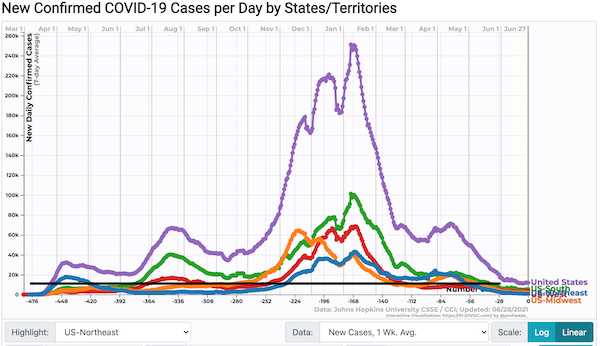 Decline now flattening. Delta? See World, below. (The increase in Delta would still swamped by the decrease in Alpha, etc. For awhile.)
Here are the case counts for the last four weeks in the South (as defined by the US Census: Alabama, Arkansas, Delaware, Florida, Georgia, Kentucky, Louisiana, Maryland, Mississippi, North Carolina, Oklahoma, South Carolina, Tennessee, Texas, Virginia, West Virginia, and the District of Columbia):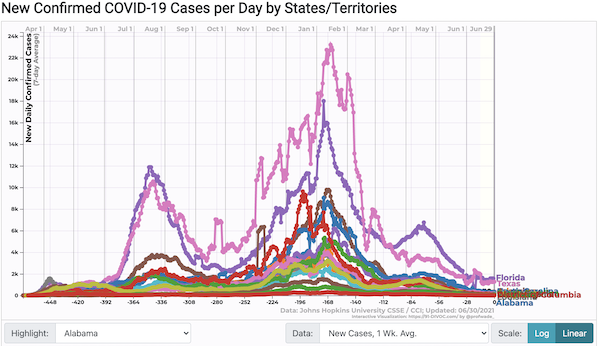 Texas and Florida, capital of Latin America, neck and neck.
Covid cases top ten (hat tip, alert reader Lou Anton):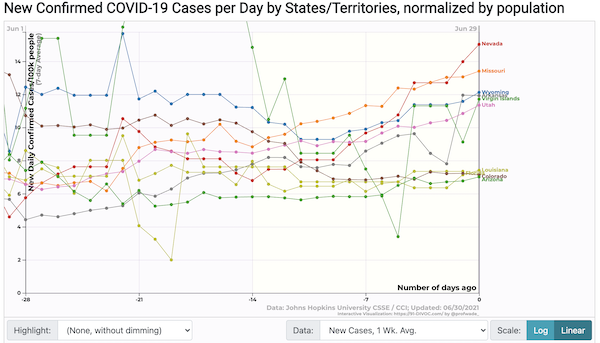 Tourist states disproportionately represented, IMNSHO. Readers?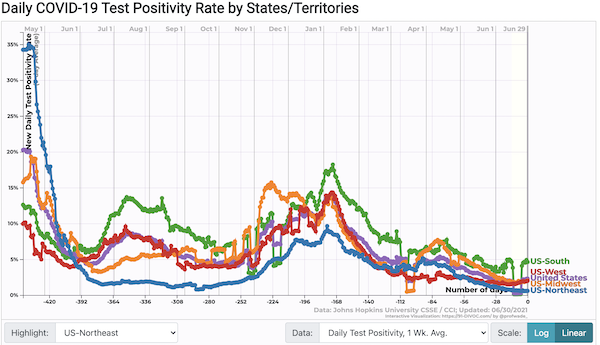 South bounces back.
Hospitalization (CDC):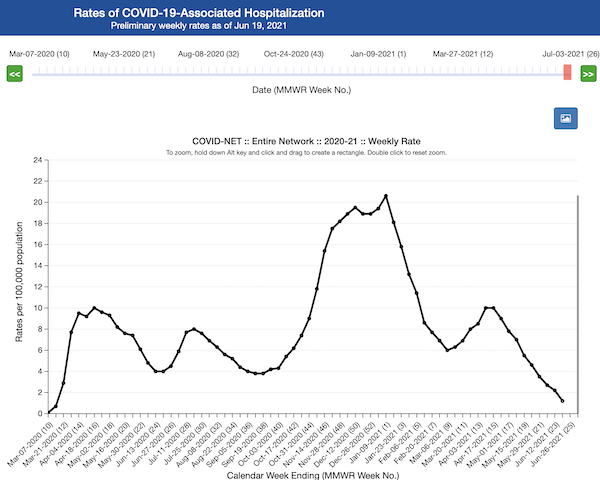 Continued good news.
Deaths (Our World in Data):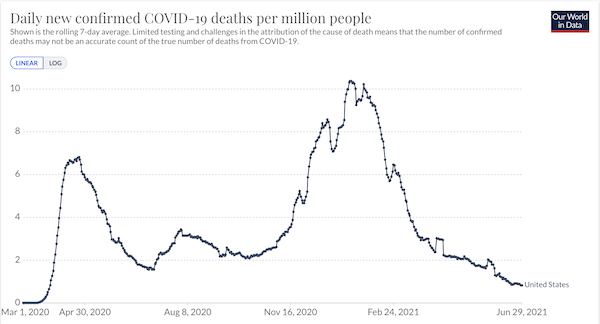 Continued good news.
Covid cases worldwide: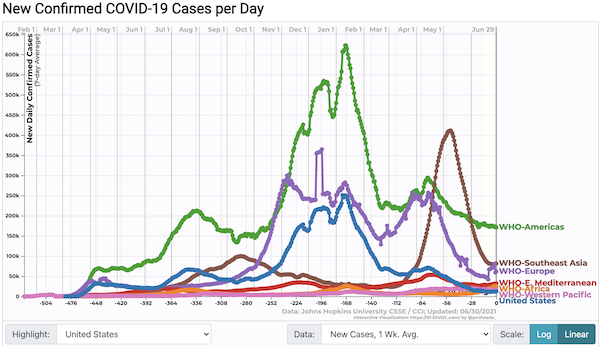 * * *
Politics
"But what is government itself, but the greatest of all reflections on human nature?" –James Madison, Federalist 51
"They had one weapon left and both knew it: treachery." –Frank Herbert, Dune
"They had learned nothing, and forgotten nothing." –Charles Maurice de Talleyrand-Périgord
Biden Administration
UPDATE "Joe Biden Whispers Again During Speech After White House Video Went Viral" [Newsweek]. "President Joe Biden whispered on stage as he promoted the $1.2 trillion bipartisan infrastructure deal, only days after a similar low volume approach went viral on social media. On Tuesday, at the Municipal Transit Utility in La Crosse, Wisconsin, Biden outlined his hopes to give tax breaks to ordinary families before dropping into a hushed tone. Leaning forward on the platform, Biden whispered: 'Hey guys, I think it's time to give ordinary people a tax break. The wealthy are doing fine,' as those gathered burst into applause…. This vocal approach mimicked the one he employed last Thursday during a White House press conference, in which he gave whispered responses to reporters' questions about the infrastructure plan. After he was asked about additional relief for families reeling from the COVID-19 pandemic, Biden whispered over the lectern: "I got them $1.9 trillion in relief so far."

UPDATE "In Wisconsin, Biden says infrastructure plan would create millions of jobs" [Reuters]. "Biden is attempting to keep up the momentum for a legislative proposal that Democratic congressional leaders believe will reach a critical stage in the second half of July. 'I expect the last two weeks of July to be very busy weeks, when we will deal with the president's proposals,' the No. 2 House Democrat, Steny Hoyer, told reporters on Tuesday. House and Senate Democrats hope to have infrastructure legislation done and on its way to Biden's desk by the end of September, a Democratic aide said." • All the time in the world….

The Hill keeps running clips like this:

YESTERDAY: President Joe Biden arrived back at the White House, following his trip to Wisconsin. pic.twitter.com/9JDKDqUG1l

— The Hill (@thehill) June 30, 2021

Proving that Biden can walk?

Universal concrete material benefits:

NEW poll from Morning Consult.

Support for health care items in reconciliation package.

Adding dental/vision/hearing to Medicare: 84-9%

Expanding home health: 77-11%

Coverage for non-Medicaid expansion: 68-19%

Negotiating Drug Rx Prices: 66-18%https://t.co/9jmUvGZmD3 pic.twitter.com/K5euWpzko9

— Jesse Ferguson (@JesseFFerguson) June 30, 2021
Democrats en Deshabille
"NYC Board of Elections Reported False Results: Updates" [New York Magazine]. "The mayoral election descended into chaos on Tuesday when the city's Board of Elections admitted it published erroneous results from the Democratic primary showing a dramatic shake-up at the top of the field. The board said in a late-night statement that it accidentally left test votes in a computer system, giving the appearance of 135,000 more votes than had actually been cast. The board said it will retabulate voters' choices and report the results on Wednesday."

"Dysfunctional NYC Elections Board Staffed Through Pay-to-Play System" [ReadSludge]. "The New York City Board of Elections (BOE) has long been a target of invective for the pervasive nepotism and rank incompetence that it displays nearly every election cycle. In the 2020 cycle, the Board mailed incorrect ballots to thousands of voters and bungled early voting badly enough to leave many waiting on hours-long lines across the city. In 2012, it initially forgot to count dozens of precincts in a competitive Democratic primary, and in 2018 it illegally purged 200,000 voters from its rolls. What accounts for its gross mismanagement of the most basic function of a democracy? Various political observers say that the explicitly partisan nature of the BOE is to blame. Since 1894, New York's constitution has placed responsibility for staffing the election bureaucracy in the hands of the Democratic and Republican parties of each of the state's 62 counties. Surrendering control of staffing decisions to the tight-knit party organizations leads to connections and favor-swapping being the main criteria for employment, as opposed to competency, some say. 'So much of county politics seems to be about access and personal relationships rather than qualifications and abilities,' said Josh Skaller, a Democratic district leader in Brooklyn. ]Those Board of Elections jobs are chips that can be traded.'"

UPDATE "Dems Launch Proxy War On Medicare For All" [The Daily Poster]. "Now, U.S. Rep. James Clyburn — one of the Democratic Party's most outspoken opponents of Medicare for All — is intervening to try to halt Turner's rise in the polls. Clyburn has vacuumed in more than $1 million from donors in the pharmaceutical industry — and he previously made headlines vilifying Medicare for All during the 2020 presidential primary. When a Medicare for All bill was first introduced in 2017, Clyburn signed on as a co-sponsor. But two years later, Clyburn removed himself as a sponsor and turned against single-payer health insurance, arguing that it would hurt the party in congressional elections."
Trump Legacy
"A New Darkness Falls on the Trump Movement" [Politico]. "And yet, there were signs this rally was different. During past rallies, Trump's supporters applauded Trump as he trashed immigrants, demonized the media, and echoed his calls to lock up his opponents. But they also felt hopeful the real estate magnate was giving them a voice. There was a sense that this charismatic outsider would empower them to change Washington, and a joyfulness that came with being part of a movement. Now, they felt cheated. 'WE THE PEOPLE ARE PISSED OFF,' one popular rally T-shirt read. Their champion was no longer in office, which means he had been stripped of any real power. It seemed to feed a sense of desperation, even from Trump himself. 'The subject matter is somewhat depressing,' he said of his own speech."

"Trump Organization expected to be charged with tax crimes on Thursday" [CNN]. "The Manhattan district attorney's office is expected to charge former President Donald Trump's namesake company and its chief financial officer, Allen Weisselberg, as soon as Thursday with tax crimes in connection with an array of perks and benefits awarded to employees, a person familiar with the matter tells CNN. Though Trump faced multiple federal and state prosecutorial inquiries during his administration, the district attorney's indictment would be the first to charge his company, the Trump Organization, with allegedly criminal conduct. Trump himself isn't expected to be charged, his lawyer has said."
Realignment and Legitimacy
Still germane

Incredible that 600,000 Americans died from COVID, tens of millions more lost their livelihoods, and hundreds of millions sacrificed their lives for more than a year – and absolutely nothing changed. No universal healthcare, no basic income guarantee. Nothing.

— Gravel Institute (@GravelInstitute) June 13, 2021

Given the vast increase of squillionaire wealth during the pandemic, it's almost as if capitalism is not resilient, but anti-fragile, a depressing idea.

"Vermont Senate overrides vetoes of noncitizen voting measures, approves housing bill" [VT Digger]. "The Vermont Senate on Thursday narrowly overrode Gov. Phil Scott's vetoes of charter changes that allow noncitizens in Winooski and Montpelier to vote in local elections. 'Voters in Montpelier and Winooski came out in favor of legal resident non-citizen voting, and the Legislature, after rigorous debate and deliberation, supported their ability to regulate their own local elections in this way,' Senate President Pro Tempore Becca Balint, D-Windham, said in a statement. 'Today's veto override votes continue Vermont's track record supporting strong citizen engagement, and uphold the tradition of local control in our towns and cities,' she added….
Stats Watch
Employment Situation: "June 2021 ADP Employment Grew 692,000" [Econintersect]. "ADP reported non-farm private jobs growth of 692,000 which was within expectations…. Last month's employment gain was revised downward.":
* * *
Tech: "This one email explains Apple" [TechCrunch]. "[T]his exchange is a wildly important bit of ephemera that underpins the entire app ecosystem era and an explosive growth phase for internet technology. And it's also an encapsulation of the kind of environment that has made Apple an effective and brutally efficient company for so many years." • Interesting email exchange, almost as terse and effective as the exchange between Jobs and Adobe CEO Bruce Chizen on wage collusion.
Tech: "Mobile phone ban plan to improve school behaviour" [BBC]. "Mobile phone bans and other ways to create 'calm classrooms' are to be considered to help improve discipline in England's schools. Education Secretary Gavin Williamson said he wants to make the school day mobile-free, describing the devices as 'distracting' and 'damaging.' A consultation will ask the views of teachers and parents on how to promote good behaviour."
Tech: "Ms. Categorized: Gender, notability, and inequality on Wikipedia" [New Media and Society]. "Drawing on ethnographic observations, interviews, and quantitative analysis of web-scraped metadata, this article demonstrates that biographies about women who meet Wikipedia's criteria for inclusion are more frequently considered non-notable and nominated for deletion compared to men's biographies. This disproportionate rate is another dimension of gender inequality previously unexplored by social scientists and provides broader insights into how women's achievements are (under)valued."
Labor Markets: "Some companies are turning to technology to address concerns over working conditions in warehouses. The U.S. supply-chain arm of supermarket-owner Ahold Delhaize is rolling out new wearable robotic technology…. that workers strap on to help ease the physical strain of lifting heavy items. The devices known as exosuits are the latest tool that retailers and logistics companies are deploying in distribution centers where demand is off the charts and hiring workers is harder than ever" [Wall Street Journal]. "The warehousing sector has been coping with worker safety and health questions in operations that have boomed during the pandemic. Designer Verve Motion says its battery-powered exosuits are a step beyond the back belts workers often wear, with sensors and algorithms helping them perform often-grueling jobs. The grocer says making its operations a "more compelling" place to work was critical in its move to the technology."
* * *
Today's Fear & Greed Index: 41 Fear (previous close: 43 Fear) [CNN]. One week ago: 35 (Fear). (0 is Extreme Fear; 100 is Extreme Greed). Last updated Jun 30 at 12:43pm.
Health Care
"CDC Director Addresses Confusion Over Mask Policies Amid Delta Variant Spread" [NBC New York]. "Walensky said Wednesday on NBC's 'Today' show that 'we've always said that local policymakers need to make policies for their local environment,' but added CDC guidelines broadly indicate those who are vaccinated don't need to wear masks. 'Those masking policies are not to protect the vaccinated, they're to protect the unvaccinated,' she says. 'If you are vaccinated, you are safe from the variants that are circulating here in the United States.' Walensky said there are areas of low vaccination in the country where cases are rising, and in that situation, the CDC is suggesting that policies be made at the local level.'" • Throwing in the towel on masks, good job.
"Protecting The Immuno-Compromised Against COVID Could Be Key To Ending The Pandemic" [Iowa Public Radio]. "There's mounting research to suggest that protecting people who are immuno-compromised from getting COVID is important not just for their sake – it could be critical in the effort to end the pandemic for everyone…. 'So essentially this HIV-positive woman became a cauldron for the creation of a whole lot of new variants,' [Dr. Salim Abdool Karim of South Africa's Centre for the AIDS Programme of Research] says. 'She literally re-created the steps.' Abdool Karim, who also co-chairs South Africa's advisory committee on COVID-19, says his takeaway is this: "Immuno-suppressed individuals are really important in this pandemic.' Protecting them needs to be made a top priority — to keep them safe and to slow the emergence of variants, he says." • The Alpha/B.1.1.7 variant originally emerged in Kent in the UK, a "cauldron" of immune-compromised people.
Water
"Iowa Rivers 1 to 45: The Fair, the Marginal & the Ugly" [Chris Jones, IIHR Research Engineer]. "Streams flowing to the Missouri River are far worse than Upper Mississippi tributaries. There are some real lost-cause rivers in Western Iowa. I used to hate it when I heard people talk like that, but my thinking has changed. A lot of this has to do with the Missouri River itself. Channelization and flood control on the Missouri have destabilized the outlets of these Iowa streams, many of which have been channelized themselves, all so that we could get a few more acres to farm. The Little Sioux River above Larabee is still a beautiful meandering stream, and the water quality there is far better than the other Missouri tributaries. Lesson: hydrology matters. And manure matters. If you don't think it does, look at the livestock-dense Floyd River, which somehow managed to have the highest N and the highest P in the state over the past five years. It also has the 3rd-worst turbidity and the 6th-worst E. coli. There is no question this is the worst stream of its size in Iowa. Which is why I do an eye roll every time I hear the ag propagandists say 'but manure is not allowed to enter streams.' While that surely must be a joke, folks, water quality in the Floyd is no joke. That is one bad river. If you haven't yet, see for yourself the Floyd watershed. This is the Iowa the livestock industry wants for you. At the other end is the Upper Wapsi, Bloody Run Creek, and headwater tributaries of the Cedar River. While these streams all carry nitrate (N) on the high side, they have relatively low turbidity and low E. coli. If you're looking to visit a decent Iowa stream that is reasonably clear and relatively feces-free, draw a line from Webster City (Boone River) to McGregor and go someplace north of it. But don't wait too long, because the livestock industry has their eye on the area too."
Our Famously Free Press
"1ST NEWSPAPER DELIVERED TO THE MOON" [USA Today]. • It's an auction for a [family blogging] NFT.
Class Warfare
Pinning this from Adam Tooze:
….. Whatever our choice of terms, we can hardly avoid the conclusion that if there is to be an energy transition, under prevailing conditions (an assumption some may wish to challenge), it is this social class that must make it, simultaneously as decision-makers, consumers and investors. And it must be made across the entire world. .
* * *
"'People are so burned out': US essential workers struggle as restrictions lifted" [Guardian]. "Workers who were deemed essential during the coronavirus pandemic and publicly praised for continuing to work in-person are now fighting for permanent improvements to working conditions, wages and benefits as safety protections are lifted and they still grapple with the impact of working through the long crisis. Millions of essential workers contracted Covid-19 while working through the pandemic. Thousands died as a result or lost co-workers, friends and family members to the virus. Many who caught the virus still experience long-term symptoms and Covid-19 cases and deaths are still a concern in many areas of the US. This is especially true in low-income, predominantly Black and Latino communities where vaccination rates have been lagging despite these communities being hit hardest by the virus. Now, as Covid-19 restrictions have lifted across swaths of America and the economy has come back to life, many essential workers are still fearful for their safety and angry at their working conditions." • Remember the HEROES Act? Good times.
"Leaked Memo Shows No Evil Foods Justifying Laying Off Workers With No Severance" [Paul Blest, The Flashpoint]. "At the time, No Evil portrayed the layoffs as necessary in order to ensure the company had a future. Now, new talking points distributed throughout the company by co-founder Sadrah Schadel and obtained by Discourse Blog are trying to explain what the talking points call 'one of the hardest, most painful decisions our leadership has had to make': not providing No Evil's newly unemployed workers with severance." • Oh, brother.
"Our Endless Dinner With Robin DiAngelo" [Matt Taibbi, TK News]. "You did, because the rule, "If you wrote it, don't write it again," has an exception: "Unless it makes money, in which case write it as many times as the market will bear." Telling affluent white progressives they're racists and explaining they can buy absolution for $24.95 is fishing for cash with dynamite. DiAngelo is monetizing white guilt on a grand scale, and there's an extraordinary irony in the fact that she's got a home-field advantage in this game over someone like, say, Ibram Kendi, because she's more accessible to people like herself, the same phenomenon she decries. Normally I'd salute the capitalist ingenuity. Unfortunately, like Donald Trump, DiAngelo is both too dim-witted and too terrific an entrepreneur to stop herself from upselling a truly psychotic movement into existence. Nice Racism's central message is that it's a necessity to stop white people from seeing themselves as distinct people. 'Insisting that each white person is different from every other white person,' DiAngelo writes, 'enables us to distance ourselves from the actions of other white people.' She doesn't see, or maybe she does, where this logic leads. If you tell people to abandon their individual identities and think of themselves as a group, they sooner or later will start to behave as a group. Short of something like selling anthrax spores or encouraging people to explore sexual feelings toward nine year-olds, is there a worse idea than suggesting — demanding — that people get in touch with their white identity?"
News of the Wired
"Conspiracy: Theory and Practice" [Ed Snowden, Continuing Ed]. "It took years — eight years and counting in exile — for me to realize that I was missing the point: we talk about conspiracy theories in order to avoid talking about conspiracy practices, which are often too daunting, too threatening, too total…. Ultimately, the only truly honest taxonomical approach to conspiracy-thinking that I can come up with is something of an inversion: the idea that conspiracies themselves are a taxonomy, a method by which democracies especially sort themselves into parties and tribes, a typology through which people who lack definite or satisfactory narratives as citizens explain to themselves their immiseration, their disenfranchisement, their lack of power, and even their lack of will."
* * *
Readers, feel free to contact me at lambert [UNDERSCORE] strether [DOT] corrente [AT] yahoo [DOT] com, with (a) links, and even better (b) sources I should curate regularly, (c) how to send me a check if you are allergic to PayPal, and (d) to find out how to send me images of plants. Vegetables are fine! Fungi and coral are deemed to be honorary plants! If you want your handle to appear as a credit, please place it at the start of your mail in parentheses: (thus). Otherwise, I will anonymize by using your initials. See the previous Water Cooler (with plant) here. Today's plant (TH):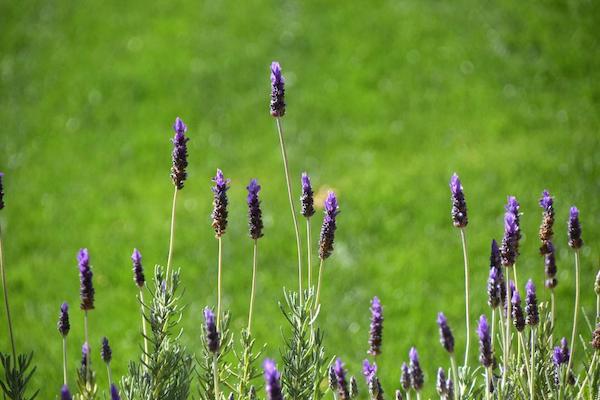 TH writes: "Lavender, Tesoro Adobe Historic Park in Valencia, California."
* * *
Readers: Water Cooler is a standalone entity not covered by the recently concluded and — thank you! — successful annual NC fundraiser. So if you see a link you especially like, or an item you wouldn't see anywhere else, please do not hesitate to express your appreciation in tangible form. Remember, a tip jar is for tipping! Regular positive feedback both makes me feel good and lets me know I'm on the right track with coverage. When I get no donations for five or ten days I get worried. More tangibly, a constant trickle of donations helps me with expenses, and I factor in that trickle when setting fundraising goals:
Here is the screen that will appear, which I have helpfully annotated.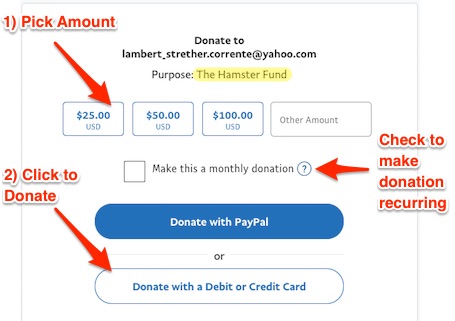 If you hate PayPal, you can email me at lambert [UNDERSCORE] strether [DOT] corrente [AT] yahoo [DOT] com, and I will give you directions on how to send a check. Thank you!2:00PM Water Cooler 6/8/2021