By Lambert Strether of Corrente.
The Clash, Harvard Square Theatre, February 16, 1979.
The best[1] concert I ever saw, and I saw a lot, back in the day.
Harvard Square Theatre, the legendary Harvard Square Theatre, was located on Brattle Street opposite the also now-vanished Out of Town News. In 1979, it was a single screen venue; it was brutalized into a multiplex in 1986, and closed in 2012, and — checking my memories, such as they are, against Google Street View — the building seems to have been turned into a bank, which is indicative. (Harvard Square certainly looks a lot less funky than it used to.)
The venue was small (originally 1640 seats, floor and single balcony). As you can see, the Clash were very close to the audience: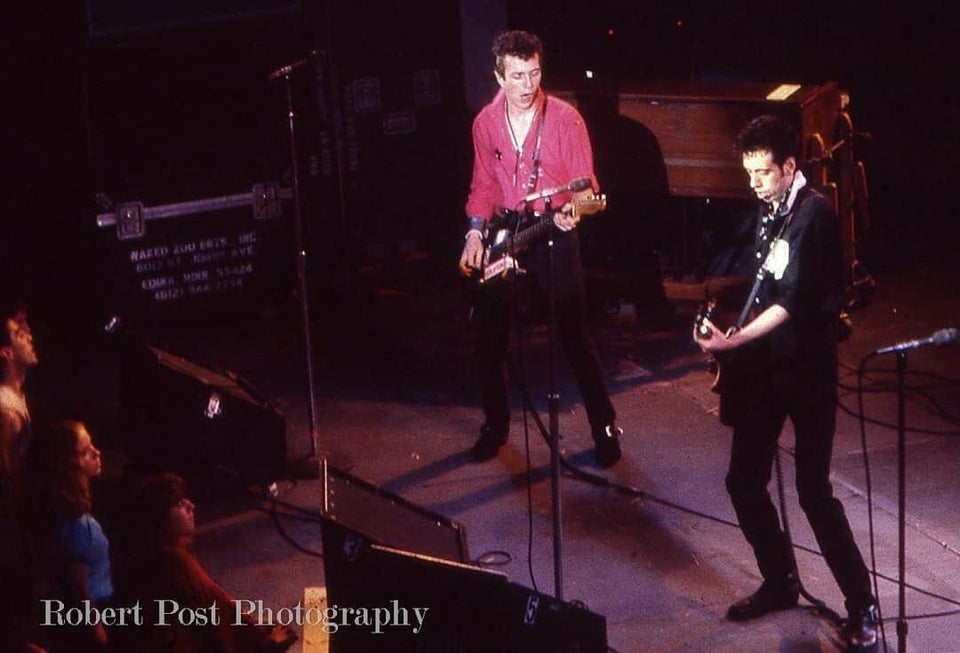 We were about halfway back. The Harvard Square Theatre was a typical low-end art-house facility, with sticky floors and extremely small velvet-ish seats, with little space between the rows. It wasn't really possible to stand, let alone dance, and so the audience ended up, still seated, rocking entire rows of seats to the freight train-like pounding of the rhythm section and the screaming guitars, which were as loud as jet engines spooling up before take-off. Everyone knew they were experiencing something extraordinary.
The two guitarists and the bassist — all slight, black-clad — all sang (and since all were products of British dentistry, incomprehensibly). There were three mikes, and while singing and playing, they'd simultaneously run from one mike to another — while their guitars trailed those black power cords you see in the photo. I couldn't imagine why the cords didn't get tangled, or unplug, or even short out, but apparently the roadies knew their business.
Describing the music as best I can…. This former Dead-head has turned out to like concise songs that have a gritty texture and pack a punch in the lyrics[4]. (After The Clash, I went on to X.) I want to be able to sing them while walking. No drum solos, no extended jams, hooks are good but please don't go all pop on me. Above all, no self-indulgence. The group is the unit, not the star player. The Clash exemplifies all these values.[5]
The morning after — I am not a morning person — I got up very early and took the T into Boston so I could be at the punk-rock record[2] store when it opened, when I bought everything available: Two LPs (1977's The Clash, and 1978's Give 'Em Enough Rope, plus a single, "(White Man) In Hammersmith Palais". I don't remember the name of the shop; all I remember is that the sidewalk in front was brick, and shone with thin snow or ice. Like every other street in downtown Boston on that day!
Here's the song I mentioned in the title (not played at Harvard Square, but of contemporary relevance). It comes from a late live album, From Here to Eternity. I wish the liner notes — or whatever we call the printed material slipped into a CD's jewel box[6] — were available online, but I can't find them. I recall one listener who followed the Clash from concert to concert, who said she liked them because they made her think. "Know Your Rights":
And here is a link to the complete lyrics. I've helpfully underlined the salient material in the first verse:
[Chorus]
Know your rights
All three of 'em:

[Verse 1]
Number 1

Murder is a crime
Unless it was done
By a Policeman
Or an aristocrat
That certainly sounds like a good idea. Maybe we should try it!
NOTES
[1] Amazingly, there's a bootleg of it. The sound quality of the recording is awful, compounded by the badness of the sound system in the hall.
[2] The Harvard Square Theatre also screened The Rocky Horror Picture Show.
[3] A phonograph record, an analog sound storage medium manufactured from vinyl.
[4] I arrived at The Clash through the Trojan-era Wailers, who also exemplify these values. I can forgive Sandinista's lack of concision given its extreme grittiness.
[5] Knowing nothing about music technically, I can't comment on melody, harmony, changes, etc. Musical readers please weigh in.
[6] A Compact Disk (CD), a digital optical disc data storage format made from plastic. A "jewel case" is the CD's packaging.