By Lambert Strether of Corrente.
Patient readers, when updating, I somehow mis-pasted the original text for Water Cooler instead of the text with UPDATEs. Sorry for the confusion. –lambert
Bird Song of the Day
Another bird recorded in Russia — [waves!] — but this audio is from a Missouri wetlands. There's a lot going on! The dove sounds hoarse.
* * *
#COVID19
At reader request, I've added this daily chart from 91-DIVOC. The data is the Johns Hopkins CSSE data. Here is the site.
I feel I'm engaging in a macabre form of tape-watching. I've been thinking of new charts to monitor to alert us to the next outbreak, assuming there is one, but for now, the data from the South means I'll stick to the status quo.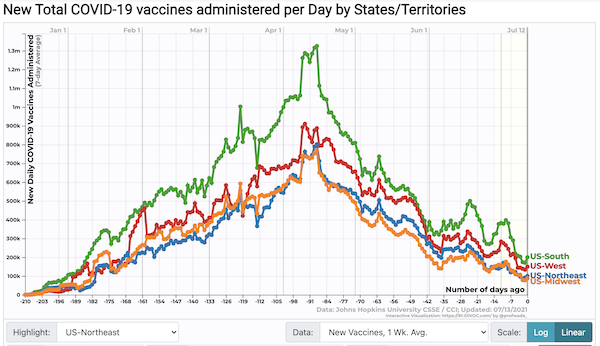 Oof. This after 48% of the US population is fully vaccinated. And our public health established has discredited non-pharmaceutical interventions like masking, and has been fighting treatment tooth and nail, as hard as they fought aerosols.
Case count by United States regions: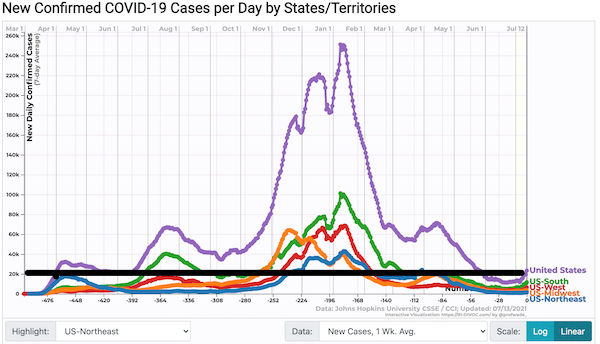 Oof. Increased slope. The slope is nothing like it was 476 days ago, but upward it is. We should know the impact of travel and all the family gatherings by July 4 + 14 call it July 21 or so. And of course summer camp, Bible School, etc. (Note that these numbers are if anything understated, since the CDC does not collect breakthrough infections unless they involve hospitalization, and encourages states and localities not to collect the data either.) I have drawn an anti-triumphalist black line. Note that the country as a whole is near where the Northeast (mostly New York) was at the peak of its crisis in the first wave.
Covid cases top ten states: for the last four weeks (hat tip, alert reader Lou Anton):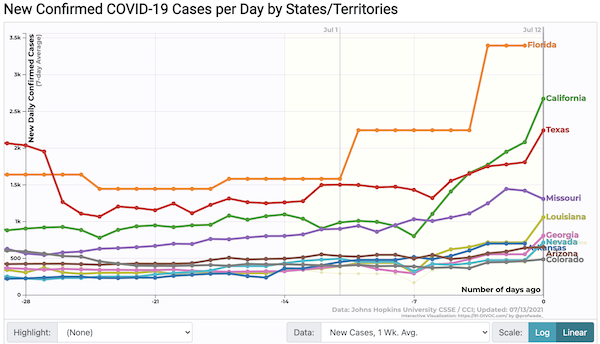 California passes Texas, hoo boy. Missouri down, but Louisiana, Georgia, and Nevada are up.
NEW From CDC: "Community Profile Report July 8 2021" (PDF), "Rapid Riser" counties: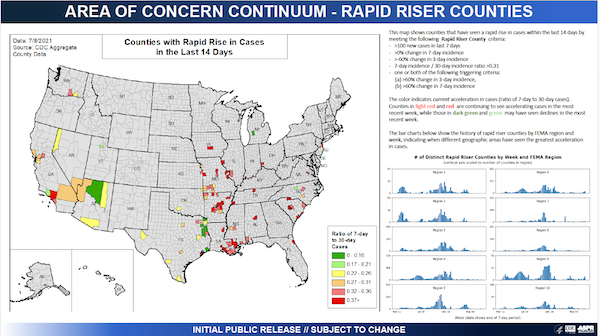 (Red means getting worse, green means bad but getting better. This chart updates Tuesdays and Fridays, presumbly by end-of-day.)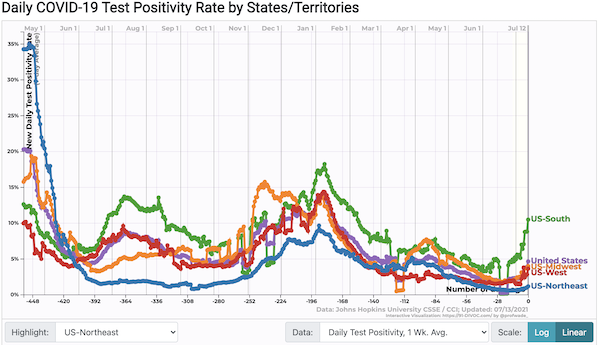 South running away with the field.
Hospitalization (CDC):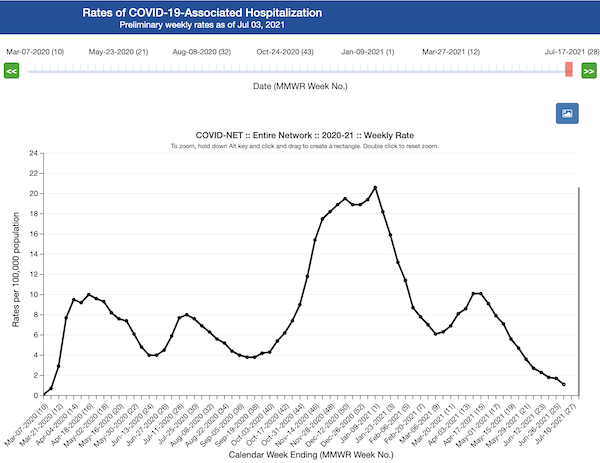 No bad news yet.
Deaths (Our World in Data):
No bad news yet, though there is a little upward blip.
Covid cases worldwide: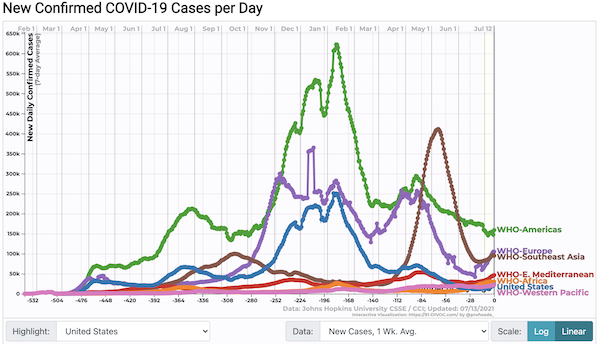 Every region is trending up.
* * *
Politics
"But what is government itself, but the greatest of all reflections on human nature?" –James Madison, Federalist 51
"They had one weapon left and both knew it: treachery." –Frank Herbert, Dune
"They had learned nothing, and forgotten nothing." –Charles Maurice de Talleyrand-Périgord
Capitol Seizure
"McCarthy Expects Pelosi To Veto Right-Wing Appointees To Capitol Riot Probe" [Forbes]. "House Minority Leader Kevin McCarthy on Thursday predicted House Speaker Nancy Pelosi will use her power to block appointees she deems too right-wing to the select committee to investigate the January 6 Capitol attack, offering a rare glimpse into his thinking on the committee…. The text of the resolution creating the committee gives Pelosi the ability to appoint all 13 of its members, with a requirement that she "consult" McCarthy about 5 of them." • It has occurred to me that one reason the space of the House 1/6 investigation as been so slow, despite the earth-shattering nature of the event, is that nobody knows how to handle the likelihood of FBI involvement in the riot, as in Malheur (nine informants on site), and the Michigan kidnapping case (twelve), and many others. It's worth noting that Enrique Tarrio, the leader of the Proud Boys, one of groups involved in the riot, was a prolific FBI informant.
Biden Administration
"The Memo: Biden struggles to impose his will as problems multiply" [The Hill]. "But the president's difficulties are many in number. Combined and left unaddressed, they add up to a general sense of chaos that offers an inviting target for his opponents." • So looking forward to 2022, which the molasses-brained Biden administrations seems to think is a decade away….

"Top Biden ally pleads with him to scrap filibuster for election reform" [Politico]. "House Majority Whip Jim Clyburn (D-S.C.) told POLITICO Biden "should endorse" the idea of creating a carveout to the legislative filibuster in the Senate for legislation that applies to the Constitution. In effect, the reform would make it possible for Democrats to pass their sweeping elections reform bill and another bill reauthorizing key sections of the 1965 Voting Rights Act with just Democratic support. It's a sentiment the congressman says he's shared with White House counselor Steve Ricchetti and Office of Public Engagement Director Cedric Richmond as well. 'I've even told that to the vice president,' Clyburn said. Biden could 'pick up the phone and tell [Sen.] Joe Manchin, 'Hey, we should do a carve out.' Clyburn said, referring to the centrist West Virginia Democrat who has resisted filibuster reform. "I don't care whether he does it in a microphone or on the telephone — just do it.' Clyburn's comments are the latest attempt by senior Democrats to find a way around Republican opposition to their election reform legislation. Biden himself is set to embark on a more aggressive campaign to try and move public opinion behind those bills."

Biden on Afghanistan. Sensible:

I still find this @margbrennan exchange the most illuminating/honest in how Biden thinks about Afghanistan
"Don't you bear some responsibility for the outcome if the taliban ends up back no control & women end up losing the rights—-"

"No I don't!"

— Alex Thompson (@AlexThomp) July 8, 2021

From February 3, 2020. The "successor ideology" rationale for staying in Afghanistan always struck me as weak. Certainly an odd use for the military!

"Voters Chose Boring Over Bombast. They Got Biden's Penchant for Pontificating" [New York Times]. • Oh, so that's what they did?

"There's a Good Reason Biden Singled Out Railroads for Criticism" [Business Week]. "Biden's order touches on one of the most sensitive issues in freight railroading: reciprocal switching, which is akin to net neutrality for the internet except that instead of electrons it deals with rails, switches, and long trains laden with everything from coal to soybeans. Under reciprocal switching, a railroad can pay a competitor to deliver cars for it to a customer that it has no way of reaching otherwise. Reciprocal switching breaks the monopoly control that a railroad has over its captive customers…. [T]he Association of American Railroads, which said the executive order 'throws an unnecessary wrench into freight rail's critical role' in transportation. 'For decades,' it said in a statement, 'large corporations dissatisfied with paying fair-market rates to ship products by rail have sought to leverage political influence to change that framework and force railroads to hand over traffic to competitors who might charge less.'" • Decades! Decades, I tell ya!
Democrats en Deshabille
"Pelosi and a lifetime of trading" [Unusual Whales]. "So far, Pelosi's family has done very well trading over the last year. Her one year returns for her stocks is 45.59%, and her option returns are 66.7%. This is pretty incredible, for an average return of her stocks and options is 56.15%. The S&P, with its raucous best performing year, is only up 36% from last June. Most of Pelosi's gains are quite interesting, given the timing of her plays. For example, she was able to get into TSLA, DIS around stimulus news, NVDA before American Semiconductor funding was announced, among a long list of interesting picks."

Nina Turner's real enemies:

The firms doing the last-minute attack ads against @ninaturner for DMFI's Super PAC are all DCCC firms: Sena Kozar, Sage Media and Trilogy https://t.co/kTqWlx9zFs

— Ryan Grim (@ryangrim) July 11, 2021

Still waiting for Obama to stick the shiv in. Or Michelle.

"John Fetterman's tattoos explained: Lt. governor of Pennsylvania enters Senate race" [The Focus]. "Today, 8 February, he's announced his entry into Pennsylvania's 2022 Senate race. He kicked off his campaign with a statement that reads: 'I believe the union way of life is sacred. I believe in healthcare as a fundamental, basic human right. I believe in environmental justice, I believe our criminal justice system needs a significant overhaul. I believe that the war on drugs needs to stop and we need to legalize marijuana across this country. I believe that the LGBTQIA community deserves the same rights and protections that the rest of us enjoy in this country."

"Gov. Cuomo loses NY transit union support amid ongoing scandals" [New York Post]. "Cuomo has been under fire for months amid dueling investigations, including an impeachment inquiry, into several allegations of sexual harassment and his administration's handling of COVID-19 nursing home deaths. Federal investigators are also probing alleged misuse of state resources to write his $5.1 million pandemic memoir, "American Crisis." The governor has denied any wrongdoing. TWU backed Cuomo in his 2018 reelection bid against Cynthia Nixon, who made the governor's management of the MTA a key issue. [TWU International President John Samuelsen' at the time blasted the actress-turned-pol as an out-of-touch 'opportunist' with a grudge against MTA workers. Samuelsen said the tables have turned with the barrage of scandals orbiting Cuomo. 'How could the labor movement support someone for governor who engaged in workforce criminality, sexual harassment?" he asked." • The same way liberal Democrats support Bill Clinton? More: "The former Cuomo ally also groaned about plans to split the MTA's top job into two positions and use non-union labor at Grand Central Terminal, as well as the Cuomo's response to reports in 2019 of overtime abuse and fraud at the Long Island Rail Road." Sure is odd that Cuomo isn't getting The Full Kavanaugh™.
Republican Funhouse
"Trump, DeSantis lead CPAC straw poll" [The Hill]. "Former President Trump and Florida Gov. Ron DeSantis (R) led the pack in the Conservative Political Action Conference's (CPAC) straw poll for the 2024 GOP presidential nominee. Trump held a commanding lead, with 70 percent of those who responded to the survey saying they would vote for him in the Republican primary if it were held today. DeSantis came in second with 21 percent. But when polling the 2024 Republican primary ballot without Trump, DeSantis led the pack with 68 percent of the vote." • It is true that electing Trump a second time would own the libs in the worst possible way. If they accepted the results of the election, as they did not in 2016.

"Trumpworld wants distance from QAnon even as the ex-president winks at it" [Politico]. "This past weekend, two promoters of QAnon conspiracy theories were given press credentials to Donald Trump's MAGA rally in Sarasota, Fla. The men took selfies with their badges, taunted journalists covering the event as 'fake news,' showed off their wristbands printed with the movement's slogan — "#WWG1WGA" — and generally reveled in the access they'd scored. Not everyone was happy to see them there. Trump's press team said the two men, Jeffrey Pedersen and his podcast co-host Shannon Shadygroove:, were not welcome, and had registered for the rally with "Red State Talk Radio," a network that has sent people who, a Trump aide said, 'appear to be legitimate' to events before. Pederson and Grooove were later identified as QAnon followers by Alex Kaplan of progressive watchdog group Media Matters, after which Trump's team said they are considering a new policy to verify reporters ahead of events to prevent people like the two men from gaining access. On top of that, they said they will continue efforts to tamp down on the proliferation of swag that promotes the conspiracy at Trump events and rallies." • To be fair, RussiaGate never had merch. But perhaps NPR already sold liberal Democrats all the tote bags they need?

"Critics Corner with Grover Norquist" [American Compass]. "People used to say that we had a three-legged stool. You have the social conservatives, the economic conservatives, and the foreign policy conservatives, and that was the coalition, the fusion that put together the modern Republican Party. The problem is the free market economics pretty well written out, absent the Soviet Union, what's the unifying thesis of defense? And social policy, well, define how. So that didn't really work very well. The way that the modern Republican Party, the Reagan Republican Party, the Conservative Movement operates is that it is a coalition of groups, individuals, and structures that on their vote moving issue, what they want is to be left alone by the government…. And so around the table, what people want is to be left alone. It's not all a question of cash, it's a question of being left alone, do what you want." • Or, as we say, "lead my life."

"The obscure foundation funding "Critical Race Theory" hysteria" [Popular Info]. "A Popular Information investigation reveals that many of the entities behind the CRT panic share a common funding source: The Thomas W. Smith Foundation." • I think there's less here than meets the eye. Since the "entities" include the Manhattan Institute, the Heritage Foundation, ALEC, AEI, and a bunch of NGOs that don't get funding from the Center for American Progress, the Smith Foundation looks like another run-of-the-mill donor, to me.

"Lift Black Voices: Engage with 'The 1619 Project' on Facebook Hub" [Pulitzer Center]. • Funded by The Bill & Melinda Gates Foundation, Facebook Journalism Project, The Rockefeller Foundation, and so forth.
Obama Legacy
"Obama releases 2021 summer reading list, continuing tradition" [The Hill]. • Interestingly, a book about the Sacklers, when even WaPo faults Obama for his inaction in the opioid crisis.

"'This Is a Scandal': Documents Reveal Obama's EPA Approved Toxic Chemicals for Fracking in 2011" [Common Dreams (jo6pac)]. ""The Obama-Biden administration approved the use of toxic PFAS chemicals for fracking a decade ago," said [Wenonah Hauter, executive director of Food & Water Watch], 'and all these years later, President Joe Biden's practices haven't seemed to change a bit.' 'The Biden administration has claimed to be concerned about PFAS contamination throughout the country,' Hauter said. 'Biden himself pledged during the campaign to halt new fracking on federal lands. Meanwhile, this administration is approving new fracking permits at a pace similar to Trump, with no letup in sight.' Earlier this month, whistleblowers at the EPA accused the Biden administration of continuing the 'war on science,' with managers at the agency allegedly modifying reports about the risks posed by chemicals and retaliating against employees who report the misconduct." • 
Realignment and Legitimacy
This is totally not political:

Upset workers changed a Burger King sign to read "We all quit." CNN's Jeanne Moos reports on the mutiny at a Nebraska fast food joint. https://t.co/T8Tl9QK4wf pic.twitter.com/9YOZGrXRmF

— CNN International (@cnni) July 13, 2021

That nothing workers do as workers excercising their class power can ever be political could be said to be the unspoken central dogma of the "successor ideology."

"How Not to Cover Critical Race Theory" [FAIR]. "It's textbook backlash politics: Racist police violence sparked a movement demanding a re-examination of racism in America and systemic reform that might challenge white privilege, so the right launched its own movement to shut down conversations about race and white privilege in any and all institutional arenas, most prominently schools, government offices (including the military) and corporations, that could possibly make that happen." • Which totally explains why the Biden administration is giving cops more money and Democrat loyalists like Clyburn were yammering that "Defund the police" lost them the election. More, from Kimberlé Crenshaw: "When we start dictating what can be taught, what can be said, and what is unsayable, we are well, well down the road towards an authoritarian regime." • I think "how to cover" CRT — as with any movement — is to look at its social basis, as Yang and Taibbi did last week. There's none of that here.

A nation of snitches (1):

Family members and peers are often best positioned to witness signs of mobilization to violence. Help prevent homegrown violent extremism. Visit https://t.co/bql36iSbig to learn how to spot suspicious behaviors and report them to the #FBI. #NatSec pic.twitter.com/ZwJp5h5bWD

— FBI (@FBI) July 11, 2021

Shade of The Lives of Others.

A nation of snitches (2): "Citizens, Not the State, Will Enforce New Abortion Law in Texas" [New York Times]. "People across the country may soon be able to sue abortion clinics, doctors and anyone helping a woman get an abortion in Texas, under a new state law that contains a legal innovation with broad implications for the American court system. The provision passed the State Legislature this spring as part of a bill that bans abortion after a doctor detects a fetal heartbeat, usually at about six weeks of pregnancy. Many states have passed such bans, but the law in Texas is different. Ordinarily, enforcement would be up to government officials, and if clinics wanted to challenge the law's constitutionality, they would sue those officials in making their case. But the law in Texas prohibits officials from enforcing it. Instead, it takes the opposite approach, effectively deputizing ordinary citizens — including from outside Texas — to sue clinics and others who violate the law. It awards them at least $10,000 per illegal abortion if they are successful. 'It's completely inverting the legal system,' said Stephen Vladeck, a constitutional law professor at the University of Texas at Austin. 'It says the state is not going to be the one to enforce this law. Your neighbors are.' The result is a law that is extremely difficult to challenge before it takes effect on Sept. 1 because it is hard to know whom to sue to block it, and lawyers for clinics are now wrestling with what to do about it." •
Stats Watch
Small Business Optimism: "United States Nfib Business Optimism Index" [Trading Economics]. "The NFIB Small Business Optimism Index in the United States increased to 102.5 in June of 2021 from 99.6 in May, reaching the highest level in 8 months…. 'Small businesses optimism is rising as the economy opens up, yet a record number of employers continue to report that there are few or no qualified applicants for open positions. Owners also are struggling to keep their inventory stocks up with strong sales and supply chain problems', Bill Dunkelberg, NFIB chief economist said."
Inflation: "United States Inflation Rate" [Trading Economics]. "Annual inflation rate in the US accelerated to 5.4% in June of 2021 from 5% in May, hitting a fresh high since August of 2008, and well above forecasts of 4.9%. Biggest price increases were recorded for used cars and trucks (45.2%), gasoline (45.1%), fuel oil (44.5), utility gas service (15.6%) and transportation services (10.4%)." • Effects of the chip shortage rolls downhill.
* * *
Inflation: "Global supply chains are no longer offering the protection from inflation they once did. Some economists say the secular forces such as globalization that have long helped keep prices in check are reversing, and… the shifts that have intensified during the pandemic may mark the end of a long era of low inflation and trigger new responses from policy makers" [Wall Street Journal]. "For one thing, the benefits of global trade, supported by low shipping costs that kept consumer prices in wealthy nations reined in, may have run out. Governments are facing protectionist pressures and companies are reassessing vulnerabilities of complex, far-flung supply chains following the shortages of the pandemic. At the same time, the price-damping impact of e-commerce may have peaked."'
Commodities: "Global prices for coffee beans are climbing and supplies are thinning out…, amid broad developments in supply chains that could drive up costs at the breakfast table. Brazil, the world's biggest coffee producer, is facing one of its worst droughts in almost a century and the country's coffee harvest this year is expected to drop by the biggest year-over-year amount since 2003" [Wall Street Journal]. "That comes as global coffee consumption is expected to exceed production this year for the first time since 2017, with consumer markets now adjusting following the pandemic-driven upheaval that upended traditional buying patterns. Other producing countries are reporting better harvests but their exporters are coping with logistics problems, including protests blocking ports in Colombia and a shortage of shipping containers and skyrocketing freight costs in Vietnam.
Shipping: "New data-sharing platform for shipping industry aims to reduce inefficiency: Heng Swee Keat" [Straits Times]. "new digital infrastructure for the shipping industry aims to smooth out the kinks in cargo handling processes, anchoring ways for logistics players to optimise operations. This could unlock more than US$150 million (S$202 million) of value for the supply chain ecosystem in Singapore each year, said Deputy Prime Minister Heng Swee Keat on Tuesday (July 13). He hailed the service, called Singapore Trade Data Exchange, as a breakthrough for the industry, which is at present marked by 'significant inefficiencies.' 'Logistics players face frequent congestion at depots and warehouses,' Mr Heng observed. 'They are not able to fully plan due to limited visibility of where the cargo is in the supply chain.' In addition, shippers often have to complete multiple forms requiring similar pieces of information, while buyers are unable to accurately track their orders. Having a common data infrastructure will allow firms to exchange information, giving them access to previously unavailable or hard-to-obtain data such as real-time cargo location. This will help industry players optimise cargo handling and operations. The new service, announced by Mr Heng at the Asia Tech x Singapore Summit, is the brainchild of the Infocomm Media Development Authority (IMDA) and the Alliance for Action on Supply Chain Digitalisation. The alliance, which was set up last year, is led by PSA International group chief executive Tan Chong Meng and Trafigura Group Asia-Pacific chief executive Tan Chin Hwee." • Maybe. Common data infrastructures are hard, because insurgents are the ones who tend to want standards; dominant players want the standards to reflect what they do.
Tech: "A New Tool Shows How Google Results Vary Around the World" [Wired]. "Search Atlas makes it easy to see how Google offers different responses to the same query on versions of its search engine offered in different parts of the world. The research project reveals how Google's service can reflect or amplify cultural differences or government preferences—such as whether Beijing's Tiananmen Square should be seen first as a sunny tourist attraction or the site of a lethal military crackdown on protesters." • So far as I can tell, the new tool is not available to the public (see this Twitter thread). Am I missing it?
Manufacturing: "The Boeing 787 has a new nose issue" [Air Insight]. "The FAA has identified another manufacturing quality issue on the Dreamliner. The Boeing 787 has a new nose issue in the pressure bulkhead area. It has been found in undelivered Dreamliners during inspections, the regulatory agency confirmed on July 12 in a statement to Reuters and later by Boeing. We don't know for sure if this is a completely new issue or if it is related to the previous quality issues in this area. Problems in the nose section 41 have been identified since October, when Boeing, the FAA, and 787-suppliers started an extensive review of the Dreamliner production and quality processes. As we discussed in our story in April, the 787 has a number of quality issues. The first was found in August 2019 in the aft fuselage and included incorrect shimming between sections 47 and 48. This has been traced to a software issue that incorrectly read the size of the shims, which are tiny pieces of composites that fill up any gaps where the sections join." Boeing CEO David Calhoun last month: "[T]he FAA rightfully wants to know more about the analytics and process controls that we put in place, which are different than the ones that we had previously, so that we could be more perfect." More perfect? Be that as it may, more on shimming here at "Manufacturing woes."
Supply Chain: "The global semiconductor shortage is reaching construction contractors and other service businesses that use small work trucks. Auto makers are prioritizing high-margin vehicles for the retail market as they try to stretch chip supplies across their factories, [which] is squeezing the availability of cargo vans and other smaller trucks that fill service-sector fleets" [Wall Street Journal]. "The inventory crunch shows how the impact of the chip shortage is cascading across businesses beyond the retail automotive lots, affecting a growing range of commercial operations. In some cases, the squeeze is hampering companies' ability to expand operations to meet booming demand in areas such as construction. Some buyers say trucks they bought last year are still in storage, awaiting chips. J.D. Power says 14% of vehicles sold this year were to fleet customers, compared with 22% in 2019—a difference of roughly 695,000 vehicles." • Hopefully, the chip shortage is impacting the Internet of Things, and we'll figure out we don't need it.
* * *
Today's Fear & Greed Index: 37 Fear (previous close: 38 Fear) [CNN]. One week ago: 39 (Fear). (0 is Extreme Fear; 100 is Extreme Greed). Last updated Jul 13 at 1:19pm.
Health Care
"Inverse association between hypertension treatment and COVID-19 prevalence in Japan" [International Journal of Infectious Diseases (acacia)]. From the Abstract: "Cell entry of SARS-CoV-2 depends on angiotensin-converting enzyme II. Angiotensin-converting enzyme II is homologous with, but acts antagonistically to, angiotensin-converting enzyme and has the critical function of protecting the lungs. Angiotensin-converting enzyme inhibitors are major antihypertensive agents. Thus, we aimed to analyze the impact of the prevalence of preexisting hypertension on the local spread of COVID-19." And: "Prevalence of COVID-19 inversely correlated to the ratio of treated hypertension." Further: "In our study, the type of hypertensive medication could not be evaluated. In Japan, calcium channel blockers are the most commonly used antihypertensives."
"The Kids Are Alright" [David Wallace-Wells, New York Magazine]. "In fact, for all the consternation that the United States responded to the pandemic by abandoning individuals to fend for themselves — a narrative belied by the data, which shows a roughly average level of stringency in our public response and a remarkably generous level of social-welfare spending, as Alex Tabarrok, among others, has noted — this principle of universal and shared burden has guided an enormous amount of our pandemic response: We have treated the disease almost as a uniform threat as a way of encouraging uniform vigilance. The best way to stop deaths was to stop cases, went the thinking, which dovetailed naturally with every parent's intuitive caution and desire to keep their kids healthy and uninfected — and distrust, perhaps, of anyone who suggested that your child would be fine if she got sick. But whatever we told ourselves in doing so, we didn't pull those kids out of school and put them in masks for their own. We did it for the sake of others. But on that point mass vaccination in the United States has utterly changed the landscape of the pandemic: not only by protecting those who have received shots, indeed astonishingly well, but by changing the calculus for all those who haven't, by eliminating almost all of the mortality risk of the population at large. All told, 80 percent of American deaths have been among those 65 and above. According to the White House, 90 percent of American seniors are now fully vaccinated. Which means that while more cases are likely and some amount of hospitalization and death, as well, vaccines have eliminated the overwhelming share of American mortality risk, with the disease now circulating almost exclusively among people who can endure it much, much better — kids especially. The country's whole risk profile has changed. But our intuitions about risk tolerance haven't — at least not yet."
"When and how will we know if we need Covid-19 booster shots?" [STAT]. "Public health officials, not pharmaceutical executives, will be making the final call on when and whether booster shots will be needed. Pfizer and other manufacturers will surely try to push for approvals; Moderna is already testing a Delta-variant-specific booster. Depending on how their conversations go with vaccine regulators at the Food and Drug Administration, companies may apply for a change to their emergency use authorizations (or to the vaccine license, if they secure one before applying to change their vaccine label to a three-dose one). But unless the FDA agrees to the change, and unless the Centers for Disease Control and Prevention recommends use of an additional booster — in some or all of the people who got the Pfizer shot — this will remain a two-dose vaccine. Anthony Fauci, President Biden's Covid adviser, made that clear after a Monday meeting with Pfizer, where the company briefed key administration advisers on its as-yet-unpublished data. The company has said the data show that 'a third dose may be needed within 6 to 12 months after full vaccination.' Fauci said that anyone who thinks a decision on booster shots is imminent isn't reading the situation correctly." • Imminent. C'mon, let's be fair. Moving the goalposts takes time! It's a skilled operation!
"Opinion: Vermont's and South Dakota's covid infection rates are remarkably similar — but their outcomes are not" [WaPo]. "In the spring of 2020, governors had to make decisions with little federal guidance and little historical precedent. But by that summer, it was much clearer how to curtail the disease, protect public health and manage the economy carefully. By following the science, Vermont saved an enormous number of lives and has now reached a degree of population immunity through vaccination that makes large outbreaks unlikely. Embracing a policy of "personal responsibility," South Dakota did little to protect its residents, leading to the deaths of more than 2,000 South Dakotans and the suffering of tens of thousands more. To avoid more unnecessary outbreaks, we need to learn from states that have successfully weathered the pandemic, follow the science and keep vaccinating Americans." • I'm not sure this comparison — Red State bad, Blue State good — is fair. A Covid chart watcher can see that New York, California, Texas, and Florida all performed poorly, despite different regimens. Two Blue States, two Red States. And so–
Thinking in binaries is gonna kill us all:
Let's resist the dualism "the vulnerable" vs "the non vulnerable". It's divisive and dangerous. We're all linked in some way to vulnerability.

— Trisha Greenhalgh (@trishgreenhalgh) July 13, 2021
Water
"The American West is drying up before our very eyes" [Spectrum News 1 (Wukchumni)]. "Lake Mead supplies water to several major cities in Arizona, California and Nevada. Ninety percent of Las Vegas' water comes from Lake Mead alone. Elected officials in western states have already began enacted policies to limit water use during this dire time. California Governor Gavin Newsome recently issued a drought emergency proclamation for 41 of the state's 58 counties. The proclamation empowers the state to take greater control over water resources. The water that flows through the Hoover Dam also helps create electricity for the western U.S. Due to the record low water level, less water is flowing through the dam, lowering hydropower by 25%. With less energy production, rolling blackouts have been more common across California this year as above-average heat strikes cities from the Desert Southwest to the Pacific Northwest…. If we continue on the current trend we're on, the day may come where some painful water cuts will have to be made to conserve what water is left."
"North Texas is closer to building 'devastating' reservoir. Residents are fighting back" [Star-Telegram]. "On Wednesday, members of the Texas Water Development Board voted unanimously to adopt the 2022 SNorth Texas water planners included the reservoir on their list of strategies, with an expected completion of Marvin Nichols during the 2050s. Officials in Northeast Texas wanted the reservoir delayed until at least 2070, which would stall the Dallas-Fort Worth region's ability to apply for state and federal permits.tate Water Plan, a blueprint that is created every five years through submissions from 16 regional groups….. 'We would have hoped, just like everyone else would, that we could conserve our way out of building any new projects,' [J. Kevin Ward, general manager of the Trinity River Authority] said. '." Well, except real estate developers. More: "We need the water for the Metroplex for it to continue to grow according to population projections, and we represent probably 30% of the economic activity in the state of Texas.'" • See, there's your problem….
Under the Influence
"How should an influencer sound?" [Vox]. "[W]hat's most interesting to watch about YouTube voice and the influencer accent is how normal people have adapted to it in their own, regular-person TikTok videos and Instagram stories. If you listen closely to enough people's front-facing camera videos, you'll hear a voice that sounds somewhere between a TED Talk and sponsored content, perhaps even within your own social circles. Is this a sign that as influencer culture bleeds into our everyday lives, many of the quirks that professionals use will become normal for us too? Maybe! Is it a sign that social platforms are turning us all into salespeople? Also maybe!" And: "As more of us pivot to this kind of life, a life of talking into our cameras, performing authenticity, and building precious clout, it'll be interesting to see how YouTube voice evolves. Perhaps the frequent up-and-downspeak will turn toward the monotone of TikTok voice or the staccato influencer voice or whatever voice is suited to the platform that comes next. Perhaps it's a faceless audio-only app like Clubhouse or some kind of virtual reality massive multiplayer online game where we need to figure out how to listen to each other in real time or else we'll be eaten by a robot dragon. I, for one, look forward to a universe where "door-to-door salesman" isn't the voice I hear radiating from the internet every day." • Pivot. Another word that I hate.
Guillotine Watch
"Bringing beloved regional landscapes to Amazon's HQ2" [Amazon]. "Inspired by the native ecologies of the mid-Atlantic region, the design team for HQ2's PenPlace will deliver an inclusive community park for Arlingtonians, Amazon employees, and visitors alike." Here is an image:
ICYMI: Get a sneak peek at some of our designs for PenPlace at Amazon's HQ2, featuring a community park, dining, shopping, and gathering spots: https://t.co/2RyTKPVZSL pic.twitter.com/tTcXqI9no0

— Amazon News (@amazonnews) July 13, 2021
Just so we're clear, that green patch labeled "forest" is not a forest. And the building isn't a "helix." It's an enormous screw. For obvious reasons.
Class Warfare
"The First Mill In The United States" [Richard Vague, Delancey Place]. From Vague's An Illustrated Business History of the United States: "Many of the women and young girls who worked in the booming textile factories of Lowell, Massachusetts, came to be known as the 'Lowell Girls,' or 'female operatives.' They usually ranged in age from fifteen to thirty, and many were the daughters of farmers who were seeking economic independence or looking to bring in extra income for their families. The first workers in the mills were from the region, but as cotton mill work increased, many immigrant women joined the workforce. These years saw some friction: labor protests erupted in which these young women asserted that they were the 'daughters of freemen' with rights that could not be 'trampled upon with impunity.' Although the work was arduous and the hours long, women remained the backbone of this workforce throughout much of the nineteenth century. In 1844 the Lowell Girls formed one of the first female labor organizations in the country, the Lowell Female Labor Reform Association, whose president, Sarah Bagley, was a vocal proponent of workers' and women's rights." • We have the same story today in Bangla Desh, Vietnam, Cambodia, Thailand, Myanmar….
"Temporarily":
Oregon will temporarily require shade & cool water for farm workers after a Guatemalan immigrant worker died in 100°F+ heat.

Farm workers are up to 35x more likely to die from heat than other workers. At least half are undocumented, but no federal heat regulations protect them. pic.twitter.com/XuiCzpcOcE

— AJ+ (@ajplus) July 12, 2021
"The Best Teeth-Whitening Toothpastes and Kits, According to Dentists" [New York Magazine]. "We spoke to six different dentists all who say hydrogen peroxide is the active ingredient you should be looking for in whitening products." • Let's remember that teeth are a class marker.
News of the Wired
Language aside:
Say it ain't fucking so pic.twitter.com/JUWSnuK8FP

— The Blue Infinity Stone (@Sirferrell1) July 12, 2021
* * *
Readers, feel free to contact me at lambert [UNDERSCORE] strether [DOT] corrente [AT] yahoo [DOT] com, with (a) links, and even better (b) sources I should curate regularly, (c) how to send me a check if you are allergic to PayPal, and (d) to find out how to send me images of plants. Vegetables are fine! Fungi and coral are deemed to be honorary plants! If you want your handle to appear as a credit, please place it at the start of your mail in parentheses: (thus). Otherwise, I will anonymize by using your initials. See the previous Water Cooler (with plant) here. Today's plant" (PM):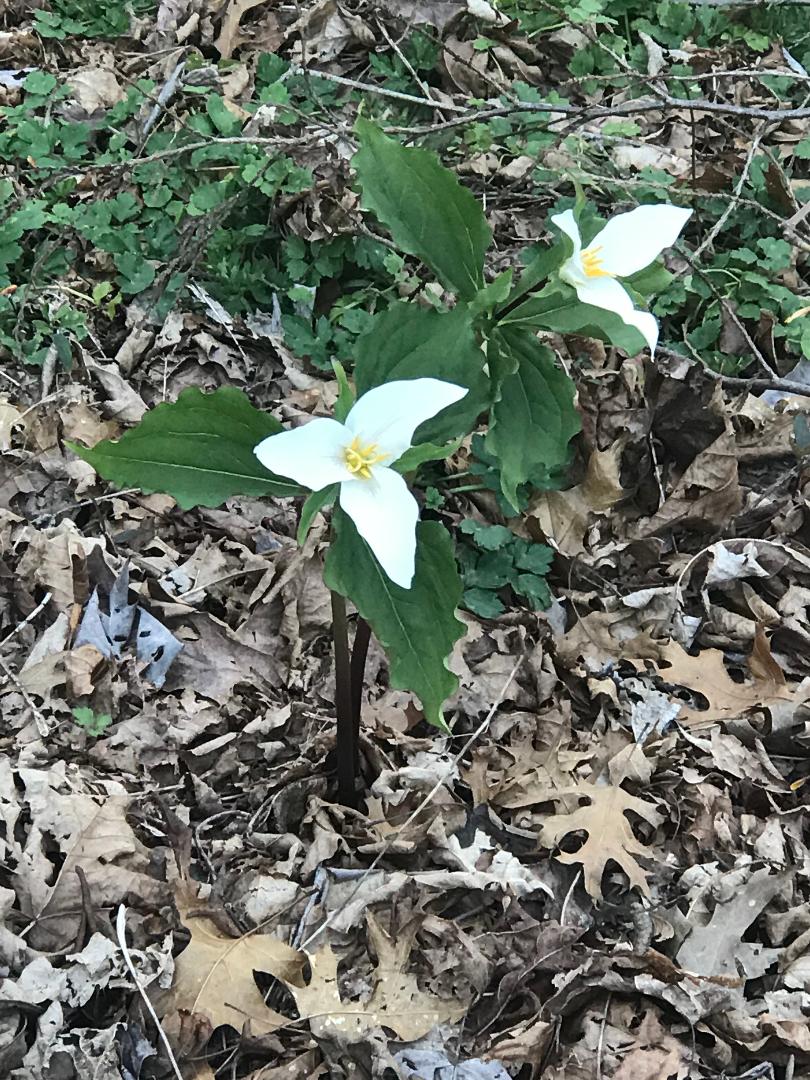 PM: "Idylwood park. Redmond, WA."
* * *
Readers: Water Cooler is a standalone entity not covered by the recently concluded and — thank you! — successful annual NC fundraiser. So if you see a link you especially like, or an item you wouldn't see anywhere else, please do not hesitate to express your appreciation in tangible form. Remember, a tip jar is for tipping! Regular positive feedback both makes me feel good and lets me know I'm on the right track with coverage. When I get no donations for five or ten days I get worried. More tangibly, a constant trickle of donations helps me with expenses, and I factor in that trickle when setting fundraising goals:
Here is the screen that will appear, which I have helpfully annotated.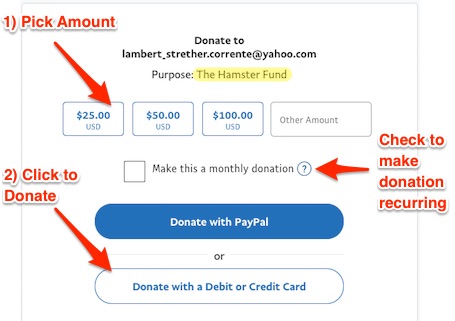 If you hate PayPal, you can email me at lambert [UNDERSCORE] strether [DOT] corrente [AT] yahoo [DOT] com, and I will give you directions on how to send a check. Thank you!2:00PM Water Cooler 6/8/2021