By Lambert Strether of Corrente.
Patient readers, I had to deal with a household emergency just when I sat down at my desk. More soon. –lambert UPDATE All done!
Bird Song of the Day
A Willow Ptarmigan from Erkuta, Yamalo-Nenetskiy Autonomous Region, Russia. Just to keep the organs of state security on their toes, if they have toes, as opposed to (say) snail-like mucilaginous propodia. (Cheeping of hatchings and what sounds like insects (!)).
I'm going to leave this up in case anyone missed it Friday:
"What's That Bird Song? Merlin Bird ID Can Tell You" [The Cornell Lab (GF)]. "It's an almost universal feeling: the thrill of hearing a mysterious new bird song. And it's usually followed up by the question: What was that bird? Today, the question got much easier: the Cornell Lab's Merlin Bird ID app can now identify bird sounds. At the time of the initial launch, Merlin can recognize the sounds of 400+ species from the U.S. and Canada, with that number set to expand rapidly in future updates. Automatic song ID has been a dream for decades, but analyzing sound has always been extremely difficult. The breakthrough came when researchers, including Merlin lead researcher Grant Van Horn, began treating the sounds as images and applying new and powerful image classification algorithms like the ones that power Merlin's Photo ID feature. 'Each sound recording a user makes gets converted from a waveform to a spectrogram—a way to visualize the amplitude [volume], frequency [pitch], and duration of the sound,' Van Horn says. 'So just like Merlin can identify a picture of a bird, it can now use this picture of a bird's sound to make an ID,' Van Horn says."
* * *
#COVID19
At reader request, I've added this daily chart from 91-DIVOC. The data is the Johns Hopkins CSSE data. Here is the site.
I feel I'm engaging in a macabre form of tape-watching. I've been thinking of new charts to monitor to alert us to the next outbreak, assuming there is one, but for now, the data from the South means I'll stick to the status quo.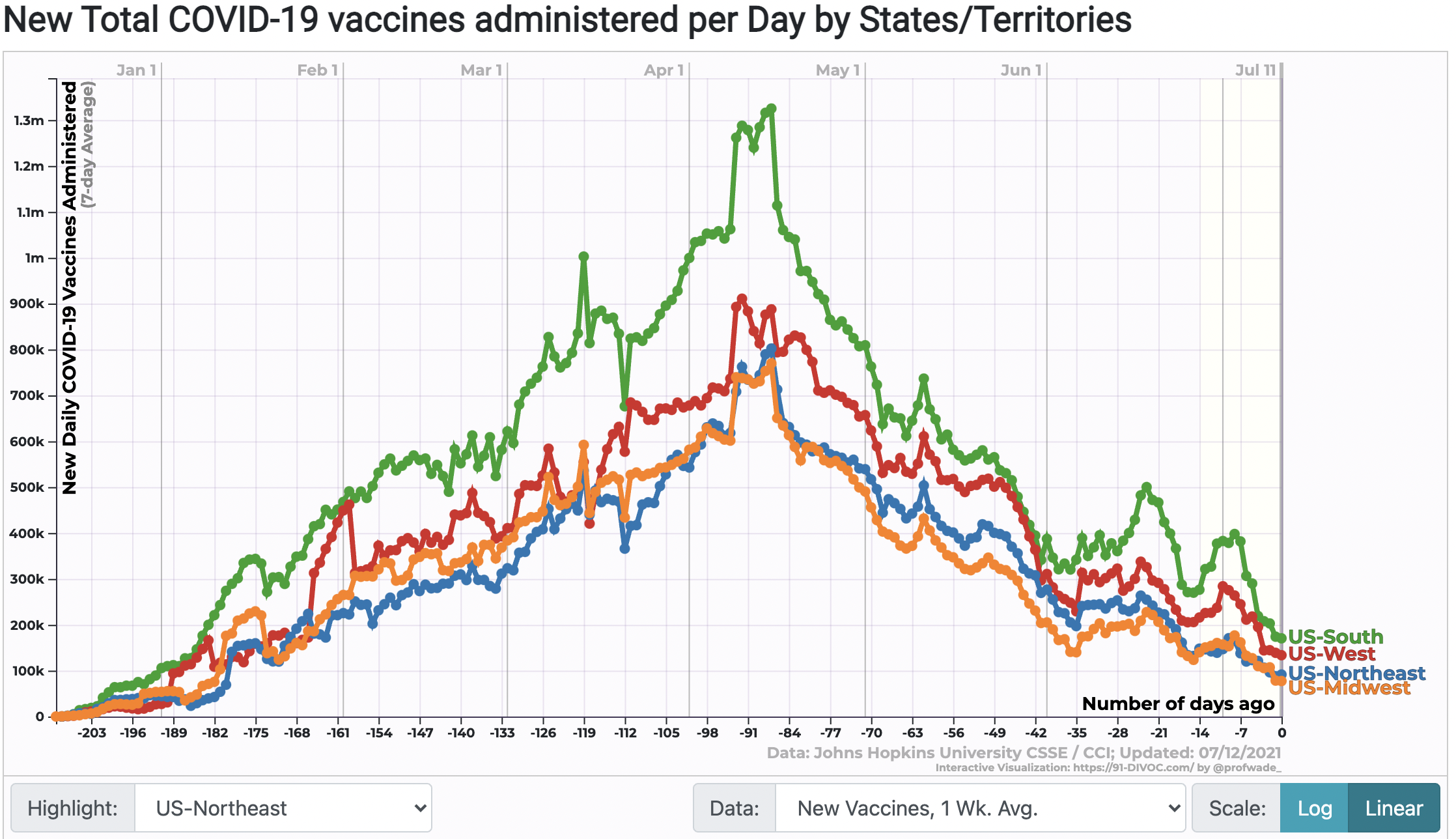 Oof. Kamala Harris better get cracking.
Case count by United States regions: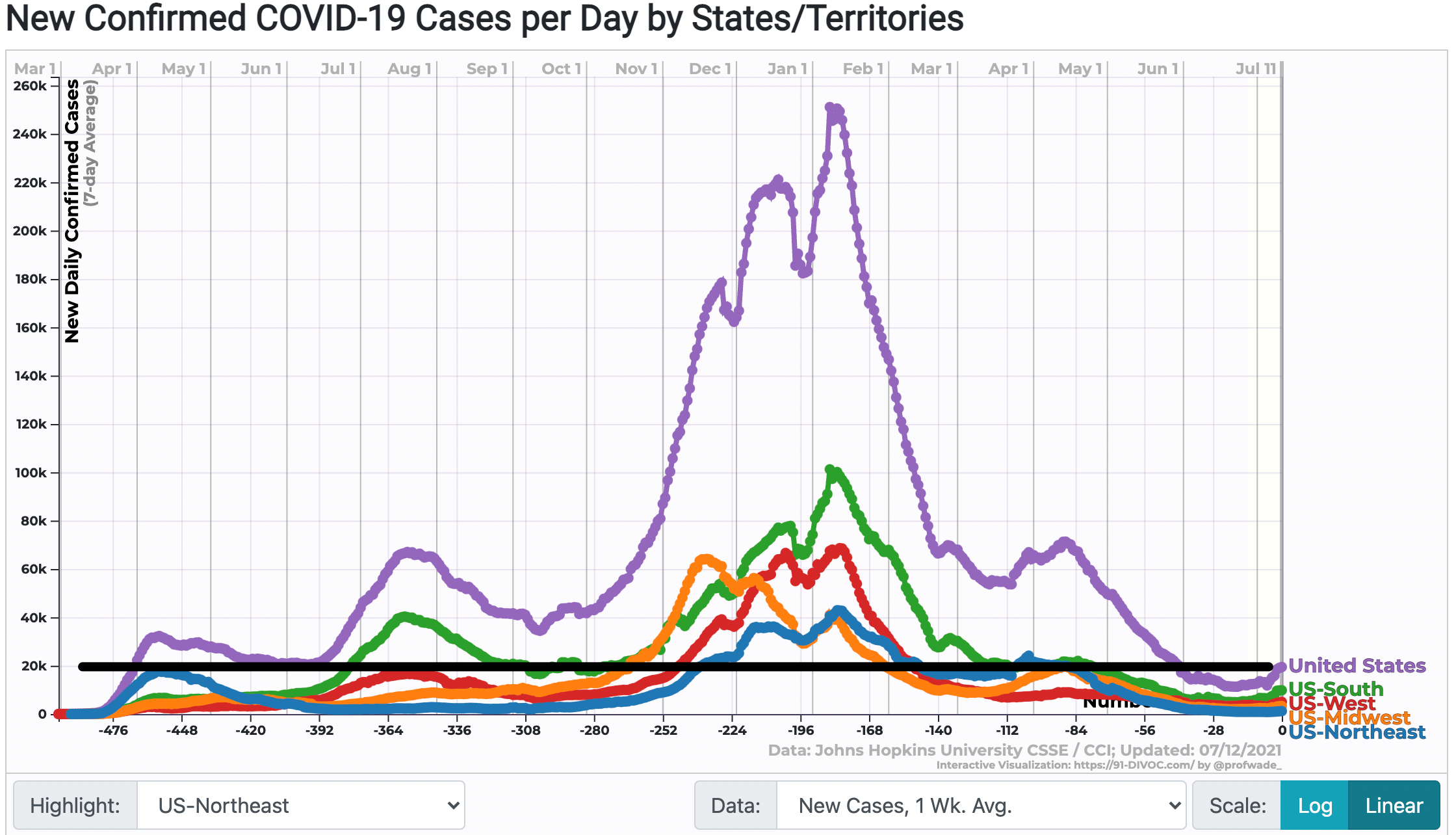 Oof. Now a definite upward trend, as shown by the anti-triumphalist black line. The slope is nothing like it was 476 days ago, but upward it is. We should know the impact of travel and all the family gatherings by July 4 + 14 call it July 21 or so. And of course summer camp, Bible School, etc.
Covid cases top ten states: for the last four weeks (hat tip, alert reader Lou Anton):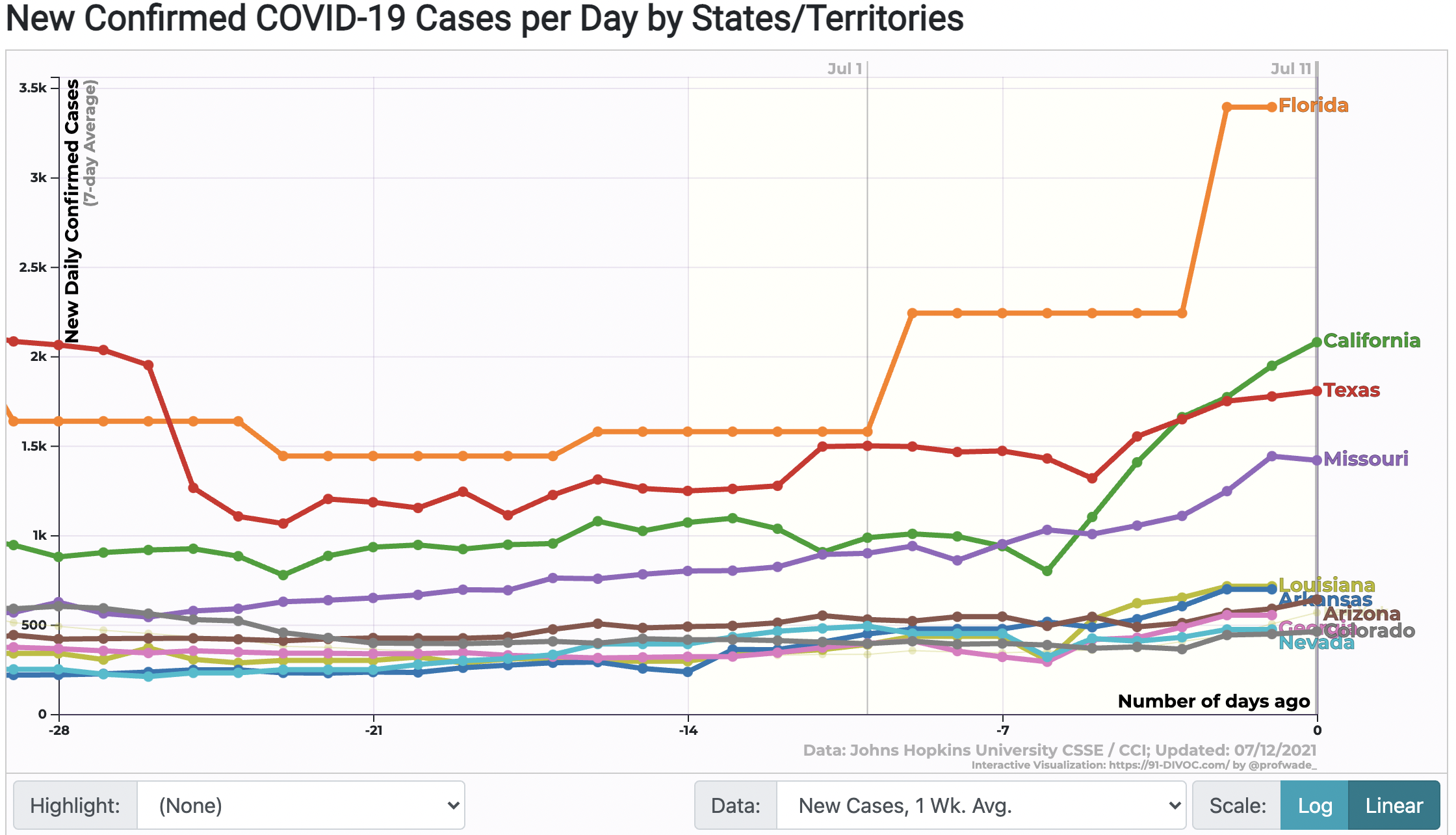 California passes Texas, hoo boy.
NEW From CDC "Community Profile Report July 8 2021" (PDF), "Rapid Riser" counties: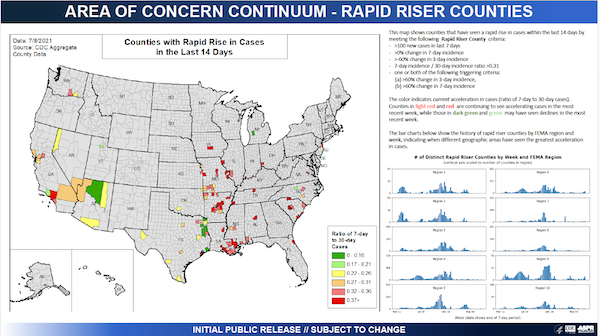 (Red means getting worse, green means bad but getting better.) I didn't feel the chart on the South was adding anything, so I replaced it with this more granular chart. Readers are welcome to page through the PDF, which comes out regularly, to suggest an alternative.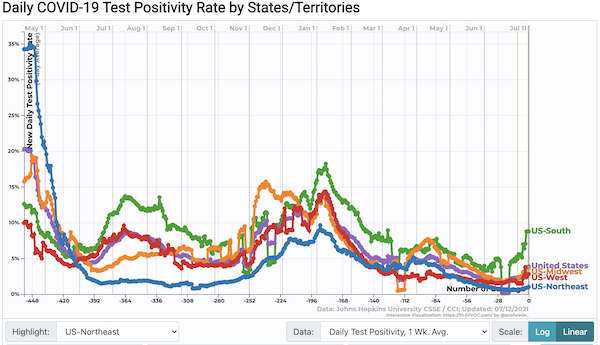 South outpaces the field.
Hospitalization (CDC):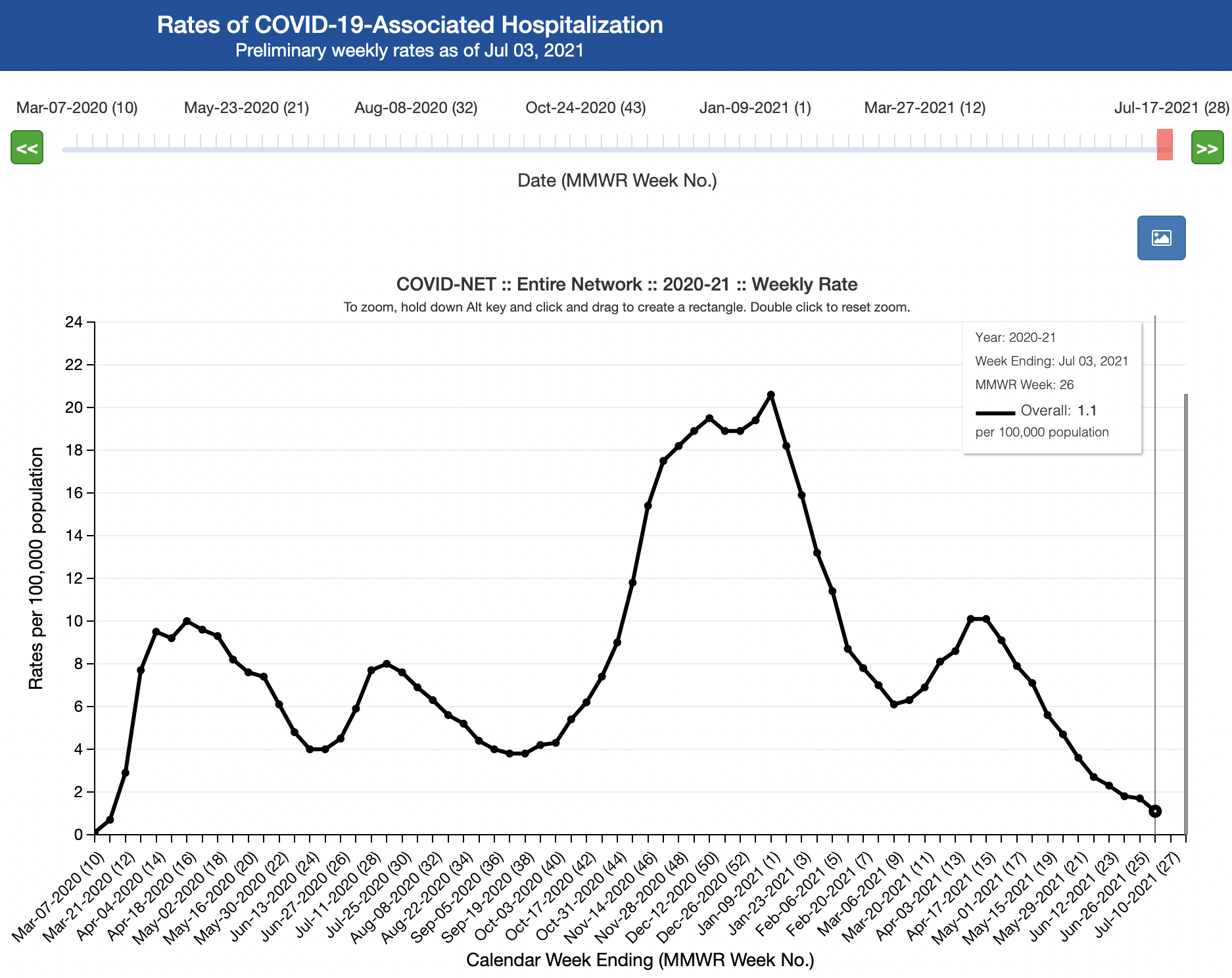 No bad news yet.
Deaths (Our World in Data):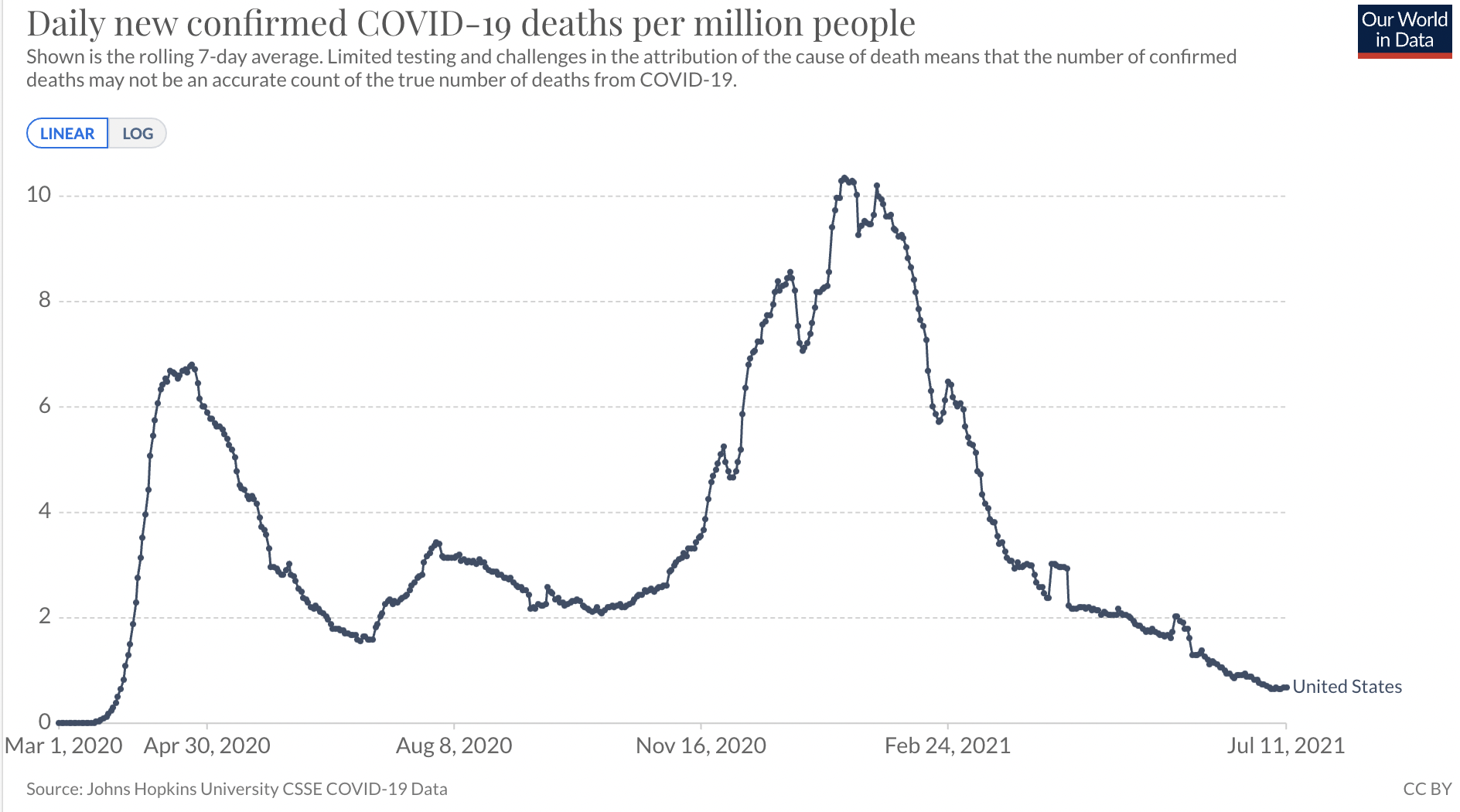 No bad news yet.
Covid cases worldwide: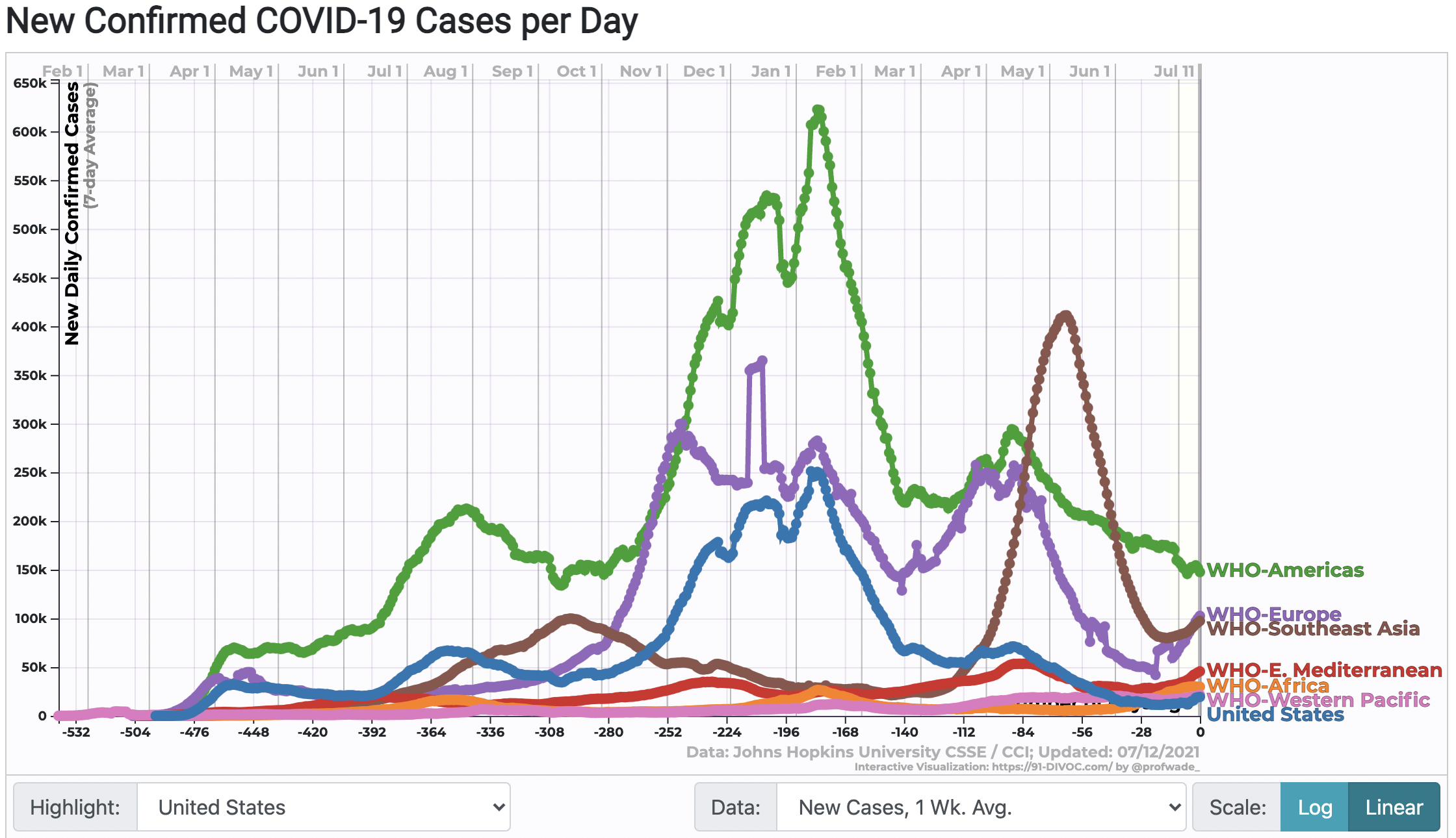 Every region is trending up.
* * *
Politics
"But what is government itself, but the greatest of all reflections on human nature?" –James Madison, Federalist 51
"They had one weapon left and both knew it: treachery." –Frank Herbert, Dune
"They had learned nothing, and forgotten nothing." –Charles Maurice de Talleyrand-Périgord
Democrats en Deshabille
Filing this here. Obviously.

Mr Escher's office pic.twitter.com/nsKnzYI6GB

— Moose Allain Ꙭ (@MooseAllain) July 12, 2021
Stats Watch
Inflation: "United States Consumer Inflation Expectations" [Trading Economics]. "Median year-ahead inflation expectations in the US increased to 4.8 percent in June 2021, a new high for the series and the eighth straight month of increases, amid mounting concerns over inflationary pressure as the economy recovers from the pandemic hit. Meanwhile, expectations for inflation over the next three years remained unchanged at 3.6 percent, the second-highest level ever. The survey also showed households' labor market expectations continued to improve…"
* * *
Commodities: "Rising crude prices aren't drawing more output from the U.S. oil patch. Shale companies that once pumped with abandon now are barely doing enough to sustain U.S. production… as a tighter financial market forces frackers to rein in their spending" [Wall Street Journal]. "That's poor news for the tanker operators that traditionally benefit when rising oil prices coupled with stronger demand trigger a rush to get more crude cargoes moving. Shale drillers have helped fuel past shipping surges by quickly increasing output as prices rose, but investors are wary following years of poor returns and many drillers are now standing pat. Public shale companies have shown strong cash flows over the past year, but many are pumping that money into reducing debt while others are stocking up on cash.
Commodities: "Agriculture supply chains in the Pacific Northwest are buckling under the heat wave that recently rolled across the region. Businesses from salmon producers along the Columbia River to apple orchards near Yakima, Wash., are assessing the long-term impact of a temperatures that soared beyond 100 degrees and caused around 200 deaths" [Wall Street Journal]. "[T]he harsh weather accentuated what was already a hot, dry year in a region that produces a significant share of U.S. agriculture exports. Washington's wheat growers, who mostly rely on rainfall for their crops, are expecting a large drop-off in production, and cherry growers are expecting lower yields. The heat wave is the latest sign of how extreme weather is buffeting supply chains built up over decades, including distribution channels fanning out from farmland in the upper Midwest to rail and port terminals along the Pacific Coast that connect exporters to Asian markets." • If your business depends on the cilmate, you don't have a business?
Shipping: "The long delays and rising costs rolling across ocean-going supply chains are having a particularly big impact on small and medium-size businesses. Retail heavyweights like Walmart and Amazon are rushing to restock ahead of the fall peak shipping season, and … that is increasingly crowding out smaller shippers who must battle over dwindling container capacity out of Asia" [Wall Street Journal]. "Those who want immediate shipments often must pay about three times the going freight cost, part of a "bidding war" that has pushed asking prices for late bookings beyond $20,000 per 40-foot container. Shipping executives say rising freight costs are the result of disruptions across supply chains that triggered delays at ports and inland distribution networks. Things aren't expected to ease before the end of the year." • If your business depends on containers, you don't have a business?
Private Equity: "The Top 10 Largest Private Equity Firms in the World" [US News]. "Private equity firms have come out of the pandemic red-hot, inking more than 2,300 deals in the first five months of 2021, an increase of 21.9% from the same period last year. A combination of historically low interest rates and record levels of fundraising has sent private equity investors racing to source deals – in fact, according to a recent survey conducted by S&P Global Market Intelligence, only 7% of private equity investors expect the investment landscape to deteriorate in the coming months." • It's hard to conclude from data like this that finance capitalism is anything other than anti-fragile. Until its host dies, of course.
The Economy: "What Decade Are We In?" [Federal Reserve Bank of Richmond]. Tom Barkin, President, Federal Reserve Bank of Richmond: "A little over a year ago, we shut down the U.S. economy to slow the spread of COVID-19." Totally erasing "essential workers," good job. More: "For me, all I can say is that every decade is unique. I do believe we are in the middle of a temporary adjustment cycle, during which workers will return to the workplace as schools open and fiscal payments expire, and suppliers will catch up to demand. For those reasons, I expect our near-term inflationary pressure to ease as we go into the fourth quarter. The key question, then, will be whether this episode has a significant lingering effect on businesses and consumers. Will they accept higher annual price increases going forward? I think the past 30 years of relative price stability must outweigh a few months of pressure. But one can never be too careful. That's why you see the Fed starting our process of discussing normalization, and hopefully why you hear legislators talking about how they will pay for their proposed spending packages." • Oy.
* * *
Today's Fear & Greed Index: 38 Fear (previous close: 37 Fear) [CNN]. One week ago: 45 (Neutral). (0 is Extreme Fear; 100 is Extreme Greed). Last updated Jul 12 at 12:47pm.
Rapture Index: Closes unchanged. [Rapture Ready]. Record High, October 10, 2016: 189. Current: 185 (Remember that bringing on the rapture is a good thing, so high is better.)
Health Care
This is an important thread from Trisha Greenhalgh, on an entirely different topic from her BMJ article in today's Links, and well worth reading in full because it covers a lot of ground besides being a retrospective on the masking controversy. Grab a cup of coffee. She begins:
LONG THREAD on masks. Mute if not interested.
Do masks work? Why do some people claim they don't work? Do they cause harm? What kinds of masks should we wear? How does masking need to change now we know that Covid is airborne? When can we stop wearing them?
Get your popcorn.
1/

— Trisha Greenhalgh (@trishgreenhalgh) July 11, 2021
And:
The most fundamental error made in the West was to frame the debate around the wrong question ("do we have definitive evidence that masks work?"). We should have been debating "what should we do in a rapidly-escalating pandemic, given the empirical uncertainty?".
11/

— Trisha Greenhalgh (@trishgreenhalgh) July 11, 2021
"Where's the RCT?" As I understand doctors are trained to ask these days. But RCTs are a big hammer. But not everything is a nail:
The RCT design can't cope with this. It's easy to design a study where the primary outcome is infection in wearers, but how would a RCT of source control work? I consent to wearing a mask, but the whole town must consent to be tested (at baseline & repeatedly) for infection.
23/

— Trisha Greenhalgh (@trishgreenhalgh) July 11, 2021
And then there is the "Evidence-Based Medicine Complex" within which RCTs are embedded:
In short, EBM's preferred methods are unsuited to studying some aspects of the pandemic (notably masks), as is its philosophy of demanding definitive findings and waiting until you've got them.https://t.co/uwusoI9vjW
28/

— Trisha Greenhalgh (@trishgreenhalgh) July 11, 2021
The entire thread is well worth a read, and I will be interested to see if our medical experts have further thoughts.
"Government oversight of COVID air cleaners leaves gaping holes" [Fortune]. "Electronic air cleaners, heavily marketed to gyms, doctors' offices and hospitals, companies and schools awash in federal COVID relief funds, tend to use high-voltage charges to alter molecules in the air. The companies selling the devices say they can destroy pathogens and clean the air. But academic air quality experts say the technology can be ineffective or potentially create harmful byproducts. Companies that make the devices are subject to virtually no standardized testing or evaluation of their marketing claims. A KHN investigation this spring found that over 2,000 schools across the country have bought such technology. 'That's one of the reasons these companies thrive, is that there's nobody, nobody checking every aspect of what they do,' said Delphine Farmer, a Colorado State University associate professor who specializes in atmospheric and indoor chemistry. An alphabet soup of federal agencies have truth-in-advertising or product medical device oversight powers but have done little about air cleaners or left broad loopholes. That has left a handful of states to take the most decisive action on the industry. The Centers for Disease Control and Prevention does not regulate the devices but, like academic air quality experts, recommends time-tested portable HEPA filters to clean the air in rooms. In comparison, ionizing and dry hydrogen peroxide air purifiers have a 'less-documented track record' in air cleaning, the CDC says. The CDC also urges consumers to research the technology and 'request testing data.' Those reports, though, can be difficult to parse. They include arcane terms like "natural decay" and test conditions that only an expert could spot as different from those that prevail in real life." • So, the CDC is dragged, kicking and screaming, into accepting aerosol transmission. Do they then take the obvious next step, and regulate or at least jawbone the air cleaner industry? Need I ask? The light irony of "less-documented track record" for machines sold — in what I hope are deals totally on the up-and-up — to busy, non-expert local school boards is not enough. I have questioned before what business the CDC is really in, and it would seem they're in the business of enabling cheapjack hustlers to thrive, and I don't only mean people like Fauci or Big Pharma executives.
"Fauci says that based on current data from CDC, FDA, there's no need for booster shot" [The Hill]. "'No, there's a lot of work going on to examine this in real time to see if we might need a boost, but right now, given the data that the CDC and the FDA has, they don't feel that we need to tell people right now you need to be boosted,' Fauci added. Tapper asked, 'I wonder, are you worried at all that if the CDC and FDA change their recommendations and boosters do become recommended in a few months, that some Americans will see this as, and some demagogues in the media and politics will portray this as, another flip-flop and it will undercut trust in the FDA and CDC?' Fauci acknowledged that Tapper raised a valid point but explained that the CDC and FDA were working off of current data."
"Is Mixing Vaccines More Effective?" [Bloomberg]. "Last week, we published an article on drug-company executives seeking to boost their own immunity by mixing shots. But it's more than just a trend among wealthy people." • Great.
"The decline in Covid-19 preceded vaccines. But we need jabs to finish the job" [STAT]. "Nearly 50 years ago, medical sociologists John and Sonja McKinlay examined death rates from 10 serious diseases: tuberculosis, scarlet fever, influenzae, pneumonia, diphtheria, whooping cough, measles, smallpox, typhoid, and polio. In each case, the new therapy or vaccine credited with overcoming it was introduced well after the disease was in decline. More recently, historian Thomas McKeown noted that deaths from bronchitis, pneumonia, and influenza had begun rapidly falling 35 years before the introduction of new medicines that were credited with their conquest. There are two ways to develop immunity: natural infection and vaccination. The best explanation for declining rates of Covid-19 appears to be previous infections, which vary considerably from state to state. Individuals with confirmed Covid-19 diagnoses are only the tip of the iceberg. Although estimates vary, the most recent study from the National Institutes of Health suggests that about five people were infected with SARS-CoV-2, the virus that causes Covid-19, for each person with a confirmed case. Multiplying known cases by five yields a rough estimate of the number of people who may have been infected. I performed a simple calculation of what I call the natural immunity rate by dividing my estimate of the number of people naturally infected by SARS-CoV-2 by the population of the state. By mid-February 2021, an estimated 150 million people in the U.S. (30 million times five) may have had been infected with SARS-CoV-2." • Yikes.
"Why the Most Unusual Covid Cases Matter" [New York Times]. "Throughout the pandemic, there have been various kinds of medical anomalies. There are people who test positive for months and others who never get infected despite living in close quarters with Covid sufferers. Such surprising cases are often declared "outliers" and shrugged off (and, indeed, should be downplayed when designing public health policies for the general population), but unusual examples of any disease can offer important insights for scientists, and most critically, lead to new medicines for that illness and others…. One famous example of a treatment arising from someone who is seemingly impervious to a disease: Stephen Crohn, whose partner became ill in 1978 with the disease later known as AIDS, became a beacon of hope for a new medication. Mr. Crohn's partner died, and so did many of his friends in the gay community, as H.I.V. spread during the 1980s. But Mr. Crohn did not fall ill. And when scientists tried to infect his cells in the lab with the virus, they couldn't. A genetic mutation in a receptor on the surface of his cells made it impossible for the virus to enter them. That rare mutation, called delta 32, inspired an antiviral drug called maraviroc."
* * *
Seems to be fomite day:
"Hygiene theatre: how excessive cleaning gives us a false sense of security" [Guardian]. "Hygiene theatre can be actively dangerous because it prevents people from making informed choices about the levels of risk they're willing to accept in their lives. "Your feelings of safety have to be science-based," says Peters. "People can make their own judgment calls about the risks they are willing to tolerate, but the key is for people to understand how Covid spreads." She fears that hygiene theatre causes people to avoid taking the mitigating measures that actually would reduce risk, such as opening windows or investing in high-efficiency particulate air purifiers. "In a restaurant," Peters says, "instead of looking at how many hand sanitisers there are on the table, people should be looking at reassurances around the air exchanges." With all restrictions on indoor contact likely to cease in England on 19 July, correctly assessing the level of risk in any given setting will be crucial. In short, it's time to finally do away with hygiene theatre."
"Fomites and the COVID-19 pandemic: An evidence review on its role in viral transmission" [Collaborating Centre for Environmental Health]. From Canada. "Although limited, current evidence indicates that the risk of infection from fomites is low, and fomites are not likely to be the major transmission pathway for SARS-CoV-2 in most situations. However, SARS-CoV-2 RNA has been found on environmental surfaces in hospital rooms, quarantine rooms, and other community settings, implying that the surfaces can become contaminated with SARS-CoV-2 despite few studies being able to culture live viruses.46,52,79-82 Additionally, new variants with potentially greater transmissibility continue to emerge, and they may behave differently on surfaces than the strains that have been studied to date. It is important to continue to follow the multilayered control measures approach in order to sever the chain of transmission at all possible links, including proper hand hygiene and appropriate cleaning and disinfection. Given that available evidence suggests that droplet and aerosol transmission continue to be the primary transmission route for SARS-CoV-2, it would be prudent to balance surface disinfection with other interventions to prevent droplet and aerosol transmission. Public health messaging should also emphasize the safe use of disinfection products to prevent acute and chronic health impacts from overuse and misuse of these products. To learn more about the overuse and misuse of disinfectant products, please see the NCCEH resource: "A rapid review of disinfectant chemical exposures and health effects during COVID-19 pandemic." • If fomites are a concern for you, bookmark this,
"A pilot metagenomic study reveals that community derived mobile phones are reservoirs of viable pathogenic microbes" [Nature]. The Abstract: "There is increasing attention focussed on the risks associated with mobile phones possibly serving as 'Trojan Horse' fomites for microbial transmission in healthcare settings. However, little is reported on the presence of microbes on community derived mobile phones which in 2021, numbered in the billions in circulation with majority being used on a daily basis. Identify viable microbial organisms swabbed from smartphones on a university campus. Entire surfaces of 5 mobile phones were swabbed and examined for their microbial content using pre-agar-based growths followed by downstream DNA metagenomic next-generation sequencing analysis. All phones were contaminated with viable microbes. 173 bacteria, 8 fungi, 8 protists, 53 bacteriophages, 317 virulence factor genes and 41 distinct antibiotic resistant genes were identified. While this research represents a pilot study, the snapshot metagenomic analysis of samples collected from the surface of mobile phones has revealed the presence of a large population of viable microbes and an array of antimicrobial resistant factors. With billions of phones in circulation, these devices might be responsible for the rise of community acquired infections. These pilot results highlight the importance of public health authorities considering mobile phones as 'Trojan Horse' devices for microbial transmission and ensure appropriate decontamination campaigns are implemented." • No epidemiological studies on this, so far as I know.
Water
"Over $1 Billion In Marijuana Plants Seized In Antelope Valley Drug Bust" [Valley Post News (Laura in So Cal)]. "In 2020, there were an estimated 150 illegal cannabis operations in the Antelope Valley, growing to over 500 in 2021, a majority of which are connected to drug cartels, according to the sheriff…. Cartel members were threatening residents and stealing millions of gallons of water from the already limited supply in the desert, according to Villanueva…. 'What began as water theft, has exploited to become the infiltration of organized crime groups in the Antelope Valley who are operating internationally,' [Supervisor Kathryn Barger] said." • I originally had this filed under "The 420," but I think not.
Zeitgeist Watch
People making extravagantly repulsive food-like dishes is apparently a thing on Tik-Tok, and some of it bleeds over onto the Twitter. Here is Apple in that cultural moment:
iPhone 12. More spill and splash resistant than ever. Plus Ceramic Shield, tougher than any smartphone glass. Relax, it's iPhone.

— Apple (@Apple) July 7, 2021
This is not exactly the all-white, blond-wood Apple Store look, is it? Plus, the dude is — there's no other word for this — pudgy. What happened to thin?
"Freedom" has a subtext:
Starved for PDA, some are taking New York's reopening as a cue to start "swallowing each other's faces." https://t.co/0opih3dng1

— The New York Times (@nytimes) July 11, 2021
"To 't, luxury, pell-mell! for I lack soldiers." –William Shakespeare, King Lear, the curmudgeon di tutti curmudgeons….
News of the Wired
Neat:
'Future Boy Conan', Hayao Miyazaki's first solo-directed anime, is finally being released in North America (https://t.co/t1V2oCSAyJ) — no better excuse to repost some of its gorgeous background art pic.twitter.com/OJA8BqQoKn

— Irène DB (@UrbanFoxxxx) July 10, 2021
* * *
Readers, feel free to contact me at lambert [UNDERSCORE] strether [DOT] corrente [AT] yahoo [DOT] com, with (a) links, and even better (b) sources I should curate regularly, (c) how to send me a check if you are allergic to PayPal, and (d) to find out how to send me images of plants. Vegetables are fine! Fungi and coral are deemed to be honorary plants! If you want your handle to appear as a credit, please place it at the start of your mail in parentheses: (thus). Otherwise, I will anonymize by using your initials. See the previous Water Cooler (with plant) here. Today's plant (HH):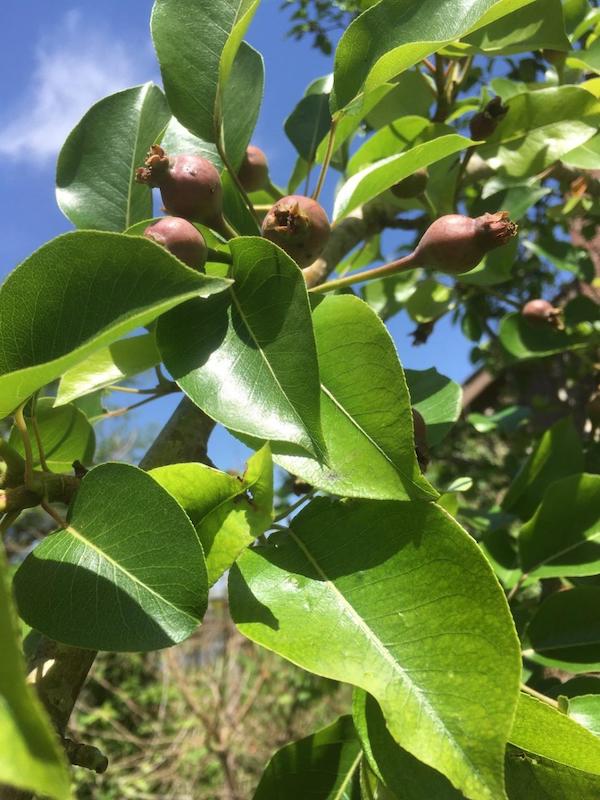 HH writes: "Looks like it may be a good year for pears in Central Texas, if we can keep the trees watered through the predicted drought."
* * *
Readers: Water Cooler is a standalone entity not covered by the recently concluded and — thank you! — successful annual NC fundraiser. So if you see a link you especially like, or an item you wouldn't see anywhere else, please do not hesitate to express your appreciation in tangible form. Remember, a tip jar is for tipping! Regular positive feedback both makes me feel good and lets me know I'm on the right track with coverage. When I get no donations for five or ten days I get worried. More tangibly, a constant trickle of donations helps me with expenses, and I factor in that trickle when setting fundraising goals:
Here is the screen that will appear, which I have helpfully annotated.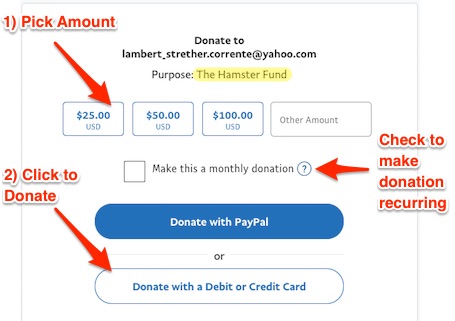 If you hate PayPal, you can email me at lambert [UNDERSCORE] strether [DOT] corrente [AT] yahoo [DOT] com, and I will give you directions on how to send a check. Thank you!2:00PM Water Cooler 6/8/2021