By Lambert Strether of Corrente.
Patient readers, I don't so much have a calendar as a mental ratchet with five teeth. Occasionally, the ratchet slips, and so I thought yesterday was Friday! Fortunately, you straightened me out. Have a good weekend. –lambert
Bird Song of the Day
* * *
#COVID19
At reader request, I've added this daily chart from 91-DIVOC. The data is the Johns Hopkins CSSE data. Here is the site. I feel I'm engaging in a macabre form of tape-watching….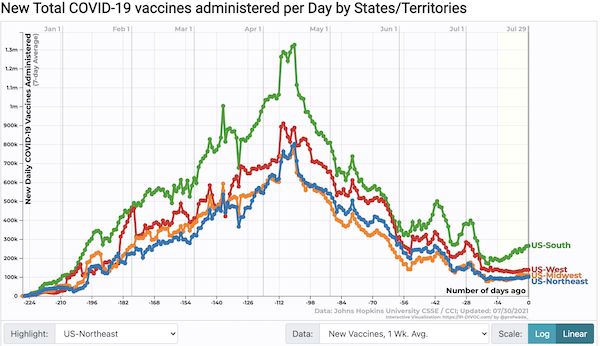 South rising.
Case count by United States regions: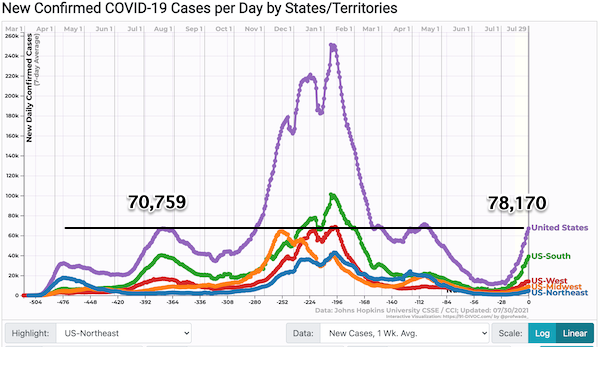 And so we barrel toward achieve parity with the second peak, back in July 2020…. Projecting linearly, I'd guess we'd reach the new peak by early next week. NOTE: Looks like I was too conservative! I was too conservative. Now, as far as reaching the peak of January 8, 2020, 295,257… I'm not that pessimistic (modulo a new variant brought into the country by our ridiculously lax policies on international quarantines). Still, when you look at those rising counties, you've got to think this rise has a way to run. (Note that these numbers are if anything understated, since the CDC does not collect breakthrough infections unless they involve hospitalization, and encourages health administrators in the states and localities not to collect the data either.)
UPDATE I meant to add this chart: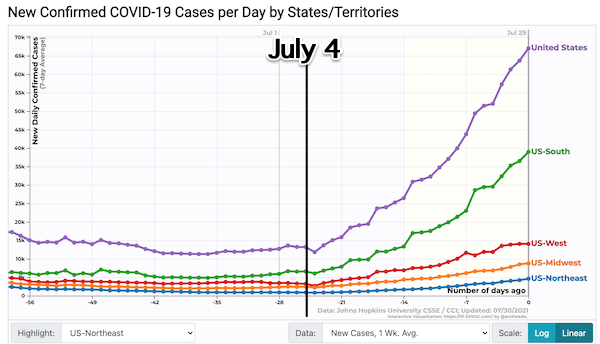 To be fair, it looks like the train started rolling a bit before the Fourth, but people travel, shop, and generally prepare before the holiday.
Covid cases top ten states: for the last four weeks (hat tip, alert reader Lou Anton):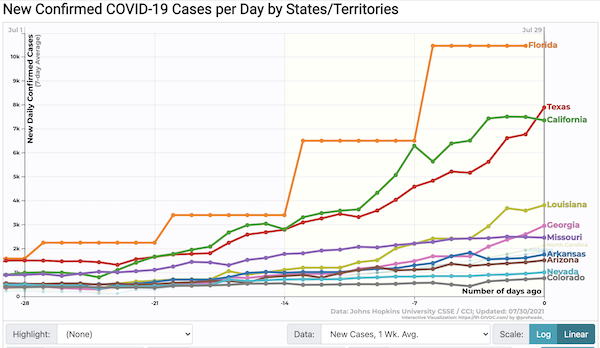 Good news from California.
From CDC: "Community Profile Report July 28 2021" (PDF), "Rapid Riser" counties, this release: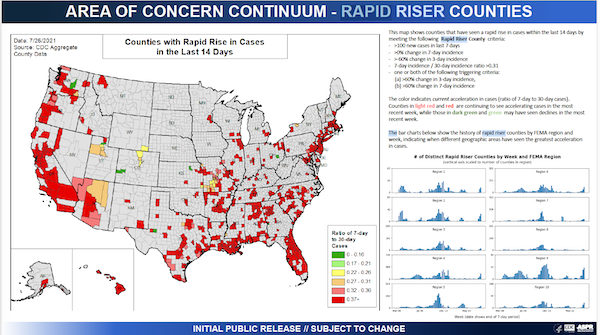 More red: Florida, California, Acela Corridor. The last two certainly doesn't fit the "Blame Bubba" narrative. Not a banjo to be heard. Last release: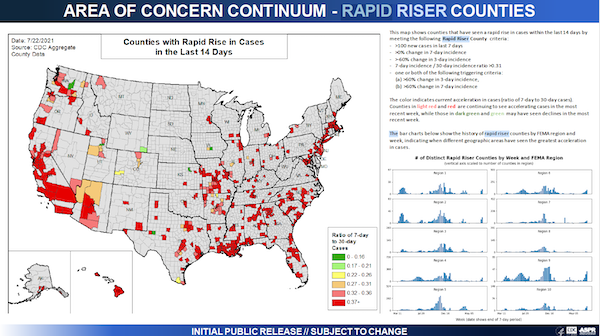 (Red means getting worse, green means bad but getting better. This chart updates Tuesdays and Fridays, presumbly by end-of-day.) More on county data:
real leopard face-eating effect here it seems, but still welcome https://t.co/WpYa7slyEz

— ryan cooper (@ryanlcooper) July 28, 2021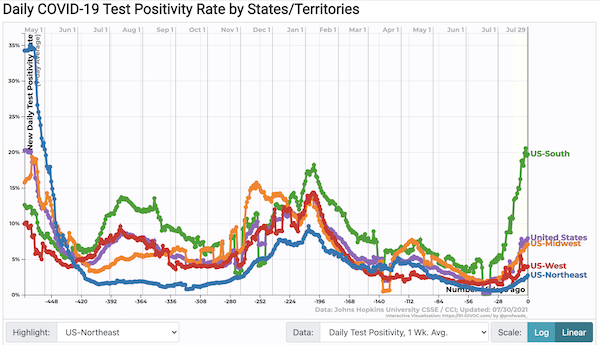 South running away with the field. But other regions now playing catch-up.
Hospitalization (CDC):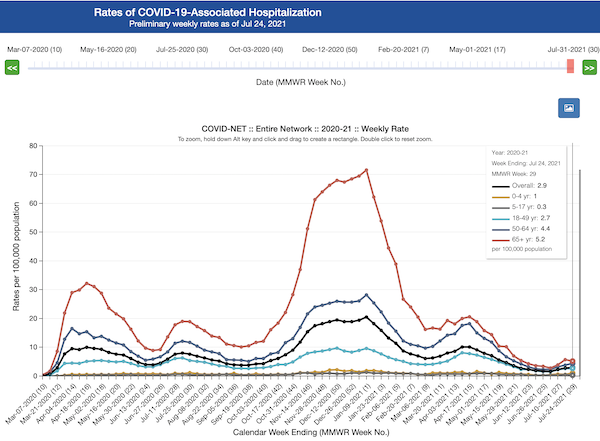 A little dip in 65+. But–
Deaths (Our World in Data):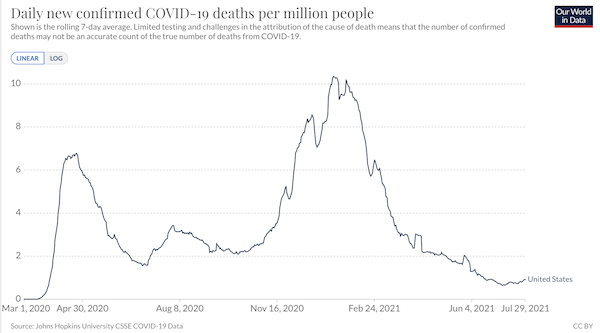 I do not like the rise in deaths, slight though it may be.
Covid cases worldwide:
Every region is trending up. US sphere of influence under the Monroe Doctrine not doing so well.
* * *
Politics
"But what is government itself, but the greatest of all reflections on human nature?" –James Madison, Federalist 51
"They had one weapon left and both knew it: treachery." –Frank Herbert, Dune
"They had learned nothing, and forgotten nothing." –Charles Maurice de Talleyrand-Périgord
Biden Administration
"Democrats warn shrinking Biden's spending plan could backfire" [The Hill]. "Progressive Democrats are sounding the alarm after Sen. Kyrsten Sinema's (D-Ariz.) warned Wednesday that she doesn't support a $3.5 trillion price tag for an expansive package Democrats hope to muscle through Congress that includes top party priorities like like immigration reform, combating climate change and expanding Medicare. Democrats hope to move the legislation on party lines in the Senate with special budgetary rules, preventing Republicans from filibustering the measure. But that effectively gives each Democratic senator, including Sinema, veto power on the bill. Progressives are warning that a $1.2 trillion bipartisan bill backed by Sinema that is largely focused on 'traditional' infrastructure like roads, bridges and broadband will not get to the White House without the larger bill. 'It is my absolute conviction that you're not going to have a bipartisan bill unless you have a reconciliation bill of $3.5 trillion,' Senate Budget Committee Chairman Bernie Sanders (I-Vt.) told reporters. Sanders added that he expected the spending plan would be $3.5 trillion in the Senate and 'maybe even more in the House,' suggesting his counterparts across the Capitol could try to expand the eventual bill even more." • And speaking of Sinema:

Hahaha. This sucks man.gif pic.twitter.com/fOYOgKNV9y

— Eric Levitz (@EricLevitz) July 30, 2021

"What's in it for McConnell? Why the 'grim reaper' is backing a Biden priority" [NBC]. "McConnell's incentives are more complicated than the "Dr. No" image he has cultivated over a decade and a half as the Senate Republican leader, according to senators and aides familiar with his thinking, as well as Democratic antagonists. By acquiescing to a deal, he can reward Republican allies, head off Democratic efforts to end the filibuster and even score some popular goodies for his state." • I would also bet McConnnell thinks the bill, which is teeny by the side of the original ask, will not be enough to help Biden in 2022 or 2024. So why not cash in? And speaking of cashing in:

Democratic Senators booed Sen. JOE MANCHIN for mentioning the deficit during a closed-door caucus luncheon on Tuesday, @playbookdc reports.https://t.co/sNjDrcg0jW pic.twitter.com/y7QNWYyfqX

— Kenneth P. Vogel (@kenvogel) July 30, 2021

I don't know how serious the booing was, though.

"Trump blows fuse over GOP moving forward on infrastructure deal" [The Hill]. "'Under the weak leadership of Mitch McConnell, Senate Republicans continue to lose,' Trump said in a statement. 'He lost Arizona, he lost Georgia, he ignored Election Fraud and he doesn't fight.' 'Now he's giving Democrats everything they want and getting nothing in return,' he continued. 'No deal is better than a bad deal. Fight for America, not for special interests and Radical Democrats. RINOs are ruining America, right alongside Communist Democrats.'" • Communist Democrats? I wish!

"Harris's bad polls trigger Democratic worries" [The Hill]. "'As of right now, I think she has the potential of doing more harm than good for some of these candidates,' said one Democratic strategist. 'My sense is she'll probably raise a lot of money and maybe she'll go to some specific districts, but they'll have to be really strategic with her.' 'She doesn't have the standing at this moment to go to a lot of these tighter districts,' the strategist added. Even some Harris allies are skeptical that she will have a seamless go as a surrogate leading up to next year's midterm elections. acknowledged one Harris ally. 'She's made a bunch of mistakes and she's made herself a story for good and bad.' A spokesperson for Harris declined to comment." • With "allies" like these…
Realignment and Legitimacy
"Two Kinds of Pride in American Politics" [Benjamin Studebaker]. "I've been thinking about pride's role in politics. When I say pride, I am not talking about mere self-respect. I am thinking about vanity, about the insidious mistake of thinking we are superior to others when in fact we are their equals. This is pride in the grim, nasty, old-fashioned sense. I think there are two kinds of pride running amok today. One is associated with entrepreneurs, with those who consider themselves 'self-made.' The other is associated with professionals, with those who consider themselves 'educated." • Neither is correct, surely. More: "Both of these forms of pride have the same function–they enable rich and powerful people to justify contempt for the American worker. The entrepreneur scorns the worker for failing to figure out how to hustle, while the professional scorns the worker for failing to accept "knowledge" from the experts who possess it. On these two grounds, the worker is told that they are unworthy of the social goods which are necessary for any person to reach their potential. They are told that they cannot enjoy access to quality healthcare, affordable housing, true education, affordable energy, and even sustenance. They are blamed for the situations they are in, and no effort is made on their behalf. The Republican Party is dominated by entrepreneurs, and the Democratic Party is dominated by professionals. Neither party thinks the workers morally deserve access to a set of basic, fundamental economic rights. Both are deeply prideful and deeply wicked, in different ways. The proud Republican tells the worker to figure it all out on their own, while the proud Democrat tells the worker that their interests and needs cannot be a priority until they accept the "knowledge". Caught between a rock and the hard place, the worker is condemned to endless toil, with no time and no energy left for escape. All the worker can do is persevere and hope for a brighter future, in this life or the next." • Interesting. Pride goeth before a fall….

"The Rapture (Summer Repeat)" (podcast) [In Our Time]. "Melvyn Bragg and guests discuss the ideas developed by the Anglican priest John Nelson Darby (1800-1882), drawn from his reading of scripture, in which Jesus would suddenly take His believers up into the air, and those left behind would suffer on Earth until He returned with His church to rule for a thousand years before Final Judgement. Some believers would look for signs that civilization was declining, such as wars and natural disasters, or for new Roman Empires that would harbour the Antichrist, and from these predict the time of the Rapture. Darby helped establish the Plymouth Brethren, and later his ideas were picked up in the Scofield Reference Bible (1909) and soon became influential, particularly in the USA." • Still influential today; see the Left Behind series of novels.
Stats Watch
Manufacturing: "United States Chicago PMI" [Trading Economics]. "The Chicago Business Barometer jumped to 73.4 in July of 2021 from 66.1 in June, the second-highest pandemic-era reading. Demand is strong but firms remain concerned about supply chain disruptions and rising prices. Among the main five indicators, production saw the largest increase, followed by New Orders, while Supplier Deliveries remained unchanged."
Income: "June 2021 Real Income And Expenditures – Inflation Continues To Impact" [Econintersect]. "The data continues to be affected by the pandemic as comparisons are to the recession one year ago, and now inflation. Inflation is now significantly impacting growth as it is now 4.0 %…. The real issue with personal income and expenditures is that it jumps around because of backward revisions – and one cannot take any single month as fixed or gospel."
* * *
Finance: "How Credit Suisse failed at basic risk management" [Felix Salmon, Axios]. "When Tidjane Thiam was fired as CEO of Credit Suisse in early 2020, the stated reason was his involvement in a spying scandal. Now that an incendiary report has been released by Credit Suisse about the bank's internal risk controls under Thiam's leadership, it looks like he was fired for the wrong reason. The 165-year-old Credit Suisse, with its trillion-dollar balance sheet and 50,000 employees, is one of the most systemically important financial institutions in the world. The weakness of its internal controls, exposed by the collapse of the Archegos hedge fund, amounts to a major international scandal. Credit Suisse lost $5.5 billion as a result of effectively lending Archegos money that the fund couldn't repay. Credit Suisse had multiple layers of risk management designed to avert exactly the kind of catastrophe that ultimately ensued." • Hmm.
Commodities: "It's going to get more expensive to drown your sorrows over rising commodity costs. The makers of some of the world's bestselling food and drink brands say they will keep raising prices… as they cope with rising raw materials and transportation expenses. Companies across many sectors are contending with rising costs from coffee to aluminum and shipping as the recovery from Covid-19 gains steam" [Wall Street Journal]. "That is leading to higher prices for many goods. Some are adjusting supply-chain strategies, but for drinks makers like Diageo and Anheuser-Busch InBev there's little room to save on shipping costs for their dense, heavy liquid products. AB InBev's second-quarter sales rose 28%, but the brewer is paying more for barley and freight, and says surging demand for cans in the U.S. has forced the company to import them from elsewhere, raising costs still more." • I've never heard of Beer Riots, but there's a first time for everything….
Real Estate: "The bottlenecks at big U.S. seaports are reaching into the warehousing market. Space at storage centers near maritime gateways is drying up… as the flood of container imports makes warehousing harder to find and more expensive. The logistics-center logjam is hitting an industrial property sector that has long been a seller's market as growing e-commerce demand has put a premium on distribution centers, particularly those closer to population centers" [Wall Street Journal]. "The retailer effort to restock depleted inventories this year has exacerbated the warehouse capacity constraints as shippers and logistics providers look to pull goods away from bogged-down transportation networks. Vacancy rates in Southern California's warehouse-heavy Inland Empire region are down below 2%."
Shipping: "American port congestion worsens" [Splash 24/7]. "Summer is proving to be fearsomely hot for dockworkers on every coast of America, working record volumes of boxes with ships forming long queues at many gateways as peak season arrives on what has already been a peak year. The grave situation has been made worse by strained rail connections inland and rollover effects from earlier disruptions such as the Covid outbreak at key Chinese export hub Yantian, which saw the port work at just 30% of capacity for most of June. The number of ships backing up outside San Pedro Bay, home to the ports of Los Angeles and Long Beach, America's two main gateways, is increasing towards record levels experienced earlier in the pandemic. Current anchorage times have also broached the five-day mark, hitting already dire carrier schedule reliability figures."
Shipping: "The holiday shopping season isn't turning into fun and games for toy makers. Big manufacturers Mattel and Hasbro are navigating around supply-chain disruptions to get their goods in stores this year… while suppliers and smaller toy companies are scrambling to renegotiate prices with retailers amid rising materials and shipping costs" [Wall Street Journal]. "Toy industry veterans say this year's disruption is worse than last year when the Covid-19 outbreak temporarily shut many ports, factories and stores. Mattel, which owns several factories in Asia, said it was leveraging its geographically diverse manufacturing footprint to minimize the effect of freight bottlenecks. Smaller companies have fewer options, and some say they are losing out in bidding wars for tight space in container shipping networks."
The Bezzle: "Nikola Founder Pleads Not Guilty, Freed on $100 Million Bail" [Bloomberg]. "Nikola Corp. founder and former chairman Trevor Milton was freed by a judge on $100 million bond, after pleading not guilty to charges that he misled investors about the status of the electric-vehicle maker. The bail was secured by two properties that Milton owns in Utah, one of which is worth $36 million and the other $4 million, lawyers said at the hearing Thursday in Manhattan federal court." • $100 million? That's nice.
The Bezzle: "Here are all the wildest allegations from the former Nikola chairman indictment" [CNN]. "A truck with the doors duct-taped on. Ford pickups masquerading as something else. The head of a company running to google whether or not the thing he had just promised inventors was even physically possible. These are some of the wildest allegations from charging documents filed this morning against Trevor Milton, the founder and former chairman of electric-and-hydrogen vehicle company Nikola." • Who does he think he is? Elon Musk?
The Bezzle: Whoopsie:
Victoria's Big Battery at Geelong – which is a @NEOEN_Energy project using @elonmusk's @Tesla batteries – has caught fire, only a day after it began operations. The Megapack battery caught fire near Geelong, just after 10am. https://t.co/BgGEgmtVvI

— Financial Review (@FinancialReview) July 30, 2021
Those battery banks look awfully close together….
The Bezzle: "FTC's Lina Khan blames digital platforms for surge in consumer fraud" [MarketWatch]. "'Fraud has continued to surge,' Ms. Khan said Wednesday before the House Energy and Commerce Committee. 'One reason is that fraud today is supercharged by digital platforms where this conduct is tolerated and even promoted.'… 'Ms. Khan has shaken up the FTC by holding two public meetings — the agency's first in decades — and overseeing a series of policy changes after being sworn in June 15.'" • Public meetings! Two of them!
Tech: "Privacy Implications of Accelerometer Data: A Review of Possible Inferences" [Association for Computer Machinery]. "It has been shown in experiments, however, that seemingly innocuous sensors can be used as a side channel to infer highly sensitive information about people in their vicinity. Drawing from existing literature, we found that accelerometer data alone may be sufficient to obtain information about a device holder's location, activities, health condition, body features, gender, age, personality traits, and emotional state. Acceleration signals can even be used to uniquely identify a person based on biometric movement patterns and to reconstruct sequences of text entered into a device, including passwords. In the light of these possible inferences, we suggest that accelerometers should urgently be re-evaluated in terms of their privacy implications, along with corresponding adjustments to sensor protection mechanisms."
Manufacturing: "Bjorn's Corner: The challenges of airliner development. Part 14. The ATO." [Leeham News and Analysis]. A long (obviously) series on the project milestones in aircraft development. A sample of the flavor: "For established OEMs, Authorization to Offer (ATO), is an important milestone in the pre-launch phase. At this point, technical teams have enough confidence in the configuration that the product will achieve its key objectives, such as performance, maintenance cost, passenger experience, etc. The preparation work with suppliers also helps create a schedule that is agreeable to suppliers."
* * *
Today's Fear & Greed Index: 26 Fear (previous close: 30 Fear) [CNN]. One week ago: 32 (Fear). (0 is Extreme Fear; 100 is Extreme Greed). Last updated Jul 30 at 12:42pm.
Health Care
"CDC mask decision followed stunning findings from Cape Cod beach outbreak" [ABC]. A week after the crowds descended upon Provincetown, Massachusetts, to celebrate the Fourth of July — the holiday President Joe Biden hoped would mark the nation's liberation from COVID-19 — the manager of the Cape Cod beach town said he was aware of 'a handful of positive COVID cases among folks' who spent time there. But within weeks, health officials seemed to be on to something much bigger. The outbreak quickly grew to the hundreds and most of them appeared to be vaccinated. As of Thursday, 882 people were tied to the Provincetown outbreak. Among those living in Massachusetts, 74% of them were fully immunized, yet officials said the vast majority were also reporting symptoms. Seven people were reported hospitalized…. All indications now are that the Provincetown outbreak investigation is among the pieces of new evidence behind the CDC's decision to ask Americans to once again put on their masks indoors, even if they are vaccinated." • Hmm.
"Lung Virus Fills U.S. Children's Hospitals as Isolation Ends" [Bloomberg]. "Oklahoma and Louisiana health officials said that a surge in cases of a virus more frequently seen in winter is filling hospital pediatric wards as children emerge from Covid isolation. Respiratory syncytial virus usually causes mild coldlike symptoms and most people recover in weeks, according to the U.S. Centers for Disease Control and Prevention. Symptoms include runny nose, loss of appetite, fever and wheezing. Infants and older adults are at heightened risk of severe disease from the pathogen. RSV has been climbing nationally since April, as children who endured extended isolation during the early months of the pandemic emerged to interact more with peers at school, camps and playgrounds. The virus is generally seen in colder months when kids are packed together indoors in classrooms or at daycare centers. The big out-of-season jump means hospitals are crowded with young patients at a time when they are also confronting a rise in coronavirus infections due to the delta variant. "
The Biosphere
"Carbon capture's next act" [Financial Times]. "After a slow start, spending on carbon capture and storage — seen by many analysts as essential in the fight against climate change — is ratcheting up in the US. Government incentives are coaxing investors toward the technology, which traps emissions before they can be released into the atmosphere so that they can be reused or stored.  There were ten US carbon capture projects announced in the first half of this year, according to a new analysis by the Clean Air Task Force, an environmental group. That was more than the total number of projects announced in 2020. 'We're just really excited about this flourishing pipeline of projects in development,' Lee Beck, international director for carbon capture at the CATF, told ES. 'Since mid-2020, projects are really taking off.' The projects are mainly split between capturing the emissions from power plants, like gas and coal, and those from industry, such as cement and ethanol production. One, backed by Occidental Petroleum, aims to deploy direct air capture technology, stripping carbon directly from the atmosphere. The growing number of project announcements has been fuelled by a 2018 overhaul of the 45Q tax credit, which offers developers up to $50 per tonne of carbon captured and permanently stored. The pandemic, coupled with a lack of clarity over how to claim the credit, led to a slowdown in 2020 — but momentum has now returned."
"Truth or Consequences" [Chris Jones, IIHR Research Engineer]. "We developed a single-value metric of water quality for Iowa streams based on a formula developed by the province of Alberta and Iowa water quality measurements for dissolved oxygen (DO), E. coli bacteria (EC), total nitrogen (N; nitrate + nitrate + ammonia + organic nitrogen), total phosphorus (P) and turbidity (TURB; clarity)…. I've aggregated water quality data for 44 Iowa stream sites from DNR's website…. Only 3 out of the 44 stream sites are noticeably better over the past five years, when compared to the 2000-2016 period. 27 sites are noticeably worse."
Department of Feline Felicity
Nature abhors a vaccuum:
— Brian D (@BrianDe63445161) July 30, 2021
Feral Hog Watch
Just because a hog starts out feral doesn't mean they have to stay feral:
Our pig just got her nails painted… pic.twitter.com/jJBHbUhyfW

— KristoferA 🌏 (@KristoferA) July 30, 2021
Zeitgeist Watch
"The Internet's Favorite Prank Just Reached An Epic Milestone" [HuffPost]. "Rickrolling is the not-so-subtle art of tricking someone into watching Rick Astley's 'Never Gonna Give You Up' video, which just topped 1 billion views on YouTube. 'That is mind-blowing,' Astley said on Twitter. 'The world is a wonderful and beautiful place, and I am very lucky.'" • Resisting temptation, here…
"Ita O'Brien: in-demand on-screen intimacy coordinator" [Courier-Mail]. "Britain's Ita O'Brien is one of cinema's unsung stars, ensuring actors are comfortable filming their most sensitive scenes in a job she has made her own. Preserving the intimacy of an artist filming a rape depiction, setting up a sex scene with a virgin actor and identifying the limits each actor is comfortable with are all issues that O'Brien is regularly confronted with." • She could be making a lot more money consulting to college administrators on Title IX issues…
"Dallas Steakhouses Were Always Going to End Up Serving $1,000 Gold-Wrapped Slabs of Meat" [Texas Monthly]. "It's dining as a sport, and the recently opened Nusr-Et, with its $1,100 gold foil–wrapped tomahawk steak, is the new medal of honor. To be fair, the steak isn't always quite that expensive. Without the edible (and flavorless) gold, it's a relative bargain at $275. If you're lucky, chef Nusret Gökçe, better known as Salt Bae, will be in town to slice the steak with his scimitar blade and season it from a proffered bowl of salt, which he sprinkles down his shiny, oft-memed forearm. After expanding from the Middle East to Miami and Las Vegas, the bawdy butcher's Dallas outpost opened in March. The gold-wrapped steak isn't about the flavor, however; it's about the 'gram. (A company spokesperson, who declined to comment on the chain's high prices, refers to Nurs-Et's dishes as art pieces.) Instagram and Twitter made Salt Bae famous, and diners purchasing his stunt are undoubtedly posting for their own share of the likes."
Class Warfare
Filing this here, especially for the last sentence:
Pizza delivery guy gets stabbed in the head.

His main worry is that hospital bills will bankrupt him forever.

🇺🇸🇺🇸🇺🇸 pic.twitter.com/iGU0SbOgqG

— Alan MacLeod (@AlanRMacLeod) July 29, 2021
Something to be said for this:
Just throw sand in the gears of the machine and try to wake people up in whatever way you can. No one person can win this, but we can each shine a bit more light on things for others and make life a bit harder for the bastards. You can't do everything, but you can do your bit.

— Caitlin Johnstone ⏳ (@caitoz) July 30, 2021
"Age of Invention: An Absent Atlantic" [Anton Howes, Age of Invention]. "I've become engrossed this week by a book written in 1638 by the merchant Lewes Roberts — The Marchant's Mappe of Commerce. It is, in effect, a guide to how to be a merchant, and an extremely comprehensive one too. For every trading centre he could gather information about, Roberts noted the coins that were current, their exchange rates, and the precise weights and measures in use. He set down the various customs duties, down even to the precise bribes you'd be expected to pay to various officials… But as for the recently-established English colonies on the mainland, which Roberts refers to collectively as Virginia, he writes barely a few sentences. Although he reproduces some of the propaganda about what is to be found there — no mention yet of tobacco by the way, with the list consisting largely of foodstuffs, forest products, tar, pitch, and a few ores — the entirety of New England is summarised only as a place "said to be" resorted to by religious dissenters. The island colonies on Barbados and Bermuda were also either too small or too recently established to merit much attention. To the worldly London merchant then, the New World was still peripheral — barely an afterthought, with the two continents meriting a mere 11 pages, versus Africa's 45, Asia's 108, and Europe's 262." • 1638 isn't 1776, of course.
News of the Wired
I am not feeling particulary wired today. It's… It's Friday, who could be wired?
* * *
Readers, feel free to contact me at lambert [UNDERSCORE] strether [DOT] corrente [AT] yahoo [DOT] com, with (a) links, and even better (b) sources I should curate regularly, (c) how to send me a check if you are allergic to PayPal, and (d) to find out how to send me images of plants. Vegetables are fine! Fungi and coral are deemed to be honorary plants! If you want your handle to appear as a credit, please place it at the start of your mail in parentheses: (thus). Otherwise, I will anonymize by using your initials. See the previous Water Cooler (with plant) here. Today's plant (Carla):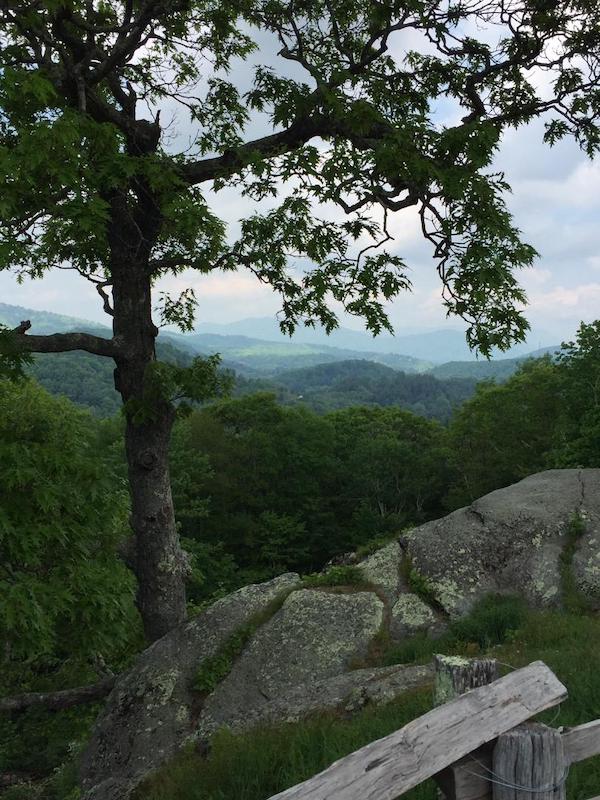 Carla writes: "From The Blue Ridge Parkway, near Boone, NC."
* * *
Readers: Water Cooler is a standalone entity not covered by the recently concluded and — thank you! — successful annual NC fundraiser. So if you see a link you especially like, or an item you wouldn't see anywhere else, please do not hesitate to express your appreciation in tangible form. Remember, a tip jar is for tipping! Regular positive feedback both makes me feel good and lets me know I'm on the right track with coverage. When I get no donations for five or ten days I get worried. More tangibly, a constant trickle of donations helps me with expenses, and I factor in that trickle when setting fundraising goals:
Here is the screen that will appear, which I have helpfully annotated.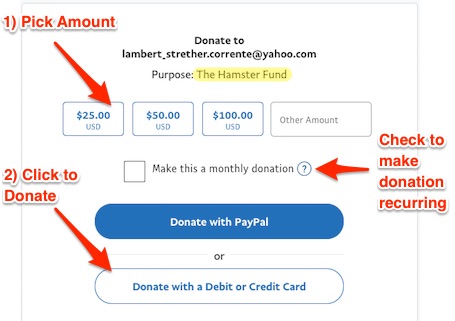 If you hate PayPal, you can email me at lambert [UNDERSCORE] strether [DOT] corrente [AT] yahoo [DOT] com, and I will give you directions on how to send a check. Thank you!2:00PM Water Cooler 6/8/2021