Yves here. Since real estate is ever and always local, one has to assume some real estate markets are still smoking despite the overall softening trend. I've heard recent anecdotes about home owners getting cold calls from brokers trying to get them to sell properties not on the market with crazy prices in enclaves favored by the super rich. Needless to say, they don't need to get a mortgage.
Another factor that might be contributing to falling mortgage and therefore home demand is more and more companies bringing workers back to the office. So far, responses are varying widely, with some pretty insistent that pretty much everyone come back to city centers, particularly if they want to continue to get big city pay, others being willing to allow some work at home, and yet another cohort, mainly tech companies, allowing remote work to continue (although bear in mind some of them are also explicit that pay cuts are in store if they've moved to low cost, distant locations and plan to stay there).
In addition, a colleague who sold very high end financial services to very large institutional investors, said the idea that business travel won't eventually come back is bonkers. "Those who don't get on the road will have their lunch eaten by those that do." That reversion will also make being not very close to airports less attractive.
By Wolf Richter, editor at Wolf Street. Originally published at Wolf Street
The evidence has been piling up for months in bits and pieces: While investors still have the hots for this housing market, potential buyers that need a mortgage and those who want to live in the home they're thinking of buying are getting second thoughts, as evidenced by sharply dropping sales of existing homes and new houses even as inventories for sale have now risen for the third months in a row and new listings are coming out of the woodwork.
So here's the latest piece of evidence: Demand from buyers who need a mortgage to fund the purchase of a home has been declining for months and in the week ended July 2 fell further and is now down 14% from the same week in 2020 and down 8% from the same week in 2019, according to the Mortgage Bankers Association this morning. Mortgage applications are now at the low end of the range in 2019. The entire Pandemic boom has now been worked off, plus some (data via Investing.com):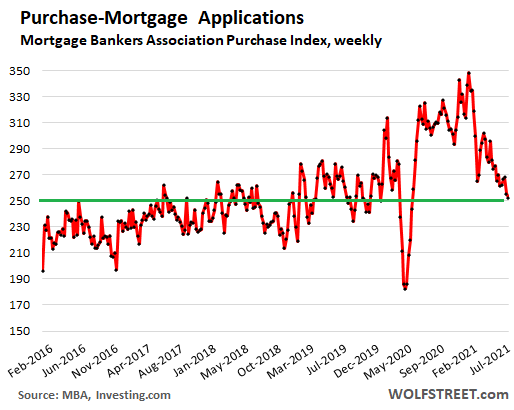 Mortgage applications to refinance mortgages in the week through July 2 fell to the lowest level since February 2020, having now also worked off the entire Pandemic spike, despite mortgage rates that are much lower than they were a year ago.
Refi mortgages go through boom-and-bust cycles based on mortgage interest rates, with lower-than-before mortgage rates triggering a refi boom, and with higher-than-before mortgage rates putting a damper on refis.
So refi applications in the week through July 2 remained 55% higher than the same week in 2019, when mortgage rates were a full percentage point higher than today; and refi applications were over twice the very low levels of 2018 when mortgage rates were grinding their way to 5%: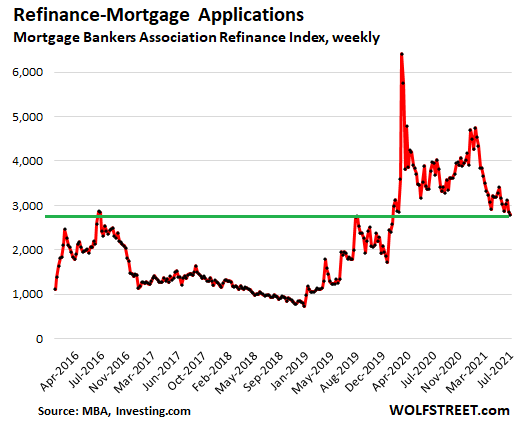 Can you imagine what this immensely overpriced housing market would look like with mortgage rates at 5% — meaning barely at the rate of CPI inflation? Me neither.
The average interest rate on 30-year fixed rate mortgages with conforming balances and a 20%-down-payment was 3.15% in the week ended July 2, according to the MBA today. The rate is down about 20 basis points since the recent high in late March and has remained in the same narrow range since late April: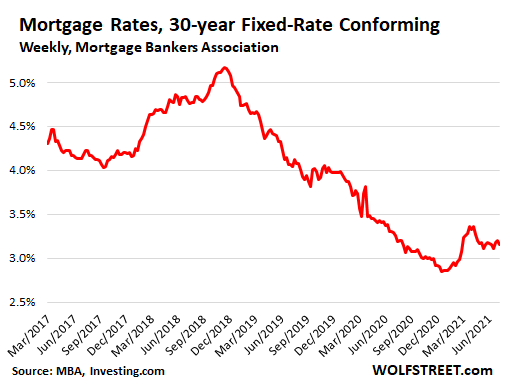 It is interesting that mortgage rates have dropped 20 basis points from their recent high in late March, while the 10-year Treasury yield has dropped 40 basis points over the same period, widening the spread between them.
There is now consistent taper-talk coming from the Fed, including ideas about tapering its purchases of MBS sooner or faster than tapering its purchases of Treasury securities. Several Fed governors have now publicly expressed concern over the housing bubble, over investors' involvement in the housing bubble, and over the Fed's providing fuel for the housing bubble.
The first effects of this Fed talk concerning tapering purchases of MBS may already be showing up in the widening spread between the 10-year yield and mortgage rates – that's maybe what we're looking at here.