By Lambert Strether of Corrente.
Patient readers, as so often happens over the weekend, I accumulated to much material to sort. More shortly. –lambert UPDATE All done!
Bird Song of the Day
"DNR: Hundreds of Birds Affected by Mysterious Illness, Cicadas Not Cause of Illness" [Indiana Environmental Reporter (TH)]. "Indiana's state ornithologist said hundreds of songbirds across the state have been found sick or dead with a mysterious illness. Indiana's Department of Natural Resources is working alongside scientists and officials from federal and state agencies to identify the source of the illness causing neurological problems and eye discharge and swelling in several species of songbirds…. DNR has recommended Hoosiers take down their bird baths and birdfeeders, including hummingbird feeders, and stop broadcast feeding practices, like tossing a piece of bread, that target groups of birds. 'The whole reason for this is because we want birds to be able to socially distance naturally. When there are feeders, they're immediately attracted to them. They don't have that knowhow that that's not okay for them when there is a disease going around. So, we need to better impose that on them so that they can naturally socially distance and feed on other things instead of the birdseed and the nectar,' Gillet said. Gillet said removing birdfeeders would not impact populations of wild birds because there are abundant food resources like insects, berries, nectar and seeds. Gillet also said that rumors spreading on social media that Brood X cicadas could be the cause of the illness were not based on fact. At least not yet."
* * *
#COVID19
At reader request, I've added this daily chart from 91-DIVOC. The data is the Johns Hopkins CSSE data. Here is the site.
I feel I'm engaging in a macabre form of tape-watching. I've been thinking of new charts to monitor to alert us to the next outbreak, assuming there is one, but for now, the data from the South means I'll stick to the status quo.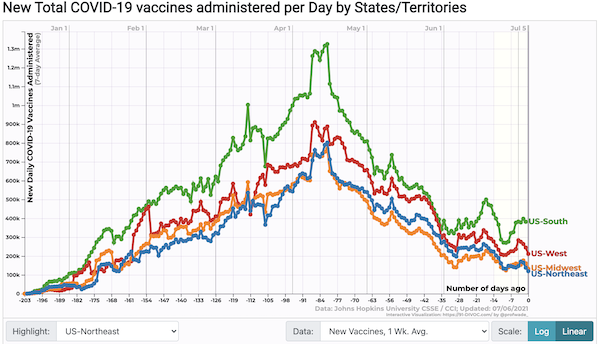 Holiday weekend, no doubt.
Case count by United States regions: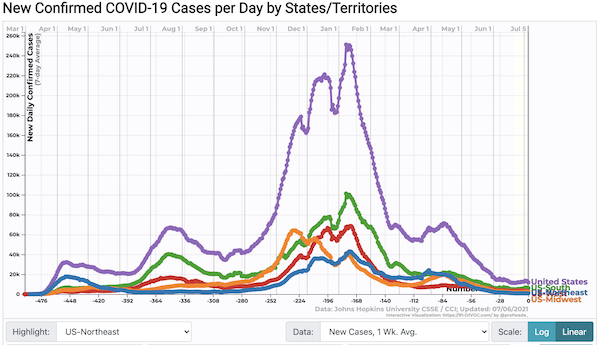 Well, we should know the impact of travel and all the family gatherings round the BBQ shortly. Not that I'm bearish, but:
For the win pic.twitter.com/D2COZeCPus

— Josh Gad (@joshgad) July 6, 2021
"I Am So Tired Of Arguing With You People" [Eschaton]. "Even supposedly sensible people decided at some point, "We're vaccinated, LET'S GOOOOOOO!", and while I am not advocating strong legally mandated restrictions, the Sensible Opinion seems to currently range from, 'TAKE YOUR MASK OFF YOU LIBERAL WOKESCOLD,' to 'welp, nothing we can do anymore, why bother.' That it's only about the unvaccinated, and those are all (supposedly) just Trumpkins so fuck'em, is part of this, of course." • What if they made throwing a pie in Fauci's face the prize in a vaccination lottery?
Note that one of the narratives seems to be that there will only be pockets of cases in unvaccinated juridictions (i.e., blame the deplorables for a public health messaging, delivery, and performance debacle). Be that as it may, we can see the effects in this aggregate, in the aggregated data for Texas and Florida, and in the Top Ten states (all below). Nothing like the runaway train in the first days and weeks, but the train is rolling. It would certainly be nice if this trend isn't signaling the changeover from Alpha to Delta.
CA: "Highly infectious Delta variant spreading rapidly, now California's dominant coronavirus strain" [Los Angeles Times]. "New data released by the California Department of Public Health say 35.6% of coronavirus variants analyzed in June have been identified as Delta, which was first identified in India. That's a dramatic increase from May, when Delta accounted for just 5.6% of analyzed coronavirus cases in California and was the state's fourth most identified variant…. The rapid rise of Delta is prompting some public health officials to issue new warnings, urging more caution at a time when vaccinated people are putting away masks and getting back to normal life…. Delta is also spreading rapidly nationwide. The director of the U.S. Centers for Disease Control and Prevention, Dr. Rochelle Walensky, said recent data show that 25% of analyzed coronavirus cases nationwide are of the Delta variant. In some areas of the country, nearly half of analyzed cases are Delta. By contrast, from May 9 to May 22, Delta made up less than 3% of analyzed coronavirus samples nationwide." • When yo think about it, the very notion of "normal life" is problematic. Normal for whom?
Here are the case counts for the South (as defined by the US Census: Alabama, Arkansas, Delaware, Florida, Georgia, Kentucky, Louisiana, Maryland, Mississippi, North Carolina, Oklahoma, South Carolina, Tennessee, Texas, Virginia, West Virginia, and the District of Columbia):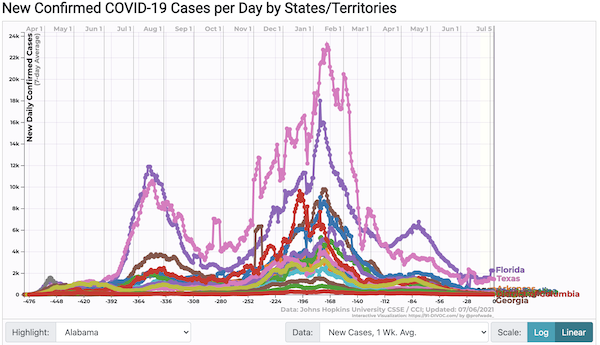 Texas and Florida, capital of Latin America, neck and neck.
Covid cases top ten for the last four weeks (hat tip, alert reader Lou Anton):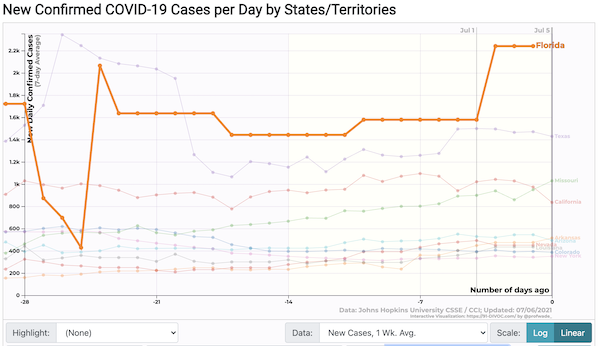 On reflection, I don't see a reason to adjust for population, so I changed the chart, though I could be argued out of it. Florida shows up, but Arkansas is really punching above its weight (higher than California). Also, tourist states still stand out.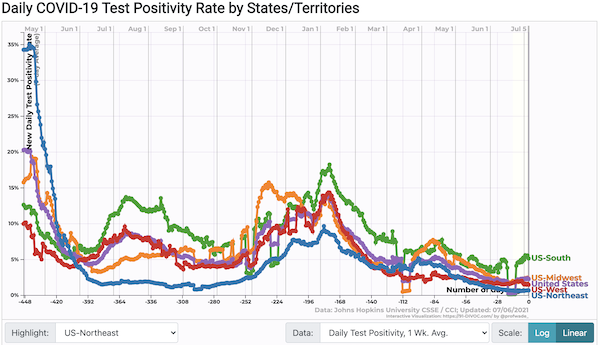 South bounces back.
NY: "Coronavirus latest: New York positivity rate continues to tick upwards" [Financial Times]. "New York state's positivity rate has continued to tick upwards, reaching a seven-day average of 0.56 per cent, well above the 0.4 per cent reached a week ago. The state's health department on Monday said 0.76 per cent of coronavirus tests administered in the previous 24 hours were positive, the highest rate in more than a month. Officials have expressed concern that the rise in positivity coincides with the increasing prevalence of the more contagious Delta strain."
Hospitalization (CDC):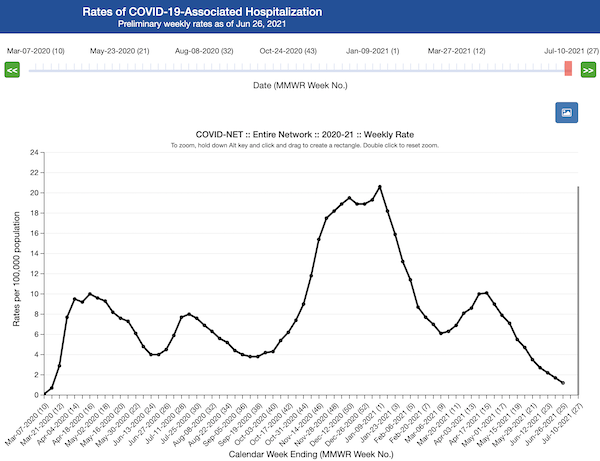 Continued good news.
Deaths (Our World in Data):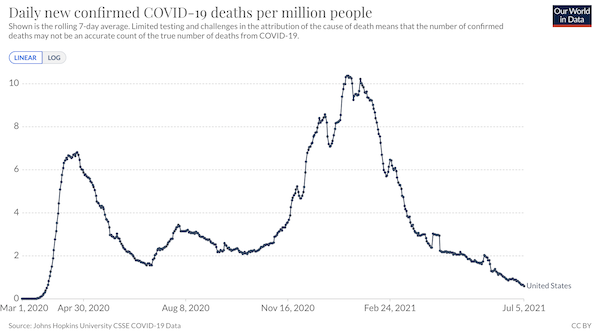 Continued good news.
Covid cases worldwide: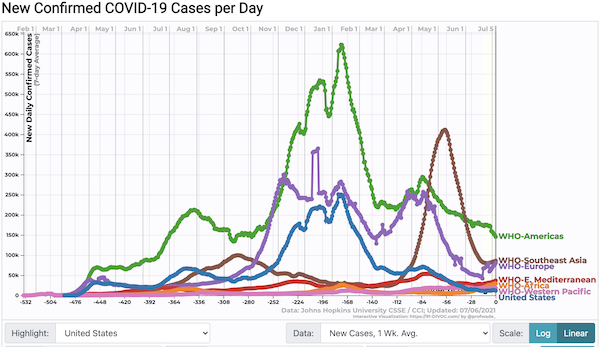 * * *
Politics
"But what is government itself, but the greatest of all reflections on human nature?" –James Madison, Federalist 51
"They had one weapon left and both knew it: treachery." –Frank Herbert, Dune
"They had learned nothing, and forgotten nothing." –Charles Maurice de Talleyrand-Périgord
Capitol Seizure
Hunt for Capitol attackers still on 6 months after Jan. 6 AP
Biden Administration
"Biden's Big Left Gamble" [Rebecca Traister, New York Magazine]. More name-checking in this one than I've ever seen in a single piece. "Biden, in contrast, regularly frames the federal government as the force that stemmed mass death and permitted economic survival through the pandemic: shots in arms, checks in bank accounts. He publicly centers equity — that government investment in housing, jobs, climate initiatives, and care work is good because it addresses racial and gender injustice — and gives speeches about employers needing to compete for workers by raising wages." Heaven forbird, however, that "housing, jobs, climate initiatives, and care work" be good for the working class as such. The only thing that helps the working class is… wages. More: "Despite an unwilling Senate, he speaks with conviction about raising taxes on the wealthy, rather than bailing out banks. For the first time since 1993, Biden's 2022 budget proposal did not include the discriminatory Hyde Amendment, which prohibits the use of federal insurance money to pay for abortions. There is, of course, a chasm between Biden's words, which are important ('Rhetoric is not something to pooh-pooh,' said Hamilton), and legislative reality. Hyde will almost certainly wind up in the final budget; billions get slashed from infrastructure every time two senators brush against each other in a hallway. One thing that is real, though, and on its way this month, is the expansion of the Child Tax Credit, which won't be buried in the tax code or in block grants but delivered as monthly $250-to-$300-per-child checks. They will arrive directly from the federal government, and states cannot cut them off, as they have with expanded jobless benefits. Representative Rosa DeLauro of Connecticut, who first introduced the amendment to improve the CTC in 2003 and watched it stall until now, is fighting to make it permanent. "We haven't seen anything like it since the New Deal," she said." • If a law that only lasts one year is the biggest thing since FDR — and ObamaCare — then heaven help us.

"Meet the Consulting Firm That's Staffing the Biden Administration" [The Intercept]. "Less than six months into the Biden administration, more than 15 consultants from the firm WestExec Advisors have fanned out across the White House, its foreign policy apparatus, and its law enforcement institutions. Five, some of whom already have jobs with the administration, have been nominated for high-ranking posts, and four others served on the Biden-Harris transition team. Even by Washington standards, it's a remarkable march through the revolving door, especially for a firm that only launched in 2017. The pipeline has produced a dominance of WestExec alums throughout the administration, installed in senior roles as influential as director of national intelligence and secretary of state. WestExec clients, meanwhile, have controversial interests in tech and defense that intersect with the policies their former consultants are now in a position to set and execute…. " • Handy chart:

UPDATE "The Tax Break Industrial Complex Has Not Been Challenged" [FAIR].
Democrats en Deshabille
UPDATE "Peace-Washing: Is a network of major donors neutralizing activism in the peace movement?" [Dave Lindorff, Tarbell]. "With the arrival of the Biden presidency, the dynamics have changed dramatically. Consider the liberal response to the Biden transition team floating Michèle Flournoy's name as a potential secretary of defense. Instead of outrage at the idea of someone who had spent the previous four years helping arms contractors win business with the Trump Pentagon and who is an advocate for tough, even aggressive stances towards Russia, China and Iran, we saw an open letter of support signed by 29 key people active in the peace and arms-control arena. Signatories included Joe Cirincione, former president for 12 years of the Ploughshares Fund, along with Tom Collina, Michelle Dover and Emma Belcher of that same well-endowed grant-offering organization. They were joined by the likes of Tom Countryman and Daryl Kimball of the Arms Control Association, Rachel Bronson of the Bulletin of Atomic Scientists, Ilan Goldenberg of the Center for New American Security, Joan Rohlfing of the Nuclear Threat Initiative and others. … What these individuals and organizations represent are many of the big-money "peace" funding and lobbying groups in the country — groups with access to Democratic-aligned power centers in Washington that can now, through their financial clout and their access, lure more grassroots peace activists and their less well-funded and "plugged in" organizations into supporting the Biden administration and the narrow Democratic majorities in Congress — or at least throttling their criticism…. Interestingly though, while serious opposition coalesced among anti-militarism, anti-revolving-door people and groups in the Flournoy case, her WestExec Advisors co-founder Antony Blinken, nominated as secretary of state, sailed through his nomination and hearing process. This despite Blinken's record as an enthusiastic interventionist while serving in the Obama administration as deputy national security advisor and later as deputy secretary of state, and despite his profiting off his connections as a WestExec adviser to arms makers after leaving office." • Throwing a flag on the Betteridge's Law violation. And euthanize the NGOs.

UPDATE "Shadow Republican: Joe Manchin's Long History of Sabotaging Progressive Candidates in West Virginia" [Status Coup Substack]. "Manchin also played a shadow role in helping incumbent West Virginia Republican Senator Shelley Moore Capito defeat progressive Democratic nominee Paula Jean Swearengin in 2020. 'Manchin pretty much has control of the party,' Swearengin told Status Coup. 'He didn't even come out in support of me; he was actually behind-the-scenes, and even during the primary, advocating for [Republican] Shelley Moore Capito. Swearengin pointed to since-deleted tweets from Manchin, who is close friends with Capito, during the general election that spoke positively about working with Senator Capito in the future. Manchin's West Virginia Democratic Party also didn't lift a finger for Swearengin after she won the Democratic primary for Senate and shifted to the general election, Swearengin said. The MIA act by state Democrats flies in the face of the national Democratic Party's 2016 and 2020 megaphone that screamed at progressives to unite with establishment candidates like Hillary Clinton and Joe Biden to defeat Donald Trump in the general election." • Wait, expecting reciprocity from liberal Democrats?

UPDATE Advance work matters:

As a former campaign guy I'm personally insulted by the grill that isn't on, the beer that isn't open, and the shirt that clearly was bought hours ago. https://t.co/uWBPofKvqS

— Rory Cooper (@rorycooper) July 6, 2021
Republican Funhouse
UPDATE "JD Vance Is Deleting All His Anti-Trump Tweets" [Vice]. "'Hillbilly Elegy' author and venture capitalist JD Vance announced a run for U.S. Senate on Thursday, btu before he did that, he took the first necessary step for every conservative candidate for elected office: deleting all of the anti-Trump tweets. Vance deleted several long-standing tweets about Trump prior to announcing his run for Senate, CNN's Andrew Kacyznski reported Thursday. Most of them came prior to Trump's election in 2016, such as when Vance said he would vote for third-party conservative candidate Evan McMullin. "
Realignment and Legitimacy
Surely this is revisionist history?

JIM CLYBURN: "We are always for voter ID. We are never for disproportionate voter ID. When you tell me…a photo for a student for an activity card is not good but for a hunting license it is good that's where the rub is. I don't know of a single person…against ID-ing themselves" pic.twitter.com/gd4qVZCYnt

— JM Rieger (@RiegerReport) July 4, 2021
Stats Watch
Housing: "May 2021 CoreLogic Home Prices: Torrid Demand and Scarce Inventory Fuels Double-Digit Home Price Grow" [Econintersect]. "Converging pressures of severe inventory shortages and sustained demand pushed home prices to record highs in May, with the year-over-year increase in home prices at its highest level since 2005…. Home prices are continuing to rise being exasperated by low inventory."
Services: "United States Services PMI" [Trading Economics]. "The IHS Markit US Services PMI was revised slightly lower to 64.6 in June 2021, from a preliminary estimate of 64.8 and compared with the previous month's all-time high of 70.4. Still, the latest reading pointed to the third-fastest expansion in the service sector since data collection began in October 2009, amid rising customer demand due to the relaxation of COVID-19 restrictions."
Services: "United States ISM Non Manufacturing PMI" [Trading Economics]. "The ISM Services PMI fell to 60.1 in June of 2021 from an all-time high of 64 in May, and compared to market forecasts of 63.5. The reading still pointed to a strong growth in the services sector although slower increases were seen for business activity … 'Challenges with materials shortages, inflation, logistics and employment resources continue to be an impediment to business conditions,' says Anthony Nieves, Chair of the ISM."
* * *
Shipping: "The rush to ship goods from Asia to consumer markets in the U.S. and Europe is driving up container shipping rates at a historic pace. A months-long expansion in prices has kicked into a higher gear since early May. …. [S]ome cargo owners are being offered rates of more than $20,000 in last-minute deals to get on vessels leaving ports in China" [Wall Street Journal]. "Philip Damas of Drewry Shipping Consultants says the skyrocketing rates reflect the rush to get goods moving in a container shipping market marked by tight space on vessels and heavy congestion at ports. That's effectively triggered a bidding war that industry executives expect to continue through the end of the year. Supply-chain experts say the high rates leave many shippers, particularly those with low-value goods, facing tough choices on whether to absorb the higher costs or retreat from overseas markets."
Shipping: "Big U.S. suppliers of sofas, desks and other home furnishings are facing backups at warehouses and beyond because transportation companies don't have the trucks and trailers to handle the goods. Bassett Furniture CEO Rob Spilman Jr. [says] that gridlock is hampering the company's efforts to reduce hefty order backlogs and capitalize on a U.S. economy rebounding from lockdowns" [Wall Street Journal]. "The headaches at furniture makers like Bassett, La-Z-Boy and Room & Board are part of the challenges that consumer-goods companies face in managing supply chains knocked sideways by the pandemic. The size and special handling required for furniture add another layer of difficulty for those companies. Bassett has run short of space in a highly competitive warehousing market and has turned to truck trailers simply to store its products."
Shipping: "Ever Given ready to depart Suez after compensation deal is agreed with SCA" [The Loadstar]. "The law firm representing the vessel's owner, Japan's Shoei Kisen Kaisha, said yesterday a formal agreement had been reached on the amount of compensation due to the Suez Canal Authority (SCA) after the grounding of the vessel…. The terms of the settlement have yet to be disclosed, although according to Reuters SCA chairman Osama Rabie, it included the delivery of a tug. The agreement followed a request to adjourn the case launched by the SCA against Shoei Kisen for compensation for the canal blockage, with the request accepted by the court in Ismailia yesterday."
Shipping: "Yantian port back at full speed; box recovery could take a month" [Freight Waves]. "The backlog of vessels waiting to reach berths at the Port of Yantian, the largest container port in China, is gone since terminals returned to full operations on Thursday following a COVID-19 outbreak among dockworkers that significantly curtailed operations, according to an official at shipping giant A.P. Møller – Maersk. But shippers shouldn't expect supply chains to be immediately repaired. While Yantian officials believe they can eliminate the accumulation of stacked containers within a couple of weeks, the backlog of shipments piled up in factories and warehouses elsewhere in the Shenzhen region will take at least a month to clear, Akhil Nair, vice president of global carrier management and ocean strategy for SEKO Logistics, said during a press briefing last week."
Shipping: "The seafarers left stranded by the pandemic" [Financial Times]. "Few professions have felt the pressures of the crisis as acutely as seafarers — and as many areas of life edge back towards pre-pandemic norms, the shipping industry is still struggling. While the numbers affected have fallen, as of March this year, 200,000 seafarers still remained on board commercial vessels, unable to be repatriated and past the expiry of their contracts, according to estimates by the International Maritime Organization. At any given time, about 1m people are working on cargo vessels around the world. The vessels they command play a vital role in supplying medical equipment and ensuring the world continues to eat and remain entertained during lockdowns. But since the pandemic hit, governments have often left crew stranded, forced to spend far longer on vessels without shore leave than international labour rules allow. While maritime law in theory applies internationally, care has been inconsistent. 'Seafarers are key workers but their treatment during the pandemic, be it their wellbeing, vaccination or relief, has really depended on individual governments and the many maritime regulators,' said Rajesh Unni, chief executive of Synergy Marine Group, which provides ship management."
Tech: "Apple Reportedly Storing Over 8 Million Terabytes of iCloud Data on Google Servers" [MacRumors]. "The report [from The Information] claims Apple now has over eight million terabytes of data stored on Google's servers. As of mid-May, Apple was reportedly on track to spend around $300 million on Google cloud storage services this year, which would represent an increase of roughly 50% from all of 2020. Apple is said to be the largest corporate client for Google Cloud, dwarfing other high-profile customers like Spotify. Google Cloud staffers have apparently even given Apple an internal code name that hints at its size as a customer: 'Bigfoot.' Apple relies on a combination of its own data centers and third-party cloud storage services, such as Google Cloud and Amazon Web Services, to store iCloud user data like photos and messages. . The report speculates that Apple's increased use of Google Cloud suggests the company's rising cloud storage requirements have outpaced its ability to develop and operate its own data centers needed to handle the resulting data." • One good use for Google's quantum computer, when they finish it.
Tech: "Thinking about selling your Echo Dot—or any IoT device? Read this first" [Ars Technica]. "61 percent of used devices [the Northeastern researchers] bought held a wealth of personal information about the previous owner that was fairly easy for someone with modest means to extract." • Oh, you thought "Reset" meant that your personal data was wiped? Think again.
* * *
Today's Fear & Greed Index: 38 Fear (previous close: 45 Neutral) [CNN]. One week ago: 43 (Fear). (0 is Extreme Fear; 100 is Extreme Greed). Last updated Jul 2 at 12:30pm.
Rapture Index: Closes down one on floods. "The flood condition has downgraded this category" [Rapture Ready]. Record High, October 10, 2016: 189. Current: 185 (Remember that bringing on the rapture is a good thing, so high is better.)
Health Care
Thanks, Obama:
My dad took an Uber when he had his heart attack 😭

— ren 🌵 metrocon table F13 (@gravitren) July 4, 2021
"Walmart's Play for the Insulin Market Is the Latest Crack in Our Broken Health Care System" [The New Republic]. "The deal Walmart has inked with Novo Nordisk, which will allow it to sell the Danish drug manufacturer's short-acting Novolog insulin for $75 a vial, is nothing short of revolutionary—that is, if you believe the press release the retail Goliath released at the end of June, announcing the arrangement. Several news outlets more or less echoed these sentiments, noting that the price amounted to a discount of up to 75 percent off the typical $300 list price of a life-sustaining drug whose skyrocketing costs have been explicitly tied to multiple deaths in recent years. As the Good News Network put it, "Walmart is seeking to bring 'everyday low prices' to medical care.' And it's not exactly wrong—while $75 isn't cheap, it's significantly less than what a patient paying full freight would shell out at most other pharmacies. But if you're skeptical that these two multibillion-dollar corporations were suddenly moved by altruism, your doubts are warranted. Far from solving the insulin pricing crisis, this development merely sheds some light on the cracks in the health care system—as well as Walmart's growing role in monetizing them."
"Enrollment Trends in Medicare Options" [Squared Away]. "Just as important to retirees as paying the bills is the risk of being socked with inordinately high spending on hospital and physician care in a bad year. Levy defines this unpredictability as retirees having to shell out more than 10 percent of income out of their pockets, excluding all premiums. Under this standard, about 23 percent of the retirees in the study with Advantage plans spent more than 10 percent of their income for care – versus 17 percent of Medigap buyers. About 28 percent of those without any coverage outside of Medicare exceeded the 10-percent threshold. More certainty in the Medigap plans is only part of their appeal – at least, for the people who can afford the premiums. The other benefit to retirees is the ability to choose their own doctors, who are required to take Medigap if the practice accepts Medicare patients. Retirees have to decide on the tradeoffs they're willing to make. ',' [Helen Levy at the University of Michigan] said." • "After all." Some to to HappyVille, some go to Pain City. And it helps to be clairvoyant!
Water
"Severe drought is turning the world's main source of almonds into a sliver of its former self. Farmers in parched parts of California are bulldozing thousands of acres' worth of almond orchards that cannot be irrigated… signaling a potential long-term shift at the source of a star crop for the state and a staple of many kitchen pantries" [Wall Street Journal]. "The withering of almond orchards is the latest impact of a drought that has spread across the western U.S. and is reshaping California's food-producing agriculture sector and challenging grocers tasked with keeping shelves stocked. Acreage for almonds already has started migrating north to parts of the state most capable of providing the 1.3 million gallons of water annually that each acre of almond trees demand. Buyers normally would cope by diversifying their supply base, but California grows about 80% of the world's supply." • Oh, "migrating North." Swell.
Our Famously Free Press
Collecting links:
Geologist's POV collecting lava from a volcano.

Credit: USGS. pic.twitter.com/vKBQDGC5CZ

— Wonder of Science (@wonderofscience) July 6, 2021
Under the Influence
"The Fall of the Billionaire Gucci Master" [Bloomberg]. "For Ramon Abbas, the Instagram influencer popularly known as Ray Hushpuppi, @hushpuppi, Hush, or the Billionaire Gucci Master, birthdays were always a time for reflection. Reflection and extravagance—but then, extravagance was Hushpuppi's brand, a 365-days-a-year affair, a way of being. On Oct. 11, 2019, the day he turned 37, he was living in a penthouse apartment at the Palazzo Versace Dubai, with a private pool and hot tub on his lanai. A typical @hushpuppi post on Instagram, where he had more than 2 million followers, featured Abbas smiling in front of one of his Ferraris or Rolls-Royces, kicking back in his seat on a private jet, or exiting a designer store with a passel of rope-handled bags—#Hermes, #Fendi, #LouisVuitton. His look was always flawless: never the same outfit twice, #Gucci more often than not. You don't become the Billionaire Gucci Master any other way. Even back in 2019, there were questions about how much money Abbas really had and how exactly he'd acquired it. In Nigeria, where he was born–" •
"Please stop putting garlic up your nose on TikTok, doctors say" [The Hill]. "The latest TikTok trend shows users placing a clove of garlic in each nostril, supposedly to clear the sinuses when one is stuffy or has a cold. After keeping it in for anywhere between 5 and 15 minutes, the users then pull the garlic out, followed, typically, by long strands of mucus….. When it comes down to clearing sinuses in the event of a cold or stuffy nose, it's recommended that people stick to saline nasal sprays or salt water irrigation. 'Just a gentle saline solution, using a neti pot, probably has some of the best results,' said Emily Durkin, a pediatric surgeon at Helen DeVos Children's Hospital. 'It cleans, helps soothe the irritated lining of the nose and because it's what we call an isotonic solution, it doesn't lead to trauma to the mucosa.'" • Also, though this goes unmentioned, traumatizing the nasal tissues is a really bad idea in the Age of Covid. You want your nasal tissues happy and contented and chowing down on virus, not silently screaming.
"Forget tweeting and selfies: the internet wants to watch you eat" [Financial Times]. "Mukbang, which comes from South Korea, simply translates as 'eating broadcast'. But it has become better known as a sort of extreme sport in which people binge huge quantities of food. Watching someone eat online seems to help some viewers feel less alone. Dining is a social activity, after all. Some videos are practically Boschian, with splatters of ranch and hot wing sauce all over the table and influencers gasping as they try to finish a bowl of spicy fire noodles or the entire Domino's pizza menu. Stunts are, of course, the internet's bread and butter. Why should food on the internet be any different?" And this being the FT: "[T]here is something appealing about knowing what another person eats every day. This is not a new phenomenon. One of the most vivid illustrations of life in the 17th century comes from diarist Samuel Pepys' description of his meals. There is the venison pasty that 'stunk like a devil' and the 'pretty' dinner that included stewed carps and neats' tongues." • Inspiring me to look up "neat's tongue."
The Agony Column
Can this be real:
My(F 26) boyfriend(32) isn't allowing me to read books because he feels like I'm cheating on him. https://t.co/kCBOHZzneC pic.twitter.com/RfW9hN86i4

— relationships.txt (@redditships) July 5, 2021
"Allowing me."
Groves of Academe
Working the refs:
1. The literature review is totally inadequate; referee 1 has helpfully pointed out some recent papers advancing epicycle theory I encourage you to cite. This will clarify your contribution to the literature.

— Nic Duquette (@NicDuquette) June 10, 2021
Imperial Collapse Watch
Infrastructure:
America is a Third World country https://t.co/RoUxFoxT3T

— Sam Adams ~ #NotMeUs (@CapaTosta122) July 6, 2021
Guillotine Watch
"Don Jr. And Eric Trump: People Dodge Taxes All the Time, It's Not a Big Deal" [Vanity Fair]. "'They're alleging $100,000 a year in perks over 15 years. This is a $2 billion company, the Trump Organization, so we're talking about pennies on the dollar, okay? Pennies on the dollar,' [FOX host Jesse] Watters declared. 'So this is all they can find? This is all they can find? After promising, what, illegal loans from Moscow? Illegal tax shelters? They promised us the world. So if this is all they can find, a Mercedes that wasn't properly filed in a tax return? This is usually dealt with from my understanding, maybe a fine, maybe you just refile the tax. Never have they ever charged anybody criminally like this before.' To which Don Jr. responded, 'Correct.'" • Well, are they wrong?
Class Warfare
"The Cantillon Effect: Why Wall Street Gets a Bailout and You Don't" [Matt Stoller, BIG]. "There's a 'monetary bazooka' aimed at the economy. And yet there's a puzzle. If there's money for the entire economy, why is that normal people and small businesses can't access unemployment insurance and lending programs? To put it another way, why is the money meant for everyone only showing up in the stock market? The reason is because money has to travel through institutions, and right now, the institutions for the powerful function well, and those for the rest of us are rickety and broken. So money gets to the rich first. Eventually, some money will get to the rest of us, but in the interim period before that money fully circulates, the wealthy can use their access to money to buy up physical or financial assets. An 18th century French banker and philosopher named Richard Cantillon noticed an early version of this phenomenon in a book he wrote called 'An Essay on Economic Theory.' His basic theory was that who benefits when the state prints a bunch of money is based on the institutional setup of that state. In the 18th century, this meant that the closer you were to the king and the wealthy, the more you benefitted, and the further away you were, the more you were harmed. Money, in other words, is not neutral. This general observation, that money printing has distributional consequences that operate through the price system, is known as the 'Cantillon Effect.'"
News of the Wired
"Bringing emulation into the 21st century" [David Tyler's Blog]. This is indeed a jape, which I realized rather late into it: "As with all modern design it's crucial to adhere to the model of 'make it work then make it fast' and that's something that this project really takes to heart. In 1974 when the 8080 was released it achieved a staggering 2MHz. Our new modern, containerised, cloud first design doesn't quite achieve that in its initial iteration."
Who else remembers this sound?
me: i want to play runescape

computer: listen closely. there is a man named mark zuckerberg. today he is only a child, but one day he will create the website that sows the seeds of mankind's destruction. you must find him and stop him at all costs

me: haha silly beeps :)

— soul nate (@MNateShyamalan) June 29, 2021
Does anybody actually enjoy the Boston Dynamics robot videos? Except in a sick, foreboding way?
Great, they've achieved the 'successful kill' dance. Now, I guess, we wait. https://t.co/0gCSEjJtwG

— Lee Madgwick (@LeeMadgwick) July 5, 2021
* * *
Readers, feel free to contact me at lambert [UNDERSCORE] strether [DOT] corrente [AT] yahoo [DOT] com, with (a) links, and even better (b) sources I should curate regularly, (c) how to send me a check if you are allergic to PayPal, and (d) to find out how to send me images of plants. Vegetables are fine! Fungi and coral are deemed to be honorary plants! If you want your handle to appear as a credit, please place it at the start of your mail in parentheses: (thus). Otherwise, I will anonymize by using your initials. See the previous Water Cooler (with plant) here. Today's plant (Carla):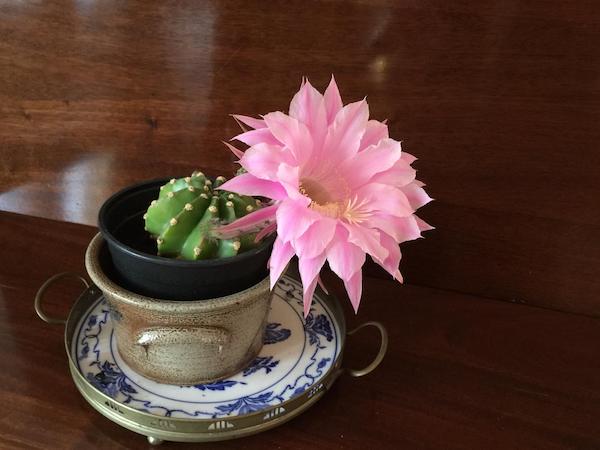 Carla writes: "This cactus was potted up and given to me by my dear friend Belle a decade or so. It blooms just one day a year. This year it bloomed on April 7. Belle died at the age of 97 about 4 years ago. Every year, I consider the day the cactus blooms to be 'Belle day.'" I like the idea of memorials, and I wonder if Carla is the only one with a story like this. Unfortunately, although I try to post plants more or less in the order received, I only plucked this one from my Inbox recently. If you want me to run a memorial on a particular date, you can say something like "please run on [date here] in the subject line, and then tell the story in your mail. I might still miss it, because I get a lot of mail, but at least this way you will have a fighting change. Also, lovely photo.
* * *
Readers: Water Cooler is a standalone entity not covered by the recently concluded and — thank you! — successful annual NC fundraiser. So if you see a link you especially like, or an item you wouldn't see anywhere else, please do not hesitate to express your appreciation in tangible form. Remember, a tip jar is for tipping! Regular positive feedback both makes me feel good and lets me know I'm on the right track with coverage. When I get no donations for five or ten days I get worried. More tangibly, a constant trickle of donations helps me with expenses, and I factor in that trickle when setting fundraising goals:
Here is the screen that will appear, which I have helpfully annotated.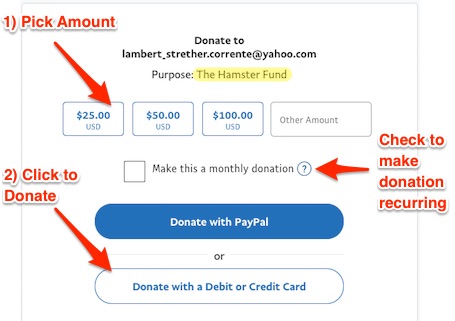 If you hate PayPal, you can email me at lambert [UNDERSCORE] strether [DOT] corrente [AT] yahoo [DOT] com, and I will give you directions on how to send a check. Thank you!2:00PM Water Cooler 6/8/2021