By Lambert Strether of Corrente.
I got caught up in Covid treatment alternatives, and so I have a little catch-up to do. –lambert
Bird Song of the Day
Today, no bill clapping!
* * *
#COVID19
At reader request, I've added this daily chart from 91-DIVOC. The data is the Johns Hopkins CSSE data. Here is the site. I feel I'm engaging in a macabre form of tape-watching….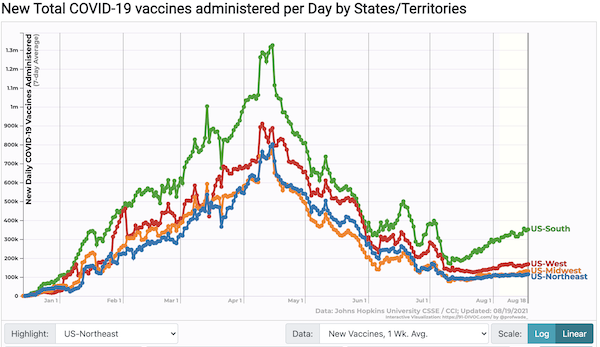 Back up in the South.
51% of the US is fully vaccinated, a big moment, breaking the psychological 51% barrier. Every day, a tenth of a percentage point upward. And as readers point out, every day those vaccinated become less protected, especially the earliest.
Case count by United States regions: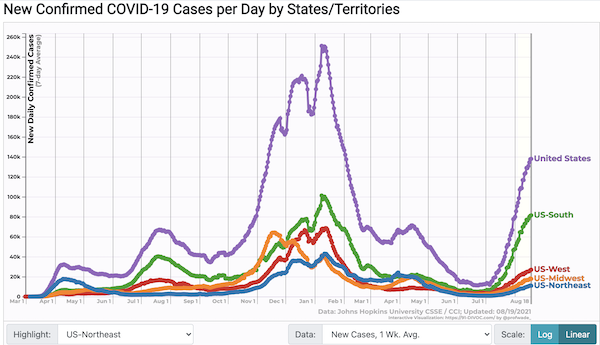 Still near vertical. The South begins to slow, but other regions still rise. As far as reaching the peak of January 8, 2021, with 295,257 cases per day … I'm not that pessimistic (modulo a new variant brought into the country by our ridiculously lax policies on international quarantines). What we might call, after Everest, the "First Step" (November 25, 2019) with 178,466 looks in striking distance, especially if the case count purple line continues go near vertical. If things go on as they are, we should hit the first step just in time for Labor Day. But what do I know, I'm just a tape-watcher.
Covid cases top ten states: for the last four weeks (hat tip, alert reader Lou Anton):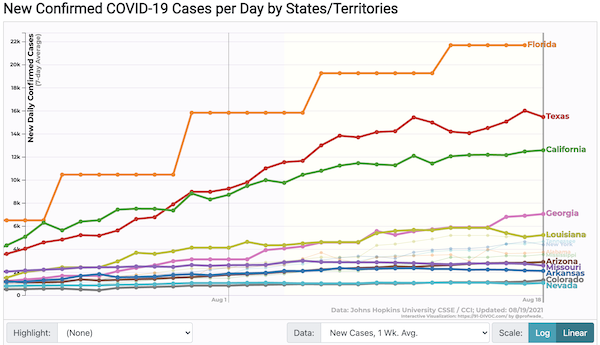 California is Texas's wingman. Meanwhile, Florida staggered ahead. What's with Georgia v. Louisiana?
NEW From CDC: "Community Profile Report August 18, 2021" (PDF), "Rapid Riser" counties, this release: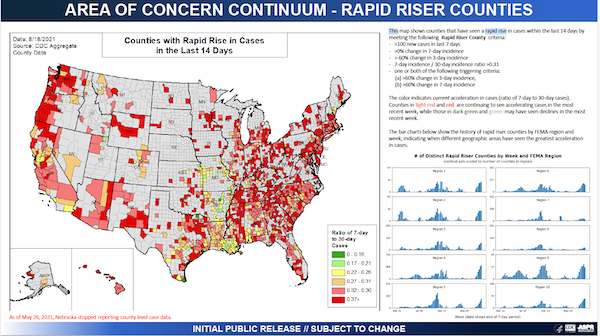 Lots of yellow and green up the Mississippi now. Remember, however, that this chart is about acceleration, not absolute numbers. For our case count to come off the vertical, we need to see a lot more green. This map blows the "Blame Bubba" narrative out of the water. Not a (Deliverance-style) banjo to be heard. Previous release: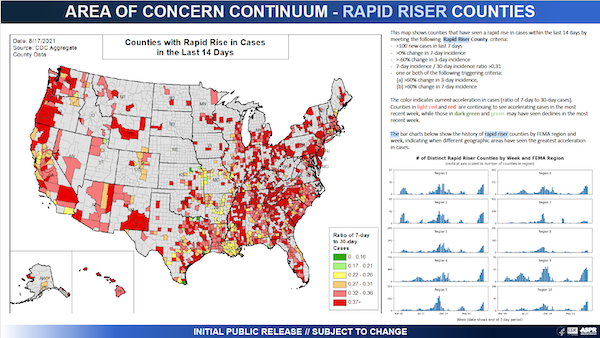 (Red means getting worse, green means bad but getting better. This chart updates Tuesdays and Fridays, presumbly by end-of-day.)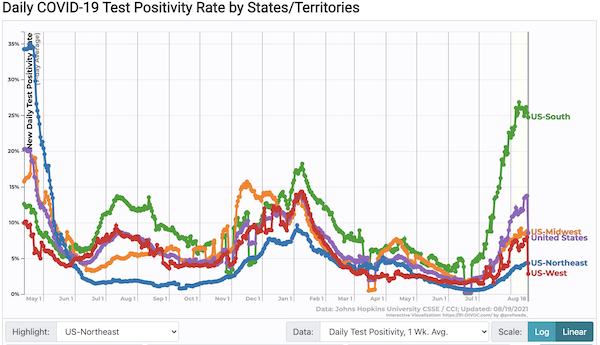 Drop in the South, interestingly. Could be data, but also could correlate to red backing off in rapid riser counties.
Hospitalization (CDC): Dammit, this one's gone dark. I wish CDC wouldn't do this. Here the CDC's hospitalization visualization, from the source above: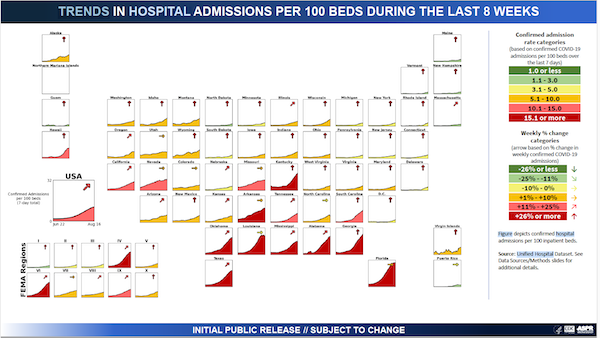 Yet more red states now, still in the South. Not good.
A little dip across all age groups, oddly.
Deaths (Our World in Data):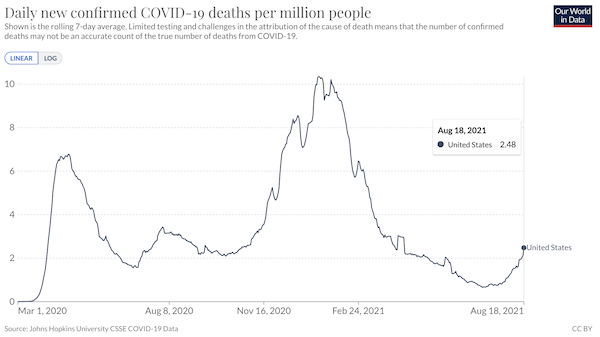 Deaths on trend rising; nowhere near meriting an anti-triumphalist black line, being an order of magnitude less than there were at peak. (Adding: I know the data is bad. This is the United States. But according to The Narrative, deaths shouldn't have been going up at all. Directionally, this is quite concerning.)
Covid cases worldwide: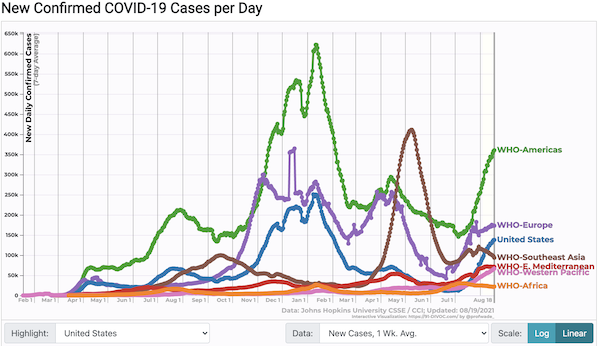 Southeast Asia doing better, I presume because little-covered Indonesia is past a peak. US sphere of influence under the Monroe Doctrine not doing so well.
* * *
Politics
"But what is government itself, but the greatest of all reflections on human nature?" –James Madison, Federalist 51
"They had one weapon left and both knew it: treachery." –Frank Herbert, Dune
"They had learned nothing, and forgotten nothing." –Charles Maurice de Talleyrand-Périgord
Biden Administration
"Biden scrambles to tamp down panic over Afghanistan" [Politico]. "The White House is moving quickly to contain the fallout from the botched Afghanistan withdrawal, hoping to blunt possible damage to the rest of the president's agenda. Since Sunday, administration officials have been issuing assurances to concerned Democrats and talking with allies around the world that felt betrayed. They are calling members of Congress who have been publicly supportive of Joe Biden to express the president's gratitude. Biden's aides are adjusting their communications strategy regarding the country's collapse to corral supportive voices and push back on the 'crisis of confidence' narrative. Their overt adjustments include dispatching national security adviser Jake Sullivan to the press briefing Tuesday to offer more transparent answers — delivered in a more conciliatory tone than the president took in his remarks on Monday. And the White House shared a new image of the president surrounded by his national security team, countering its much-maligned weekend photo of Biden appearing isolated at Camp David amid the erupting chaos in Kabul. The Democratic National Committee has pushed out messages bolstering Biden's leadership and combating what it characterized as Republican 'hypocrisy on Afghanistan.' VoteVets, a major veterans organization, lauded Biden's bravery in ending the occupation on a call with news reporters. And Biden himself is touching base with the world leaders who came away burned when the U.S. took its swift, unilateral actions without their counsel. It was all part of the response to the sweep of Democrats who separated from Biden since Afghanistan fell to the Taliban over the weekend, openly criticizing him for his management of the tense wind-down of America's 20-year troop presence in the country. Now, the administration is facing probes from three congressional committees helmed by senior Democrats and aggressive efforts by Republicans to exploit the morass overseas." • I've linked to this musical interlude before, but "Somebody take these knives outta my back!" (Also, the Administration should consider a little jujitsu at those hearings: Either The Blob was ignorant of what would happen, or they sabotaged Biden. I'm guessing the latter. Why not expose that?)

UPDATE "CIA director was traveling in Middle East when Kabul fell" [Axios]. "While the drama in Kabul was unfolding over the weekend, CIA director Bill Burns was on a six-day trip to the Middle East. The CIA and the rest of the U.S. intelligence community have been highly criticized in recent days for an apparent intelligence failure over the swift Taliban takeover. The fact that Burns was on an overseas trip suggests the agency didn't think a collapse was imminent." • Or…. The CIA knows about cover?

UPDATE "Rapid Collapse of Afghan Forces Wasn't Foreseen, Milley Says" [Bloomberg]. "American intelligence assessments didn't foresee such a rapid collapse of the Afghan military, and the U.S. now has a limited ability to aid allies stuck in Kabul, the Pentagon's top leaders said. 'There are not reports that I am aware of that predicted a security force of 300,000 would evaporate in 11 days,' General Mark Milley, chairman of the Joint Chiefs of Staff, said Wednesday at a news conference alongside Defense Secretary Lloyd Austin." • 12? 20? 30?

UPDATE "Are Democrats going to Benghazi Biden?" [The Week]. "The tough but undeniable truth is that there was no good way to get out of Afghanistan, and no good way to stay either. The Afghan state and army was a fiction — something that could not survive even a slight push from the Taliban. If Biden had accelerated the removal of American civilians and Afghan workers, then that would have likely caused a collapse in morale in the Afghan army and an even quicker victory of the Taliban, and thus the same exact chaotic withdrawal. If Biden had reneged on America's promise to withdraw, the Taliban most certainly would have attacked anyway, requiring him to add more troops and get even more people killed in a conflict that was obviously lost 15 years ago. The core foreign policy assumption of imperial chauvinists, like nearly all congressional Democrats, is that America is an exceptional nation, a shining city on a hill that can always get what it wants. If something awful happens — especially something embarrassing that is broadcast on television — then that means someone must not have lived up to American potential. Empire can never fail, it can only be failed. This blinkered attitude is a major reason why the Afghanistan occupation was such an endless nightmare in the first place. Presidents Trump and Obama didn't withdraw in part because they were frightened of political backlash from the foreign policy Blob and reflexively hawkish media. As shown by the shrieking tantrum happening across all parts of the mainstream press, they weren't wrong about what would happen. It took real political courage for Biden to stick to his guns and refuse to re-start the war for the sole purpose of making the legions of soft, comfortable think-tankers, talking heads, and members of Congress feel better about themselves."
2022
UPDATE "Democrats' House Grip Relies on Holding Districts Trump Carried" [Bloomberg]. "Republicans' path to winning the House majority runs through more than a half-dozen Democratic-held districts Donald Trump carried in 2020. Redistricting, which began in earnest last week, will help decide how competitive those seven ticket-splitting swing seats will be. So will retirements, with Rep. Ron Kind of Wisconsin last week becoming the second of those incumbents to announce he won't seek re-election. Both parties are closely monitoring the line-drawing process in each of the districts, as well as whether the other five Democrats will run for another term. Those variables will weigh heavily on this subset of the GOP's target list, which is enough to swing control of the closely divided chamber." • Handy chart:
Realignment and Legitimacy
A helpful suggestion:

Residents of Martha's Vineyard would love have Afghan refugees.

— Branko Milanovic (@BrankoMilan) August 18, 2021

* * *

UPDATE "US officials in Berlin struck by 'Havana syndrome' symptoms" [Financial Times]. "Two US officials working in Germany have sought medical treatment after complaining of symptoms similar to those related to the so-called Havana syndrome, according to a person familiar with the matter. The syndrome is named after the Cuban capital, where employees of the CIA and US state department first complained of unusual sound and pressure sensations in their heads in 2016 and 2017. The symptoms have since been observed among government workers in China, Russia and, more recently, Austria. The US has not said publicly who it believes is behind the incidents, which appear to involve "directed" attacks using radiofrequency energy such as microwave radiation. But privately, officials suspect Russia is responsible." • Oddly, or not, mass hysteria is never considered as an explanation, despite multiple examples of mass hysteria in our elites since at least 2016.
Stats Watch
Employment Situation: "14 August 2021 Initial Unemployment Claims Rolling Average Improves" [Econintersect]. "Market expectations for weekly initial unemployment claims (from Econoday) were 350 K to 395 K (consensus 360 K), and the Department of Labor reported 348,000 new claims. The more important (because of the volatility in the weekly reported claims and seasonality errors in adjusting the data) 4 week moving average moved from 396,750 (reported last week as 396,250) to 377,750."
Manufacturing: "August 2021 Philly Fed Manufacturing Survey Index Declined Again" [Econintersect]. "Overall, this report was about the same as last month as key elements were mixed."
Coincident Indicators: "14 August 2021 New York Fed Weekly Economic Index (WEI): Index Decline Continues" [Econintersect]. "The New York Fed's Weekly Leading Index (WLI) declined this past week. This index's trend is worsening based on the 13-week rolling average…. The decline of this index is due to the comparison to the improving conditions last year after the end of the recession."
* * *
Banking: "Wells Fargo reverses plan to end personal credit lines after customer backlash" [CNBC]. "The bank has decided to keep the products available for those who actively used them or want to reactivate old ones, according to a spokeswoman for the San Francisco-based company. It will not offer the credit lines to new customers, however. After CNBC reported on the closures last month, customers asked the bank to keep their accounts open to avoid inconvenience, according to a person with direct knowledge of the situation. Another consideration was the potential impact on credit scores, said the person."
Commodities: "Renewed appetite for travel is pumping up profits in one corner of the energy sector. Refiners are benefiting from higher gasoline prices despite pressures including Covid-19 worries weighing on other parts of the global oil complex…. [R]efiners like Marathon Petroleum stand to gain when the fuel they produce fetch higher prices than the crude they purchase to make it, a gap known as the crack spread that this week hit close to the highest level since data extending back to 2016" [Wall Street Journal]. "Refiners have revved up operations and are running at about 91% capacity, compared with less than 80% a year before. The rising fuel costs are hitting truckers as well as road-trippers. The average U.S. per-gallon price for diesel hit $3.356 for the week ending Aug. 16, down from the previous week but still up 92.9 cents per gallon from a year ago, according to the Energy Information Administration." • The "crack spread"….
Commodities: "Lumber isn't the only way to make money from timber, the hot housing market notwithstanding. Demand for carbon offsets means some trees around the Great Lakes and in New England are worth more standing than they would be chopped down and processed…. as businesses looking to meet air-quality regulations or show environmental bona fides load up on the climate-change currency. The growing market could be a boon for states like Michigan, which has agreed to limit logging for four decades in a state-owned forest known as the "Big Wild" through a pact with DTE Energy that could reap more than $10 million over the next decade" [Wall Street Journal]. "Great Lakes states control big tracts of timber, and mills there have a hard time competing with rivals in the South, the leading producer of softwood lumber, which is used to build homes. About 65% of Michigan's forest acres are eligible for offsets, and some 25 states are weighing similar moves" • Best if the "tracts" are forests!
Tech: "Facebook wants you to hold your next meeting in VR" [CNN]. "For those who don't think Zoom meetings are a good enough substitute for the real thing, Facebook has another idea: a virtual reality app that lets you and your coworkers feel like you're sitting around a table in a conference room. On Thursday, Facebook (FB) unveiled Horizon Workrooms, a free app for users of its Oculus Quest 2 headset, a device that starts at $299. The app stands out as the company's most ambitious effort yet to enable groups to socialize in VR and move the still niche medium beyond entertainment uses such as gaming. Workrooms allows up to 16 VR headset users to meet in a virtual conference room, with each of them represented by a customizable cartoon-like avatar that appears as floating slightly above a virtual chair at a table." • So, no virtual orgies, then? More: "In recent weeks, Facebook CEO Mark Zuckerberg and other tech industry executives have spoken with increasing fervor about visions for a 'metaverse.' The term draws inspiration from a decades-old dystopian sci-fi idea for a virtual world that provides an escape from the realities of everyday life. Despite its bleak origins, tech executives speak optimistically about what such a metaverse could be, with Facebook going so far as to create a 'Metaverse product group' under Bosworth." • Sounds hellish. I think I'd prefer those flying cars we were promised, even though I hate flying cars.
Tech: "Facebook unveils virtual office app Horizon Workrooms" [Financial Times]. "Facebook said it would not access the images of a user's physical environment, which are processed locally on the headset, and discarded after display. While the audio contents of meetings are processed on Facebook's servers, the company said it would not store that data. It would not use 'work conversations and materials to inform ads', it added." • Oh, right [nods vigorously].
Tech: "How AI-powered tech landed man in jail with scant evidence" [Associated Press]. "Williams was jailed last August, accused of murdering a young man from the neighborhood who asked him for a ride during a night of unrest over police brutality in May. But the key evidence against Williams didn't come from an eyewitness or an informant; it came from a clip of noiseless security video showing a car driving through an intersection, and a loud bang picked up by a network of surveillance microphones. Prosecutors said technology powered by a secret algorithm that analyzed noises detected by the sensors indicated Williams shot and killed the man. 'I kept trying to figure out, how can they get away with using the technology like that against me?' said Williams, speaking publicly for the first time about his ordeal. 'That's not fair.' Williams sat behind bars for nearly a year before a judge dismissed the case against him last month at the request of prosecutors, who said they had insufficient evidence." And more: "Williams' experience highlights the real-world impacts of society's growing reliance on algorithms to help make consequential decisions about many aspects of public life. Nowhere is this more apparent than in law enforcement, which has turned to technology companies like gunshot detection firm ShotSpotter to battle crime. ShotSpotter evidence has increasingly been admitted in court cases around the country, now totaling some 200. ShotSpotter's website says it's 'a leader in precision policing technology solutions' that helps stop gun violence by using 'sensors, algorithms and artificial intelligence' to classify 14 million sounds in its proprietary database as gunshots or something else. But an Associated Press investigation, based on a review of thousands of internal documents, emails, presentations and confidential contracts, along with interviews with dozens of public defenders in communities where ShotSpotter has been deployed, has identified a number of serious flaws in using ShotSpotter as evidentiary support for prosecutors. AP's investigation found the system can miss live gunfire right under its microphones, or misclassify the sounds of fireworks or cars backfiring as gunshots."
* * *
Today's Fear & Greed Index: 24 Extreme Fear (previous close: 25 Extreme) [CNN]. One week ago: 42 (Fear). (0 is Extreme Fear; 100 is Extreme Greed). Last updated Aug 19 at 12:41pm. Surely not Afghanistan?
Health Care
New clarity in booster policy:
In Massachusetts, booster shot is spelled borcester shot

— Adam Blickstein (@AdamBlickstein) August 17, 2021
* * *
Festival of repurposed drugs for treatment:
"Early COVID-19 therapy with azithromycin plus nitazoxanide, ivermectin or hydroxychloroquine in outpatient settings significantly improved COVID-19 outcomes compared to known outcomes in untreated patients" [New Microbes and New Infections] Elsevier; peer-reviewed; open access. From Brazil. n = 585. From the Abstract: ". The apparent yet likely positive results raised ethical concerns on the employment of further full placebo controlled studies in early-stage COVID-19…. The present analysis aimed to elucidate, through a comparative analysis with two control groups, whether full placebo-control randomized clinical trials (RCTs) on early-stage COVID-19 are still ethically acceptable…. [The Active Group (AG)] showed reduction of 31.5–36.5% in viral shedding (p < 0.0001), 70–85% in disease duration (p < 0.0001), and 100% in respiratory complications, hospitalization, mechanical ventilation, deaths and post-COVID manifestations (p < 0.0001 for all). For every 1000 confirmed cases for COVID-19, at least 70 hospitalizations, 50 mechanical ventilations and five deaths were prevented.
"Thailand scrambles for COVID-19 antiviral as vaccines run short" [Nikkei Asia]. "The Pharmacy Council of Thailand has issued a warning letter to the Public Health Ministry about a possible shortage of Favipiravir, as demand for the drug is forecast to surge as high as 30 million pills per month and could reach more than 50 million pills if the number of COVID-19 patients continues to rise…. Favipiravir, sold under the brand name Avigan, is approved as a treatment for new and emerging influenza in Japan. It is also being studied as a treatment for other viral infections, including SARS and COVID-19. Thailand began importing it, mostly from Japan, to treat COVID-19 patients since the start of the pandemic last year."
"Effectiveness of favipiravir in COVID-19: a live systematic review" [European Journal of Clinical Microbiology & Infectious Diseases]. Meta-analysis. From the Abstract: "There is no evidence that Favipiravir decreases the fatality rate or the use of mechanical ventilation among moderate and severe patients with COVID-19. Randomized clinical trials or quality observational studies including moderate and severe patients with appropriate sample sizes are needed for describing the effectiveness of Favipiravir in COVID-19." • This was the best study on favipiravir I could find; there are surely better ones. I note the usual hospital centrism and bypassing of prophylaxis.
Lambert here: I'm not in love with any drug. I support the search for repurposed and especially cheap, off-patent drugs out of common humanity. Whatever works, is my motto. That said–
(1): "Column: With fluvoxamine, doctors find an old drug that may actually work against COVID-19" [Michael Hiltzik, Los Angeles Times]. This article is schizophrenic. Let me quote the reporting in part (1): "'The good thing is that fluvoxamine is an inexpensive, easy to use and widely available drug,' Eric Lenze, a professor of psychiatry at Washington University in St. Louis who conducted one of the first clinical trials of the drug's effect on COVID-19, told me by email. 'We already know about its safety, since it has been on the market for more than 25 years,' Lenze says. 'I am hoping that the medical and scientific community embraces this as a proven treatment for early COVID-19 and it starts to be utilized.'… The so-called Together Trial has been testing several purported treatments; we reported recently on its findings that neither Ivermectin nor hydroxychloroquine had any therapeutic effect on COVID-19. The results on fluvoxamine were strikingly different…. The full 28-day observation period of patients in the Together Trial won't be complete until Aug. 25, Mills says, at which point the full results will be submitted for publication." • So this is promising, but as Hiltzik himself points out, we don't actually have results or even a preprint to examine. One hesitates to imagine what the reaction would be if another "old drug" were ramped under similar conditions. Here is the presentation on which Hiltzik relies. Part (2) follows.
"Fluvoxamine: A Review of Its Mechanism of Action and Its Role in COVID-19" [Frontiers in Pharmacology]. From Abtract: "Fluvoxamine is a well-tolerated, widely available, inexpensive selective serotonin reuptake inhibitor that has been shown in a small, double-blind, placebo-controlled, randomized study to prevent clinical deterioration of patients with mild coronavirus disease 2019 (COVID-19). Fluvoxamine is also an agonist for the sigma-1 receptor, through which it controls inflammation. We review here a body of literature that shows important mechanisms of action of fluvoxamine and other SSRIs that could play a role in COVID-19 treatment. These effects include: reduction in platelet aggregation, decreased mast cell degranulation, interference with endolysosomal viral trafficking, regulation of inositol-requiring enzyme 1α-driven inflammation and increased melatonin levels, which collectively have a direct antiviral effect, regulate coagulopathy or mitigate cytokine storm, which are known hallmarks of severe COVID-19."
UPDATE (2)(a): "Column: With fluvoxamine, doctors find an old drug that may actually work against COVID-19" [Michael Hiltzik, Los Angeles Times]. And now for a part of Hiltzik's article that some might characterize as invective, rather than reporting. I've helpfully numbered the places where Hiltzik goes astray. "Ivermectin, which is chiefly a veterinary drug used for deworming livestock[1] and for some human parasitic diseases endemic in rural or tropical regions[2], became a hobby horse for those claiming that information about proven remedies for COVID-19 was being 'suppressed'[3] at the behest of drug companies that expected greater profits from vaccines[4]." [1] The weasel word "chiefly" suppresses the fact that Ivermectin tablets are FDA-approved for use in "deworming" by humans; "livestock" is simply tendentious. [2] "Rural or tropical regions" means, like, billions of doses. From the American Journal of Tropical Medicine and Hygiene, "Ivermectin and COVID-19: Keeping Rigor in Times of Urgency": "Ivermectin is a widely used drug for the treatment and control of several neglected tropical diseases. The drug has an excellent safety profile, with more than 2.5 billion doses distributed in the last 30 years, and its potential to reduce malaria transmission by killing mosquitoes is under evaluation in several trials around the world." Hiltzik's view here could be characterized as at best provincial. [3] In my experience, Ivermectin came recommended by clinicians who were trying to help patients. Many clinicians with similar good results initiated observational studies. (Satoshi Ōmura, et al., describe the strengths and weaknesses of these clinician-driven studies here; linked to at NC in June.) [4] I don't have a smoking gun for Covid medicines, but certainly similar behavior by Big Pharma (or indeed any oligopolist) is not unknown. From the Milbank Quarterly, "Big Pharma Profits and the Public Loses": "Another cost comes from some companies paying those companies making generic drugs to delay releasing the less expensive alternatives, thus essentially prolonging the patents of the drugs involved." • There's other verbiage I could take issue with in Hiltzik's piece, but I shouldn't wish to be characterized as a member of a "claque" simply for supporting research into harmless, repurposed, cheap drugs that might bring life-saving treatment to billions suffering under our regime of vaccine apartheid; my skin is far too thin for that. (And if that repurposed drug turns out to be fluvoxamine, great!)
* * *
"Health researchers report funder pressure to suppress results" [Nature]. "A survey of public-health researchers has found numerous instances of trial results being suppressed on topics such as nutrition, sexual health, physical activity and substance use, with 18% of respondents reporting that they had, on at least one occasion, felt pressured by funders to delay reporting, alter or not publish findings. The survey, published in PLoS One1, involved 104 researchers from regions including North America, Europe and Oceania who have led trials to evaluate behavioural interventions designed to improve public-health outcomes." • Handy chart: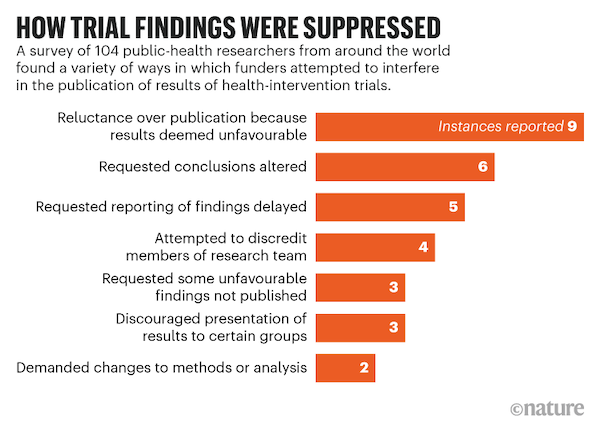 Shocked, shocked.
The Biosphere
"Natural Mosquito Repellent's Powers Finally Decoded" [Scientific American]. "Mosquito-borne diseases kill about 700,000 people every year. Lives can be spared by applying insect repellents, including a chrysanthemum flower extract called pyrethrum that humans have used for thousands of years. A new study in Nature Communications finally shows how pyrethrum works, with two components acting synergistically to deter the pesky bloodsuckers…. To observe pyrethrum's effects, Dong and her colleagues attached tiny electrodes to hairs on mosquitoes' antennae. This let them measure the insects' responses to repellents at the level of individual odorant receptors in nerve cells. Many disease-carrying mosquito species have more than 100 such receptors, but the researchers found pyrethrum activates one in particular called Or31—and they confirmed that mosquitoes would not flinch from the substance if they were genetically modified to lack that receptor. Unlike many other odorant receptors, Dong says, Or31 just happens to appear in all known disease-carrying mosquito species. The team also used chemical analysis to determine how two of pyrethrum's molecular components—EBF and pyrethrin—elicit the repellent response. Mosquito experiments showed the chemicals work best when combined: EBF activates Or31, and pyrethrins enhance repellency by intensifying nerve signaling." • Cool. And life-saving!
MMT
What Every American Needs to Know About the Congressional "Pay-For" Game (Part 1) Stephanie Kelton, The Lens
Sports Desk
"Shohei Ohtani, 'an incredibly special talent,' launches 40th homer, pitches eight sharp innings in Los Angeles Angels' victory" [ESPN]. "he Japanese right-hander allowed six hits, struck out eight and walked none in a 90-pitch outing. According to ESPN Stats & Information research, his 40 home runs are the highest hit by a pitcher in a single season, with Babe Ruth owning the next two slots: 1933 (34) and 1921 (20)…. Ohtani became the first major leaguer to hit 40 homers in a season in which he pitched at least 15 games. The previous record was 29 by Babe Ruth in 1919."
Guillotine Watch
"Texas mansion with a 'modern gentleman's trophy room' lists for $5.5M. Take a look" [Fort Worth Star-Telegram]. • What are the trophies? Human heads?
Class Warfare
"What Happens When All of Your Co-workers Quit?" [New York Magazine]. "As more businesses reopen, an unprecedented number of Americans are walking away from their jobs in restaurants, factories, offices, and hospitals. A record 4 million people quit in April, followed by another 4 million the next month. And the next. Some left to chase deeper fulfillment or to finally escape dead-end jobs with the cushion of enhanced unemployment checks. Many furloughed workers didn't return to positions that exploited them and put them at risk of catching COVID-19. The so-called great resignation has created a seismic power shift that has already forced corporations like McDonald's, Walmart, and Starbucks to boost wages or offer perks to entice new hires. There has been an endless parade of Schadenfreude-inducing headlines about employers who are now on their knees begging for staff like desperate suitors. But for those still toiling in these threadbare workplaces, the great resignation has led to even greater exploitation. While the mass exodus may improve conditions in the long term, in the meantime it has been devastating to those left behind whose unbearable workloads have led to depression, substance abuse, and trips to the hospital. After all, not everyone can quit."
"The Sacklers threaten us all with a good time" [Cory Doctorow, Pluralistic]. "The Sacklers are a multigenerational family of drug dealers, descended from the pioneer of the benzo epidemic, whose family drug business, Purdue Pharma, jumpstarted the opioid epidemic with its drug Oxycontin. The epidemic's US body count is past 800,000. The Sacklers are worth billions – the family's net worth exceeds that of other criminal dynasties like the Rockefellers. They are facing a blizzard of litigation thanks to their active role in deceptive, aggressive opioid marketing. Depositions and internal documents about the Sacklers reveal their direct role in Purdue's explicit plan to create addicts and then demonize them, blaming their addiction on their personal moral failings rather than the deceptive practices of the pharma industry. For many years, the Sacklers were among the world's most effective reputation-launderers, dispensing crumbs from their family fortune to arts and cultural institutions so that their name was synonymous with generosity, not genocide." • If you're looking for an example of openly genocidal elites, here it is.
News of the Wired
"Glen Ford, Black Journalist Who Lashed the Mainstream, Dies at 71" [New York Times]. I wonder what Ford would think about his obituary appearing in the Times. "Glen Ford, who over a 50-year career was a leading voice among progressive Black journalists and a constant scourge of the liberal establishment, especially Black politicians like Barack Obama, died on July 28 in Manhattan. He was 71…. He took particular aim at the nexus of the mainstream news media and what he called the Black "misleadership" class. He argued that right-wing corporate interests bestowed money on certain centrist Black politicians, like Mr. Obama, whom he called "not the lesser of evils, but the more effective evil"; those leaders, he argued, then drew the attention of corporate-run news organizations, in the process marginalizing the interests of working-class Black people…. The outlets where Mr. Ford worked, many of which he ran and helped found, were independent and run on a shoestring. But thanks to his energy and leadership, they had an outsize impact in progressive circles…. His mother was an Irish-American communist and civil rights activist, while his father, known by his on-air name 'the Deuce,' was a disc jockey who hobnobbed with singers like James Brown, Jackie Wilson and Aretha Franklin. Glen dropped out of high school when he was 17 to join the Army, where he received his G.E.D. He became a paratrooper with the 82nd Airborne and served for three years stateside." • The 82nd Airborne! We and Black Agenda Report have lost two giants — Bruce Dixon and Glen Ford — in quick succession. I hope BAR is moving on in strength, and it will be interesting to see who comes up from the understory (as it were), now that these mighty trees have fallen.
* * *
Readers, feel free to contact me at lambert [UNDERSCORE] strether [DOT] corrente [AT] yahoo [DOT] com, with (a) links, and even better (b) sources I should curate regularly, (c) how to send me a check if you are allergic to PayPal, and (d) to find out how to send me images of plants. Vegetables are fine! Fungi and coral are deemed to be honorary plants! If you want your handle to appear as a credit, please place it at the start of your mail in parentheses: (thus). Otherwise, I will anonymize by using your initials. See the previous Water Cooler (with plant) here. Today's plant (RH):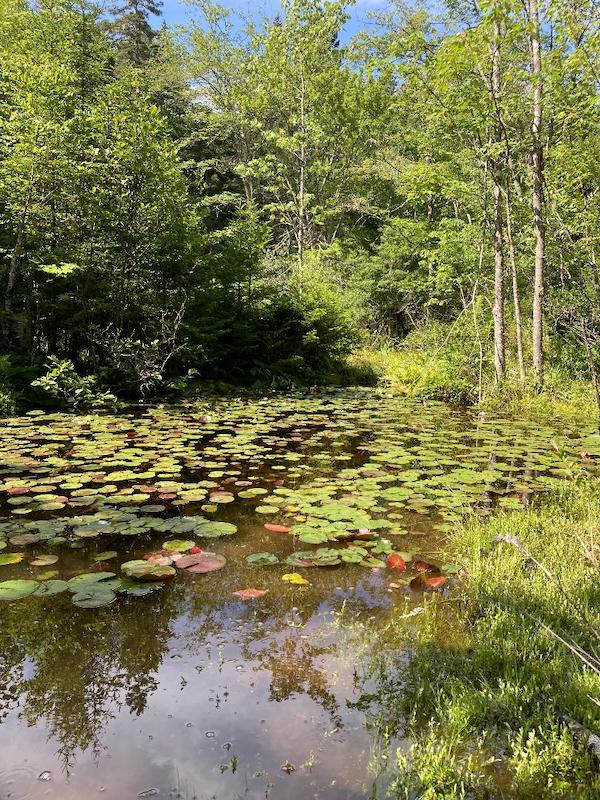 RH: "Pond with lilies." One can almost hear the frogs.
* * *
Readers: Water Cooler is a standalone entity not covered by the recently concluded and — thank you! — successful annual NC fundraiser. So if you see a link you especially like, or an item you wouldn't see anywhere else, please do not hesitate to express your appreciation in tangible form. Remember, a tip jar is for tipping! Regular positive feedback both makes me feel good and lets me know I'm on the right track with coverage. When I get no donations for five or ten days I get worried. More tangibly, a constant trickle of donations helps me with expenses, and I factor in that trickle when setting fundraising goals:
Here is the screen that will appear, which I have helpfully annotated.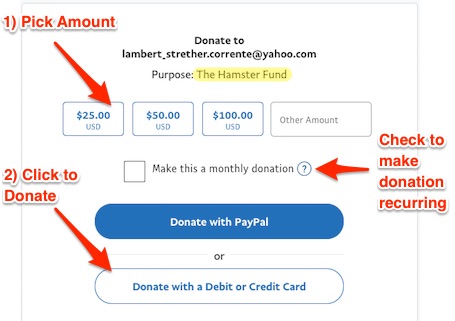 If you hate PayPal, you can email me at lambert [UNDERSCORE] strether [DOT] corrente [AT] yahoo [DOT] com, and I will give you directions on how to send a check. Thank you!2:00PM Water Cooler 6/8/2021