By Lambert Strether of Corrente.
Patient readers, it was a busy week in Politics, too, but I must move along and finish up a post. I hope to catch up tomorrow. –lambert
Bird Song of the Day
Holy moley, the insect background! (More on the mysterious Potoo.)
* * *
#COVID19
At reader request, I've added this daily chart from 91-DIVOC. The data is the Johns Hopkins CSSE data. Here is the site. I feel I'm engaging in a macabre form of tape-watching….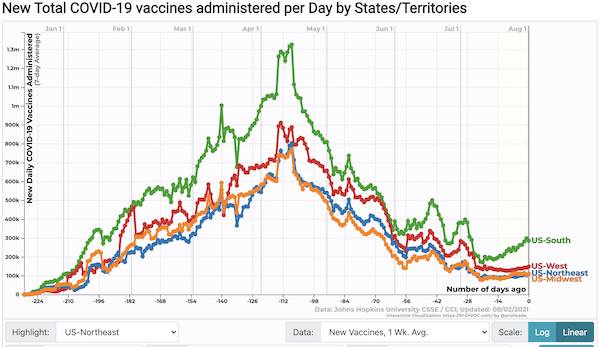 South rising.
Case count by United States regions: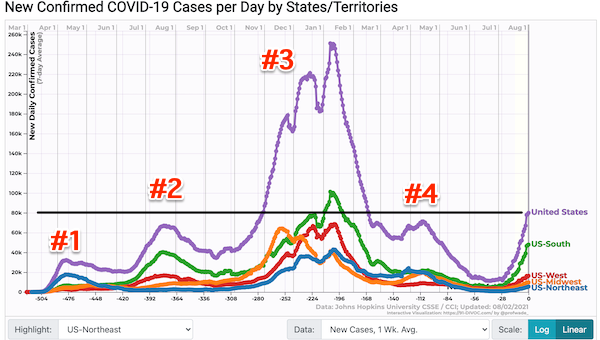 Well, we blew past peaks #1, #2, and #4 with ease, and it's only the beginning of August. But Everest, #3, still lies before us. Now, as far as reaching the peak of January 8, 2020, 295,257… I'm not that pessimistic (modulo a new variant brought into the country by our ridiculously lax policies on international quarantines). Still, when you look at those rising counties, you've got to think this rise has a way to run. (Note that these numbers are if anything understated, since the CDC does not collect breakthrough infections unless they involve hospitalization, and encourages health administrators in the states and localities to suppress that data as well).
Covid cases top ten states: for the last four weeks (hat tip, alert reader Lou Anton):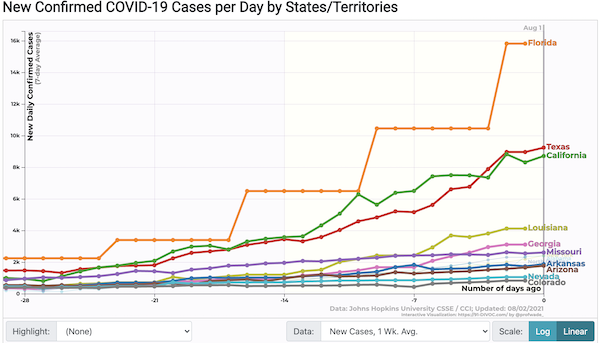 California back on form. Musical interlude for Florida data.
NEW From CDC: "Community Profile Report July 29 2021" (PDF), "Rapid Riser" counties, this release: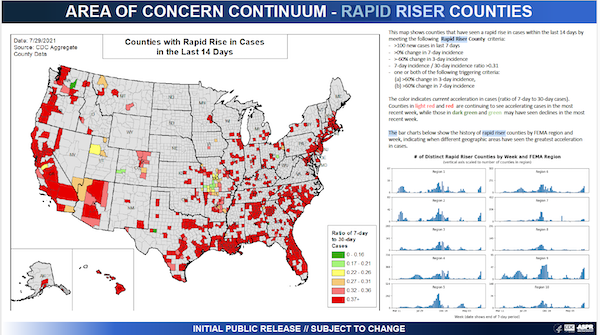 More red: Especially in Nevada (tourists), Update New York (!), and the Upper Midwest. This map blows the "Blame Bubba" narrative out of the water. Not a banjo to be heard. Last release: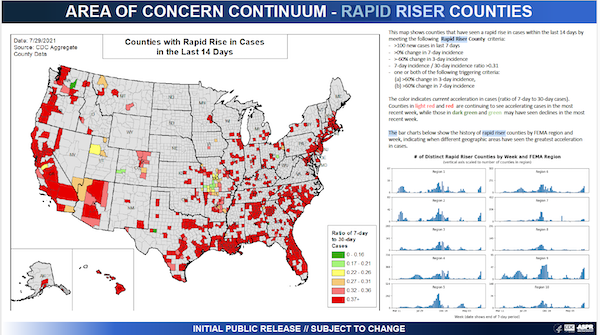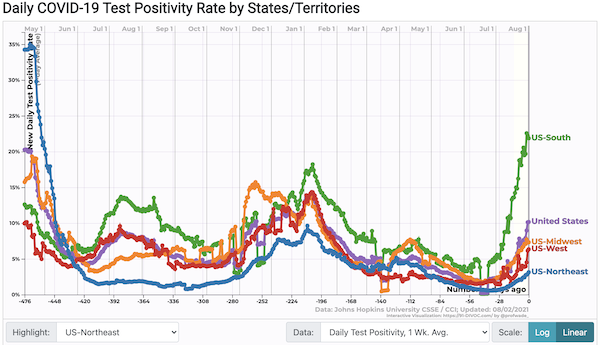 South running away with the field. But other regions now playing catch-up.
Hospitalization (CDC):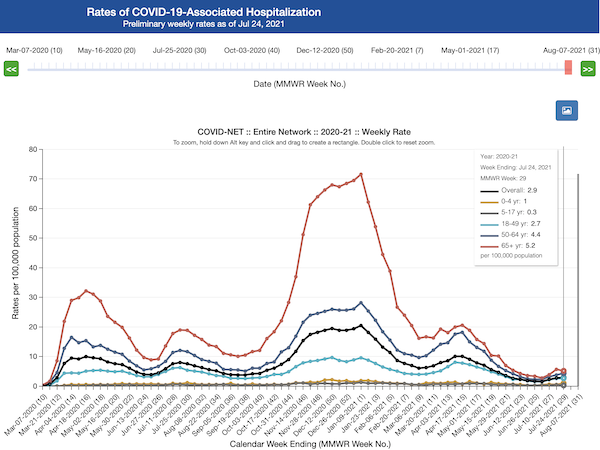 A little dip in 65+. But–
Deaths (Our World in Data):
A rise in deaths is now obviously visible, though nothing like the peak.
Covid cases worldwide: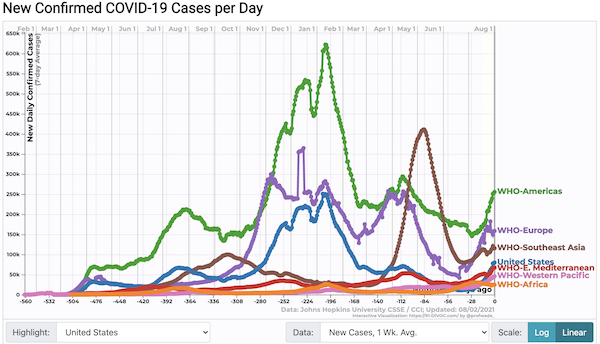 Every region is trending up. US sphere of influence under the Monroe Doctrine not doing so well.
* * *
Politics
"But what is government itself, but the greatest of all reflections on human nature?" –James Madison, Federalist 51
"They had one weapon left and both knew it: treachery." –Frank Herbert, Dune
"They had learned nothing, and forgotten nothing." –Charles Maurice de Talleyrand-Périgord
Biden Administration
"Tensions rise within Biden team over mask reversal" [Politico]. "The brewing anxiety in Chicago this past week underscored the extent to which the emergence of the Delta variant has disrupted the White House's plans for the late summer and fall. A season meant to mark the great reopening of society has, instead, been darkened by the next chapter of the disease. And it has left the Biden administration at a crossroads: eager to tout a country making strides but divided internally over how to handle the threats posed by the new strand of virus and what steps Americans should take to protect themselves from it. Top Biden officials note that breakthrough infections among the vaccinated are exceedingly rare, unlikely to be severe, and more likely to occur in crowded indoor settings. They've been openly frustrated by what they see as overly alarmed coverage of these cases." • So how come Walensky was allowed to deliver the extremely inflammatory message that "the war has changed"? (Never mind that the "war" metaphor is highly overused, and also a bad sign: America is good at forever wars — "living with it," as we say — but not good at winning wars.) Can't anyone here play this game?

"NIH director: 'We want to avoid lockdowns at all costs'" [Politico]. "One of the nation's top public health officials said Monday that the Biden administration was seeking 'to avoid lockdowns at all costs' amid a precipitous rise in cases of the Covid-19 Delta variant that has prompted a reversal of federal masking guidance and resulted in more stringent coronavirus-related orders across the country. Urging greater numbers of people to get vaccinated, Francis Collins — director of the National Institutes of Health — reported that 'most of the projections say we're in for a really tough August, September, October,' and warned Americans would be forced to adopt unpopular mitigation measures to stave off the widespread lockdown directives that the country endured earlier in the pandemic. 'We want to avoid lockdowns at all costs,' Collins told ABC's 'Good Morning America' in an interview. 'But that means we're going to have to do some other things that won't necessarily be welcomed by people, such as the new recommendation of wearing masks in indoor gatherings, even if you're vaccinated.' Skirting new shutdowns will also 'mean schools really need to have kids masked, so that they're protected from being the source of spreading, as well,' Collins said, adding: 'But if we want to avoid a more severe outcome that might lead to more extreme measures like lockdowns, we know what to do. We just need to do it.'"

"To Fight Vaccine Lies, Authorities Recruit an 'Influencer Army' [New York Times]. "Fewer than half of all Americans age 18 to 39 are fully vaccinated, compared with more than two-thirds of those over 50, according to the Centers for Disease Control and Prevention. And about 58 percent of those age 12 through 17 have yet to receive a shot at all. To reach these young people, the White House has enlisted an eclectic army of more than 50 Twitch streamers, YouTubers, TikTokers and the 18-year-old pop star Olivia Rodrigo, all of them with enormous online audiences. State and local governments have begun similar campaigns, in some cases paying 'local micro influencers' — those with 5,000 to 100,000 followers — up to $1,000 a month to promote Covid-19 vaccines to their fans." • 18 to 29 is an enormous range for a few celebrities to appeal across. And I'm not sure whether the celebrity approach will reach marginalized rural areas, working class people who can't afford to take a day off, or Blacks. Frankly, it looks to me like a test run for 2024 and anything else (as is the offer of door-knocking).

"Ocasio-Cortez: 'More than enough' votes to prevent infrastructure from passing without reconciliation bill" [The Hill]. "New York Rep. Alexandria Ocasio-Cortez (D) said on Sunday that there would be 'more than enough' votes to prevent a bipartisan infrastructure bill from passing the House without a massive companion spending bill that Democrats hope to pass through reconciliation. During an appearance on CNN's 'State of the Union,' Ocasio-Cortez told host Jake Tapper that if the Senate doesn't pass the reconciliation bill, the House 'will uphold our end of the bargain and not pass the bipartisan bill until we get all of these investments in.' 'So, we really need to see that language and see what's put in there … when it reaches the House,' Ocasio-Cortez told Tapper. 'Bipartisan doesn't always mean that it's in the interests of the public good, frankly. Sometimes, there's a lot of corporate lobbyist giveaways in some of these bills.'" • FWIW, and this may be a minority view, I think that AOC has taken the measure of the mediocrities who comprise the House gerontocracy, and is planning to shiv Pelosi. As for example:

.@RepAOC on end of eviction moratorium: "We have to really just call a spade a spade. We cannot in good faith blame the Republican Party when House Democrats have the majority." https://t.co/97ZscU1eH5 pic.twitter.com/Wfmio2gFmF

— The Hill (@thehill) August 2, 2021

"What Joe Biden's 1988 White House Rivals Think of Him Now" [New York Magazine]. "Over recent weeks, New York checked in with Dukakis, Hart, and former Missouri representative Dick Gephardt. Dukakis, 87, and Hart, 84, are both retired. Gephardt, who became the House majority leader after running, is now 80 and remains a prominent lobbyist in D.C. As far as the other Democratic candidates go, the Reverend Jesse Jackson did not respond to a request for comment, and Al Gore, who was a first-term senator in 1988, declined a request to participate. Former Arizona governor Bruce Babbitt couldn't be reached, and former Illinois senator Paul Simon died in 2003." • Entirely banal,
Obama Legacy
"Obama's mask-less ball: Ex-president risks super-spreader event by inviting 500 people to his 60th at $12m Martha's Vineyard mansion: Pearl Jam will perform and guests including Spielberg will be served by 200 staff" [Daily Mail]. "Obama's party will take place next weekend at the $11.57 million seven-bedroom home he and Michelle bought in 2019, which includes an in-ground pool and plenty of space to relax on warm summer days…. President Joe Biden will not be attending the soiree, the White House announced, with a spokesperson telling Axios in a statement: 'While President Biden is unable to attend this weekend, he looks forward to catching up with former President Obama soon ad properly welcoming him into the over 60 club'…. There will also be a 'COVID coordinator' to ensure all proper protocols are being followed, but it remains unclear what proof of a negative COVID test or a vaccine will be required, and whether guests will be required to wear masks." • Nature is healing.

"1 big thing: Obama plans birthday bash amid COVID concerns" [Axios]. "The party already is the talk of Uber drivers, hotel maids and check-in clerks." • Best employment program Obama ever ran?
Realignment and Legitimacy
Let the trickeration begin!

.@ninaturner-Shontel Brown UPDATE: Polling place changes being announced days b4 election.

Typically, majority of voters barely know that there is a primary election/when it is. Now the added monkey wrench of polling places changing. @StatusCoup is ON-THE-GROUND in Cleveland pic.twitter.com/CViWyjWmxj

— Jordan (@JordanChariton) August 1, 2021

We'll see if Turner's ground game can counter this. The last few days have looked like Old Home Week at the Sanders campaign, and I'm not sure that's entirely a positive.
Stats Watch
Manufacturing PMI: "United States Manufacturing PMI" [Trading Economics]. "The IHS Markit US Manufacturing PMI was revised higher to 63.4 in July of 2021 from a preliminary of 63.1, hitting a fresh record high. Overall growth was supported by stronger expansions in output and new orders, with the latter increasing at the second-fastest pace ever. Unprecedented supplier shortages and delays continued to exert upward pressure on input costs and stymie firms' ability to process incoming new work."
Manufacturing: "United States ISM Purchasing Managers Index (PMI)" [Trading Economics]. "The ISM Manufacturing PMI fell to 59.5 in July of 2021, the weakest in 6 months, compared to 60.6 in June and below forecasts of 60.9. The reading pointed to the second consecutive month of slowing factory growth as new orders (64.9 vs 66 in June), production (58.4 vs 60.8) and supplier deliveries (72.5 vs 75.1) increased less while inventories contracted (48.9 vs 51.1). On the other hand, employment rebounded (52.9 vs 49.9) and prices pressures eased (85.7 vs 92.1)."
* * *
Banking: "With Goldman Sachs in the Rear-View Mirror, Morgan Stanley Chases Down Schwab" [Institutional Investor]. "Back in 2008, at the depth of the global financial crisis, Morgan Stanley was on sale for a symbolic dollar. There were no takers. Today the Wall Street firm long derisively known as the 'smallest big bank' has roared past archrival investment bank Goldman Sachs in market valuation. It has built a fee-gobbling, active asset management business as a viable alternative to the no-fee, exchange-traded fund managers that largely dominate the field. And now Morgan Stanley — a white-shoe firm traditionally linked to super-wealthy clients — has set its sights on overtaking Charles Schwab Corp., the discount brokerage and wealth management giant, as money manager for the mass affluent." • "Fee-gobbling" as a "viable alternative." That's where we are.
Retail: "Here's Why Amazon Doesn't Sell These Things" [Family Handyman]. • Guns, pets, lottery tickets, tobacco, contact lenses, wine, gas, cars, fireworks, Confederate flags, real estate ("at least not yet").
The Bezzle: "Hundreds of AI tools have been built to catch covid. None of them helped." [MIT Technology Review]. Wowsers, that's a shocker. "The AI community, in particular, rushed to develop software that many believed would allow hospitals to diagnose or triage patients faster, bringing much-needed support to the front lines—in theory. In the end, many hundreds of predictive tools were developed. None of them made a real difference, and some were potentially harmful. That's the damning conclusion of multiple studies published in the last few months. In June, the Turing Institute, the UK's national center for data science and AI, put out a report summing up discussions at a series of workshops it held in late 2020. The clear consensus was that AI tools had made little, if any, impact in the fight against covid." • Bad products in a bad field. Idea: An AI mandate!
The Bezzle:
pantone should do nfts of all the colors.

— Steve Randy Waldman (@interfluidity) July 30, 2021
Tech: "The Metaverse Has Always Been a Dystopian Idea" [Vice]. "The company that operates the world's largest and most profitable social media network will not, according to its CEO, be a social media company much longer. In an announcement that inspired a fervid wave of speculation, analysis, and mockery, Mark Zuckerberg proclaimed that Facebook is going to become a 'metaverse company' instead…. Elsewhere in the big tech landscape, Satya Nadella, the CEO of Microsoft—at the time of writing the second largest company in the world in terms of market capitalization—has been promoting his aim to build an 'Enterprise Metaverse.'" The term "metaverse" comes from Neal Stephenson's Snow Crash, which is a great read. More: "In the book from which the current metaverse craze originates, not only is our world in ruins and most people are eking out precarious lives in dire poverty, but the metaverse itself is a place that is addictive, violent, and an enabler of our worst impulses. It's an exceedingly dark vision, if a satiric and somewhat cartoonish one… So it's a little remarkable that precisely none of this is acknowledged in the paeans to the metaverse that have emerged from founders and cheerleaders over the last few weeks and years, even as the vision of computing advancing as the world falls apart becomes all the more salient. In the world of Snow Crash, the metaverse is not viewed as particularly cool—it is necessary, because the real world has become so unbearable." • I had never thought of Snow Crash as predicting the precariat, but it does.
Tech: "Jack Dorsey's side hustle – payments outfit Square – acquires buy now pay later darling Afterpay for $29bn" [The Register]. "Square, the credit card processing company run by Twitter founder Jack Dorsey, has announced plans to acquire Australian buy-now-pay-later (BNPL) outfit Afterpay for $29 billion. Afterpay offers shoppers the chance to acquire goods and services with four fortnightly payments. Merchants pay a commission for each Afterpay sale, often at higher rates than those charged by credit card companies. But consumers can use Afterpay free of charge if they pay on time. Even if punters miss a payment, the initial $10 late fee can be less than credit card interest on the same purchase."
Tech: "RIAA kills youtube-dl" [Cory Doctorow, Pluralistic]. "But the real ticking time-bomb in the DMCA is Section 1201, the "anti-circumvention" rule, which makes it a felony (punishing by a 5-year prison sentence and a $500k fine) to help people tamper with "access controls" that restrict copyrighted works. This rule means that if a company designs its products so that you have to remove DRM to use them in legal ways, those uses become felonies. DMCA 1201 is how Apple and John Deere make it a felony for anyone except them to fix their products…. It's 'felony contempt of business model' and you can go to prison for it." • I was sure "felony contempt of business model" was snarky parody. It's not.
Tech: "Is the Cookie Web Tracker Dying?" [The Markup]. "Google, which brought the business model of tracking users for ad targeting to massive scale, has been slower to adopt similar changes. After initially pledging in 2020 to block third-party tracking for users of its Chrome browser by 2022, Google pushed the date for the change back to 2023. For now, however, cookies are still nearly ubiquitous. When The Markup scanned more than 80,000 popular websites using our web privacy inspection tool Blacklight, we found that 87 percent loaded cookies from third parties or from tracking network requests." • Good round-up.
Manufacturing: "Fire at Tesla Big Battery Under Control After Weekend Blaze" [Bloomberg]. ""There was one battery pack on fire to start with, but it did spread to a second pack that was very close to it," CFA [Country Fire Authority] Incident Controller and District 7 Acting Assistant Chief Fire Officer Ian Beswicke said in an earlier statement. The cause is undetermined and will be investigated once it is safe to do so, according to the CFA."
Manufacturing: "Electric vehicles: recycled batteries and the search for a circular economy" [Financial Times]. "[T]he most glaring problem for electric vehicles [is that w]hile they are 'zero emission' when being driven, the mining, manufacturing and disposal process for batteries could become an environmental disaster for the industry as the technology goes mainstream… The metals used in batteries typically originate in the Democratic Republic of Congo, Australia and Chile, dug out of open-pit mines or evaporated from desert ponds. But [former Tesla engineer JF] Straubel believes there is another "massive, untapped" source: the garages of the average American. He estimates there are about 1bn used batteries in US homes, sitting in old laptops and mobile phones — all containing valuable metals. The process of breaking down these batteries and repurposing them is known as 'urban mining.' To do this at scale is a gargantuan task: the amount of battery material in a high-end electric vehicle is roughly 10,000 times that of a smartphone, according to Gene Berdichevsky, chief executive of battery materials start-up Sila Nano. But, he adds, the amount of cobalt used in a car battery is about 30 times less than in a phone battery, per kilowatt hour. 'So for every 300 smartphones you collect, you have enough cobalt for an EV battery.'"
Mr. Market: "Investors Lose $1 Trillion in China's Wild Week of Market Shocks" [Bloomberg]. "The nearly $1 trillion selloff ignited by Beijing's shock ban on profits at tutoring companies has triggered a new round of soul searching about the investment case for Chinese assets in the Xi Jinping era. After a week of wild market swings and tense calls with clients, some investors have decided China just isn't worth the trouble. Others spot buying opportunities after valuations sank to the lowest level in decades. As Xi's Communist Party attempts one of its biggest economic policy shifts since the 1980s, almost everyone agrees the regulatory onslaught has further to run." • Looks like Xi has the stones to reign in big tech and pop a bubble. Too bad we can't do that.
* * *
Today's Fear & Greed Index: 27 Fear (previous close: 24 Extreme Fear) [CNN]. One week ago: 32 (Fear). (0 is Extreme Fear; 100 is Extreme Greed). Last updated Aug 2 at 12:17pm.
Rapture Index: Closes up 1 on earthquakes. "A massive 8.2 quake strikes the state of Alaska" [Rapture Ready]. Record High, October 10, 2016: 189. Current: 187 (Remember that bringing on the rapture is a good thing, so higher is better.)
Our Famously Free Press
"Keith Olbermann Wants Jimmy Dore Banned From All Platforms" [Caitlin Johnstone]. "Proving once again he doesn't care who he has to step on to claw his way to rock bottom, fallen liberal media hero Keith Olbermann has called for the complete removal of left wing comedian and podcaster Jimmy Dore from all internet platforms. 'Time to ban this feral succubus Jimmy Dore from Twitter and other platforms,' Olbermann told his one million Twitter followers on Friday. Olbermann's wrath was incurred by a short video clip bizarrely described as 'misogynistic' in which Dore portrayed out of touch liberal elitist Emma Vigeland as an out of touch liberal elitist, saying that if people like her ever tried to bring their esoteric university Marxist wankery around actual working class people they'd get punched in the face and told to go back to their cul-de-sac. It probably also didn't help that Dore has done multiple segments on Olbermann's slide into flag-draped gibbering lunacy following the election of Donald Trump, including his public apology to war criminals George W Bush and John McCain, his demented Russia hysteria, and his support for NSA surveillance of US media figures. 'Someone got their feels feels hurt and now they wanna censor their critics like a regular authoritarian fascist,' Dore responded to Olbermann's post." • There's such a thing as a non-authoritarian fascist? Anyhow, it's like we need a Rogue's Gallery of liberal Democrats who have lost their minds. Just because somebody has a voice like nails on a chalkboard is no reason to cancel them!
Department of Feline Felicity
Indoor vs. outdoor cats:
"HELP WITH CAT" pic.twitter.com/xdpWE95aLD

— Best of Nextdoor (@bestofnextdoor) July 31, 2021
I'm not at all sure this is real, but that goes for a lot.
Naked Capitalism Cooking Community™
Here is a ginger beer recipe:
Here for you who asking how/recipe and what's in it. pic.twitter.com/PI7nBFO29N

— pink peppercorn (@ricis_angel) July 27, 2021
Reading the ingredients, ginger beer sounds healthy and delicious. Making it sounds like work, though.
The Agony Column
"I Went To The Beach And All I Got Was This Petty Existential Rage" [Defector]. It's a reader-mail advice column:
Carl:

Now that beach season is upon us, I have to do my old man rant and complain about people blaring music at the beach. I like to read or relax or hear the ocean, not listen to crappy yacht rock or, even worse, flag bandana wearing bros playing obnoxious country music. Am I right for wanting to ban all music from being played on the beach or am I officially an old man?

That's old-man shit. To illustrate, I'm gonna tell you a story. It was 2019 and I was still recovering from my brain injury, but I had yet to start going to therapy to deal with the anger management issues I had resulting from that injury. Anyway, I take my family to a public space and there's country music blasting over the PA. Real loud. Now, I fucking hate country music. Because I have good taste. But back in 2019, I didn't have the ability to just deal with it. Instead, I went looking for the person in charge of the PA—a real "Can I talk to the manager?" moment—and asked that they stop playing country music. When they didn't immediately stop playing it, I went back again. The twangs continued unabated. I fucking FUMED about to my wife.

"They've ruined our afternoon!"

"No Drew," she said, "you have. We just wanted to have a nice time, and you're acting like a complete dick." Now my brain was too clouded at that time for me to understand that she was right.
Fun format, but a little bit of a highwire act. Maybe I should try it.
Zeitgeist Watch
Fetish object:
Profit I, 1982 #americanart #basquiat pic.twitter.com/UsoPay5tTX

— Jean-Michel Basquiat (@artistbasquiat) July 31, 2021
"96 Minutes" [Texas Monthly]. "On the morning of August 1, 1966, not long before summer classes at the University of Texas at Austin were about to let out for lunch, an architectural engineering major named Charles Whitman arrived at the Tower dressed as a maintenance man. He would be described the following day in the Austin American as 'a good son, a top Boy Scout, an excellent Marine, an honor student, a hard worker, a loving husband, a fine scout master, a handsome man, a wonderful friend to all who knew him—and an expert sniper.'… Whitman rode the elevator to the twenty-seventh floor, dragged his footlocker up the stairs to the observation deck, and introduced the nation to the idea of mass murder in a public space. Before 9/ 11, before Columbine, before the Oklahoma City bombing, before 'going postal' was a turn of phrase, the 25-year-old ushered in the notion that any group of people, anywhere—even walking around a university campus on a summer day—could be killed at random by a stranger." • Saddening.
Sports Desk
This gives me hope for humanity:
Best Olympic moment I've ever seen pic.twitter.com/vZP8XNegVq

— Ana Breton (@missbreton) August 2, 2021
Class Warfare
"How The Bobos Broke America" [David Brooks, The Atlantic]. "Atop the Democratic-leaning class ladder sits the blue oligarchy: tech and media executives, university presidents, foundation heads, banking CEOs, highly successful doctors and lawyers. The blue oligarchy leads the key Information Age institutions, and its members live in the biggest cities…. One step down from the blue oligarchy is the creative class itself, a broader leadership class of tenured faculty, established members of the mainstream media, urban and suburban lawyers, senior nonprofit and cultural-institution employees, and corporate managers, whose attitudes largely mirror the blue oligarchs above them, notwithstanding the petty resentments of the former toward the latter…. One economic rung below are the younger versions of the educated elite, many of whom live in the newly gentrifying areas of urban America, such as Bedford-Stuyvesant in New York or Shaw in Washington, D.C. More diverse than the elites of earlier generations, they work in the lower rungs of media, education, technology, and the nonprofit sector. Disgusted with how their elders have screwed up the world, they are leading a revolution in moral sentiments…. On the lowest rung of the blue ladder is the caring class, the largest in America (nearly half of all workers, by some measures), and one that in most respects sits quite far from the three above it. It consists of low-paid members of the service sector: manicurists, home health-care workers, restaurant servers, sales clerks, hotel employees. Members of this class are disadvantaged in every way." • Brain 'splode that Brooks is doing class analysis. There is a similar red hierarchy, so, false dichotomy. This is one of a number of recent pieces on this topic; my gut take is that class in America is recomposing, dynamically, because of the enormous gains made by the oligarchs during the pandemic, but we don't know the outcome yet. (In other words, Brooks is at the end of the Last Age, not at the beginning of the Age to Come.) Worth a read, no matter how much one might, quite justifiably, mock Brooks (and his Irish Setter, Moral Hazard).
News of the Wired
Why aren't trick captchas a thing?
Okay this is getting out of hand pic.twitter.com/DQGnPMqZ3n

— Dr. Jacqueline Nolis (@skyetetra) July 31, 2021
* * *
Readers, feel free to contact me at lambert [UNDERSCORE] strether [DOT] corrente [AT] yahoo [DOT] com, with (a) links, and even better (b) sources I should curate regularly, (c) how to send me a check if you are allergic to PayPal, and (d) to find out how to send me images of plants. Vegetables are fine! Fungi and coral are deemed to be honorary plants! If you want your handle to appear as a credit, please place it at the start of your mail in parentheses: (thus). Otherwise, I will anonymize by using your initials. See the previous Water Cooler (with plant) here. Today's plant (PM):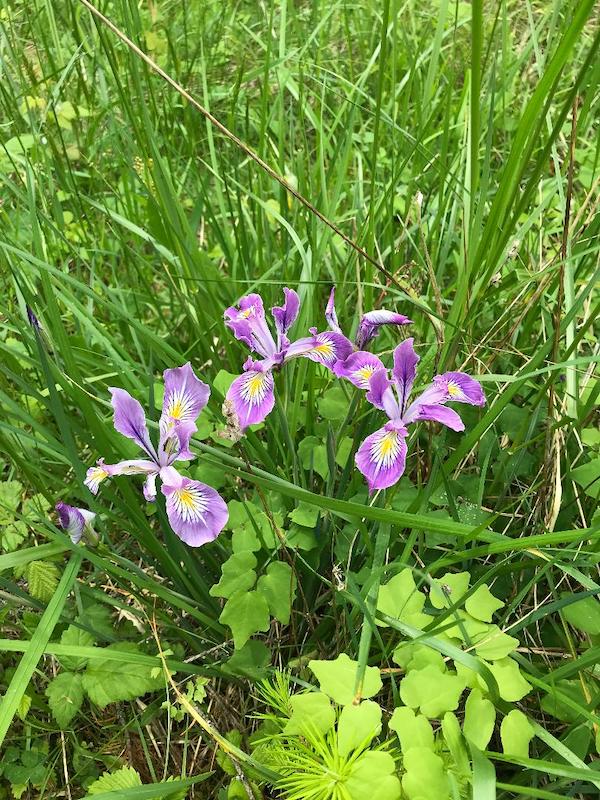 PM took this picture in Basket Flat, WA.
* * *
Readers: Water Cooler is a standalone entity not covered by the recently concluded and — thank you! — successful annual NC fundraiser. So if you see a link you especially like, or an item you wouldn't see anywhere else, please do not hesitate to express your appreciation in tangible form. Remember, a tip jar is for tipping! Regular positive feedback both makes me feel good and lets me know I'm on the right track with coverage. When I get no donations for five or ten days I get worried. More tangibly, a constant trickle of donations helps me with expenses, and I factor in that trickle when setting fundraising goals:
Here is the screen that will appear, which I have helpfully annotated.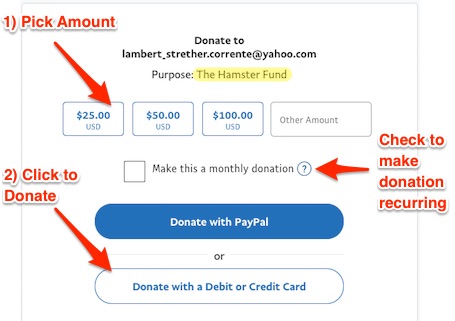 If you hate PayPal, you can email me at lambert [UNDERSCORE] strether [DOT] corrente [AT] yahoo [DOT] com, and I will give you directions on how to send a check. Thank you!2:00PM Water Cooler 6/8/2021