By Lambert Strether of Corrente.
Bird Song of the Day
The last of the reclusive Potoos turns out to the best! Not only do we have a howl, as opposed to a low-pitched snore, we have another sensational symphony for the insect performers this humble bird seems to gather round itself. (The sounds of both insects and Potoo are so regular I wondered if the audio were a loop, but the Potoo calls on the spectrogram seem to vary slightly. Readers?)
* * *
#COVID19
At reader request, I've added this daily chart from 91-DIVOC. The data is the Johns Hopkins CSSE data. Here is the site. I feel I'm engaging in a macabre form of tape-watching….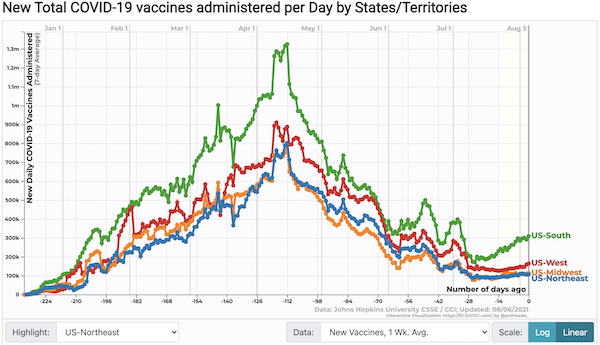 South back on form. 49.9% of the US is fully vaccinated.
Case count by United States regions: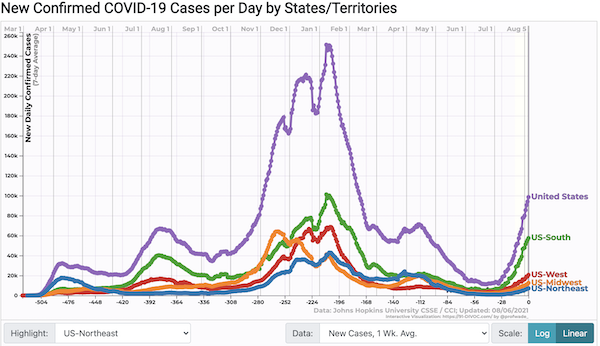 As far as reaching the peak of January 8, 2021, with 295,257 cases per day … I'm not that pessimistic (modulo a new variant brought into the country by our ridiculously lax policies on international quarantines). What we might call, after Everest, the "First Step" (November 25, 2019) with 178,466 looks in striking distance, especially if the case count purple line continues go near vertical. When you look at those "rapid riser" counties on the CDC map, you've got to think this rise has a way to run. But what do I know, I'm just a tape-watcher.
Covid cases top ten states: for the last four weeks (hat tip, alert reader Lou Anton):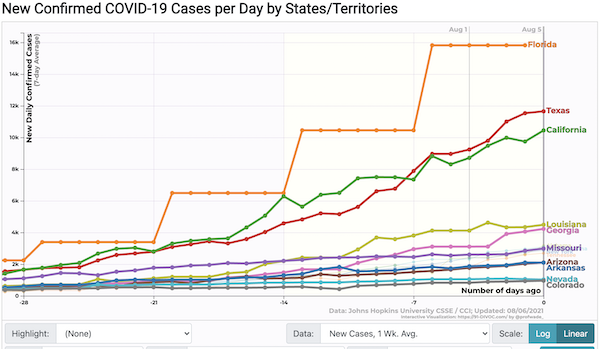 California slows again. Texas slows now too. Musical interlude for Florida data.
From CDC: "Community Profile Report August 4, 2021" (PDF), "Rapid Riser" counties, this release: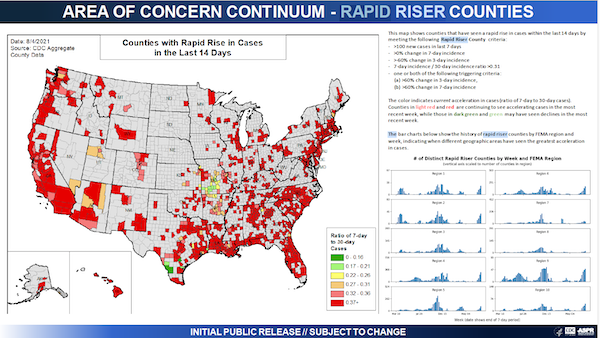 Red areas still spreading. New red splotches right in the middle of Wyoming and Maine; tourism, I would bet. This map blows the "Blame Bubba" narrative out of the water. Not a banjo to be heard. Previous release: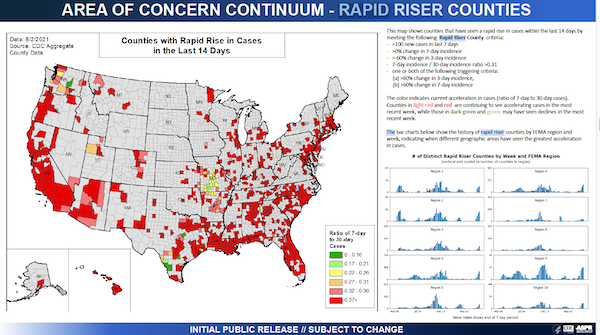 (Red means getting worse, green means bad but getting better. This chart updates Tuesdays and Fridays, presumbly by end-of-day.)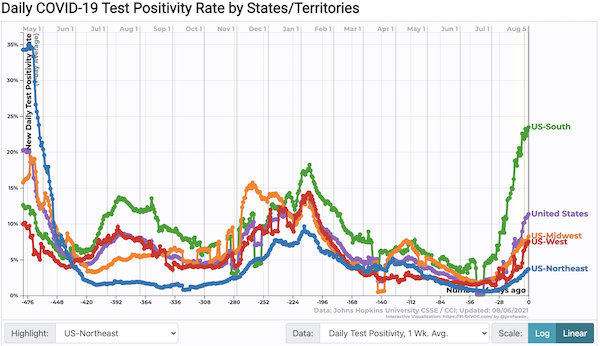 South running away with the field. But other regions now playing catch-up.
Hospitalization (CDC):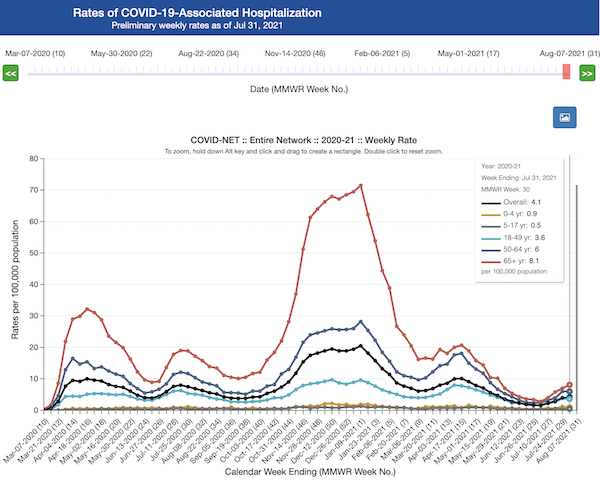 A little dip in 65+. Here is a the CDC's hospitalization report, from the source above: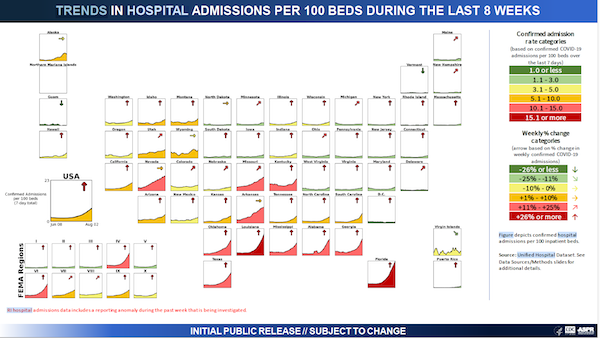 The, er, red states (Florida, Louisiana) are as yet still buried in the aggregated national data.
Deaths (Our World in Data):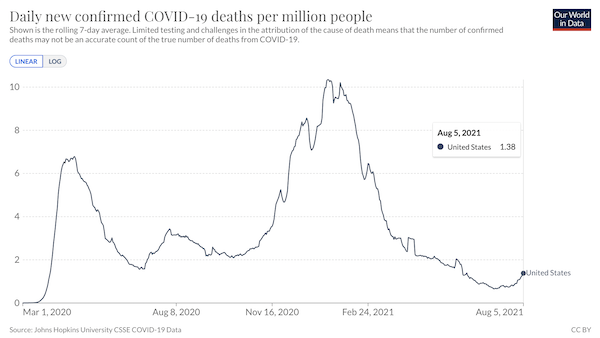 Deaths definitively rising, although nowhere near meriting an anti-triumphalist black line.
Covid cases worldwide: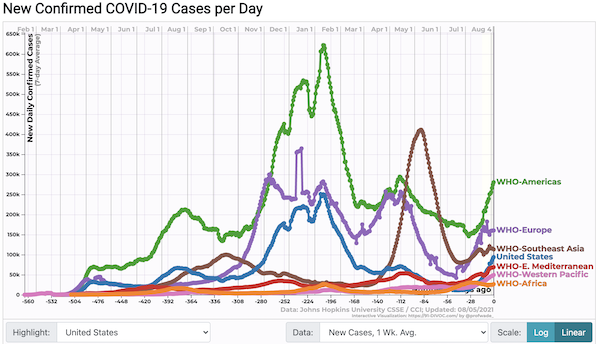 Every region is trending up. US sphere of influence under the Monroe Doctrine not doing so well.
* * *
Politics
"But what is government itself, but the greatest of all reflections on human nature?" –James Madison, Federalist 51
"They had one weapon left and both knew it: treachery." –Frank Herbert, Dune
"They had learned nothing, and forgotten nothing." –Charles Maurice de Talleyrand-Périgord
Biden Administration
"Does Biden Understand Contemporary Politics?" [Ron Brownstein, The Atlantic]. "To Democrats in this camp, the infrastructure deal 'is proof of concept,' especially if Biden can pair it with an ambitious follow-on bill for human-capital investments passed solely with Democratic votes, says Jim Kessler, executive vice president for policy at the centrist Democratic group Third Way. If Biden can pass those two massive proposals, and contain the pandemic over the coming months, Kessler insists, he'll be reelected. 'And if he gets reelected, that could be the end of Trumpism,' Kessler says." • And by "especially" we mean only. But Kessler's vague rubric of "Trumpism"? What does that even mean (and see below on the "Wide Awake" clubs; if the Republicans can actually manage to claim the mantle of Lincoln, that would be quite something. I don't think they will, because abolition was of its time in a way that the conservative concept of "liberty" is not today, but the, dare I say, smarter conservatives are working through their 2016-2020 experience in a way that Third Way's doughy flaccidity never has and never will. Yeccccch).

"Forget FDR and LBJ, Joe Biden is a modern-day Justinian" [The Hill]. Justinian, emperor of Rome from 527-565, was famous for two things. First, he had the misfortune to be emperor during the outbreak of a pandemic that would ultimately bear his name…. But Justinian is also famous for a second reason — his failed attempt to restore the decaying Roman imperial order…. Justinian, driven by a somewhat inflated sense of destiny, took it upon himself to attempt a restoratio imperii, a 'restoration of the Empire.'…. We would do well, then, to remember that Justinian's reign was not merely one of devastating plague (though it was that). It was also one of delusional geopolitical nostalgia and ultimately self-destructive projects of imperial restoration. And having remembered Justinian's reign in all its fullness, we would do well to ask ourselves: Is Joe Biden the American Justinian?"

"OnPolitics: The new eviction moratorium may head back to SCOTUS" [USA Today]. "A group of real estate entities asked a federal court late Wednesday to block enforcement of the Biden administration's new eviction moratorium, reopening a battle that appeared destined to put the legal challenge back before the Supreme Court. Arguing that the Centers for Disease Control and Prevention 'caved to the political pressure' by creating what the administration called a 'targeted,' 60-day freeze on evictions in counties with a high spread of COVID-19, the groups asked the district court in Washington, D.C., to immediately block the new moratorium." Of course it's "targeted." When there's a pandemic, a liberal sees the possibility of a new eligibility requirement. More: "Biden acknowledged that the new moratorium would be hard to defend in court, noting on Tuesday that '.'" • Imagine if Trump said that…

"The Incredible Never-Shrinking Defense Budget" [Fred Kaplan, Slate]. "There are a few reasons for this overwhelming endorsement of such a massive increase in defense spending. First, many Democrats believe that it's necessary to retain support—among moderate Democrats and a few Republicans—for Biden's massive spending on domestic programs. (This was one reason Biden decided not to cut the defense budget back in May.) Second, in an era when Congress is spending trillions of dollars on COVID relief, infrastructure, child care, and enhanced unemployment benefits, $25 billion doesn't seem like a whole lot of money. Finally, amid heightened concerns about China's military expansion, the idea of spending more—even a lot more—on defense is harder to resist. However, these concerns—some real, some exaggerated—aren't being tethered to any analysis. If progressive Democrats were equally lavish when it came to social programs, conservatives and moderates would assail them for 'throwing money at the problem.' In fact, they did say that when presented with a $2.25 trillion infrastructure plan. As a result, Biden and key legislators took a close look at the details, narrowed the definition of 'infrastructure,' and wound up with a compromise bill that sliced the amount to $500 billion. The congressional committees have done no such analysis of what's really needed for national defense. For the most part, they have merely taken what the Biden administration gave them and said, 'More!'"
Democrats en Deshabille
Nobody can accuse the Democrat Party of not having a clear vision. Their vision is quite clear:

Companies that donated to James Clyburn's foundation in Q1 and Q2 of 2021 include:
-Altria ($15k)
-Charter ($10k)
-CVS ($10k)
-DaVita ($5k)
-Dominion Energy ($20k)
-FedEx ($20k)
-Holcim ($2.5k)
-Microsoft ($25k)
-Norfolk Southern ($5k)

Past donors here: https://t.co/BFO9uJAxHC

— Donald Shaw (@donnydonny) August 5, 2021

"Cuomo Defends Himself Against Sexual Harassment Charges From Women With A Slideshow That Shows That He Sexually Harasses EVERYONE" [Barstool Sports]. Holy moley:

Touch em all, Governor. But not literally. What a defense. The old quarterback cliche is "if you have two quarterbacks then you don't have one". Cuomo is out there saying "if I sexually harass everyone then I'm not sexually harassing anyone". And if you didn't believe him well Cuomo has a 2 minute video where he makes DOZENS of people uncomfortable. Old, young, black, white, male, female, gay, straight…EVERYONE gets the ick from Cuomo. He isn't targeting or discriminating. If you have a pulse he will put his lips on you and touch you inappropriately. It's the intent that matters. Cuomo says he's just trying to put people at ease and if he accidentally eases his hand down your pants, well, he's sorry you misinterpreted his gesture of affection. What an absolutely absurd defense. I never understand how dumb things like this make it to a GIANT press conference and to the internet to roast. There's a real disconnect between people in government and regular citizens. Like how did NOBODY on his team of advisors watch this video and say "yeah, umm…this is a terrible idea"? It's not just Cuomo. You'd think someone would step up and point out of how stupid this defense is in 2021. But maybe anyone on his staff with a brain quit after they were given the ick.

As someone responsible for the deaths of thousands of people in the last year you'd think Cuomo would understand that, but apparently not.

When you've lost Barstool Sports…
Republican Funhouse
"Ben Domenech: 'Are You Woke Or Are You Wide Awake?'" [The Federalist]. "One way to 'stand up to a brittle corrupt leadership that seeks to force you to trade your freedom for the self-satisfaction that no mob will ever come for you,' Domenech said, is to examine the Wide Awakes from the 1860s. 'You may not know about the Wide Awakes, but you should,' Domenech said. "There were hundreds of thousands of them in 1860 and their organizations stretched from Maine to California. They were a militaristic fraternity dedicated to human liberty. They had banners and marches and baseball teams. They carried oil lamps, wore capes, and wielded bats, and they stumped for a rising Republican rail-splitter named Abraham Lincoln.' While the Wide Awakes were often looked down on by political elites, Domenech noted that 'there was never in this country a more effective campaign organization than the Wide Awakes.' 'They were there at the massive rallies that supported Lincoln, acting as security to prevent the harassment of pro-liberty speakers across the country. Their symbol was a giant eye opened to see the truth. Whether passionate abolitionists or just fed up with the out-of-touch Democratic President James began [Buchanan], the Wide Awakes were united under the belief that they could no longer tolerate the corrupt old order that ran the country. They were awake to the deep reality of this corruption, and they understood, there could be no compromise with a regime of slavery. No looking away anymore,' Domenech said." • "a militaristic fraternity"? Hmm.

"'We have to build off that success': GOP hopes women lead the party back to House majority" [CNN]. "After a historic number of Republican women were elected to the House in 2020 — including in some of the most competitive races in the country — the party sees a recipe for electoral success and is now doubling down on that same strategy in the battle for the House next year. What has emerged among party leaders, operatives and outside groups is a two-pronged approach: retain their current Republican women in critical swing seats and recruit additional strong female candidates to run in key battleground districts that they hope to flip next year.

And so far, there are signs of that strategy bearing out: A record-breaking number of Republican women have already filed to run for office, while some of the GOP's top fundraisers this year have been freshmen Republican women. Republicans — who have history and redistricting on their side — only need to flip five seats to seize back the House. And party operatives can point to at least six competitive races where female GOP candidates have already decided to jump in, meaning Republicans could theoretically win back the majority with women alone and add to their historic ranks. But that would mean holding on to every single female incumbent, which will be no easy feat. The GOP women who were responsible for flipping 11 out of 15 seats last cycle will be locked in some of the toughest — and most expensive — contests in the country, and Democrats are determined to take them on."
Realignment and Legitimacy
"Apax Merges Software Firms for Non-Profits in $2 Billion Deal" [Bloomberg]. "Private equity firm Apax Partners is merging three software companies serving non-profit organizations in a deal worth about $2 billion, including debt. Apax is buying EveryAction from Insight Partners and Social Solutions from Vista Equity Partners, according to a statement Tuesday. Apax will combine them with CyberGrants, a company it agreed to acquire in June from Waud Capital Partners. Vista will keep a minority stake in the combined company, which will go through a branding process to select a new name and will have annual revenue of over $200 million. All three companies make software used by non-profit organizations, a corner of the technology market that's fragmented with several small players. Blackbaud Inc. is the largest public company in the space with a market value of $3.4 billion." • Well, I suppose it was only a matter of time before the Non-Profit Industrial complex got looted and rationalized. That should be clarifying, since the appearance of integrity is critical to the ability of the NGOs to run interference for the Democrat Party. However, the article fails to mention that one of these firms, EveryAction, hosts VAN, the Democrat voter file. What could go wrong? As it turns out, the Republicans outsourced their voter file too, to a thing called the Data Trust, a Delaware LLC. If this undated but post-2012 FEC filing is still valid, here is its corporate structure:

Those "private investors" don't seem to be named anywhere (and one can only wonder how many of them are straws). So it looks to me like the Democrats left their voter file open to being purchased by an entity outside the party's control, and the Republicans did not. (Somebody smarter about corporate structures than I am will correct me.)

"Nina Turner Showed That a Left Candidate Can Win Black Workers" [Matt Karp, Jacobin]. Karp's fast; this extends on his tweet storm yesterday. "Turner's loss was certainly a defeat for the post-Sanders progressive movement. But a closer look at the results suggests the emergence of a new narrative, too, with rather different implications. While Sanders famously failed to gain crucial support from black working-class voters — a demographic that other progressives have struggled to win, too — Turner held her own. Even in defeat, she may well have won more black working-class votes than Cori Bush did in her victorious campaign in Missouri last summer. A comparison between the Turner and Bush campaigns may be instructive here. Both candidates performed best with the core constituent of the larger Sanders coalition: younger voters in large cities. Turner cleaned up in the western half of Cleveland; Bush ran the table in southern St Louis. To call all of these areas "gentrifying neighborhoods" would be to oversimplify, but they do fit a certain profile: compared to the whole of Cleveland and St Louis, they are better-educated, younger, and more racially diverse (though usually majority-white). But in poor and working-class black precincts, there is a gap between the two candidates. In East Cleveland — whose population is 90 percent black, with a median income of just above $20,000 a year — Turner lost to Brown by less than three points. In Cleveland's Ward 9, with a similar demographic profile, Turner won by four. On the whole, Turner won five of Cleveland's nine black-majority wards and lost four (all of them narrowly, by less than two points). She won the city of Cleveland overall, as well as the black-majority city of Akron. This is a major gain from the Sanders 2020 campaign, which lost all of these areas by fifty points or more. But it's also a better performance than Cori Bush managed in demographically similar parts of her district: in the black, lower-income wards of North St Louis, Bush generally lost by between fifteen and twenty-five points. Even in Ferguson, Missouri, itself — the base for her years of activism — she lost by twelve points." • I would want to know about age too, in addition to class, since Sanders did do much better with young Black voters.
Stats Watch
Employment Situation: "July 2021 BLS Jobs Situation – Job Gains Again Excellent" [Econintersect]. "The headline seasonally adjusted BLS job growth was near expectations, with the unemployment rate worsening from 5.9 % to 5.4 % … The economically intuitive sectors were positive for economic growth."
* * *
Finance: "Analysis: CEOs and central bankers talk past each other on inflation" [Reuters]. "The bosses of top multinationals are fretting about rising inflation but the very people responsible for keeping price growth in check – central bankers – seem unfazed…. "Inflation" is the buzzword of the second-quarter earnings season as companies of all shapes and sizes grapple with price pressures stemming from pandemic-related hits to supply chains struggling to keep up with post-lockdown surges in demand…. Chair Jerome Powell said last month that the factors driving prices higher now – a 45% surge for used cars from last year or a 25% bump-up for airline tickets – are unlikely to be repeated in perpetuity. 'We're anxious like everybody else to see that inflation pass through,' Powell said…. Central bankers are inclined to take complaints of large, listed companies about price pressures with a pinch of salt; they know that, unlike the smaller companies that make up the backbone of the economy, the bigger ones have the power to influence and hedge price developments in their supply chain. More fundamentally, central bankers in the United States and the euro zone are wary of repeating mistakes of the past decade, where they tightened policy at the earliest signs of growing price pressures that never fully materialised in the end."
Real Estate: "Investors Chasing Housing Target Massive Pools of Airbnb Rentals" [Bloomberg]. "Investors hunting for returns in the frenzied U.S. real estate market are tapping a new strategy: building massive portfolios of houses to rent out on Airbnb. A recent filing reveals that Dublin, Ohio-based ReAlpha.com is seeking to spend as much as $1.5 billion, including debt, to buy short-term rentals at an unprecedented scale. The money would be enough to purchase roughly 5,000 homes, Chief Executive Officer Giri Devanur said in an interview. … Plans to buy giant pools of rentals would mark a shift toward a consumer experience with Airbnb that more closely resembles a hotel stay*. But it comes as record-low home inventory pushes prices higher for average buyers and Wall Street investors alike. 'The business model has been proven, and now the opportunity is to do this at scale,' said Scott Shatford, CEO of AirDNA, which provides data and analytics to the industry. '.'" • Well, there's a lot of capital sloshing about. Hey, remember "the sharing economy"? When did that stop being a thing? NOTE * Like hotels, except with no regulation or those pesky unions. Heck, there'll probably be a pool that specializes in party houses.
Real Estate: "Big banks are starting to push back their return to offices in response to Delta variant" [CNN]. "Major players on Wall Street are beginning to push back their return-to-office dates because of surging Covid-19 cases. Wells Fargo on Thursday said it would push back the reopening of its offices by about a month to early October, making it the biggest bank yet to shift gears because of rising Covid-19 cases. And BlackRock, the world's largest asset manager, is also delaying until October. Those announcements came a day after US Bank, which had planned to bring employees across the country back to offices on September 7, announced a delay… If more companies delay their office reopenings, it would deal a blow to the restaurants, bars and other small businesses that had been banking on a return of office workers this fall."
The Bezzle: "The Colonial Pipeline ransomware gang is back under a new name" [Quartz]. "The DarkSide hackers appear to be back in business under the new moniker 'Black Matter."… In fact, some cybersecurity experts say US law enforcement's victory over DarkSide could have been a charade from the start. In the days after DarkSide shut down, several users on hacking forums claimed to be jilted DarkSide business partners who were owed money for their role in previous ransomware attacks but never got paid. Some speculated the narrative about US law enforcement shutting down the group was just a cover story for DarkSide to declare "bankruptcy," at least in black market terms, and run off with whatever money they had left. The Washington Post has reported, based on four interviews with anonymous government officials, that the US had nothing to do with disrupting DarkSide…. Darkside's fate underscores how little power US law enforcement has to stop ransomware hackers on its own." • Nonsense. Shut down Bitcoin. What's the issue?
Tech: "The slow collapse of Amazon's drone delivery dream" [Wired]. "Those working on the UK team in the last few years, who spoke on condition of anonymity, describe a project that was 'collapsing inwards', 'dysfunctional' and resembled 'organised chaos', run by managers that were 'detached from reality' in the years building up to the mass redundancies. They told WIRED about increasing problems within Prime Air in recent years, including managers being appointed who knew so little about the project they couldn't answer basic work questions, an employee drinking beer at their desk in the morning and some staff being forced to train their replacements in Costa Rica. Amazon says it still has staff working for Prime Air in the UK, but has refused to confirm headcount." • That's a damn shame.
Manufacturing: "GM and the Auto Industry Race to Extinguish Costly Battery Fires" [Bloomberg]. "With General Motors earnings this week came another early stumble in the race to electrification. The automaker said it took an $800 million hit for battery warranty and replacement costs for the Chevrolet Bolt. GM has been working on solutions while telling owners of the car not to park it inside and charge it overnight or put a full charge on the battery. The company thinks the defect is rare, Chief Executive Officer Mary Barra said on the earnings call, but recalled about 69,000 vehicles to ensure customer safety. Let's not pick on GM. Burning EV batteries has become an industrywide issue. The National Highway Traffic Safety Administration also has looked at fires in Tesla models, Hyundai's Kona and Ioniq EVs, and Audi's e-tron. Not only is NHTSA paying attention, but the public is watching closely as more EVs hit the market…. GM says it's close to finalizing a fix for the battery. It looks like the recent fires are due to a manufacturing defect because the problem is confined to cars with batteries made at supplier LG Chem's plant in Ochang, South Korea, according to GM spokesman Dan Flores."
Mr. Market: "Dow, S&P 500 trade at record highs Friday after better-than-expected jobs report" [MarketPlace]. "The Dow and the S&P 500 index traded at record highs Friday after the monthly U.S. jobs report came in better than expected, as the economy recovers from the COVID-19 pandemic and shakes off the resurgent delta variant." • It does? Shake off the delta variant? Well, if Mr. Market is in his happy place, I suppose that's all that matters.
* * *
Today's Fear & Greed Index: 36 Fear (previous close: 34 Fear) [CNN]. One week ago: 24 (Extreme Fear). (0 is Extreme Fear; 100 is Extreme Greed). Last updated Aug 6 at 11:20am.
The Biosphere
"Bird Species Abundances, from Biggest to Smallest" [Scientifc American]. "Comparing the relative sizes of bird species has long seemed an impossible task—too many species simply lack reliable counts. A recent influx of citizen science data, however, allowed researchers to make global abundance estimates for 9,700 species, about 92 percent of all birds on Earth. Biologists Corey T. Callaghan, Shinichi Nakagawa and William K. Cornwell, all at the University of New South Wales in Australia, combined scientific data for 724 well-studied species with counts from the app eBird [yay!], where people around the world can submit bird sightings. The researchers used an algorithm to extrapolate estimates for all species in their sample. The results, published recently in the Proceedings of the National Academy of Sciences USA, confirm a common pattern among animals: across the globe there are many species with small populations isolated in niche habitats and relatively few species that have managed to expand over a wide territory and grow their population into the hundreds of millions or billions."
Health Care
Measurements and Simulations of Aerosol Released while Singing and Playing Wind Instruments (preprint) [Colorado University Scholar]. From the Abstract: "Outbreaks from choir performances, such as the Skagit Valley Choir, showed that singing bringspotential risk of COVID-19 infection. There is less known about the risks of airborne infection from other musical performance, such as playing wind instruments or performing theatre…. We found that plumes from musical performance were highly directional, unsteady, and vary considerably in time and space. [Computational Fluid Dynamics (CFD)] modeling showed differences between indoor and outdoor environments and that lowest risk of airborne COVID-19 infection occurred at less than 30 minutes of exposure indoors and less than 60 minutes outdoors." Odd, that last claim. Relevant to high school bands….
"What are the new top 5 COVID symptoms?" [ZOE Covid Study]. • This is a good dashboard, driven by dynamic data from an app. The list of top symptoms changed with Delta, for example.
"Trump COVID-19 testing czar: Businesses' vaccine mandates 'very reasonable'" [The Hill]. "'I do not believe the federal government should have vaccine requirements. I don't believe in state areas having vaccine requirements, except for their employees, but yes, we should support businesses like Facebook and Google and Morgan Stanley and so many others that in order to keep their employees safe, and their customers safe, have [requirements],' [Brett Giroir, who served as former President Trump's COVID-19 testing czar' said. 'I think these are very reasonable, they're legal and I support that.'" • I'm amazed to hear that the Trump administration did any testing, let alone had a testing czar. That aside, this weak-state neoliberal perspective seems to hold across the poltical spectrum (though perhaps from conviction by conservatives, and cowardice from liberals).
"The Best Masks to Wear on an Airplane" [New York Magazine]. "[W]e spoke with four experts [including] Dr. Waleed Javaid, the director of infection prevention and control at Mount Sinai Downtown. Javaid says he gets this question all the time: 'Everybody asks me, should we really have an N95? Should we have this and that?' His answer: 'You should have whichever mask you're going to keep wearing.' According to all of the doctors we spoke to, that mask should have multiple layers and be comfortable enough that you can breathe, and you won't be tempted to take it off." • Quite sensible advice.
Our Famously Free Press
"How Provincetown, Mass., stress-tested the coronavirus vaccine with summer partying and delta" [WaPo]. • "Stress-tested."
Games
"I Bought A Switch And I'm An Idiot, So I Ruined My Daughter's Birthday" [Kotaku]. • Dead two-factor authentication. The same thing has happened to me, because I used a burner to set 2FA up. No way was I going to give them my "real number." Fast forward to the time when I'd left the burner in some pile of dead electronic equipment…
Naked Capitalism Cooking Community™
More very weird, very American food:
This pizza burrito weighs seven pounds pic.twitter.com/I1Gtmt2qsl

— Food Insider (@FoodInsider) August 1, 2021
I don't understand this trend at all. Who could possibly think this was a good idea?
"S.F. restaurant's $72 fried rice was a runaway hit. It was also the chef's nightmare" [San Francisco Chronicle]. "The crab fried rice at Lily, a Vietnamese restaurant in the Richmond District, had the aesthetics of a jewelry display: radiant bubbles of golden trout and white sturgeon caviar, unctuous sea urchin roe from Hokkaido, Japan, and the meat from three types of crab were arranged on a bed of expertly fried jasmine rice. Bite-size morsels of grilled A4 Miyazaki Wagyu sirloin topped it, along with rock shrimp and the deep-tangerine of jidori egg yolks. Black truffle trimmings bolstered an XO sauce drizzle. It was, all in all, a spectacular example of luxury overload. Despite its $72 price tag, it was also the restaurant's best-seller, both during its takeout-only days and when the space finally opened for in-person dining. Some nights, 20 to 25 fried rice orders would come in, while customers ignored the rest of the menu. Chef Rob Lam couldn't take it. In June, he killed the dish. The crab fried rice was , akin to innovations like Kraft macaroni and cheese ice cream and bunless chicken patty sandwiches…. 'The premise was, let's do something so over-the-top and bougie,' he said. 'We called it the #1 douchebag fried rice.'…. It didn't help that they didn't make any money on the fried rice with all of its premium, market-rate ingredients, or that customers would only order that and nothing else on the menu." • Interesting that "bougie" is a word in casual use in San Francisco…
Groves of Academe
"A Smoking Gun at Columbia University" [Academe Blog]. "A depressingly familiar trend in higher education has been the gradual erosion of ladder faculty positions and their replacement by positions with no prospect of tenure. The former tend to be relatively well-paid and secure; the latter, undervalued and marginal. Though it ranks among the richest American universities, my own institution, Columbia University, has not entirely resisted this trend…. The obvious reason administrators have preferred to hire such faculty is simply to save money. A lecturer is typically paid a fraction of a tenured professor's salary—at Columbia, perhaps about one-third as much. Yet faculty have long suspected that power, as well as money, is at stake. Untenured faculty, being in a more precarious position, are more susceptible to pressure from administrators and more likely to do as they are told. That Columbia administrators regard this as a boon was recently confirmed by a smoking gun." Email from Columbia President Lee Bollinger: "… [T]he instructional faculty for the Core is largely composed of non-tenure-track individuals, which means we should have greater leeway to expect in-person instruction, if that's what we deem best." • Leeway.
Black Injustice Tipping Point
"Glen Ford's Journalism Fought for Black Liberation and Against Imperialism" [Margaret Kimberley, Black Agenda Report]. "I had the honor of working with the late Glen Ford for nearly 20 years. His passing has created a huge void not just for Black Agenda Report (BAR), the site we co-founded with the late Bruce Dixon, but for all of Black politics and left media. Ford identified his political and journalistic stance with both, having created the tagline: "News, commentary and analysis from the black left" for BAR. He was the consummate journalist, a man who demanded rigorous analysis of himself and others, and he lived by the dictum of afflicting the comfortable and comforting the afflicted. Ford co-founded a publication in line with his core values: He did not suffer fools gladly, succumb to corporate media and government narratives, or feel obligated to change his politics in order to elevate the Black face in a high place. Ford spoke of learning this lesson the hard way. He told a story of regret, his ethical dilemma , when he gave one such Black person, Barack Obama, a pass in 2003. At that time, Ford, Dixon and I were all working at Black Commentator . Obama had announced his candidacy for the United States Senate and he was listed as a member of the Democratic Leadership Council (DCL), the right-leaning, corporate wing of the Democratic Party. Obama had also removed an antiwar statement from his website. Ford and Dixon posed what they called 'bright line questions' to Obama on issues such as the North American Free Trade Agreement, single-payer health care and Iraq. His fuzzy answers should have flunked him, but Ford chose not to be seen as 'a crab in a barrel,' one who pulled another of the group down. Obama was given an opportunity to comment in Black Commentator and Ford wrote, "[Black Commentator] is relieved, pleased, and looking forward to Obama's success in the Democratic senatorial primary and Illinois general election.' As he witnessed Obama's actions on the campaign trail and eventually in office, Ford never again felt obligated to depart from his political stances or to defend a member of the group whose politics were not in keeping with the views of the Black left. From that moment on, Glen Ford did not let up on Obama, just as he did not waver from his staunch opposition to neoliberalism and U.S. imperialism." • Obama conned Glen Ford. The man really was a genius, an evil genius. The whole front page of BAR is devoted to Ford, and it's all worth a read. It will be interesting to see what direction BAR takes, because its voice is needed more than ever. The BAR staff isn't going to be getting invites to "the Vineyard" anytime soon.
Class Warfare
"At a Massive Union Rally, the Promise of a Better South" [In These Times]. "The strike at Warrior Met has been going on for four months. But on this day, the rally was on. Several thousand people showed up for what was billed as the ​'Biggest labor rally in Alabama history,' a claim too good to check. What was certain was that this was not a single rally for a single local of a single union…. Brookwood, Alabama is not a convenient place to get to, even if you live in Birmingham. The fact that thousands of people from across the country had clambered into buses for interminable trips to sit at this rally under the sweltering sun, for people they did not know, was remarkable. I spoke to many of these attendees and, to a person, the question of why they had gone to all the trouble to show up was answered as if it didn't require any explanation at all. ​'Solidarity,' they said. ​'They supported us, so we're supporting them.' 'This is what the union's about.' … The crowd at the Brookwood rally was multiracial. Not multiracial like a fashion ad, or a painstakingly assembled corporate board, but a large group of Black and white people united for a common purpose. The UMWA miners who are on strike at Warrior Met now are an integrated group, and so their supporters in the community are integrated as well. There were both Black and white people serving as Marshals at the rally, and helping to run it, and speaking from the stage, and sitting in the crowd. The majority of the people from other unions who had shown up in support were Black. The longshoremen were almost all Black, the CWA workers from Atlanta were almost all Black, and on and on. Many of the UMWA members in attendance, and certainly most of the older retirees, were white, religious, and Republican. The entertainment at the rally was almost all gospel and religious music. Singer after singer appeared between speeches to proclaim the glory of the Blood of Jesus. One retired miner made it a point to tell me, at the end of an interview, ​'I'm a Trump guy.' Across the grass, some of the Black CWA members from Atlanta toted ​'Strike for Black Lives' signs. At no point during the long, hot day did I see a bit of animosity — or, indeed, even a mention of political differences — between the members of the crowd." • Couldn't stop excerpting, but still worth reading in full!
"Poor White Trash" [Dublin Review of Books]. Amazing article on Paula Jones (who [genuflects] Jeffrey Toobin smeared in his book on The Clintons, and who sued Bill Clinton for sexual harrassment back in the days of the Clinton-Lewinsky matter. Jones was the person of whom Clinton operative James Carville famously remarked "Drag a hundred-dollar bill through a trailer park, you never know what you'll find." Liberals dripping with class prejudice, as usual. From the article: "Paula Jones's family history may have been sad, but it was far from ordinary. Her father, Bobby Gene Corbin, was a preacher with the local Church of the Nazarene, a small evangelical Christian sect that was founded in the early years of the last century. Women played a key role in establishing this church in Arkansas, and its special mission was to spread the Gospel to the poor and underprivileged. That category included Paula's own family, and her father was compelled to augment the meagre income he earned as a preacher by working in a local factory. It was a precarious existence and, when he fell ill and lost his factory job, the family hit rock bottom and he was declared bankrupt. Despite his straitened financial circumstances, Corbin ensured that his family adhered to the strict moral precepts of the Nazarene Church. Paula and her two sisters were not allowed to cut their hair. They were not permitted to wear make-up, jeans or pants. All their dresses had to be lower than knee-length, and they never owned any that were "store-bought". The family prayed together each evening, and the girls were taught to avoid all "worldly" pleasures, such as dancing and roller-skating. They were even forbidden to visit the houses of their school friends in case they might be tempted to watch television. Paula Corbin was a young teenager when her father died while performing Gospel music at a senior citizens' care home." • If you lived through the Clinton Era, this is an extremely useful corrective, and worth reading in full. One can only wonder why was published in the Dublin Review of Books, and not in the UK, or even the US.
News of the Wired
"Here Come the Robot Nurses" [Boston Review]. "At the height of the COVID-19 pandemic, Awakening Health Ltd. (AHL), a joint venture between two robotics companies, SingularityNET(SNET) and Hanson Robotics, introduced Grace, the first medical robot to have a lifelike human appearance. Grace provides acute medical and elder care by engaging patients in therapeutic interactions, cognitive stimulation, and gathering and managing patient data. By the end of 2021, Hanson Robotics hopes to be able to mass produce a robot named Sophia into one of its newest units—Grace—for the global market." • Being "treated" by a robot will be an excellent incentive for me to recover my strength, so I can leap out of bed and beat one to smithereens with my bare, hospital-braceleted hands.
* * *
Readers, feel free to contact me at lambert [UNDERSCORE] strether [DOT] corrente [AT] yahoo [DOT] com, with (a) links, and even better (b) sources I should curate regularly, (c) how to send me a check if you are allergic to PayPal, and (d) to find out how to send me images of plants. Vegetables are fine! Fungi and coral are deemed to be honorary plants! If you want your handle to appear as a credit, please place it at the start of your mail in parentheses: (thus). Otherwise, I will anonymize by using your initials. See the previous Water Cooler (with plant) here. Today's plant (SE):
SE: "Mountain laurel. Taken in West Virginia."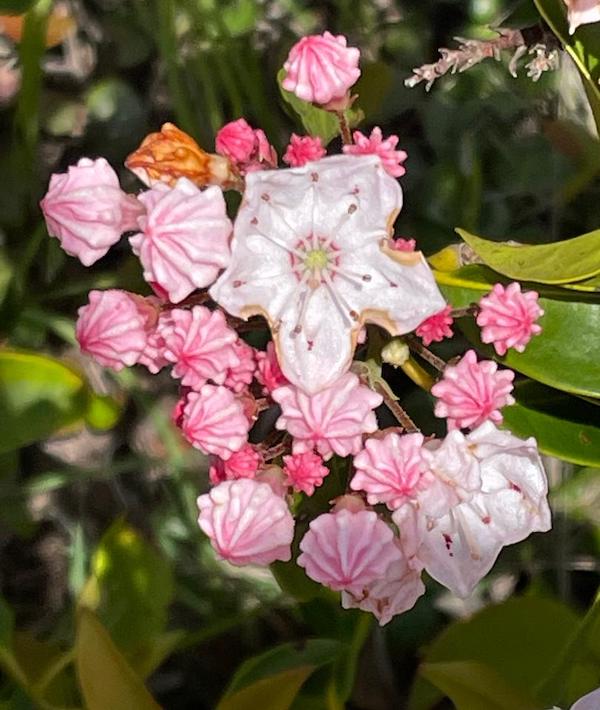 * * *
Readers: Water Cooler is a standalone entity not covered by the recently concluded and — thank you! — successful annual NC fundraiser. So if you see a link you especially like, or an item you wouldn't see anywhere else, please do not hesitate to express your appreciation in tangible form. Remember, a tip jar is for tipping! Regular positive feedback both makes me feel good and lets me know I'm on the right track with coverage. When I get no donations for five or ten days I get worried. More tangibly, a constant trickle of donations helps me with expenses, and I factor in that trickle when setting fundraising goals:
Here is the screen that will appear, which I have helpfully annotated.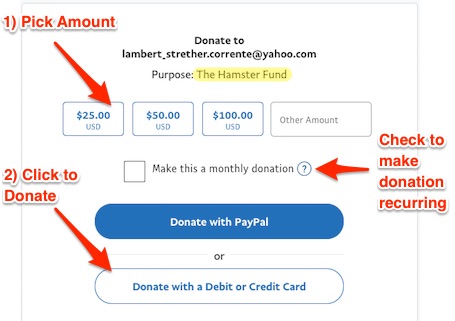 If you hate PayPal, you can email me at lambert [UNDERSCORE] strether [DOT] corrente [AT] yahoo [DOT] com, and I will give you directions on how to send a check. Thank you!2:00PM Water Cooler 6/8/2021