By Lambert Strether of Corrente.
The sixth and latest IPCC assessment report on climate change is out; and prominent in its most optimistic scenario is Carbon Removal (CR), which is planned or fantasized to happen predominantly on an industrial scale with BECCS (Bioenergy with Carbon Capture and Storage), and to a lesser extent with "natural" solutions like reforestation and tree planting. The title of the post describes my views on the "natural" solutions; I will cover those in detail first, and then briefly look once more at BECCS (which strikes me as just as loony a scheme as it was when I first wrote about it, unfortunately for us all).
Tree planting — erasing a lot of distinctions I am about to make — is a timely topic. From The Applied Ecologist:
Tree planting will receive unprecedented financial, political and societal support in the next few years during the upcoming United Nations' Decade on Ecosystem Restoration [2021–2030] and as consequence of ambitious initiatives such as the Bonn Challenge and 1t.org. We should not miss this unique opportunity with poorly planned initiatives that may do more harm than good or waste resources without delivering expected outcomes.
Exactly. Before diving into "poorly planned initiatives," however, let's ask: What is a forest? Definitions vary[1]. I cannot, perhaps suggestively, find a glossary definition of "forest" at the United States Forest site. The United Nations Food and Agriculture Organization's definition is a little dry:
Land spanning more than 0.5 hectares with trees higher than 5 meters and a canopy cover of more than 10 percent, or trees able to reach these thresholds in situ. It does not include land that is predominantly under agricultural or urban land use
Fascinatingly, the FAO qualifies its definition with two notes:
7. Includes rubber-wood, cork oak and Christmas tree plantations.

10. Excludes tree stands in agricultural production systems, such as fruit tree plantations, oil palm plantations, olive orchards and agroforestry systems when crops are grown under tree cover. Note: Some agroforestry systems such as the "Taungya" system where crops are grown only during the first years of the forest rotation should be classified as forest.
Tosh. A Christmas tree plantation isn't a forest any more than a palm oil plantation is a forest; I can't think of any reason for the FAO to make this distinction other than, putting it politely, political economy. This is a forest: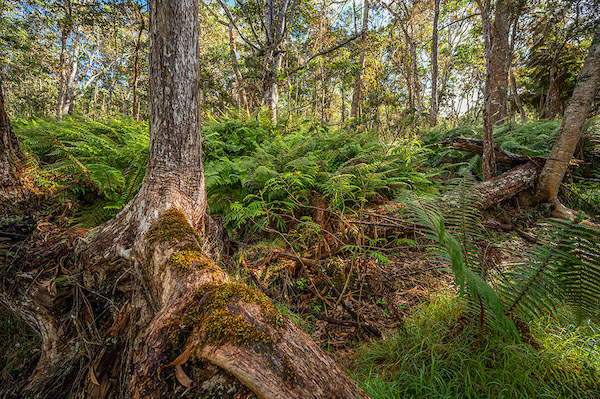 Note the fractal complexity.
And this is a tree plantation: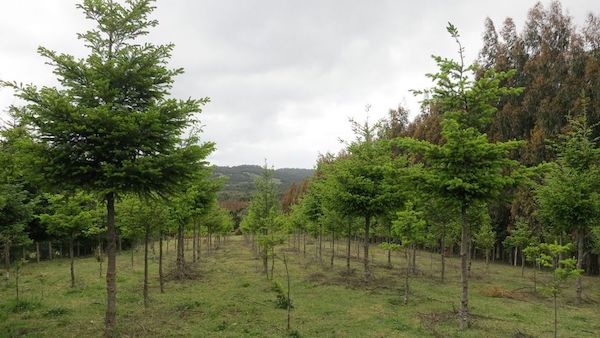 Note the grid-like, profit-optimized uniformity. Or, if you prefer me to demonstrate the same distinction in prose, here is J.R.R. Tolkien's description of the forest of Fangorn in The Two Towers, right before the two Hobbits meet the Ent, Treebeard. I love Tolkien in his travelogue mode:
Meanwhile the hobbits went with as much speed as the dark and forest allowed, following the line of the running stream, westward and up towards the slopes of the mountains, deeper and deeper into Fangorn. … [Pippin] clambered on to , and stooping drew up some water in his cupped hands…. The water refreshed them and seemed to cheer their hearts; for a while they sat together on the brink of the stream, dabbling their sore feet and legs, and peering round at the trees that stood silently about them, rank upon rank, until they faded away into grey twilight in every direction… 'Look at all those weeping, trailing, beards and whiskers of ! And most of the trees seem to be half covered with ragged that have never fallen. .'… Just then they became aware of a yellow light that had appeared, some way further on into the wood: . 'Hullo!' said Merry. 'The Sun must have run into a cloud while we've been under these trees, and now she has run out again; or else she has climbed high enough to look down through some opening. It isn't far – let's go and investigate!'… [S]oon they saw that there was before them: the side of a hill, or the abrupt end of some long root thrust out by the distant mountains. No trees grew on it, and the sun was falling full on its stony face…. There, near the fringe of the forest, tall spires of curling black smoke went up, wavering and floating towards them."
(The "tall spires of curling black smoke" reminds me of Amazonia.) I have helpfully underlined features of a forest that you would never see in a tree plantation, but would see in a forest. Perhaps one useful definition by exclusion: A forest is a system of trees that is not a plantation. We know one when we see one!
Why does the distinction between forests and tree plantations matter? Because forests are a far superior form of carbon removal. From Yale360:
. "Plantations hold little more carbon, on average, than the land cleared to plant them," says [geographer Simon Lewis of Leeds University]. The same would apply to proposed plantations of forest to provide biomass for burning in power stations.
That's because plantations are grown to provide product for profit. From the Guardian:
Commercial tree plantations in Britain do not store carbon to help the climate crisis because more than half of the harvested timber is used for less than 15 years and a quarter is burned, according to a new report.

While fast-growing non-native conifers can sequester carbon more quickly than slow-growing broadleaved trees, that carbon is released again if the trees are harvested and the wood is burned or used in products with short lifespans, such as packaging, pallets and fencing.

"There is no point growing a lot of fast-growing conifers [or eucalyptus or whatever] with the logic that they sequester carbon quickly if they then go into a paper mill because all that carbon will be lost to the atmosphere within a few years," said Thomas Lancaster, head of UK land policy at the Royal Society for the Protection of Birds (RSPB), which commissioned the report. "We should not be justifying non-native forestry on carbon grounds if it's not being used as a long-term carbon store."
And then of course there's the additional carbon used to feed and run the mill, and distribute the product.
Forests, by contrast, grow…. to be forests. From Terraformation:
A common objection to tree planting as a carbon capture solution is that the carbon storage is only temporary: supposedly, when trees die, they release their carbon back into the atmosphere. And if it's temporary, why do it?

As it turns out, this is only (somewhat) true for individual trees, but not for forests.

First, trees don't release all of their carbon back into the atmosphere. A large portion cycles into the soil as the tree decomposes. Roughly speaking, this is how carbon moves from the air into the soil.

But even more important is that a tree is not an individual, it is part of a system. During a single tree's lifetime, it seeds many children. By the time that tree dies, there could be many younger ones growing to take its place. The decomposing tree also feeds the soil, making way for other understory growth and eventually an entire food chain.

Together, this ongoing growth takes up all of the CO2 released by the dead parent, and often much more. Decomposition is a slow process, which means that most of the CO2 is either cycled into the soil, or taken up by new plants. All of this new growth contains carbon. Over decades, and even centuries, forests grow denser and continue to multiply their carbon sequestration capacity.

Forests are complex ecosystems, anchored by specific tree species suited to their biomes, and filled out by a web of life dependent on those trees—from bacteria to fungi, insects, other plants, and animals. While it's tempting to accelerate carbon drawdown by planting swaths of the fastest-growing tree species, plantation-style stands hold far less carbon than forests composed of diverse native species.

…It is the whole system—not just the anchor trees—that is the carbon sink. So while trees alone don't necessarily offer a durable carbon drawdown solution, forests do.
And now we arrive at "poorly planned initiatives." Unfortunately for us all, international tree-planting initiatives focus on tree plantations (ka-ching) rather than forests (CR). From Nature:
Plantations are the most popular restoration plan: 45% of all commitments involve planting vast monocultures of trees as profitable enterprises. The majority are planned in large countries such as Brazil, China, Indonesia, Nigeria and the Democratic Republic of the Congo (Table S1). Brazil, for example, has pledged 19 Mha to wood, fibre and other plantations, more than doubling its current 7.7 Mha.

Agroforestry accounts for the rest (21%). This practice is used widely by subsistence farmers, but rarely at large scales. Some crops benefit from trees, such as coffee grown under their shade or maize (corn) interspersed with trees that enhance nitrogen in soils. The trees themselves supply fuel, timber, fruit or nuts.

Hence, two-thirds of the area committed to global reforestation for carbon storage is slated to grow crops. This raises serious concerns.
The authors summarize their concerns in this chart: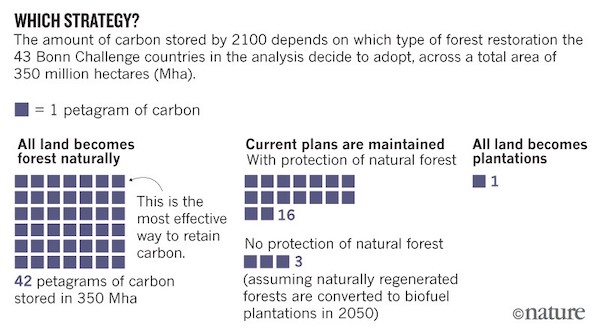 (By "all land" at left is meant the 350 hectares covered by the Bonn Challenge.) Their solutions are to deprioritize tree plantations and prioritze forests
First and foremost, countries should increase the proportion of land that is being regenerated to natural forest. Each additional 8.6 Mha sequesters another 1 Pg C by 2100. That is an area roughly the size of the island of Ireland, or the state of South Carolina.

Second, prioritize natural regeneration in the humid tropics, such as Amazonia, Borneo or the Congo Basin, which all support very high biomass forest compared with drier regions. International payments to recreate and maintain new forests from carbon sequestration, climate adaptation or conservation funds could mobilize action.

Third, build on existing carbon stocks. Target degraded forests and partly wooded areas for natural regeneration; focus plantations and agroforestry systems on treeless regions and, where possible, select agroforestry over plantations.

Fourth, once natural forest is restored, protect it. This could be by expanding protected areas; giving title rights to Indigenous peoples who protect forested land; changing the legal definition of how land may be used so it cannot be converted to agriculture, or encouraging commodities companies to commit to not clearing restored natural forests.
(Another way to protect forests would be to define them as natural persons, like Lake Erie.)
With regard to natural regeneration of existing forests, this already happens spontaneously. From Yale 360:
Largely unnoticed, many degraded forests are regrowing, capturing carbon and often retaining much of their old biodiversity. [Edward Mitchard of Edinburgh University] has tracked how, as African farmers head for jobs in cities, their old fields are consumed by jungle. 'If deforestation could be reduced, Africa could quickly become a significant carbon sink,' he told Yale e360.

Other researchers take a similar line. Philip G. Curtis, a consultant with the non-profit Sustainability Consortium, has estimated that only about a quarter of annual deforestation is permanent. Much of the rest — whether lost to fires, shifting cultivation, or logging — will eventually recover. One assessment estimates that the world contains some 7.7 million square miles of degraded land suitable for forest restoration, a quarter of it for closed forests and the remainder for "mosaic" restoration in which forests are embedded into agricultural landscapes.
Further, protecting and developing actually existing forests is more efficient than starting from the bare earth. From Environmental Health News:
In 2019, [Bill Moomaw, co-author on five IPCC reports ] and his co-authors published a scientific review finding that the capacity of forested lands to sequester carbon dioxide could be increased significantly. They say the fastest way to do this is through what they call "proforestation," the natural growth and development of standing forest ecosystems.

One reason for this is that newly planted forests may take "decades to a century before they sequester carbon dioxide in substantial quantities," according to the proforestation review.

Older trees are typically more efficient carbon extractors than younger trees (in comparable environmental conditions) because, as trees get larger, they add more carbon rich mass each year than the year before. For example, one study found that, on average, a 100 cm diameter tree added biomass at three times the rate of a 50 cm diameter tree of the same species.

Moomaw advocates for an expansion of protected lands where forests are allowed to grow and develop, uninterrupted by resource extraction, as soon as possible.

.
A good test for what Biden does with public lands, assuming public lands haven't gone the way of public health.
Before turning to BECCS, a sidebar on pricing. From MIT Technology Review:
We know forests, soil, peatlands and other natural systems absorb significant levels of carbon dioxide, but it has proved that reliably incentivize, measure and verify it.
I don't think it's challenging. I think it's impossible (as I argue here). Similarly, from the Financial Times:
The scientists called on governments to end subsidies for activities that harmed nature, such as deforestation and overfishing, and said "clear accounting standards" for carbon offsets — which vary in quality and legitimacy — should be agreed at an international level.
We don't even have clear accounting standards for business; what we have is the Big Four. So we're going to be able to audit nature? I don't think so. End sidebar.
And now BECCS. BECCS is tree plantations on steroids, and BECCS seems to be where the IPCC has placed all its chips. From the MIT Technology Review:
The model used to create the most optimistic scenario [SSP1-1.9] in the report [ which limits warming to 1.5 ˚C, assumes the world will figure out ways to remove about 5 billion tons of carbon dioxide a year by midcentury and 17 billion by 2100.

That requires ramping up technologies and techniques capable of pulling as much CO2 out of the atmosphere every year as the US economy emitted in 2020. In other words, the world would need to stand up a brand-new carbon-sucking sector operating on the emissions scales of all America's cars, power plants, planes, and factories, in the next 30 years or so.

In the model above, nearly all the carbon removal is achieved through an "artificial" approach known as bioenergy with carbon capture and storage, or BECCS. Basically, it requires growing crops that consume CO2 and then using the harvested biomass to produce heat, electricity, or fuels, while capturing and storing any resulting emissions. But despite the billions and billions of tons of carbon removal that climate models are banking on through BECCS, it's only been done in small-scale projects to date.
"Only been done in small scale projects" was also true in 2018, when I wrote:
BECCS is going to require a lot of land for a lot of crops. First, let's look at the requirements for land. Again from the EASAC:

Given the need to remove several gigatonnes of CO22 from the atmosphere using BECCS, very large amounts of biomass would be required. In their 2015 review of [Negative Emission Technology (NET) like carbon removal], the National Academy of Sciences (National Research Council, 2015) assessed the land, water and nutrient requirements of dedicated energy crops. They estimated that producing 100 EJ/year (EJ, exajoule: 1018 joules) (approximately 20% of global energy production) could require up to 5% of the current land surface (excluding Greenland and Antarctica) – 22 – on the assumption that approximately 10 tons of dry biomass are produced per hectare annually.

22 500 million hectares: 1.5 times the size of India.

That's a lot of land. Where does it come from? That's a problem. From Nasim Pour's 2018 thesis, "BECCS: Bioenergy with Carbon Capture and StorageSustainability, Challenges,and Potential" (PDF):

Most assessments for sustainable bioenergy crop production use abandoned agriculturalland, degraded land, marginal land and waste land unused agricultural lands, which is estimated to be between 320 and 580 Mha of low productivity land. Chum et al. argued that although using marginal lands for bioenergy production is often seen as an option to avoid land use change, its low productivity, long distance to bioenergy plants, loss of biodiversity and the competitive use of land by the local communities, could be a challenge. In addition, remoteness of marginal lands and their long distance from the centralised bioenergy facilities may result in logistic and economic challenges.

So it's not like we can simply turn the subcontinent of India into a sacrifice zone for biomass. And what if we did? To begin with — at least under current politico-economic constraints — we'd grow our biomass on plantations as monoculture. (Leaving aside the notion that biomass plantations will be in direct competion with food crops for arable land, moncultures are not resilient. Take for example the eucalyptus trees of Portugal, imported to be used for as a cash crop for paper and pulp. (Hello, Unorganized Territories!) From Geoengineering Monitor, "Fire and Plantations in Portugal":

2017 in Portugal will be remembered for extreme heat waves, severe drought, and catastrophic forest fires. Half a million hectares of land burned, equivalent to 5 percent of the national territory the greatest yearly total in the country's history. [Portugal] has more land planted with eucalyptus than any other EU country. Concentrated in the northern and central regions, roughly 10 percent of Portugal's land area is planted with Eucalyptus globulus, an exotic, highly invasive, fast-growing subtropical tree…. The harm caused by fires in Portugal in 2017 was unprecedented. …. Satellite mapping of the infamous Pedrogão fire has shown that eucalyptus and pine plantations covered around 70% of the burned area, and that these areas experienced high fire severity.

OK, you say, we'll plant trees that don't catch on fire, even with high(er) winds and hot(ter) temperatures. Fine, but monocultures are also not resilient against birds, bugs, fungus, bacteria, viruses, you name it, because when one individual goes, they all go (absent toxic chemicals from Monsanto, and so forth.). Not enough land, bio-energy crops that could end up like your tomatoes when blight hits. .
Because that's what a monoculture is. So naturally, we're betting on BECCS. From the Financial Times:
Planting single species crops that are used as the fuel for bioenergy — renewable energy that produces heat and power — is "detrimental to ecosystems when deployed at very large scales," the researchers said.

Yet bioenergy as a replacement for fossil fuels is being written into emissions reduction blueprints by groups including the influential International Energy Agency and the UK's Climate Change Committee, which advises policymakers.
Anyhow, one thing at a time. If we can at least mentally distinguish forests from tree plantations, and discredit tree plantations for the greed-driven and anti-CR schemes that they are, that will be good. BECCS strikes me as an enormous Rube Goldberg ex machina, bound to collapse from its own flimsiness, useful as a forcing device, and nothing more. So we'd better think of something else. And if we can't, well, a world with more forests in it is better than a world with less forests in it, no matter the temperature.
NOTES
[1] There are many, many definitions of forest, perhaps as many as the uses to which forests are put. Out of scope for this post are individually planted trees, urban trees (as problematic as tree plantations but for different reasons), and food forests (see NC here, here, and here). I am also not going to worry about edge cases like copses, thickets, hedgerows, or groves.