Yves here. This post by Tom Neuburger mentions the treatment of women in Afghanistan, a pet issue in some circles here. I was remiss in not hoisting this section of a fine piece by Tariq Ali in the New Left Review when we linked to it earlier this month:
As for the status of women, nothing much has changed. There has been little social progress outside the NGO-infested Green Zone. One of the country's leading feminists in exile remarked that Afghan women had three enemies: the Western occupation, the Taliban and the Northern Alliance. With the departure of the United States, she said, they will have two. (At the time of writing this can perhaps be amended to one, as the Taliban's advances in the north saw off key factions of the Alliance before Kabul was captured). Despite repeated requests from journalists and campaigners, no reliable figures have been released on the sex-work industry that grew to service the occupying armies. Nor are there credible rape statistics – although US soldiers frequently used sexual violence against 'terror suspects', raped Afghan civilians and green-lighted child abuse by allied militias. During the Yugoslav civil war, prostitution multiplied and the region became a centre for sex trafficking. UN involvement in this profitable business was well-documented. In Afghanistan, the full details are yet to emerge.
And as for our treatment of Afghanistan as a country, as opposed to regions controlled by separate warlords, Americans are largely ignorant of what it took to unify Germany and Italy (and the ways it still hasn't fully taken).
By Thomas Neuburger. Originally published at God's Spies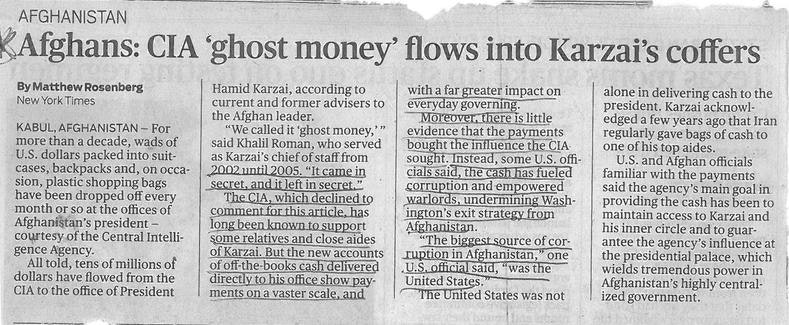 "At that [1969] wedding I went to, after the men ate off the giant platters of food, dogs and slaves ate, and what was left was brought to the women who had prepared the feast."
—Howie Klein
The 'loss' of Afghanistan to the Taliban — if you can lose a nation you never controlled in the first place — has stolen the news cycle as pro-war Pentagon-influenced propagandists made sure to excoriate President Biden for his "failure."
Lurking beneath this story, though, are a number of other, much more important stories involving this debacle and its end. These are a few of them.
First, the U.S. military command, all the way up to President Biden, appeared to have had no idea Afghanistan would collapse this quickly. None. Courtesy of Matt Taibbi and a public post at his Substack site, we find this:
Secretary of State Blinken (July 7th):

"We are not withdrawing, we are staying, the embassy is staying, our programs are staying … If there is a significant deterioration in security … I don't think it's going to be something that happens from a Friday to a Monday." pic.twitter.com/5RGuw4OfZL

— Alex Salvi (@alexsalvinews) August 15, 2021
And Joe Biden had this to say to Jake Tapper on July 8:
Q: Your own intelligence community has assessed that the Afghan government will likely collapse. BIDEN: That is not true, they did not reach that conclusion… There is going to be no circumstance where you see people lifted off the roof of an embassy… The likelihood that you're going to see the Taliban overrunning everything and owning the whole country is highly unlikely.
A large part of the responsibility for the events we are witnessing belongs to the military establishment and its inexplicable blindness. Did they really not know that their puppet government would fall as soon as we left? Seems everyone else did.
Second, another reason for the events we are witnessing is that Afghanistan just isn't a country in any of the traditional senses. Here's Howie Klein, describing an extended trip he took to Afghanistan in 1969, one of several:
That's where I learned that Afghanistan wasn't a country the way we think of a country. The king, one of the prominent citizens told me while I sat around smoking hash with a dozen other prominent citizens, was the king of Kabul. He wasn't the king of Kandahar. I experienced that sentiment almost everywhere I went in the country, but it was most pronounced in Kandahar. Later Kandahar became the spiritual home of the Taliban. Last night when Yarolslav Trofimov, writing for the Wall Street Journal, reportedthat "the Taliban pressed their rapid advance across Afghanistan with the capture of Kandahar," he was really just expressing the inevitable, something I hope to God American war planners already understood was going to happen.
The "King of Afghanistan" is just the King of Kabul. This has been true for centuries.
The "nation" of Afghanistan is a 19th century British construct, meaningless lines on a Whitehall map. The Pashtun areas of Afghanistan have more in common with the Pashtun region Pakistan than they do with the rest of their so-called "country."