By Lambert Strether of Corrente.
More soon. –lambert
Bird Song of the Day
* * *
#COVID19
At reader request, I've added this daily chart from 91-DIVOC. The data is the Johns Hopkins CSSE data. Here is the site. I feel I'm engaging in a macabre form of tape-watching….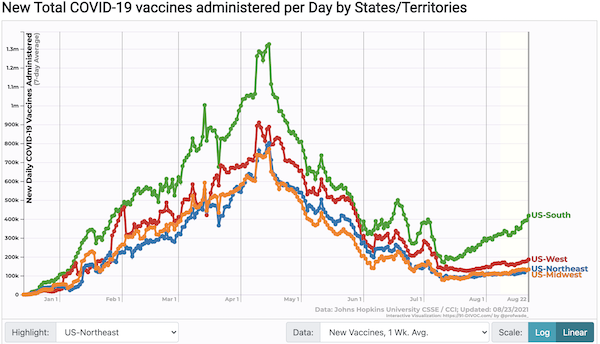 Back up in the South.
51.5% of the US is fully vaccinated, a big moment, breaking the psychological 51% barrier. Every day, a tenth of a percentage point upward. However, as readers point out, every day those vaccinated become less protected, especially the earliest. So we are trying to outrun the virus… (I have also not said, because it's too obvious, that if by Bubba we mean The South, then Bubba has done pretty well.)
Case count by United States regions: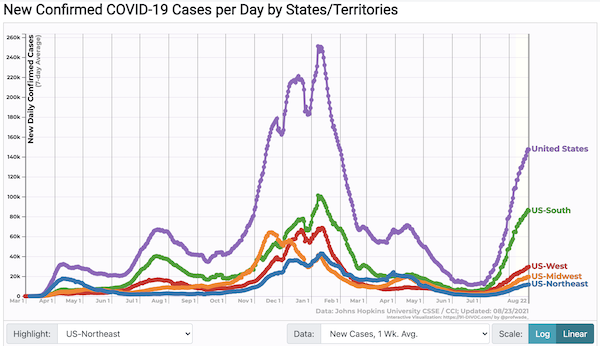 I would say we've moved off the vertical a bit, conforming to the drop in "Rapid Risers" and the drop in positivity. The South begins to slow, but other regions still rise. Still lots of momentum. As far as reaching the peak of January 8, 2021, with 295,257 cases per day … I'm not that pessimistic (modulo a new variant brought into the country by our ridiculously lax policies on international quarantines). What we might call, after Everest, the "First Step" (November 25, 2019) with 178,466 looks in striking distance, especially if the case count purple line continues go near vertical. If things go on as they are, we should hit the first step just in time for Labor Day. But what do I know, I'm just a tape-watcher.
Covid cases top ten states: for the last four weeks (hat tip, alert reader Lou Anton):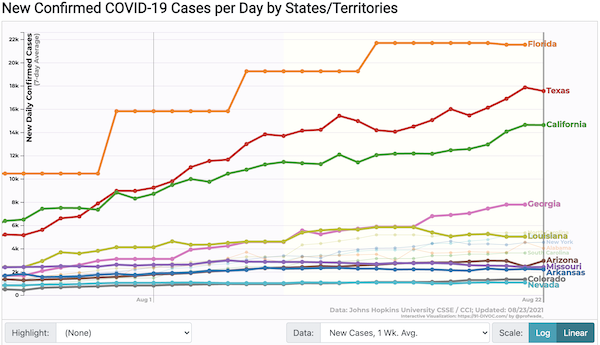 California is Texas's wingman. Meanwhile, Florida staggered ahead (and it's probably worse than Florida's data would seem to indicate) Meanwhile, Georgia and Lousiana, having diverged, have flattened.
From CDC: "Community Profile Report August 19, 2021" (PDF), "Rapid Riser" counties, this release: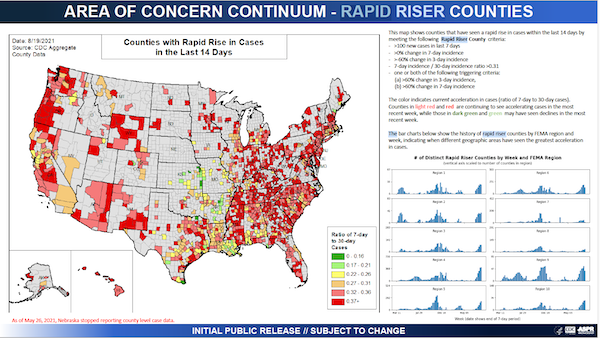 California, the South, the Acela Corridor all more pink. Kansas and Oklahoma more green, part of the general improvement of the Mississippi Valley. Remember, however, that this chart is about acceleration, not absolute numbers. This map, too, blows the "Blame Bubba" narrative out of the water. Not a (Deliverance-style) banjo to be heard. Previous release: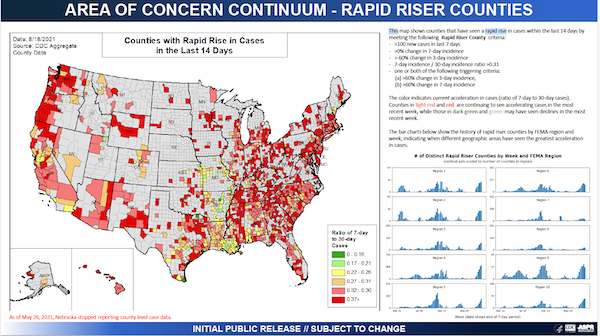 (Red means getting worse, green means bad but getting better. This chart updates Tuesdays and Fridays, presumbly by end-of-day.)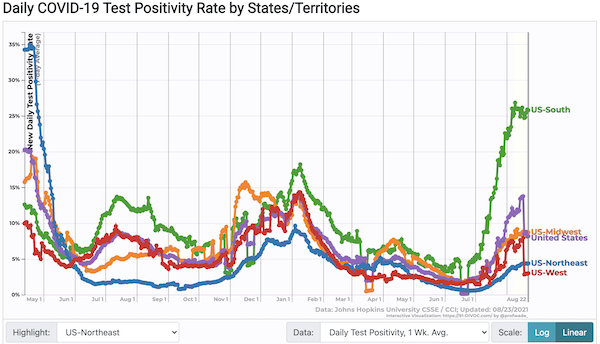 The South is now fiddling and diddling at more or less the same level, and the enormous drop in the West persists. Could be reporting problems.
Hospitalization (CDC): Dammit, this one's gone dark. I wish CDC wouldn't do this. Here the CDC's hospitalization visualization, from the source above: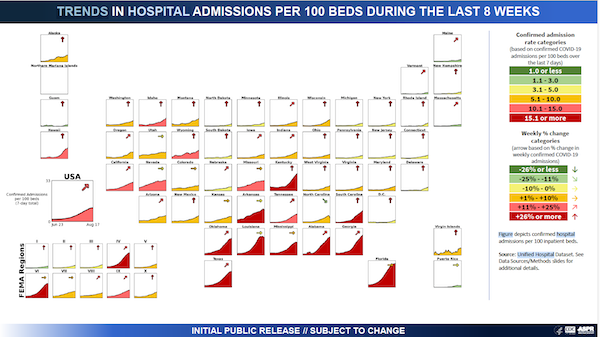 Yet more red states now, still in the South. Not good.
Deaths (Our World in Data):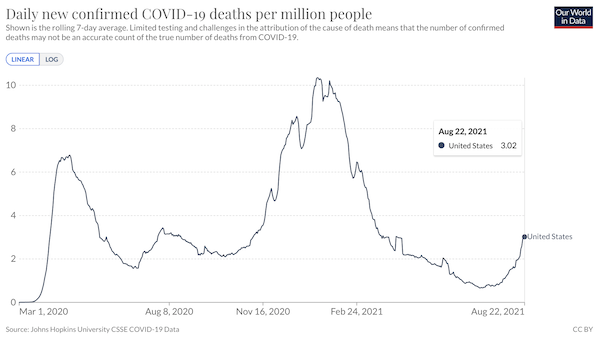 Deaths on trend rising; nowhere near meriting an anti-triumphalist black line, being an order of magnitude less than there were at peak. (Adding: I know the data is bad. This is the United States. But according to The Narrative, deaths shouldn't have been going up at all. Directionally, this is quite concerning.)
Covid cases worldwide: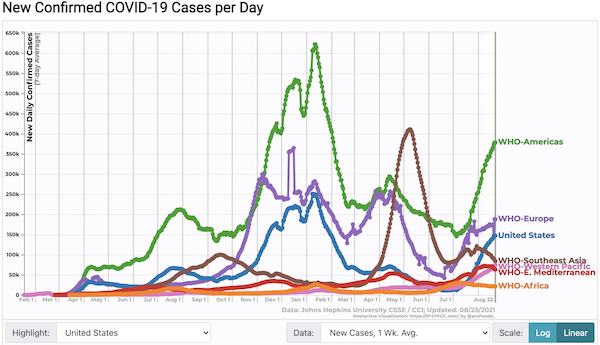 Southeast Asia doing better, I presume because little-covered Indonesia is past a peak. US sphere of influence under the Monroe Doctrine not doing so well.
* * *
Politics
"But what is government itself, but the greatest of all reflections on human nature?" –James Madison, Federalist 51
"They had one weapon left and both knew it: treachery." –Frank Herbert, Dune
"They had learned nothing, and forgotten nothing." –Charles Maurice de Talleyrand-Périgord
Biden Administration
UPDATE A fascinating photo:

Generic Ballot Polling:

Dem: 47%
GOP: 46%

NBC / August 17, 2021 / n=790 / MOE 3.5% / Telephonehttps://t.co/9dcj9GrRAM

— Polling USA (@USA_Polling) August 22, 2021

We have, of course, the halo around the President's head, often achieved with a Presidential seal, but here with a chandelier. Then there is the shininess of the polished floor, which suggests to me that Biden is "walking on thin ice." Then there is Biden's shadow, clear and distinct, unlike those of the individuals in the press gaggle. The shadow could symbolize Biden's dark side. It could also symbolize that Biden, unlike the gaggle, is fully dimensional, a rounded person. Or it could symbolize that "Character is like a tree and reputation is like its shadow," a quote often attributed (no doubt wrongly) to Lincoln. There is also the angle at which the photo is taken: The photographer must have been kneeling or even crawling, which shows deference (although also the desire to do what it takes to get the shot).

UPDATE Grudging respect:

I think Biden is taking entirely the right attitude in this clip and I applaud him. https://t.co/pMaSm16cA8

— Steve Randy Waldman (@interfluidity) August 23, 2021

It's not that Biden is a good President; it's that he has aspects in which he is an improvement over the previous two, uh, three.

UPDATE "Getting out the right way" (1):

It's not that I oppose opening the door, it's that I oppose the *way* we opened the door. I would simply have gotten all of the bowls out beforehand. pic.twitter.com/Zd99yCj1Vb

— Trevor (@trevorjtweets) August 22, 2021

UPDATE "Getting out the right way" (2):

What's happening is that leaving is popular, but it's unpopular with natsec elites and their allies in the media.

So to punish Biden and send a message to future presidents they've cooked up this fake middle ground position that you are now espousing. https://t.co/IvwSQKd4Om

— Matthew Yglesias (@mattyglesias) August 22, 2021

When Yglesias understands something….

UPDATE "Biden focuses on domestic agenda, even as hot spots flare up elsewhere" [Los Angeles Times]. "Every morning this week at 8:45, a newly established "war room" has convened at the White House, with about 20 staffers logging onto a Zoom call to coordinate messaging and deployment of critical resources. The operation has nothing to do with the crisis in Afghanistan — it's about keeping President Biden's big infrastructure push on track. 'The No. 1 priority for our cabinet overall, from our perspective here, is to build support throughout the [August] recess process for the legislative agenda,' said Neera Tanden, a senior advisor to the president who has overseen the war room since July. Tasked with building support for a $1.2-trillion bipartisan infrastructure measure and the Democrats' $3.5-trillion budget proposal, Tanden is dispatching cabinet members to key states, monitoring lawmakers' town halls and arranging hundreds of local TV interviews with administration officials." • Oh, good.

Wasn't it always?

UPDATE: K Street, NW is now open in both directions.

— DC Police Traffic (@DCPoliceTraffic) August 23, 2021
Democrats en Deshabille
UPDATE "Republican support for Mayor Byron Brown's 'Buffalo Party'" [WGRZ]. "Buffalo Mayor Byron Brown, a lifetime Democrat, has signaled his willingness to accept Republican support for his write-in campaign against Democratic nominee India Walton in the Nov. 2 general election. And he's got it. The independent nominating petition he turned in to the Erie County Board of Elections on Tuesday tells the tale: Among those gathering signatures last week in an effort to get Brown's name on a ballot were suburban Republican Party officials, Conservatives, and at least one member of the region's robust community of right-wing extremists. In fact, nearly one-third of the signature pages Brown turned in Tuesday were carried by members of right-leaning parties — most of them Republicans, most of them residing outside the city." • Wow, I'd expect the state and national Democrats to come down on Brown like a ton of bricks. Party loyalty and all that.
Republican Funhouse
UPDATE "The Elephant in the Room Republicans carefully run for president, not knowing if the last one will, too." [New York Magazine]. "The specter of Trump doesn't just loom over the former South Carolina governor's 2024 hopes. In conversations with over a dozen Republican activists and operatives, both in early states and nationally, everyone thought that there was a chance that the former president could run again and everyone had their own odds. Some thought it was unlikely, some thought it was likely but the one thing everyone agreed upon is that Trump's final decision was impossible to predict and to plan for. One Republican close to a potential 2024 candidate compared it to 'being hit by a meteor. There's nothing you can do to control that.'… [T]he clear favorite right now for Trump's mantle right now has yet to show up, Governor Ron DeSantis of Florida. Republicans from across the party kvelled over DeSantis, who has consistently been second only to Trump in polling of Republican primary voters so far. Between his handling of COVID, his sparring with reporters, and his eagerness to embrace pet right-wing causes like critical race theory and trans athletes in school sports, DeSantis has become a star on the right and a fixture on Fox News. 'The most popular presidential hopeful among the activist class,' said one plugged-in Iowa Republican. While Republicans admired the 'bulldog with a filter,' they haven't gotten to see him in person. With a re-election bid coming up in the perpetually purple state of Florida and the ever-watchful eye of Trump upon him, DeSantis has made clear that he is not traveling to early states in the foreseeable future." • Hmm.
Obama Legacy
UPDATE Ouch:

Obama's Massive Birthday Party Concludes With Fireworks Reading 'Stay Home, Stay Safe' https://t.co/AVzoa4e7Gp via @TheBabylonBee

— Big Sky Guy (@BigSkyGuy57) August 23, 2021

Pelosi's Napa shindig ramming the point home, that masks are for little people…
Realignment and Legitimacy
"Allyship":

Allyship has been crucial in many of our #TeamCiti athletes' journeys to the #Paralympics. #Citi stands as an ally to individuals with disabilities and is committed to bringing light to stories like @madiderozario's. Now it's your turn – share your story with #StareAtGreatness. pic.twitter.com/Fr3o1hOSJ4

— Citi (@Citi) August 3, 2021

Like the CIA's intersectionality recruiting advertisement, a case study in the vacuity of woke rhetoric.

UPDATE "The precinct captain's guide to protecting the ballot" [Alice Marshall, Medium]. "I think we can look forward to more Brooks Brother's riots in the 2022 mid-terms, perhaps even in this year's elections in Virginia, NJ, and California. Ideally the Democratic National Committee and all the state parties would be putting plans into place to prevent this. But, judging from the fact that Senate Democrats have failed to abolish the filibuster and pass voting rights legislation, they will take zero steps to protect the count. So now what? First do not worry about those things you cannot control, focus on what you can do. Above all, do NOT believe national leadership or even candidates when they tell you not to worry, they have that covered. Just make sure that YOUR precinct is organized to cope with a violent mob attempting to block the vote count. In my book I talk about procedures for election night, either you, the precinct captain, or someone reliable, goes to witness the vote count. Under normal circumstances merely sending a witness is enough to deter misconduct on the part any election officer unworthy of their office, and assure your party that the count was done properly. But we do not live in normal times. . It will be necessary to train your volunteers, at the very minimum watch the deescalation videos on YouTube." • For those who came in late, the Brooks Brothers riot was staged by Bush political operatives in election 2000 to stop the count in Miami. They succeeded. The beauty part is that all the operatives in the riot were well known to the political reporters covering present at the event. But no names were mentioned until after election 2000 was decided.
Stats Watch
National Activity Index: "July 2021 CFNAI Super Index Moving Average Index Improves" [Econintersect]. "This index is likely the best coincident indicator of the U.S. economy. A coincident indicator shows the current state of the economy. This month, three of the four broad categories improved The economy has slowed from its rate of growth in 2018 but now has moved above territory associated with recessions. The three-month moving average of the Chicago Fed National Activity Index (CFNAI) changed from +0.01 (originally reported as +0.06 last month) to +0.323."
* * *
Banking:
Tech:
Dear Sex Workers,

The OnlyFans community would not be what it is today without you.

The policy change was necessary to secure banking and payment services to support you.

We are working around the clock to come up with solutions.#SexWorkIsWork

— OnlyFans (@OnlyFans) August 21, 2021
Responses to OnlyFans are rather caustic. Remarkable to see this reaction from a Senator:
Using sex workers to build your platform only to kick them off once you make it big is disgusting.

Sex work is work. https://t.co/qnJK7SsSxi

— Cori Bush (@CoriBush) August 19, 2021
And on the house side:
I'm looking at you, @RepAnnWagner

— Sydney Leathers (@sydneyelainexo) August 19, 2021
Supply Chain: "A Supply Chain Leader Shares Their Secret Sauce" [Industry Week]. "In this industry, many competitors have sourced a large percentage of their spend with overseas, low-wage countries. And according to my contact, supply management at this company also was under pressure to do so, and they did. However, they never went full bore into this, and today less than 10% is sourced offshore. In fact, I was told that included in their sourcing vision is —referring to overseas transportation. This type of policy is to be expected for a company placing a high value on supplier order fulfillment flexibility and active collaboration between buyers and the suppliers they are responsible for."
Supply Chain: "Topology of International Supply Chain Networks: A Case Study Using Factset Revere Datasets" (PDF) [IEEXplore]. "The extended network analysis of interfirm networks undertaken in this work provided several interesting results. In terms of the basic topology, we observed that the global as well as the ten country-specific networks considered are all scale-free, even though their scale-free exponents ranged from 1.0 – 2.0, rather than the range of 2.0 – 3.0 observed in most other real world networks. The networks were also relatively sparse, and displayed some small-world properties. Then we identified the firms which were the most central in each country-networks, based on a number of centrality measures. It was found that these were, predictably, quite often large multi-national corporates and government bodies…. We used the Louvian method for community clustering, and found that there were 12 primary communities in the global network which had number of nodes more than 2000…. There were also other interesting features in the community structure. For example, The analysis uncovered a dense cluster among Japanese and Chinese firms (community 7). This contrasts with the trading relationships between US and China, or US and Japan. Although US and China, the two largest economies have the largest numbers of firms in the dataset, no cluster emerged with a predominant presence of firms of these two countries. Conversely to the structure of Japan-China business relationships, US and Chinese firms do not seem to form dense Sino-American business cliques."
Labor Market: "Court rules California gig worker initiative is unconstitutional" [Reuters]. "A 2020 ballot measure that exempted ride-share and food delivery drivers from a state labor law is unconstitutional, a California judge ruled on Friday, as it infringes on the legislature's power to set workplace standards…. 'It limits the power of a future legislature to define app-based drivers as workers subject to workers' compensation law', making the entire measure unenforceable, the judge wrote." • $200 million down the tubes. That's a damn shame.
* * *
Today's Fear & Greed Index: 29 Extreme Fear (previous close: 23 Extreme Fear) [CNN]. One week ago: 49 (Neutral). (0 is Extreme Fear; 100 is Extreme Greed). Last updated Aug 19 at 5:04pm. Surely not Afghanistan?
Rapture Index: Closes down one on Oil Supply/Price. "Oil prices have averaged lower" [Rapture Ready]. Record High, October 10, 2016: 189. Current: 187 (Remember that bringing on the rapture is a good thing, so higher is better.)
Health Care
"Pfizer-BioNTech's COVID Vaccine Gets Full Approval From The FDA" [NPR]. "The Food and Drug Administration has formally approved Pfizer's COVID-19 vaccine. The widely anticipated decision replaces the emergency use authorization granted by the agency last December… That authorization does not extend to children under the age of 12. The FDA acted Monday without convening a customary public meeting of expert advisers to vet information about the vaccine and make recommendations to the regulator. As part of the approval process, the vaccine also got a brand name: Comirnaty. The FDA says that's pronounced 'koe-mir'-na-tee.'" • There was no public meeting, and there was no new data available for public review. FDA gave approval based on the data supplementing Pfizer's application for an EUA. Just to be clear on the ethics, we've run a gigantic experiment on the American people without their informed consent, and are now going to mandate they be vaccinated not based on data but on the absence of data showing harm — which, given what the CDC has become — may not have been collected or even exist — plus a consensus of the general will in the PMC hive mind. They had better be right, is all I can say.
"Talking to a vaccine-hesitant person? Do these 8 things" [Becker's Hospital Review]. "As the delta variant of the coronavirus continues to spread across the U.S. and COVID-19 hospitalizations rise among unvaccinated Americans, healthcare communication professionals are still perfecting their efforts to address concerns among the vaccine-hesitant population." No kidding, and almost two years in. More: "#3 Abandon your biases. You'll have a more productive conversation if you don't make assumptions about someone's reasons for not getting vaccinated. #4 Don't be disrespectful. Vaccine-hesitant Americans won't change their minds after patronizing lectures or beratement." • "Beratement" seems not to be a word. But perhaps it is the word we need now.
The same message:
If all you have for people is derision and distain, and zero resources, keep it to yourself. It won't change shit, and you'll only annoy yourself. That's with anything in life really.

— AshleyStevens (@The_Acumen) August 22, 2021
By contrast to the above two links, this gem of scientific communication must have made the political appointees at FDA wet themselves:
You are not a horse. You are not a cow. Seriously, y'all. Stop it. https://t.co/TWb75xYEY4

— U.S. FDA (@US_FDA) August 21, 2021
1) The message is that those who have already taken Ivermectin have reduced themselves to the status of animals in the eyes of their neighbors, which is natural, since 2) Bubbas ("y'all") are practically animals already. Right? 3) "Stop it" reinforces the coercive power of a professional class that needs to earn the right to coerce, and hasn't. 4) The Tweet is based on a lie: Ivermectin is approved for human use in the United States by the FDA, and a doctor can issue scrip for off-label use. 5) Ivermectin has been used by billions of humans worldwide for decades and has an excellent safety profile. 6) If Ivermectin or other repurposed drugs decrease vaccination uptake, presumably the evidence-based medicine crowd a study to show it. Where is it? 7) I personally know vaccinated people who also take Ivermectin, which is rational, because of breakthrough infections. The whole equation of Ivermectin with "horse paste," now virulently viral in even the best of the PMC, makes me want to hurl. I'm not into mocking the medical choices of desperate people, especially when Ivermectin made for humans is cheap and harmless. One might almost assume that the real issue here is a challenge to the PMC's class power, rather than any medical issue. If an off-label treatment works — and the jury is very much still out — is that so very bad? If the off-label treatment induces the placebo effect, would that so very bad? It will be interesting to see if the FDA modifies this message, or doubles down. I'm long stupid on this one. (To be crystal clear, I myself am fully vaccinated, and support vaccination as a matter of public policy. I would like it if the public health establishment retained sufficient credibility to maintain that public policy.)
"Optional Medicines for the Treatment of COVID-19" [FLCCC Alliance]. "Recently added to our I-MASK+ and MATH+ protocols: Fluvoxamine: 50 mg PO twice daily for 10–14 days. Selective serotonin reuptake inhibitor (SSRI) that activates sigma-1 receptors decreasing cytokine production. Two randomized controls trials have found decreased risk of hospitalization and time to clinical recovery. Larger trials are ongoing." • When Michael Hiltzik of the Los Angeles Times wrote his piece on Fluvoxamine, he mentioned unnamed "claques of advocates" "who have been pushing the anti-malarial hydroxychloroquine or the anti-parasite drug Ivermectin." Surely, therefore, he could not have meant the FLCCC, since they have added Fluvoxamine to their protocols.
"Opinion: As an aerosol scientist, I know schools need masks, HEPA filters and outdoor lunches:" [The Denver Post]. "The school year is beginning across Colorado while the Delta variant of COVID is racing through children at higher rates than at any previous time. Although we are all bone-tired of the pandemic, we need to take stronger measures to protect our unvaccinated kids…. To make that happen, all Colorado schools need to follow the near-unanimous advice from state, regional, and national public health agencies and medical groups to mandate indoor mask-wearing, install more portable HEPA filters, and institute safer lunchtime procedures to slow COVID transmission…. High rates of ventilation and portable HEPA filters clean viruses from the air, reducing build-up." • The CDC gets partial credit for pushing masks indoors. It has not pushed HEPA filters, lunchtime procedures, or ventilation with anything like the same intensity (one might speculate because they would have to accept the aerosol transmission paradigm, which they refused to do). While I am not aware of a national study on school ventilation procedures, CDC's erasure of methods to prevent airborne transmission does not bode well for school re-opening, and such measures would have had to be put in place over the summer in any case.
The Biosphere
It's not that the new normal is new; it's that it's normal:
This is why ship's logs and archival data are so important. What did this place look like when people first saw it? Early French explorers in the Gulf of the St. Lawrence talked about fish so plentiful that they could club them with oars and pull them aboard.

— Paul Kedrosky (@pkedrosky) August 22, 2021
Water
Where's Obama when we need him:
A farmer in Nebraska asking a pro-fracking committee member to honor of his word of drinking water from a fracking location. pic.twitter.com/G9Rx4D25N1

— People Freakout (@peoplefreakout) August 23, 2021
[slaps forehead] I forgot! He's running his campaign to get Black folks vaccinated!
Sports Desk
"What if Olympic athletes went back to competing naked?" [BBC]. "If nudity was made a permanent staple of the Olympics, then over time, it could be that society would revert back to the Greek tradition of viewing athletic nudity through a lens of heroism and celebration. But that certainly would not happen overnight, Barcan says. In the meantime, for many athletes, the emotional energy required to tune out the cultural baggage and societal judgement surrounding nudity would probably take a toll on performance. Under these constraints, the winners of the first nude summer Olympics could wind up being not those with the greatest athletic prowess, but those with the strongest ability to channel the ancient Greek mindset." • Hmm. Maybe we could have them compete naked, and green screen clothes for countries that are modest? The whole Simone Biles saga makes me wonder if we've reached the point of diminishing returns on "performance," and perhaps need to broaden our values.
Poetry Nook
I don't like post-modern genre-bending much. But I do like this:
Mary Ruefle's erasure poem on the wall of The Frost House. Captures the enormity of this moment's grief & sorrow. pic.twitter.com/8A80TAYL8p

— Robin Marie MacArthur (@RobinMacArthur) August 21, 2021
Class Warfare
"Long-Range Interaction and Evolutionary Stability in a Predator-Prey System" [New England Complex Systems Institute (Raymond Sim)]. From 2006, still germane. The Abstract: "Evolving ecosystems often are dominated by spatially local dynamics, but many also include long-range transport that mixes spatially separated groups. The existence of such mixing may be of critical importance since research shows spatial separation may be responsible for long-term stability of predator-prey systems. Complete mixing results in rapid global extinction, while spatial systems achive long term stability due to an inhomogeneous spatial pattern of local extinctions. ." • If I read this correctly, we can have air travel, or stable (not pandemic) infectious diseases, but not both. If so, the precautionary principle would seem to indicate, at the very least, the elimination or severe limitation of international air travel. One can only wonder why that's not on the table. Oh well, Boeing had a good run….
News of the Wired
"Some Tree Buffs in D.C. Took It Upon Themselves to Help Rebuild Notre-Dame" [New York Magazine]. "La forêt [the rafters of Notre Dame] was a latticework constructed from over 1,300 oak trees, mostly in the 12th century….. [L]ast year, French president Emmanuel Macron decreed that the cathedral [would] be reconstructed just as it had been. [Rick] Brown [of Handshouse Studio] knew immediately that he wanted to get in on the reconstruction of la forêt, and knew just whom to dial: François Calame, the head of a group called Charpentiers Sans Frontières, or Carpenters Without Borders. The group acted as a liaison between Brown and the officials at Notre-Dame. They happily sent Brown blueprints of the wooden trusses that made up the attic. He decided he and his group would focus on rebuilding truss No. 6, which stood above the choir and was one of the oldest, and send it to the French as a gesture of American goodwill. It was some 35 feet tall and 45 feet across." • I'm leaving out a lot of glorious technical detail. This article makes me happy and encouraged (not least because we have a nucleus of woodworkers ready when the Jackpot really begins to bite).
Soeaking of regulatory approvals:
* * *
Readers, feel free to contact me at lambert [UNDERSCORE] strether [DOT] corrente [AT] yahoo [DOT] com, with (a) links, and even better (b) sources I should curate regularly, (c) how to send me a check if you are allergic to PayPal, and (d) to find out how to send me images of plants. Vegetables are fine! Fungi and coral are deemed to be honorary plants! If you want your handle to appear as a credit, please place it at the start of your mail in parentheses: (thus). Otherwise, I will anonymize by using your initials. See the previous Water Cooler (with plant) here. Today's plant (RH):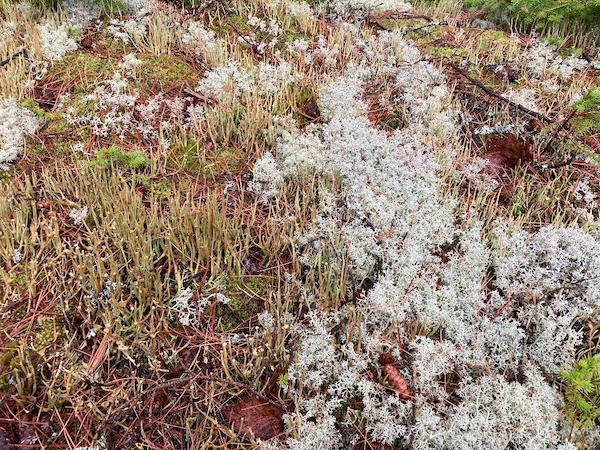 Lichen…
* * *
Readers: Water Cooler is a standalone entity not covered by the recently concluded and — thank you! — successful annual NC fundraiser. So if you see a link you especially like, or an item you wouldn't see anywhere else, please do not hesitate to express your appreciation in tangible form. Remember, a tip jar is for tipping! Regular positive feedback both makes me feel good and lets me know I'm on the right track with coverage. When I get no donations for five or ten days I get worried. More tangibly, a constant trickle of donations helps me with expenses, and I factor in that trickle when setting fundraising goals:
Here is the screen that will appear, which I have helpfully annotated.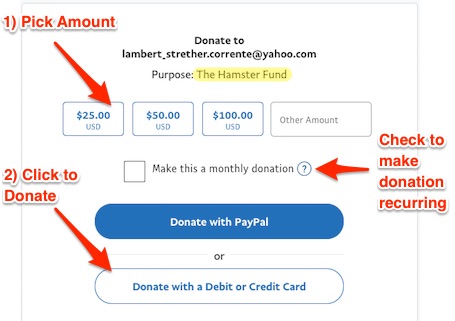 If you hate PayPal, you can email me at lambert [UNDERSCORE] strether [DOT] corrente [AT] yahoo [DOT] com, and I will give you directions on how to send a check. Thank you!2:00PM Water Cooler 6/8/2021