Our reader GM is not happy that the possible very big downside of a recent Covid discovery is not being taken seriously. Lots of nasty new variants of Covid have been found in New York City wastewater. They appear to come from rats.
Now so far, there is no evidence that one of these rat Covid variants has jumped species to humans. But as we'll explain, were that to happen, it could be Seriously Bad. Many of these variants are novel and have the potential to escape current vaccines.
But the reaction to the wastewater study has been underwhelming. And the US already does one of the worst jobs of any advanced economy in terms of sequencing Covid cases to determine the prevalence and spread of variants. So if a ratty Covid were to infect humans, the US would be late to work that out.
From a preprint in MedRxIV, Tracking Cryptic SARS-CoV-2 Lineages Detected in NYC Wastewater:
To monitor New York City (NYC) for the presence of novel variants, we amplified regions of the SARS-CoV-2 Spike protein gene from RNA acquired from all 14 NYC wastewater treatment plants (WWTPs) and ascertained the diversity of lineages from these samples using high throughput sequencing. Here we report the detection and increasing frequencies of novel SARS-CoV-2 lineages not recognized in GISAIDs EpiCoV database. These lineages contain mutations rarely observed in clinical samples, including Q493K, Q498Y, H519N and T572N. Many of these mutations were found to expand the tropism of SARS-CoV-2 pseudoviruses by allowing infection of cells expressing the human, mouse, or rat ACE2 receptor. In addition, pseudoviruses containing the Spike amino acid sequence of these lineages were found to be resistant to many different classes of receptor binding domain (RBD) binding neutralizing monoclonal antibodies. We offer several hypotheses for the anomalous presence of these mutations, including the possibility of a non-human animal reservoir.
GM explains:
I was never worried about minks as a reservoir, those are mostly solitary and likely can't sustain a transmission chain.

But rats in the sewer is a completely different situation.

And it's not just that there is an external reservoir, as the paper notes, you select for somewhat different mutations in rodents. That can still infect humans, only now the major neutralizing epitopes are taken out.

Also, this will screw up the few remaining ZeroCOVID countries too unless they start maniacally screening all cargo shipments. The Chinese might try, but they also have a gigantic land border and that effort is doomed in the long run…
Now on the one hand, New York City is estimated to have only about 2 million rats, compared (pre Covid) about 10 million humans. In London, the population jumped about 25% during 2020, so it's reasonable to assume if anything their numbers are higher now.
If you have spent any time in New York City, you are sure to have seen them. Rat sighting is a form of spectator sport: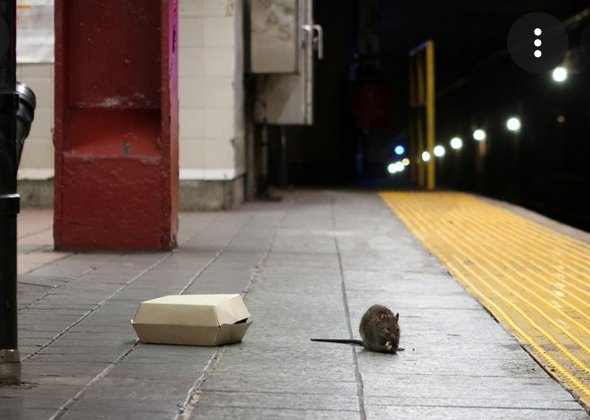 On the other hand, if you look at the CDC website, the very first rodent disease listed as directly transmitted to humans, Hantavirus Pulmonary Syndrome, has a primary transmission mechanism that doesn't even require you to have been within eyeshot of a rat: "Breathing in dust that is contaminated with rodent urine or droppings."
Most Western countries have not taken fecal aerosol transmission seriously (although some readers have pointed out the risk of airport toilets, which can't be covered while flushing). From a post this March by William A. Haseltine, former Harvard Medical School professor, in Forbes:
Last year, I conducted an interview with a friend who traveled to Shanghai and was forced to quarantine in a hotel for 11 days under the supervision of local health authorities..

One detail, however, struck me as rather curious, if not startling. When my friend checked in, a woman handed them a blue bucket and a little bottle of disinfectant tablets. "For toilet," she told him, then laughed when she saw the look of shock and horror on his face. "No, no, no, no. Not for that. Dissolve the tablets in water in the bucket, then dump the mixture into the toilet before you flush." It didn't matter whether it was number one or number two, my friend told me. He had to treat his waste as if it was potentially infectious and carrying the virus that causes Covid-19, SARS-CoV-2—using half a bucket of water and six tablets for urine, or a whole bucket and twelve tablets for feces….

In theory, the virus can travel from one person's waste to another's lungs through one of two routes. The first is fecal-oral route, which involves either direct ingestion of contaminated water through the mouth or indirect exposure through the eyes or nose. The second is what I call the fecal-aerosol route, whereby the virus enters the body via sewer gas or even smaller, yet still virus-laden particles known as aerosols. The ability of the virus to successfully traverse either depends on whether it can remain infectious and replicate at sufficient concentrations as it slogs through the digestive juices of the human gut.
Not to ruin your breakfasts, if you are reading this post over a morning repast, but a friend points out that rats (like other mammals) like to hang out near basement heaters and steam pipes in the winter. That means they pee and poop on them. And hot air rises….
Recall that on 1/3, if not more, of the Covid cases include digestive symptoms; some Covid cases present with those first and are initially mistaken as an intestinal bug. But because other aspects of the disease appear to be more dangerous, what Covid does in and to the gut hasn't gotten much attention.
Mind you, even if fecal transmission is now uncommon, the rat variants are sufficiently different, um, "cryptic" that if they do start infecting humans, their behavior could also be different. GM is alarmed:
In this paper, WNY4 takes all out 3 classes of monoclonals. And WNY4 has an absolutely brutal combination of mutations:

K417T N439K K444N Y449R L452R N460K S477N Δ484 F486V S494T G496V Q498Y N501T G504D 505H H519Q

And that's in the RBD alone.

That's basically all the immune escape mutations from all human variants plus some more.

And it still binds the human receptor, though with a decreased affinity, but it will be infectious.

Quite possible current vaccines will not work at all against this.

Some of those mutations, like Q498 and Q493 might actually be adaptations to rodent ACE2. They just happen to be immune escape ones too.

It's been a mystery why we don't see them taking over in humans because in certain combinations with other mutations, they have been predicted to dramatically increase receptor affinity eve for hACE2.

P.S. WNY4 isn't really even a "variant", that's a new strain by all reasonable definitions.
Rats with Covid are an obvious possible danger, given that they already transmit 26 diseases to humans, according to the CDC. But these rat infections also illustrate the way that Covid is becoming endemic in animals. The broad infections across species is reminiscent of rabies (fortunately without its level of mortality). For instance, deer, which most suburbanites regard as rats with hooves, are also showing alarming levels of Covid. A wild deer survey in Michigan found that more than half have Covid antibodies.
Rather than organizing an effort to monitor this hazard and game out responses, the CDC is instead busy defending itself on its flip-flop of asking the vaccinated to mask up. Since the National Nurses Union and the California Nurses Union were both very critical of the CDC's "Mission Accomplished" in May, why not let them handle the PR push? Most Americans would put a lot more faith in nurses than any public health official right now.
GM points out the US isn't deploying its genetic sequencing capabilities to get a better handle on this risk:
The one somewhat positive thing is that we still do not see these spilling back over into humans.

But on the other hand, it is not like there is much sequencing going on, even though supposedly a very large sum of federal money was dedicated to sequencing a few months ago (after which the number of sequenced samples promptly went down).

Also, for something like WNY4 that has so many mutations, it is quite possible that the current PCR primers don't work at all, so whoever contracts that will not test positive to begin with, thus it will never get sequenced…

Speaking the Black Death though, one has to wonder what these adaptive changes meant in terms of virulence and virulence to which species.

Every time these viruses have been passaged in rodents, they go from mostly harmless to lethal.

So is the rodent population going down in NYC? Nobody is looking I guess.

How much has it spread among the rats? That's actually kind of trivial to check — just collect a bunch of rats, there are plenty of them, test the blood for antibodies.

Is anyone going to test these viruses in the lab on mice and rats to see how they compare to the Wuhan one? That might happen.

Are they going to also be more lethal to humans? Hopefully we never find out…

Also, there is one very unfortunate aspect of the paper — they only sequenced RBDs, not whole viruses, not even whole spikes. What other mutations happened elsewhere is anyone's guess.
Nassim Nicholas Taleb, in January 2020, warned of the risk of Covid as a pandemic in January 2020:
The general (non-naive) precautionary principle [3] delineates conditions where actions must be taken to reduce risk of ruin, and traditional cost-benefit analyses must not be used. These are ruin problems where, over time, exposure to tail events leads to a certain eventual extinction. While there is a very high probability for humanity surviving a single such event, over time, there is eventually zero probability of surviving repeated exposures to such events. While repeated risks can be taken by individuals with a limited life expectancy, ruin exposures must never be taken at the systemic and collective level. In technical terms, the precautionary principle applies when traditional statistical averages are invalid because risks are not ergodic.
Naive Empiricism

Next we address the problem of naive empiricism in discussions related to this problem.

Spreading rate: Historically based estimates of spreading rates for pandemics in general, and for the current one in particular, underestimate the rate of spread because of the rapid increases in transportation connectivity over recent years. This means that expectations of the extent of harm are underestimates both because events are inherently fat tailed, and because the tail is becoming fatter as connectivity increases.

Global connectivity is at an all-time high, with China one of the most globally connected societies. Fundamentally, viral contagion events depend on the interaction of agents in physical space, and with the forward-looking uncertainty that novel outbreaks necessarily carry, reducing connectivity temporarily to slow flows of potentially contagious individuals is the only approach that is robust against misestimations in the properties of a virus or other pathogen.
Not only are rats incubating new Covid variants (and mutations!) that could jump to humans, but the reason for additional alarm is that if that happens, the rats become a new connectivity vector for the disease, increasing the propagation modes beyond human to human. And there is no way we can rid ourselves of rats….