By Lambert Strether of Corrente.
I was going to post on data in our health care system, with particular attention to CDC, HHS, and hospitals, but when push came to shove, I just couldn't do it. I was going to start by transcribing part of episode "3.2-The Broken Regime" from Mike Duncan's Revolutions, on legal jurisdiction in the ancien regime, as a metaphor for the scale and scope of the problem, but I hate making transcripts, so here we are. Maybe next time. Anyhow, I love trains: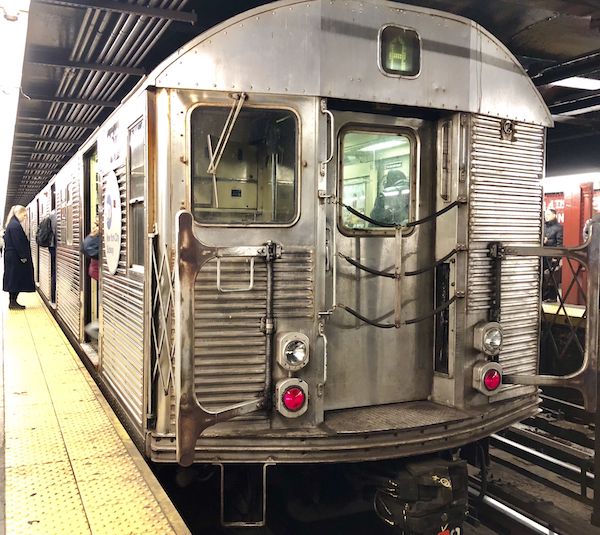 I have always found the New York City Subway (NYCS) exciting (although if making a connection depends on knowing which trains run on which tracks, stress replaces excitement). From a prosaic station on the street, one descends down grimy steel and concrete steps into a heated, noisy, crowded realm of criss-cross shadows and round bright lights, of complex signage, of wonderful maps, of ceramic mosaics, incomprehensible announcements, of cars that are an odd mixture of worn metalwork and digital technology, all in the midst of New Yorkers who are rushing, busking, standing and watching, waiting patiently or crankily, or reading. (I have always found New Yorkers very helpful to a bewildered out-of-towner: One, who looked like a lawyer, actually helped me carry my suitcases downstairs. The stairs of the New York Subway aren't as bad as the Paris Métro, but they are bad, and the elevator system is hellishly conceived and obscure, perhaps fortunately.)
All of which goes to show that the New York Subway is a great civilizational achievement. From the Library of Congress:
The New York City Subway is an exemplar of public transportation in the United States, and even in the world. It is one of the world's oldest public transit systems, one of the world's longest subway systems, the largest rapid transit system in the world by number of stations, and furthermore, one of the world's most-used metro systems. Thousands of tourists and locals ride the trains every day of the year, at every hour of the day. Now an iconic staple of New York City, many New Yorkers cannot even imagine their lives without the subway system.
Let's hope they never have to. However, I saw this story come over the wires just now, and it gave me pause:
A "sequence of failures" in New York City's subway system following a brief power outage disrupted half of the system for several hours and stranded hundreds of passengers…

Gov. Kathy Hochul said Monday.Hochul said in her later news release that she has directed the MTA to retain two independent engineering firms "to assist in a thorough deep dive of what happened and make recommendations to ensure ."

New York City Mayor Bill de Blasio said at a virtual news briefing that city agencies were working with the state and the MTA to investigate the disruption. "We've got to figure out why this happened and ," de Blasio said.
But will "it" happen again? I would urge yes, given that the NYCS is fragile. From Nassim Nicholas Taleb in Anti-fragile:
You are in the post office about to send a gift, a package full of champagne glasses, to a cousin in Central Siberia. As the package can be damaged during transportation, you would stamp "fragile," "breakable," or "handle with care" on it (in red). Now what is the exact opposite of such situation, the exact opposite of "fragile"? Almost all people answer that the opposite of "fragile" is "robust," "resilient," "solid," or something of the sort. But the resilient, robust (and company) are items that neither break nor improve, so you would not need to write anything on them—have you ever seen a package with "robust" in thick green letters stamped on it? Logically, the exact opposite of a "fragile" parcel would be a package on which one has written "please mishandle" or "please handle carelessly." Its contents would not just be unbreakable, but would benefit from shocks and a wide array of trauma. The fragile is the package that would be at best unharmed, the robust would be at best and at worst unharmed. And the opposite of fragile is therefore what is at worst unharmed.
Clearly the NYCS is not anti-fragile; it does not grow stronger through trauma[1]. Nor is it robust, as we see. The NYCS is fragile, which Taleb also defines:
For the fragile, shocks bring higher harm as their intensity increases (up to a certain level).
When Hochul says…
"The MTA [Metropolitan Transit Authority[2]] is the lifeblood of this city… Thank God it was a time of low ridership, it was on a weekend night. I can't imagine if this happened during a morning commute"
… she is saying the NYCS is fragile.
Given that the NYCS is fragile, we might also say that it is not Jackpot-ready. So it's with some confidence that I'm laying in the footings for future posting with this one. Since the NYCS is huge and complicated, there's no way I can be exhaustive about any of these topics. Not only that, the NYCS is extremely dynamic and highly politicized — he whinged — so it's hard to get the material under control. I hope readers — especially New Yorkers — will expand on or correct the points that I am able to make, which are essentially driven by "pain points" in the press, and fascinating nuggets thrown up as I did my reading. I will glance at four NYCS systems: Track, Electrical, Tunnel, and Social Relations.
The Track
Let's start with the tracks. I did not find any material on track problems, other the crews have a hard time maintaining track in a subway. I did find this amazing factoid:
The city create[d] not only a mammoth network of 665 miles of track and 472 stations — still the largest number of stations of any system in the world — but also a system that would operate 24 hours a day, every day.

But here's the catch: Because New York City's subway was built for 24/7 service, the train yards are too small to store every car all at once. The trains literally can't stop, even during pandemic times, to make space. "There isn't an ability to turn off the system," said Ben Kabak, the author of Second Avenue Sagas, a widely read New York City blog. "So the trains that are running are still running."

Indeed, since May, the city that never sleeps has really been in a sort of fever dream. You can still hear the screeches of the ghost trains at night, empty except for MTA workers, police officers, and other authorized parties.

Running trains nonstop is hard: It makes repairs or upgrades (such as signal improvements, which they desperately need) more time-consuming and costly, especially when lines share the same track.
So the NYCS is like a shark: It has to keep swimming! And the need for continuous operation makes everything else harder.
Electrical Systems
Con Ed (Consolidated Edison Company of New York, an entity with its own problems) supplies power to the NYCS. An electrical system failure at Con Ed shut down the NYCS:
Hochul said Con Edison reported losing a feeder "for a short period of time" just before 8:30 p.m. Sunday "that resulted in a voltage dip across New York City."

She said the outage was "momentary" and a backup system was activated. "But when they tried to go back to normal, there was a surge—an unprecedented surge—that resulted in the subway losing signalization and communication ability," Hochul said. "The confluence of events that led to this has never happened before to our knowledge," she said.
But the NYCS is an entity with problems of its own. It did not "go back to normal":
A battery-powered backup system managed to keep it operational for about 45 minutes. Even though there are two emergency generators designed to automatically replace the battery power in cases of power outages, the generators failed to turn on—and the MTA's alert system failed to send alerts that the back-up generators weren't working, making subway managers think the subways were on generator power. The batteries then ran out at 9:14 p.m., causing the disruption.
Well, at least they didn't crack the control rods. With no power whatever, the trains wouldn't run, because their motors couldn't turn. If signals (think "traffic lights") have no power, running trains would be extremely dangerous, because two trains might try to occupy the same track at the same time. Interestingly — the NYCS is in fact dynamic — signalization has recently improved:
It's the work of a team at the MTA that's been fixing and replacing faulty signals that slow trains down.

The effort stems from a problem that former Transit President Andy Byford identified early in his tenure: why were the trains always running behind schedule?

After speaking with workers…
What a concept!
… he quickly learned that the century-old signals were damaged, causing trains to put on their emergency brakes, even if they weren't speeding through a signal. This was causing conductors to drive extra slowly to avoid setting them off, resulting in both delayed trains and possible reprimands for tripping signals.The work Byford's signal repair team began saw big payoffs just as he was leaving, with customer wait times dramatically reduced. In February 2020, just before the pandemic hit, the MTA reached a five-year record, with 84% of trains arriving on time overall, and riders taking 1.7 billion subway rides in 2019.

Despite concerns that Byford's efforts would be halted when he departed, taking his "signals guru" with him, the work has continued.
(Byford had a falling out with New York's quondam Governor, sex pest Andrew Cuomo, which I would file below under "Social Relations" if I wanted to go into it.)
From the tracks and the signals to the tunnels.
Tunnels
The main problem with NYCS tunnels is water. Specifically, flooding. As you read on Naked Capitalism last month:
Even on a dry day, the MTA says it pumps 14 million gallons of water out of subway stations.

But on Thursday, as a month's worth of rain deluged the city inside of two hours, the vulnerability of the subway went on full display in videos of commuters wading waist-deep into pool-like stations…..

"If the rain is coming down at 100 gallons a minute and the pumps are 50 gallons a minute, you've lost the battle," said Robert Paaswell, a distinguished professor of engineering at the City College of New York.

The sudden soaking of stations in Upper Manhattan and The Bronx, which typically do not experience heavy flooding, underscored the exposure of a nearly 117-year-old subway system not built for the extreme weather wrought by climate change.
The NYCS suffered terrible damage from Hurricane Sandy:
Millions of gallons of saltwater poured into the subway system, flooding nine of NYCT's 14 tunnels. The saltwater's corrosive effects damaged or ruined walls, tracks, switches, signals, controls, power and communication cables. In the storm's immediate aftermath, NYCT crews scrambled to restore service. Remarkably, they got the system back up and running in three days. But they completed those tasks knowing full well that it would be several years before all reconstruction would restore the subway to pre-Sandy condition, says NYCT spokesman Kevin Ortiz….

"From the very beginning, we said this was going to be a process that would be years in the making," says Ortiz of the Sandy recovery. "As we've moved forward, we've followed a parallel track of making repairs and, at the same time, hardening the system against future storms."
Here is the current state of the system after Sandy:
But nearly nine years after the superstorm, dozens of other projects designed to strengthen the transit system against future catastrophic weather events remain unfinished — with the pandemic slowing some for months at a time, an examination by THE CITY found.

From erecting miles of protective walls around subway yards in Coney Island and Upper Manhattan, to finishing repairs along the Rockaway Line, to replacing a waterfront Staten Island Railway facility that flooded during the storm, the MTA's nearly $8 billion federally funded Sandy repair program is a slow-moving work in progress, agency records show.

"We are not fully protected — Sandy was not a once-in-100-years storm and we could potentially get hit by another major storm at any time," said Lisa Daglian, executive director of the Permanent Citizens Advisory Committee to the MTA. "The more protected we are, the better."
You never want to hear running water in the basement….
Social Relations
Where to begin. Since I don't have a handle on the NYCS institutionally, I can't say a lot about social relations as opposed to categories. The material I found falls under the following headings: Labor shortage, unions, hysteresis, contractors, and managerial dysfunction. (There is also the issue of a fare shortage, since ridership plunged when the pandemic began, but I'm skipping the topic of financing.)
Labor shortage. From Bloomberg: "A wave of pandemic retirements and a hiring freeze have left the system short on operators and conductors, the New York Times reported this week, leading to the cancellation of almost 5% of scheduled trains in June and long waits for passengers of some lower-frequency lines."
The Unions. Many of these sources would, I think, say "the goddamned unions" in conversation. From City Journal, which certainly would: "Cuomo has passed up several opportunities for MTA reform. In 2011, both the Manhattan borough president and the head of MTA Capital Construction publicly acknowledged the agency's high capital costs, but the state government in Albany never investigated the root causes of these high costs, even in comptroller's reports on MTA finances. And though Cuomo claimed in last week's debate that, thanks to his anti-waste efforts, certain unions "have been mad at me for seven years," he has accommodated the MTA's unions…. It's hard to believe that transit unions are mad at Cuomo when, during his primary battle with Cynthia Nixon, the Transit Workers' Union campaigned for him." This leads me to–
Hysteresis is "the impact of past experience on subsequent performance." I don't see how City Journal, for example, can price labor in the NYCS, because the NYCS is so unique; it's almost more like a holding in a library or a museum than anything else. It follows that the workers have tremendous knowledge of the material aspects of the system — see the anecdote on signals, above — and that's simply worth writing a check for and working with, instead of against. Nobody's doing to be outsourcing the NYCS to Uber's precarious workers anytime soon.
Contracting. From New York Magazine: "People will say to me, 'Why are MTA construction costs so high?' And the answer is 'Everything,'': says Julia Vitullo-Martin, a senior fellow at the [Regional Plan Assocation (RPA)] and co-author of its 2018 report comparing New York's construction costs to those in peer cities. 'Every factor you look at is flawed the way the MTA does business, from the first step to the end.'… [I]n the case of the MTA, the root cause of its capital-construction failures is usually diagnosed as unaccountability: Nobody knows who's in charge, so nobody has to be terrified of taking the blame for obscene costs and endless delays." Leading us to–
Managerial dysfunction, as exemplified by Cuomo defenestrating Byford, who succeeded upward to Commissioner of Transport for London.
Conclusion
The climate-paranoid — or climate-rational — person could certainly combine several of these individual issues into an enormous cascade dwarfing Hurricane Sandy in effect. The fragility of the New York City Subway System is the fragility of New York City, so that would be unfortunate.
NOTES
[1] It would seem, however, that capitalism is anti-fragile, an interesting result from the enormous natural experiment that is the Covid pandemic. If it is not, we have not reached the point where it is not.
[2] The MTA is responsible not only for the NYCS, but for buses, commuter rail, and some bridges and tunnels.