By Lambert Strether of Corrente.
Bird Song of the Day
* * *
#COVID19
At reader request, I've added this daily chart from 91-DIVOC. The data is the Johns Hopkins CSSE data. Here is the site. I feel I'm engaging in a macabre form of tape-watching….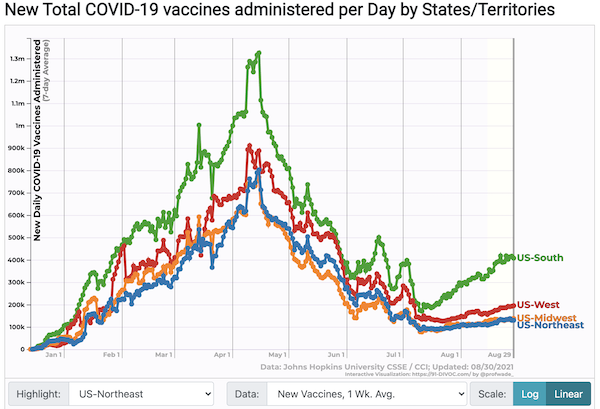 South still fiddling and diddling.
52.3% of the US is fully vaccinated, a big moment, bursting through the psychological 52% barrier. Every day, a tenth of a percentage point upward. However, as readers point out, every day those vaccinated become less protected, especially the earliest. So we are trying to outrun the virus… (I have also not said, because it's too obvious, that if by Bubba we mean The South, then Bubba has done pretty well.)
Case count by United States regions: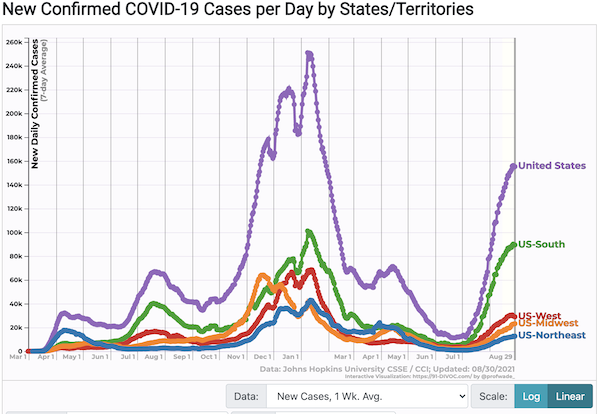 Slowing acceleration!
Covid cases top ten states: for the last four weeks (hat tip, alert reader Lou Anton):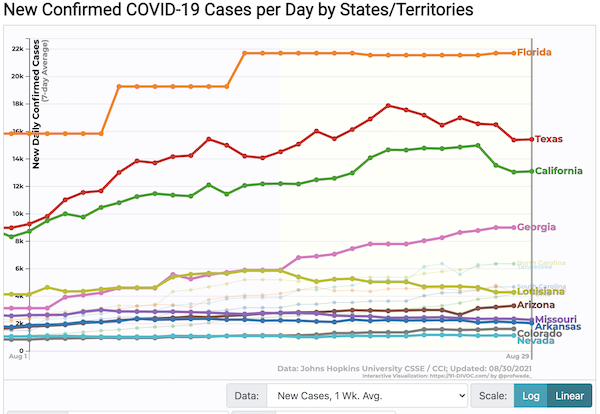 Texas and California back in tandem. .Meanwhile, Georgia and Louisiana have diverged.
From CDC: "Community Profile Report August 25, 2021" (PDF), "Rapid Riser" counties, this release: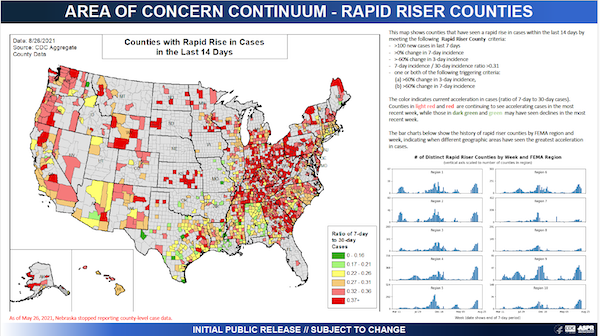 Lots and lots of yellow and green, especially in the South and the Acela Corridor. Florida is almost clear (which I should have mentioned already). Northern Maine (quite lightly populated. suddenly turned red. I hate to be optimistic, but it looks like this fever has broken (thought the back to school bump, IMSHO, has yet to really take hold.) Remember, however, that this chart is about acceleration, not absolute numbers, so the case chart still has momentum. This map, too, blows the "Blame Bubba" narrative out of the water. Not a (Deliverance-style) banjo to be heard. Previous release: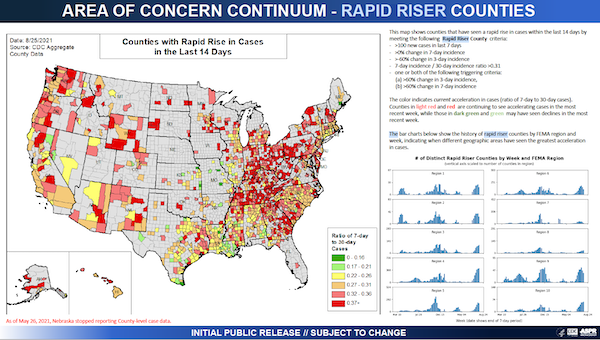 (Red means getting worse, green means bad but getting better. This chart updates Tuesdays and Fridays, presumbly by end-of-day.)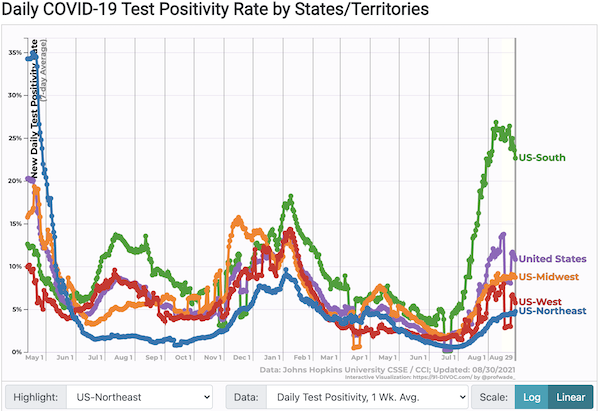 The South drops, and a smaller drop in the West.
Hospitalization (CDC): This is where CDC moved its hospital data: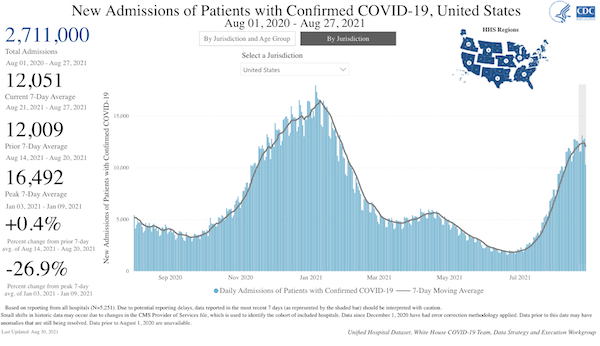 Here the CDC's hospitalization visualization, from the source above: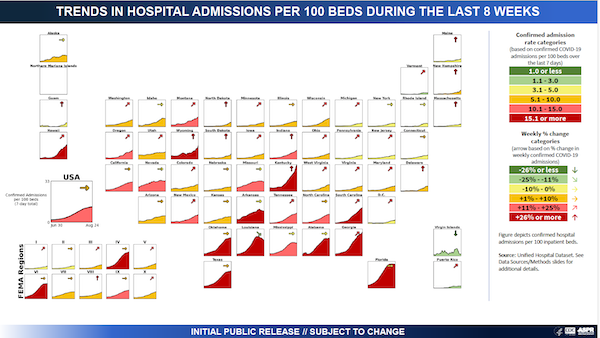 The Gulf Coast is red, but moderating. Several states in the West is pink and increasing, except for Colorado, which is red.
Deaths (Our World in Data):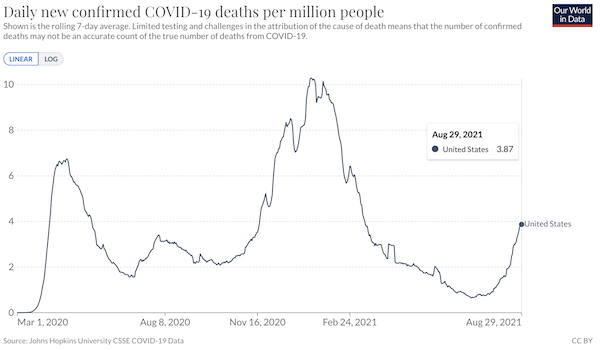 Deaths on trend rising. (Adding: I know the data is bad. This is the United States. But according to The Narrative, deaths shouldn't have been going up at all. Directionally, this is quite concerning. Needless to see, this is a public health debacle. It's the public health establishment to take care of public health, not the health of certain favored political factions.)
MS: "Mississippi Passes NY's COVID Death Rate As Gov. Reeves Says Mississippians 'A Little Less Scared'" [Mississippi Free Press]. "Mississippi has now surpassed the state of New York, the nation's original pandemic hotspot, in total COVID-19 deaths per capita. The only state where the pandemic has proven deadlier than the Magnolia State is New Jersey. Mississippi displaced New York with a report of 65 additional deaths on Friday—a day after Gov. Tate Reeves told a Tennessee audience that southerners are 'a little less scared' of COVID-19 due to their religious faith."
Covid cases worldwide: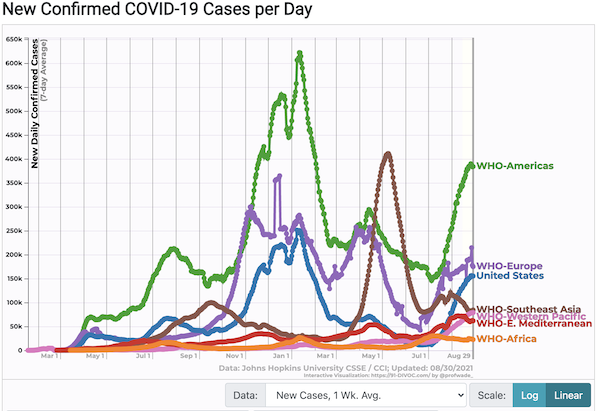 A little dip in the US. Southeast Asia doing better, I presume because little-covered Indonesia is past a peak. US sphere of influence under the Monroe Doctrine not doing so well.
* * *
Politics
"But what is government itself, but the greatest of all reflections on human nature?" –James Madison, Federalist 51
"They had one weapon left and both knew it: treachery." –Frank Herbert, Dune
"They had learned nothing, and forgotten nothing." –Charles Maurice de Talleyrand-Périgord
Biden Administration
"Biden Deserves Credit, Not Blame, for Afghanistan" [David Rothkopf, The Atlantic]. "Unlike his three immediate predecessors in the Oval Office, all of whom also came to see the futility of the Afghan operation, Biden alone had the political courage to fully end America's involvement. Although Donald Trump made a plan to end the war, he set a departure date that fell after the end of his first term and created conditions that made the situation Biden inherited more precarious. And despite significant pressure and obstacles, Biden has overseen a military and government that have managed, since the announcement of America's withdrawal, one of the most extraordinary logistical feats in their recent history. By the time the last American plane lifts off from Hamid Karzai International Airport on August 31, the total number of Americans and Afghan allies extricated from the country may exceed 120,000."
Trump Legacy
"'It Nearly Killed Me': Michael Caputo's Life After Years Fighting for Trump" [Politico]. "Caputo's cell phone sounded, his ringtone 'Ripple' by the Grateful Dead, a song about dark and dawn, falling down and getting up and uncertain roads ahead." • Let the rehabilitation begin! (And remarkably fast, too!)
Obama Legacy
Happy anniversary to the biggest scandal of the Obama presidency. pic.twitter.com/NloqB6OR13

— Andrew Weinstein (@Weinsteinlaw) August 28, 2021

The account is chair of @TheDemocrats. What's frightening is that there are still people who may actually believe this.
Realignment and Legitimacy
"Bad News: Selling the story of disinformation" [Harpers]. "Look closer and it's clear that much of the attention for sale on the internet is haphazard, unmeasurable, or simply fraudulent. [Tim Hwang, a lawyer who formerly led public policy at Google] points out that despite being exposed to an enormous amount of online advertising, the public is largely apathetic toward it. More than that, online ads tend to produce clicks among people who are already loyal customers. This is, as Hwang puts it, 'an expensive way of attracting users who would have purchased anyway.' Mistaking correlation for causation has given ad buyers a wildly exaggerated sense of their ability to persuade. So too has the all-important consumer data on which targeted advertising is based, and which research has exposed as frequently shoddy or overstated. In recently unsealed court documents, Facebook managers disparaged the quality of their own ad targeting for just this reason. An internal Facebook email suggests that COO Sheryl Sandberg knew for years that the company was overstating the reach of its ads. Why, then, do buyers love digital advertising so much? In many cases, Hwang concludes, it's simply because it looks good at a meeting, blown up on an analytics dashboard: 'It makes for great theater.' In other words, the digital-advertising industry relies on our perception of its ability to persuade as much as on any measurement of its ability to actually do so. This is a matter of public relations, of storytelling. And here, the disinformation frame has been a great asset."

"Wellness Mommy Bloggers and the Cultish Language They Use" [Harper's Bazaar]. "In Cultish, Montell explores the language used by everyone from the notorious Jim Jones, who coerced nearly 1,000 members of his church to kill themselves in 1978 to the leggings-hawking direct sales company LuLaRoe. What unifies all these organizations and leaders is the use of language deliberately designed to make followers feel like part of a community, to feel privy to salvation or a higher power of being. Whether that salvation comes in the form of personal fulfillment and financial freedom by way of #bossbabe prowess, or in the form of toned arms, or in the form of ultimate spiritual transcendence, is mostly irrelevant. What distinguishes a cultish group from, say, a group of energized, enthusiastic people bent on achieving a certain outcome or goal, is the group's employment of certain words and phrases designed to create stark, inalienable binaries between 'us' and 'them.' If you're fluent in a cultish dialect, you are chosen, you are powerful, you are special." • Hmmm.

"She spread election conspiracies. It ruined her life." [Arizona Agenda]. Fascinating. One nugget: "To try to help her make sense of the last nine months, [Staci Burk] created an organizational flow chart of names, color-coded by how they all came into her life and how they relate to each other. 'There's no way out of this without believing one conspiracy or another,' she said in a recent interview. 'Because either all these guys coordinated to pull off a big grift, and it was for fundraising and for whatever they're doing right now over at the circus (audit). Or there was actual election fraud.'" • So to make sense of it all, Burk creates… a yarn diagram. I'm starting to think that yarn diagrams don't have the explanatory power we think they do.

Interesting question:

What do you think @glennkirschner2? Admissible in court as part of a future negligent homicide case? https://t.co/bitfP4Ocv4

— Mehdi Hasan (@mehdirhasan) August 29, 2021

If this is admissible, the governor of Mississippi is gonna have to get in a long line.
Stats Watch
"Founders Retire. GEI Transferred To New Owner" [Econintersect]. "After nearly 11 years of 24/7/365 operation, Global Economic Intersection co-founders Steven Hansen and John Lounsbury are retiring. The new owner, a global media company in London, is in the process of completing the set-up of Global Economic Intersection files in their system and publishing platform. The official website ownership transfer took place on 24 August." • I hope Hansen and Lounsbury made something on the deal; Econintersect was one of the last of the old-school blogs, and I always enjoyed it. Best of luck to them.
Manufacturing: "United States Dallas Fed Manufacturing Index" [Trading Economics]. "The Federal Reserve Bank of Dallas' general business activity index for manufacturing in Texas fell to 9.0 in August of 2021 from 27.3 in the previous month, pointing to the smallest growth in factory activity since January."
* * *
Shipping: "U.S. Port Problems Reach Worst of Pandemic Amid Crush of Imports" [Bloomberg]. "The number of ships waiting to enter the biggest U.S. gateway for trade with Asia reached the highest since the pandemic began, exacerbating delays for companies trying to replenish inventories during one of the busiest times of the year for seaborne freight. Forty-four container carriers were anchored and awaiting a berth space outside the twin ports of Los Angeles and Long Beach, California, as of late Friday, topping the record of 40 initially set in early February, according to officials who monitor marine traffic in San Pedro Bay. The average wait rose to 7.6 days, from 6.2 in mid-August, according to L.A. port data. Vessels are lining up because imports are pouring into the world's largest economy just as inland transportation — like trucking and railroads — contends with its own bottlenecks of shipping containers that aren't being moved fast enough into distribution centers and warehouses."
Shipping: "Sailing Stormy Waters: Mega Containerships" [Hellenic Shipping News]. "To put this into perspective, in 2005 the container fleet in total was under 2,000 vessels, the largest vessel capacity was 11,078 TEU with a Deadweight (dwt) value of 115,700 tonnes. By close of 2020 it had rocketed to 5,234 vessels, with some boasting a capacity of 23,964 TEU and 232,606 dwt. This has driven overall Compound Annual Growth Rate (CAGR) by 42%, from 44K TEU in 2005 to 8.82 million TEU in 2020. Various factors have driven the growth notably economies of scale vs transportation costs, a dominant Asia Europe trade lane fuelling enough cargo, and fierce competition amongst owners. All have played into the burgeoning desire for more of what have become known as 'mega' container ships." • An excellent overview, well worth a read.
Shipping: "A Box Stuck In China For 8 Months Shows Global Supply Chain Crisis" [NDTV]. "The pandemic has thrown shipping into upheaval over the past year and a half, with China becoming a major choke point. Yantian port in Shenzhen was closed in May because of a Covid outbreak, creating congestion for the entire eastern coast, which in turn caused ripple effects across the global supply chain. Earlier this month, shipping also had to be redirected away from Ningbo, the world's third-busiest container port, after one employee tested positive for Covid. Typhoons and extreme weather have made matters worse. In July, the stranded container withstood Typhoon In-Fa, shutting Shanghai and other nearby ports for about four days. Delays could reach an all-time high in the weeks ahead if the trend persists, said Glenn Koepke, a senior vice president at FourKites Inc., a supply-chain information provider."
Tech: "Facebook's war on switching costs" [Cory Doctorow, Pluralistic]. "FB deliberately engineers its system to block "interoperability" – the ability to plug rival services into its network. Interop would let non-FB users connect with FB users, and make it so FB users don't have to choose between their community and Facebook's abuses. The economist's term for this is 'switching costs.' A 'switching cost' is whatever you have to give up to switch between products or services – switching from Audible to a rival platform would cost you all your audiobooks, for example, thanks to Audible's DRM. Facebook deliberately engineers its products to have high switching costs so that it can impose more pain on its users without losing them. So long as the pain of staying is less than the pain of leaving, Facebook calculates it can maintain its dominance."
Tech: "Google disbands health unit as chief departs for Cerner" [Health Care Dive]. "Google Health has little concrete to show from its three-year run, according to analysts, despite the prestigious brand and deep pockets of its parent company. Healthcare is a difficult industry to disrupt, and the dissolution of Google's health-specific division is the latest of a number of rolled back or called off initiatives from tech giants in the space."
Manufacturing: "VW and Daimler Going Electric Overwhelms German Auto Suppliers" [Bloomberg]. "Germany's auto suppliers are known to be great at solving problems. They'll develop new products, raise efficiencies and carve out new niches. Still, the industry's glory days are probably over: While a combustion drivetrain contains roughly 1,500 individual parts, an electric one has only 250. That's a lot fewer slices of pie from which to feast."
* * *
Today's Fear & Greed Index: 58 Greed (previous close: 50 Neutral) [CNN]. One week ago: 29 (Fear). (0 is Extreme Fear; 100 is Extreme Greed). Last updated Aug 30 at 12:36pm.
Rapture Index: Closes unchanged [Rapture Ready]. Record High, October 10, 2016: 189. Current: 187 (Remember that bringing on the rapture is a good thing, so higher is better.)
Health Care
Yet another lost opportunity on ventilation:
And…ventilation + filtration

Come on, already – it's been 18 months of us saying this, with indisputable evidence that this is a respiratory virus that spreads through the air, nearly entirely indoors and in underventilated spaces. (Another) missed opportunity. https://t.co/dEGwGl0Rh6

— Joseph Allen (@j_g_allen) August 30, 2021
Of course, it is from a hospital association, and we wouldn't want to ask them to adjust their capital investment plans….
"Vaccine Refusers Don't Get to Dictate Terms Anymore" [The Atlantic]. "[T]he adults running major institutions in our society want to move forward, and they are done waiting around for vaccine refusers to change their mind…. Sorry. Time's up…. Vaccination mandates are essentially a recognition that vaccinated people have feelings too, and that the burden of fighting the pandemic shouldn't be on them alone." • Let me know how the contact tracing works out… Then again, I hate the shaming, but there are limits:
Good evening Sir,

Due to operational restrictions, we require you to wear a face mask on our flight.

"I WANT MY MOM"pic.twitter.com/WoRxjKdRKQ

— Old Holborn® (@Holbornlolz) August 29, 2021
"A Florida vaccine warrior" [Libby Watson, Sick Note]. Sharon is the warrior of the headline. "Sick Note: What's the number one thing you think federal (or state) leaders could do to help convince hesitant or resistant people to get vaccinated? Sharon: I think shots in doctor's offices are the biggest. They have to absolutely make that happen. I asked my doctor why he didn't have shots & he said nobody had offered & he didn't think it was an available option, so there's an outreach failure happening there. In these rural communities a lot of folks have seen the same family doctor since they were kids, so small town doctors really do have some sway, plus adding the privacy factor, nobody is gonna see you getting it in the grocery store & tell everyone around town you got it. As more & more people in the community get very sick or die, some of these folks are starting to waver & consider getting the shot because it is a very scary wake up call when folks you personally know start dying." • Doctor's office visits. What is this, Denmark? Fundamentally, nothing will change. Well worth a read.
"The Purple World: Healing the Harm in American Health Care" (review) [Blue Ink Review]. "Joseph Q. Jarvis has been examining America's broken health-care system as a doctor and public health official for 40 years, and he has a sensible, reasoned prescription to fix what ails it, all detailed in his valuable and persuasive book, The Purple World… His prescription? States should start seizing power from Washington and offer comprehensive, publicly financed health benefits to every citizen. Among his recommendations: enrollment should be easy, even automatic; patients should have a choice of doctors and no out-of-pocket expenses; and those with mental illness and addiction should no longer be criminalized. He convincingly explains exactly how this will save money and improve care, partly by introducing social accountability – putting patients above profit– into health care delivery." • I can't see it. States are not currency issuers. At the first sign of a downturn, health care spending will be slashed. And then stay slashed.
Worth noting:
Success is if you don't derive a secret pleasure from other people's failure.#BedofProcrustes 3rd Ed.

— Nassim Nicholas Taleb (@nntaleb) August 29, 2021
Games
"Real world not giving you enough anxiety? Try being hunted down by the perfect organism in Alien: Isolation" [The Register]. The last paragraph: 'However, for a seven-year-old game, Isolation looks incredible and is exceptionally well optimised, at least on PC, so if your graphics card is showing its age, you should have a decent experience. The British dev studio has lovingly recreated the feeling and aesthetic of Alien down to the millimetre so for even casual fans it's unmissable. Clocking in at around 25 hours long, Isolation is without doubt the best survival horror I've ever played to the end – and, admittedly, the only one." • 25 hours is a lot of labor, for the player, certainly, but even more for the studio. We have this gigantic universe of artwork that only appears on screen…
The Conservatory
"Lee 'Scratch' Perry is dead" [Jamaica Observer]. "Perry was born in Kendal, Hanover. He made his name in the late 1960s and throughout the 1970s as a producer of cutting-edge music by revolutionary artistes. His Upsetter label produced some of the greatest reggae songs, including Small Axe and Duppy Conqueror by the Wailers." • Music for our time:
Groves of Academe
"Art, Power, and Profit at Duke University" [The Assembly]. "At the story's center: A powerful institution—Duke University—wealthy in assets and prestige, but poor on clear policies that help protect the university's public research mission and vulnerable early-career scholars; Two prominent artists and scholars connected with Duke University's Center for Documentary Studies, who stood to gain—thanks in part to the university's endorsements of their work—roughly a million dollars on the sale of images from the public domain; A former graduate student whose research is consigned to a small press while her thesis advisor—one of those prominent scholars—publishes a book on the same little-known subject through well-connected and well-resourced university channels; And a grassroots community whose fight for the public preservation of a local artist's legacy ran up against a university bureaucracy that appears to have allowed its senior faculty exclusive access while denying other scholars access to newly discovered public domain images. 'It's like a Law & Order episode!' said Carla Williams, a prominent photographer and photo historian."
The Agony Column
"States ranked by anxiety, depression rates: June 23-July 5" [Becker's Hospital Review]. "Among 55,046 adults surveyed between June 23 and July 5, 29 percent reported experiencing anxiety or depression symptoms." • Find your own state!
Black Injustice Tipping Point
I should have run this Friday:
W. E. B. Du Bois died #OTD in 1963 in Accra, Ghana. Here is his final message to the world, written on June 26, 1957, and shared by his wife Shirley Graham Du Bois upon his death. (@scua_umass) pic.twitter.com/GG1S9FWNdw

— Chad Williams (@Dr_ChadWilliams) August 27, 2021
More on Beyoncé and Jay's appropriation of Basquiat's supposed Tiffany blue:
Basquiat's assistant comments on his painting being featured in the Tiffany's ad and the LVMH owner implying that the blue used in the painting was inspired by the brand. pic.twitter.com/tiC5t0jemt

— 🦂✨☀️ (@kasandra_alexis) August 28, 2021
Bougies…
Class Warfare
Precarity:
Just pacing around the house in a disgusted fury at the idea of being less than $300 short resulting in 23,000+ evictions over four years pic.twitter.com/vG7xsKWBrv

— Chris Dowdy (@jehiahdowdy) August 29, 2021
Makes you wonder where they went. Noplace good, I would bet…
"Where the World's Superyachts Are Right Now" [Bloomberg]. • Italy.
News of the Wired
One more reggae song for the heck of it, though perhaps I should file this under "Biosphere":
* * *
Readers, feel free to contact me at lambert [UNDERSCORE] strether [DOT] corrente [AT] yahoo [DOT] com, with (a) links, and even better (b) sources I should curate regularly, (c) how to send me a check if you are allergic to PayPal, and (d) to find out how to send me images of plants. Vegetables are fine! Fungi and coral are deemed to be honorary plants! If you want your handle to appear as a credit, please place it at the start of your mail in parentheses: (thus). Otherwise, I will anonymize by using your initials. See the previous Water Cooler (with plant) here. Today's plant (TH):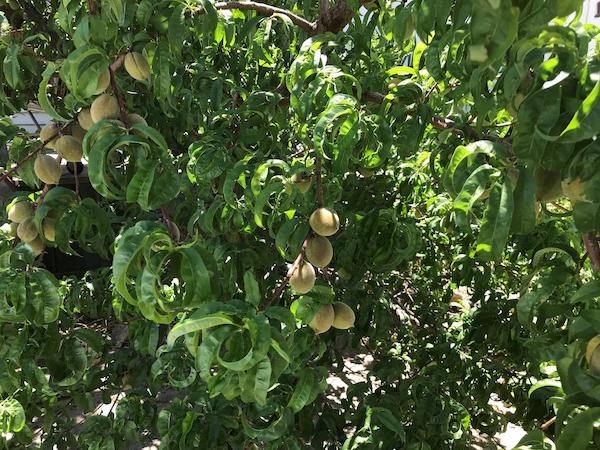 TH writes: "This is a peach tree outside of a small market in Onyx, CA. I didn't think to ask if they sell their peaches."
* * *
Readers: Water Cooler is a standalone entity not covered by the recently concluded and — thank you! — successful annual NC fundraiser. So if you see a link you especially like, or an item you wouldn't see anywhere else, please do not hesitate to express your appreciation in tangible form. Remember, a tip jar is for tipping! Regular positive feedback both makes me feel good and lets me know I'm on the right track with coverage. When I get no donations for five or ten days I get worried. More tangibly, a constant trickle of donations helps me with expenses, and I factor in that trickle when setting fundraising goals:
Here is the screen that will appear, which I have helpfully annotated.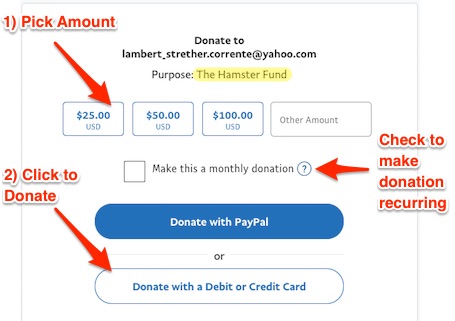 If you hate PayPal, you can email me at lambert [UNDERSCORE] strether [DOT] corrente [AT] yahoo [DOT] com, and I will give you directions on how to send a check. Thank you!2:00PM Water Cooler 6/8/2021