By Lambert Strether of Corrente.
Bird Song of the Day
Always so much going on in Amazonia!
* * *
#COVID19
At reader request, I've added this daily chart from 91-DIVOC. The data is the Johns Hopkins CSSE data. Here is the site. I feel I'm engaging in a macabre form of tape-watching….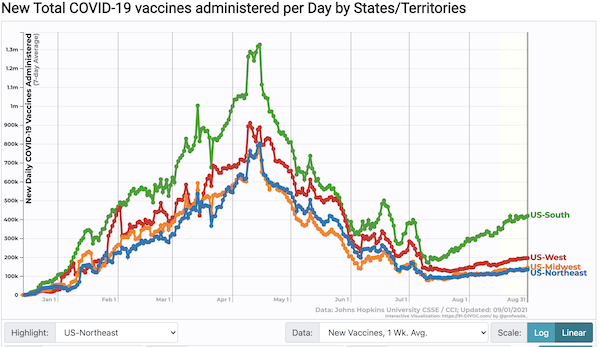 South still fiddling and diddling.
52.4% of the US is fully vaccinated, a big moment, bursting through the psychological 52% barrier. Every day, a tenth of a percentage point upward. However, as readers point out, every day those vaccinated become less protected, especially the earliest. So we are trying to outrun the virus… (I have also not said, because it's too obvious, that if by Bubba we mean The South, then Bubba has done pretty well.)
Case count by United States regions: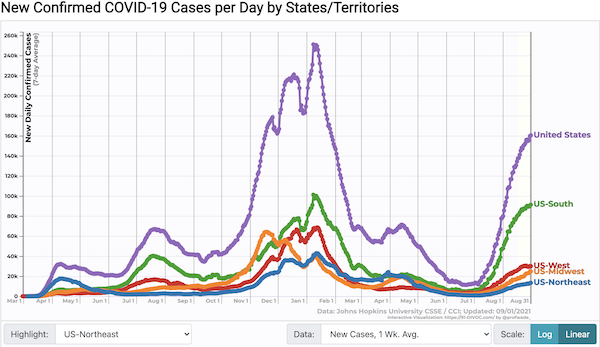 Slowing acceleration…
Covid cases top ten states for the last four weeks: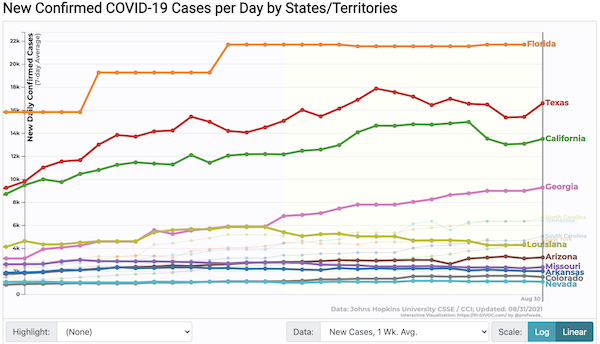 Texas and California back in tandem. Both Carolinas rising. Meanwhile, Georgia and Louisiana have diverged.
From CDC: "Community Profile Report August 31, 2021" (PDF), "Rapid Riser" counties, this release: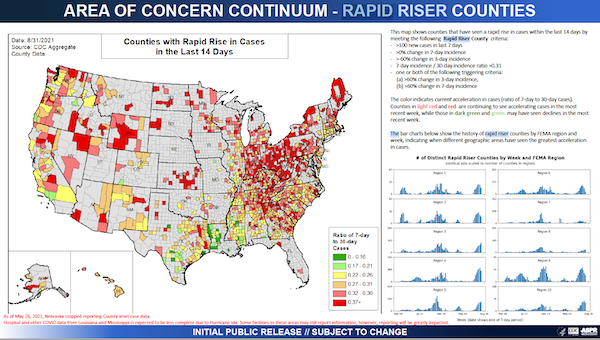 Less red in the Midwest. hate to be optimistic, but it looks like this fever has broken (thought the back to school bump, IMSHO, has yet to really take hold.) Remember, however, that this chart is about acceleration, not absolute numbers, so the case chart still has momentum. This map, too, blows the "Blame Bubba" narrative out of the water. Not a (Deliverance-style) banjo to be heard. Previous release: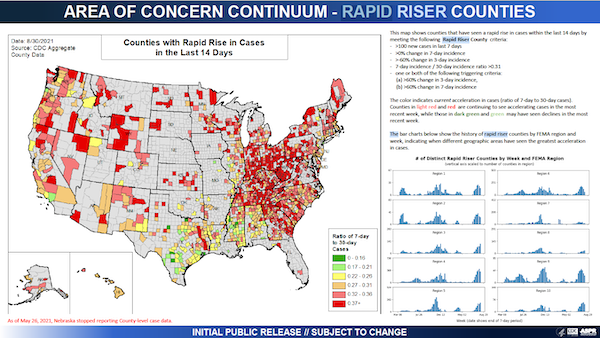 (Red means getting worse, green means bad but getting better. This chart updates Tuesdays and Fridays, presumbly by end-of-day.)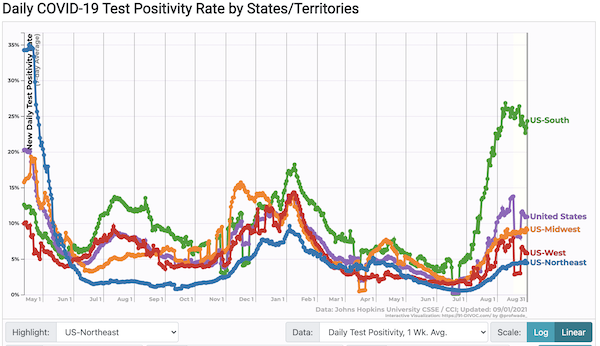 The South drops, and a smaller drop in the West.
Hospitalization (CDC): This is where CDC moved its hospital data (and who the heck at Microsoft decided no header for a chart is a good idea):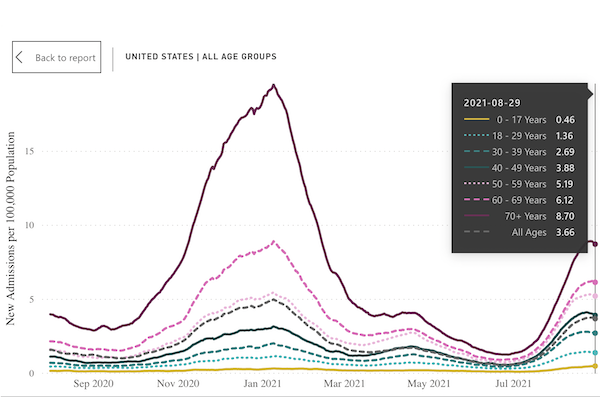 Here the CDC's hospitalization visualization, from the source above: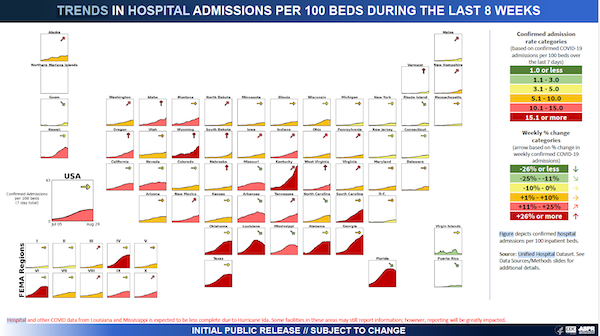 The Gulf Coast is red, but moderating. Look at Kentucky go! And I wonder if Alabama is flat because it's at capacity. Several states in the West are pink and increasing, except for Wyoming, which is red.
Deaths (Our World in Data):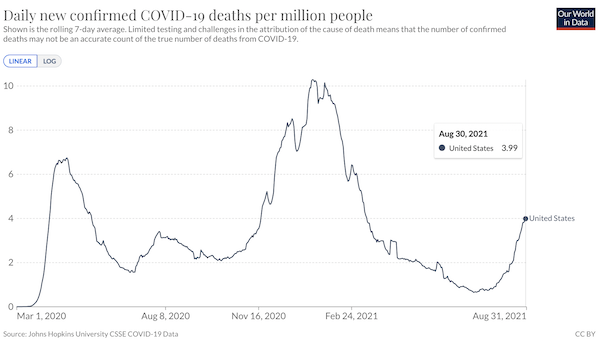 Deaths on trend rising. (Adding: I know the data is bad. This is the United States. But according to The Narrative, deaths shouldn't have been going up at all. Directionally, this is quite concerning. Needless to see, this is a public health debacle. It's the public health establishment to take care of public health, not the health of certain favored political factions.)
MS: "Mississippi Passes NY's COVID Death Rate As Gov. Reeves Says Mississippians 'A Little Less Scared'" [Mississippi Free Press]. "Mississippi has now surpassed the state of New York, the nation's original pandemic hotspot, in total COVID-19 deaths per capita. The only state where the pandemic has proven deadlier than the Magnolia State is New Jersey. Mississippi displaced New York with a report of 65 additional deaths on Friday—a day after Gov. Tate Reeves told a Tennessee audience that southerners are 'a little less scared' of COVID-19 due to their religious faith."
Covid cases worldwide: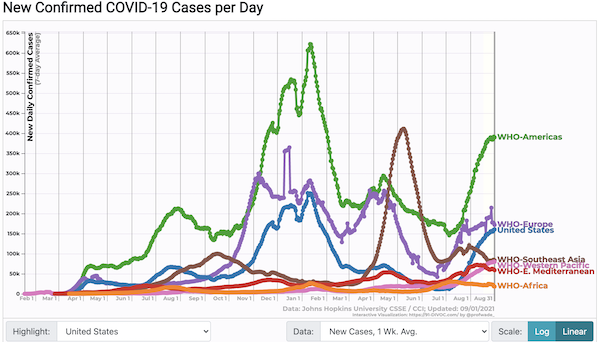 A little dip in the US. Southeast Asia doing better, I presume because little-covered Indonesia is past a peak. US sphere of influence under the Monroe Doctrine not doing so well.
* * *
Politics
"But what is government itself, but the greatest of all reflections on human nature?" –James Madison, Federalist 51
"They had one weapon left and both knew it: treachery." –Frank Herbert, Dune
"They had learned nothing, and forgotten nothing." –Charles Maurice de Talleyrand-Périgord
Biden Administration
"Biden defends departure from 'forever war,' praises airlift" [Associated Press]. "'I was not going to extend this forever war,' Biden declared Tuesday from the White House. 'And I was not going to .'" • Zing! Since that's obviously what the generals proposed; they never expected to leave, which is why there was no plan. But this is the lead: "'A defensive President Joe Biden called the U.S. airlift to extract more than 120,000 Americans, Afghans and other allies from Afghanistan to end a 20-year war an 'extraordinary success,' though more than 100 Americans and thousands of others were left behind." • The warmongering by the press — many of whom lose lucrative appearance fees or consulting opportunities in the absence of a war* — has been marvelously clarifying. If you want an example of a real debacle when retreating from Afghanistan, see the Britannica: "On January 6, 1842, some 4,500 British and Indian troops, with 12,000 camp followers, marched out of Kabul. Bands of Afghans swarmed around them, and the retreat ended in a bloodbath. " Come on, man. And please: Stop with the heart-tugging photos of babies and dogs, whether being embraced by soldiers or not. It's sentimental slop, as befits our imperial misssion. NOTE * To be fair, there are plenty of book deals to be had. Then again:

DANGEROUS TIMES ahead, Americans left BILLIONS of dollars worth of Military stuff when the scrambled out of Afghanistan – Now in the hands of the Taliban.
SCARY SCARY times ahead, wondering what Taliban will plan, maybe bigger that September 11.

— angusandersen900 (@AndersenAngus) August 31, 2021

From the only Inuk (Inuit) account I follow on Twitter. I dunno. Then again, perhaps from one colonized people to another? We shall see.

Joe Biden, peacenik:

This decision about Afghanistan is not just about Afghanistan. It's about ending an era of major military operations to remake other countries.

— Joe Biden (@JoeBiden) September 1, 2021

Honestly, I'm still reeling from Biden actually delivering on this (yes, I know, drones, over-the-horizon. But still). But wait–

"Ukrainian President to accomplish years-long quest for a White House visit with Biden meeting" [CNN]. "Ukrainian President Volodymyr Zelensky is set to meet with President Joe Biden in Washington on Wednesday, the culmination of a years-long struggle to get a White House visit locked up that — at one point — saw him at the center of US politics. The much-anticipated gathering could have high-stakes implications for Zelensky, who has vied for American support since he took over in 2019. His ascension to office led to a congratulatory call from then-President Donald Trump, who pushed Zelensky to investigate Biden and his son, Hunter. The call was at the heart of Trump's first impeachment by the House before the Senate acquitted the then-President, finding him not guilty of abuse of power and obstruction of Congress." • That should shut up the warmongers for a few hours. I wonder if Hunter will attend the meeting?

"122 – The Iraq War" (podcast) [The Dollop with Dave Anthony and Gareth Reynolds]. • For those who came in late, the Iraq War was far, far worse than anything Trump ever did, by orders of magnitude along any dimension you care to name, and the Bush Administration was not only full of crazed, lunatics, they were effective crazed lunatics, not just grifters. Such a view will not be popular among today's RussiaGate-added TDS victims, it's true.
Realignment and Legitimacy
"The Density Divide and the Southernification of Rural America" [Will Wilkinson, Model Citizen]. Deck: "The Old North/South Split Lives on in the Urban/Rural Divide." This is a reformulation of the Blue State/Red State trope into Urban/Rural From the body: "I suppose I shouldn't find it surprising, then, that the distinctness of Iowa, Minnesota, and Missouri's rural white cultures have faded, too. But I do find it striking. When I tour the hustings these days, that's what strikes me: it seems so much the same wherever you go. I didn't understand this when I was a kid, but the lived experience of growing up halfway between Branson and Lake Woebegone gave me my cultural bearings — supplied the contrasts that defined a distinct and salient Iowan identity. As those contrasts have faded, so have these distinct regional, rural identities. Everywhere it's the same cloying pop country, the same aggressively oversized Ford F-150s, the same tumbledown Wal-Marts and Dollar Generals, the same eagle-heavy fashion, . Even the accents are more and more the same, trending toward a generalized Larry the Cable Guy twang. (Larry the Cable Guy is from Nebraska, FWIW.)" • That "relentless material decline" sentence really lets the cat out of the bag, though. Does Wilkinson really think Larry the Cable Guy orchestrated the deindustrialization of the Rust Belt? Because he didn't. That was down to the "optimistic, diverse, dynamic, moving forward" (ODDMF) urbanites who are the Democrat party's base. Readers are also invited to play "fill in the blank" on "Everywhere it's the same _____," but for Brooklyn or other ODDMF-class cities, like Brooklyn, like "Everywhere it's the same Starbucks," or ""Everywhere it's the same jangly, over-produced world music" [snarl]. Noah Smith clucks appovingly:

Getting picked on by rednecks as a kid sucked. So what did liberal Gen Xers and Millennials do? We moved out. We didn't stay and work to build a real nation out of the people who gave us a hard time. We got college degrees that allowed us to escape to better places.

— Noah Smith 🐇 (@Noahpinion) August 31, 2021
Stats Watch
Employment Situation: "United States ADP Employment Change" [Trading Economics]. "Private businesses in the US hired 374 thousand workers in August of 2021, compared with a downwardly revised 326 thousand increase in July and well below market expectations of a 613 thousand rise…. 'We have seen a decline in new hires, following significant job growth from the first half of the year. Despite the slowdown, job gains are approaching 4 million this year, yet . Service providers continue to lead growth, although the Delta variant creates uncertainty for this sector', said Nela Richardson, ADP chief economist. source: Automatic Data Processing, Inc."
Manufacturing: "United States Manufacturing PMI" [Trading Economics]. "The IHS Markit Manufacturing PMI for the US was revised slightly down to 61.1 in August of 2021 from a preliminary of 61.2. The reading fell from a record of 63.4 in July, pointing to the slowest growth in factory activity in 4 months. The expansion was supported by steep upturns in production and new orders. Nevertheless, output growth was reportedly hampered by capacity constraints and material shortages."
Manufacturing: "United States ISM Purchasing Managers Index (PMI)" [Trading Economics]. "The ISM Manufacturing PMI increased to 59.9 in August of 2021 from 59.5 in July, beating forecasts of 58.6. New orders (66.7 vs 64.9 in July), production (60 vs 58.4) and inventories (65.2 vs 48.9) increased and price pressures eased (79.4 vs 85.7, the lowest since December). On the other hand, employment contracted (49 vs 52.9, the lowest since November)."
Construction: "United States Construction Spending" [Trading Economics]. "Construction spending in the US went up 0.3 percent from the previous month to a seasonally adjusted annual rate of USD 1.569 trillion in July of 2021 after showing no growth in June and above market expectations of a 0.2 percent gain."
* * *
Manufacturing: "British sports car brand Lotus to produce EVs in Wuhan" [China Daily]. "Lotus Cars is to unveil four electric vehicles by 2026, as the British sports car maker owned by China's Geely Holding Group accelerates its electrification campaign. Of them, there will be an SUV that will come out in 2022 and a five-door sedan in 2023, said Lotus CEO Feng Qingfeng at an online event on Tuesday to celebrate the establishment of Wuhan Lotus Technology in Central China's Hubei province. Lotus said it has appropriated 26.3 billion yuan ($4.06 billion) for its operations in the city, including an 8 billion yuan plant that will become operational later this year. With an annual production capacity of 150,000 units, it is British carmaker's first plant outside of the United Kingdom. Lotus said the Wuhan facility will produce those vehicles designed for daily use, while the UK plant will manufacture electric and gasoline hyper cars."
Manufacturing: "New Apple Watch With Larger Screen Suffers Production Snags" [Bloomberg]. "Manufacturers of the product began small-scale production last week but didn't get satisfactory output, Nikkei said…. Apple is counting on the new line to broaden the appeal of smartwatches and continue fueling a product category that's been one of its fastest growing. The Cupertino, California-based company got more than 11% of its revenue from wearables, home products and accessories in the last fiscal year, up from about 4% in 2015."
The Economy: "Inflation is cooling some, but not all the reasons are good ones" [Claudia Sahm, Stay-At-Home Macro]. "The recession ended in April 2020, making it the shortest on record, but the pace of the economic recovery has been frustratingly uneven. You can see it everywhere from inflation to jobs to income. It's not simply wiggles in the macro data, it's hardship and uncertainty for families, especially those who remain unemployed or unable to return to work. The uneven economic recovery is a direct reflection of our uneven success at containing the pandemic. Inflation is not our enemy. It's Covid."
* * *
Today's Fear & Greed Index: 56 Neutral (previous close: Neutral Greed) [CNN]. One week ago: 44 (Fear). (0 is Extreme Fear; 100 is Extreme Greed). Last updated Sep 1 at 12:57pm.
The Biosphere
"The costs and risks of AMR water pollution" (PDF) [World Economic Forum]. AMR = Antimicrobial resistance. "AMR risk is a product of pollutant discharges and socioeconomic vulnerability. Discharges into waterbodies result from human consumption of antimicrobial drugs in healthcare systems and the community, animal consumption in agriculture, and the manufacture of antimicrobial drugs. Vulnerability then reflects the rate at which AMR propagates, the rate at which humans are exposed to it and the effect this has on their health. Key vulnerability factors are environmental, for example the temperature and quality of receiving water bodies, and societal, notably population density and the efficacy of water sanitation and hygiene (WASH) in mediating human contact with polluted water. The availability of 'last resort' antimicrobials, a product of research and investment by the pharmaceutical industry, can determine the resulting clinical outcomes. over the next ten years, but it will always remain a global phenomenon."
Health Care
"This "Waning Immunity" Argument Against the FDA's Covid Vaccine Approval Is a Scientific Quagmire" [Hilda Bastian. PLOS]. On Doshi's BMJ article and the associated petition. "What about the petition to slow down FDA approval? That essentially boils down to this: since the vaccines can already be used with their emergency authorization, the bar for full approval should be raised far higher than usual. They don't provide a solid justification for this, especially in a pandemic. The FDA put it this way when they denied the petition: it 'does not contain facts demonstrating any reasonable grounds for the requested action.'… There's sure to be so much data coming now, that it's going to be a difficult phase to navigate. Be prepared for a lot of fear-mongering about vaccine effectiveness, and some awfully confusing conflicting messages. However, one thing is still unambiguously clear. We need to vaccinate the unvaccinated and under-vaccinated – everywhere. That remains urgent, both scientifically and morally. Casting doubts on the vaccines with smoke and mirrors, and scaring well-protected people into boosters before they're needed, are both natural enemies of that absolute goal. Superficial and scientifically specious hot takes on powerful medical platforms is the last thing we need." • On Doshi's BMJ article and the associated petition. I take the point that this is a pandemic. However, I and I suspect many others would have been much happier with the FDA's Pfizer approval if there had been a public hearing and any new data made public. So I think Bastian's "slow down" is a bit of a straw man, even though that's what Doshi advocates. It isn't like there was no advance warning that the FDA's EUA would need to be transformed into full approval at some point So why didn't FDA resource the effort so the approval was fully functional and fast?
"Don't have your baby in January" [Libby Watson, Sick Note]. "It's not news that the resetting of deductibles, and other annual "accumulator" mechanisms, shapes people's use of healthcare. Many hospitals see a rush of patients scheduling elective procedures in December, when they may have already spent most of their deductible, before it resets in January. But for most parents, trying to schedule their baby's birth for December is difficult, if not impossible. You've got to be pretty lucky to get pregnant the very first month you try—and for most people, like Michael, it just isn't at the top of parents' minds. Michael and his wife had been trying for a while and receiving fertility treatment, and then it just happened. Michael told me it was "frustrating" that the fact she would be born in January, after their plan reset, was "one of the first things" he said out loud when he found out his wife was pregnant. (The same thing happened with their first baby. Double bad luck.) The deductible is just one of those arbitrary features of the American health financing system that are stubbornly not taken into account by human bodies when they need medical care. Hearts and kidneys do not pay attention to calendars or insurance plans when they fail, and babies will come when babies come." • The father: "We show up [and] they're like, 'Okay, you owe us $1,200,' and we pay it." • America has the best health care system in the world. Best at some things, anyhow.
"Fear-Addled Bugmen" [IM 1776]. • I'm linking to this only to show that framing one's political opponents as vermin is trans-partisan.
Groves of Academe
"How Schools Lie" [Jain Family Institute]. "When prospective students navigate the process of choosing a college, financing is a central and often determining factor in the final decision of enrollment…. But much of the financial data that prospective students receive is misleading. In the cost information offered to prospective students, higher ed institutions consistently underestimate the non-tuition costs of attending college, and overestimate the amount of incoming aid from grants and scholarships. Discrepancies between estimated and real prices can add up to thousands of dollars in unanticipated costs, burdening students who already struggle to afford college. In our research, we find that 41 percent of colleges underestimate room and board costs for off-campus living, with a median difference between real costs and estimates of $1,488 for public colleges and $2,045 for private colleges. Similarly, we show that students can expect to receive an average of $3,000 less in free aid as upperclassmen versus their first year of college. Overall, 83 percent of higher education institutions in the academic year 2017–2018 presented information that obscured similar reductions in financial aid for upperclassmen." And: "With each passing year, a greater share of students feel the effects of these oversights: dwindling grant or scholarship resources, student loan accumulation, and, in the worst cases, the inability to make ends meet when both tuition and cost of living continue to rise. The sticker shock of college hits hard once funding sources run dry, leaving a wide swathe of students worse for wear, through either unanticipated indebtedness of the student (and/or family through the Parent PLUS loan system) or delays and decline in college completion. The widespread misrepresentation of cost data exacerbates the harsh trends of the student debt crisis, by denying students and their families the information they need to make one of the biggest financial decisions of their lives." • Let's all give a hand to our university administrators, especially the admissions office!
Zeitgeist Watch
Precarity enacted:
The milk crate challenge is taking over social media, with videos of people attempting—and usually failing— to walk up and over a pyramid of milk crates. https://t.co/foWXoH0zfv

— ABC News (@ABC) August 30, 2021
When life gives you vegetables, make an extraordinary supermarket display:
Just discovered there is an incredibly wholesome subreddit that's nothing but chill people who work in the produce department of grocery stores showing off their best displays pic.twitter.com/rRiA6mVxQg

— Arlen Parsa (@arlenparsa) August 30, 2021
Reinforces one of my pet views, that there's a lot more creativity in the working class than our current arrangements for managing the means of production allow. Not perhaps for high (let's just to ahead and call it bourgeois) culture, but creativity generally, "the augmentation of the complexity and intensity of the field of intelligent life" (Ursula LeGuin).
Class Warfare
The Bearded One on the continental geopolitics of the Civil War:
somewhat relatedly, i have also been rereading Marx's writing on the Civil War and imo it stands up as some of the best contemporaneous writing on the conflict. for example: pic.twitter.com/6AHWBocGzY

— b-boy bouiebaisse (@jbouie) August 31, 2021
Yes, a victory for the Confederacy would have had exceptionally nasty consequences (fitting right in with the self-confidence of the Slave Power, see Karp's This Vast Southern Empire). Note also the account.
"USPS has shorted some workers' pay for years, CPI finds" [Associated Press]. "The Postal Service regularly cheats mail carriers out of their pay, according to a Center for Public Integrity investigation. Managers at hundreds of post offices around the country have illegally underpaid hourly workers for years, arbitrators and federal investigators have found. Private arbitration records tell part of the story. From 2010 to 2019, at least 250 managers in 60 post offices were caught changing mail carriers' time cards to show them working fewer hours, resulting in unpaid wages, according to a batch of arbitration award summaries obtained by Public Integrity for cases filed by one of the three major postal unions. Supervisors found to be cheating were rarely disciplined — often receiving only a warning or more training. In four cities, arbitration documents show, post office managers continued to alter time cards after promising union leaders they would stop. Since 2005, meanwhile, the Postal Service has been cited by the federal government 1,150 times for underpaying letter carriers and other employees, including one case that involved 164 violations, according to Labor Department data obtained through a Freedom of Information Act request. [(!!!!)] ." • Only "some"? Obviously, we should privatize the Post Office completely, so it's "all." No halfway measures!
Gawd forbid that our frivoulous NGO funders should ever build any permanent infrastructure:
We had a short-term $10,000 COVID related grant.

Our funders were very happy w/ our work, but the grant expired.

We really need your help https://t.co/FxukCOLGXF

— Mike Elk (@MikeElk) August 31, 2021
NPR showing its derrière:
In @NPR hourly newscast they conclude their report on the death of Ed Asner by saying he "alienated" some of his audience w/ his left-wing politics. That's how they put it.

How about: He cheered many by standing up for unions, immigrant & civil rights & environmental protections

— Gregg Levine (@GreggJLevine) August 30, 2021
News of the Wired
Not feeling wired today. Perhaps tomorrow!
* * *
Readers, feel free to contact me at lambert [UNDERSCORE] strether [DOT] corrente [AT] yahoo [DOT] com, with (a) links, and even better (b) sources I should curate regularly, (c) how to send me a check if you are allergic to PayPal, and (d) to find out how to send me images of plants. Vegetables are fine! Fungi and coral are deemed to be honorary plants! If you want your handle to appear as a credit, please place it at the start of your mail in parentheses: (thus). Otherwise, I will anonymize by using your initials. See the previous Water Cooler (with plant) here. Today's plant (PM):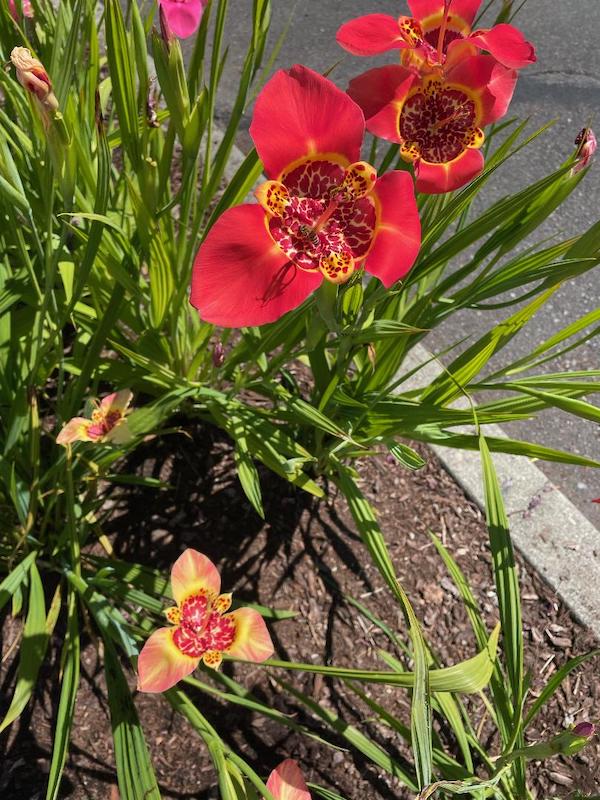 PM writes: "Not sure what these are except beautiful."
And since I blew past the plant yesterday, a make-good (Mike Layton):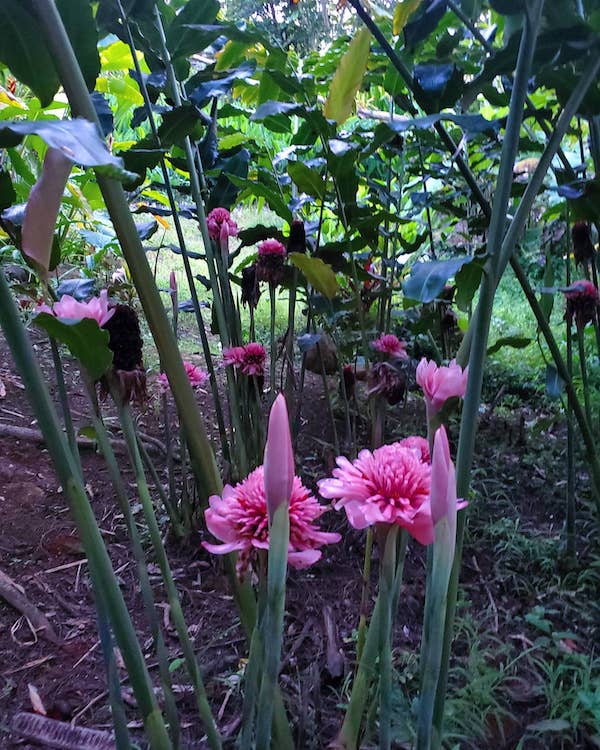 Mike Layton writes: "Here are some lush photos of tropical rainforest vegetation and flowers. They were taken along an unmarked trail in the mountains of Canóvanas, Puerto Rico, just outside of El Yunque National Forest."
* * *
Readers: Water Cooler is a standalone entity not covered by the recently concluded and — thank you! — successful annual NC fundraiser. So if you see a link you especially like, or an item you wouldn't see anywhere else, please do not hesitate to express your appreciation in tangible form. Remember, a tip jar is for tipping! Regular positive feedback both makes me feel good and lets me know I'm on the right track with coverage. When I get no donations for five or ten days I get worried. More tangibly, a constant trickle of donations helps me with expenses, and I factor in that trickle when setting fundraising goals:
Here is the screen that will appear, which I have helpfully annotated.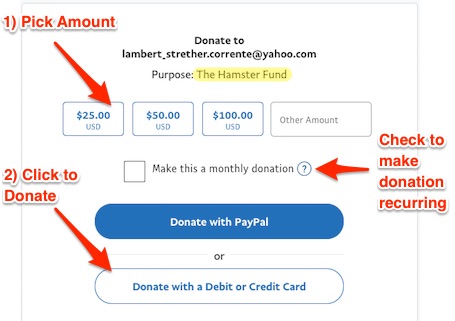 If you hate PayPal, you can email me at lambert [UNDERSCORE] strether [DOT] corrente [AT] yahoo [DOT] com, and I will give you directions on how to send a check. Thank you!2:00PM Water Cooler 6/8/2021