By Lambert Strether of Corrente.
Patient readers, I had some household matters to attend to, so I got a late start. More soon. –lambert UPDATE All done!
Bird Song of the Day
Although this is Venezuela, it sounds like a summer field in the Midwest to me.
* * *
#COVID19
At reader request, I've added this daily chart from 91-DIVOC. The data is the Johns Hopkins CSSE data. Here is the site. I feel I'm engaging in a macabre form of tape-watching….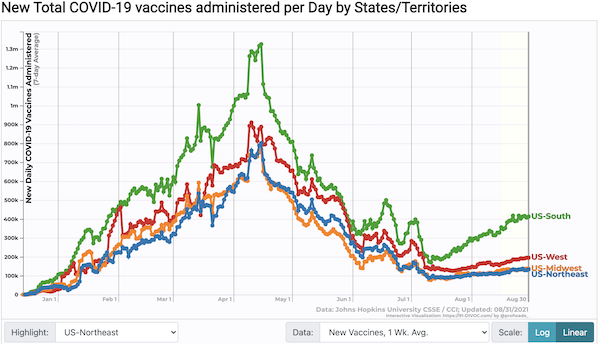 South still fiddling and diddling.
52.4% of the US is fully vaccinated, a big moment, bursting through the psychological 52% barrier. Every day, a tenth of a percentage point upward. However, as readers point out, every day those vaccinated become less protected, especially the earliest. So we are trying to outrun the virus… (I have also not said, because it's too obvious, that if by Bubba we mean The South, then Bubba has done pretty well.)
Case count by United States regions: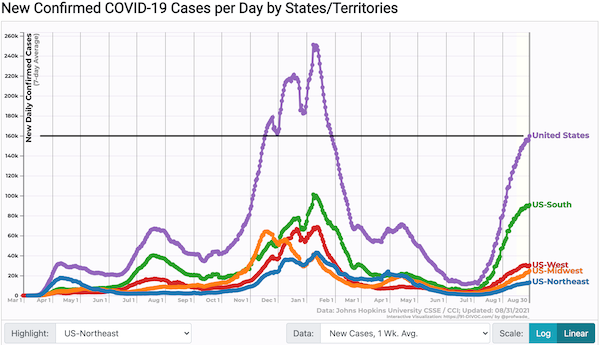 Slowing acceleration…
Covid cases top ten states: for the last four weeks (hat tip, alert reader Lou Anton):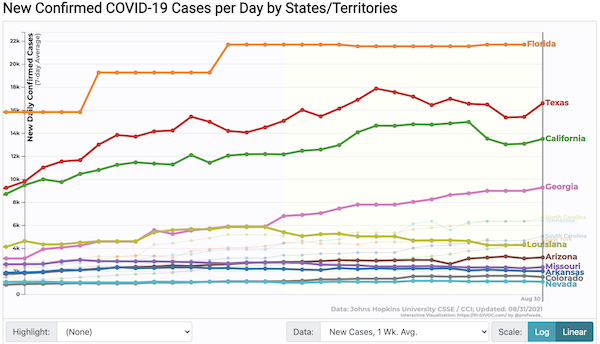 Texas and California back in tandem. Both Carolinas rising. Meanwhile, Georgia and Louisiana have diverged.
From CDC: "Community Profile Report August 30, 2021" (PDF), "Rapid Riser" counties, this release: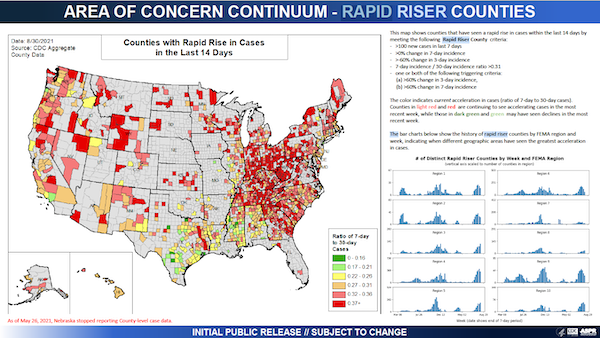 More and more clearing (including Northern Maine, which is turning pink as rapidly as it turned red). I hate to be optimistic, but it looks like this fever has broken (thought the back to school bump, IMSHO, has yet to really take hold.) Remember, however, that this chart is about acceleration, not absolute numbers, so the case chart still has momentum. This map, too, blows the "Blame Bubba" narrative out of the water. Not a (Deliverance-style) banjo to be heard. Previous release: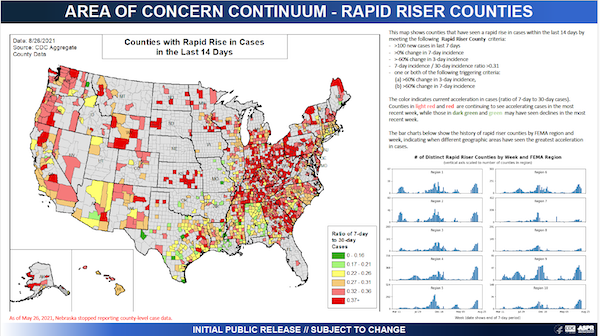 (Red means getting worse, green means bad but getting better. This chart updates Tuesdays and Fridays, presumbly by end-of-day.)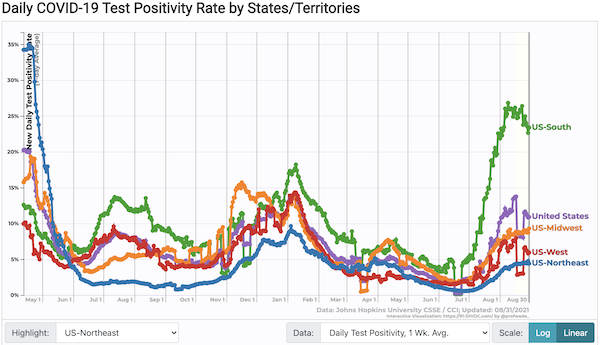 The South drops, and a smaller drop in the West.
Hospitalization (CDC): This is where CDC moved its hospital data (and who the heck at Microsoft decided no header for a chart is a good idea):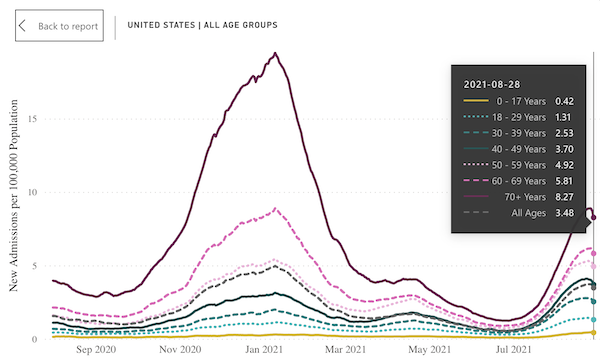 Here the CDC's hospitalization visualization, from the source above: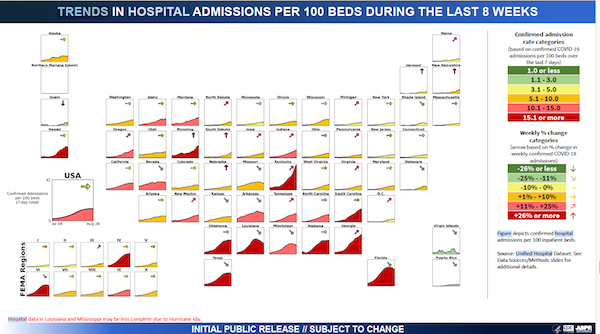 The Gulf Coast is red, but moderating. Look at Tennessee go! Several states in the West is pink and increasing, except for Wyoming, which is red.
Deaths (Our World in Data):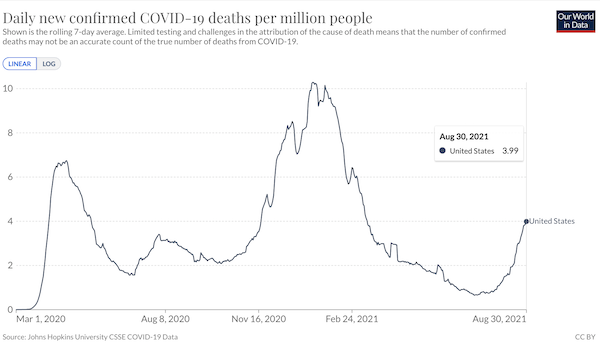 Deaths on trend rising. (Adding: I know the data is bad. This is the United States. But according to The Narrative, deaths shouldn't have been going up at all. Directionally, this is quite concerning. Needless to see, this is a public health debacle. It's the public health establishment to take care of public health, not the health of certain favored political factions.)
MS: "Mississippi Passes NY's COVID Death Rate As Gov. Reeves Says Mississippians 'A Little Less Scared'" [Mississippi Free Press]. "Mississippi has now surpassed the state of New York, the nation's original pandemic hotspot, in total COVID-19 deaths per capita. The only state where the pandemic has proven deadlier than the Magnolia State is New Jersey. Mississippi displaced New York with a report of 65 additional deaths on Friday—a day after Gov. Tate Reeves told a Tennessee audience that southerners are 'a little less scared' of COVID-19 due to their religious faith."
Covid cases worldwide: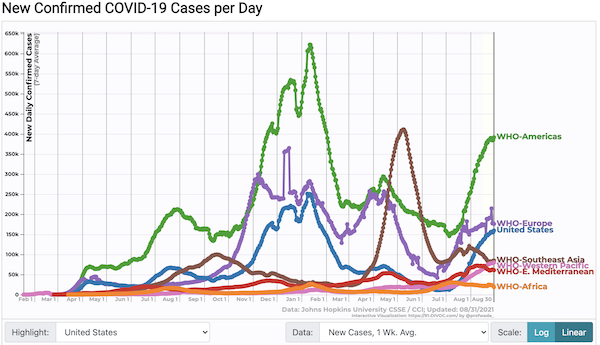 A little dip in the US. Southeast Asia doing better, I presume because little-covered Indonesia is past a peak. US sphere of influence under the Monroe Doctrine not doing so well.
* * *
Politics
"But what is government itself, but the greatest of all reflections on human nature?" –James Madison, Federalist 51
"They had one weapon left and both knew it: treachery." –Frank Herbert, Dune
"They had learned nothing, and forgotten nothing." –Charles Maurice de Talleyrand-Périgord
Capitol Seizure
"Defendants in U.S. Capitol attack have no attorney after lawyer contracts COVID-19: prosecutors" [Reuters]. "Federal prosecutors said on Monday that 17 defendants who have been charged in connection with the deadly Jan. 6 attack on the U.S. Capitol by supporters of then-President Donald Trump have no attorney as John Pierce, the lawyer who has been representing them, is reportedly on a ventilator and unresponsive after contracting COVID-19. Prosecutors said in a filing in Washington, D.C. federal court that although Ryan Marshall, a Pierce Bainbridge associate and chief financial officer of Pierce's National Constitutional Law Union, has been acting in Pierce's stead, he is not a licensed attorney and cannot advise Pierce's clients. Marshall might not be able to obtain a bar license at all due to the criminal charges he is facing in Pennsylvania, prosecutors noted. Marshall was allegedly involved in a scheme to defraud a widow, according to an August 2020 Pittsburgh Tribune-Review report prosecutors cited." • Charming.
Biden Administration
"Joe Biden's Critics Lost Afghanistan" [Ross Douthat, New York Times]. "Biden deserves plenty of criticism. But like the Trump administration in its wiser moments, he is trying to disentangle America from a set of failed policies that many of his loudest critics long supported. Our botched withdrawal is the punctuation mark on a general catastrophe, a failure so broad that it should demand purges in the Pentagon, the shamed retirement of innumerable hawkish talking heads, the razing of various NGOs and international-studies programs and the dissolution of countless consultancies and military contractors. Small wonder, then, that making Biden the singular scapegoat seems like a more attractive path. But if the only aspect of this catastrophe that our leaders remember is what went wrong in August 2021, then we'll have learned nothing except to always double down on failure, and the next disaster will be worse." • Here I am, nodding sagely along with Ross Douthat. It's a funny old world.

UPDATE "DOJ antitrust nominee reports $20 mln in Paul, Weiss income" [Reuters]. "Jonathan Kanter, the Biden administration's nominee to lead the U.S. Justice Department antitrust division, reported receiving $20.3 million from Paul, Weiss, Rifkind, Wharton & Garrison since 2020 in partner compensation and as a result of his departure from the law firm, according to an ethics filing released on Monday…. Kanter left Paul, Weiss in September 2020 amid a client conflict to start The Kanter Law Group, which has six lawyers. Paul, Weiss, where Kanter was co-chair of the firm's antitrust group, employs more than 1,000 lawyers…. His disclosure showed his clients while at Paul, Weiss included Qualcomm Inc, Mastercard Inc, and the special committee of independent directors to the board of Facebook Inc on a matter adverse to the company..,., Kanter's disclosure showed he continued to work with at least a dozen former Paul, Weiss clients after he left the firm to start his boutique. The clients identified as connected to both firms included Microsoft Corp, Cigna Corp, Yelp Inc, Charter Communications Inc and News Corp. New clients at the Kanter Law Group included the Coalition for App Fairness, Spotify USA Inc, Uber Technologies Inc, Nike Inc and General Motors Co."
Democrats en Deshabille
UDPATE "Health Care and Hedge Fund Execs Fundraise for Gottheimer as He Leads Moderate Crusade Against Reconciliation Bill" [ReadSludge]. "As he leads a group of moderate House Democrats against the $3.5 trillion budget reconciliation package being negotiated by Democratic leaders, Rep. Josh Gottheimer (D-N.J.) is set to be showered with campaign cash at fundraisers hosted by health care and hedge fund executives. Tomorrow evening in Franklin Lakes, New Jersey, one of the state's wealthiest ZIP codes, Cigna executive Tim Wentworth and his wife, Robin, are hosting an event with Gottheimer for donors who RSVP by making a contributions of between $500 (bronze level) and $11,600 (platinum level) to Gottheimer's primary and general election campaigns, according to an invitation reviewed by Sludge. Wentworth is the CEO of Evernorth, Cigna's pharmacy benefit manager division, which encompasses the company formerly known as Express Scripts. Cigna and its trade association, America's Health Insurance Plans, have been fighting a proposal that is likely to be included in the budget reconciliation package to expand Medicare to cover dental, hearing, and vision benefits. "

UDPATE "Dentists, insurers aim to pare down Dems' Medicare expansion" [Politico]. "Congressional Democrats' push to add dental, vision and hearing coverage to Medicare is running into resistance from powerful health industry lobbies — an early sign of the battles facing lawmakers when they return to debate a $3.5 trillion social spending package. Progressives see expanding the popular entitlement as essential to fulfilling their campaign pledges and keeping Democratic control of the House and Senate. But the reforms threaten the bottom line of insurers who administer private Medicare plans and sell supplemental coverage for dental, vision and hearing services. Groups like the American Dental Association, worried their members will be paid less in traditional Medicare than in private Medicare plans, are also pushing to limit the new benefits to the poorest Americans."

UPDATE "Will They Hold Out?" [David Sirota, Daily Poster]. "America has a feudal economy built on devastating inequality and on a form of climate ecocide that threatens the survival of the planet's ecosystem. What's unfolding in Congress is a last-ditch legislative attempt to modify that awful reality, and the fate of that effort will hinge on the answer to three fairly simple questions… Question 1: Will Progressives Hold Out?…. 2. Will Corporate Democrats Convince Republicans To Break With Trump?…. 3. What Does 'Robust" Actually Mean? • 
Realignment and Legitimacy
UPDATE "Who's Running in Newsom recall? Politicians, Activists, Californians of All Stripes' [City Watch LA]. "Just 46 candidates filed all the paperwork necessary by the July 16 deadline to run to replace Democratic Gov. Gavin Newsom in the Sept. 14 recall — a field that includes GOP politicians, a reality TV personality, a YouTuber, a retired detective, a cannabis advocate, several business owners and even a new-age shaman. What it doesn't include: Anyone with the star power that actor and body builder Arnold Schwarzenegger enjoyed when he disrupted the political scene in 2003 and ousted then-Gov. Gray Davis. It also doesn't include any prominent Democrats who might be seen as a viable alternative to Newsom by California's overwhelmingly blue electorate…. The 46-person field is actually much smaller than it was in 2003, when 135 candidates ran to replace Davis." • Bios for all 46!

UPDATE "Larry Elder's new campaign manager faced scrutiny for millions in billings to public agency" [Politico]. • Overbilling by consultants? In California? I'm shocked.

UPDATE "L.A. prosecutors decline to pursue gun, domestic abuse claims against Larry Elder" [Los Angeles Times]. • Boy, these stories all seem to be coming out at the same time. It's weird.

UPDATE "Juan Williams: Why California's recall election matters" [The Hill]. The heart of the matter: "Polls show his backing at about 18 percent. But that meager rating is tops among the 40-plus candidates with their names on the ballot to replace Newsom if he is recalled. If Newsom can't get more than half of voters to oppose his recall, then someone in a field generally filled with attention-getters who have no political experience will be governor. Currently Elder is leading that rag-tag pack." • I dunno. I've heard the argument made that Californians could be in a "throw the bums out" mood. And if they do, the next election is in 2022. Even with the help of the most feral Republican backup team, it's doubtful that Elder could do much damage in a year, especially with the legislature in Democrat hands. So why not give it a whirl?
Stats Watch
Manufacturing: "United States Chicago PMI" [Trading Economics]. "The Chicago Business Barometer fell to 66.8 in August of 2021 from 73.4 in July, below market forecasts of 68. Order backlogs rose sharply while production sank. Firms say the available supply of raw materials and workers isn't sufficient to keep up with new orders."
Housing: "United States S&P Case-Shiller Home Price Index" [Trading Economics]. "The S&P CoreLogic Case-Shiller 20-city home price index in the US increased at a record 19.1 percent yoy in June 2021, following an upwardly revised 17.1% rise in May, and above market forecasts of a 18.5% increase. Phoenix (29.3%), San Diego (27.1%), and Seattle (20.5%) reported the highest year-over-year gains. "We have previously suggested that the strength in the US housing market is being driven in part by reaction to the COVID pandemic, as potential buyers move from urban apartments to suburban homes. June's data are consistent with this hypothesis. This demand surge may simply represent an acceleration of purchases that would have occurred anyway over the next several years. Alternatively, there may have been a secular change in locational preferences, leading to a permanent shift in the demand curve for housing. More time and data will be required to analyze this question", said Craig Lazzara, Managing Director and Global Head of Index Investment Strategy at S&P DJI."
* * *
The Bezzle: "Episode 180: Untethered" (podcast) [TrueAnon]. "We examine the bizarre criminal history of one of the least stable tokens in the cryptoverse and quite possibly the largest Ponzi scheme ever: Tether. Featuring: Brock Pierce, the Colombian drug cartels, DaCryptoSnake, the Minnesota Vikings, a fake Dutchman, and more." • Fun stuff. I can't imagine why CalPERS hasn't moved into Crypto in a big way. They'd fit right in!
Tech​: "Who's Really in Charge of OnlyFans?" [Bloomberg]. "OnlyFans' pitch has always been about intimacy. Not because most of the content is erotic (though it is), but because the interaction between creator and consumer is so direct. People subscribe not to OnlyFans as a whole, but to the feed of particular performers. Those performers often develop relationships of a sort with their fans, exchanging messages and personalizing content for particular quirks and kinks. It was a connection that a socially distanced world proved particularly hungry for. However, the content platform's decision last week to ban—and then abruptly un-ban—explicit content highlights the other parties that were always lurking in the middle of that relationship…. In the tweet announcing the reversal of the decision last week, the company said it had "secured assurances necessary to support our diverse creator community"—assurances presumably secured from payment processors. It was a victory for content creators in an economy where, in general, they have few points of leverage, but it also made it clear who is still in charge."
Tech: "New research points to role of social media in stoking division in U.S." [Tech Policy Press]. A review of the literature. "The role that social media plays in the divisive politics of the United States is a subject of interest not just to researchers but to regulators, politicians and civil society actors who wish to improve the nature of political conflict and achieve more just and equitable outcomes. A constant refrain from researchers studying these issues is the need for access to platform data." • Politics is divisive. See under Abolition, for starters. The issue, I think, is the type of division. "Divide and conquer," after all, but who from whom?
Tech: "How to Avoid Spam—Using Disposable Contact Information" [Wired]. From 2020, still germane. "When it comes to email addresses, you've got a number of free or freemium options to pick from—email addresses don't cost much to set up and maintain. With the more high-maintenance cell numbers you're going to need to pay, but it doesn't have to be very much, as we'll explain. Here are some of our favorite options for both." • News you can use!
Tech: "A Bad Solar Storm Could Cause an 'Internet Apocalypse'" [Wired]. "Severe solar storms are so rare that there are only three main examples to go off of in recent history. Large events in 1859 and 1921 demonstrated that geomagnetic disturbances can disrupt electrical infrastructure and communication lines like telegraph wires…. Undersea internet cables are potentially susceptible to solar storm damage for a few reasons. To shepherd data across oceans intact, cables are fitted with repeaters at intervals of roughly 50 to 150 kilometers depending on the cable. These devices amplify the optical signal, making sure that nothing gets lost in transit, like a relay throw in baseball. While fiber optic cable isn't directly vulnerable to disruption by geomagnetically induced currents, the electronic internals of repeaters are—and enough repeater failures will render an entire undersea cable inoperable. Additionally, undersea cables are only grounded at extended intervals hundreds or thousands of kilometers apart, which leaves vulnerable components like repeaters more exposed to geomagnetically induced currents. The composition of the sea floor also varies, possibly making some grounding points more effective than others. On top of all of this, a major solar storm could also knock out any equipment that orbits the Earth that enables services like satellite internet and global positioning. 'There are no models currently available of how this could play out,' [Sangeetha Abdu Jyothi of the University of California, Irvine] says."
Manufacturing: "FAA still reviewing Boeing 777 engine fix after Denver incident" [Reuters]. "The Federal Aviation Administration (FAA) said Monday it is continuing to review Boeing 777-200 planes equipped with Pratt & Whitney (PW) engines like the one involved in a United Airlines emergency landing in February in Denver. FAA Administrator Steve Dickson told a U.S. House committee in May that the agency was going to mandate strengthening a key part on those engines. read more Those planes have been grounded for more than six months."
Manufacturing: "Unfinished Tractors, Pickup Trucks Pile Up as Components Run Short" [Wall Street Journal]. "Manufacturers are stacking up unfinished goods on factory floors and parking incomplete vehicles in airport parking lots while waiting for missing parts, made scarce by supply-chain problems. Shortages of mechanical parts, commodity materials and electronic components containing semiconductor chips have been disrupting manufacturing across multiple industries for months. Companies determined to keep factories open are trying to work around shortages by producing what they can, at the same time rising customer demand has cleaned out store shelves, dealer showrooms and distribution centers. As a result, manufacturers are amassing big inventories of unsold or incomplete products such as truck wheels and farm tractors. Companies that are used to filling orders quickly now have bulging backlogs of orders, waiting for scarce parts or green lights from customers willing to take deliveries. Executives expect the shortages and delivery bottlenecks, exacerbated by overwhelmed transportation networks and a lack of workers, to stretch into the fall."
* * *
Today's Fear & Greed Index: 53 Neutral (previous close: 57 Greed) [CNN]. One week ago: 37 (Fear). (0 is Extreme Fear; 100 is Extreme Greed). Last updated Aug 31 at 12:47pm.
Health Care
"Republicans Bravely Defend Americans' Rights to Treat COVID With Horse Dewormer" [Vanity Fair] • For the zillionth time, Ivermectin is approved by the FDA for human use (and billions, with a "b", billions of doses have been given worldwide). Therefore, any doctor can prescribe Ivermection for off-label use, as for example in Covid treatment. The "horse dewormer" (a.k.a. "horse paste") talking point is, quite literally, a Big Lie, since it implies that all Ivermectin is sold in feed stores* ([snicker] "feed stores"). Ivermectin is not a proven Covid treatment, since most studies are driven by clinicians and we have not yet had a high-powered trial, although these are in the works. "It's not a proven treatment!" is a perfectly effective talking point, which has the additional merit of not characterizing one's interlocutors as animals. The "horse paste" propaganda campaign has been wrenching for me, since those who propagate the talking point (a) prefer to use a Big Lie, and (b) prefer to dehumanize disfavored populations. That's profoundly discouraging to me. For starters, good luck with getting that test and trace program going. NOTE * I do wonder if in areas that really do have feed stores, swapping in animal drugs for human ones has been a well-known practice, if a sub rosa one. If the active ingredients are the same, why not? No real reason for this, after all; pharmaceuticals are cheap…. And please, don't try this at home, OK?
UPDATE A Canadian perspective:
Shaming unvaccinated folks and then asking them to get tested at first sign of symptoms is going to be a catastrophe if we ostracize folks.

We've unfortunately made many diagnosis of COVID going to the ICU pre-vaccines, I can't imagine it's going to be better post vaccine
2/

— Zain Chagla (@zchagla) August 22, 2021
UPDATE "Anxiety running high as COVID-19 threatens to disrupt schools — again" [The Hill]. "'I want to strongly appeal to those districts who have not implemented prevention strategies and encourage them to do the right thing to protect the children under their care,' Walensky said during a Friday briefing. The CDC has urged all schools to reopen to in-person learning this fall, recommending masks for all those aged 2 and older in order to keep schools functioning in-person and from shutting down due to outbreaks." • Nothing about ventilation. Rachel, on the messaging, good job.
UPDATE Oddly, the message seems to be to get kids back in schools as the first priority; health comes seccond:
Extremely irresponsible TV ad from @nysut and NYS @AmerAcadPeds.

"kids always learn better in classrooms"

Not if transmission is rampant.

"doctors & health advisors say schools are safe with health protocols in place"

But they aren't in place.https://t.co/DYGV9ulDKp pic.twitter.com/atCi4Z64Ju

— Andrew Goldstein #EndVaccineApartheid (@AndrewMakeTweet) August 30, 2021
And downthread:
✅ mask mandate (statewide order)
❓ screening testing
❓ ventilation/filtration
❓ tracing/quarantine
❓ vaccine mandates for staff/eligible students
❓ remote option for high-risk people
❓ closures when community transmission is high
❓ local measures to stop community spread

— Andrew Goldstein #EndVaccineApartheid (@AndrewMakeTweet) August 30, 2021
UPDATE Heaven forfend anybody should have to run for school board:
Woman wearing a "MAMA" tshirt at the Encinitas school board meeting says her "cubs" will refuse to wear masks this week. "We're done asking you for permission. The pandemic is over. We are declaring our freedom."Then she says she and her friends are running for school board. pic.twitter.com/Q5yoLqvLwP

— Ron Filipkowski (@RonFilipkowski) August 30, 2021
What interests me (besides the "cub" trope, which I believe is "Mommy Blogger" language) is the phrase " with." Interestingly, the rather petulant "Vaccine Refusers Don't Get to Dictate Terms Anymore" in the Atlantic uses a similar phrase: "[T]he adults running major institutions in our society want to move forward, and waiting around for vaccine refusers to change their mind." In each case, the rational adult is "done with" the behaviorally challenged child. Not a good augury. I recall a lot of Clinton supporters being "done with" this or that….
UPDATE The right to infect others shall not be infringed:
An Iowa school district is now leaving it up to parents to decide if they will quarantine their child who was exposed to COVID. They can choose to send their exposed child to school to potentially expose other people's children unless they have symptoms.https://t.co/PV2Nrvp2Mh pic.twitter.com/IRfjOXKkI1

— Robin Cogan (@RobinCogan) August 31, 2021
Of course, the infected child would have been most infectious before symptoms — yet another reason that "coughing" being singled out by the droplet paradigm is so destructive — but that's how Covid rolls. We don't do testing, so who can tell?
UPDATE "Efficacy of inactivated SARS-CoV-2 vaccines against the Delta variant infection in Guangzhou: A test-negative case-control real-world study" [Emerging Microbes and Infections]. n = 74 + 292. Sinovac; Coronavac (killed virus). From the Abstract: "A single dose of inactivated SARS-CoV-2 vaccine yielded the VE of only 13.8%. After adjusting for age and sex, the overall VE for two-dose vaccination was 59.0% (95% confidence interval: 16.0% to 81.6%) against coronavirus disease 2019 (COVID-19) and 70.2% (95% confidence interval: 29.6% to 89.3%) against moderate COVID-19 and 100% against severe COVID-19 which might overestimate due to the small sample size. The VE of two-dose vaccination against COVID-19 reached 72.5% among participants aged 40-59 years, and was higher in females than in males against COVID-19 and moderate diseases. While single dose vaccination was not sufficiently protective, the two-dose dosing scheme of the inactivated vaccines was effective against the Delta variant infection in real-world settings, with the estimated efficacy exceeding the World Health Organization minimal threshold of 50%." • Good news for Indonesia, IIRC primarily Sinovac (and apparently through the worst of it, for now).
UPDATE "Dollar General CEO gives glimpse into its healthcare agenda: 8 things to know" [Becker's Hospital Review]. "[Dollar General CEO Todd Vasos] said the chain would focus on offering services that rural customers don't have access to, such as eye care, telemedicine or prescription drug delivery, The Wall Street Journal reported Aug. 26. Customers could order prescriptions and pick them up in the store…. The chain selected Albert Wu, MD, as its first CMO and vice president July 7. The role was created to strengthen relationships with healthcare service providers to build a network for its customers. In his previous position, Dr. Wu worked at McKinsey, where he oversaw the care model for 250,000 rural patients and drove $2 billion to $5 billion in revenue. About 75 percent of the U.S. population lives within 5 miles of a Dollar General, according to the company." • McKinsey. Oh, good.
"Corporate wellness programs fall short of COVID vaccine mandates" [Los Angeles Times]. "[M]any employers are still shy about imposing vaccine requirements on their employees. And the alternative could be much worse for workers than a vaccination mandate… The alternative we're talking about exploits a legal loophole granted to employer 'wellness' programs. Under federal law, these can be a vehicle for allowing discrimination in health plan fees. They can also provide a means for employers to invade their workers' privacy. Delta Air Lines pioneered this approach when it announced a quasi-vaccination mandate for its employees last week. Instead of flatly requiring all workers to get vaccinated against COVID-19, the airline provided them with an escape clause: Those who refuse the shots without a legitimate excuse will be paying an extra $200 a month in health premiums." • The Federal law is the ACA, which opened the door to Federal funding for wellness scam operators. Thanks, Obama!
Groves of Academe
"The Targeting of Scholars for Ideological Reasons from 2015 to Present" [The FIRE]. "Scholars have long been targeted for sanction by ideological adversaries. However, some worrying trends are emerging. The current research reveals that since 2015 targeting incidents are on the rise and are increasingly coming from within academia itself — from other scholars and especially from undergraduate students. These targeting incidents take a multitude of forms, including demands for an investigation, demotion, censorship, suspension, and even termination." • "Scholars" is a bit of a thumb on the scale.
"Harvard elects atheist as new chief chaplain, defying school's origins" [The Hill]. "Greg Epstein, the 44-year-old author of "Good Without God: What a Billion Nonreligious People Do Believe," assumes his new position this week, The New York Times reported. He formerly served as the university's humanist chaplain since 2005…. A Harvard Crimson survey of the class of 2019 found that more than 16 percent identify as atheists and slightly more than 21 percent as agnostic." • I dunno. An atheist? Things have gone far enough; perhaps even too far. How about a Unitarian? Or an Episcopalian?
Class Warfare
Thanks for clarifying:
One useful thing to know about Robert Albritton is that he's the son of Joe Albritton, who was an enthusiastic friend of Augusto Pinochet and used his bank to help launder the money Pinochet stole from Chile. https://t.co/v6giEK1mT3

— Jon Schwarz (@schwarz) August 30, 2021
Do remember that former MTA President Andy Byford only discovered what was wrong with the New York Subway system's signalling by asking the workers. The "smart guys using their minds" weren't all that smart and didn't use their minds all that much, did they.
News of the Wired
Data is no more neutral than algorithms are:
Relatedly, on p.95 of the same book, this useful synopsis of Norwood Hanson's account of the impossibility of theory-free data:

"People, not their eyes, see. Cameras, and eye-balls, are blind." pic.twitter.com/UzAaxdCP6h

— Tom Chatfield (@TomChatfield) August 31, 2021
"Eliminating fear and unlocking the mysteries in our brains" (podcast) [Conversations]. "[Professor Pankaj Sah] now heads up the Queensland Brain Institute, where he is at the forefront of research into the mysteries of the amygdala, the part of the brain that generates fear. For Pankaj, the amygdala is a gateway and unlocking its secrets could help us understand, among other things, how memories are stored, and how to eliminate fear."
"Why is walking so good for the brain? Blame it on the 'spontaneous fluctuations'" [Salon]. "A lot is happening to our bodies and brains on a walk, but one fascinating thing stands out. They are all related to an increase in what neuroscientists call "spontaneous cognitive fluctuations." Scientists have been telling us that the background noises our brains make are random and unimportant for almost a century; hence, they have filtered and averaged them out of their studies. Yet increasing evidence shows that this "noise" is neither random nor unimportant." I am here for spontaneous brain fluctuations! More: "One of the most compelling explanations for why healthy cognitive fluctuations have this fractal structure is that they were an evolutionary adaptation to aid humans in identifying, navigating, and remembering the fractal patterns ubiquitous in nature." • Like trees, for example! I keep saying people should be sure to look up while walking, but now there's a reason!
* * *
Readers, feel free to contact me at lambert [UNDERSCORE] strether [DOT] corrente [AT] yahoo [DOT] com, with (a) links, and even better (b) sources I should curate regularly, (c) how to send me a check if you are allergic to PayPal, and (d) to find out how to send me images of plants. Vegetables are fine! Fungi and coral are deemed to be honorary plants! If you want your handle to appear as a credit, please place it at the start of your mail in parentheses: (thus). Otherwise, I will anonymize by using your initials. See the previous Water Cooler (with plant) here. Today's plant:
* * *
Readers: Water Cooler is a standalone entity not covered by the recently concluded and — thank you! — successful annual NC fundraiser. So if you see a link you especially like, or an item you wouldn't see anywhere else, please do not hesitate to express your appreciation in tangible form. Remember, a tip jar is for tipping! Regular positive feedback both makes me feel good and lets me know I'm on the right track with coverage. When I get no donations for five or ten days I get worried. More tangibly, a constant trickle of donations helps me with expenses, and I factor in that trickle when setting fundraising goals:
Here is the screen that will appear, which I have helpfully annotated.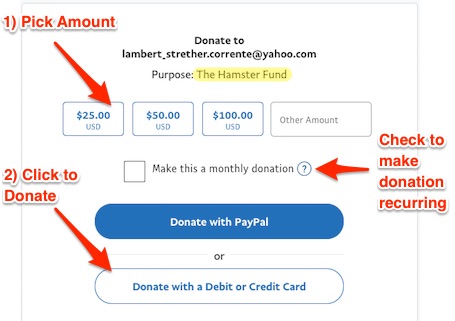 If you hate PayPal, you can email me at lambert [UNDERSCORE] strether [DOT] corrente [AT] yahoo [DOT] com, and I will give you directions on how to send a check. Thank you!2:00PM Water Cooler 6/8/2021