By Lambert Strether of Corrente.
Bird Song of the Day
* * *
#COVID19
At reader request, I've added this daily chart from 91-DIVOC. The data is the Johns Hopkins CSSE data. Here is the site. I feel I'm engaging in a macabre form of tape-watching….
We already start to an instant rebound from Labor Day, I assume because reporting is returning to normal. Nevertheless, Labor Day, as the end of summer, also signals life changes for Americans, so those changes will affect the numbers too. We shall see!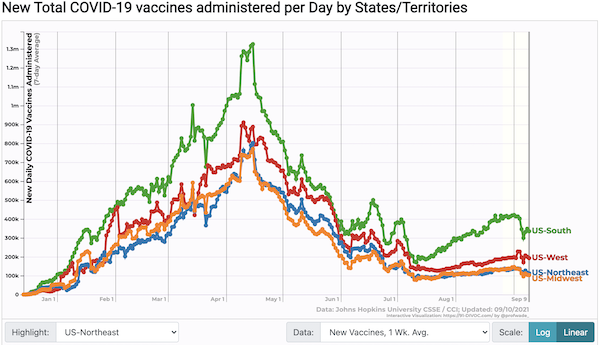 53.4% of the US is fully vaccinated, a big moment, bursting through the psychological 53% barrier (mediocre by world standards, being just below Ecuador, and just above Switzerland and Malaysia). Every day, a tenth of a percentage point upward; this stately progress seems to continuue no matter what is in the news. However, as readers point out, every day those vaccinated become less protected, especially the earliest. So we are trying to outrun the virus… (I have also not said, because it's too obvious, that if by Bubba we mean The South, then Bubba has done pretty well.)
Case count by United States regions: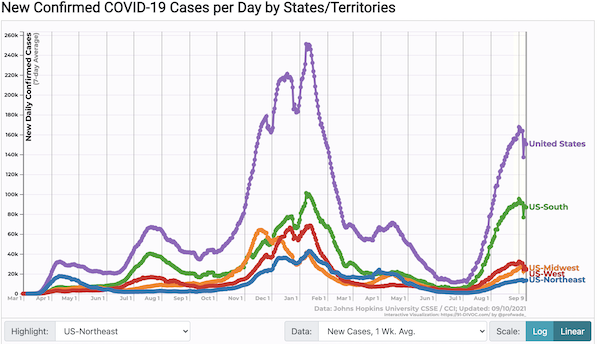 Covid cases top ten states for the last four weeks: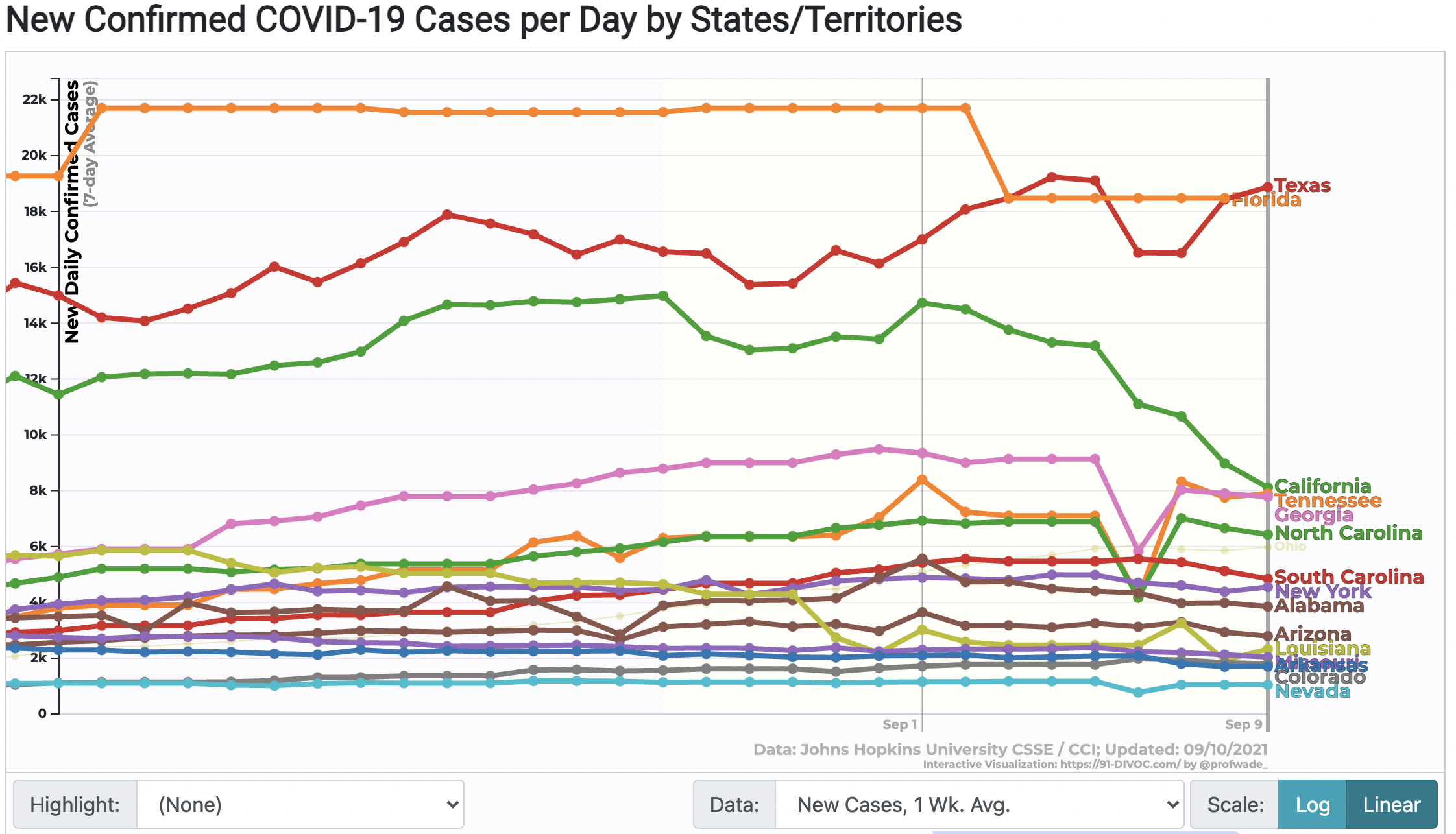 Fresh-squeezed numbers from Florida.
From CDC: "Community Profile Report September 10, 2021" (PDF), "Rapid Riser" counties, this release: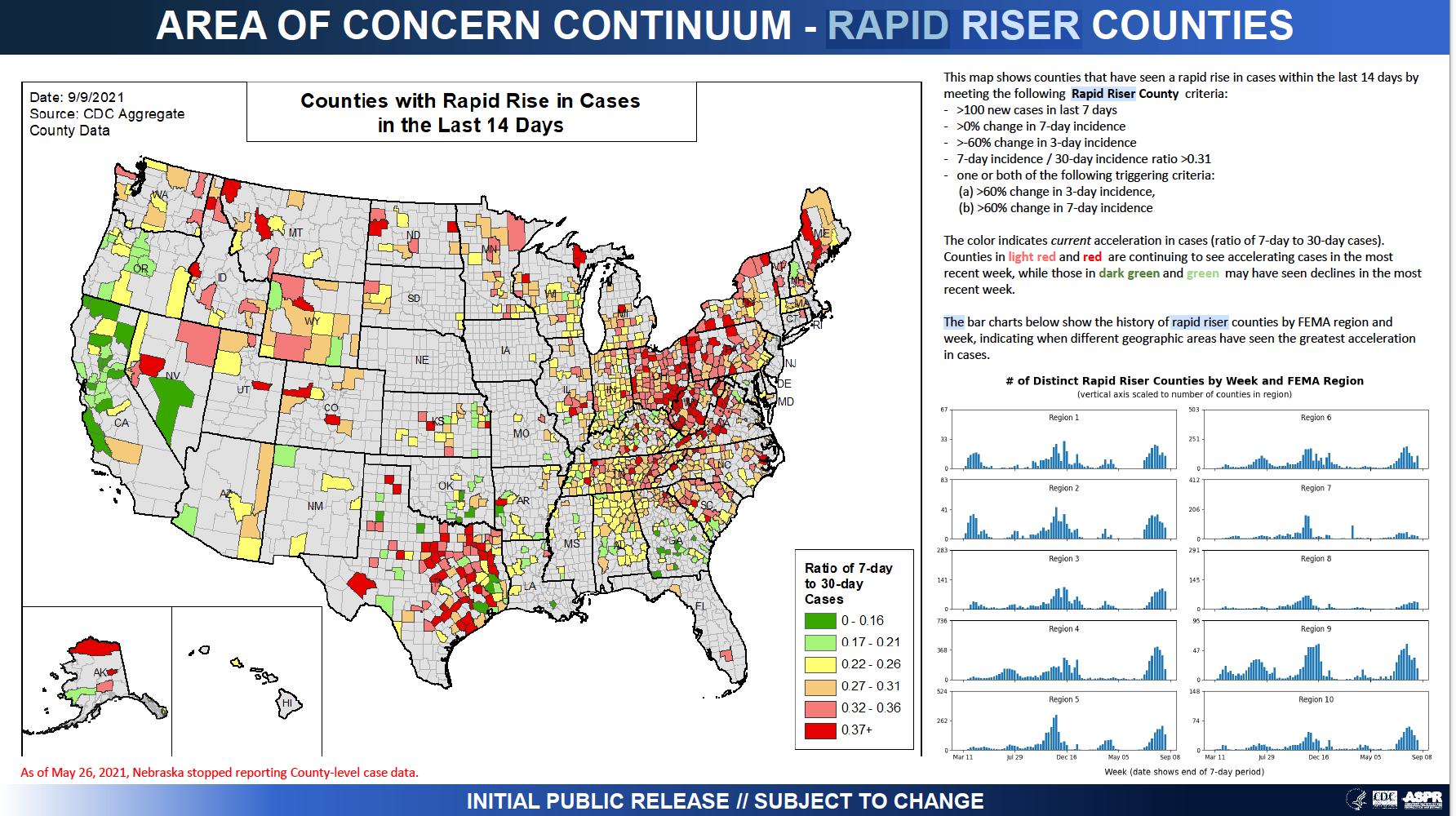 It would be nice if all that lovely green were not a reporting artifact, but…. This map, too, blows the "Blame Bubba" narrative out of the water. Not a (Deliverance-style) banjo to be heard. Previous release: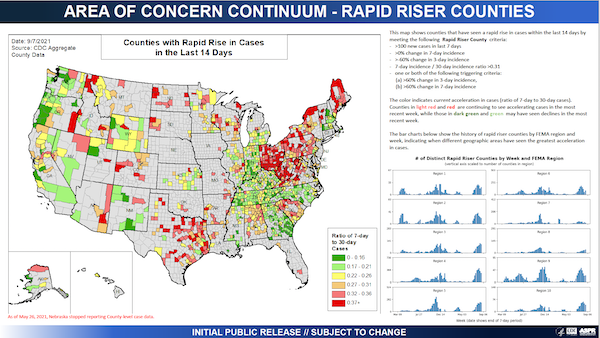 (Red means getting worse, green means bad but getting better.)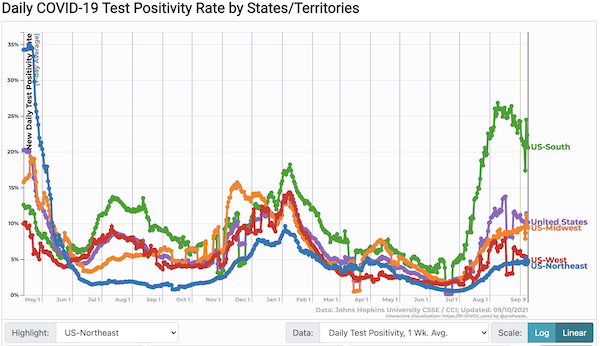 Hospitalization (CDC):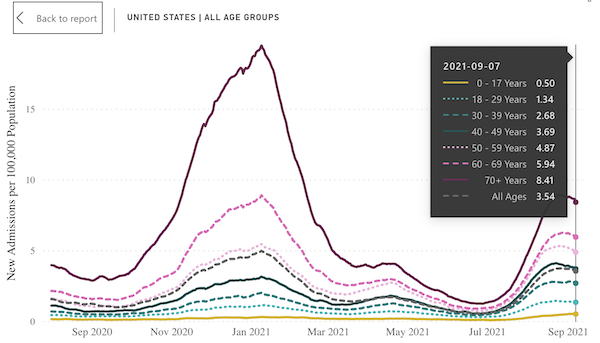 Here the CDC's hospitalization visualization, from the source above:
Deaths (Our World in Data):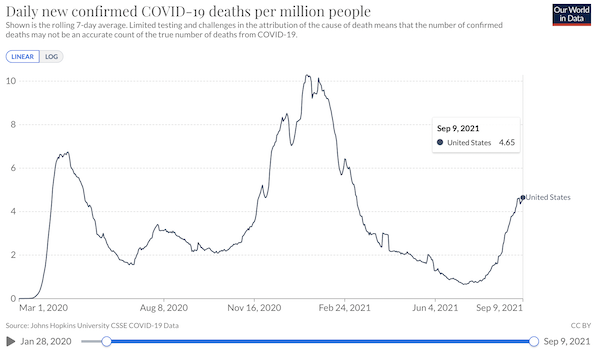 We are now well past the peak of last year at this time. Which I am finding more than a little disturbing. (Adding: I know the data is bad. This is the United States. But according to The Narrative, deaths shouldn't have been going up at all. Directionally, this is quite concerning. Needless to see, this is a public health debacle. It's the public health establishment to take care of public health, not the health of certain favored political factions.)
Covid cases worldwide: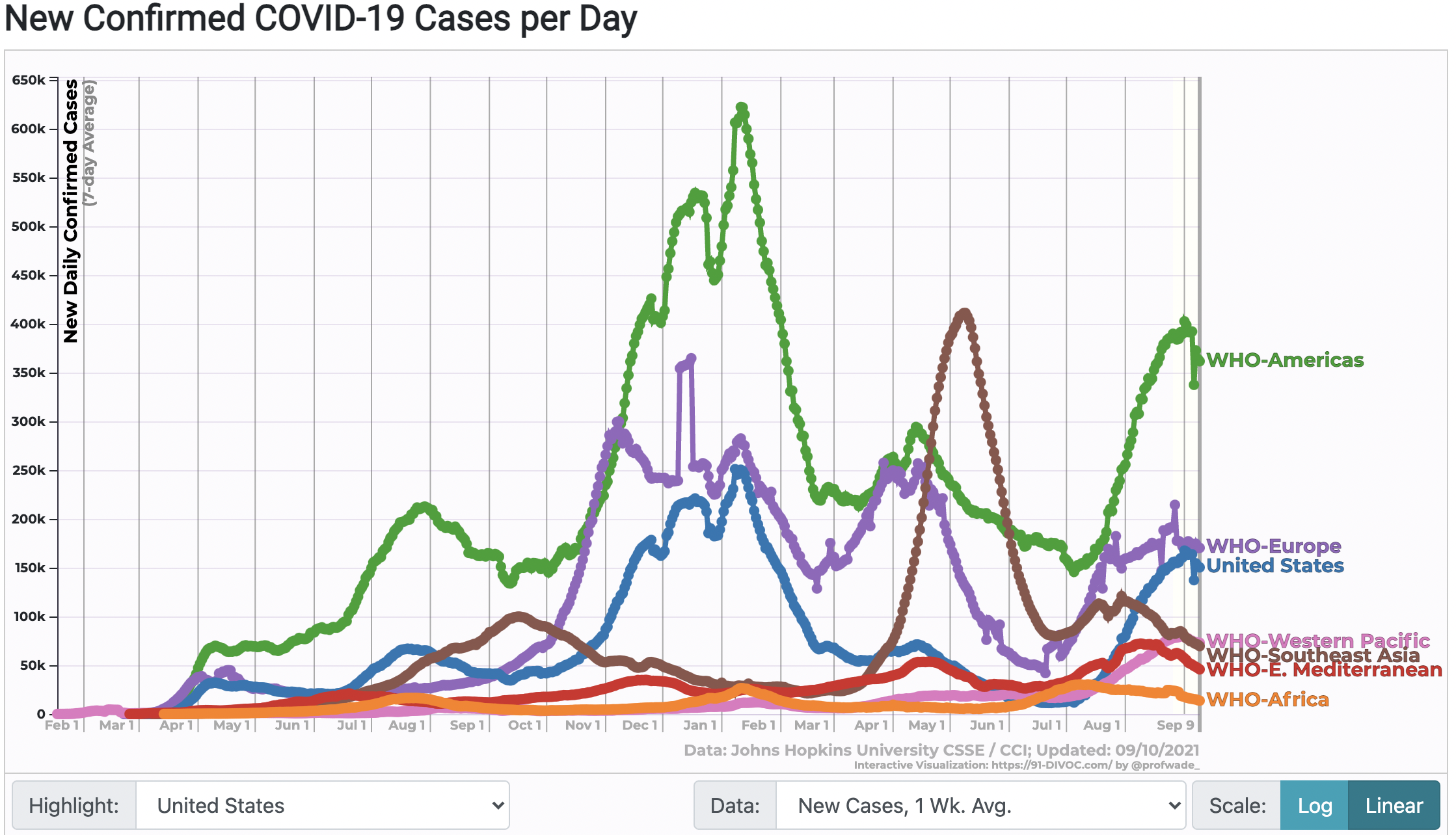 * * *
Politics
"But what is government itself, but the greatest of all reflections on human nature?" –James Madison, Federalist 51
"They had one weapon left and both knew it: treachery." –Frank Herbert, Dune
"They had learned nothing, and forgotten nothing." –Charles Maurice de Talleyrand-Périgord
Biden Administration
Capitol Seizure

"Hundreds of law enforcement officials were prepped early for potential Jan. 6 violence" [Politico]. "Just two days before armed rioters stormed and ransacked the Capitol, about 300 law enforcement officials got on a conference call to talk about the possibility that Donald Trump's supporters would turn violent on Jan. 6. They specifically discussed the possibility that the day's gatherings would turn into a mass-casualty event, and they made plans on how to communicate with each other if that happened. The officials were so prepared for chaos that they even had a hashtag to share information on the FBI's private communication service: #CERTUNREST2021. These previously unreported details come from a person familiar with the call and an email summarizing it obtained by the transparency group Property of the People. The Wall Street Journal first reported that the call occurred. 'Reporting indicates a significant number of individual [sic] plan to or are advocating for others to travel to Washington, DC to engage in civil unrest and violence,' reads the summary of the call, which included officials from so-called fusion centers — regional intelligence hubs set up after 9/11 to track major domestic threats. The extent of the FBI's awareness that the rally by Trump backers could turn violent raises fresh questions about why national security and law enforcement officials didn't do more to protect the Capitol on that volatile day."

"'Our patience is wearing thin': Biden imposes vaccine mandates for 100 million Americans" [Sydney Morning Herald]. "Our." Who's "we"? More: "The rules, introduced in an attempt to curb the spread of the highly contagious and economically damaging Delta variant, will require all workers at companies with over 100 employees to be vaccinated or to be tested for COVID-19 weekly. 'We've been patient, but our patience is wearing thin,' Biden said in a direct and unusually blunt message to unvaccinated Americans. 'And your refusal has cost all of us.' … The roughly 17 million workers at health facilities that receive federal Medicare or Medicaid also will have to be fully vaccinated. Biden is also signing an executive order to require vaccination for employees of the executive branch and contractors who do business with the federal government — with no option to test out. That covers several million more workers." • Wonderfully clarifying that the party of the PMC — playing gatekeeper as usual — is imposing draconian workplace restrictions, which will disproportionately impact the poorer Black and working class populations, especially essential workers (and women who are disproportionately nurses and teachers). The hesitant aren't all Bubbas. I guess we'll see.

Here is a thread on the OSHA aspects of Biden's plan:

Background here is that Biden killed his own OSHA's proposed covid rule for general industry months ago. Among other things, it would have required masks in many circumstances, as well as paid quarantine and isolation for virtually all businesses

— Justin Feldman (@jfeldman_epi) September 9, 2021

Love it or leave it:

The vaccine mandate doesn't actually force you to get vaccinated, you can always just quit your job. Can't afford to? Should've budgeted better

— Ken Klippenstein (@kenklippenstein) September 10, 2021

On the politics:

Swing-state poll of employer vax mandates

𝗔𝗿𝗶𝘇𝗼𝗻𝗮
• Favor: 68%
• Oppose: 32

𝗚𝗲𝗼𝗿𝗴𝗶𝗮
• Favor: 63%
• Oppose: 37

𝗠𝗶𝗰𝗵𝗶𝗴𝗮𝗻
• Favor: 61%
• Oppose: 39

𝗣𝗲𝗻𝗻𝘀𝘆𝗹𝘃𝗮𝗻𝗶𝗮
• Favor: 64%
• Oppose: 36

𝗪𝗶𝘀𝗰𝗼𝗻𝘀𝗶𝗻
• Favor: 68%
• Oppose: 32 https://t.co/RgcWcXSr8F

— Frank Luntz (@FrankLuntz) September 10, 2021

Lambert here: I have to say, it's hard to imagine Obama doing anything like this (which is not to say Biden's plan is workable or adequate). Advantage, Biden, exactly as with Afghanistan (which will quickly be forgotten except among irredentist factions of The Blob and whoever is planning our next war MR SUBLIMINAL In Africa. If Biden gets lucky on the numbers (it's happened before), and he manages to lock Manchin into a room and set it on fire, the Democrats may do alright in the midterms. At least he's trying! I think I need to get out my Magic Markers on his speech, though, which is not going to play well everywhere. The question is: Will it play well enough?

UPDATE "The Surprisingly Strong Supreme Court Precedent Supporting Vaccine Mandates" [Politico]. Jacobson v. Massachusetts, 1905: "Jacobson's claim was essentially the same as that taken for granted by vaccine skeptics today: That they have the personal liberty under the U.S. Constitution to decide for themselves whether to take the shot. Backed by a group called The Anti-Vaccination Society, Jacobson made a formidable case, incorporating many of the same arguments about freedom from government interference that are ricocheting around cable TV this summer, and mouthed by politicians…. One man's liberty, they declared in a 7-2 ruling handed down the following February, cannot deprive his neighbors of their own liberty — in this case by allowing the spread of disease. Jacobson, they ruled, must abide by the order of the Cambridge board of health or pay the penalty." • But the question isn't vaccines as such. The question is these vaccines.
Democrats en Deshabille
UPDATE Yeah, good. OK:

Speaker Pelosi: "I say to my Republican friends, take back your party. The country needs a big, strong Republican Party. And I say that as a leader in the Democratic Party… Don't have it be a cult of personality on the extreme, extreme, extreme right." pic.twitter.com/dpfDI6xy9U

— The Hill (@thehill) September 10, 2021

But ya know what the country definitely doesn't need? This guy:

In belated honor of Bernie's birthday, I will recount my first meeting with the legend:

Bernie: "So you're the researcher huh? So you know more about me than I do myself?"

Me: "That's what you pay me for Senator"

B: [waving hand, walking away] "ugh, that's what you all say."

— tyson brody (@tysonbrody) September 9, 2021

This guy, or anybody like him.
Realignment and Legitimacy
"All reactionaries are paper tigers" (paywalled) [Carl Beijer]. "Right-wing nightmare scenarios of massive armed resistance never happen." • If the clownish Capitol riot is the best the right-wing can do, then reaction to the vaccine mandate is nothing to worry about.
Stats Watch
Inventories: "United States Wholesale Inventories" [Trading Economics]. "Wholesale inventories in the US increased 0.6 percent month-over-month to $722 billion in July of 2021, in line with the preliminary estimate and easing from a 1.2 percent rise in June. It was the twelfth consecutive month of gains. Durable goods rose more than anticipated (1 percent vs 0.9 percent in June) while nondurable goods inventories declined (-0.1 percent vs 0.2 percent in the preliminary estimate). On a yearly basis, wholesale inventories advanced 11.5 percent in July."
* * *
The Bezzle: "How Audible robs indie audiobook creator" [Cory Doctorow, Pluralistic]. "Amazon's ACX is a self-serve audiobook production platform: writers spend thousands of dollars to produce audiobooks of their own work. Amazon strongly incentivizes ACX producers to sell exclusively through Audible (which also distributes to Itunes). If you go exclusive, you get a better split of the proceeds – 40%. That's right: though you bore all production costs and Amazon has no costs associated with selling your audiobook, Amazon still keeps the majority of the revenue from it, even if you grant them exclusivity. As unfair as that may sound, it gets a LOT worse. As part of its effort to lure customers to Audible, Amazon now grants no-questions-asked returns on audiobooks, and claws back the lost revenue from those returns from the audiobook creators.:" • From 2020, still germane…
The Bezzle: "Wells Fargo to pay $250M fine for mortgage oversight lapses" [The Hill]. • Those lovable scamps at Wells Fargo just can't seem to get it right, can't they?
Tech: Value engineering at Apple:
Explanation to whom it may concern pic.twitter.com/3s2qDZpZ0f

— Chlil (@ChlilChillTzlil) September 9, 2021
Makes perfect sense for this stupid mouse design. But "putting critical components next to heat sources," I dunno. I quick tour of Apple tear-down sites yields nothing. Readers?
Concentration: "U.S. judge in 'Fortnite' case strikes down Apple's in-app payment restrictions" [Reuters]. "A U.S. judge on Friday issued a ruling in "Fortnite" creator Epic Games' antitrust lawsuit against Apple Inc's App Store, striking down some of Apple's restrictions on how developers can collect payments in apps." But more importantly: "The judge ruled , but did show the smartphone giant engaged in 'anticompetitive conduct' under California laws. The judge issued a nationwide injunction blocking Apple 'anti-steering provisions' — rules that limit app developers from pointing users outside of Apple's ecosystem. The judge said these rules 'hide critical information from consumers and illegally stifle consumer choice.'"
Concentration: "Apple not a monopoly but must allow alternate payment methods for apps, judge rules" [Apple Insider]. "Apple prevailed in breach of contract clauses. Specifically, Epic needs to pay damages equal to '30% of the $12,167,719 in revenue Epic games collected' through Epic Direct Payment, plus any revenue collected through November 1 to date of judgement, plus interest. Part of the ruling was the definition of the market at stake, which was a contentious point of the trial. 'Ultimately, after evaluating the trial evidence, the Court finds that the relevant market here is digital mobile gaming transactions, not gaming generally and not Apple's own internal operating systems related to the App Store,' the judge wrote. 'The mobile gaming market itself is a $100 billion industry. The size of this market explains Epic Games' motive in bringing this action. Having penetrated all other video game markets, the mobile gaming market was Epic Games' next target and it views Apple as an impediment.' The judge was clear that Apple is not a monopoly, however. Saying that 'success is not illegal' the judge ruled that Epic could not demonstrate that Apple was engaging in monopolistic behavior. 'While the Court finds that Apple enjoys considerable market share of over 55% and extraordinarily high profit margins, these factors alone do not show antitrust conduct. Success is not illegal,' said the Judge. 'The final trial record did not include evidence of other critical factors, such as barriers to entry and conduct decreasing output or decreasing innovation in the relevant market. The Court does not find that it is impossible; only that Epic Games failed in its burden to demonstrate Apple is an illegal monopolist.'" • Not "decreasing innovation"? Really? I can't speak to the iPhone, not owning one, but if a Martian looked at the first Mac desktop in 1984, and compared it to today's Mac — or Engelbart's work before it — they'd be hard-pressed to find a difference. Of course, desktop, files, folders… We are all bureaucrats now, administering ourselves, so perhaps social relationships must change before the Mac UI does. Nevertheless.
Mr. Market: "Dow stages over 300-point U-turn and trades lower, as opening gains fizzle" [MarketWatch]. "The Dow industrials pivoted lower and the broader stock market struggled to end a series of losses on Friday, as investors weighed COVID-19 vaccine mandates announced by President Joe Biden to fight the coronavirus delta variant that some worry is slowing the economic recovery."
* * *
Today's Fear & Greed Index: 39 Fear (previous close: 42 Fear) [CNN]. One week ago: 54 (Neutral). (0 is Extreme Fear; 100 is Extreme Greed). Last updated Sep 9 at 12:38pm.
Health Care
Gotta wear shades:
Today, we shared positive pre-clinical data demonstrating our ability to combine 6 mRNAs against 3 different respiratory viruses in 1 vaccine: COVID-19 booster + Flu booster + RSV booster. #mRNA pic.twitter.com/6AEkhSJrO5

— Moderna (@moderna_tx) September 9, 2021
Might as well mandate them all, I guess. Plus, maybe we can get away with not changing any ventilation systems. Win-win!
"'Poor building design sped up Covid spread,' says academic" [Architect's Journal]. "[Orla Hegarty, assistant professor at University College Dublin's School of Architecture] argues that while many building with high ceilings and good air flow posed a low risk of transmission, similar to being outside, other buildings were hotspots for disease spread – with three types being particularly notable: 1) Meat and food production facilities have been associated with numerous outbreaks, as cold, dry air is recirculated to save energy – creating optimum conditions for virus spread. 2) Hospitals and nursing homes are large buildings containing vulnerable people. They sometimes have poor ventilation – especially when in an older, converted building. Patients tend not to wear masks, while medical staff may not be wearing the right grade of mask to protect from aerosol spread. 3)Hospitality buildings and schools often contain lots of people but may not have sufficient ventilation in the pandemic." • Well worth a read.
"We're Asking the Impossible of Vaccines" [The Atlantic]. "Eventually, all discussions about sterilizing immunity become nerdy quibbles over semantics." • Holy moley, if there were an Oscars for goal-post moving, this would be a top candidate. To my simple, layperson's mind, a vaccine I only need to take once (possibly with a booster), like polio or measles, is sterilizing. A vaccine I have to keep taking, like a flu vaccine, is not. I wonder if of our experts would care to comment on this article, which, however motivated, seems designed to normalize the rapidly waning effiicacy of today's Covid vaccines.
Vaccine timeline:
A reminder of how vaccine development has been speeding up – but scicne and medicine did especially amazingly for this pandemic. A new benchmark? pic.twitter.com/rLfaEqtQo7

— ɪᴀɴ ᴍ. ᴍᴀᴄᴋᴀʏ, ᴘʜᴅ 🦠🤧🧬🥼🦟🧻🧙‍♂️ (@MackayIM) September 10, 2021
Hopefiully, no corners were cut….
"Mu: everything you need to know about the new coronavirus variant of interest" [The Conversation]. "The World Health Organization (WHO) has added another coronavirus variant to its list to monitor. It's called the mu variant and has been designated a variant of interest (VOI)…. A VOI is not a variant of concern (VOC), which is a variant that has been proven to acquire one of those characteristics, making it more dangerous and so more consequential. Mu is being monitored closely to see if it should be re-designated as a VOC. We have to hope not…. There are four other VOIs being watched by the WHO – eta, iota, kappa and lambda – but none of these have been reclassified as a VOC. That might be the case with mu as well, but we have to await further data. What makes mu particularly interesting (and concerning) is that it has what the WHO calls a "constellation of mutations that indicate potential properties of immune escape". In other words, it has the hallmarks of being able to get around existing vaccine protection. Mu was first seen in Colombia in January 2021, when it was given the designation B1621. It has since been detected in 40 countries, but is thought to currently be responsible for only 0.1% of infections globally."
"Rats, more coronaviruses!" (podcast) [This Week in Virology]. "The TWiV team explains what the Biden report on SARS-CoV-2 origins did not: evidence that the virus came from Nature, not a lab; and reveals new coronaviruses in rodents that inhabit populated areas in southern China." • "Nature" the magazine? First I've heard….
https://www.theatlantic.com/science/archive/2021/09/sterilizing-immunity-myth-covid-19-vaccines/620023/
* * *
Our Famously Free Press
I'm so old I remember when New Yorker cartoons were actually funny: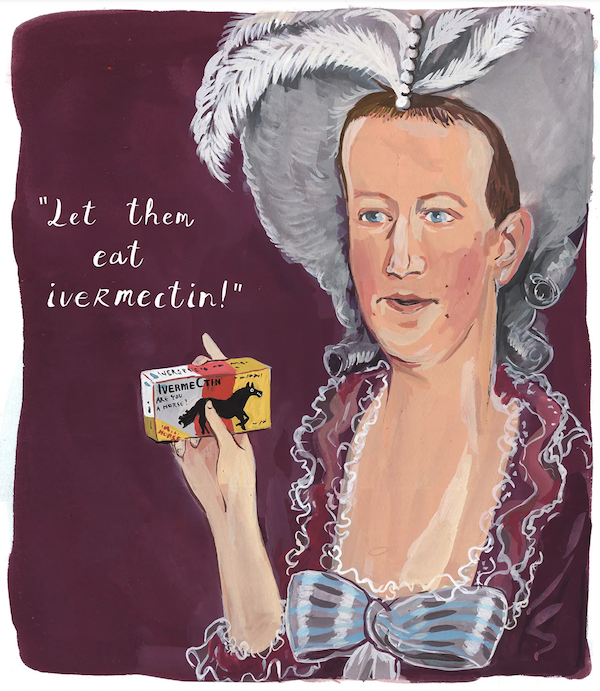 Horsepaste is the new RussiaRussiaRussia. Remember when the Times belittled Trump by presenting him as Putin's [snicker, snicker] gay lover? Same deal here: The New Yorker belittles Mark Zuckerberg (I think) be presenting him as [snicker, snicker] a cross-dresser or trans. And they all have "In this house…" signs on their lawns — with rainbows!
Screening Room
Jackpot-ready:
Amazon Studios heading to Asheville area to film new series Peripheral https://t.co/vgEOfkMMOO

— William Gibson (@GreatDismal) September 9, 2021
Hefty Mart, the corporate auteur…. I wondered why Agency was so creepy and bad. Perhaps Gibson wanted to write something he was sure Bezos would greenlight.
Groves of Academe
These tips seem well-thought-out to me:
1. College instructors: Now that we are back to teaching in person again, have you thought about how the design of your course encourages or discourages students from making prudent decisions with regard to COVID risk?

I've adapted my upcoming 180-student course in a few ways.

— Carl T. Bergstrom (@CT_Bergstrom) September 10, 2021
Especially this one:
11. This requires that I write thoughtful open-book, open-internet questions that test for high-level mastery of the material.

That awful Proctorio-style spyware is absolutely out of the question. Almost a year ago I wrote a long thread about that here: https://t.co/sU1XI1iLJ0

— Carl T. Bergstrom (@CT_Bergstrom) September 10, 2021
Maybe this should be the norm?
Imperial Collapse Watch
The Bauhaus gasps its last:
Former J.C. Penney (1966)
Midway Mall
Elyria, OH pic.twitter.com/AIT6VUKXPH

— Midwest Modern (@JoshLipnik) September 9, 2021
Class Warfare
Elevator Pitch: "America's Got Talent, but for the Non-Profit Industrial Complex:
Usher, Priyanka Chopra Jonas, and Julianne Hough will host competition series 'The Activist'.

Activists go head-to-head in challenges to promote their causes, with their success measured via online engagement, social metrics, and hosts' input.

(https://t.co/Oe2u8Aobxc) pic.twitter.com/HvaUaGTcl4

— Film Updates (@FilmUpdates) September 9, 2021
From the description, though, the show appears way too close to reality…
News of the Wired
No:
I don't even remember giving permission for our fridge to email.

It's barely a year old, its screen time is highly restricted and it's a fridge. It should only speak when it's spoken to. It's a fridge.

— Dan Hon (@hondanhon) September 9, 2021
"What It's Like to Fix: Linotype, Intertype, and Other Old Presses" [iFixIt]. "Everything on the Linotype machine was made to be fixed. "This machine was made to last hundreds of years, and many hours of operation. They were designed in 1886, and with proper care and maintenance, they are still running today," [David Seat] wrote. The oldest Linotype he works on is in Denmark, originally built in 1905. 'The main problems that I run into on Linotype Machines are sticky keyboards, dirty mats and magazines, transfers not lined up properly, or bad heaters in the pots,' Seat wrote. 'These make up about 75 percent of the repairs that I have to perform.' The most difficult fixes are replacing the pot's mouthpiece or plunger. Cleaning out a keyboard is one of the most time-consuming—a reassuring bit of continuity with today's technology. Because he's traveling the country, and because each machine is thousands of parts, Seat doesn't always have what he needs to finish a job. Sometimes he doesn't have the time for the full repair, either. It's one of the worst parts of the job. 'Being on a job and knowing the machine needs many hours of work to be proper, but getting limited to a few hours to try to make it function a little, when you know it could be so much better.' • I wonder if the parts problem could be solved by 3-D printing. Anyhow, if you want to publish a newspaper during the Jackpot, best have one of these. Maybe you can pick one up at a yard sale…
* * *
Readers, feel free to contact me at lambert [UNDERSCORE] strether [DOT] corrente [AT] yahoo [DOT] com, with (a) links, and even better (b) sources I should curate regularly, (c) how to send me a check if you are allergic to PayPal, and (d) to find out how to send me images of plants. Vegetables are fine! Fungi and coral are deemed to be honorary plants! If you want your handle to appear as a credit, please place it at the start of your mail in parentheses: (thus). Otherwise, I will anonymize by using your initials. See the previous Water Cooler (with plant) here. Today's plant (RH):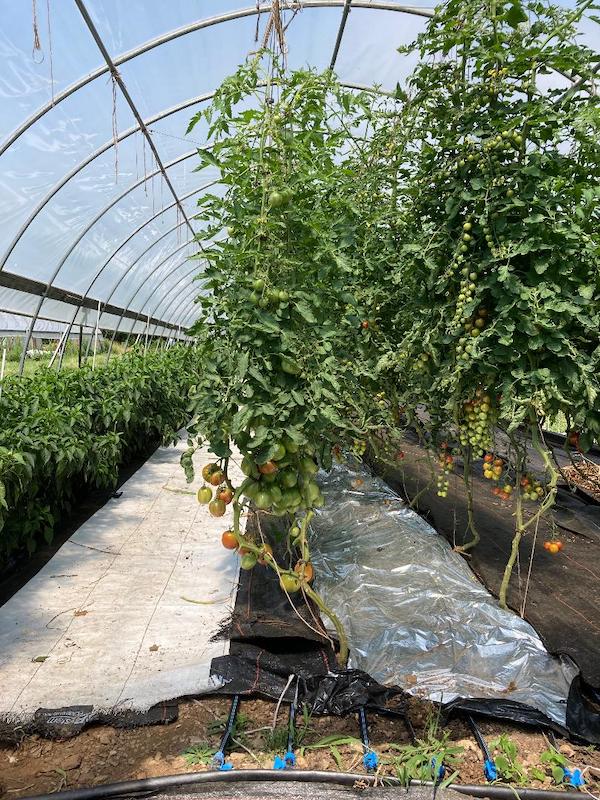 RH: "Peppers on the left, tomatoes center and right." Nice project!
* * *
Readers: Water Cooler is a standalone entity not covered by the recently concluded and — thank you! — successful annual NC fundraiser. So if you see a link you especially like, or an item you wouldn't see anywhere else, please do not hesitate to express your appreciation in tangible form. Remember, a tip jar is for tipping! Regular positive feedback both makes me feel good and lets me know I'm on the right track with coverage. When I get no donations for five or ten days I get worried. More tangibly, a constant trickle of donations helps me with expenses, and I factor in that trickle when setting fundraising goals:
Here is the screen that will appear, which I have helpfully annotated.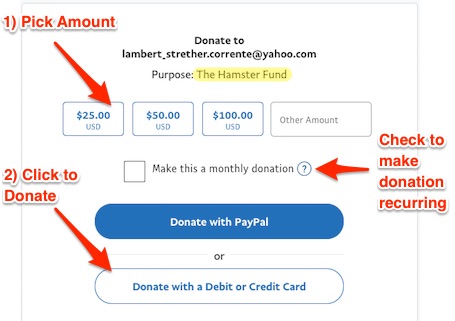 If you hate PayPal, you can email me at lambert [UNDERSCORE] strether [DOT] corrente [AT] yahoo [DOT] com, and I will give you directions on how to send a check. Thank you!2:00PM Water Cooler 6/8/2021