By Lambert Strether of Corrente.
A bit more in politics shortly. –lambert UPDATE All done!
Bird Song of the Day
Talkative and various.
* * *
#COVID19
At reader request, I've added this daily chart from 91-DIVOC. The data is the Johns Hopkins CSSE data. Here is the site. I feel I'm engaging in a macabre form of tape-watching….
We already start to an instant rebound from Labor Day, I assume because reporting is returning to normal. Nevertheless, Labor Day, as the end of summer, also signals life changes for Americans, so those changes will affect the numbers too. We shall see!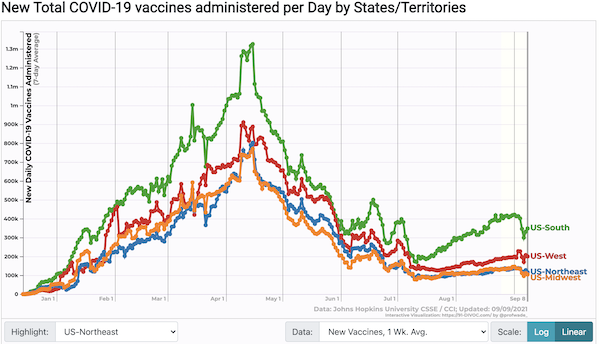 53.3% of the US is fully vaccinated, a big moment, bursting through the psychological 53% barrier (mediocre by world standards, being just below Ecuador, and just above Switzerland and Malaysia). Every day, a tenth of a percentage point upward; this stately progress seems to continuue no matter what is in the news. However, as readers point out, every day those vaccinated become less protected, especially the earliest. So we are trying to outrun the virus… (I have also not said, because it's too obvious, that if by Bubba we mean The South, then Bubba has done pretty well.)
Case count by United States regions: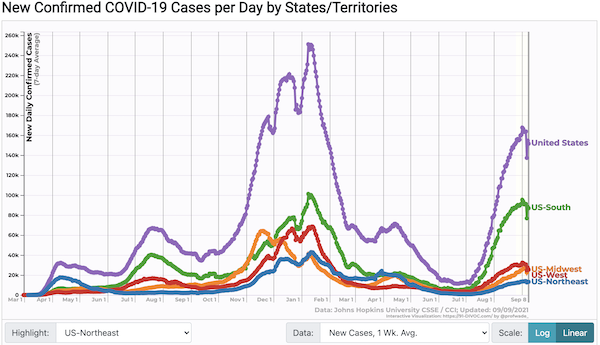 Covid cases top ten states for the last four weeks: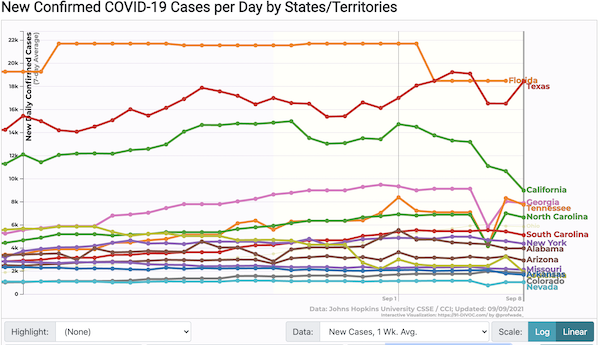 Fresh-squeezed numbers from Florida.
From CDC: "Community Profile Report September 7, 2021" (PDF), "Rapid Riser" counties, this release: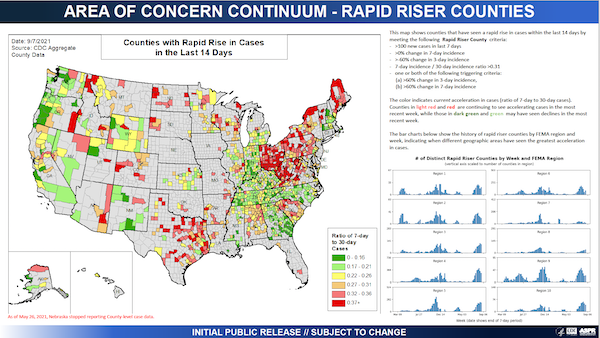 It would be nice if all that lovely green were not a reporting artifact, but…. This map, too, blows the "Blame Bubba" narrative out of the water. Not a (Deliverance-style) banjo to be heard. Previous release: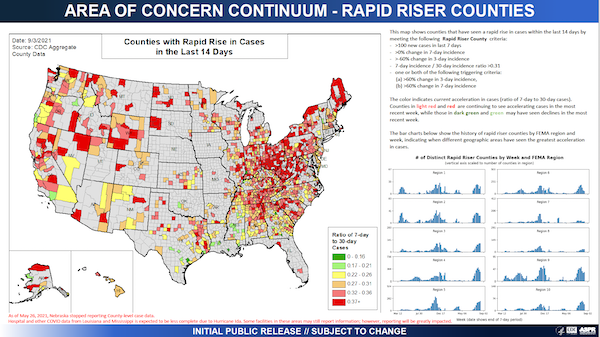 (Red means getting worse, green means bad but getting better. This chart updates Tuesdays and Fridays, presumbly by end-of-day.)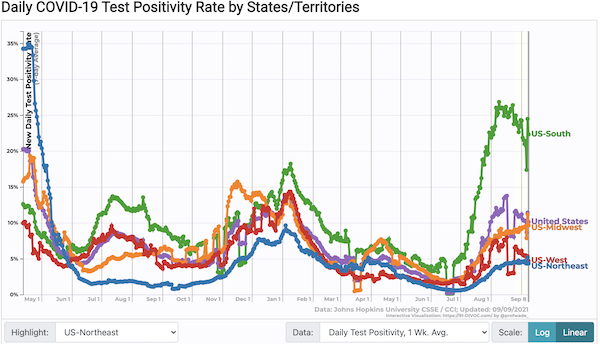 Hospitalization (CDC):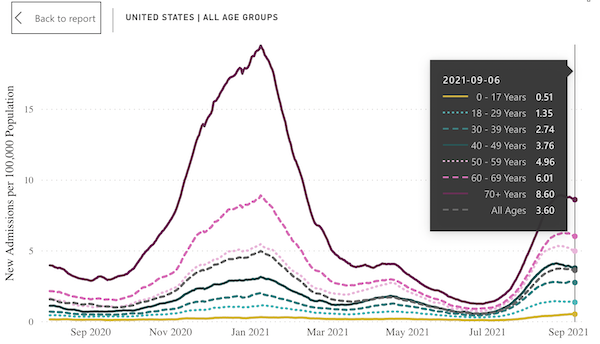 Here the CDC's hospitalization visualization, from the source above: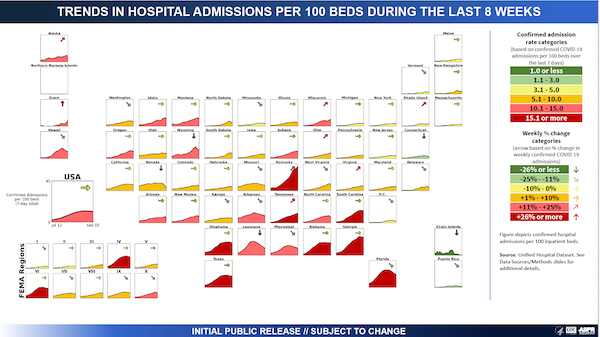 Deaths (Our World in Data):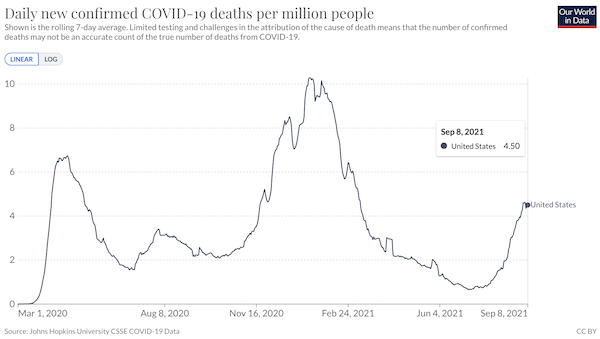 We are now well past the peak of last year at this time. Which I am finding more than a little disturbing. (Adding: I know the data is bad. This is the United States. But according to The Narrative, deaths shouldn't have been going up at all. Directionally, this is quite concerning. Needless to see, this is a public health debacle. It's the public health establishment to take care of public health, not the health of certain favored political factions.)
Covid cases worldwide: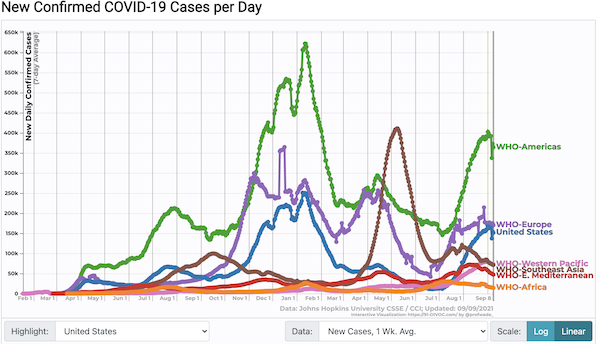 * * *
Politics
"But what is government itself, but the greatest of all reflections on human nature?" –James Madison, Federalist 51
"They had one weapon left and both knew it: treachery." –Frank Herbert, Dune
"They had learned nothing, and forgotten nothing." –Charles Maurice de Talleyrand-Périgord
Capitol Seizure
"Trumper Who Chartered Buses To Jan. 6 Rally Pleads Guilty In Capitol Breach Case" [HuffPo]. "Frank Scavo, a Donald Trump supporter from Pennsylvania who chartered four buses to D.C. on the day that the U.S. Capitol was attacked, pleaded guilty to a misdemeanor charge on Wednesday. As part of a plea agreement, Scavo pleaded guilty to one of the four counts in his criminal information during a virtual hearing before Judge Royce C. Lamberth. Scavo admitted that he 'willfully and knowingly paraded, demonstrated, and picketed in a Capitol Building.' Scavo, an Old Forge resident who said that about 200 Pennsylvania residents traveled on the trip he organized, initially lied to the Wilkes-Barre Times Leader, saying that he and his group 'didn't see what was going on inside the Capitol.' But the news outlet spotted Scavo in news photographs inside the Capitol building. Scavo's plea deal requires him to cooperate with federal authorities. He could potentially provide useful information about other Pennsylvania residents who traveled on his buses and unlawfully entered the Capitol building." • Potentially. The walls are closing in!
Biden Administration
"Biden to require all federal workers to be vaccinated -source" [Reuters]. "U.S. President Joe Biden plans to require all federal employees and government contractors to get vaccinated against COVID-19, a source briefed on the matter told Reuters. In July, Biden said federal workers had to get vaccinated or face regular COVID-19 testing and such other safety rules as mandatory face masks at workplaces and restrictions on official travel."

Now I have to put this material under Politics instead of Health Care–

"Women said the covid vaccine affected their periods. Now more than $1.6 million will go into researching it." [WaPo]. "Menstrual changes after coronavirus vaccinations could be attributed to immune responses to the vaccines and their impacts on the uterus, as well as to pandemic-related stress, lifestyle changes and contracting the virus itself, according to the National Institutes of Health. But so far, no published studies have examined – or offered conclusive evidence – of possible linkages between the vaccines and menstruation. The coronavirus vaccine trials did not specifically ask participants whether they saw adverse side effects in their menstrual cycles or volumes – an omission that Bianchi attributes to the fact that 'the (FDA) emergency use authorization was really focused on critical safety issues" and "changes to your menstrual cycle is really not a life and death issue,' she said." • And so–

"Item of Interest: NIH funds studies to assess potential effects of COVID-19 vaccination on menstruation" [National Institutes of Health]. "The National Institutes of Health has awarded one-year supplemental grants totaling $1.67 million to five institutions to explore potential links between COVID-19 vaccination and menstrual changes. Some women have reported experiencing irregular or missing menstrual periods, bleeding that is heavier than usual, and other menstrual changes after receiving COVID-19 vaccines. The new awards support research to determine whether such changes may be linked to COVID-19 vaccination itself and how long the changes last. Researchers also will seek to clarify the mechanisms underlying potential vaccine-related menstrual changes."

"Gov't to review cases of menstrual problems after COVID vaccine shots" [Korea Times]. "A growing number of women in Korea are complaining about menstrual problems as well as metrorrhagia, or intermenstrual uterine bleeding, after receiving COVID-19 vaccines. Health authorities pledged to step up monitoring to determine if there is a causal relationship between the health problems and the vaccines. A woman posted a petition on the Cheong Wa Dae website, Tuesday, calling on authorities to include menstruation-related problems as possible side effects of coronavirus vaccines so they can be eligible for government support."

"Study of 200,000 people shows Covid-19 vaccine 'zero threat' to fertility" [National News]. UAE. "Prof Lucy Chappell, an obstetrician at King's College London, said there was 'no plausible biological mechanism' by which the vaccine could affect fertility. 'When you get the vaccine you develop an antibody to the spike protein, similar to if you had a Covid-19 infection,' Prof Chappell said. 'Those antibodies don't affect your fertility. There have been myths that the proteins are similar, but lots of proteins are similar. It doesn't mean that the vaccine can impact your fertility."

"Coronavirus (COVID-19) Infection in Pregnancy" (PDF) [The Royal College of Obstetricians and Gynecologists]. "Vaccination against COVID-19 is strongly recommended. It should be offered to pregnant women at the same time as the rest of the population, based on age and clinical risk."

UPDATE "COVID-19: More than 13,000 women report changes to periods after having vaccine but experts say fertility not affected" [Sky News]. [Dr Viki Male, a reproductive immunologist at Imperial College London] said there is no scientific link between the vaccination and fertility issues and warned that women can be more susceptible to problems during pregnancy if they contract COVID-19. She said: 'We have quite a lot of evidence that these vaccines don't reduce your chances of getting pregnant. In the clinical trials, people were asked not to become pregnant but nonetheless accidents happen. Across the four vaccines that were approved in the UK, 65 people became pregnant by accident and they became pregnant equally in the vaccinated and the unvaccinated group, which tells us that the vaccine isn't reducing people's chances of getting pregnant.' 'Now that the vaccines have been more widely rolled out, we also have studies in IVF clinics where they keep a track of how likely you are to become pregnant if you're vaccinated, compared to if you're not vaccinated.' Again, being vaccinated does not reduce your chances of getting pregnant in an IVF setting.' She added: 'COVID itself is not without harm, even if you are a young and healthy woman." • Not sure that n=65 and In Vitro Fertilization studies are all that strong a peg to hang the conclusion on.

* * *

UPDATE "The Wealth Lobby Is Buying Up Democrats to Defeat Biden's Tax Reform" [Jonathan Chait, New York Magazine]. "But sometimes, naked pecuniary self-interest does come into play. This appears to be one of those times. The Democrats hold a slender majority in Congress and hope to enact an ambitious domestic reform program financed by taxing corporations and the very rich. The latter have unleashed a massive lobbying operation, the target of which is a small band of moderate Democrats in Congress who hold the balance of power. The circumstance has created a massive market demand for lobbyists who can speak to the anxieties of moderate Democrats." • So vile even Chait can't stomach it (but isn't it time to give up that word "moderate"? Wouldn't, oh, reactionary be better? (Sadly, in the last paragraph Chait shows that he believes Federal taxes fund Federal spending. Baby steps!)

UPDATE "Biden the Realist" [Foreign Affairs]. "Although his predecessor, Donald Trump, gave voice to similar impulses, it is Biden who offers a more coherent version of pragmatic realism—a mode of thought that prizes the advancement of tangible U.S. interests, expects other states to follow their own interests, and changes course to get what the United States needs in a competitive world. If Biden continues to apply this vision, he will deliver a welcome change from decades of overassertive U.S. foreign policy that has squandered lives and resources in pursuit of unachievable goals." • I dunno. The Blob thirsts for war. And so human sacrifices will be made….
Democrats en Deshabille
Sounds like Buffalo. Or campaign 2020:

NEW: What happens when progressives defeat corporate-funded Democrats?

In Prince George's County, Maryland, lobbyists & business groups are attempting to overturn an election in plain sight to keep control of a $2 billion school board budget.

The corruption is shocking. pic.twitter.com/LLhtCTEV00

— More Perfect Union (@MorePerfectUS) September 7, 2021

UPDATE But everybody loves Joe Manchin:

If I'm @JoeBiden I tell @Sen_JoeManchin my DOJ may just investigate his daughter & she may just go to prison. Unless of course he takes another look at the $3.5 trillion bill and has a change of heart. It's what FDR & LBJ would've done. And it would've worked. https://t.co/F6hH8qWB0Z

— Secular Talk🎙 (@KyleKulinski) September 8, 2021

UPDATE "The ACLU, Prior to COVID, Denounced Mandates and Coercive Measures to Fight Pandemics" [Glenn Greenwald]. "The American Civil Liberties Union (ACLU) surprised even many of its harshest critics this week when it strongly defended coercive programs and other mandates from the state in the name of fighting COVID. 'Far from compromising them, vaccine mandates actually further civil liberties,' its Twitter account announced, adding that 'vaccine requirements also safeguard those whose work involves regular exposure to the public.' If you were surprised to see the ACLU heralding the civil liberties imperatives of 'vaccine mandates' and 'vaccine requirements' — whereby the government coerces adults to inject medicine into their own bodies that they do not want — the New York Times op-ed which the group promoted, written by two of its senior lawyers, was even more extreme. The article begins with this rhetorical question: 'Do vaccine mandates violate civil liberties?' Noting that 'some who have refused vaccination claim as much,' the ACLU lawyers say: 'we disagree.' The op-ed then examines various civil liberties objections to mandates and state coercion — little things like, you know, bodily autonomy and freedom to choose — and the ACLU officials then invoke one authoritarian cliche after the next ('these rights are not absolute') to sweep aside such civil liberties concerns…."
2024
UPDATE "Christie steps out of Trump's shadow — and stokes 2024 buzz" [Politico]. "The former governor is set to deliver a Thursday evening speech at the Ronald Reagan Library in Simi Valley, Calif. — a traditional waystation for GOP presidential aspirants — as part of a speaker series the organization is hosting that focuses on the future of the Republican Party. The high-profile appearance comes as Christie intensifies his political activities ahead of the 2022 midterm elections, with a book on the way, a new perch helping the GOP raise money, and plans to help the party flip control of the House next year." • Christie v. Harr– Oh gawd! [covers mouth, runs from room].

UPDATE Clinton-level, and I don't mean that in a good way:

A fiery VP Harris campaigned for Gavin Newsome today.

And this is why right and even some far left media are doing all they can to diminish her *now.

Because this energy on a Dem campaign trail in 2022 & beyond is bad for their business of greed and anarchy. #VoteNoOnRecall pic.twitter.com/6PyfKVlXnq

— Renee (@PettyLupone) September 8, 2021

"Fiery"? Really?
Realignment and Legitimacy
UPDATE Speaking of the collapse of the Soviet Union (1):

— Garden Bones (@lacroixcommie) September 8, 2021

Several similar stories in the responses, and I've seen the same story elsewhere. And collapse of the Soviet Union (2):

UPDATE "The House Paid Leave Proposal Is Awful" [Matt Bruenig, People's Policy Project]. The Deck: "If you like the US healthcare system, you'll love Richard Neal's new paid leave plan." Good thing the Mass Dems smeared Morse to keep Neal in office! "For years, Democrats have pitched paid leave as a very simple Social Security program. But in the last few months, Richard Neal has steered the policy in a much different direction. Instead of a unified federal program, the House is now proposing to create a complex hybrid paid leave program that includes employer-provided private paid leave insurance, state paid leave programs, and then a residual federal benefit that is only available to people not covered by an employer or state plan. Under the new proposal, employers are invited to set up their own paid leave programs, which they can either self-fund or contract with a private insurer to run. In order to administer this, every single employer with a paid leave plan will have to register their plan with the Treasury every single year. As part of this registration, they will send a list of every employee that they expect to be covered by the plan each year to the Treasury. In the case of an employer with a third-party insurance plan, the Treasury will pay the employer a cash amount equal to 90 percent of the national average cost of paid leave per employee multiplied by their number of employees, which the employer will then fork over as a premium to a private insurance company. (Bizarrely, Richard Neal has highlighted on his website that one of the private insurance companies that will benefit from this has endorsed his bill.) By including private insurance in this way, the bill ensures that we will waste some of our paid leave money on private insurer overhead and profits. It also invites employers and insurers to profit off of benefit denials and cream-skimming of various sorts. An employer who has a workforce that takes a below-average amount of paid leave could conceivably get an insurance contract that charges less than the grant the Treasury pays them and then pocket the difference. The employer and state plans will also massively complicate the system for individuals trying to take paid leave." • Absolutely brutal. Remember also, that paid leave is key to getting some of the unvaccinated their jabs — which apparently they will have to keep doing for quite some time.

UPDATE The Venn diagram of people who named their dogs after Robert Mueller and people who bought this religious amulet is a circle:

so dark pic.twitter.com/YgdT4cbs3i

— elizabeth bruenig (@ebruenig) September 8, 2021
Stats Watch
Employment Situation: "United States Initial Jobless Claims" [Trading Economics]. "The number of Americans filing new claims for unemployment benefits declined to a new pandemic low of 310 thousand in the week ending September 4th and less than market forecasts of 335 thousand. The reading continues to point to a continued recovery in the world's largest economy, helped by business reopenings and the start of the school year and in spite of risks posed by the ongoing COVID-19 resurgence and labor supply shortages. Also, it is the last reading before the September 6th expiration of enhanced unemployment benefits including a $300 weekly supplement to regular state benefits from government pandemic aid. "
* * *
Commodities: "U.S. oil and gas production is still staggering nearly 10 days after Hurricane Ida tore through Louisiana. Nearly 80% of U.S. production in the Gulf of Mexico remains offline…while oil and gas processing plants and other key onshore facilities try to recover from damage and the loss of power that has limited output" [Wall Street Journal]. "Operators have restored about 300,000 barrels of daily oil production, but most remains shut off. The impact on broader energy markets has been muted so far, but some of the country's largest refineries remain offline and extended delivery delays could eat into inventories. The Port of New Orleans resumed full operations that include container and bulk handling only this week even as energy facilities were still struggling to recover. In total, Ida has kept about 20 million barrels of oil off the market, according to S&P Global Platts Analytics."
Shipping: "Trucking companies may find out soon if they can recruit more long-haul drivers by getting them behind the wheel younger. Proposed legislation in Congress would test letting people as young as 18 years old drive big rigs across state lines, but…the plan is drawing fierce criticism and exposing a divide in the trucking sector" [Wall Street Journal]. "Opponents and researchers say the provision in the infrastructure bill awaiting action in the U.S. House misses the point of hiring problems facing the big fleets. They say there is no shortage of recruits to the business, but that many drivers quit because of the grueling work and extended time away from home. The difficulty in hiring and keeping drivers has only gotten worse during the pandemic, effectively putting a ceiling on capacity growth and leaving truckers and shippers looking for solutions." • Come on, man. The infrastructure bill? Really?
Shipping: "Deja vu as container ship runs aground in Suez Canal but is quickly refloated" [Metro UK]. • Third time is the charm!
The Bezzle: "U.S. markets regulator takes aim at Coinbase lending product" [Reuters]. "The U.S. Securities and Exchange Commission has told Coinbase Global Inc (COIN.O) that it plans to sue the cryptocurrency exchange if it goes ahead with plans to launch a programme allowing users to earn interest by lending digital assets, Coinbase said. The top U.S. markets regulator last week told Coinbase it intends to legally charge the company, Coinbase's chief legal officer, Paul Grewal, said a statement on Tuesday, noting that the firm now plans to delay the launch of its 'Lend' product until at least October. An SEC spokesperson declined to comment. In a lengthy Twitter thread, Coinbase CEO Brian Armstrong criticized the agency's handling of the firm's plans to roll out a lending product the SEC has determined to be a security and said the agency had denied him a meeting. Both the CEO and chief legal officer said Coinbase disputes the SEC's determination, saying 'Lend' is not an investment contract or note. The executive's remarks provide a glimpse into the rising tension between the crypto industry and regulators, which have been ratcheting up scrutiny of a world that has so far existed in a regulatory gray area."
Tech: "Apple's Child Sex-Abuse Tool Is Too Clever for Its Own Good" [Bloomberg]. "Apple should probably recognize that anything designed to examine the personal contents of people's phones is a lost cause… [T]he company should instead just copy the practices of its main technology rivals. Facebook Inc., Alphabet Inc.'s Google and Microsoft Corp. scan for CSAM photos after they're uploaded. It's not a perfect solution. Apple would need to look through more photos instead of a small subset. But it is easier for users to accept the idea that images sent for storage on the internet may get examined for illegal content. Sometimes companies can be too clever for their own good. The sooner Apple realizes this public relations battle is unwinnable, the better. Otherwise, fear of corporate surveillance may dominate the conversation surrounding iPhones for a long time." • Maybe Apple could just eliminate local storage altogether and store everything in the cloud. I bet they'd love that, not least because they could charge the same for devices while leaving out parts.
Tech:
My dad was just subject to undue scrutiny when applying for something which a white friend of his had recently attained with no problem. Dad asked company why and they rushed to assure him that it couldn't have been racism cos "the decisions are all based on algorithms". Lmao.

— Liam Bright (@lastpositivist) September 9, 2021
Lol.
Supply Chain: "Shipping disruptions are triggering greater stresses at the source of many supply chains. Some Chinese exporters say they are rejecting orders and limiting production as delays at ports stretch out payment terms and create cash-flow problems" [Wall Street Journal]. "The South China Morning Post reports that the manufacturers are seeing inventories stack up because of coronavirus-related lockdowns that have slowed handling at China's big ports. That is fracturing long-established structures of orders and payments, adding to financial woes at small and medium-size manufacturers as they cope with higher raw materials costs. China's exports have remained robust even during the recent shipping slowdowns, including a 25.6% surge in outbound shipments in August. But measures of factory activity are slipping, which could mean fewer goods heading into global supply chains in coming months.:"
The Economy: "How I reluctantly became an inflation crank" [Full Stack Economics]. "This summer I stayed at a hotel from a well-known brand in an upscale suburb. The breakfast was comically unimpressive: little more than some individual cereal boxes, a limited assortment of poorly-cooled beverages, and paper dishware. And I could tell that it hadn't always been that way: the room was large and had obviously been designed to host a more impressive spread in the days before COVID-19. This put me into thought. Not self-pity—the Raisin Bran was fine, and I was happy to cut the hotel some slack. No, I was thinking about how economists measure production, and how these pandemic-induced degradations in quality are likely not fully reflected in our economic statistics." Economists are missing crapification! More: "When a new product replaces an old one, changes in price might reflect quality differences rather than customers getting more or less for their money. Therefore, agencies like the BLS need quality adjustments to calculate the true rate of inflation. This is trickier than it sounds….. For example, a BLS primer on a method for computing auto price inflation includes a stylized example comparing 2013 and 2014 versions of the same car model…. Cars are, however, the easy example. There aren't very many car models, and their features are clearly defined and well-documented…. Now consider the market for hair care services. There are thousands of places to get a haircut. Some places have nicer furnishings than others, some workers are more talented than others, and a variety of extras might be included for free⁠—or not. To systematically adjust for haircut quality, BLS might have to send out thousands of employees to salons around the country—a preposterously expensive project. Even if it did that, it's not obvious how to objectively measure whether one establishment delivered a more enjoyable experience or a more stylish result than another." So hedonic adjustment doesn't adjust very well? More: "Now we're likely facing the same problem, but in the opposite direction: many products are getting worse as a result of the pandemic. But the BLS doesn't have the manpower—or in some cases even the conceptual framework—to fully capture all of these changes in its inflation measurements." • Very interesting and readable piece.
* * *
Today's Fear & Greed Index: 47 Neutral (previous close: 49 Neutral) [CNN]. One week ago: 56 (Greed). (0 is Extreme Fear; 100 is Extreme Greed). Last updated Sep 9 at 12:38pm.
The Biosphere
"Success! Mars rover finally collects its first rock core" [Nature]. "When the rover first attempted the manoeuvre, on 6 August, the rock it was trying to sample crumbled into powder before making it into a sample tube. The second attempt, on 1 September at a different location several hundred metres away, went smoothly: the drill bit pulled a slim cylinder out of a 70-centimetre-long rock named Rochette. Engineers then paused the process so that they could photograph the core in its sample tube, to ensure it was intact, before sealing the specimen inside days later, on 6 September…. .The core from Rochette now rests in Perseverance's belly, hermetically sealed and ready to wait many years until future spacecraft can retrieve it and any other cores the rover manages to collect. The goal is to gather about 35 cores representing the geological history of Jezero Crater, Perseverance's landing site — which was home to a river delta billions of years ago and might contain evidence of ancient Martian life."
Health Care
Testing in schools sounds like a good idea:
Most school reopen plans focus on looking for kids with Covid symptoms. Yet research shows symptom screening alone won't enable schools to contain outbreaks. 40% of cases may be asymptomatic; 50% transmission occur from asymptomatic persons. Testing is key https://t.co/rRDx4mcauE

— Scott Gottlieb, MD (@ScottGottliebMD) September 8, 2021
To its credit, CDC mentions testing multiple times in the "Key Takeaways" section of "Guidance for COVID-19 Prevention in K-12 Schools." So where was the messaging to prepare schools for this? Perhaps because August 5 is a little late to organize the school year, the message didn't penetrate.
"School Districts Flout CDC Safety Reopening Guidelines" [US News and World Report]. "For all the criticism heaped upon the Centers for Disease Control and Prevention, the government's top public health officials have been clear about how school leaders can return students to classrooms safely – by deploying a series of risk-mitigation strategies, one layered upon the other." • That is certainly not the messaging deployed to the mainstream. But: "Among 100 large and urban school systems, including the 30 largest in the country, 66% required masks for at least some and 68% had policies on contact tracing, according to the Center for Reinventing Public Education, an education organization that's been tracking how school districts are operating since the onset of the pandemic. But only 10% required vaccinations for school staff and just 18% required testing." And to be fair to the Administration: "[Education Secretary Miguel Cardona] for his part, has been criss-crossing the country, attending vaccine drives for students and their families, joining students for their first day of school and taking to the airwaves to sell the CDC's safety recommendations." Enter coercion: "Now, Cardona says he'll use the department's Office for Civil Rights to investigate states that "infringe on the rights of every student to access public education equally" – a new use of the civil rights office that some say should extend to school districts that aren't providing safe environments for children in line with CDC guidance." • But "the 30 largest in the country" would certainly include some Blue cities (so perhaps we should be denying those school boards and adminstrators hospital beds). So what's up with that? The first relevant hit from "Miguel Cardona" "vaccine drives" in Google links to an event on May 17, the second to August 20, and the third from August 25. If indeed Cardona is criss-crossing the country, he's not making the news. Here are Cardona's tweets on testing. It looks to me like the push for testing started in late August, because that's the first tweet on marketing collateral). Perhaps I should look into all this. Readers, any reports from the field?
"COVID-19 Testing to Sustain In-Person Instruction and Extracurricular Activities in High Schools — Utah, November 2020–March 2021" [Morbidity and Mortality Weekly Report, CDC]. From the Abstract: "Utah implemented two high school COVID-19 testing programs to sustain in-person instruction and extracurricular activities. During November 30, 2020–March 20, 2021, among 59,552 students who received testing, 1,886 (3.2%) had a positive result. These programs facilitated the completion of approximately 95% of high school extracurricular competition events and saved an estimated 109,752 in-person instruction student-days. School-based COVID-19 testing should be considered part of a comprehensive prevention strategy to identify SARS-CoV-2 infections in schools and sustain in-person instruction and extracurricular activities."
"COVID Complicates Back-to-School Lunch Plans for NYC Students" [The City]. "Experts warn that lunchtime could be the riskiest part of the school day — when masks come off, guards are let down, and students are chatting away, letting forth aerosols inside rooms that might not have space for physical distancing. Though New York City has said students should be kept three feet apart, the guidance gives schools leeway, stating that should be done 'where possible.' That leaves the door open for school-by-school approaches. With the first day of class rapidly approaching, many parents and school staff are nervous about keeping students safe while eating together."
* * *
"Lessons From the Ivermectin Debacle" [RealClearScience (Sardonia)]. "Yet again, this pandemic has reminded us that science's attempts to describe reality are fraught with uncertainty. Our greatest gift, when confronted with uncertainty, is to recall that none of us really know the truth. Real intellectual humility in science – not the 'I'm humbled to be named coach of this great football program' variety of humility, but truly questioning whether we know what we think we know, and choosing to update our pre-conceived notions regularly — is the smoothest path to advancing medical science. It's dearly needed now." • This is an excellent, balanced, lucid review of the bidding. Well worth a read.
Propagation begins:
*warm fuzzies*https://t.co/PkScHlCVYv

— Brian MD (@bone00afide) September 9, 2021
Then again, perhaps liberals have learned something from the Dr. Jason McElyea debacle:
This is bait. The study is old (2011), small, and disreputable, and this news story doesn't accurately summarize it. The FDA didn't require listing this side effect on the ivermectin label. (But the FDA also didn't approve ivermectin, and you shouldn't use it, to treat Covid.) https://t.co/nUMi3C7Hmt

— southpaw (@nycsouthpaw) September 9, 2021
But it's not bait. The study was originally propagated by Trisha Greenhalgh who, shockingly, bought into the horse paste lie, and is apparently now looking for a new horse to back.
"Stop Death Shaming" [The Atlantic]. "So what would persuade the unvaccinated? A recent iteration of the Census Bureau's Household Pulse Survey asked unvaccinated Americans about their reasons for putting off or refusing vaccination against COVID-19, and allowed them to select more than one option, resulting in a set of ranked concerns for COVID-vaccine skeptics. Just more than half of the respondents listed the potential side effects of the vaccines as a major concern. Perhaps they've been paying attention to the news. The New York Times recently reported that myocarditis, inflammation of the heart muscle, is more common after COVID-19 vaccination; likewise, NPR featured a story earlier this month on university researchers looking into thousands of claims of menstrual changes following vaccination, and two days later Reuters ran a news article noting that European regulators were probing a skin rash and a pair of kidney disorders as possible side effects of the vaccines. None of these potential side effects has yet been verified by rigorous research. I think the vaccines are worth the slate of (what appear to me to be) relatively minor known risks (particularly when weighed against the risks of severe complications from getting COVID-19), and I haven't had any sort of trouble since my Pfizer shots, which I got back in April—but that set of concerns is at least distinct from the total recalcitrance sometimes imputed to the unvaccinated. Down the list we go: Nearly four in 10 unvaccinated Americans don't trust the vaccines, which might be an expression of concern about either efficacy or side effects; a similar proportion want to wait and see whether they're safe, which, again, is a deflatingly concrete concern, if not the decision I would (and did) make in the same situation. A third don't trust the government (brothers and sisters: same here), and only then do we arrive at the just less than a quarter who don't believe they personally need a vaccine. A rung down, after the 22 percent who aren't sure that the vaccines are actually protective, are another 17 percent who don't see COVID-19 as a major threat—a fairly small minority, all things considered. What strikes me about the responses of the unvaccinated—as opposed to the tempting caricature presented by their worst representatives in pulpits and politics—is that there does seem to be significant willingness to consider vaccination, though I doubt that persuasion lies in lurid accounts of death or allegations that that the unvaccinated themselves are guilty of killing those who end up infected." • Perhaps persuasion is not really the goal?
Our Famously Free Press
Games
Screening Room
Since the Dune hype has begun we might as well inoculate ourselves:
"Denis Villeneuve has produced the first great 'Dune" adaptation' [The Economist]. "It is also refreshing to see a serious piece of science fiction on screen. Without being humourless, "Dune" is a sincere work which doesn't undercut itself with irony, as is fashionable in many genre films today. The ecological and political themes of Mr Herbert's book are retained: it is revealed that the planet is kept in a ruinous state so that the natural resources can more easily be exploited. The powerful families come and go from Dune while the indigenous peoples—the Fremen—have been oppressed by all, and are in danger of extermination." • Villeneuve also directed Blade Runner 2049, which I preferred to the original, because I thought that world was more like Philip K. Dick's original. Also, the first scene is chilling.
"Denis Villeneuve's 'Dune' is a transporting vision, but it could use a touch more madness" [Los Angeles Times]. "To call this "Dune" a remarkably lucid work is to praise it with very faint damnation."
"Denis Villeneuve's Take on Dune Is an Admirably Understated Sci-Fi Spectacle" [Time]. "To call Denis Villeneuve's science-fiction extravaganza Dune a good example of its type of thing is probably damning it with fainter praise than it deserves."
"Venice Film Festival: 'Dune' Leaves Us With 3 Big Questions" [New York Times]. "It's something dreamier and weirder, a movie that straddles the line between auteurist art-film and studio blockbuster so provocatively that even after watching it, I can't quite predict how "Dune" will fare when it comes out in theaters (and on HBO Max) on Oct. 22. When I left my screening, the first critic I spoke to was totally besotted. The second fled the theater as if Villeneuve had planted a bomb there. Still, after a decade of Marvel movies made with high-level craftsmanship but few formal risks, it's bracing to get a movie of this scale that takes such big artistic swings."
"'Dune' Review: Denis Villeneuve's Epic Spice Opera Is a Massive Disappointment" [IndieWire]. "Fear not: The sandworms do come. They are big and bristly and they're responsible for the only scene in which the film's biblical drone is enlivened by even the tiniest dollop of dramatic tension. Villeneuve is in love with the scale of these subterranean beasties, each of which is half as long as the R.M.S. Titanic, and he frames them with such palpable awe that you almost expect the 'Jurassic Park' theme to play every time they rear their butthole heads. But one look at the sandworms is enough to rob them of their mystery. They're soon reduced to sound and earthquakes, signifying nothing but your growing desire to be watching "Nausicaa of the Valley of the Wind" instead. And that literalness, or at least that abject lack of associative thought, is what damns this "Dune" beyond salvation. Here is a film consumed by dreams from even before the moment it starts (you'll see what I mean), but also one so arch and full of empty spectacle that it keeps your imagination on a tight leash, which grows all the more enervating as Paul and his mother find themselves being chased through the desert by sandworms in the final act." • What I noticed in the trailer was not a scrap of Herbert's original dialog. And Herbert's dialog is very good.
"Dune" [Rotten Tomatoes]. 88%. Critics consensus: "Dune occasionally struggles with its unwieldy source material, but those issues are largely overshadowed by the scope and ambition of this visually thrilling adaptation." • I'm wondering if "visually thrilling" translates to "weak characters." Hard to imagine that, since Herbert gave Villeneuve such strong material, but stranger things have happened.
Household Tips
Good advice for Louisiana:
Attn Eveyone In New Orleans: if you have been running a generator CHANGE THE OIL ON IT. The other day we hit the 200hr mark on power outage and many generators will need oil changes after that point to avoid failing in the future. Share this widely

— David AttenBruh🦇🐍 (@AlHendiify) September 7, 2021
A generator doesn't move you that far off the grid, does it?
Book Nook
I had no idea Thomas Pynchon was a "high WASP" (double entrendre intended?). Makes me identify with him more:
This conversation about Pynchon's Bleeding Edge on the @thetrillbillies pod is one of the best 3 hours (3 hours!) of bookchat I've ever heard, and I've heard a lotta bookchat. Unmissable. I'll die happy if someone ever talks about one of my books this way.https://t.co/ZX2Q47PTor

— Jacob Bacharach (@jakebackpack) September 8, 2021
(Bachrach is another old-school blogger, so he should know.) Here's a link to the Trillbillie's podcast. And I suppose I have to pick up a copy of Pynchon's 2013 Bleeding Edge… Another book to read, dammit. Any reviews from readers? (I feel, as did Twain with Wagner, that Pynchon's writing is better than it reads.)
Groves of Academe
I missed the "May" part at first reading. But yes:
This position will promote belonging. Also, you need to be off the premises by May. pic.twitter.com/Mf25Ep99qX

— Alan Allport (@Alan_Allport) September 9, 2021
I wonder how many professors are "visiting" from their RVs, campsites, or Walmart parking lots.
Imperial Collapse Watch
And so it begins:
Canada has never generated enough domestic investment to develop the opportunities abundant in Canada. To achieve its potential, Canada needs global investment.

— David Frum (@davidfrum) September 9, 2021
"Come on. We need the water. Do you want us to just take it?"
Class Warfare
UPDATE "The economic gains from equity" [Brookings Institution]. "Then, in The economic gains from equity, they conducted a thought experiment, asking: "How much larger would the U.S. economic pie be if opportunities and outcomes were more equally distributed by race and ethnicity?" Their answer is $22.9 trillion over the 30-year period. 'The persistence of systemic disparities is costly, and eliminating them has the potential to produce large economic gains,' the authors write. Standard economic models often assume markets work efficiently and thus suggest explanations—such as unmeasured differences in productivity or cultural differences—that would support the existence and persistence of racial and ethnic gaps. The authors instead assume talent and job and educational preferences are distributed evenly across race and ethnicity. They then show the economic effects of disparities that hold people back from fully realizing their potential." • How odd that, for liberals, "equity" never, ever includes class.
News of the Wired
And yet, for millenia….
The fact that people used to deliver pizzas before GPS is so absurd to me.

People were really calling up a pizzeria like "I want a large pizza delivered in 30 minutes. I'm going to give you a house number, and a random street name. Good fucking luck."

— Grosdoriane (@Grosdoriane) September 8, 2021
Without satellites, we'd have to revert to paper maps. Reason enough to surround the Earth with space junk and ruin the night sky. Tang wasn't worth it, either.
We do volume with the knobs set to eleven:
To my non-USA followers that this is how we do volume. pic.twitter.com/gqQa42BzsM

— FemboyPhysics, BSc. (@FemboyPhysics) September 7, 2021
* * *
Readers, feel free to contact me at lambert [UNDERSCORE] strether [DOT] corrente [AT] yahoo [DOT] com, with (a) links, and even better (b) sources I should curate regularly, (c) how to send me a check if you are allergic to PayPal, and (d) to find out how to send me images of plants. Vegetables are fine! Fungi and coral are deemed to be honorary plants! If you want your handle to appear as a credit, please place it at the start of your mail in parentheses: (thus). Otherwise, I will anonymize by using your initials. See the previous Water Cooler (with plant) here. Today's plant (johnnyme):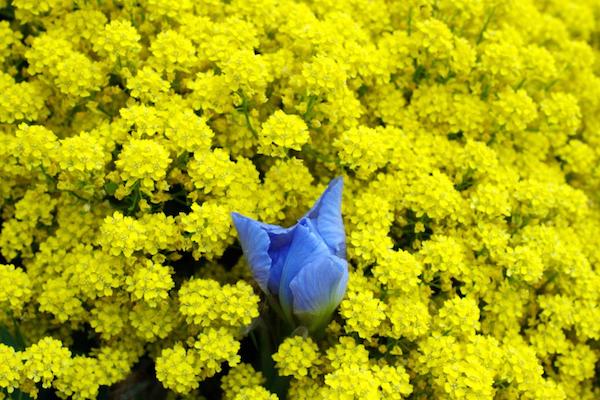 johnnyme writes: "Would this be counted as a breakthrough case?"
* * *
Readers: Water Cooler is a standalone entity not covered by the recently concluded and — thank you! — successful annual NC fundraiser. So if you see a link you especially like, or an item you wouldn't see anywhere else, please do not hesitate to express your appreciation in tangible form. Remember, a tip jar is for tipping! Regular positive feedback both makes me feel good and lets me know I'm on the right track with coverage. When I get no donations for five or ten days I get worried. More tangibly, a constant trickle of donations helps me with expenses, and I factor in that trickle when setting fundraising goals:
Here is the screen that will appear, which I have helpfully annotated.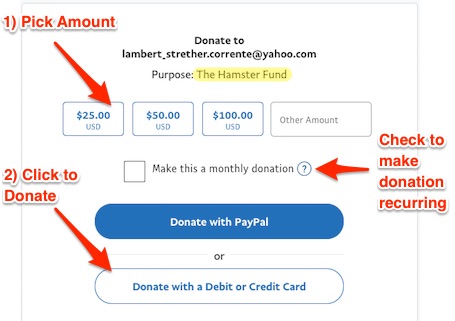 If you hate PayPal, you can email me at lambert [UNDERSCORE] strether [DOT] corrente [AT] yahoo [DOT] com, and I will give you directions on how to send a check. Thank you!2:00PM Water Cooler 6/8/2021