By Lambert Strether of Corrente.
Bird Song of the Day
* * *
#COVID19
At reader request, I've added this daily chart from 91-DIVOC. The data is the Johns Hopkins CSSE data. Here is the site. I feel I'm engaging in a macabre form of tape-watching….
We already start to an instant rebound from Labor Day, I assume because reporting is returning to normal. Nevertheless, Labor Day, as the end of summer, also signals life changes for Americans, so those changes will affect the numbers too. We shall see!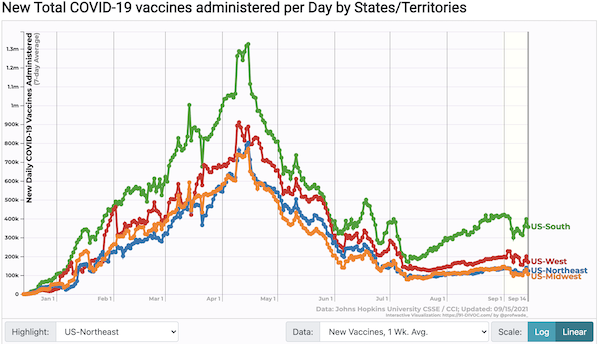 Interesting little blip. If it persists, credit to Biden. This is Tuesday. Looks like somebody came in Monday and got caught up from last week.
54% of the US is fully vaccinated (mediocre by world standards, being just below Ecuador, and just above Switzerland and Malaysia). We are back to the 0.1% stately rise per day. This is the number that should change if Biden's mandates "work." However, as readers point out, every day those vaccinated become less protected, especially the earliest. So we are trying to outrun the virus… (I have also not said, because it's too obvious, that if by Bubba we mean The South, then Bubba has done pretty well.)
Case count by United States regions: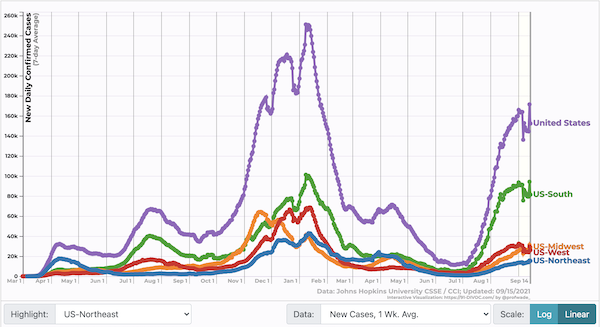 Big drop, supporting Monday reporting catch-up theory. I'm almost inclined to call the last peak and, as in December and January of last year, worry about the next peak from school re-opening. I dunno. Maybe, again, somebody caught up on the backlog Monday. We could get lucky, as we did with the steep drop after the second week in January. The populations are different, though. This one is more vaccinated, and I would bet — I've never seen a study — that many small habits developed over the last year (not just masking). Speculating freely: If the dosage from aerosols drops off by something like the inverse square law, not linearly, even an extra foot of distance could be significant if adopted habitually by a large number of people. And if you believe in fomites, there's a lot more hand-washing being done. On the other hand, Delta is much more transmissible.
NEW From CDC: "Community Profile Report September 13, 2021" (PDF), "Rapid Riser" counties, this release: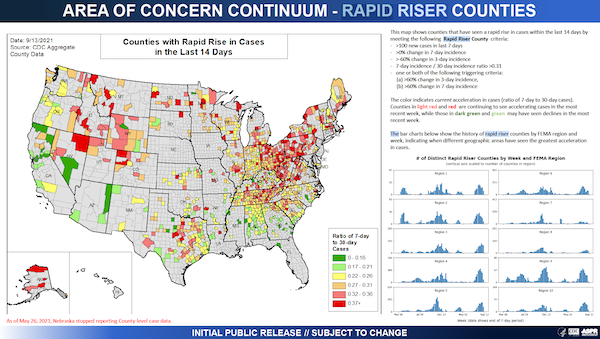 To my eye, the Ohio Valley looks a little redder. Fascination to see the Sturgis cluster heal, though. Remember, however, that this chart is about acceleration, not absolute numbers, so the case chart still has momentum. This map, too, blows the "Blame Bubba" narrative out of the water. Not a (Deliverance-style) banjo to be heard. Previous release: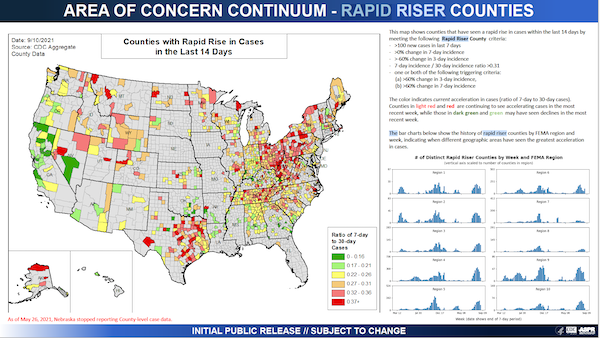 (Red means getting worse, green means bad but getting better.)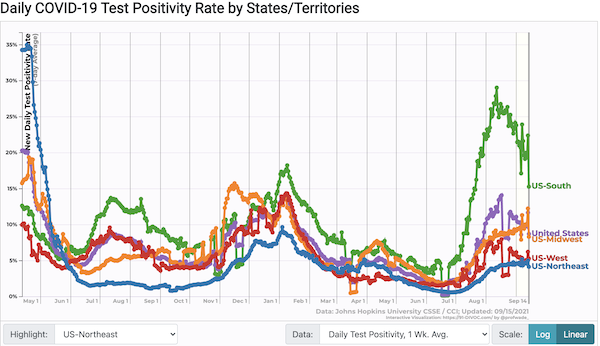 Hospitalization (CDC):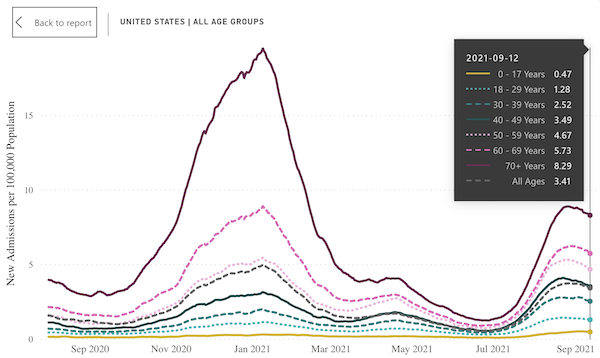 Here the CDC's hospitalization visualization, from the source above: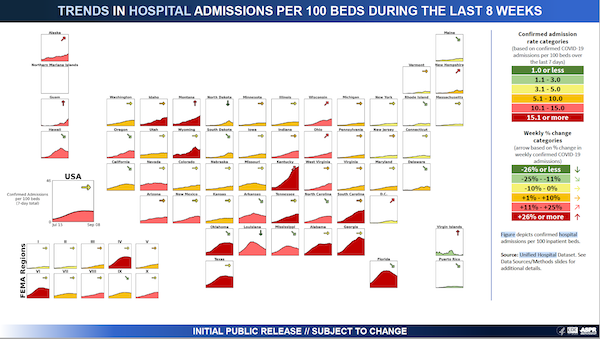 Deaths (Our World in Data):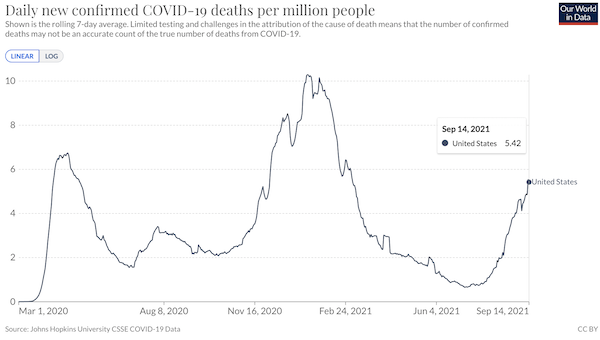 We are now well past the peak of last year at this time. Which I am finding more than a little disturbing. (Adding: I know the data is bad. This is the United States. But according to The Narrative, deaths shouldn't have been going up at all. Directionally, this is quite concerning. Needless to see, this is a public health debacle. It's the public health establishment to take care of public health, not the health of certain favored political factions.)
Covid cases worldwide: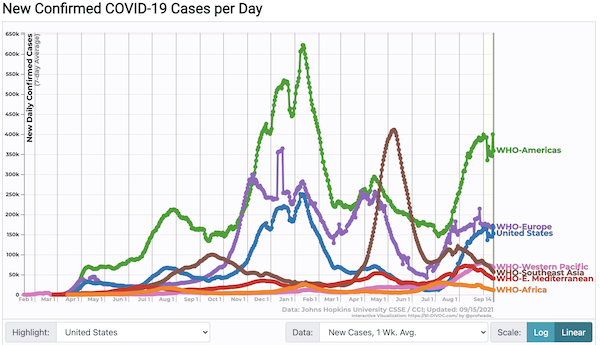 * * *
Politics
"But what is government itself, but the greatest of all reflections on human nature?" –James Madison, Federalist 51
"They had one weapon left and both knew it: treachery." –Frank Herbert, Dune
"They had learned nothing, and forgotten nothing." –Charles Maurice de Talleyrand-Périgord
Biden Administration
"How Gavin Newsom survived the recall" [Politico]. "[P]rincipals involved in the campaign detailed a furious effort by Newsom's campaign to put the race out of Republicans' reach. The turning point for the campaign, according to Newsom's strategists, came in the governor's adoption of aggressive mask and vaccine mandates — both widely popular in California — and in Newsom's avalanche of spending depicting his top Republican opponent, Larry Elder, as an anti-science clone of former President Donald Trump…. By Labor Day, Newsom had turned what started as an up-or-down vote on his governorship into a choice between him and Elder, the radio show host Newsom relentlessly tethered to Trump — with a predictable outcome in this staunchly Democratic state. For Newsom, the emergence of Elder as the GOP's standard bearer was an unexpected gift, so beneficial to the governor that many Republicans came to resent Elder for turning the race into a traditional — and unwinnable — choice election. Within 50 minutes of voting centers closing Tuesday night, Newsom's defeat of the recall was called by four television networks and the Associated Press, ending a race that began as an almost laughable longshot, became unexpectedly competitive, then settled where it began, with Newsom prevailing in a blowout. Even before the final ballots were cast, Newsom's advisers were selling his campaign as a template for Democrats nationally in the midterm elections. Mask and vaccine mandates such as those embraced by Newsom are viewed favorably by a majority of Americans, polls show. For Democrats, [Ace Smith, Newsom's lead strategist] said, 'there's a huge thing to take away, which is . … We go out and we figure out that not only is it really good policy and bold policy, which he was going to do no matter what, but it's actually really good politics.'" • Does make you wonder when the California oligarchy is going to start quietly walking away from Harris, which seems to be the subtext here. Commentary:

Imagine if the Democratic Party had campaigned even a fraction as hard against Prop 22 as they campaigned against the effort to recall Gavin Newsom.

— Ben Spielberg (@BenSpielberg) September 15, 2021

Well, that assumes the Democrats would support the working class over Silicon Valley. Na ga happen.

"Newsom beats California recall" [Politico]. "But a receding virus and rebounding economy put Newsom back on firm footing. After some initial stumbles, California's mass vaccination program helped to drive down infection rates to the point that Newsom was able to dissolve a system of county-by-county restrictions on June 15. Surging tax revenue defied dire fiscal forecasts and gave California an enormous budget surplus, billions of which Newsom converted to rebates back to taxpayers. By the summer, Newsom had embarked on something of a victory tour. He touted California's revival at triumphalist press conferences that doubled as campaign events, and he played game show host at glitzy lottery events that offered vaccinated Californians the chance to win prizes. That upward trajectory led Newsom to convince the Legislature to move up the election date to mid-September, believing the electorate would be in high spirits. The Delta variant threw a wrench in that plan, driving up virus rates to the point that counties reimposed mask requirements and Newsom mandated vaccinations or negative tests for state employees, teachers and health care workers. But rather than shy away from the types of restrictions that first propelled the recall, Newsom leaned into them. He made his closing argument a matter of pandemic contrast, posing a choice between California's stringent rules — which Republican contenders vowed to unravel — and the looser approaches taken by Texas and Florida. 'The Delta surge was a real inflection moment in this campaign,; Newsom strategist Sean Clegg told reporters the night before the vote."

"Seven takeaways from California's recall election" [The Hill]. "'Gavin Newsom still has Washington, D.C., in his gaze,' said Thad Kousser, chair of the political science department at the University of California, San Diego. 'And this recall, rather than tripping up his national ambitions, has elevated his visibility across the country.'" • Meanwhile–

"California Oil Industry Continues to Thwart Climate-Related Bills" [Capital and Main]. "Overall, ten proposed bills that included environmental justice measures, industry accountability and emissions reduction programs never made it to a final chamber in the state Senate or Assembly in the face of opposition from the oil and gas industry. The lobbying was led by the Western States Petroleum Association and the California Independent Petroleum Association. Three other climate-related bills made it to a final chamber, one with significant changes that lessened its potential impact. Many of these bills were also opposed by business and labor groups, but the oil and gas industry was usually the most vocal. Three bills in particular show how the industry still maintains a tight grip on climate policy in California — despite the state's reputation for being at the forefront of efforts to reduce our use of fossil fuels. Two of them passed one chamber, only to get pulled before a floor vote in the second; one of them passed and now heads to Gov. Gavin Newsom's desk but was significantly weakened."

* * *

"Second senior official leaving DHS in a week" [The Hill]. "David Shahoulian, a senior official at the Department of Homeland Security (DHS), is leaving his post, making him the second high-ranking official to leave the department this week. A source confirmed to The Hill on Tuesday that Shahoulian, who served as assistant secretary of border and immigration policy, has resigned from his post. Shahoulian is leaving the department for personal reasons, according to CNN, citing a source familiar with the departure. He also served at DHS under the Obama administration and previously spent time as assistant secretary for border security and immigration. The departure comes one day after Karen Olick, who was serving as chief of staff to Homeland Security Secretary Alejandro Mayorkas, announced that she would be stepping down from her position at the end of the month. She is departing for an undisclosed opportunity," • Odd.
Democrats en Deshabille
Warren Mosler wins the Internet:

— Warren B. Mosler #MMT (@wbmosler) September 15, 2021

"Big Pharma's Democrats" [Andrew Perez, David Sirota, Daily Poster]. "The three conservative Democratic lawmakers threatening to kill their party's drug pricing legislation have raked in more than $1.8 million of campaign cash from pharmaceutical industry donors. One of the lawmakers is the House's single largest recipient of pharmaceutical campaign cash this election cycle, and another lawmaker's immediate past chief of staff is now lobbying for drugmakers. The threat from Democratic Reps. Kurt Schrader (Ore.), Scott Peters (Calif.), and Kathleen Rice (N.Y.) comes just as the pharmaceutical industry's top lobbying group announced a seven-figure ad campaign to vilify the Democratic legislation that aims to lower the cost of medicines for Americans now facing the world's highest prescription drug prices. At issue is House Democrats' initiative to let Medicare use its bulk purchasing power to negotiate lower prescription drug prices. That power — which is used by other industrialized countries to protect their citizens from exorbitant prices — has been promised by Democrats for years, and party leaders have been planning to include it as part of their sprawling $3.5 trillion infrastructure reconciliation effort." • You see, the Democrat Party is a big, beautiful tent…. which was carefully built by "party leaders" to be exactly the party they want it to be.
Republican Funhouse
"Republicans ask FDA for details on any White House pressure on boosters" [The Hill]. Not unreasonable; see (54)[1]-[2] here. That said, it will be interesting to see if the Republicans ever come up with a coherent position on vaccines or indeed on the pandemic. I mean, if vaccines are the mark of the beast, isn't OK that the FDA is taking its time with them? (To be fair, the one thing that both Republicans and Democrats agree on is that the Trump Administration should be given no credit for developing "the vaccine," as Biden keeps calling them. Even Pfizer, which didn't participate in Operation Warp Speed development, was guaranteed a market, without which they could not have proceeded.)
Our Famously Free Press
"New York Times Quietly Retracts Claim That Hunter Biden Laptop Story Is 'Unsubstantiated'" [National Review]. "The New York Times has revised its coverage of the New York Post's Hunter Biden laptop story to reflect that it is not "unsubstantiated." In reporting on Monday about the Federal Election Commission's (FEC) ruling that Twitter did not make an unlawful campaign contribution to Joe Biden by censoring the story last October, the Times used the "unsubstantiated" descriptor in spite of the wealth of evidence supporting, and dearth of evidence contradicting, the Post's claims…. On Tuesday, a day after the Times broke the news about the FEC's decision, and disparaged the Post's reporting, it removed the "unsubstantiated" label. Notably, the change was not accompanied by an editor's note or other acknowledgment of the original error." • Could be an error. Ever since the Times fired the copy editors, its quality at the word and sentence level has gone straight down the tubes.
Realignment and Legitimacy
"George Packer's Center Cannot Hold" [The New Republic]. "Liberalism is not, in fact, in disarray. Indeed, in many senses it's a thumping success. Only three decades after the fall of the Iron Curtain, neoliberalism, which preserves the classical doctrine's package of liberties and rights while installing the market, rather than government, as the ultimate arbiter of wealth distribution, has established itself as a political state of nature throughout much of the developed world…. Who exactly is this book for? Occasionally, through use of the second person, the answer slips through: Last Best Hope is for people who needed the shock of the pandemic to "realize that the miraculous price and speed of a delivery of organic microgreens from Amazon Fresh to your doorstep depends on the fact that the people who grow, sort, pack, and deliver it have to work while sick." In other words, it's for people like George Packer: comfortable, middle-class professionals who have come to a belated understanding of the American economy's brutalities, but don't want things to change so much that they lose the country that has made them a success and brings them their microgreens." • Ouch.

"Census experts find no political influence in state totals" [Associated Press]. "Outside experts found no evidence of political interference in the state-by-state population totals from the 2020 census used for divvying up congressional seats, but their limited review didn't include demographic data or places smaller than states, according to a task force report released Tuesday. The task force was established by the American Statistical Association last year during the most difficult U.S. head count in recent memory due to the pandemic, natural disasters and attempted political interference from the Trump administration, which unsuccessfully tried to add a citizenship question to the census form and attempted to end field operations early. The Trump administration also named political appointees to the Census Bureau who statisticians and Democratic lawmakers feared would politicize the once-a-decade head count of every U.S. resident, and pushed to have the apportionment numbers released before President Donald Trump left the White House in January. he Census Bureau made the correct call by delaying the release of the apportionment data until April so that it could have more time reviewing and crunching the numbers, the report concluded."

"Democrats' House targets vanish as GOP redraws new maps" [Politico]. "House Democrats spent the past two elections crowing about ousting Republicans from longtime red districts that had suddenly grown competitive. Now, Republicans are about to make many of those targets disappear from the battlefield entirely. GOP mapmakers are readying to shore up more than a dozen of the most hotly contested House battlegrounds from the past four years, narrowing Democrats' path to maintain control of the House, as they prepare for midterm elections that are historically tough for the party in power." • Since the Democrat leadership doesn't seem to be worried about this, why should I be?
Stats Watch
Manufacturing: "United States NY Empire State Manufacturing Index" [Trading Economics]. "The New York Empire State Manufacturing Index jumped to 34.3 in September of 2021 from 18.3 in August and well above market forecasts of 18, pointing to a strong factory growth in the NY state. New orders, shipments, and unfilled orders all increased substantially. Labor market indicators pointed to strong growth in employment and the average workweek."
Manufacturing: "United States Industrial Production" [Trading Economics]. "Industrial production in the United States increased 5.90 percent in August of 2021 over the same month in the previous year. Industrial output growth slowed for a fourth month after growing 17.8 percent in April due to low base effects from last year."
Manufacturing: "United States Capacity Utilization" [Trading Economics]. "Capacity Utilization in the United States increased to 76.40 percent in August from 76.20 percent in July of 2021. It is the highest reading since December of 2019, in line with market forecasts."
* * *
Commodities: "Miners race for nickel as electric car revolution looms" [Financial Times]. "Demand for nickel, which is used in more powerful electric-car batteries and will be key to bigger vehicles such as electric trucks, is set to grow 19-fold by 2040 if the world meets the Paris climate goals, according to the International Energy Agency. Yet most of the increase in supply this decade is set to come from Indonesia, a market overwhelmingly powered by coal-fired electricity where Chinese companies are building nickel processing projects. That has prompted a race to secure new sources of supply as companies in rich nations are forced to drastically reduce their carbon footprints."
The Bezzle: "The Revolt Against the 30% Mafia" [Moe Tkacik, The Marker]. "Starting in San Francisco, American cities and later whole states began enacting extremely simple regulations designed to soften the financial blow of a malign force choking America's most vulnerable businesses with extreme commissions…. they were such obvious no-brainers that copycat bills eventually passed in some 73 municipalities, in the end saving probably thousands of merchants from financial ruin… The laws were the delivery app fee caps, which for the most part placed 15% limits on the commissions DoorDash, Uber, and Grubhub could charge restaurants during the pandemic. These laws cut restaurants' delivery app bills in half in the cities that passed them… But the caps also represented the start of a grassroots revolt against the 30% Mafia, an unimaginative label I'll use for the increasingly unimaginative syndicate of Silicon Valley gatekeepers who've made a business model of charging businesses from booksellers to hotels 30% of their top-line revenues for the privilege of existing on the internet…. I can't find many examples of middlemen that commanded that kind of take during the 20th century; Sotheby's is an exception, as was the actual Mafia, at least according to Rudy Giuliani, who told the producers of the Netflix mob series Fear City he grew up hearing stories about how Mafia thugs arrived at his grandfather's barbershop one day demanding 30% cut of his income…. Alas, Steve Jobs raised no such flags when he founded the 30% Mafia upon debuting the iPhone, when he elected to round the 27% he used to charge record labels for selling iTunes up to an even 30% for developers who wanted to sell iPhone software applications in the official App Store. At the time, he euphemistically referred to it as the 'agency model' — which might have been accurate if his cut had been 15%. More evocatively, a Dallas restaurateur named Omar Yeefoon last fall likened the 30% commission to the revenue sharing arrangement enjoyed by 'pimps,' writing on Facebook that his vegan restaurant was 'being trafficked.'" • Tkacik is always worth a read, and this is worth reading in full.
The Bezzle: "Uber Eats, Grubhub, DoorDash sue NYC for limiting fees the apps can charge restaurants" [Tech Crunch]. "Food ordering and delivery platforms DoorDash, Caviar, Grubhub, Seamless, Postmates and Uber Eats have banded together to sue the City of New York over a law that would permanently limit the amount of commissions the apps can charge restaurants to use their services…. effort to help ease the strain on an industry struggling from pandemic lockdowns. The companies filing suit against the city claim the limit on fees, which was made permanent last month under a bill sponsored in June by Queens Councilman Francisco Moya, has already cost them hundreds of millions of dollars." • Which is bad why? (One thing the city might do is allow local and co-op delivery platforms to charge a slightly higher rate. Say, 15%. The Silicon Valley oligarchs would have to content themselves with 12%. Or 10%.
The Bezzle: "$500 Million of SPAC Cash Vanishes Under the Sea" [Bloomberg]. "A controversial project to mine the Pacific ocean floor has suffered a rocky start after investors withheld almost $500 million in funding. TMC The Metals Company Inc., formerly known as DeepGreen Inc., went public last week, after merging with Sustainable Opportunities Acquisition Corporation, a special purpose acquisition company. But it was an underwhelming debut. The shares sank 11% on Friday. Despite having no revenues and around two dozen employees, the start-up was valued at more than $2 billion by its blank-check partner. It plans to exploit a rich deposit of battery metals located on the seafloor in between Hawaii and Mexico. It says these minerals are sufficient to electrify 280 million vehicles. However, the Canadian start-up has had an early cash disappointment. The SPAC merger ended up delivering only $137 million of fresh money, as investors asked for their money back or failed to deliver promised funding. The company estimates that $7 billion is needed for large-scale commercial production. The cash struggles encapsulate the current ructions in the SPAC market, where neophyte companies — many in the electric vehicles space — are starting to meet investor skepticism and heightened regulatory scrutiny."
The Bezzle:
Aaaand so it begins.
I've had to file about 6 claims last night for copyright infringement on people that made NFTs that stole my art. And they've been selling. More in some cases than the original paintings of mine they took from.

— Jack Teagle (@jackteagle) September 10, 2021

Outright theft, simple as that. Of course, it is crypto.

The Bezzle: "OpenSea confirms executive used insider knowledge when buying NFTs" [The Block]. "One of the non-fungible token (NFT) space's biggest marketplaces has admitted that a senior employee has been getting the drop on its most popular drops." • Of course, it is crypto.

The Bezzle: "NFTs Are the Revenue Model for Metaverse, Crypto Veteran Says" [Bloomberg]. "When we are able to have a digital overlay of our reality, it's going to be a massive change in business models, a massive change in the way we interact with each other and the world. When it happens, it really is hard to imagine and hard to overstate the impact. I'm betting that the revenue model for the metaverse is going to be NFTs. In video gaming the revenue model now is virtual items, and that's a $175 billion business annually. I think the metaverse should be orders of magnitude more than that because it's everything, it's not just gaming."

Tech: "Integrity, Facebook-Style" [The Ad Contrarian]. "Facebook's VP of Integrity (yes, they actually have one) says they have undertaken "a long journey' to become 'by far the most transparent platform on the internet.' As regular readers know, any time you see the word 'journey' you know you're in for some massive bullshit. … To demonstrate their commitment to truth and transparency Facebook decided to prepare a report that ostensibly would show us that contrary to the published lies about how they spread misinformation and hate, what really happens on Facebook is innocent and harmless — mostly posts about baking cupcakes and cute pictures of the grandkids. Except it didn't. What the VP of Integrity forgot to tell us was that the report to demonstrate their transparency was scheduled to be released after the first quarter of 2021. When the report was completed it showed that the most shared post on Facebook for the first quarter of 2021 was a lie suggesting that a healthy doctor had died from the COVID vaccine. What did Facebook do when they discovered this? They did what they always do. They covered up the report. They did not release their 'transparency' report . They buried it. Months later when the Times discovered what they had done and wrote an exposé about it, they suddenly discovered it and released it." • Vice-President of Integrity, I love it. Never eat at a place called Mom's…..

Tech: "Facebook sure looks like it's getting into the debt collection business" [Mashable]. "Dubbed Facebook Invoice Fast Track, the program works by buying up a company's outstanding invoices and quickly forking over the owed cash. When payment comes due, the customer with the outstanding bill then must pay Facebook directly. 'The program provides affordable, immediate cash for pay that your customers owe you,' the announcement explained. Facebook said it will take a 'one-time low fee' of one percent of the invoice value. Notably, Facebook intends for the program to focus on businesses that are 'majority-owned, operated and controlled by racial or ethnic minorities, women, U.S. military veterans, LGBTQ+ people or individuals with disabilities.' We asked Facebook if it intends collects any fees other than the stated one percent. We also asked who, exactly, will be doing the collecting — is it a Facebook team, or a third party? — and what happens when a bill inevitably goes unpaid. We received no immediate response." • I'm sure there are leg-breakers somewhere in Facebook's corporate structure. I guess Mark wants them working all the time.

Manufacturing: "Bjorn's Corner: The challenges of airliner development. Part 20. Production site and facilities" [Leeham News and Analysis]. "Last week, we looked at the Rig design and manufacture for ground and flight testing. We are now at the stage in our program (Figure 1) where we shall have scouted and deliberated over our Final Assembly production site (Violet bars). We now need to decide on the site and what facilities we need to build and/or hire." • Impossible to extract, but aircraft nerds should love it. (Also explains what any country goes through to get an aircraft industry off the ground.)

Manufacturing: "A Deeper Dive into Semiconductor Foundries" [Deep into the Forest]. "In last week's issue, we learned about the core machines that populate a semiconductor foundry. In this week's issue, we will dive deeper into the construction of a foundry and learn about the actual physical edifice itself. Semiconductor foundries are large factories that place considerable burden on the surrounding community and infrastructure. We will learn more about locations that can support a foundry, the noise and architectural considerations needed, and analyze some trends for the future of semiconductor manufacturing." • As above, but for chips!

* * *

Today's Fear & Greed Index: 34 Fear (previous close: 31 Fear) [CNN]. One week ago: 49 (Neutral). (0 is Extreme Fear; 100 is Extreme Greed). Last updated Sep 15 at 12:37pm..

Our Famously Free Press

"The Defector Model Works" [Ross Barkan, Political Currents]. "In its heyday, Deadspin was the louche insurgent striking fear into ESPN and the staid sports sections of newspapers, breaking open major stories while ridiculing the sanctimony of the sports world. It was Deadspin that revealed quarterback Brett Favre was sending pictures of his genitalia to a Jets sideline reporter. It was Deadspin that exposed Manti Te'o had a fake girlfriend. Anti-establishment to its core, Deadspin was a cheekier, lower-brow version of what the Chipmunks had been up to in the 1960s and 70s—a band of young writers exposing professional sports for what it really was. There was no hustling for access, no soft-focus features, no myth-making…. Eventually, a private equity company bought Deadspin and demanded the staff stop writing about anything other than sports…. Meanwhile, the ex-Deadspin staff came together to launch a new media venture called Defector…. Instead, Defector would depend on subscribers paying to read the site. The writers themselves would co-own the company and pay themselves with the subscription revenue generated. No private equity goblins could tell them what to do. In a year, the site now has 23 staffers and brings in more than $3 million, enough to comfortably sustain the project. More than 40,000 subscribe. Absent federal subsidies, this is the future media organizations must pursue."

Police State Watch

Never trust heart-tugging baby photos:

marx was right about the military and police https://t.co/yHJGN6GHMq

— Kantian-Leninist, PhD (@josh_philosophy) September 15, 2021

It never fails.

Gunz

"How to Persuade Americans to Give Up Their Guns:" [The Atlantic]. "The weapon Americans most often buy is the modern semiautomatic handgun—affordable, light, and easy to use. This is the weapon people stash in their nightstand and the glove compartment of their car. This is the weapon they tuck into their purse and shove into their waistband. Why? Two-thirds of American gun buyers explain that they bought their gun to protect themselves and their families. And here is both the terrible tragedy of America's gun habit and the best hope to end it. In virtually every way that can be measured, owning a firearm makes the owner, the owner's family, and the people around them less safe. The hard-core gun owner will never accept this truth. But the 36 percent in the middle—they may be open to it, if they can be helped to perceive it…. The way to reduce gun violence is by convincing ordinary, "responsible" handgun owners that their weapons make them, their families, and those around them less safe." • Hmm.

Feral Hog Watch

"How do wild pigs affect riparian systems" [Soils Matter, Get the Scoop!] "If you live in the southeastern United States, there's a good chance you've encountered wild pigs or their damage. They can live along stream beds and dig in fields or along roadsides. In the U.S., wild pigs are an invasive species and don't have many predators. They can affect water quality, compete with native species for resources, and spread disease. This can have significant impacts on other wildlife, the environment, and to humans and domestic animals…. Wild pigs can cause changes at multiple "zones" of a watershed. Besides digging ("rooting"), they also roll around in the mud ("wallowing"). Both disturb the soil which can negatively impact plants, soil invertebrates, and ground-dwelling animals. This soil disturbance can also affect nutrient cycling by disrupting natural soil processes. Pig traffic across or up and down the stream bank can impact bank stability, leading to soil erosion. It can damage vegetation along the stream that create an important buffer between water and land. Wild pigs may also use the stream channel itself, which can increase erosion and sediment in the water and affect nutrient cycling…. Our research showed that wild pigs can be a threat to water quality in riparian areas by introducing fecal material and disease-causing organisms. This indicates that it may be important to control wild pig populations upstream of major drinking water sources and recreational areas to protect public health."

Book Nook

Payment by the word:

The result was a unique stream-of-consciousness repetitive prose style: "He was disarmed, demobilised, defenceless, powerless. His exhaustion was complete; he was in a state of utter fatigue, complete collapse, and total breakdown… He fainted; he swooned; he passed into a coma." pic.twitter.com/KT22ZS67as

— Pulp Librarian (@PulpLibrarian) September 14, 2021

Philip K. Dick worked under similar conditions, which I contend was one source of his greatness.

"Ebooks Are an Abomination" [The Atlantic]. "Two thousand years after the codex and 500 after the Gutenberg press, the book persists. If something better were to come along, you'd expect it to have done so by now. In other words, as far as technologies go, the book endures for very good reason. Books work. Given the entrenched history of bookiness, a book is less a specific thing than an echo of the long saga of bookmaking—and an homage to the idea of a book bouncing around in our heads, individual and collective. That makes books different from other human technologies. People have always needed to eat, but methods of agriculture, preservation, and distribution have evolved. People have always wanted to get around, but transportation has unlocked faster and more specialized means of doing so. Ideas and information have also enjoyed technological change—cinema, television, and computing, to name a few, have altered expression. But when it comes to the gathering of words and images pressed first to pages and then between covers, the book has remained largely the same. That puts books on par with other super-inventions of human civilization, including roads, mills, cement, turbines, glass, and the mathematical concept of zero…. Putting all of this back together: Ebook devices are extremely compatible with an idea of bookiness that values holding and carrying a potentially large number of books at once; that prefers direct flow from start to finish over random access; that reads for the meaning and force of the words as text first, if not primarily; and that isn't concerned with the use of books as stores of reader-added information or as memory palaces. Some of the reading that corresponds particularly well with this conception of bookiness includes fiction in general and genre fiction—such as mysteries, sci-fi, young-adult fiction, and romance—in particular. As it happens, these are exactly the kinds of books that have thrived on Amazon's Kindle platform."

Class Warfare

Well, not everyone:

Richard Scarry knew the deal. https://t.co/Cqx2aQgzNu

— Economic Hardship Reporting Project (@econhardship) September 14, 2021

But Scarry is directionally correct.

News of the Wired

"Nothing but Sheer Racket" [Lapham's Quarterly]. Here is the explanation of the title: "In 1839 the German composer Robert Schumann dedicated his wonderful Fantasy in C Major, op. 17, to Liszt. Liszt wanted to return the favor but had nothing he felt was worthy. Eventually in 1853 he completed his one piano sonata, which he dedicated to Schumann. Sadly, in 1854 a copy arrived at the Schumann household shortly after Robert had been committed to the mental asylum in Endenich. The pianist and composer Clara Schumann—Robert's wife—received the score and had her friend Johannes Brahms play it to her. She found 'nothing but sheer racket—not a single healthy idea, everything confused…And now I've got to thank him for it!' Her opinion was shared by Brahms and by quite a few leading German musicians. Despite this rocky start, Liszt's sonata soon began to gather admirers and has never been out of the limelight." • Well worth a read.

* * *

Readers, feel free to contact me at lambert [UNDERSCORE] strether [DOT] corrente [AT] yahoo [DOT] com, with (a) links, and even better (b) sources I should curate regularly, (c) how to send me a check if you are allergic to PayPal, and (d) to find out how to send me images of plants. Vegetables are fine! Fungi and coral are deemed to be honorary plants! If you want your handle to appear as a credit, please place it at the start of your mail in parentheses: (thus). Otherwise, I will anonymize by using your initials. See the previous Water Cooler (with plant) here. Today's plant (RH):

RH writes: "Brought to a dinner party instead of wine."

* * *

Readers: Water Cooler is a standalone entity not covered by the recently concluded and — thank you! — successful annual NC fundraiser. So if you see a link you especially like, or an item you wouldn't see anywhere else, please do not hesitate to express your appreciation in tangible form. Remember, a tip jar is for tipping! Regular positive feedback both makes me feel good and lets me know I'm on the right track with coverage. When I get no donations for five or ten days I get worried. More tangibly, a constant trickle of donations helps me with expenses, and I factor in that trickle when setting fundraising goals:

Here is the screen that will appear, which I have helpfully annotated.

If you hate PayPal, you can email me at lambert [UNDERSCORE] strether [DOT] corrente [AT] yahoo [DOT] com, and I will give you directions on how to send a check. Thank you!2:00PM Water Cooler 6/8/2021