By Lambert Strether of Corrente.
QUERY 1: At some point in the last month or two, a reader recommended — to the best of my hazy recollection — a free PDF book on soil. Naturally, I didn't save the URL because I knew wehre to find it. However, because both our internal search function and Google are broken, I can't find it. Can some kind person refresh my memory?
QUERY 2: A friend had their citrus grove flooded. Any way to save the trees? Or is it all up?
Patient readers, I still have a lot of catching up to do, so if I missed your favorite story, do feel free to add a link to it in comments. –lambert
Bird Song of the Day
From 1962. What an incredible catalog!
One of my favorite artbots:
— BoschBot (@boschbot) September 14, 2021
* * *
#COVID19
At reader request, I've added this daily chart from 91-DIVOC. The data is the Johns Hopkins CSSE data. Here is the site. I feel I'm engaging in a macabre form of tape-watching….
We already start to an instant rebound from Labor Day, I assume because reporting is returning to normal. Nevertheless, Labor Day, as the end of summer, also signals life changes for Americans, so those changes will affect the numbers too. We shall see!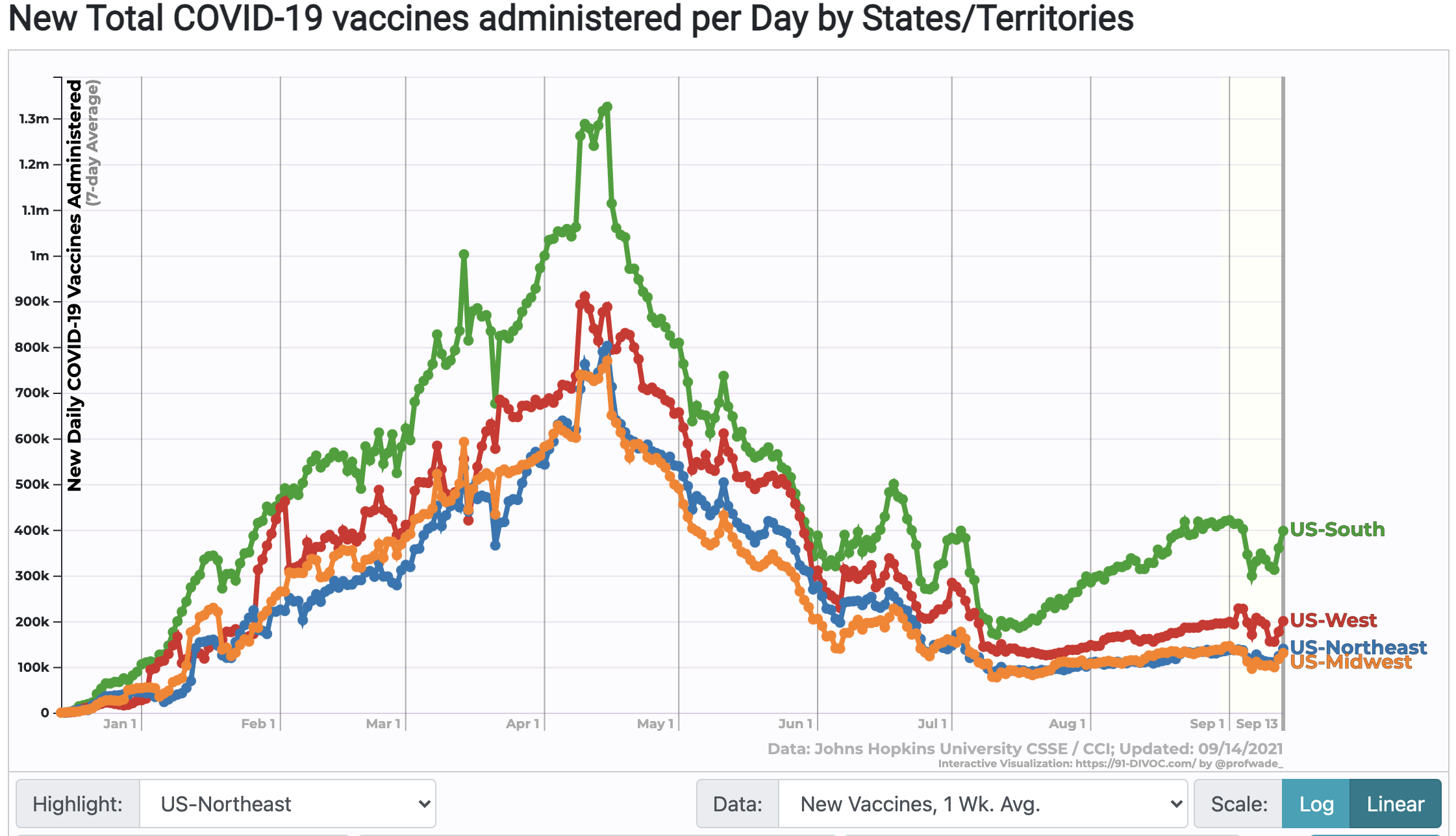 Interesting little blip. If it persists, credit to Biden. This is Tuesday. Looks like somebody came in Monday and got caught up from last week.
53.9% of the US is fully vaccinated (mediocre by world standards, being just below Ecuador, and just above Switzerland and Malaysia). We are back to the 0.1% stately rise. This is the number that should change if Biden's mandates "work." However, as readers point out, every day those vaccinated become less protected, especially the earliest. So we are trying to outrun the virus… (I have also not said, because it's too obvious, that if by Bubba we mean The South, then Bubba has done pretty well.)
Case count by United States regions: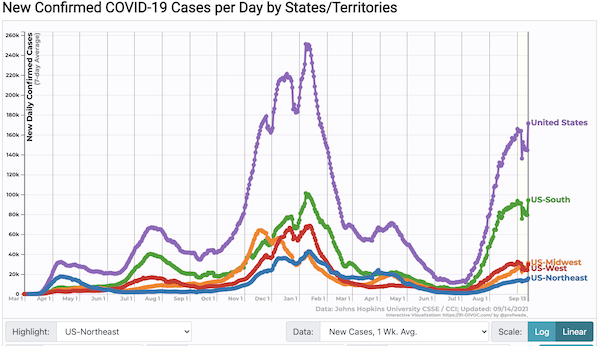 I'm almost inclined to call the last peak and, as in December and January of last year, worry about the next peak from school re-opening. I dunno. Maybe, again, somebody caught up on the backlog Monday. We could get lucky, as we did with the steep drop after the second week in January. The populations are different, though. This one is more vaccinated, and I would bet — I've never seen a study — that many small habits developed over the last year (not just masking). Speculating freely: If the dosage from aerosols drops off by something like the inverse square law, not linearly, even an extra foot of distance could be significant if adopted habitually by a large number of people. And if you believe in fomites, there's a lot more hand-washing being done. On the other hand, Delta is much more transmissible.
NEW From CDC: "Community Profile Report September 13, 2021" (PDF), "Rapid Riser" counties, this release: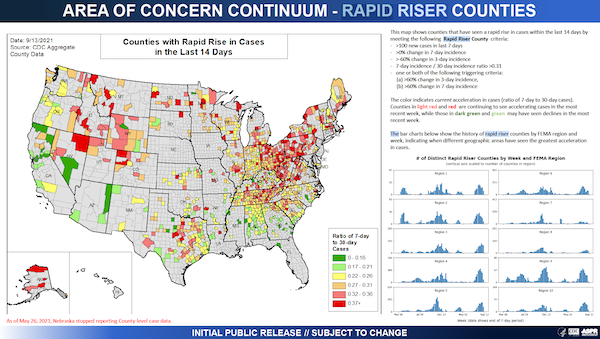 To my eye, the Ohio Valley looks a little redder. Fascination to see the Sturgis cluster heal, though. Remember, however, that this chart is about acceleration, not absolute numbers, so the case chart still has momentum. This map, too, blows the "Blame Bubba" narrative out of the water. Not a (Deliverance-style) banjo to be heard. Previous release: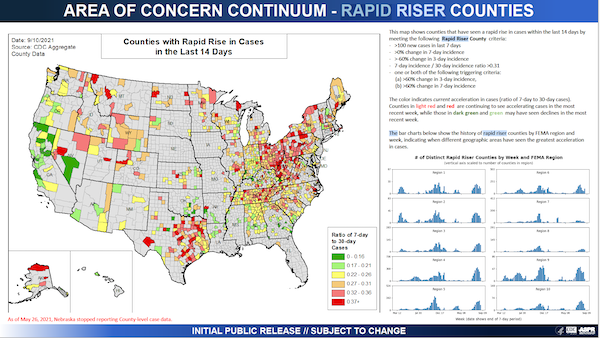 (Red means getting worse, green means bad but getting better.)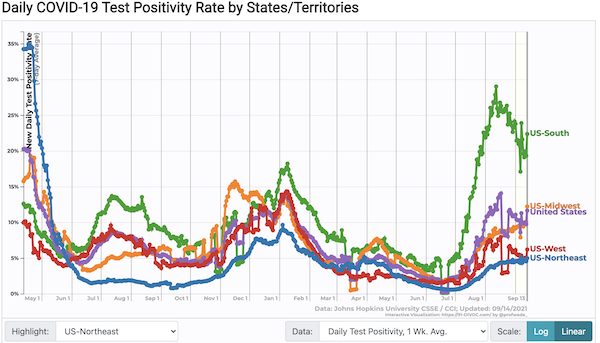 Hospitalization (CDC). Sadly, the site is down as of this writing, so I'm leaving yesterday's data in place: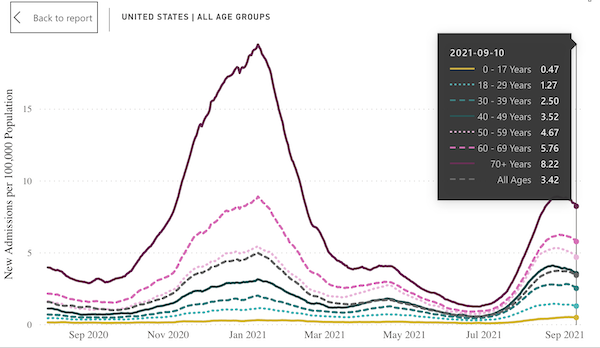 Here the CDC's hospitalization visualization, from the source above: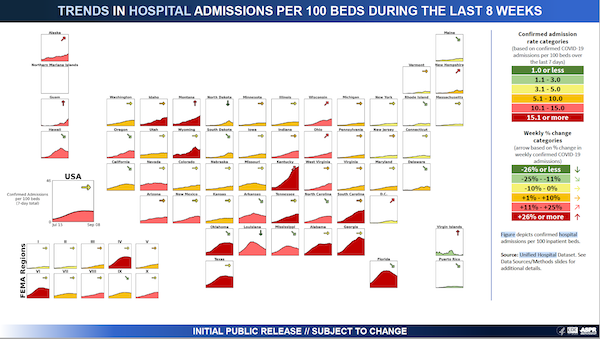 Deaths (Our World in Data):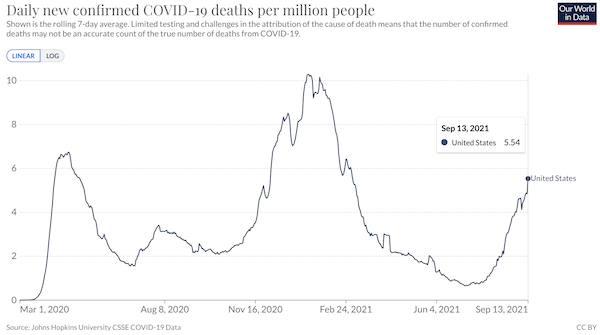 I know deaths lag, but I could do with them lagging in a downward direction. We are now well past the peak of last year at this time. Which I am finding more than a little disturbing. (Adding: I know the data is bad. This is the United States. But according to The Narrative, deaths shouldn't have been going up at all. Directionally, this is quite concerning. Needless to see, this is a public health debacle. It's the public health establishment to take care of public health, not the health of certain favored political factions.)
Covid cases worldwide: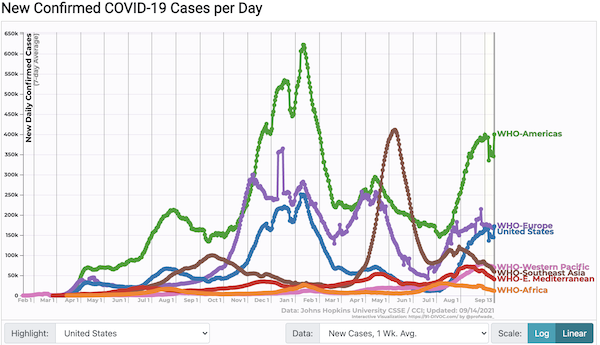 * * *
Politics
"But what is government itself, but the greatest of all reflections on human nature?" –James Madison, Federalist 51
"They had one weapon left and both knew it: treachery." –Frank Herbert, Dune
"They had learned nothing, and forgotten nothing." –Charles Maurice de Talleyrand-Périgord
Biden Administration
"Democrats on Capitol Hill face a crushing set of deadlines. Here's what's next." [CNN]. "It's about to be one of the busiest seasons yet on Capitol Hill as lawmakers rush to fund the government, raise the nation's borrowing limit, dive deeper into their probe over what went wrong at the deadly January 6 riot on Capitol Hill, and pass not one, but two major legislative proposals through the House by September 27. It may not be impossible, but pulling it off when Democrats are just beginning to grapple with the deep schisms within their own ranks is going to make it a challenge."

"Three in five back Biden vaccine requirement for businesses" [The Hill]. "Nearly 3 in 5 American adults support President Biden's plan to require businesses with 100 or more employees to require that their workers be vaccinated against COVID-19 or submit to regular testing, according to a new Morning Consult-Politico poll. The poll, which was conducted between Sept. 11 and Sept. 13, found that 58 percent support Biden's new vaccine requirement for private businesses. This includes 80 percent of Democrats and only 33 percent of Republicans — indicative of the partisan divide over such mandates. The national tracking poll found similar support for other steps that Biden announced last week as part of a new, more aggressive plan to reach the 80 million eligible Americans who have not yet received a dose of coronavirus vaccine." • I'd love to know how much of that Republican 33% is suburbanites.

"Biden Covid team sees vaccine efficacy waning in unpublished data from Israel" [Politico]. "The Biden administration's push to roll out coronavirus vaccine booster shots this month has largely been shaped by unpublished data from Israel's vaccination campaign, according to two individuals familiar with the matter. The Israel data, which is set to be made public as soon as this week, shows that the Pfizer vaccine's ability to prevent severe disease and hospitalization is waning over time — as is the shot's protection against mild and moderate disease, the two sources said. The country began administering boosters to people over 60 in July and has now expanded it to people over 30, but it has released relatively little information so far about the effect of the booster campaign. The Biden administration has long relied on data from Israel, which has one of the highest vaccination rates in the world, to inform its Covid-19 response. Top officials from the White House, the Centers for Disease Control and Prevention and the Food and Drug Administration have analyzed the latest Israeli data for weeks, concluding that the U.S. should begin administering boosters this fall, another senior administration official said." • Oh.
Democrats en Deshabille
Come on, AOC:

Having the masked servant hold the dress so you can wave to the peasants! pic.twitter.com/cZ3YRZdIsx

— Marie (@themariefonseca) September 14, 2021

There is a certain flavor of "Bernie has three houses!" aghastitude to the Twitter storm about this; and ultimately, what AOC does on the House floor with reconciliation coming up is more important. That said, I don't mind the dress (épater le bourgeois). I do mind a servant to hold the train. What next? A tiara?

"Biden, Newsom campaign in California ahead of closely watched recall" [NBC News]. "President Joe Biden campaigned with Gov. Gavin Newsom in California on Monday, a day before the state's highly anticipated recall election that could remove the first-term Democrat from office. Biden gave the closing pitch to a large crowd in Long Beach, calling the leading Republican front-runner, conservative radio host Larry Elder, 'a clone of Donald Trump.' 'All of you know last year I got to run against the real Donald Trump,' Biden said. 'Well, this year, the leading Republican running for governor is the closest thing to a Trump clone that I have ever seen.' He added, 'I'm gonna make this as simple as I can: You either keep Gavin Newsom as your governor or you'll get Donald Trump. It's not a joke.'" • No, it's too dumb to be a joke. It's not even a Dad joke. Really, is that the best they can do?

"Democrats Swoon Over George W. Bush, In Match Made in Hell" (paywalled) [Matt Taibbi, TK News]. Quoting the last paragraph: "The War on Terror was always above all a power grab, about the expansion of extralegal authority and secrecy for its own sake. Modern Democrats have seamlessly taken over the mission, because they're now the same exact people the Bush Republicans were, only many times over more sanctimonious and insufferable. At least Bush was occasionally funny once, sometimes even on purpose, but now… Yeesh, what a revolting love-in, and probably just getting started, too." • Always something to look forward to!

"First look: Harris veterans launch firm to protect CEOs from being canceled" [Axios]. "A group of Vice President Kamala Harris' campaign veterans is launching a strategy firm to help CEOs avoid getting "canceled" and to advise companies how to respond to changing cultural norms before they're faced with a crisis…. C Street Advisory Group, led by CEO Jon Henes, a former national campaign finance chair for Harris' presidential campaign, will draw on the group's broad political network to help corporate America diversify its workforce…. C Street is entering an emerging, competitive market with financing from Antara Capital, a hedge fund backed by Blackstone — a sign that big financial firms view the diversity field as a growing industry." • This looks a lot like an extortion racket. Clarifying!
Realignment and Legitimacy
"Why Americans Die So Much" [The Atlantic]. "Before the 1990s, average life expectancy in the U.S. was not much different than it was in Germany, the United Kingdom, or France. But since the 1990s, American life spans started falling significantly behind those in similarly wealthy European countries. According to a new working paper released by the National Bureau of Economic Research, Americans now die earlier than their European counterparts, no matter what age you're looking at…. Why is the U.S. so much worse than other developed countries at performing the most basic function of civilization: keeping people alive?" • It's not a bug. It's a feature. At least somebody in the mainstream finally noticed, though; Case-Deaton didn't get any traction at all.

"Corn dogs, butter sculptures and political civility: Republican, Democrat model civil bipartisan exchange" [ABC]. "But Reps. Dean Phillips of Minnesota and Dusty Johnson of South Dakota were looking for something else: an opportunity to find common ground and prove that civility in the country's politics is not extinct. At a time when partisanship is uglier than ever in the halls of Congress, Phillips, a blue state Democrat, and Johnson, a Trump country Republican, are piloting a novel bipartisan political exchange program, featuring joint visits to each other's districts and intimate joint town hall meetings with a diverse mix of constituents…. Both lawmakers are members of the House Problem Solvers Caucus, a group of moderate consensus-seekers on Capitol Hill who have notched success brokering compromises around COVID-19 relief and in shaping debate around a bipartisan infrastructure agreement." • Oh gawd. Most of the worst ideas in politics are bipartisan (i.e., they're accepted by most of if the political class. The PATRIOT Act, the AUMF, PayGo, American exceptionalism… All are bipartisan).
Stats Watch
There are no statistics of note today.
* * *
Capital: "Cutting Tool Demand Surging at Midyear" [American Machinist]. "U.S. machine shops and other manufacturers consumed $172.1 million worth of cutting tools during June, 7.1% over than the May total ($160.7 million) and 20.5% higher than the June 2020 ($974.7 million) result. The Cutting Tool Market Report, from which the results are drawn, tracks cutting-tool consumption as an indicator of current manufacturing activity. 'The U.S. economy has fully recovered from its short recession and is entering (the) second half of 2021 in boom conditions,' according to consultant Eli Lustgarten, cited by the U.S. Cutting Tool Institute. 'We expect that the recovery of cutting-tool demand should continue through the remainder of 2021 and well into next year.'" • Now, if we could make our own cutting tools, we'd really have something….
The Coinage: "How you can help America deal with its COVID-related coin circulation problem" [MiamI Herald]. "Is there really a coin shortage? No. There isn't a coin shortage in the United States, reports WFAA-ABC8. There's a coin circulation problem, according to the U.S. Coin Task Force…. The task force found that the COVID-19 pandemic disrupted the U.S. coin supply chain. People stopped spending cash in stores and turned to electronic spending, such as via your smartphone or computer. Businesses also shuttered, which exacerbated the circulation problem…. If you're a retailer, the U.S. Coin Task Force urges you to not stop accepting cash as a first-line solution to the coin circulation issue. Also, don't stockpile and hoard the coins you have on hand. That's detrimental. 'Coin moving through the supply chain is the quickest way to regain stability,' the task force stresses." • So coins are something like shipping containers? Besides being made of stamped metal?
Housing: "The Rapid Increase in Rents" [Calculated Risk]. "According to the Census Bureau, it took 6.8 months on average to build a single family home in 2020, and 15.4 months to build buildings with 2 or more units. With the pandemic related supply chain delays, the length of time to build probably increased significantly this year (2021 data will be released in March 2022). Second, if what is driving household formation is a spike in younger adults moving out – and in divorces – that might ease by 2022. So my sense is the rapid increase in rents will not persist." • Many charts.
Commodities: "Series of Black Swans Driving up Fertilizer Prices" [Modern Farmer]. "Upswing in market prices, a natural disaster and disruptions in trade and logistics have brought increased attention to the fertilizer industry. … Last week, CF Industries put out a force majeure letter for its Donaldsonville, Louisiana facility, saying there would be issues of product coming out of the facility in the aftermath of Hurricane Ida. CF Industries has 19 plants at the facility—which includes six ammonia and five urea producing plants. … 'Our view for the rest of the 2021 calendar year is the world trade flows are tight on phosphate and urea and most every fertilizer out there,' [Josh Linville with StoneX] says."
Shipping: "The World's Shippers Are Earning the Most Money Since 2008" [Bloomberg]. "The global shipping industry is getting its biggest payday since 2008 as the combination of booming demand for goods and a global supply chain that's collapsing under the weight of Covid-19 drives freight prices ever higher. Whether it's giant container ships stacked high with of 40-foot steel boxes, bulk carriers whose cavernous holds house thousands of tons of coal, or specialized vessels designed to pack in cars and trucks, earnings are soaring for ships of almost every type. With the merchant fleet hauling about 80% of world trade, the surge reaches into every corner of the economy. The boom back in 2008 brought with it a huge wave of new vessel orders, but the rally was quickly undone by a demand collapse when a financial crisis triggered the deepest global recession in decades. This boom's causes are twofold — an economic reopening after Covid that has spurred surging demand for goods and raw materials. Alongside that, the virus continues to cause disruption in global supply chains, choking up ports and delaying vessels, all of which is limiting how many are available to haul goods across oceans. That's left the majority of the shipping sector with bumper earnings in recent months. The bonanza is centered around container shipping — where rates are spiraling ever higher to new records, but it is by no means limited to it."
Shipping: "Cargo Congestion Worsens With More Ships Waiting to Enter U.S. Ports" [Bloomberg]. "The number of container ships waiting to enter America's top three ports has been on a steady rise since July. There were 40 container vessels waiting to offload at the adjacent ports of Los Angeles and Long Beach in Southern California as of Wednesday, the most since Bloomberg developed an index tracking port congestion globally…. Port congestion is worsening during one of the calendar year's two peak seasons for global shipping demand. In the U.S. and elsewhere, bottlenecks along all modes of freight transportation are delaying deliveries for retailers and manufacturers, sapping capacity and driving cargo costs to record highs…. In China, congestion off the docks at Ningbo has eased considerably since numbers soared at the end of August, but some of that traffic was dispersed and led to higher counts off regional gateways like Qingdao, which also recorded its highest waiting ship tally since August." • What fascinates me is that two-digit number: n = 40. How often do we see two-digit numbers affecting anything, let alone the global economy? There are not very many of the ships.
Shipping: "Trans-Pacific all-inclusive rates run sideways as supply-chain woes persist" [Hellenic Shipping News]. "'Three times a week I'm on calls with customers saying 'what if we pay more, what if we pay more.' It's surprising to me that people are immune to 30 grand rates into the Midwest,' the forwarder added." • I wonder how many of those calls are for urea…
Shipping: "Shipping Options Dry Up as Businesses Try to Rebuild From Pandemic" [Wall Street Journal]. "A wave of shipping consolidation over the past five years is adding to the supply-chain woes caused by Covid-19 outbreaks, further delaying the movement of cargo across the oceans. A handful of big shipping players control the majority of containers via giant vessels, leaving the world with fewer routes, fewer smaller ships and fewer ports that could keep the flow of goods moving when the pandemic disrupted operations, according to cargo owners and freight forwarders, who secure ship space to move cargo." • One for Stoller!
Tech: Everything's going according to plan:
Stunning pic.twitter.com/H7Sf67rMaY

— Justin Hendrix (@justinhendrix) September 14, 2021
Tech: Oh, Mark:
Facebook sent reporters covering their glasses launch a list of supposed "third-party" privacy and consumer groups that it consulted for the product. So I did some digging.

FB funds at least 4 of the 5 groups. Future of Privacy Forum is one.https://t.co/SiK0mGd7P5

— Ryan Mac 🙃 (@RMac18) September 9, 2021
Tech: "TikTok's algorithm is promoting sexual content, drugs and alcohol to children as young as 13, shocking investigation reveals" [Daily Mail]. "The more the user lingered on sexual content, the more sexual content was shown in the for you page – despite the users age being set in their profile. TikTok said they don't currently differentiate between videos served to adult and children accounts, but were working on a new filter tool for younger accounts. … The WSJ reporters sent TikTok almost 1,000 videos showing drugs, porn and other adult-related content that had been shown to their 13 to 15 year old bot accounts. Of those videos, 255 were removed soon after they were sent to the Chinese-owned platform, including a dozen showing adults entering relationships with people calling themselves 'littles' – legal age adults pretending to be children."
Manufacturing: "The reshaping of automotive supply chains is reaching the very steel that makes up the cars. Daimler's Mercedes-Benz this month signed a deal to have a unit of Swedish steelmaker SSAB supply low-carbon steel to the auto company…, a sign of the rapid moves European car manufacturers and steel producers are undertaking to develop and use lower-carbon steel" [Wall Street Journal]. "The steel sector is one of the world's biggest emitters of carbon dioxide while auto companies are one of the largest users of steel, putting the industries at the heart of Europe's climate plans. Auto makers are taking carbon-cutting steps through technology that are already fostering new relationships with battery makers, chip companies and other suppliers. Shifting the kind of steel manufacturers buy would mark a major change."
Manufacturing: "Executives from car and chip makers are establishing closer ties to address the global semiconductor shortage and working together to introduce new products. … [I]ntel CEO Pat Gelsinger told an auto industry event in Munich this month that he expects semiconductors to make up a fifth of the materials costs in premium-segment cars by 2030, up from 4% in 2019" [Wall Street Journal]. "That's a dramatic measure of how technology is resetting automotive supply chains. Car makers have long dealt with chip suppliers indirectly, a structure that contributed to the chip crisis that has crimped production for many car makers this year. Chip makers are counting on auto makers as a fast-growing market, and the closer relations could signal similar moves in other sectors increasingly focused on technology."
Labor Market: "Regulatory efforts aimed at Amazon's California warehouses may reach into logistics operations across the U.S. Lawmakers in the state are pressing for a new law that would place new oversight on the way the e-commerce giant manages workers in its fulfillment centers… [T]he measure would impose new transparency on Amazon's enforcement of performance goals and how that affects the health and safety of its workers" [Wall Street Journal]. "The legislation targets the highly detailed, closely watched requirements for workers known at Amazon as 'making rate' that play a significant role in the company's intricate and rapidly growing logistics network. The performance goals have been a source of tension inside Amazon warehouses, however, and led to complaints by workers. Competitors keep close tabs on Amazon as they build rival e-commerce distribution operations, and changes in California operations would reverberate across the state's big warehousing operations and beyond California's borders." • "Making rate" sounds a lot like piecework, except where the boss counts the pieces and doesn't let you see. "Trust us, it's an algorithm!"
* * *
Today's Fear & Greed Index: 34 Fear (previous close: 37 Fear) [CNN]. One week ago: 53 (Neutral). (0 is Extreme Fear; 100 is Extreme Greed). Last updated Sep 14 at 12:23pm.
Rapture Index: Closes down one on Gog (Russia). "Russia has been generally quiet the last few months" [Rapture Ready]. Record High, October 10, 2016: 189. Current: 187 (Remember that bringing on the rapture is a good thing, so higher is better.)
The Biosphere
"Pivotal climate summit dogged by COVID and equity concerns" [Nature]. "An international climate-action coalition is calling for the postponement of a pivotal climate summit slated to take place this November in Glasgow, UK, because COVID-19 pandemic restrictions could prevent the world's poorest nations from fully participating. But many developing countries say that delaying the summit could have dangerous consequences for the planet and want to push forward. The summit, the 26th United Nations Climate Change Conference of the Parties (COP26), is the most significant global climate meeting since countries gathered in Paris in 2015 to sign an accord to limit global warming to 1.5–2 °C above pre-industrial temperatures. The 196 governments participating in this year's summit are expected to formalize a new round of commitments to dial back greenhouse-gas emissions in an effort to limit the extreme weather currently pummelling countries around the globe. COP26 organizers in the United Kingdom have responded to the call for postponement with concessions intended to enable broad participation. UK officials told Nature that COVID-19 vaccines are now being shipped out for delegations without access to them, and that the first jabs will begin within days. But some observers still fear the proceedings will not be equitable because of reduced participation from non-governmental organizations (NGOs), which often advise low-income countries and which are facing the most significant challenges in getting to Glasgow." • Notice how "fully participating" means that "NGOs can't come." Who's funding the NGOs, one wonders?
For soil fans:
Omg it's perfect https://t.co/ij5gwt4wuK

— BUILD SOIL; Plant Chestnuts! (@BuildSoil) September 11, 2021
(See NC here for an original version of the "textural triangle.")
Health Care
"A Second Major Seasonal Virus Won't Leave Us Any Choice" [Scott Gottlieb, The Atlantic]. "In our large, open, and globally connected society [unlike China lol], getting to zero COVID, the goal that Australia and New Zealand have pursued, is as politically unrealistic as it is biologically implausible. Americans are mostly done with the onerous shutdowns that such a goal would require. The virus has now spread so widely in the world [and why is that?] that even tight, long-lasting limits on Americans' movement—restrictions far beyond what we [Who's "we"? I bet most Americans would tolerate 14-day quarantine for international travellers just fine] would tolerate—could not stamp it out entirely. Instead, SARS-CoV-2 will [one hopes] become an endemic virus, settling alongside the other four strains of coronaviruses that circulate widely among us. But while the other four coronaviruses typically cause little more than the common cold, SARS-CoV-2 is likely to remain a more serious threat even after this pandemic wanes, even after the virus becomes primarily a seasonal pathogen, even after drugs and vaccination limit the damage it does. The virus will become a persistent menace at least on par with the yearly flu—a threat that, though seemingly routine, strains health-care systems, businesses, and schools every winter [the resources are "strained" because their optimized for profit, so there is no slack]. With SARS-CoV-2 mingling alongside influenza—and causing a comparable level of death and disease—the harm to public health and economic productivity will be too great for society to simply shrug off." • Let 'er rip! Perhaps I should have filed this under Class Warfare, or Realignment and Legitimacy. Commentary:
If the federal government paid every American $2-3k a month to stay home, somehow I doubt very much our population be outraged at an 8 week lockdown.

It's zero COVID or living with mass death for the foreseeable. https://t.co/iG2RQWEpAY

— Walker Bragman (@WalkerBragman) September 14, 2021
But that would call the sanctity of the wage relation into question. Can't have that.
Sports Desk
"I Am Begging Sports Commentators To Teach Me The Nuts And Bolts Of The Game" [Defector]. "My poor colleague Giri Nathan, who knows so much about tennis, was seated next to me at the bar and in 10 minutes of listening to Giri, I learned more about the game of tennis than I did over the course of the eight U.S. Open matches I watched. That's because Giri was telling me about the nuts and bolts of the game instead of the broad sweeping generalizations announcers usually stick to. I asked a simple, fairly stupid, question: Why does the serve toss wind up directly above the server's head instead of in front of it? Giri pulled in front of him on the table a glass mug, and a takeout container, which he propped on its side to explain that the reason the ball needs to be above their head has to do with the mechanics of the serve, and (more importantly) with angles. Not only does tossing the ball over their head allow tennis players to serve the ball with their dominant arm fully extended, it allows them to create an angle over the net that achieves maximum power, while keeping the ball in bounds. Giri also explained to me why players are always picking up four tennis balls and choosing only one to keep (the balls get fluffier the more you hit them, which makes them more difficult to hit hard). Rarely are these basic pieces of knowledge that enrich the viewing experience offered by announcers." • Agreed. Maybe someday I'll understand cricket.
Under the Influence
Kardashians:
Kim Kardashian was dressed head-to-toe in black at the #MetGala https://t.co/3gRYuFJUIR pic.twitter.com/uSuBz3fOow

— Reuters (@Reuters) September 14, 2021
Perhaps I should have filed this under Zeitgeist Watch. A-a-a-a-n-d Kargashians gotta Kardashian–
"North West Exposed Kim Kardashian for Being 'Fake' Again" [Teen Vogue]. Again! The horror: "While Kim is getting started to show off the products she got in this month's box, North's punchy comment of the day arrives. 'Why do you talk different for your videos?' the 8-year-old inquires. 'Why do I talk different for what? For my videos? I am the same human being, I don't talk different. How do I talk different? Guys, do you think I talk different when I'm talking about contour?' Kim then adds. Now, her question might have been rhetorical but [North's beloved cousin Penelope Disick] answered it anyways with a resounding 'yeah.' Before Kim can even begin to question anything else, North starts to imitate her mother's 'promo' voice courtesy of a high-pitched, nasal inflection. 'Guysss, so today I got these new masks and these new bronzers. I got this,' North narrates, which immediately get Penelope's agreement." • Be quiet, North. Mommie's working.
Zeitgeist Watch
Shrines. How Third World:
So my employer mandated that every store make a 9/11 memorial in the parking lot, welcome to hell pic.twitter.com/RdamYUbgQi

— the only good leftist named bob (@2bob2praxis) September 12, 2021
"Cycles of identity formation":
Writer Nora Khan hosts pioneer Claudia Hart and artist Theo Triantafyllidis discussing Mixed Reality, mythological avatars and cycles of identity formation in real and simulated worlds. Watch Episode 6 Part 1 now. Sponsored by @Hyundai_Global

— Bloomberg Quicktake (@Quicktake) August 23, 2021
And best of all, each transition in the cycle can be monetized!
"Global Village Coffeehouse" [Cari Institute]. "Global Village Coffeehouse" is the name of an aesthetic style, defined thus: "A network of aesthetics emerging in the late 1980s, some an evolution of prog-punk-zolo memphis-y squiggles, keith haring, woodcut revival, a "return-to-the-natural" handrawing movement, reaction against the computer aided design boom, late 80s environmentalism revival, etc. Still very postmodern in the sense of appropriating seemingly endless prior artistic movements, mainly for commercial/corporate purposes. Peaks in the mid 1990s, falling out of favor later on as the pendulum swung back to the minimalism/tech/clean vibes of Y2K & Gen X/YAC. It's very wide-ranging and could be split into many sub-groups, but this format seems to work better. Common motifs include: woodcuts, 'tribal/ancient imagery and iconography', moons, suns, spirals, hands, eyes, stars, simple styled flowing/curvy figures, 'aroma swirls', coffee cups, natural elements like trees/waves/landscapes, earth tones, hand-drawn look, 'airbrushed dirty look', the earth/globe, hearts, colorful gradated backgrounds, rough irregular borders & lines. Overlaps with 'pop surrealism' from the same time period, though GVC is usually trying to convey 'sincerity' as much it is needed to sell something; sorta faux-naive, down to earth, warm." • Sounds like Starbucks.
Class Warfare
Good idea:
First, this format expressed their solidarity and commitment to each other, like an endless ring that cannot not be broken.

— Nick Kapur (@nick_kapur) September 12, 2021
But also, it's hard to pick out a ring-leader given the shape of an actual ring. I wonder if they've adopted anything like this in Myanmar…
Impressive movie-making:
A person called OwlKitty changed the Business Card scene from "American Psycho" to the guys showing each other pictures of their cats on their phones… and it could possibly be the greatest masterpiece ever 😂 pic.twitter.com/RPhktTou1d

— Couch Nish (@CouchNish) September 9, 2021
I am here for Fesshole:
I'm an app developer and a pushy boss wanted something moved by 1px, I waited 2 hours and said, there you go. They were happy. I didn't move it by a pixel at all. Still proud of this.

— Fesshole 🧻 (@fesshole) September 10, 2021
News of the Wired
More high-grade content for cutaway fans:
SPOILER ALERT: Many of you have messaged to ask if #Vigil is filmed onboard HMS Sinky and if submarines really are that big! we can confirm that it is filmed onboard HMS Sinky and have attached a handy "Visitors Guide to HMS Sinky" that will help you through tonights episode pic.twitter.com/bLR5MQ6oRZ

— RAF_Luton (@RAF_Luton) September 5, 2021
* * *
Readers, feel free to contact me at lambert [UNDERSCORE] strether [DOT] corrente [AT] yahoo [DOT] com, with (a) links, and even better (b) sources I should curate regularly, (c) how to send me a check if you are allergic to PayPal, and (d) to find out how to send me images of plants. Vegetables are fine! Fungi and coral are deemed to be honorary plants! If you want your handle to appear as a credit, please place it at the start of your mail in parentheses: (thus). Otherwise, I will anonymize by using your initials. See the previous Water Cooler (with plant) here. Today's plant (RH):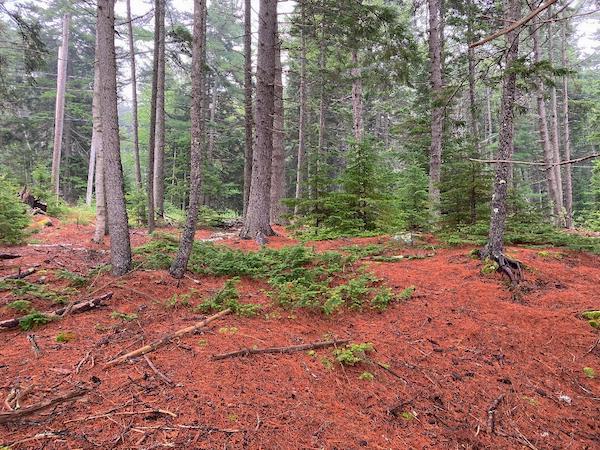 RH writes: "A carpet of pine needles is always arresting in person."
* * *
Readers: Water Cooler is a standalone entity not covered by the recently concluded and — thank you! — successful annual NC fundraiser. So if you see a link you especially like, or an item you wouldn't see anywhere else, please do not hesitate to express your appreciation in tangible form. Remember, a tip jar is for tipping! Regular positive feedback both makes me feel good and lets me know I'm on the right track with coverage. When I get no donations for five or ten days I get worried. More tangibly, a constant trickle of donations helps me with expenses, and I factor in that trickle when setting fundraising goals:
Here is the screen that will appear, which I have helpfully annotated.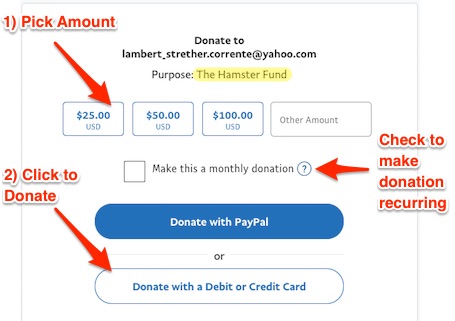 If you hate PayPal, you can email me at lambert [UNDERSCORE] strether [DOT] corrente [AT] yahoo [DOT] com, and I will give you directions on how to send a check. Thank you!2:00PM Water Cooler 6/8/2021