By Lambert Strether of Corrente.
Patient readers, more soon in the overly dynamic Health arena. –lambert
Bird Song of the Day
A jungle road!
* * *
#COVID19
At reader request, I've added this daily chart from 91-DIVOC. The data is the Johns Hopkins CSSE data. Here is the site. I feel I'm engaging in a macabre form of tape-watching….
We already start to an instant rebound from Labor Day, I assume because reporting is returning to normal. Nevertheless, Labor Day, as the end of summer, also signals life changes for Americans, so those changes will affect the numbers too. We shall see!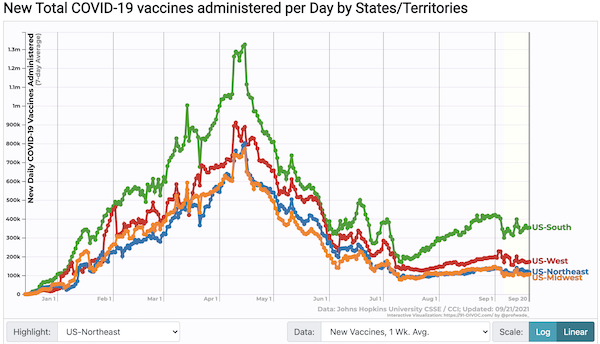 Flat everywhere but the South.
54.7% of the US is fully vaccinated (mediocre by world standards, being just below Czech Republic, and just above Switzerland and Malaysia). We are back to the 0.1% stately rise per day. This is the number that should change if Biden's mandates "work." However, as readers point out, every day those vaccinated become less protected, especially the earliest. So we are trying to outrun the virus… (I have also not said, because it's too obvious, that if by Bubba we mean The South, then Bubba has done pretty well.)
Case count by United States regions: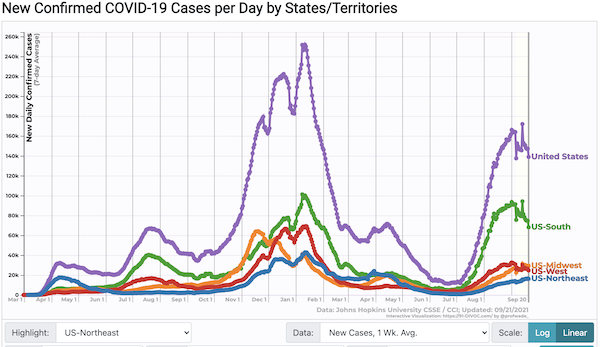 Weirdly choppy, but it does look like we're descending from a peak. We could get lucky, as we did with the steep drop after the second week in January. The populations are different, though. This one is more vaccinated, and I would bet — I've never seen a study — that many small habits developed over the last year (not just masking). Speculating freely: If the dosage from aerosols drops off by something like the inverse square law, not linearly, even an extra foot of distance could be significant if adopted habitually by a large number of people. And if you believe in fomites, there's a lot more hand-washing being done. On the other hand, Delta is much more transmissible.
Looking at the case count above, I see no drop from a peak followed by the bizarre choppiness we see now, especially when the choppiness confined to one region, the South. So here is the case for the South by itself: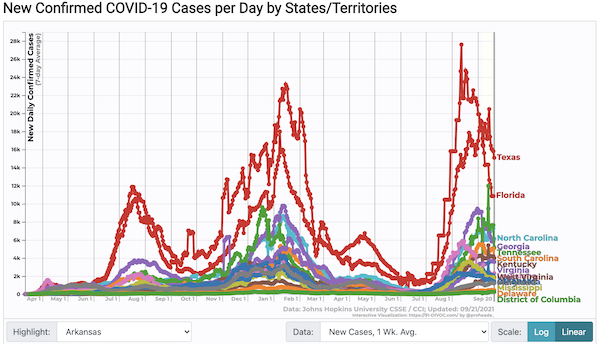 Choppiness in Texas, Florida, with wild spikes in Tennessee and Kentucky. So, to be blunt, it's not just DeSantis jiggering the numbers.
NEW From CDC: "Community Profile Report September 20, 2021" (PDF), "Rapid Riser" counties, this release: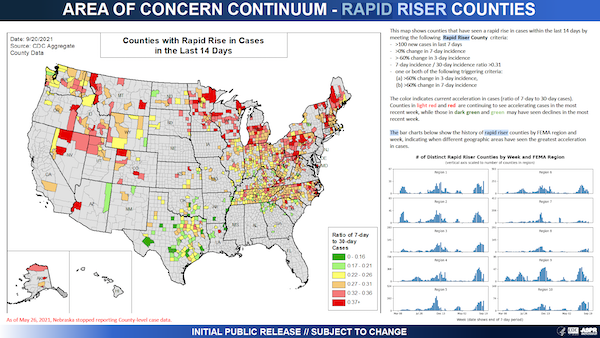 More red in the northern latitudes: Minnesota, Wisconsin, Michigan holding. Speculating freely: Kids have gone back to school and the windows are closed (Minneapolis, MN ranges from the mid-50s to mid-60s Fahrenheit right now.) Rockies still suffering, Ohio Valley and now Pennsylvania improving. Remember, however, that this chart is about acceleration, not absolute numbers. This map, too, blows the "Blame Bubba" narrative out of the water. Not a (Deliverance-style) banjo to be heard. Previous release: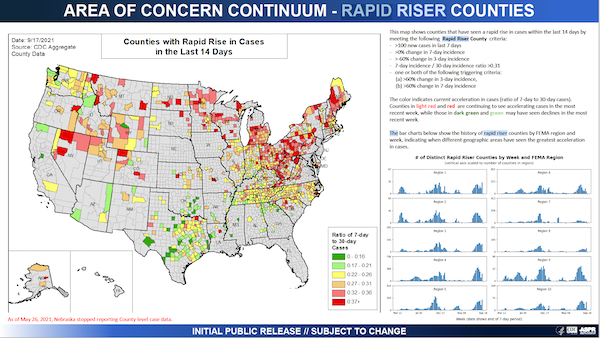 (Red means getting worse, green means bad but getting better.)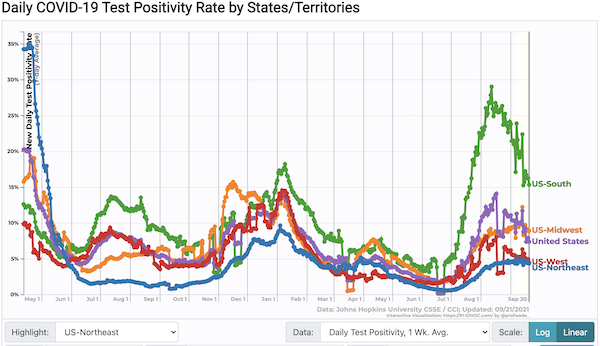 The South, the leader, steadily dropping.
Hospitalization (CDC). This is last week's. Ever since the CDC "improved" this chart, it's been consistently flaky. Today the numerical popup is failing: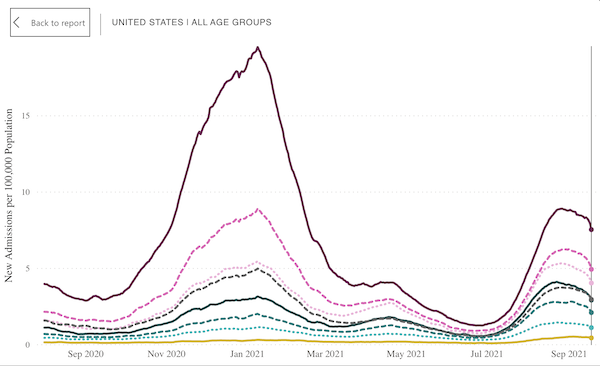 Here the CDC's hospitalization visualization, from the "Community Profile" report above: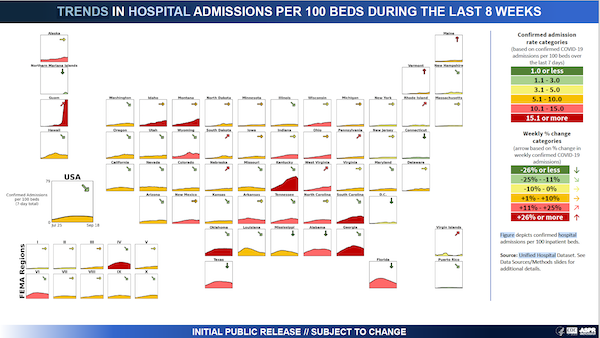 Alabama now headed down, fortunately. Things are picking up in the West.
Death rate (Our World in Data):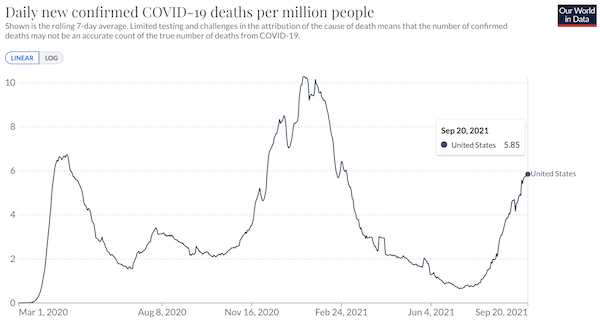 Total: 694,795 692,012. We are approaching the same death rate as our first peak last year. Which I am finding more than a little disturbing. (Adding: I know the data is bad. This is the United States. But according to The Narrative, deaths shouldn't have been going up at all. Directionally, this is quite concerning. Needless to see, this is a public health debacle. It's the public health establishment to take care of public health, not the health of certain favored political factions.) (Also adding: I like a death rate because it gives me a rough indication of my risk should I, heaven forfend, end up in a hospital. I should dig out the absolute numbers, too, now roughly 660,000, which is rather a lot.)
Covid cases worldwide: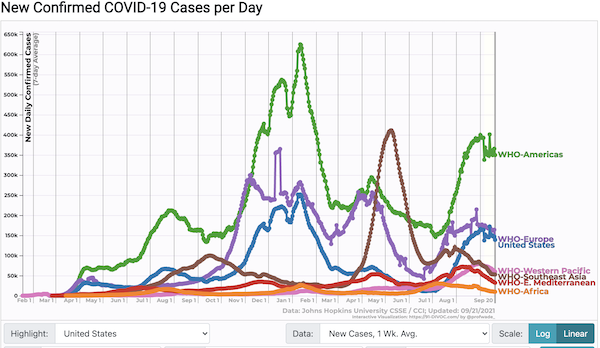 American exceptionalism?
* * *
Politics
"But what is government itself, but the greatest of all reflections on human nature?" –James Madison, Federalist 51
"They had one weapon left and both knew it: treachery." –Frank Herbert, Dune
"They had learned nothing, and forgotten nothing." –Charles Maurice de Talleyrand-Périgord
Capitol Seizure
"The chair of the House's Jan. 6 investigation hopes to wrap up by 'early spring' of next year. That's a tall order." [Politico]. "that's an extremely aggressive timeframe, particularly if/once subpoenas start to fly and legal pushback begins…. Timelines slip all the time on Capitol Hill, so [this writer] is betting on a delay in that estimate for the Jan. 6 panel to wind down."

"Federal officer arrested at Capitol rally won't be charged" [Associated Press]. " federal law enforcement officer was arrested carrying a gun at Saturday's rally at the U.S. Capitol billed to support the suspects charged in January's insurrection but will not be prosecuted. The 27-year-old New Jersey man is an officer with U.S. Customs and Border Protection. He was arrested by Capitol Police for illegally possessing a gun on the grounds of the Capitol after people in the crowd reported seeing him with a handgun and notified nearby officers. His arrest and presence at the event were surprising because the rally was billed as an event to support those who have been charged in January's riot." • I don't know if it was as surprising as all that.
Biden Administration
The Biden Agenda:

Bizarrely, the parts of Biden's agenda that are most popular seem to be most at risk right now.

Here's recent polling from the @NavigatorSurvey.

Among top 5 most popular policies:

– Medicare drug price negotiation (86%! support)
– Cracking down on tax cheats (77% support) pic.twitter.com/BDrVKDNmvv

— Will Jordan (@williamjordann) September 20, 2021

Moderates seem to be using a Rovian strategy: Attack the enemy's strengths.

UPDATE "Right-Wing Democrats Ramp Up Assault On Biden Agenda" [The Intercept]. "When Joe Biden entered office in January, Democrats knew they had two years to enact a mountain of critical legislation before midterm elections threatened their slim majorities in the House and Senate. That two-year window is now down to roughly one. But much of that time will be spent campaigning, meaning that the next month or two will shape the direction of not just the Biden administration, but arguably also the course of U.S. and global politics for decades to come. With the administration's $3.5 trillion vehicle careening toward a September 27 deadline, conservative Democrats have been at work trying to derail the White House's ambitious agenda. First, they cobbled together a small, corporate-friendly bipartisan infrastructure package that they hoped would take the steam out of the larger effort. When that didn't work, the conservative bloc pushed to shrink its size down from $6 trillion to $3.5 trillion, then pushed to decouple the two efforts. They are now threatening to destroy it altogether." • Perhaps they would rather be in the minority while not governing, yet still cashing in. Pelosi, by contrast, would rather be in the majority, while not governing, and still cashing in. (That's certainly what the party Pelosi and Schumer built is optimized for. As I've said, Biden is a better politician than his party — see, e.g., Afghanistan — so we're about to see if Biden is more like LBJ or, well, Obama.)

UPDATE "Pelosi's back-to-school math problem" [Axios]. "House Speaker Nancy Pelosi (D-Calif.) may need votes from an unlikely source — the Republican Party — if she hopes to pass the bipartisan infrastructure bill by next Monday, as she's promised Democratic centrists. With at least 20 progressives threatening to vote against the $1.2 trillion bipartisan bill, centrist members are banking on more than 10 Republicans to approve the bill. While Pelosi is a master at counting votes in her own party, she has less experience getting an accurate read on the Republican side of the aisle." • Lucy and the football again.

UPDATE "Dems rope debt to government funding, lassoing GOP into clash" [Politico]. "House Speaker Nancy Pelosi and Senate Majority Leader Chuck Schumer announced plans Monday afternoon to link a short-term government funding bill with another measure to suspend the nation's debt limit through the 2022 midterm elections. But even with the House slated to vote on the high-stakes package this week — just days before government funding expires and as the clock ticks on a potential U.S. debt crisis — lawmakers were still awaiting key details of the strategy by Monday evening. Perhaps the biggest question mark is whether Pelosi and Schumer can force GOP leaders to blink in the Hill's fiscal standoff, with Republicans refusing to negotiate on the politically toxic issue of the nation's multitrillion-dollar debt default when the Democrats are in power…. The Democrats' plan grew more complicated Monday, as McConnell only hardened his position that his GOP conference would not assist Democrats in addressing the debt limit when their party controls Congress and the White House." • Last I checked, McConnell was in the minority. What's the issue?

"Biden to raise refugee cap to 125,000 in October" [The Hill]. "The Biden administration on Monday said it would raise the refugee admissions cap to 125,000 in fiscal 2022, meeting a target that President Biden set during his presidential campaign. The State Department said it transmitted a report to relevant congressional committees recommending 'an increase in the refugee admissions target from 62,500 in Fiscal Year 2021 to 125,000 in Fiscal Year 2022 to address needs generated by humanitarian crises around the globe.' The next fiscal year begins in October."
Democrats en Deshabille
"Democrats Sick Of Being Blamed For Cowardice On Issues They Actually Just Don't Care About" [The Onion]. Schumer: "I've had it with being labeled spineless simply because, at the end of the day, I really don't give a shit whether we tax the rich to help poor families or hungry children or whatever." • Except…. Federal taxes don't fund Federal spending.

UPDATE "Dems Flail Over Pharma Cash And Drug Pricing Vote" [Andrew Perez, Daily Poster]. "In a contentious Zoom meeting last Friday with health care reform advocates who live in his district, Peters refused to stop taking pharma money, according to a recording of the meeting provided by a Daily Poster subscriber. 'I'm not going to unilaterally disarm and defund my campaign so that Republicans can win, I just think that's a dumb thing to do,' said the congressman, who represents a solidly blue district. Peters warned that if Democrats reject funds from corporate political action committees, companies will donate that money to Republicans instead. 'I aim to win races and I'm totally in favor of changing the rules,' he said. 'I will play the rules that apply, and when they change, I'll play by those rules.'" • Oh. Why did this guy run for office in the first place, then?
Republican Funhouse
UPDATE "Trump endorsements jolt GOP races" [Politico]. "Staten Island borough president. Michigan state Senate. Arizona secretary of state. Donald Trump is endorsing candidates in party primary elections all the way down the ballot, a level of involvement that's virtually unheard of among recent former presidents. What's remarkable about Trump's picks isn't just their breadth — he's endorsed close to 40 candidates so far in 23 states — it's their seemingly random quality. What's even more unusual is that the political goals of the GOP's de facto leader aren't necessarily in sync with his own party — in some cases, they are starkly at odds. If there's a thread running through nearly all of Trump's endorsements, it is his habit of rewarding allies and punishing enemies. So far, at the national level, he's backed primary challengers to four House GOP incumbents and one sitting senator — all of whom voted for impeachment. When it comes to state and local races, Trump's seal of approval is often linked in one way or another to his failed efforts to have the 2020 election results overturned. In the three secretary of state contests where he has endorsed — Arizona, Georgia and Michigan — the common denominator is that his claims of election fraud were dismissed in those places by the current secretaries of state due to a lack of evidence."
2020 Post Mortem
"Trump lawyer's memo on six-step plan for Pence to overturn the election" [CNN]. Commentary:

if a sufficient number of people believe that you can overturn a presidential election by subverting the ceremonial processes to certify it — and if people with power have actively plotted to do it — then it's a live possibility.

— b-boy bouiebaisse (@jbouie) September 21, 2021

UPDATE Lambert here: I've seen three disorderly presidential transitions: In 2000, when George W. Bush was inaugurated after his brother Jebbie purged the Florida voter rolls for him, the (very close) Florida recount in Broward County was halted by the famous "bourgeois riot", and the Supreme Court, in the infamous Bush v. Gore decision halted recounts with Bush ahead, effectively selecting him as President; in 2016, with RussiaGate; and in 2020, with the Trump campaign's election challenges, capped off by the Capitol Riot of 1/6. So, of the six Presidential elections from 2000 to 2020, half were marked by disorderly transitions. That's not a sign of a healthy electoral system; Bouie's aghastitude is therefore overly limited in scope. Of the campaigns that organized and sought to leverage disorder — Bush 2000, Clinton 2016, and Trump 2020 — only Bush 2000's attempt succeeded in seizing power. Bush 2000 had the best lawyers; Trump 2020 by far the worst. Clinton 2016's attempt was backed by a uniquely overlapping flex-net of Democratic operatives, the press, and the intelligence community that persists to this day; neither Trump 2020 nor Bush 2000 had anything remotely similar. Trump 2020's attempt was characterized by uniquely clownish operational ineptitude at all levels, up to and including 1/6. A "smart Trump" might well do better, since trust in the electoral system has decreased with each disorderly transition, and the, as it were, immune system of Presidential transition is far weaker.
Stats Watch
Housing: "United States Housing Starts" [Trading Economics]. "Housing starts in the US were up 3.9% to a seasonally adjusted annual rate of 1.615 million units in August of 2021, rebounding from a downwardly revised 6.2% fall in July and beating market forecasts of 1.554 million. Starts of buildings with five units or more jumped 21.6% to 530,000 while the single-family segment dropped 2.8% to 1,076,000."
* * *
Shipping: "Regulators eye new container-fee rules to address alleged overcharging" [Hellenic Shipping News]. "'Demurrage and detention charges when properly utilized are intended to work to incent the movement of cargo by limiting the amount of time available for the pickup of cargo, and the retrieval of cargo equipment in order to maintain traffic fluidity,' said Commissioner Carl Bentzel, who voted in favor of a rule that would impose the above requirements. 'Carriers and marine terminal operators should not be charging demurrage or detention caused as a result of their own operational challenges, but on the other hand, shippers also need to pick up cargo left on-dock on a timely basis. While this is clearly a delicate balance, I believe that we should move forward to consider new standards for the imposition of demurrage and] detention.'"
Shipping: "NGO Reports Seven Shipbreaking Fatalities in Two Months" [Maritime Executive]. "Last week, NGO Shipbreaking Platform warned of the need for enhanced safety measures in the ship recycling industry due to rising numbers of fatal accidents and injuries. With seven workers dying while dismantling vessels in Bangladesh and Turkey in less than two months, the industry must prioritize the safety of workers and the protection of the environment, according to the organization. In Bangladesh, five workers were killed and three severely injured in seven separate accidents on the shipbreaking beaches of Chattogram. The fatalities were caused by explosions, falls from height, falling steel plates and exposure to toxic fumes. NGO Shipbreaking Platform Project Officer Sara Rita da Costa said the series of accidents in Chattogram shows a lack of responsibility by shipping companies, as they continue to sell their end-of-life vessels to be broken under well-known dangerous conditions. It also shows the limited ability of the Bangladeshi government to regulate the industry." • Ship-breaking is an exceptionally nasty industry; see NC here.
Shipping: "Leasing firms buy more planes than ailing airlines for first time" [Reuters (UserFriendly)]. "Aircraft leasing companies are for the first time buying more of the world's passenger planes than airlines after the pandemic clobbered carriers around the world, senior industry executives said on Monday. The historic shift, following decades of gradual growth, is down to leasing giants being able to access cheaper financing than carriers in another sign of the financial woes facing much of the airline industry, they said…. 'Leased content has grown to around 60% of deliveries,' Udvar-Hazy, executive chairman of lessor Air Lease Corp (AL.N), told the Airline Economics conference in London."
The Bezzle: "Uber on course to post first profitable quarter" [Financial Times]. "Uber has said it is on course to report its first-ever profitable quarter, , after more than a decade of burning through billions of dollars in cash… 'With positive adjusted EBITDA in July and August, we believe Uber is now tracking towards adjusted EBITDA break-even in Q3, well ahead of our prior guidance,' said [Uber's chief financial officer Nelson Chai], in a filing released before markets' opening on Tuesday." • So, for some definition of "profit"….
The Bezzle: "China rolls out autonomous driving standards as carmakers work towards making self-driving a reality" [South China Morning Post]. ":China has published its first national standards for grading autonomous driving, which will come into force in March, providing a benchmark for carmakers to develop the futuristic technology. China's six-level standards, called 'Taxonomy of Driving Automation for Vehicles,' provides official definitions for self-driving cars from level zero (L0), which relies largely on human drivers, to L5 that achieves 'full driving automation.' Before its introduction, local carmakers used the United States-based Society of Automotive Engineers' (SAE) definition. While it is similar to the Chinese version, the mainland standards give technology a slightly larger role, experts said…. It was drafted by 11 major carmakers and suppliers, including Ford, BMW and Volkswagen's China units as well as some domestic giants like Geely and GAC Group, and the Ministry of Industry and Information Technology (MIIT) will oversee its adoption. Last year, the MIIT published the draft standards, and state-broadcaster CCTV reported that it would take effect in January this year. However, its implementation was delayed without any explanation."
The Bezzle: "AI Can Write Code Like Humans—Bugs and All" [Wired]. "Some software developers are now letting artificial intelligence help write their code. They're finding that AI is just as flawed as humans…. The risks of AI generating faulty code may be surprisingly high. Researchers at NYU recently analyzed code generated by Copilot and found that, for certain tasks where security is crucial, the code contains security flaws around 40 percent of the time. The figure 'is a little bit higher than I would have expected,' says Brendan Dolan-Gavitt, a professor at NYU involved with the analysis. 'But the way Copilot was trained wasn't actually to write good code—it was just to produce the kind of text that would follow a given prompt.'" • BWA-HA-HA-HA!!!! Because that's all AI can do!
Tech: "In Amazon's Flagship Fulfillment Center, the Machines Run the Show" [Bloomberg]. "Automation has made it possible for each fulfillment-center supervisor to manage dozens of employees, a factorylike operation becoming standard in the industry. In 2012 a logistics warehouse manager supervised about 10 workers, according to the U.S. Bureau of Labor Statistics. In 2020, after Amazon had become the industry's biggest employer, there were almost twice as many frontline workers for every supervisor. The company's competitors strive to imitate its operations, but its approach to automation is also a focus of its critics, who bemoan the working conditions for hourly employees. Amazon's algorithms tell workers what to do on the warehouse floor, set productivity targets, and flag employees who fail to meet them. In interviews workers describe feeling like cogs in a giant machine that can spit them out with little more than an automated termination email. Amazon acknowledges its algorithms aren't perfect. It says most processes in its facilities allow for human oversight or intervention. Managers say they can accomplish more with the powerful software behind them, and the company continues work on its operations. Maju Kuruvilla, a former Amazon engineering executive who left the company last year, says Amazon noticed several years ago that bosses sometimes became little more than 'faces behind laptops,' speed-walking through the facility on their way somewhere else. 'Fulfillment-center managers were not engaging with associates,' says Kuruvilla, who worked on automation tools designed partly to help foster human interaction. 'If that doesn't happen, it can be a downward spiral for Amazon. This is when unions come in, when you're not taking care of people.'"
Tech: "Twitter offers to cough up 80 days of annual sales to settle 'false' user count lawsuit" [The Register]. "Twitter has offered to pay $809.5m to settle a class-action lawsuit filed in 2016 accusing it of misleading investors by falsely inflating its number of monthly active users. 'The proposed settlement resolves all claims asserted against Twitter and the other named defendants without any admission, concession or finding of any fault, liability or wrongdoing by the Company or any defendant,' the web biz stated in an announcement. 'Twitter and the individual defendants continue to deny any wrongdoing or any other improper actions.' The micro-blogging site said it is prepared to cough up the cash in the fourth quarter of 2021, according to a filing with America's financial watchdog, the SEC. To put this in context, Twitter recorded a $1.13bn net loss in 2020 from revenues of $3.72bn. The settlement thus represents about 80 days of annual sales."
Tech: "Apple Is Working on iPhone Features to Help Detect Depression, Cognitive Decline" [Wall Street Journal]. "Chief Operating Officer Jeff Williams, who oversees Apple's health unit, has spoken enthusiastically to employees about the company's potential to address surging rates of depression and anxiety as well as other brain disorders, according to people who have heard him talk about the efforts. If they are successful, Apple and its partners could improve the detection of the conditions, which affect tens of millions of people world-wide. But the extent of user tracking that may be required could spark privacy concerns. To address them, Apple aims for algorithms that work on users' devices and don't send the data to Apple servers, the documents show." • Er, what about paranoia?
Regulation: "Managing traffic in the skies is becoming a lot harder" [Axios]. "The FAA manages about 45,000 flights per day, including commercial airlines, cargo carriers and private planes…. There are roughly 870,000 registered drones in the U.S. — four times the number of commercial and private planes…. In Europe, authorities aim to segregate drones from other types of aircraft. But in the U.S., safely integrating them into the national airspace is the goal…. its plan is to establish a drone traffic management system that would complement the FAA's existing air traffic management system. The FAA will let drone operators know where they can and cannot fly, and then it's up to them to manage their operations safely within those constraints — without contacting air traffic controllers." • What could go wrong? Fascinating article, well worth a read.
The Economy: "How Car Rentals Explain the 2021 Economy" [New York Times]. "In the spring and summer of 2020, the industry was in a state of collapse as people stopped traveling. With a glut of cars — a much higher supply of rentals than demand — prices plummeted; major rental car companies sold off hundreds of thousands of vehicles; and Hertz went bankrupt. The price to rent a car or truck was 23 percent lower in May 2020 than it was before the pandemic started. Fast-forward a year, and millions of vaccine jabs later, and Americans were ready to travel again — but the rental car industry was stuck with its diminished fleets. And it faced challenges replenishing those fleets quickly, because automakers were facing supply constraints of their own because of production rollbacks in 2020. In the second quarter of this year, for example, the combined fleet of Hertz and Avis, the two major rental car companies that report public data, was 312,000 cars smaller than in the second quarter of 2019 — a 30 percent drop. (Enterprise Holdings is bigger than either, but is privately held)." • Hysteresis!
* * *
Today's Fear & Greed Index: 24 Extreme Fear (previous close: 21 Extreme Fear) [CNN]. One week ago: 31 (Fear). (0 is Extreme Fear; 100 is Extreme Greed). Last updated Sep 21 at 12:37pm. First Extreme Fear in awhile.
The Biosphere
"Rock dust could put a drain on atmospheric carbon — will this technology work?" [The Hill]. " At this point, humanity needs to increase the size and speed of the atmospheric carbon dioxide drain, removing billions of tons of carbon dioxide each year and securely transforming this greenhouse gas to a solid-state. … The most viable solutions must hit that sweet spot between economic realities, the opportunity for local financial benefits, and — perhaps most importantly — impart permanence to carbon dioxide removal so that it won't return to the atmosphere after it's been captured. One of the most promising approaches that tick these boxes involves the repurposing of rock dust into agricultural soils, which can be gathered in hoards from the mining industry, demolition of buildings, or cement and steel manufacturing. Adding rock dust derived from volcanic geology can soak up carbon dioxide and convert it to a form of carbon that is highly protected from atmospheric return, and these rocks can provide agronomic benefits in terms of yield enhancement, lower fertilizer costs and maybe even support healthier crops that have a higher density of nutrition for people and animals. " • Experts please correct this brainwave, but this seems to me to be wrong way to think about the problem. Nature doesn't transform things into permanent solid states often. If we could manage to circulate carbon in such a way that it didn't outgas into the atmosphere wouldn't that accomplish the same thing? (It's as if the experts think that carbon is money, so they want to bank it, instead of making the economy in which money moves more complex and, well, richer.) They had the same idea about soil. Soil isn't a sink. It's a living thing. It circulates carbon. We might not want to capture carbon as to reroute or deflect it. Can't make a market in that, of course, as you can with a bank.
Health Care
Wheee!
It's day two and the Return to School Road Trip bus is heading to the Land of Lincoln. If you see us on the road, make sure you snag a photo & share it with us using the the hashtag #BackTogether. pic.twitter.com/3XY9uwwiyb

— Secretary Miguel Cardona (@SecCardona) September 21, 2021
(Note comment on the northern latitude in the #COVID19 section.) If any readers attend on of these shindigs, I'd love to hear about it!
"The Stakes Feel Higher Than Ever As The Education Secretary Welcomes Students Back" [NPR]. "So Cardona's job is two-fold: to use his bully pulpit to push schools and, in some cases, state leaders to adopt the kinds of strong safety measures recommended by the Centers for Disease Control and Prevention, and to reassure anxious parents, caregivers and educators that, with those measures in place, kids can — and should — return to school." • Tough? Lol. To be fair: "At every stop, Cardona will almost certainly talk up the enormous infusion of federal funding schools have received since the pandemic began, including in the American Rescue Plan, which carried a roughly $122 billion lifeline to help schools pay for everything from improved and extra staffing to summer school and tutoring for children to recover some of the learning time they may have lost during the pandemic." And: When several states banned schools from requiring that students wear masks, the secretary announced his department would investigate them for potentially violating the civil rights of students with disabilities. When Florida withheld the salaries of some school officials who defied the state's mask mandate ban, Cardona unveiled a grant to cover the costs."
* * *
UPDATE "Gottlieb: 'Nobody knows' origins of six-foot social-distancing recommendation" [The Hill]. "Former Food and Drug Administration (FDA) commissioner Scott Gottlieb said on Sunday that "nobody knows" the origins of the six-foot social-distancing recommendation. During an appearance on CBS's "Face The Nation," Gottlieb told host Margaret Brennan that the recommendation was arbitrary, saying that the Biden administration asked the Centers for Disease Control and Prevention (CDC) to change its guidelines from six feet to three feet in an effort to re-open schools last spring. 'Nobody knows where it came from. Most people assume that the six feet of distance, the recommendation for keeping six feet apart, comes out of some old studies related to flu, where droplets don't travel more than six feet,' Gottlieb told Brennan." • No mention of aerosols from Gottlieb? And what business is the CDC in, anyhow?
UPDATE "Effectiveness of the Single-Dose Ad26.COV2.S COVID Vaccine" (preprint) [medRxiv]. J&J. From the Abstract: "These non-randomized data across U.S. clinical practices show high and stable vaccine effectiveness of Ad26.COV2.S over time before the Delta variant emerged to when the Delta variant was dominant." Commentary:
18) Folks— I've always said J&J was "underrated" as a vaccine. It was always a pretty decent vaccine considering it's been a one dose out until now. Many also forgot how J&J efficacy grew other time. Now we see it clearly! https://t.co/pO0PTmfGGe

— Eric Feigl-Ding (@DrEricDing) September 21, 2021
UPDATE "Johnson & Johnson says additional dose boosts Covid vaccine efficacy" [STAT]. "Johnson & Johnson said Tuesday that a large, global study showed its Covid-19 vaccine is more effective when given as a two-dose regimen, and that other data indicate the efficacy of the vaccine does not wane. The two-dose regimen prevented 75% of moderate to severe Covid cases in all countries where it was tested — and 94% of such cases in the United States, where fewer troublesome variants of the SARS-CoV-2 virus circulated at the time the trial was underway. Importantly, the two-dose regimen was 100% effective against severe disease. It appears J&J may use the data to argue in favor of making a booster broadly available to people who received the one-dose vaccine six months ago or more. A press release from the company did not say so explicitly, but stated J&J had submitted the data to the Food and Drug Administration and plans to submit them to other regulators and the World Health Organization. The data could also help increase use of the vaccine in the U.S. and globally. Currently, in the U.S., it is the least-often administered of the Covid vaccines authorized or approved by the Food and Drug Administration."
UPDATE "Scientists claim that overeating is not the primary cause of obesity" [Science Daily]. Important:
The USDA's Dietary Guidelines for Americans 2020 — 2025 further tells us that losing weight "requires adults to reduce the number of calories they get from foods and beverages and increase the amount expended through physical activity."

This approach to weight management is based on the century-old energy balance model which states that weight gain is caused by consuming more energy than we expend….

The authors of "The Carbohydrate-Insulin Model: A Physiological Perspective on the Obesity Pandemic," a perspective published in The American Journal of Clinical Nutrition, point to fundamental flaws in the energy balance model, arguing that an alternate model, the carbohydrate-insulin model, better explains obesity and weight gain. Moreover, the carbohydrate-insulin model points the way to more effective, long-lasting weight management strategies.

In contrast to the energy balance model, the carbohydrate-insulin model makes a bold claim: overeating isn't the main cause of obesity. Instead, the carbohydrate-insulin model lays much of the blame for the current obesity epidemic on modern dietary patterns characterized by excessive consumption of foods with a high glycemic load: in particular, processed, rapidly digestible carbohydrates. These foods cause hormonal responses that fundamentally change our metabolism, driving fat storage, weight gain, and obesity.
UPDATE "Transport noise linked to increased risk of dementia, study finds" [Guardian]. "Now an "impressive" study involving two million adults, conducted over more than a decade, has concluded that people living in areas with transport noise face a higher risk of dementia, especially Alzheimer's disease. The findings were published in the BMJ. Researchers investigated the association between long-term residential exposure to road traffic and railway noise and the risk of dementia among two million adults aged over 60 and living in Denmark between 2004 and 2017. The level of exposure at the most- and least-exposed sides of buildings was estimated for every residential address in the country. After taking account of potentially influential factors related to residents and their neighbourhoods, the study concluded that as many as 1,216 out of the 8,475 cases of dementia registered in Denmark in 2017 could be attributed to transport noise. Of those, 'the diagnosis in an estimated 963 patients was attributed to road traffic noise, and in 253 patients to railway noise.'"
Household Tips
"Floods Have Swamped the US. The Next Health Problem: Mold" [Wired]. "'We don't have systematic surveillance for mold infections in the United States,' says Luis Ostrosky-Zeichner, a physician and professor, and director of the mycology research laboratory at UTHealth's McGovern Medical School in Houston—a city that was flooded by Hurricane Harvey in 2017. 'If you are a clinician and you have someone who thinks they have been sickened by mold exposure, there's no official name for it, there's no diagnosis code,' says Joan W. Bennett, a fungal geneticist and professor of plant biology at Rutgers University, who moved to that position from Tulane University after her New Orleans home was flooded and left moldy by Hurricane Katrina. 'How are we going to gather data on how often this phenomenon occurs? It leaves you with a bunch of just anecdotal stories.' It's an important data gap not just because these illnesses appear to be under-reported, but also because climate change is making floods more frequent and more extreme." And: "Acknowledging the rising incidence of floods, the CDC has published public service announcements warning about mold and cleanup guidance for homeowners and renters. Agency officials are collaborating with several physicians on a continuing medical education unit to alert them to possible problems in patients. Those could reduce the likelihood that people make themselves vulnerable, and keep down the incidence of infections. But this won't solve the conundrum of not knowing how many people are becoming infected, which is always a precondition for getting funding and attention needed to solve a public health problem."
The Agony Column
"Revenge bedtime procrastination: A plight of our times?" [Medical News Today]. "It is late at night. Your day's work — day job duties, homework for your course, house chores — is all done. You glance at the clock: it is past midnight already. You are all ready for bed and so tired that you could almost pass out. However, instead of closing your eyes and drifting off to sleep, something else happens. You start reading a book, watching an episode of your favorite show, or adding one more row to that knitting project. Before you know it, one more page has become five more chapters, you have binge-watched an entire season of that show, or all but finished your knitting project. By this time, however, it is 3.00 a.m., and you know you have to wake up at 6.00 a.m. You are very tired, and you know you will be sleep-deprived, but you could not help yourself. Why? If this scenario seems familiar, it is because many people around the world have been increasingly engaging in this form of behavior. This phenomenon has become so widespread that it has earned the moniker: revenge sleep procrastination." This has certainly happened to me. More: "A study from the Netherlands that appeared in Frontiers in Psychology in 2018 aimed to answer the question as to why people may delay their bedtime on purpose, even when they are tired. The study authors found that the more a person had to 'resist desires' during the rest of their day, the more likely they would be a bedtime procrastinator. This means that the less enjoyable things a person could do during the day, the likelier it was that they would try to reclaim that time at night and engage in the more pleasurable activities they had not been able to do during the day. 'One of the significant causes of revenge sleep procrastination is where our current working culture intersects with our personal and leisure time expectations in our p.m. bookend,' Chambers told MNT." • Hmm. I've not sure I'd call that revenge.
Under the Influence
"Wall Street Influencers Are Making $500,000, Topping Even Bankers" [Bloomberg]. "At first no one could explain why business was picking up at Betterment, a robo adviser aimed at newbie investors. There were about 10,000 signups in one day. Then came the answer: A 25-year-old TikToker from Tennessee was posting videos describing how to retire a millionaire by using the platform. His name is Austin Hankwitz, and he's managed to land one of the hottest new gigs: full-time 'finfluencer.'" • Well, since "blog and grow rich" never did work out…
Our Famously Free Press
The Times is taken seriously by the sort of people who take the Times seriously:
The Times is really good at hitting a certain level of extremely basic, minimally cultured lifestyle on the bullseye. A paper for the 10% of us who have heard of "Citizen Kane," but are just getting around to streaming it for the first time in our solidly professional early 30s.

— Typos of the New York Times (@nyttypos) September 19, 2021
This is a great account. The people who do the Times Twitter account, and many Times reporters, have no grasp of basic writing mechanics.
"The dying art of the hatchet job" [Unherd]. The deck: "Film critics have never been so weak or timid." More: "Why has negative criticism become so contentious? One factor is the growing vulnerability of both journalists and the artists they cover. When there is less space for book coverage, it makes sense to foreground good work than cackle over the bad, except when a real stinker from a big name hoves into view and critics can take the gloves off with a sigh of relief…. In the world of music, when most albums don't make money, it is understandable for critics to pull their punches. The world of album reviewing now is so much more collegiate than the knives-out music-press culture that I grew up on. I'm glad that young critics no longer have to make their names with an act of ritual cruelty towards a soft target, but the really thoughtful takedown is an endangered species without which music journalism is merely PR. Older critics tend to lose their taste for blood while, as Clive James wrote, 'among young writers, there seems a shortage of critics unhampered by excessive good manners.' I would suggest, though, that it's as much a question of self-preservation as good manners, due to social media's abolition of context."
From The Department of Ridiculous Self-Absorption and -Congratulation:
Today's episode of The Daily looks at The New York Times's investigation into a U.S. drone strike in Afghanistan, and how it forced the military to acknowledge that it had made a deadly error.https://t.co/CFl4YLnegN

— The New York Times (@nytimes) September 21, 2021
Where was the aghastitude for the previous twenty years?
Class Warfare
"When McDonalds Came to Denmark" [Matt Bruenig]. "n late 1988 and early 1989, the unions decided enough was enough and called sympathy strikes in adjacent industries in order to cripple McDonalds operations. Sixteen different sector unions participated in the sympathy strikes. Dockworkers refused to unload containers that had McDonalds equipment in them. Printers refused to supply printed materials to the stores, such as menus and cups. Construction workers refused to build McDonalds stores and even stopped construction on a store that was already in progress but not yet complete. The typographers union refused to place McDonalds advertisements in publications, which eliminated the company's print advertisement presence. Truckers refused to deliver food and beer to McDonalds. Food and beverage workers that worked at facilities that prepared food for the stores refused to work on McDonalds products. In addition to wreaking havoc on McDonalds supply chains, the unions engaged in picketing and leaflet campaigns in front of McDonalds locations, urging consumers to boycott the company. Once the sympathy strikes got going, McDonalds folded pretty quickly and decided to start following the hotel and restaurant agreement in 1989. This is why McDonalds workers in Denmark are paid $22 per hour." And: "When I bring this up, people sometimes respond by saying that these kinds of strikes are illegal in the US. This is a true and worthwhile bit of information, but insofar as it is meant to imply that the different legal environment is what accounts for the labor radicalism, this obviously has things backwards. The laws aren't driving the labor radicalism, but rather the labor radicalism is driving the laws." • Yep!
News of the Wired
"The Framework is the most exciting laptop I've ever used" [Pluralistic.net]. "Then I saw Ifixit's teardown of a Framework laptop. They described a computer whose hardware was fully user-maintainable/upgradeable. The system opens with six "captive" screws (they stay in the case) and then every component can be easily accessed. There's no tape. There's no glue. Every part has a QR code that you can shoot with your phone to go to a service manual that has simple-to-follow instructions for installing, removing and replacing it. Every part is labeled in English, too! The screen is replaceable. The keyboard is replaceable. The touchpad is replaceable. Removing the battery and replacing it takes less than five minutes. The computer actually ships with a screwdriver. All this, without sacrificing size or power – it's so similar to a Macbook that a friend who came over for dinner (and who knows about my feelings about proprietary Apple hardware) expressed shock that I'd switched to a Macbook!. Having used this system for nearly a month, I can unequivocally recommend it!" • This looks extremely interesting. The price is right, too!
* * *
Readers, feel free to contact me at lambert [UNDERSCORE] strether [DOT] corrente [AT] yahoo [DOT] com, with (a) links, and even better (b) sources I should curate regularly, (c) how to send me a check if you are allergic to PayPal, and (d) to find out how to send me images of plants. Vegetables are fine! Fungi and coral are deemed to be honorary plants! If you want your handle to appear as a credit, please place it at the start of your mail in parentheses: (thus). Otherwise, I will anonymize by using your initials. See the previous Water Cooler (with plant) here. Today's plant:
* * *
Readers: Water Cooler is a standalone entity not covered by the recently concluded and — thank you! — successful annual NC fundraiser. So if you see a link you especially like, or an item you wouldn't see anywhere else, please do not hesitate to express your appreciation in tangible form. Remember, a tip jar is for tipping! Regular positive feedback both makes me feel good and lets me know I'm on the right track with coverage. When I get no donations for five or ten days I get worried. More tangibly, a constant trickle of donations helps me with expenses, and I factor in that trickle when setting fundraising goals:
Here is the screen that will appear, which I have helpfully annotated.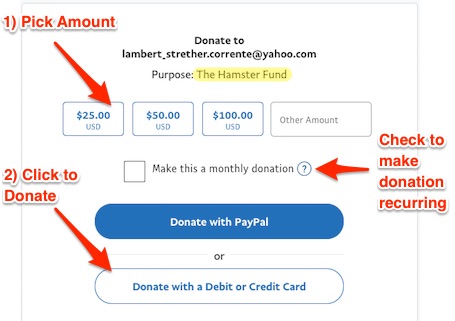 If you hate PayPal, you can email me at lambert [UNDERSCORE] strether [DOT] corrente [AT] yahoo [DOT] com, and I will give you directions on how to send a check. Thank you!2:00PM Water Cooler 6/8/2021