By Lambert Strether of Corrente.
Patient readers, I will fill out the Politics section shortly. –lambert
Bird Song of the Day
"Excited calls from flock." A little mike noise but really net, especially toward the end.
* * *
#COVID19
At reader request, I've added this daily chart from 91-DIVOC. The data is the Johns Hopkins CSSE data. Here is the site. I feel I'm engaging in a macabre form of tape-watching….
We already start to an instant rebound from Labor Day, I assume because reporting is returning to normal. Nevertheless, Labor Day, as the end of summer, also signals life changes for Americans, so those changes will affect the numbers too. We shall see!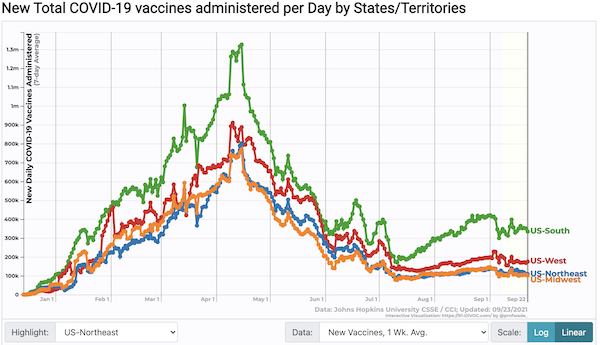 Flat everywhere but the South. Anecdotes aside, we ought to be seeing some pop soon from measures taken after Biden's speech, which was given September 9.
54.9% of the US is fully vaccinated (mediocre by world standards, being just below Czech Republic, and just above Switzerland and Malaysia). We are back to the 0.1% stately rise per day. This is the number that should change if Biden's mandates "work." However, as readers point out, every day those vaccinated become less protected, especially the earliest. So we are trying to outrun the virus… (I have also not said, because it's too obvious, that if by Bubba we mean The South, then Bubba has done pretty well.)
Case count by United States regions: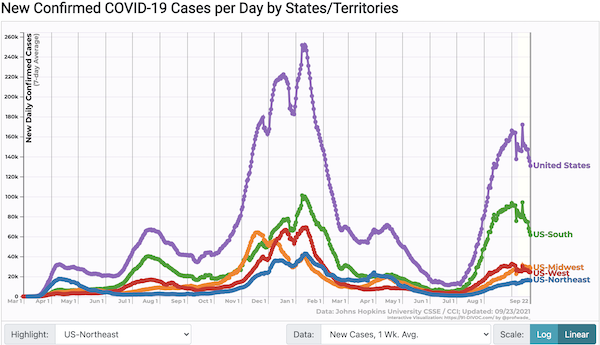 Weirdly choppy, but it does look like we're descending from a peak. The question is whether we will ascent to a second (or third) peak, as in last December-January, or not, as in last August. Note also that the regions diverge: The South, which drove the peak, is finally dropping. The West was choppy too, and is now falling. However, all this drama has masked the steady rise in the Northeast and Midwest.
We could get lucky, as we did with the steep drop after the second week in January, which nobody knows the reasons for, then or now. Today's populations are different, though. This population is more vaccinated, and I would bet — I've never seen a study — that many small habits developed over the last year (not just masking). Speculating freely: If the dosage from aerosols drops off by something like the inverse square law, not linearly, even an extra foot of distance could be significant if adopted habitually by a large number of people. And if you believe in fomites, there's a lot more hand-washing being done. On the other hand, Delta is much more transmissible.
SInce the Midwest seems to be rising, here is a look at the individual Midwest States: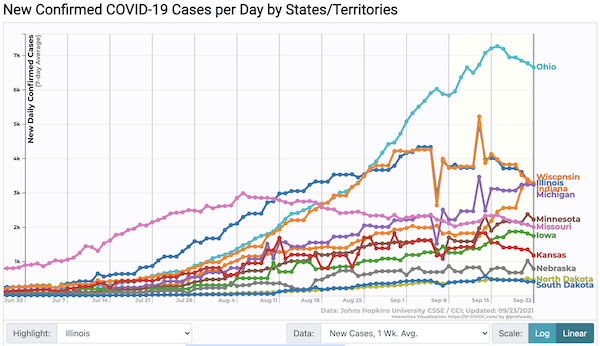 A minor point is that the chart has autogenerated two oranges: Indiana and Wisconsin. Worse, they have converged. Nine days ago Indiana had spiked; since September, it has moved in tandem with Illinois (blue). Now it Indiiana is falling. Wisconsin is rising. A major point is I flubbed as a tape-watcher by missing Ohio's increase (the rapid riser concept makes visualizing spikes easy, but not so much steady rises). Fortunately, Ohio is now decreasing. Also, in the Dakotas, this year's Sturgis spike was great to see in the rapid riser county data (at least some country data can be trusted) but we see it didn't affect the aggregates at all.
NEW From CDC: "Community Profile Report September 20, 2021" (PDF), "Rapid Riser" counties, this release: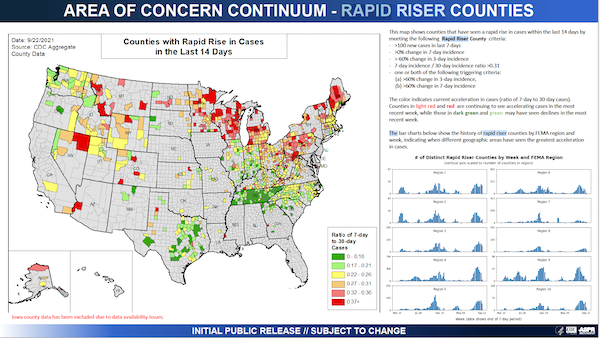 Minnesota and Wisconsin both look more red to me, Michigan holding, Maine better, outbreaks in upstate New York. Speculating freely: Kids have gone back to school and the windows are closed (Minneapolis, MN ranges from the mid-50s to mid-60s Fahrenheit right now.) Rockies still suffering, Ohio Valley and now Pennsylvania improving. Tennessee feeling great relief, mostly green. Remember, however, that this chart is about acceleration, not absolute numbers. This map, too, blows the "Blame Bubba" narrative out of the water. Not a (Deliverance-style) banjo to be heard. Previous release: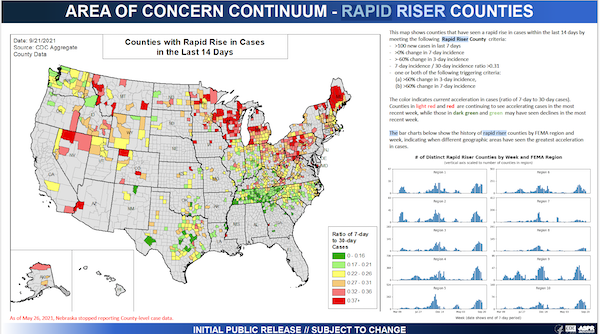 (Red means getting worse, green means bad but getting better.)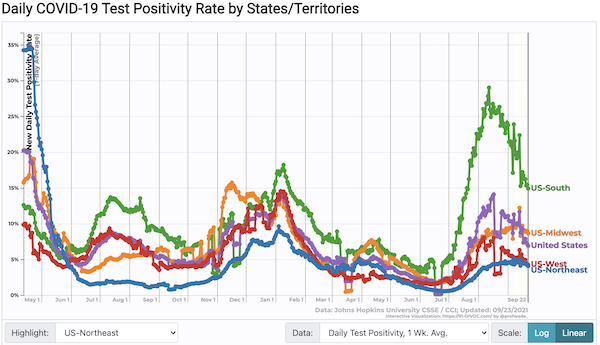 The South, the leader, steadily dropping.
Hospitalization (CDC). Everything works today!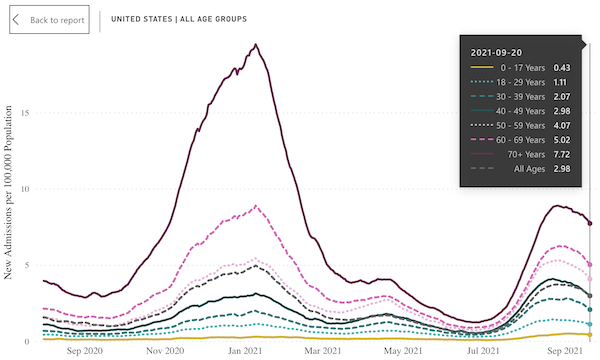 Here the CDC's hospitalization visualization, from the "Community Profile" report above: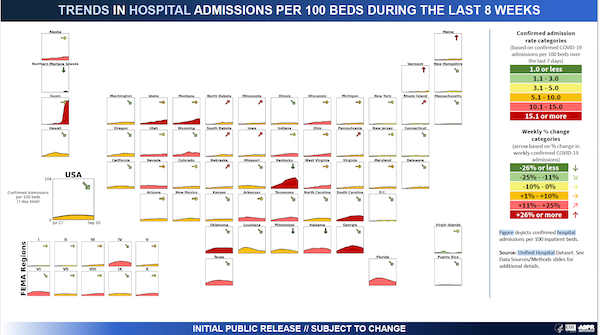 Alabama now headed down, fortunately. Things are picking up in the Northern latitudes (note the up arrows in Wisconsin and Minnesota). From this chart, pediatric hospitalization, in the aggregate, is down. I should dig out some regional or better yet county data.
Death rate (Our World in Data):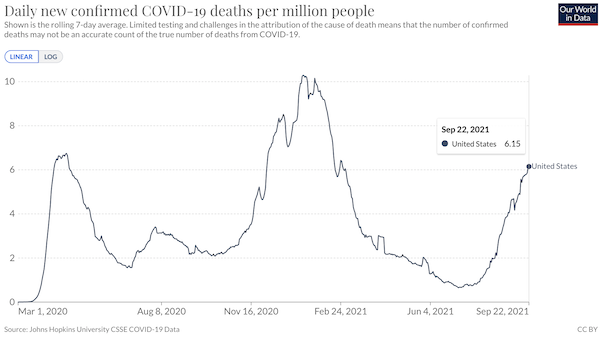 Total: 699,853 697,041. We are approaching the same death rate as our first peak last year. Which I am finding more than a little disturbing. (Adding: I know the data is bad. This is the United States. But according to The Narrative, deaths shouldn't have been going up at all. Directionally, this is quite concerning. Needless to see, this is a public health debacle. It's the public health establishment to take care of public health, not the health of certain favored political factions.) (Also adding: I like a death rate because it gives me a rough indication of my risk should I, heaven forfend, end up in a hospital. I should dig out the absolute numbers, too, now roughly 660,000, which is rather a lot.)
Covid cases worldwide: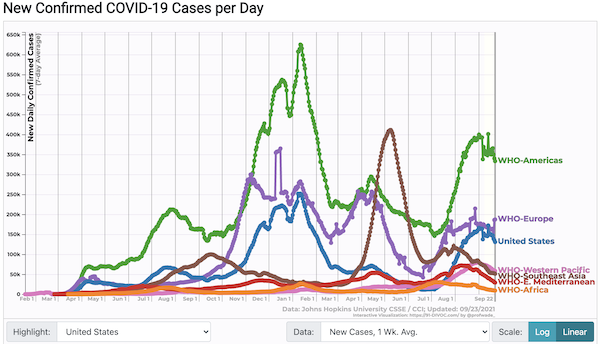 American exceptionalism?
* * *
Politics
"But what is government itself, but the greatest of all reflections on human nature?" –James Madison, Federalist 51
"They had one weapon left and both knew it: treachery." –Frank Herbert, Dune
"They had learned nothing, and forgotten nothing." –Charles Maurice de Talleyrand-Périgord
Capitol Seizure
"Jan. 6 investigation accelerates as it turns toward Trump" [Politico]. • The walls are closing in!
Biden Administration
UPDATE "Why Biden isn't hitting the panic button on the debt ceiling — yet" [Politico]. "Senate Republicans are rebuffing an effort by Democrats to lift the nation's debt ceiling through a government funding bill that would require 60 votes. And they're doing so while relying on the unusual argument that while members of the GOP wholeheartedly want to see the debt limit raised or suspended, they just don't want to be the ones to do it. That's left Biden with few options: Plow forward with the plan and risk default, find an alternate route to raise the debt limit through reconciliation, or convince Republicans — either through badgering or enticing them — to get on board with Democrats. So far, he's settled on another approach: show no signs of panic. Biden has largely deferred to Democratic leaders to drive the process on Capitol Hill, while the White House and administration officials avoid talk of fallback options and ramp up the pressure on Republicans to fold." • Interestingly, Biden — very much unlike Obama — seems to give zero f*cks, as first the episode of the French submarine, and now the incidents at the Texas border show. If he truly does have zero f*cks to give, there are people anxious to help him with a well-worked out alternative–

UPDATE "And finally, here's what Joe's interested in this morning" [Bloomberg]. "Every day that goes by, we get one day closer to hitting the statutory debt limit. If Congress doesn't vote to hike it, we could theoretically experience the unthinkable: A default on U.S. Treasuries, which are widely understood to be the world's safest asset. People have all kinds of theories for what would happen if we did hit the ceiling, but the truth is that nobody actually knows. Fortunately there's an easy way to defuse this bomb. As I've been writing about this week, there doesn't actually need to be a vote at all. The Secretary of the Treasury can mint a trillion dollar platinum coin, purchase $1 trillion worth of debt from the Fed, retire that debt, and then create breathing room under the debt ceiling. It sounds weird, of course, but it's legal and it would solve the problem of a catastrophic default and potential associated recession. And since the choice is between "weirdness" on one hand and "catastrophic default leading to a depression" on the other hand, there's a good reason to go with weirdness." • Includes a FAQ. Ryan Grim chimes in:

Obviously minting a trillion dollar NFT of a Hunter Biden painting is the answer

— Ryan Grim (@ryangrim) September 23, 2021

(Note that minting the platinum coin is supported by statute; see the FAQ above. I'm not sure about a digital coin.) And the great Carlos Mucha:

And Eric Levitz:

If you want a bipartisan solution to the debt ceiling crisis, mint the coin and put Trump's face on it

— Eric Levitz (@EricLevitz) September 23, 2021

,/center>

And the great Carlos Mucha:

This is where the magic happens, I bet they have a phone number. pic.twitter.com/AnH4kwY4CN

— Carlos Mucha (@mucha_carlos) September 22, 2021

"Harris to meet with Modi in 'coming-of-age' moment for Indian diaspora" [Los Angeles Times]. "Indian Americans are one of the fastest-growing political forces in the United States. Harris, whose mother was born in India, attracted donations, votes and attention from Indian Americans during her political rise to the U.S. Senate and the vice presidency. Her career, political stances and even the activism of her niece — social media influencer Meena Harris — have been chronicled by the Indian media. Some Indians and Indian Americans would like to see Harris, whose father was born in Jamaica, identify more closely with her mother's traditions. 'That's been a running critique for Harris for a while because she does identify as a Black woman and [went] to [Howard], a historically Black university, and many parts of her identity, including the way her mother raised her, were ensconced in the Black experience," said Karthick Ramakrishnan, a public policy professor at UC Riverside who has been tracking Indian American public opinion since 2008." • Harris "identifies as" a black woman now, but in her earliest races, "identifies as" Indian in her campaign literature. Oh well, nevertheless.

"Senate Parliamentarian Played Highly Political Role Against Filibuster Reform In 2013" [Ryan Grim, The Intercept]. "SENATE PARLIAMENTARIAN Elizabeth MacDonough actively organized against Democratic efforts to reform the filibuster throughout 2013, working closely with a bipartisan group of senators hoping to stave off the rules change, MacDonough told a law school audience during a 2018 commencement address at Vermont Law School…. MacDonough should run for office, and in the meantime, the Senate needs staff that can offer unbiased advice." • But liberal Democrats love their auto-kinbaku-bi, and MacDonough helps them tie the knots. So, no.

UPDATE "DHS seeks contractor to run migrant detention facility at Gitmo, guards who speak Haitian Creole" [NBC]. "In a statement to NBC News, DHS said it 'is not [sending] and will not send Haitian nationals being encountered at the southwest border to the Migrant Operations Center (MOC) in Guantanamo Bay. The MOC has been used for decades to process migrants interdicted at sea for third-country resettlement. The request for information (RFI) recently posted is a typical, routine first step in a contract renewal, and unrelated to the Southwest Border.'" • Well, that's reassuring. Good thing Obama never got rid of Gitmo. Turns out we still need it. Dodged a bullet there!

UPDATE "How Democrats' New Voting Rights Bill Tackles The Threat Of Election Subversion" [HuffPo]. "But in one area, the new Freedom to Vote Act is stronger and addresses something that the first bill left out: election subversion. The new bill contains numerous provisions to counteract laws passed in Republican-run states allowing partisan actors to subvert elections…. Trump's lies and the insurrection's enduring popularity among the Republican Party's base led GOP-run states to pass new laws that both make it harder for communities that lean Democratic to vote and easier for Republican partisans to disrupt and possibly subvert elections. These included a law in Georgia allowing for the partisan takeover of local election boards that contain large populations of Democratic voters and a law in Texas giving election observers free reign to harass election workers and voters as they cast their ballots." • The bill, of course, makes no distinction between a handmarked paper ballot and a paper trail (produced digitally, therefore hackable). More importantly, it leaves out an entire category of election subversion: See Greenwald below.
Democrats en Deshabille
"The most powerful network of Democratic donors has a new president" [Politico]. "The Democracy Alliance, a secretive club of wealthy progressive and Democratic donors, has named Pamela Shifman its new president ahead of what is likely to be a tough and expensive midterm election season for the party. As of this week, Shifman, a lawyer who has long worked with social justice philanthropies, has taken the reins of what is among the most powerful yet little-known groups in progressive politics. The group and its "partners," which counts Tom Steyer and George Soros among its members, has long operated behind a veil of secrecy. Democracy Alliance helps to funnel money from a group of anonymous mega-donors to an infrastructure of groups it hopes will "advance a progressive agenda for America…. The alliance has supported the liberal think tank , the progressive media watchdog and the American Constitution Society, a liberal counterpart to the conservative Federalist Society." • In other words, corrupt, self-dealing, hackish Democrat NGOs. What a surprise!

UPDATE "California farm worker union marching to the French Laundry after Newsom vetoes labor bill" [Sacramento Bee]. "Gov. Gavin Newsom on Wednesday vetoed a bill that would have allowed farm workers to vote by mail in union elections, a change the United Farm Workers pressed for after the U.S. Supreme Court earlier this year dealt a setback to its organizing practices. Assembly Bill 616 would have allowed agricultural workers to select their collective bargaining representative through a ballot card election by voting at a physical location or mail or dropping off a ballot to the Agricultural Labor Relations Board office… n a veto message, Newsom said the bill contained 'various inconsistencies and procedural issues related to the collection and review of ballot cards.' 'Significant changes to California's well-defined agricultural labor laws must be carefully crafted to ensure that both agricultural workers' intent to be represented and the right to collectively bargain is protected, and the state can faithfully enforce those fundamental rights,' he said. He wrote that he would direct his administration's labor agency to 'work collaboratively with the Agricultural Labor Relations Board and all relevant stakeholders to develop new policies for legislative consideration to address this issue.'" • I assume "all relevant stakeholders" includes Big Ag….
Our Famously Free Press
Greenwald is 100% right to be outraged:

Employees of big media corporations constantly whine about people stoking hatred toward them. Why shouldn't you hate them?

Look at what they did: they spent weeks lying about a major story to help Biden, and now won't even acknowledge the *proof* that what they said was a lie.

— Glenn Greenwald (@ggreenwald) September 23, 2021

You shouldn't hate them because hate is bad for you. But does the Beltway Press deserve to be hated? Without any question. And they are all still on the teebee spouting off, and very well paid to do it, too. I dannae if they can take any more, Captain!
Stats Watch
Employment Situation: "United States Initial Jobless Claims" [Trading Economics]. "The number of Americans filing for new claims for unemployment benefits unexpectedly rose for a 2nd straight week to 351K in the week ending September 18th, well above market forecasts of 320K."
Manufacturing: "United States Kansas Fed Manufacturing Index" [Trading Economics]. "The Kansas City Fed's Manufacturing Production Index fell to 10 in September 2021 from 22 in the previous month, the lowest since July 2020. Factory growth continued to be driven by a faster increase in durable goods, in particular primary metals, computer and electronic products, and transportation equipment, while nondurable goods manufacturing grew more modestly."
* * *
The Bezzle: Ouch:
That's how bad Uber service has become.. https://t.co/DiGTvhHm3L

— TheDeliveryUnderground (He/Him/We) (@TheDeliveryUnd1) September 22, 2021
Tech: "One to charge them all: EU demands single plug for phones" [Associated Press]. "The European Commission, the bloc's executive arm, proposed legislation that would mandate USB-C cables for charging, technology that many device makers have already adopted. The main holdout is Apple, which said it was concerned the new rules would limit innovation, and that would end up hurting consumers. iPhones come with the company's own Lightning charging port, though the newest models come with cables that can be plugged into a USB-C socket. The push by the EU will certainly be cheered by the millions of people who have searched through a jumble of snarled cables for the one that fits their phone. But the EU also wants to cut down on the 11,000 metric tons of electronic waste thrown out every year by Europeans." • Of course, Apple. Of course, the company that dumped the MagSafe connector whinges about lack of "innovation" in power cords.
Manufacturing: "Boeing lifts China jet demand estimate over two decades to $1.47 trln" [Reuters]. "Chinese airlines will need 8,700 new airplanes through 2040, 1.2% higher than its previous prediction of 8,600 planes made last year. Those would be worth $1.47 trillion based on list prices, the U.S. planemaker said in a statement. The 1.2% increase contrasted with the 6.3% growth Boeing forecast last year, which made China a bright spot in the aviation market at the height of coronavirus lockdowns worldwide. Earlier this month, Boeing revised up long-term forecasts for global airplane demand on the back of a strong recovery in commercial air travel in domestic markets like the United States." • FWIW (I don't play the ponies), this seems like puffery to me (and maybe I should have filed it under The Bezzle). First, I think Mother Nature may have something to say about aircraft travel projections. Second, the assumption is that former national champion Boeing can take advantage of the demand. That in turn assumes they get their manufacturing, software engineering, and development programs back on track. None of that is a lock, especially given Boeing's finance-oriented board, pencil-necked, union-hating management, and justifiably disgruntled workforce. Third, at some point China's going to have climbed the learning curve on aircraft manufacturing and started coming down the other side. By 2040? I would say obviously. Finally, geopolitics. Get it together, Boeing!
Manufacturing: "We Should Shame Frequent Fliers" [Jacobin]. Filing this immediately after Boeing, for obvious reasons. "What is good for the American tourist is terrible for the planet. At the height of the pandemic, the grounding of air travel in 2020 led to a 60 percent reduction in carbon dioxide emissions from aviation. One round-trip flight across the Atlantic emits about as much carbon dioxide as heating an average American home with natural gas for a year. And Americans are disproportionately to blame. Prior to the pandemic year, the United States, with just over 4 percent of the world's population, was responsible for 24 percent of all emissions from passenger flights. And within the US, just 12 percent of adults take 68 percent of the flights. With planes once again ferrying Americans to ostensibly exotic locales, tourists are back to mucking up the planet in the middle of a climate disaster… While the elite tourist should be the primary target, even those who aren't racking up frequent flier miles should avoid unnecessary air travel. To justify their jaunts, American tourists will go on and on about the opportunity to experience new cultures, meet new people, and contribute to the local economy of waiters, cab drivers, and tour guides…. Once upon a time, when people traveled infrequently and stayed at places for long periods of time, it made more sense to think of tourism as a moral good, as something that could actually accomplish its stated goals of meeting people and learning about new cultures without unduly harming the earth. In those days, nobody zipped off to Vail for a weekend of skiing or to Paris for a four-day birthday trip, the sort of travel that's common among today's wealthy cosmopolites. As climate change foments weather disasters and threatens to make one in three plant and animal species extinct, the planet can no longer accommodate such indulgent sightseeing." • Not to mention fomenting pandemics!
Supply Chain: "Americans Have No Idea What the Supply Chain Really Is" [The Atlantic]. "Everyday life in the United States is acutely dependent on the perpetual motion of the supply chain, in which food and medicine and furniture and clothing all compete for many of the same logistical resources. As everyone has been forced to learn in the past year and a half, when the works get gummed up—when a finite supply of packaging can't keep up with demand, when there aren't enough longshoremen or truck drivers or postal workers, when a container ship gets wedged sideways in one of the world's busiest shipping lanes—the effects ripple outward for weeks or months, emptying shelves and raising prices in ways that can seem random. All of a sudden, you can't buy kettlebells or canned seltzer. All of this was supposed to be better by now…. Overseas shipping is currently slow and expensive for lots of very complicated reasons and one big, important, relatively uncomplicated one: ." Unlike us. We believe in let 'er rip which — follow me closely, here — ends up infecting the rest of the world, too.] More: "Infection-prevention measures have recently closed high-volume shipping ports in China, the country that supplies the largest share of goods imported to the United States. In Vietnam and Malaysia, where workers churn out products as varied as a third of all shoes imported to the U.S. and chip components that are crucial to auto manufacturing, controlling the far more transmissible Delta variant has meant sharply decreasing manufacturing capacity and reducing manpower at busy container ports." • Whaddaya know, seeding the world with vaccine production capability would actually help us too. Also, goddamned Communists shutting down manufacturing to protect their workers. It's just not right.
Labor Market: "It's not your imagination: Restaurant drive-thrus are slower and less accurate" [CNBC]. "The average total time spent in the drive-thru lane increased by more than 25 seconds from a year ago to 382 seconds. Compared with pre-pandemic times, that's nearly a minute longer. Order accuracy dropped to 85% this year from 87% in 2020. SeeLevel HX used mystery shoppers to wait in drive-thru lines across 10 chains and 1,492 restaurant locations from July through early August to compile the annual study. More than half of the orders placed happened during lunch hours. Drive-thru times and accuracy have been key performance metrics for fast-food chains for decades, but the coronavirus pandemic has heightened their importance. As restaurants shuttered their dining rooms, customers turned to drive-thru lanes to pick up their tacos and fries."
The Fed: "Fed's Powell: 'no one' happy with fellow policymakers' trading" [Reuters]. "U.S. Federal Reserve Chair Jerome Powell said on Wednesday he was displeased with the active investing carried out by two Fed regional bank presidents and pledged the central bank's ethics rules will be tightened after a thorough review…. Though rules limiting the trading activities of Fed policymakers are somewhat stricter than those for government employees generally, the current framework is 'now clearly seen as not adequate to the task of really sustaining the public's trust.' Asked if he still trusted Dallas Fed President Robert Kaplan and Boston Fed President Eric Rosengren to do their jobs, Powell said, 'In terms of having confidence and that sort of thing, I think, no one is happy. No one on the (Federal Open Market Committee) is happy to have these questions raised.'" • Everything is like CalPERS. Actually, to be fair, a Trump appointee (Powell) is doing much better than a Democrat (Frost).
* * *
Today's Fear & Greed Index: 31 Fear (previous close: 25 Extreme Fear) [CNN]. One week ago: 39 (Fear). (0 is Extreme Fear; 100 is Extreme Greed). Last updated Sep 23 at 12:30pm.
Health Care
"Governments failing to heed 'paradigm change' call on ventilation to slow COVID-19 spread, experts say" [ABC Australia]. "Queensland University of Technology professor Lidia Morawska was recently named by Time magazine as one of the 100 most influential people in the world for her role in highlighting the airborne transmission of COVID-19. She said the lack of indoor air quality standards in Australia is 'a big problem' because without them 'no-one does anything'. 'The community for the past year-and-a-half has been taught to clean hands, sanitise hands, clean surfaces … but nothing about cleaning the air,' Professor Morawska said. She said a 'paradigm change' is needed in the design of public buildings to ensure the air inside them is clean. Carbon dioxide (CO2) monitors – which measure human exhalation – should be displayed in 'every public space' so individuals can improve ventilation or leave if concentrations are too high, she said." • This is something that may actually be achievable, even if building owners see it as a stopgap concession to avoid capital investment. So I am long C02 metering.
"Is The Worst Over? Models Predict A Steady Decline In COVID Cases Through March" [NPR]. I'm seeing a lot of "according to experts" stories lately; this is another. Here is a handy chart from the CDC Modeling Hub: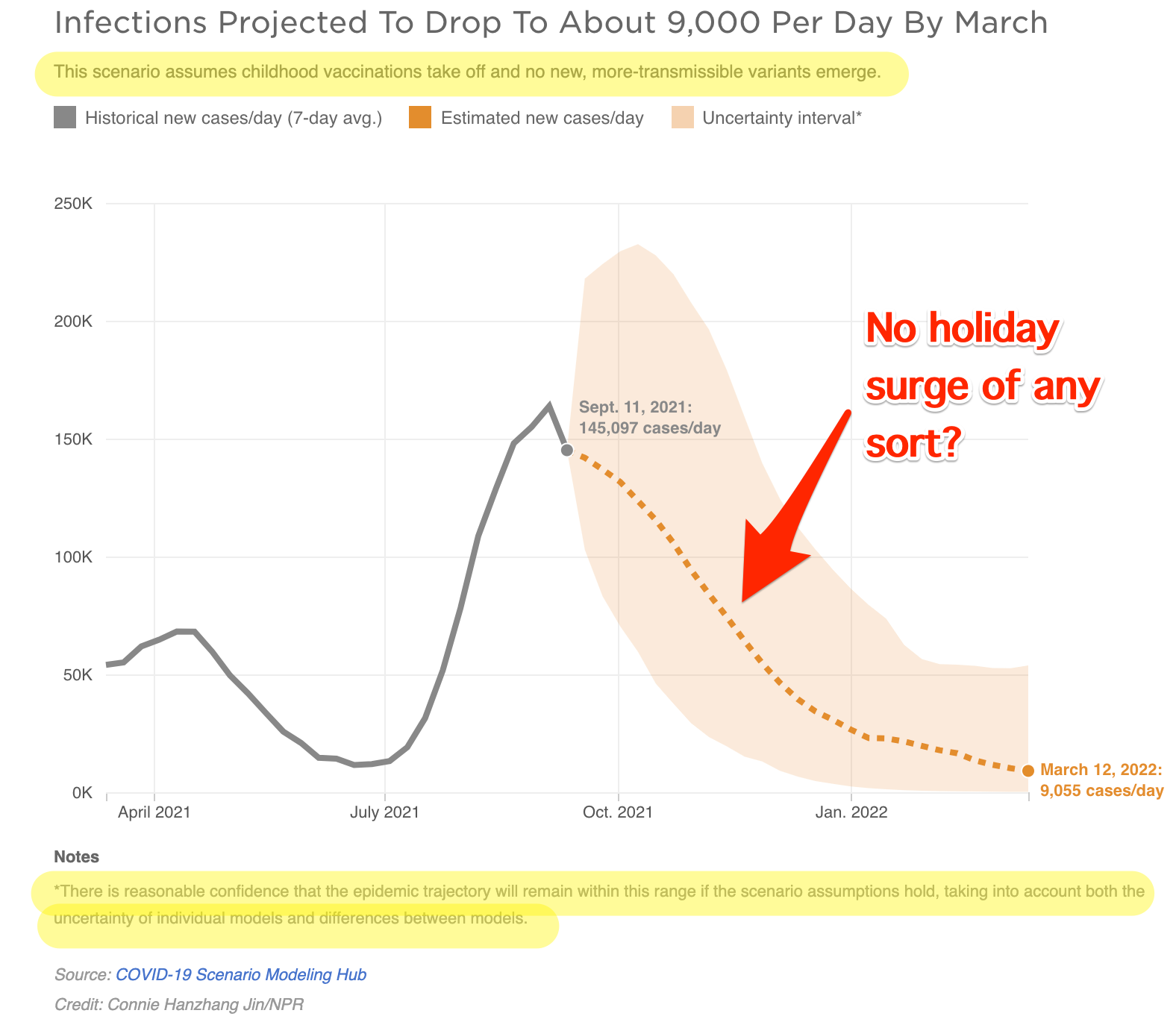 Holy moley, look at the qualifying language (which I have helpfully highlighted). Also, I like the way the timeline labels go from October 2021 to January 2022. It's like they don't want you to think about travel in November (Thanksgiving) or December (Christmas and New Years). I also like the false precision of "March 12, 2022." I'll have to dig deeper, maybe it's all on the up-and-up. Anyhow, the proof is in the pudding! And this is the CDC, which has been consistently wrong.
So the molasses-brained Biden administration finally gets round to testing:
If Hawaii can provide 1 million FREE, rapid, at-home #COVIDTesting kits to residents of Oahu alone… so can the rest of the US and every industrialized country. We need to critically test right now – it's the best way to stop transmission.

HT @HawaiiDOH https://t.co/mxOs2e1cRF pic.twitter.com/hdxEGf43M9

— Eric Feigl-Ding (@DrEricDing) September 23, 2021
Our Famously Free Press
"Gabby Petito case example of 'missing white woman syndrome,' experts say" [Good Morning America] • It is, although when the phrase "missing white woman syndrome" was invented, back in the days of the blogosphere, the stories took place in the summer, along with the shark watches. So there's something unbalanced in the news flow that is causing the Petito story to appear at this time. (What interests me is the "van life" phenomenon, of which our migrant sheepherder is a limit case. I assume everybody isn't doing van life "for the 'Gram", and I wonder how big the phenomenon is. I also wonder whether it overlaps, or is the same as under another name, RV life, or is there generational siloing? Readers?
Police State Watch
This is so bad:
Cops committing property crimes is common

Armed robbery, dressed up as civil asset forfeiture

Media: https://t.co/Txw24VC9qU

Video:
pic.twitter.com/UFre7sBhhZ

— T. Greg Doucette (@greg_doucette) September 23, 2021
Wait until we achieve freedom by making all money digital. Then the cops will be able to do "contactless" civil asset forfeiture.
Zeitgeist Watch
"Gender Pronouns Are Changing. It's Exhilarating" [New York Times]. "What seems to gall some people about the new singular "they" is that people are requesting to be addressed in a novel way that feels counterintuitive to many. But then just some decades ago, some will remember how disorienting it could be to adapt to using "Ms." rather than delineating women as married or unmarried on the basis of "Mrs." and "Miss." Now that custom can look somewhere between coarse and hilarious…. I remember how it felt to be an English speaker in the late 1980s when seemingly overnight, one was to say "Asian" rather than "Oriental," "Latino" rather than "Hispanic," and shortly thereafter, "African American" rather than "Black," with "Oriental," especially, considered from then on offensive (while "Black" has made a return as an adjective). And yet the earth kept spinning, and references to "Orientals" are now as antique as Atari and McDonald's hamburgers in Styrofoam boxes." • Very telling that the author feels all these changes are on the same level as consumer packaging. I'm so old I remember Second Wave Feminism, and the ambitions were a good deal larger than that. Now, we do pronouns (an issue back then, too; Marge Piercy's superb Woman on the Edge of Time (1976) invented the gender-neutral "per" to replace "he/she," which would avoid ridiculous constructions like "Roberta wants a haircut, and they also want some highlights." Is that a run-on sentence, or not?). Symbol manipulators gotta manipulate, I guess. When all you've got is a glass hammer….
Guillotine Watch
"Mattis testifies in fraud trial of fallen tech star" [Military Times]. "Mattis isn't the only well-known board member or investor who became enthralled with Holmes and Theranos. Theranos' other board members included other former Cabinet members such as the late George Shultz, Henry Kissinger, William Perry and former Wells Fargo Bank CEO Richard Kovacevich. The list of billionaire investors that once valued the privately held company at $9 billion — with half of the stock owned by Holmes — included media mogul Rupert Murdoch, Walmart's Walton family and Oracle co-founder Larry Ellison." • Unsurprisingly, our elites are easily conned.
Class Warfare
The neoliberal party card is pretty good!
Okay that is card D he made later so he could have a full set. Here are the first 3 ones.https://t.co/9wdrOsGgfK pic.twitter.com/0iWehFnr7Z

— Matthew (@Roland00Address) September 23, 2021
But DeLong is missing Rule #2.
News of the Wired
"Magic Mushrooms May Be the Biggest Advance in Treating Depression Since Prozac" [Newsweek (Furzy Mouse)]. Alternative headline: "Prozac 'Wrong Turn,' Scientists Admit. Magic Mushrooms Better, Safer, More Effective." Well, perhaps I exaggerate. More: " In the Hopkins study, published last year in JAMA Psychiatry, the therapy was four times more effective than traditional antidepressants. Two-thirds of participants showed a more-than 50-percent reduction in depression symptoms after one week; a month later, more than half were considered in remission, meaning they no longer qualified as being depressed. Larger clinical trials underway in the United States and Europe are aimed at winning regulatory approval. Two studies that have enrolled more than 300 patients in 10 countries were given "breakthrough therapy" status in 2018 and 2019 by the U.S. Food and Drug Administration (FDA), which will now expedite its review of the results. If the trials succeed, new protocols that combine psilocybin with psychotherapy in a clinical setting for the treatment of depression could be established quickly. Treatments could appear in clinics as early as 2024." • Generally, I oppose human interest leads — they make it hard to understand structure so extracting is hard, and the WSJ does this all the time — but this one is quite touching.
* * *
Readers, feel free to contact me at lambert [UNDERSCORE] strether [DOT] corrente [AT] yahoo [DOT] com, with (a) links, and even better (b) sources I should curate regularly, (c) how to send me a check if you are allergic to PayPal, and (d) to find out how to send me images of plants. Vegetables are fine! Fungi and coral are deemed to be honorary plants! If you want your handle to appear as a credit, please place it at the start of your mail in parentheses: (thus). Otherwise, I will anonymize by using your initials. See the previous Water Cooler (with plant) here. Today's plant (timotheus):
Timotheus writes: "This is a plant. more than that, I know not." Readers?
* * *
Readers: Water Cooler is a standalone entity not covered by the recently concluded and — thank you! — successful annual NC fundraiser. So if you see a link you especially like, or an item you wouldn't see anywhere else, please do not hesitate to express your appreciation in tangible form. Remember, a tip jar is for tipping! Regular positive feedback both makes me feel good and lets me know I'm on the right track with coverage. When I get no donations for five or ten days I get worried. More tangibly, a constant trickle of donations helps me with expenses, and I factor in that trickle when setting fundraising goals:
Here is the screen that will appear, which I have helpfully annotated.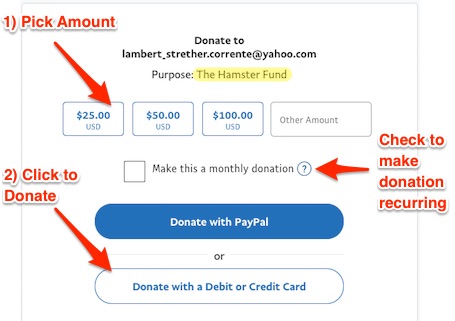 If you hate PayPal, you can email me at lambert [UNDERSCORE] strether [DOT] corrente [AT] yahoo [DOT] com, and I will give you directions on how to send a check. Thank you!2:00PM Water Cooler 6/8/2021