By Lambert Strether of Corrente.
Bird Song of the Day
Busy, busy!
* * *
#COVID19
At reader request, I've added this daily chart from 91-DIVOC. The data is the Johns Hopkins CSSE data. Here is the site. I feel I'm engaging in a macabre form of tape-watching….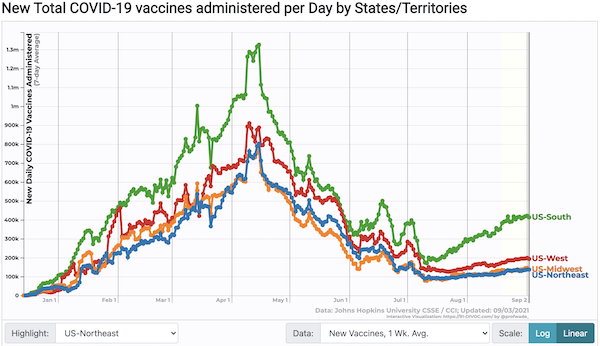 I guess it's really not fair to say that the South is fiddling and diddling any more. There's a mild upward trend.
52.7% of the US is fully vaccinated, a big moment, bursting through the psychological 52% barrier. Every day, a tenth of a percentage point upward. However, as readers point out, every day those vaccinated become less protected, especially the earliest. So we are trying to outrun the virus… (I have also not said, because it's too obvious, that if by Bubba we mean The South, then Bubba has done pretty well.)
Case count by United States regions: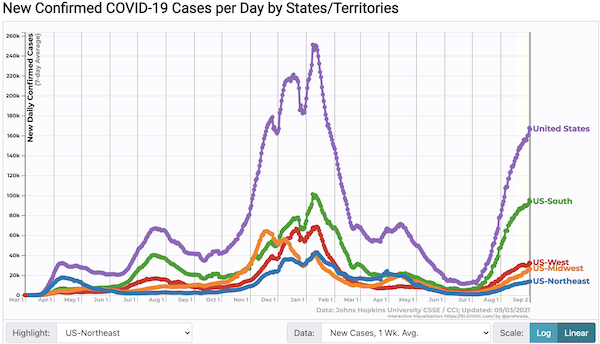 Slowing today.
Covid cases top ten states for the last four weeks: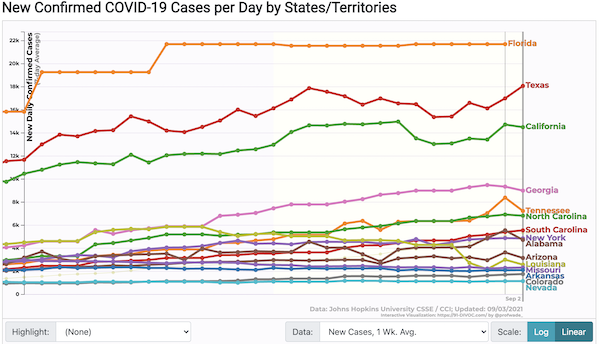 Fresh-squeezed numbers from Florida. Texas and California diverge again. Tennessee, Georgia, Alabama drop.
NEW From CDC: "Community Profile Report September 2, 2021" (PDF), "Rapid Riser" counties, this release: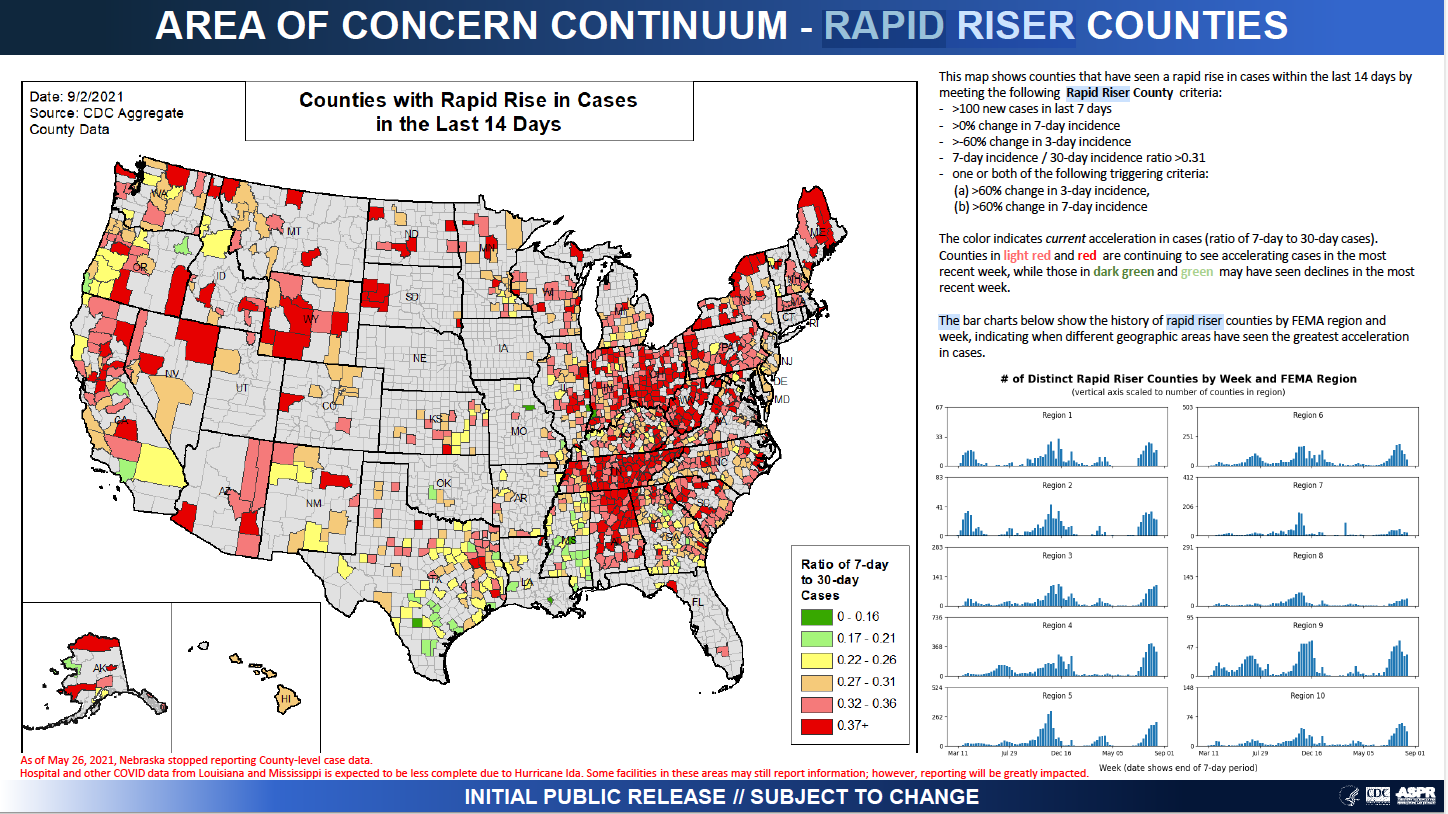 Mississippi and Tennessee much less improved. I hate to be optimistic, but it looks like this fever has broken (thought the back to school bump, IMSHO, has yet to really take hold.) Remember, however, that this chart is about acceleration, not absolute numbers, so the case chart still has momentum. This map, too, blows the "Blame Bubba" narrative out of the water. Not a (Deliverance-style) banjo to be heard. Previous release: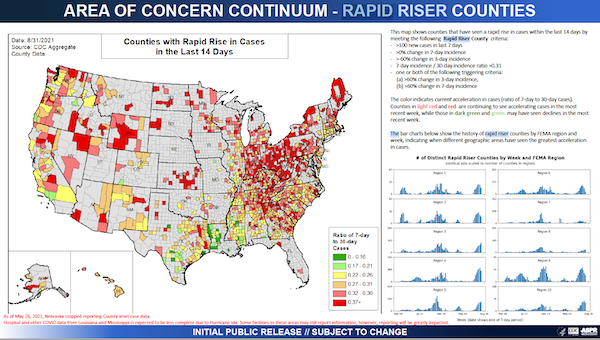 (Red means getting worse, green means bad but getting better. This chart updates Tuesdays and Fridays, presumbly by end-of-day.)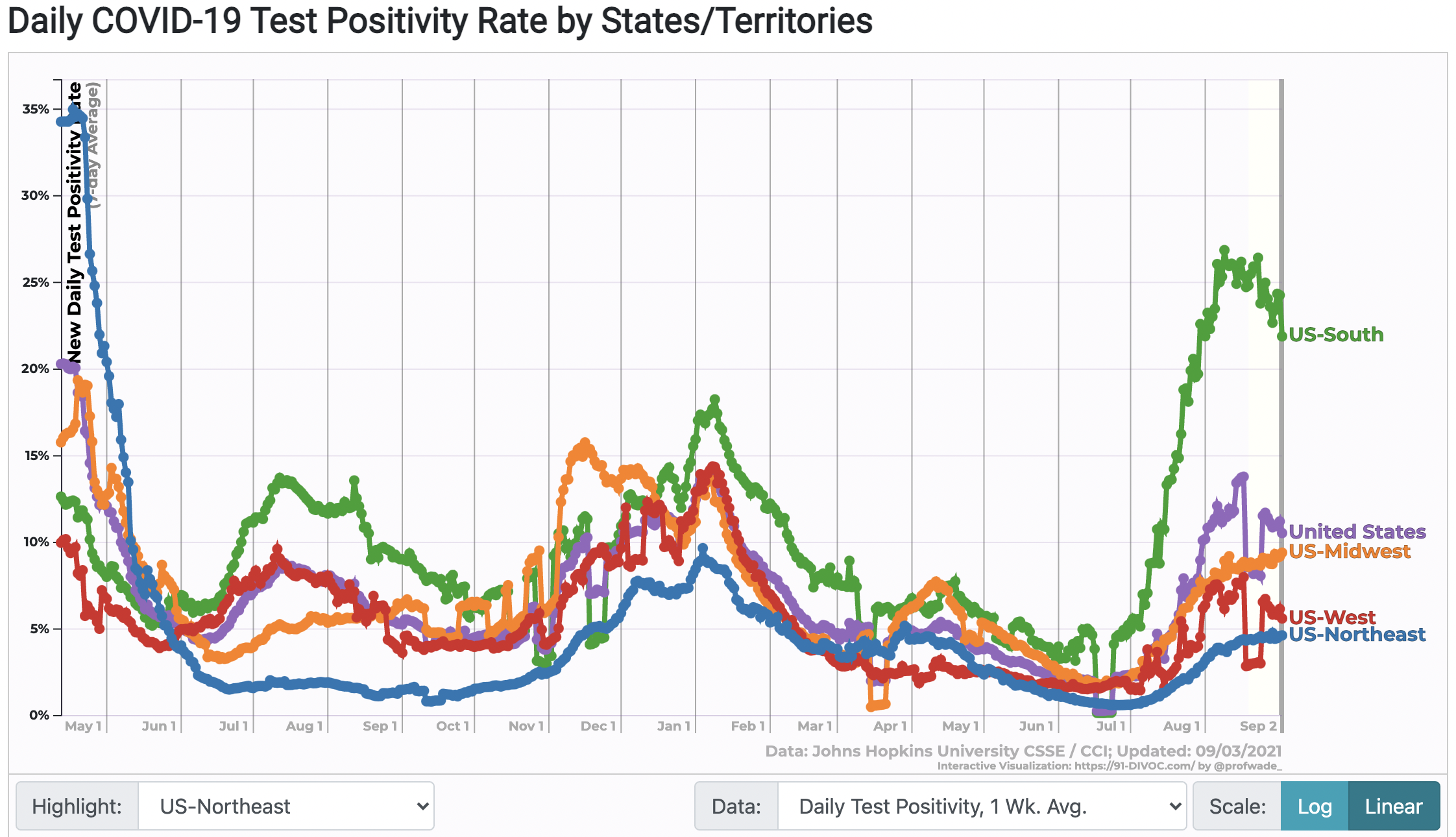 The South and the West seem back on form.
Hospitalization (CDC): This is where CDC moved its hospital data (and who the heck at Microsoft decided no header for a chart is a good idea):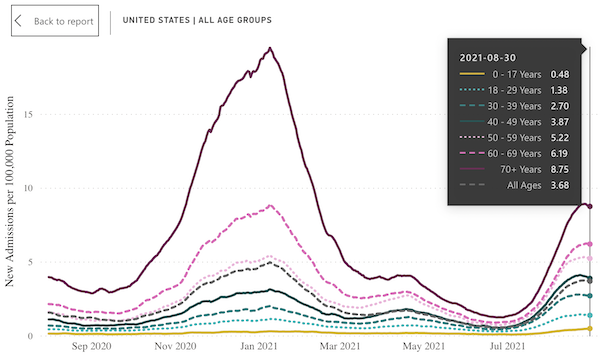 A dip. Good news, and long may it last.
NEW Here the CDC's hospitalization visualization, from the source above: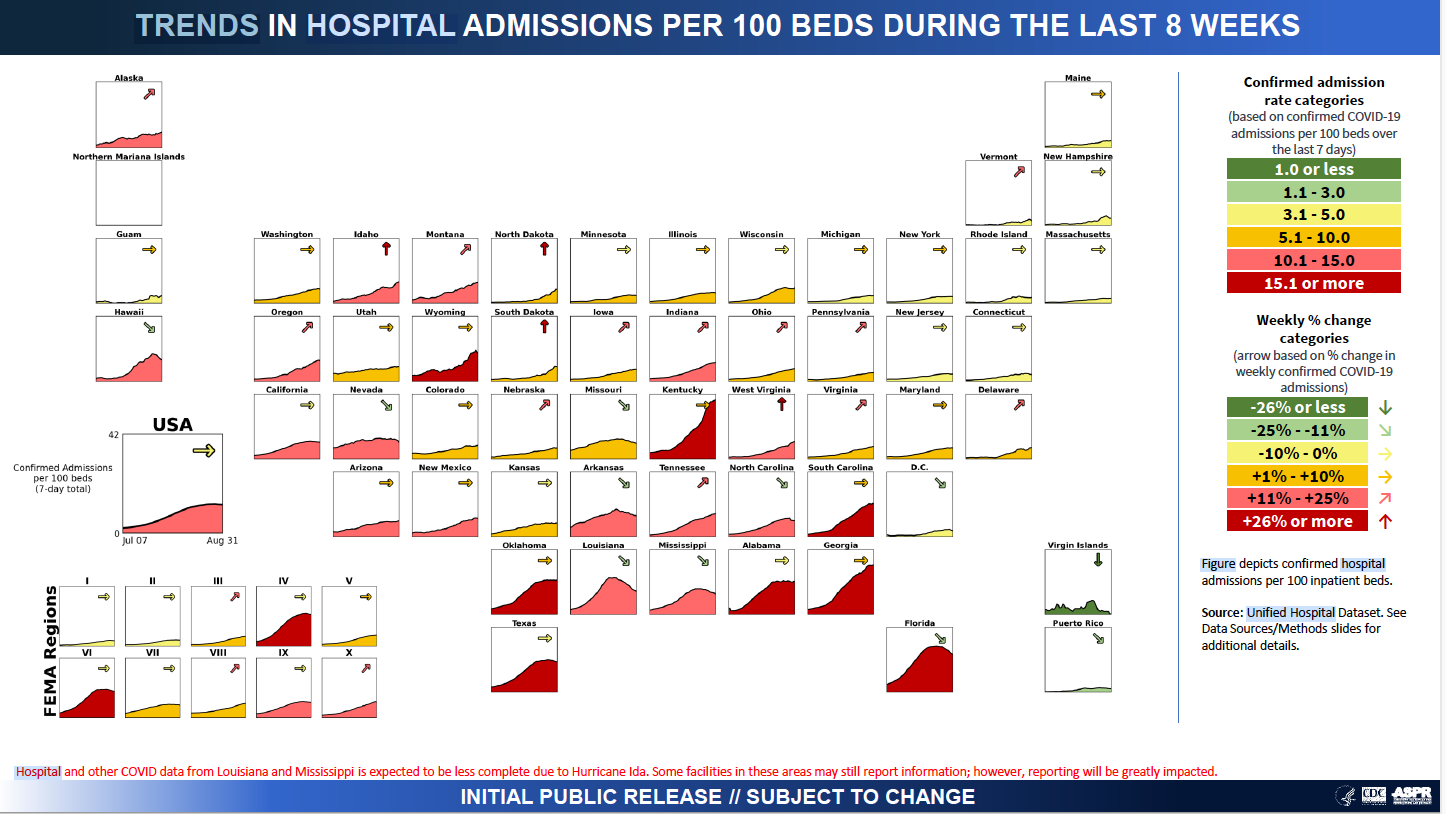 The Gulf Coast is red, but moderating. Look at Kentucky go! And I wonder if Alabama is flat because it's at capacity. Several states in the West are pink and increasing, except for Wyoming, which is red.
Deaths (Our World in Data):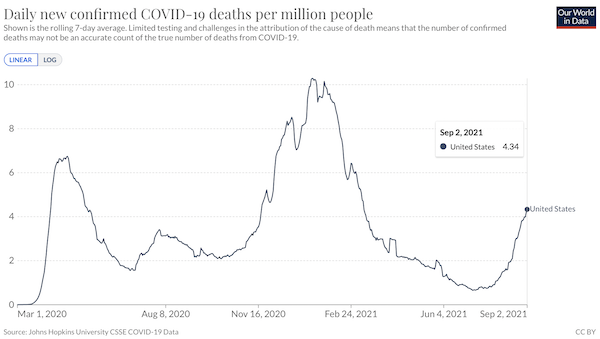 We are now well past the peak of last year at this time. Which I am finding more than a little disturbing. (Adding: I know the data is bad. This is the United States. But according to The Narrative, deaths shouldn't have been going up at all. Directionally, this is quite concerning. Needless to see, this is a public health debacle. It's the public health establishment to take care of public health, not the health of certain favored political factions.)
Covid cases worldwide: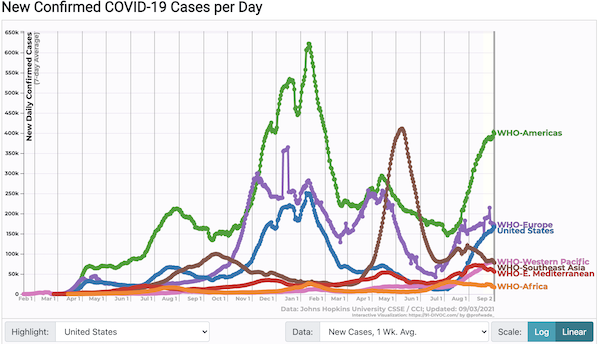 A little dip in the US. Southeast Asia doing better, I presume because little-covered Indonesia is past a peak. US sphere of influence under the Monroe Doctrine not doing so well.
* * *
Politics
"But what is government itself, but the greatest of all reflections on human nature?" –James Madison, Federalist 51
"They had one weapon left and both knew it: treachery." –Frank Herbert, Dune
"They had learned nothing, and forgotten nothing." –Charles Maurice de Talleyrand-Périgord
Capitol Seizure
"Subpoena Tsunami: House Democrats Issue Hundreds of Secret Subpoenas Targeting GOP Colleagues and Others" [The Hill]. " [There is] subpoena tsunami coming out of the House Select Committee investigating the Jan. 6th riot in Congress. The list of hundreds of targets include not only GOP members of Congress but demands for secrecy from these companies on the identity of targets. Just two months ago, the Democrats denounced such secret orders by the Justice Department as a threat to our civil liberties." • If the FBI investigation was some sort of cover-up, it would really be nice to know why ***cough*** agents provocateurs ***cough***. Maybe if we pile up enough subpoenas, we can get Mueller to come out of retirement.
Biden Administration
"Inside the huge effort to fly Afghans to the US on commercial jets" [Financial Times]. "Last month the US Department of Defense activated the Civil Reserve Air Fleet, or CRAF, which allows the government to , for only the third time since it was established in 1951. Airlines enrol in the programme, which pays them to ferry soldiers and other passengers during national emergencies, in exchange for the chance to bid on the government's peacetime business…. The government routinely charters planes from commercial carriers although it rarely invokes the second world war-era provision. But the Pentagon's need for planes came as the airline industry continues to recover from the financial and operational devastation wrought by the pandemic. Defence officials used CRAF on this occasion, Wernecke said, because 'they didn't get enough volunteers." • Good. Now do test kits, masks, and vaccines.

"McConnell: Biden 'is not going to be removed from office'" [The Hill]. "Senate GOP Leader Mitch McConnell (Ky.) on Wednesday shot down calls from within his own party to try to impeach President Biden, pointing to next year's midterm election as a potential check on the administration. 'Well, look, the president is not going to be removed from office. There's a Democratic House, a narrowly Democratic Senate. That's not going to happen,' McConnell said at an event in Kentucky, asked if Biden's handling of the drawdown in Afghanistan merits impeachment and if he would support it. 'There isn't going to be an impeachment,' he added. McConnell's comments come as some Republicans in the House and Senate call for Biden's impeachment or for him to resign or be involuntarily removed from office over the botched [sic] Afghanistan exit."

Readers will recall that when AOC was first elected, I kvetched a good deal about whether her constituent services would be up to scratch. Apparently, they are:

When she came on the scene I caught hell for saying it but she is a rare talent. Managing to be a national figure with evident and improving skill while maintaining a good constituent operation, with happy, loyal staff, is no mean feat. https://t.co/LwgKIqpHm1

— Richard M. Nixon (@dick_nixon) September 3, 2021

I love that Richard Nixon account. And this is a remarkable comparison:

More than anyone else in politics, she reminds me of you, sir. https://t.co/LPNgKW58uC

— Carlos Mucha (@mucha_carlos) September 3, 2021

I wonder if it will turn out to be true? And if so, in what way?

* * *

"Goldman Sachs says 750,000 households could be evicted this year unless Congress acts" [CNN]. "Goldman Sachs estimates that between 2.5 million and 3.5 million households are significantly behind on rent, owing a combined $12 billion to $17 billion to landlords. Those renters appeared to be safe from eviction until at least October until the Supreme Court last week struck down the Biden administration's ban on evictions, indicating that further action must come from Congress. At the same time, most state-level restrictions on evictions are scheduled to expire over the next month, which the Goldman Sachs analysts noted in the Sunday night report. 'The end of the eviction moratorium is likely to result in a sharp and rapid increase in eviction rates in coming months unless Emergency Rental Assistance (ERA) funding is distributed at a much faster pace or Congress addresses the issue,' the report said. Without faster aid or new legislation, Goldman Sachs estimates 750,000 households will face eviction this fall and winter. The Wall Street bank noted that roughly half of all US eviction filings resulted in eviction between 2006 and 2016." • Noting it, while licking their chops.

"New York Extends Eviction Moratorium to early 2022, Offering New Chance for Landlords to Push Back" [The City]. "State lawmakers voted Wednesday to extend a COVID-19 emergency eviction moratorium until Jan. 15, in a rare off-season meeting of the Senate and Assembly. Members descended onto the state Capitol in a special session called by newly instated Gov. Kathy Hochul to vote on the eviction pause and other pressing business, the first time they had convened in full force since the pandemic began in March 2020. In addition to extending the eviction moratorium until mid-January, legislators moved to add an additional $300 million in federal funds to the state's troubled rental relief program, tweaked New York's Open Meetings Law to allow local governments to hold meetings virtually, and approved appointments to a board overseeing marijuana legalization."

"Eviction is over (if we want it)" [Cory Doctorow, Pluralistic]. "Americans owe $12-14b to their landlords, and Congress has authorized $46.5b in rental assistance that could make all of those landlords whole several times over. But the states have only distributed 11% of the money!…. Why are the states having so much trouble handing out money? Bureaucracy. You know, the thing whose supposed absence was cited as the source of America's moral and economic superiority to the USSR. What's the source of this bureaucracy? Means-testing. The endless red-tape, so beloved of conservatives, that is meant to ensure that the "undeserving poor" don't get any of the money earmarked for "hardworking poor people.'" • And by "conservatives," we mean "liberals, too." I mean, ObamaCare?
Democrats en Deshabille
"This YouTube star wants to be governor. He's the best-known Democrat on the recall ballot" [Los Angeles Times]. "With no prominent Democrats running to replace Gov. Gavin Newsom, Paffrath has become the de facto choice for a quotient of party faithful who oppose the recall but still want to mark their ballots with a Democratic backup candidate…. But for some voters, Paffrath is a pragmatic option who they think will at least protect Democratic interests….. 'I don't think he's a good choice. I just think he's a slightly better choice than [Larry] Elder or a blank answer,' said Elaine Loh, an L.A. writer who voted for Paffrath. In a race packed with longshot entrants, Paffrath's unlikely candidacy was propelled to the mainstream — or at least the fringes of the mainstream — in early August, when results from a SurveyUSA poll pegged him as the leading replacement candidate, with 27% support."

"Drug industry banks on its Covid clout to halt Dems' push on prices" [Politico]. "As Democrats prepare a massive overhaul of prescription drug policy, major pharmaceutical companies are mounting a lobbying campaign against it, arguing that the effort could undermine a Covid fight likely to last far longer than originally expected. In meetings with lawmakers, lobbyists for the pharmaceutical industry have issued warnings about the reconciliation package now moving through both chambers of Congress that is set to include language allowing Medicare to negotiate the price of some drugs, which could generate billions of dollars in savings. In those conversations, K Street insiders say, lobbyists have explicitly mentioned that the fight against the coronavirus will almost certainly extend beyond the current surge of the Delta variant. And they're arguing that now isn't the time to hit the industry with new regulations or taxes, particularly in light of its successful efforts to swiftly develop vaccines for the virus." • Strong argument for nationalization…

Democrat machine shenanigans continue in Buffalo. Anything to keep Democrat primary winner India Walton out of office:

When we reported that Sinatra hadn't paid >$1 million in property taxes to Buffalo and Erie County, Brown stood by Sinatra, issuing a statement saying, "The city is aware of the situation and confident that full payment will be made quickly." https://t.co/QOW7J4KrgO

— Rob Galbraith (@RobGalbraithLS) September 1, 2021

And they wonder why they lost.

"AFL-CIO chief warns of election consequences for pro-filibuster Democrats" [The Hill]. "AFL-CIO President Liz Shuler warned Tuesday that Democrats could face consequences at the ballot box if they don't support nixing the legislative filibuster to pass a sweeping pro-union bill and other Democratic priorities. 'Workers want to hold elected officials accountable on an agenda that they voted for. Right now that agenda is being blocked by arcane rules in the Senate. We believe that voters will take that into consideration for the next election,' Shuler told reporters during a Tuesday event hosted by the Christian Science Monitor. 'Elected officials, if they're not listening, that's when elections end up having consequences,' she added. The Richard L. Trumka PRO Act — a bill renamed for the longtime AFL-CIO chief following his death earlier this month — is the labor federation's top priority. The bill would make it easier for workers to organize and was passed by the House in March. However, it doesn't yet have enough Democratic votes to pass in the 50-50 Senate amid GOP opposition." • Good, if she follows through.
Realignment and Legitimacy
Texas abortion bill:

The horrid Texas abortion bounty bill:

Seems to me like it's aimed directly at the underground systems that kept abortion even remotely accessible pre-Roe. They don't want people to be able to trust each other, ever, when looking for ways to circumvent the system

— Louisa 🌈👭 (@LouisatheLast) September 1, 2021

Very astute. (I did express my concern about "a nation of snitches" when the Capitol rioters were being hunted down. That nation of snitches was, apparently, OK with liberal Democrats. This nation of snitches is not. True, Texas offers a bounty, which makes the whole thing worse. And the bounties come to private organizations, not subject to FOIA, for example, which makes the worse worser.

And it's not like snitching for a bounty is without precedent:

The legal precedent set up by the Fugitive Slave Law of 1850 is a poisonous gift that keeps giving. https://t.co/NaRSG6IxST

— Manisha Sinha (@ProfMSinha) September 1, 2021

Why on earth was Roe v. Wade never turned into legislation:

Here is federal legislation that would invalidate the Texas abortion law and enshrine Roe v Wade as law of the land.

This bill has been just sitting in a committee, despite Dems having the power to pass it through the Congress they control. https://t.co/Q9BcoTY7o2

— David Sirota (@davidsirota) September 2, 2021

And the failure of bourgeios feminism:

How much money has been thrown into the black hole of liberal "feminist" NGOs over the years to protect abortion rights? Because it seems like all the charity drives, social media campaigns, and back-slapping with politicians isn't getting the fucking job done.

— Rara 🐬 (@islandgoth) September 2, 2021

Depends on how you define "getting the job done." Did the NGOs make bank? Yes.

Of course, what really matters is more and better Democrats:

TRIFECTA FOR DEMOCRATS? Even before the Supreme Court refused to block Texas's harsh new anti-abortion law, Dems were leading in CA GOV recall, NJ GOV, and VA GOV. And Govs. Newsom, Murphy, and McAuliffe now have a powerful new issue, courtesy of the Court. #laborday2021

— Larry Sabato (@LarrySabato) September 2, 2021

And, as usual the Democrat leadership thinks we have the memory of goldfish:

There are current democratic leaders that said the party should welcome pro-life democrats. Difficult to believe their stance is pro-choice when they welcome anti-choicers. That math don't math. https://t.co/fj3IxWlTJr

— AshleyStevens (@The_Acumen) September 1, 2021
Stats Watch
Employment Situation: "United States Non Farm Payrolls" [Trading Economics]. "The US economy added 235K jobs in August of 2021, the lowest in 7 months and well below forecasts of 750K as a surge in COVID-19 infections may have discouraged companies from hiring and workers from actively looking for a job. Most jobs were created in professional and business services (74K), transportation and warehousing (53K), private education (40K), manufacturing, and other services (37K). Employment in retail trade declined over the month (-29K) mostly because of food and beverage stores (-23K) and building material and garden supply stores (-13K). Employment in leisure and hospitality was unchanged."
Employment Situation: "United States Unemployment Rate" [Trading Economics]. "The US unemployment rate dropped to 5.2 percent in August 2021, the lowest level since March 2020 and in line with market expectations, as the labor market continued its steady recovery following business reopenings in the US and despite reports of labor supply shortages and concerns over the lingering threat of the COVID-19 resurgence. The number of unemployed people fell by 318 thousand to 8.38 million, while employment levels increased by 509 thousand to 153.15 million. Still, the jobless rate remained well above the pre-crisis level of about 3.5 percent, but should decline further in the coming months helped by strong economic activity and demand for labor."
Services: "United States Services PMI" [Trading Economics]. "The IHS Markit US Services PMI stood at 55.1 in August 2021, little-changed from a preliminary estimate of 55.2 and well below July's 59.9. The latest data signaled a strong upturn in business activity across the U.S. service sector, albeit the slowest since December 2020. New order growth slowed to the weakest since August 2020, with foreign client demand fell at the fastest pace in 2021 to date. Meanwhile, service providers registered broadly unchanged employment levels, while backlogs of work rose markedly and at the fastest pace since data collection began in October 2009."
Services: "United States ISM Non Manufacturing PMI" [Trading Economics]. "The ISM Services PMI fell to 61.7 in August of 2021 from a record of 64.1 in July, but beat market forecasts of 61.5."
* * *
Employment Situation: "35 Million People Will Lose Unemployment Income on Sept 6" [People's Policy Project]. "In today's report, we learn that 9.2 million people are currently receiving benefits from either the Pandemic Emergency Unemployment Compensation (PEUC) program or the Pandemic Unemployment Assistance (PUA) program. Another 0.1 million filed an initial claim for PUA in the last week. According to the Census Household Pulse Survey, the average household that is receiving UI benefits has 3.8 members in it. This means that around 35 million people (10 percent of the US population) live in households that are scheduled to lose unemployment income in just 4 days."
Employment Situation: "EXCLUSIVE Amazon CEO unveils 55,000 tech jobs in his first hiring push" [Reuters]. "Amazon.com Inc (AMZN.O) is planning to hire 55,000 people for corporate and technology roles globally in the coming months, Chief Executive Andy Jassy told Reuters. That's equal to more than a third of Google's (GOOGL.O) headcount as of June 30, and close to all of Facebook's (FB.O)."
Shipping: "There Is an Alternative To LNG as a 'Transition Fuel' – and It Is Greener and Easier to Use" [Isle of Man Ship Registry]. "LPG, in the form of propane and butane, can play a major role moving towards the 50 per cent reduction in GHG emissions that is the International Maritime Organisation's 2050 goal. LNG was the 'original gas fuel' used in ships and is more widely known and readily accepted. However, it contains methane, a greenhouse gas which scientists consider to be more harmful than CO2, and combustion must be very efficient to minimise this 'methane slip' into the atmosphere. That is not to mention its -162 degrees centigrade temperature at ambient pressures. In contrast, LPG has had the methane removed during production, is kept at a much warmer temperature , at moderate pressures, compared to LNG and needs much less exotic containment. LNG needs cryogenic transport systems and rigid or vacuum insulated while LPG can be much more easily handled. For example, it is bottled LPG in your gas barbecue and you fill up LPG converted cars at a garage forecourt pump. The benefits of LPG are improved safety over LNG, much cheaper materials accommodate the fuel characteristics and there is much wider availability of fuel gas and LPG can be supplied by road tankers at most ports."
Travel: "'Forever Changed': CEOs Are Dooming Business Travel — Maybe for Good" [Bloomberg]. "Business travel as we've known it is a thing of the past. From Pfizer Inc., Michelin and LG Electronics Inc. to HSBC Holdings Plc, Hershey Co., Invesco Ltd. and Deutsche Bank AG, businesses around the world are signaling that innovative new communications tools are making many pre-pandemic-era trips history. … A Bloomberg survey of 45 large businesses in the U.S., Europe and Asia shows that 84% plan to spend less on travel post-pandemic. A majority of the respondents cutting travel budgets see reductions of between 20% and 40%, with about two in three slashing both internal and external in-person meetings. The ease and efficiency of virtual software, cost savings and lower carbon emissions were the primary reasons cited for the cutbacks. According to the Global Business Travel Association, spending on corporate trips could slide to as low as $1.24 trillion by 2024 from a pre-pandemic peak in 2019 of $1.43 trillion." • That's not very much!
Tech: A long thread about batteries. NC battery mavens please weigh in:
Power Sector for Dummies: Battery Storage and China

What's the deal with batteries? What are their role in the power system? Why would we use them anyway?

After many requests from followers, here is finally a thread about battery storage:

— David Fishman (@pretentiouswhat) September 2, 2021
Tech: "Apple to introduce digital drivers licenses in eight states" [The Hill]. "Apple announced on Wednesday that eight U.S. states have agreed to allow users to add their driver's licenses to their digital wallets on their Apple devices. According to the tech company's announcement, Arizona, Connecticut, Georgia, Iowa, Kentucky, Maryland, Oklahoma and Utah have all agreed to roll out a feature that will allow Apple users to add their driver's license or state ID to their device's Apple Wallet. Arizona and Georgia will be the first states two roll out this feature. The Apple Wallet app allows those with iPhones or Apple Watches to keep digital copies of their credit cards, loyalty cards and gift cards that can be used in lieu of the physical cards themselves. Users will be able to add their licenses by scanning the card and taking a selfie, which will be sent to the state that issued the license for verification. Users will also be asked to perform a series of facial and head movements. Once verified by the issuing state, their license will be added to their Apple Wallet."
* * *
Today's Fear & Greed Index: 54 Neutral (previous close: 56 Greed) [CNN]. One week ago: 50 (Neutral). (0 is Extreme Fear; 100 is Extreme Greed). Last updated Sep 3 at 1:11pm.
The Biosphere
"Rainy season unleashes with fury, beauty in US Southwest" [Associated Press]. "Monsoon storms have brought spectacular lightning shows, bounties of wildflowers and mushrooms, and record rainfall to the region's deserts. They've also brought destruction, flooding streets and homes, and leading to some swift water rescues and more than a dozen deaths." Then again: "'Water is life in the desert, and we've had a lot of water,' [said Gene Hall, an entomologist at the University of Arizona] said. 'Everything seems to be doing pretty well.' Count mushrooms in." • Beauty can be closely allied to terror. Which reminds me to give a hat tip to alert reader Wukchumni, for this extraordinary report from John Muir, filed from the midst of the Mineral King Fire of 1875. If you missed it at the time, go read.
Fangorn?
This video taken in Sacre-Coeur, Quebec on October 16, 2018 shows strong winds trying to 'push' the trees over: as the force is transferred to the roots, the ground begins to move like it's 'breathing' [source, read more: https://t.co/mhZqojIiGb] pic.twitter.com/DDIhwxXNxM

— Massimo (@Rainmaker1973) September 1, 2021
"Empirical estimate of forestation-induced precipitation changes in Europe" [Nature]. " Here we use an observation-based continental-scale statistical model to show that forestation of rain-fed agricultural land in Europe triggers substantial changes in precipitation. Locally, we find an increase in precipitation following forestation, in particular in winter, which is supported by a paired rain-gauge analysis. In addition, forests are estimated to increase downwind precipitation in most regions during summer. By contrast, the downwind effect in winter is positive in coastal areas but near neutral and negative in Continental and Northern Europe, respectively. The combined local and non-local effects of a realistic reforestation scenario, constrained by sustainability safeguards, are estimated to increase summer precipitation by 7.6 ± 6.7% on average over Europe (0.13 ± 0.11 mm d–1), potentially offsetting a substantial part of the projected precipitation decrease from climate change. We therefore conclude that land-cover-induced alterations of precipitation should be considered when developing land-management strategies for climate change adaptation and mitigation."
"'Catastrophic' supervolcano eruption could be much more likely than previously thought, scientists warn" [Sky News]. "Existing knowledge about the likelihood of eruptions is based on the presence of liquid magma under a volcano, but new research warns 'eruptions can occur even if no liquid magma is found.' 'The concept of what is 'eruptible' needs to be re-evaluated," warns Professor Marin Danisik from Curtin University in Australia, lead Australian author of the study from Oregon State University published in the journal Communications Earth & Environment…. 'Learning when and how eruptible magma accumulates, and in what state the magma is in before and after such eruptions, is critical for understanding supervolcanoes.'" • "More research needed" is always good news!
Health Care
Taleb on clinicians (n=1), epidemiologists (n≥ 100), and risk analysts (large numbers):
Taleb's teaching style seems easier to understand than his books.
Our Famously Free Press
Clarifying:
lmao they literally put a picture of their boss on this article. pic.twitter.com/7r1TV3Y19w

— Alan MacLeod (@AlanRMacLeod) September 2, 2021
MMT
"Modern Monetary Theory Has a New Friend in Congress" [New York Times]. "f you happened to be watching C-SPAN's "Washington Journal" on June 17, you saw a remarkable display of Modern Monetary Theory's political influence. Representative John Yarmuth, Democrat of Kentucky, who is the chair of the House Budget Committee, gave a full-throated defense of the deficit-friendly theory to Washington's sometimes skeptical viewership. 'Historically, what we have done is said, 'What can we afford to do?' The right question is, 'What do the American people need us to do?'' he said. He added, 'If we relied on taxation, purely on taxation, to fund the government, then a lot of people would suffer very seriously, because we could not provide nearly the services that the American people want us to provide.' I am surprised that Yarmuth's appearance hasn't gotten more attention. He is not some anonymous backbencher. He runs the House committee that, in collaboration with its counterpart in the Senate, prepares an annual framework for the federal government's revenue and spending levels. He is a big fiscal deal and he is on board with Stephanie Kelton, a Stony Brook University economics and public policy professor who has become a leading voice for Modern Monetary Theory. She told me that Yarmuth's C-SPAN appearance was 'pretty remarkable.' 'Unquestionably he is the most important member of Congress when it comes to just having a very good command of what it is that I and others in the M.M.T. community are arguing,' Kelton said. 'He's not getting anything wrong. He's done the hard work.'" • Now all Biden has to do is leave a horse's head in Manchin's bed. Or maybe we could shred the Big Tent and strangle him with a piece of it. Kidding!
Groves of Academe
I don't know how one would prevent cheating in an online examination, but this doesn't seem good:
Dear Senators,

I am writing to share information pertinent to your investigation of Proctorio, Incorporated.

My letter (sent via email):
✉️https://t.co/LTNPcCWPi2@SenatorCantwell @PattyMurray @SenBlumenthal @RonWyden @ChrisVanHollen @SenTinaSmith @SenWarren @CoryBooker pic.twitter.com/80pKkornm4

— Ian Linkletter (@Linkletter) September 2, 2021
Handwritten essays? For everything?
Class Warfare
"RAs on strike indefinitely after Stanford fails to meet demands" [The Stanford Daily]. "Resident assistants (RAs) from more than 28 residence halls have gone on strike indefinitely after Stanford administrators failed to meet their demands for enhanced COVID-19 protections, higher pay and a revised alcohol and drug policy. The collective action by student employees — unprecedented in recent times — represents a significant escalation between student staff and the University just over a week before frosh are set to arrive on campus. While the exact number of RAs involved in the strike is unknown, organizers estimated that hundreds of RAs opted to strike and did not attend staff training on Thursday."
News of the Wired
I'm not feeling especially wired this Friday. Have an excellent weekend.
* * *
Readers, feel free to contact me at lambert [UNDERSCORE] strether [DOT] corrente [AT] yahoo [DOT] com, with (a) links, and even better (b) sources I should curate regularly, (c) how to send me a check if you are allergic to PayPal, and (d) to find out how to send me images of plants. Vegetables are fine! Fungi and coral are deemed to be honorary plants! If you want your handle to appear as a credit, please place it at the start of your mail in parentheses: (thus). Otherwise, I will anonymize by using your initials. See the previous Water Cooler (with plant) here. Today's plant (SC):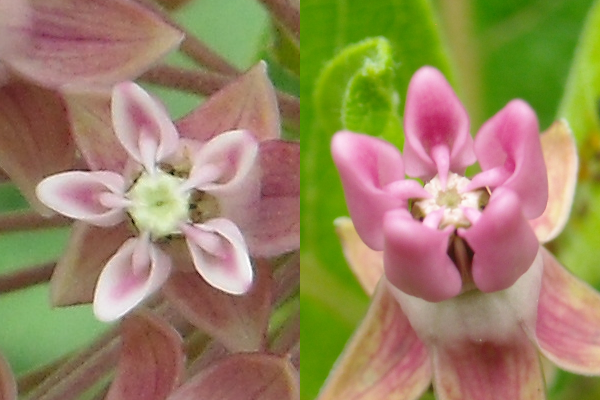 SC reports:
This will be my last update on the Asclepias purpurascens propagation project until Spring/Summer 2022 when I know the results (plant morphology) of my next round of germinations. Basically, I don't know with certainty that I have Purple rather than Purple/Common hybrids and the only way I may be able to be more confident is to self-pollinate each plant and see if I get "children" that look like the parent and like each other; if yes, then the parent is probably not a heavily genetically contaminated hybrid. I have one plant that self-pollinated this year (there were no other blossoms on other plants at the time — and I'm hoping that there wasn't Common MW in bloom in nearby neighbors' yards; I think this unlikely since my plants bloomed late). It's not yet clear that the seed pod will have healthy seed. I think it will ripen in another month or so. If I get good seed, I can at least test this one plant to see if its offspring exhibit evidence of hybrid parentage.

The attached photo is a side-by-side comparison of a blossom of mostly or entirely Common milkweed, A. syriaca, with a blossom that is hopefully at worst lightly-contaminated A. purpurascens, Purple milkweed.

In commentary on an early "purple problems" report, NC commenter 'Brunches with Cats' (BwC) pointed to a really useful paper on Common/Purple hybridization:

Hybridization between Asclepias purpurascens and Asclepias syriaca (Apocynaceae): A cause for concern?, Journal of the Torrey Botanical Society

BwC noted, per this paper, that the blossoms of hybrids more nearly resemble Purple while the foliage of hybrids more nearly resembles Common. Unfortunately, it does not appear to be easy to distinguish individual hybrid specimens from "pure-breds" based on single plant traits. I get a qualitative impression of "Purple" from overall (leaf, stem and blossom) appearance of most of the plants, but the range of trait variation reported in the hybridization paper is such that these could be hybrids.

BwC also suggested contacting the author, Prof Steven Broyles. Prof Broyles responded to my inquiries and based on his assessments, of the 3 plants that produced blossoms two are probably Purple and one strongly resembles Common. These were all from seeds sold as "Purple" by a reputable native plants seed seller, so that seller appears to have a genetic contamination problem in its seed sources, which IMO casts doubt on my entire colony. He also provided some helpful documents on taxonomical features and on hand-pollination. I will attempt hand pollination in 2022 in order to become self-sufficient in seed. I'm at present treating the identifications of the two "purple" plants as provisional; per his paper some or many of these plants could be hybrids (and the fact that one looks a lot like Common IMO warrants doubt about the rest).

The attached image is a side-by-side close-up of a blossom from my older colony of "mostly genetically Common" MW and a blossom from a new plant that is provisionally regarded to be mostly Purple.

The left image is from a plant in the Common colony. This colony was started from two plants grown from seed in 2017, and there is significant morphological diversity in the vegetation of the two halves of the colony that has spread from the two founder plants. All the blossoms look like Common MW and the seed pods all are prickly, but one half of the colony has noticeably higher aspect ratio leaves and seed pods than the other, which suggests to me the possibility of greater Purple gene content in that half.

(Aside: hilariously, these "mostly Common" plants also came from seed sold as "Purple" — by an Etsy seller; my bad for seeking a rare plant at a lightly regulated marketplace. The most charitable interpretation is that this seller himself had hybrid plants and mistook them for Purple.)

The right half of the image is a "hopefully mostly or entirely Purple MW" blossom from one of the two plants, grown this year from seed, that bloomed and looks like Purple MW.

A number of the traits that distinguish Common blossoms from Purple (but also Purple/Common hybrids, which resemble Purple) can be seen in this image. The most obvious is the "hood teeth", little "tusks" that project toward the center alongside (as viewed from above) but below the prominent horns, that are present in the left image and not in the right.

So it looks like I have two hopefully mostly or maybe entirely Purple MW plants, and others that did not bloom but that based on leaf shape are also hopefully Purple. One plant from that seed batch is clearly Common, leaf and blossom, and I have moved it into my "sacrifice" Common colony, which will henceforth be frequently decimated to contain its underground spread and the nascent blossoms removed to prevent it from crossing with the Purple colony. I'll plant a load of butterfly nectar plants in the midst of the Common planting to draw the butterflies and other pollinators away from the Purple colony. If I can become skilled at hand pollination, I can leave the Purple patch somewhat bare of other plants in order to reduce pollinator interest in it, which may help to reduce risk of contamination from any Common MW located on other properties in my neighborhood.

I have two seed pods on one of the two "Purple" MW plants, and at least one of these is from a blossom that did not overlap with potential contaminating blooms on the rogue plainly Common plant in that colony. I'll probably destroy the 2nd pod as that blossom may have crossed with the Common plant.

When I started this project back in 2017, I had in mind producing lots of seed, which could be sold or distributed gratis to people interested in this plant. From painful experience, I think it unwise to assume that I know what the seed is, even from my own plants, and instead I'll grow plants from my own seed and distribute only plants that give evidence from both foliage, blossom and offspring, that they do not have a significant genetic contribution from Common MW.

* * *

This is an equivocal interim outcome, and I'm not thrilled about the work that remains to establish whether my plants are more nearly pure-bred or are hybrids. But it looks like it's going to be pandemic time for a long time yet, so having lots of work in the yard to occupy me may not be a bad thing. And it's better to know that I should not simply hand out seed or plants without establishing what they are. I only learned about this issue through the excellent commentary that you attract to your 'blog.
Thanks to SC for reporting on this great project, and also to alert reader Brunches with cats.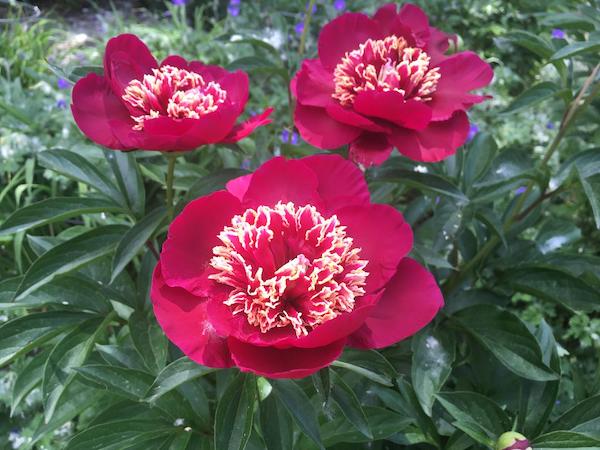 * * *
Readers: Water Cooler is a standalone entity not covered by the recently concluded and — thank you! — successful annual NC fundraiser. So if you see a link you especially like, or an item you wouldn't see anywhere else, please do not hesitate to express your appreciation in tangible form. Remember, a tip jar is for tipping! Regular positive feedback both makes me feel good and lets me know I'm on the right track with coverage. When I get no donations for five or ten days I get worried. More tangibly, a constant trickle of donations helps me with expenses, and I factor in that trickle when setting fundraising goals:
Here is the screen that will appear, which I have helpfully annotated.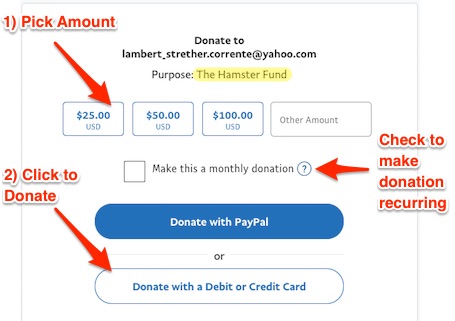 If you hate PayPal, you can email me at lambert [UNDERSCORE] strether [DOT] corrente [AT] yahoo [DOT] com, and I will give you directions on how to send a check. Thank you!2:00PM Water Cooler 6/8/2021