By Lambert Strether of Corrente
There are any number of 9/11 retrospectives right now using the "20 years on" locution (here, here, here, here, here, here, here, and on and on and on). This is one more of them. For me, the event of 9/11 is only the spark that flashed along a long-laid fuse to the powder keg what was the Iraq War, an enormous strategic debacle, albeit very profitable to some[1], that is still playing out. I remember the day myself; for some reason, I turned on the television and there were the Twin Towers, burning. I was living in Philadelphia then, and later that day I handed my laptop bag over to security at Barnes and Noble in Rittenhouse Square, and when the guard returned it to me, it was bricked, and I lost a lot of work that was important to me. Great metaphor.
While at the bookstore, I had turned several particularly offensive Bush and Republican hagiographies face down; it seemed the only possible form of defiance. The political atmosphere in 2000-2003 is almost impossible to describe to anyone who hasn't lived through it; overheated and airless, like a church basement in winter during and endless coffee hour with the doors and windows nailed shut. After Bush v. Gore in 2000, liberal Democrats went into a sort of numbed trance; for a couple of years[2], literally the only mainstream dissenting voice was Paul Krugman, through whom I found Atrios, the great Philadelphia blogger, who was gave me an entree into the blogosphere, for which I will be forever grateful. If you want to know the stories that somebody blogging about the run-up to the Iraq War would have posted about a daily basis, Mother Jones (of all places) has a useful timeline, going back to the 90s. Vanity Fair (again, of all places) has a timeline for the Bush Administration. Disinformation is not new, not at all.
My view, after the Twin Towers fell, was that 9/11 was obvious blowback, a term we actually used back then. I thought then Mehdi Hasan thinks now: 9/11 was a crime, and should be handled as a matter of law:
There was no 'right' country to invade on 9/11. The response to a criminal attack by non-state actors shouldn't have been a war or an invasion or an occupation. It should have been police work, special ops, diplomacy, humanitarian aid, peace in MidEast… none of which was done.

— Mehdi Hasan (@mehdirhasan) September 11, 2021
Surely, in retrospect, for anybody whose mind and spirit are not consumed by greed or the lust to kill, it would have been better to capture the perpetrator(s)[3], and put them on trial in the Hague, as we did in fact do with Milošević. More economical, more supportive of that famous "rules-based international order," enormous soft power good for decades to come. But that is not the route our country took.
This will not be an analytical post. I will present no theory of how 9/11 turned into Iraq, why we did what we did in Iraq, or why it turned out so horrifically. Rather, I will look only at individuals. First, at people affected by the Twin Tower's fall; then, at public figures in power then, who, shamefully, are still in power today, twenty years on and on and on. I'll also comment briefly on a few entities, like the New York Times, also in power then and now. In all cases, my commentary will be shallow and superficial, even lazy. That's because I want you to join in with your own stories and commentary! There was a lot going on at the time…
Individuals
Let's begin with "Field of Art: An Ohio Farmer's Life-Size Tribute to 9/11 is Planting Seeds of Unity for 20th Anniversary." Here's the field: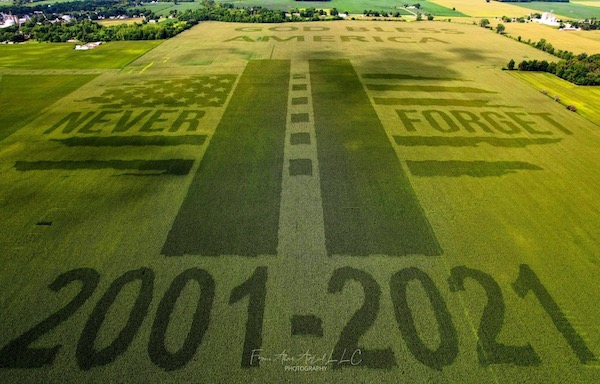 From the artist:
[Wilbur Meyer, a farmer in Brookville, Ohio is] also a volunteer firefighter, and his "God Bless America" field picture was also an effort to honor those fallen on that September day.

"We wanted to bring light to a lot of people's day, especially right now with the current climate in the United States, it's nice to bring some positive things."

Well, this doesn't bring light to my day — except for the technical aspects, which the article discusses — but it's important to remember that for some people, it would.

From someone who breathed Manhattan's air that day:

I lived in the smoke shadow of Ground Zero and breathed in foul air for months. The following spring I had bronchitis for the first time in my life and coughed so badly that I blew out one of my disks and have had to live with that back issue for the past 20 years. https://t.co/kmFHNCN4KN

— Lisabeth Laiken (@lb_bklyn) September 11, 2021

From a games designer:

I've talked before about being raised with a very conservative evangelical worldview and the response to 9/11 was the thing that like wildly bounced me out of that, and I think that was the case with a lot of folks around my age.

— Dracula Awareness Activist (@bombsfall) September 11, 2021

And:

The aftermath was very bad and very dumb and looking at that period and mourning some lost sense of America At Its Best is just wild. Best for who?

— Dracula Awareness Activist (@bombsfall) September 11, 2021

Interesting because the Bush Administration was driven by an evangelical power surge.

From a Yale epidemiologist:

I was trapped in Kampala, Uganda at a conference on Mother-to-Child-Transmission of HIV. My partner had gone back to NYC the night before and landed at JFK at 7AM on 9/11, took the subway back to Manhattan, right underneath the towers. 1/

— Gregg Gonsalves (@gregggonsalves) September 11, 2021

And:

I guess it was who we really were, are. For all the personal heroism of that day, the firefighters, the police, ordinary New Yorkers who helped each other, 9/11 didn't bring out the best in us as a people. 6/

— Gregg Gonsalves (@gregggonsalves) September 11, 2021

What he remembers, after the smell of the burning buildings.

From an Army officer:

Today, all I can wonder is if the past 20 years have cheapened what "patriot" and "freedom" actually mean

They've been used so much, for so much, that they've effectively lost their meaning. And I am heartily tired of them

— Angry Staff Officer (@pptsapper) September 11, 2021

But ending on a heart-tugging note:

Though there were not many survivors to find amid the wreckage of the World Trade Center 20 years ago, the devotion of the hundreds of dogs who searched for them is being recognized in two exhibitions in New York. https://t.co/a02zaMs1tI pic.twitter.com/JCETyrwd8V

— The New York Times (@nytimes) September 11, 2021

I hate that "We don't deserve dogs" meme, but in this case, it seems right.

Public Figures

Let us now turn to the march of folly by a few public figures, all of whom should feel great shame, and all of whom should long ago have been driven from public life.

Thomas Friedman (still a columnist at the New York Times). Here he is in 2001:

Kids, this is what it was like. pic.twitter.com/BlWrjCe8LL

— mattgallagher0 (@MattGallagher0) August 20, 2021

And in 2003, on our war aims in Iraq:

Listen to it all, to get a sense of where the press was at the time.

David Frum (Hero Of The Resistance™, Senior Editor at The Atlantic).

For me, I find that my understanding of the events of 9/11 becomes less certain with each passing year. The grief and shock, however, those have not altered at all.

— David Frum (@davidfrum) September 11, 2021

The sanctimony! It b-u-r-r-r-n-n-n-s!!!!! Frum, of course, was a speechwriter for George W. Bush. In fact, Frum wrote the speech that Bush used to justify the war:

[Bush's] famous 2002 "axis of evil" State of the Union speech amed Iraq, Iran, and North Korea as part of the axis of countries that "pose a grave and growing danger….

The speech was widely perceived, as Alex Wagner of the Arms Control Association wrote at the time, to be Bush "setting the stage for military actions against one or all of these states in the next iteration of the administration's war on terrorism."

This turned out to be mostly correct: The speech was indeed part of the administration's political groundwork for launching a war against Iraq. David Frum, the White House speechwriter credited with the "axis of evil" line, wrote in his memoir that the speech was designed to build a case for invading Iraq.

According to Frum, White House head speechwriter Michael Gerson approached him in December 2001, just three months after the September 11 terrorist attacks, to write the speech. "Here's an assignment," Gerson told him. "Can you sum up in a sentence or two our best case for going after Iraq?" According to Frum, "His request to me could not have been simpler: I was to provide a justification for war."

Tellingly, the White House asked for the speech months before the Bush administration "revealed" intelligence on Iraqi weapons of mass destruction that would serve as casus belli for the invasion.

This suggests, as several investigations of Bush administration decision-making have independently found, that the Bush administration decided to invade Iraq irrespective of any links to weapons of mass destruction or the 9/11 attacks, and then later sought justification.

Dave, good job, both the speech and the "understanding" becoming "less certain with each passing year," a sentence that in a just world would have been spoken from the dock at the Hague Tribunal.

And who can forget President George W. Bush (Elder Statesman)? Here he is, in 2001, standing on top of Twin Towers' rubble — and, no doubt, body parts — with his bullhorn:

#NeverForget President Bush's bullhorn speech. #GodBlessAmerica 🇺🇸 pic.twitter.com/4Hf3y6K7dl

— Dondi's Girl (@dantes_daughter) September 11, 2015

In 2008, an Iraqi does what we should have done:

— Mohammed El-Kurd (@m7mdkurd) September 12, 2021

George W. Bush today:

George Bush adores Michelle Obama.

If they can put their difference away, why can't we? pic.twitter.com/ViNqq2aGzp

— ~𝓣𝓮𝓷𝓪𝓬𝓲𝓸𝓾𝓼 𝓣𝓮𝓪𝓱~ (@TeahCartel) July 26, 2021

Finally, Bill Clinton:

Thank you, my friend, for your powerful and much-needed words on this difficult day. https://t.co/N2XhRMGKV4

— Bill Clinton (@BillClinton) September 12, 2021

It's almost like Murder on the Orient Express, isn't it? Plot twist: They all did it.

Institutional Entities

First, the New York Times, running interference for warmongers in 2001:

This is how anti-war protesters were treated in the press. pic.twitter.com/Z4lYXCTA8M

— Sarah Lazare (@sarahlazare) September 11, 2021

And running interference for warmongers now:

The New York Times refers to "many thousands" of civilians killed in Iraq and Afghanistan, rather than the actual *hundreds of thousands.* Earlier today, Politico did the same. Failure to record the scale of slaughter is not just an error. It is denialism. https://t.co/oPQo2rVGv5 pic.twitter.com/M9WQE4WHVZ

— Peter Maass (@maassp) September 11, 2021

The Onion did much, much better:

100% serious when I say the Onion's 9/11 coverage deserved a Pulitzer pic.twitter.com/s8RPvLsEYc

— Adam Fleming Petty (@flamingpetty) September 10, 2021

Second, the press generally. From Responsible Statecraft, "Day of reckoning for the media handmaidens of war":

For many critics, the very low point of the media's pusillanimity came with the firing of talk show host Phil Donahue just one month before the first bombing of Baghdad in March 2003.

The longtime talk icon has always insisted he was sacked because of his vocal opposition to the coming invasion (ironically his slot was temporarily filled by an extended "Countdown: Iraq" show hosted by Lester Holt). "They were terrified by the anti-war voice," he told Democracy Now 10-years later. "We weren't good for business."

According to former Minnesota Governor and Navy Seal Jesse Ventura, his own show on MSNBC was also canceled after a three-month run in 2003 because the network found out he had been publicly opposed to invading Iraq. Ashleigh Banfield, then at NBC, was literally reporting on the 9/11 attacks in New York when one of the towers collapsed behind her. She says her clock started ticking after she gave a controversial speech at Kansas State University criticizing war coverage in 2003 and sending a memo to her colleagues urging them "not to wave the banner and cover warfare in a jingoistic way. It didn't sit well with my employers at NBC…I think they overacted. I was banished."

This was hardly an NBC problem. Corporate media conformity after 9/11 was so powerful that the Bush administration was not only able to push through some of the most constitutionally questionable federal law enforcement powers in modern times, but launch two wars within a year and half of each other.

After supporting the Afghanistan operation in 2001, the establishment of Camp X-Ray at Guantanamo Bay, and passively reporting the first signs of detainee torture by American forces, the media then gave the Bushies and their neoconservative surrogates a soapbox to promote the Iraq invasion in 2003. In the lead up to Iraq, according to one study, 75 percent of the guests and panels on the major networks were current or retired government officials toeing the administration line. "Major newspapers and magazines gave them prime space to make their case, including the possibility that 9/11 had been 'sponsored, supported and perhaps even ordered by Saddam Hussein,'" said Bill Moyers in a 2007 documentary called "Selling the War."

Third, liberal Democrats. From the same source:

But while these few independent forums on the left and the right struggled for attention, That included voices like Fareed Zakaria, New Yorker editor David Remnick, and the New York Times' Bill Keller, who penned a column entitled "The I-Can't-Believe-I'm-a-Hawk-Club." Michael Kelly wrote an essay for the Washington Post supporting the impending invasion as a liberation of the Iraqi people from under the "boot" of Saddam Hussein. Tragically, he was the first American journalist killed in Iraq two months later at the age of 46.

Fourth, CEOs:

Immediately after 9/11, as the stock market swooned, Wall Street and corporate America issued stock options to their own execs. Virtually no one knows about this story but it's perhaps the most evil display of malevolent greed in modern U.S. history. https://t.co/KKOaTgb1Py pic.twitter.com/qFYPMljuhc

— Matt Stoller (@matthewstoller) September 11, 2021

Safe to say that in a just world all these entities would have far less power than they do today. CEOs especially!

Conclusion

I don't really have a conclusion for this parade of horribles; suffice to say I watched it all unfold, and blogged about a lot of it in near-real time. Funny how many of the characters are the same, how similar the playbooks are, how groveling the press still is, and how disinformation pervades and corrupts all. Meanwhile, dull normals pull bodies out of the wreckage.

Oh, and as for 9/11: Ralph Nader was right:

Exactly. As @MMFlint has mentioned, Ralph Nader lobbied for this for years but airlines said it'd cost too much so the govt let it slide. Democrats rarely mentioned this after 9/11 because it made Nader (who ran for WH in 2000 on Green Party ticket) sound like a smart guy. pic.twitter.com/7XbAWpSWnv

— Carlos Mucha (@mucha_carlos) August 29, 2021

So it goes. Readers, please feel free to share your own recollections….

NOTES

[1] Of course there was the oil:

Dick Cheney was discovered to have a map carving Iraq up with the locations of what oil companies get what chunk of the country prior to invasion https://t.co/i4hi54bKfq

— grimm (@ExileGrimm) September 10, 2021

But it's not clear how well the "carving up" really went, at least for the United States.

[2] Michael Moore's Fahrenheit 911 came out only in 2004; I remember the view of people mingling outside the theatre was "Finally! Somebody said it!" Al Franken's Lies: And the Lying Liars Who Tell Them came out only in 2003. Before that… Paul Krugman.

[3] I am being deliberately vague. However, this is not a 9/11 thread. So, as far as steel beams and aircraft fuel, or buildings that pancake, don't even think about going there.