Yves here. Women cheerleading other women because women has never made any sense to me. Hardly any women who've risen to leadership positions are admirable. Maggie Thatcher? Carly Fiorina? Gina Haspel? Susan Rice? DiFi? Nancy Pelosi? Sure, you can find exceptions like Barbara Boxer and Shirley Chisholm, but the record of women in charge does not prove the peculiar story line that some advocates like to tout, that women are more nurturing and therefore better suited to oversee organizations. Gah. Elizabeth I, for instance, who was a big improvement over her father in the "running the country" category, also ushered in the professionalization of spying.
And then we have Elizabeth Holmes. It is an accomplishment of sorts to have defrauded so many elite men. This pales compared to women who take advantage of other women, like Gwyneth Paltrow and her exploding vagina-scented candles. But another way to contextualize her scam is that it was an affinity fraud. Holmes managed to get into the good graces of George Schultz, who is as A list among rich and connected American men as you can get. He promoted her aggressively. If we are lucky, we will get a clue as to why during her trial.
In the meantime, I don't see how anyone who saw her didn't recognize her as nuts or playing a nut as the closest approximation she could make to feigning being a genius. The fixed stare alone usually required some Percocet (TV guests often take a low dose to reduce their blink speed, which makes them seem calmer; many questioned how Bernanke came about his notably slow blink speed).
By Jared Holst,  the author at Brands Mean a Lot, a weekly commentary on the ways branding impacts our lives. Each week, he explores contradictions within the way politics, products, and pop-culture are branded for us, offering insight on what's really being said. You can follow Jared on Twitter @jarholst. Originally published at Brands Mean a Lot
"There should simply be better parts for women and actors of color. Why should a woman play James Bond when there should be a part just as good as James Bond, but for a woman?" – Daniel Craig, currently portraying James Bond, in an interview with Radio Times.
Elizabeth Holmes, of Theranos fame, is currently on trial for fraud. If convicted, she faces up to 20 years in prison. For years, Holmes deceived investors, partners, and employees about the capabilities of the technology Theranos was producing. Whether or not she's a bad person is a philosophical debate for someone more nuanced and capable than I. What's not up for debate is that she did some pretty criminal stuff.
Yet, somehow, Holmes has fans. Business Insider recently reported about the online constellation of Holmes fans (dubbed 'Holmies'), many of whom have expressed un-ironic, earnest support for her during her trial. In fact, as pictured above, some have even attended her trial in California dressed in Holmes' trademark ersatz Steve Jobs costume; a black turtleneck paired with black pants. A copy of a copy of a copy.
That Holmes, such an unambiguously villainous character, has fans, shouldn't actually come as a surprise. Martin Shkreli, of AIDS medicine price gouging notoriety, had tens of thousands of subscribers across all kinds of online platforms. OJ Simpson, the white Bronco fella, had supporters stationed outside of his trial as well. In another similarity between Holmes and Simpson, and an interesting aside, their fans created an array of fascinating bootleg merchandise supporting their predicament.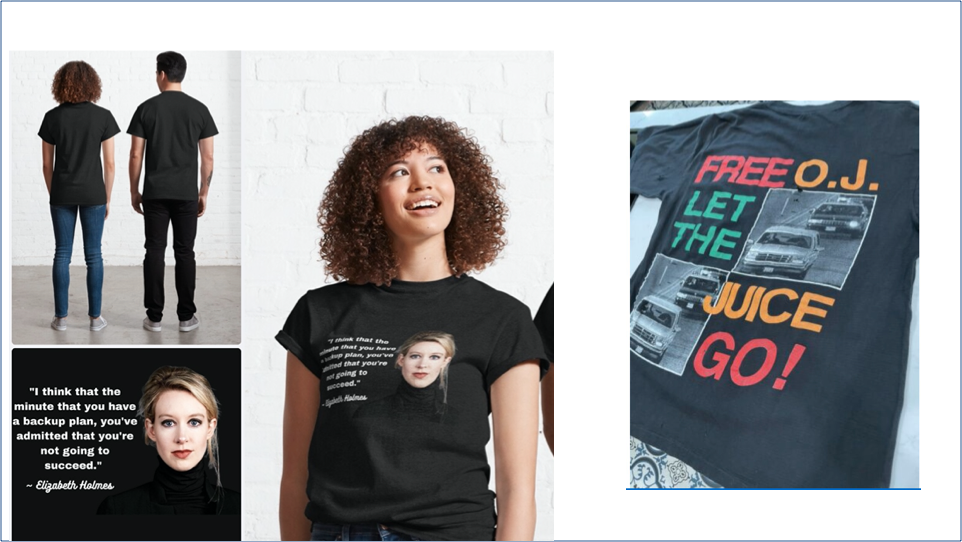 Elizabeth Holmes is of course not the first female to be at the center of such an engrossing and notorious trial. Hi Casey Anthony. Ciao, Amanda Knox. She is, however, the most notorious female businessperson to be put on trial, possibly of all time. For a time, Holmes, a female college dropout, was both the youngest and the wealthiest billionaire of all time. An astounding feat considering America's obsession with college and its putrid treatment of both female entrepreneurs and females in the workplace.
Daniel Craig's quote is apt. James Bond is a misogynist, violent character from an era when exhibiting such traits carried less public condemnation than it does now. Given this, Craig is correct: There should be new action characters created for women and POC whose expression isn't bound by the constraints of whatever is expected of James Bond. Milla Jovovich in both Monster Hunter and the 'Resident Evil' movies comes to mind, as does Regina King in HBO's 'Watchmen' series.